When people outside of Orange County think of Anaheim, they think of Disneyland, the most famous amusement park in the world. However, locals are well aware that Orlando is home to more than just "The Happiest Place on Earth" and that the resort district is not the end of the city's journey in terms of its gastronomic offerings.
In the grid that surrounds Anaheim, you'll find strip malls, upscale food courts, and transit hubs that are home to restaurants serving international cuisine that are cool enough for Los Angeles but could only be found in Orange County.
Most Recommended Restaurants In Anaheim
Here are the best places to eat in Anaheim, from swanky hidden-door restaurants to authentic Italian restaurants and traditional American diners.
When you walk into Napa Rose, you'll experience the sophisticated decor and service that are the hallmarks of a very outstanding restaurant. All the guests know they are in for a special evening when they see the glass wine cellar, the high ceilings, and the crisp white tablecloths. The restaurant is shaped like a crescent, welcoming diners inside to take in the lavish furnishings and a breathtaking panorama of Grizzly Peak in Disney California Adventure.
The menu features bright, bold flavors, unique ingredients, and colorful characters that have come to represent the cuisine of this region. Wines by the glass, bottles and specially paired bottles are all available on the extensive wine list. Hearth Braised Mediterranean Vegetables and Creekstone Farms Filet Mignon are excellent main course choices. The Petit Filet or Mac and Cheese are great options for kids. We recommend having Red Wine Blend because it is one of the signature drinks, but there are many others to choose from.
While the evening's hallmark dining experience may garner more attention, the morning character experience at Napa Rose is just as memorable. From 8:00 a.m. to 11:00 a.m. daily, guests can partake in the Disney Princess Adventures Breakfast.
The average meal cost per adult goes from $40 to $60, which is higher than most other restaurants in the Disneyland resort/hotel region, but it's well worth it if you're celebrating a special occasion.
Napa Rose is a restaurant at the Grand Californian that doesn't require a park ticket because it's inside the hotel. The restaurant's classy ambiance and reliably delicious food make it a popular destination for tourists and locals which is why it is in our recommendations as well.
Editors' Pick: 9 Top Notch Korean Restaurants In New York City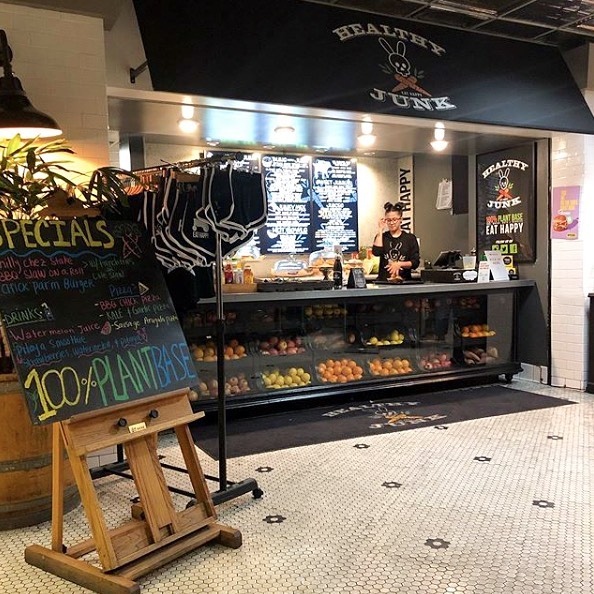 The Healthy Junk menu is 100% vegan, although the meat lovers among you might not even notice. You can skip reading this if you are a meat lover. The quality of their meals is just exceptional. You can find this cozy eatery on the picturesque Center Street Promenade in old-town Anaheim.
The interior features a trendy mashup of vintage and modern elements. The seasonal menu emphasizes vegetarian options. Even while the gigantic kale and mango tango salads at Healthy Junk are popular, patrons should not assume that the restaurant only serves rabbit food. Some of the restaurant's most popular entrees are the vegan beef fajitas, the Philly cheese steak, and the vegan burger topped with a crispy Anaheim chili pepper. You may get all your favorite home-cooked meals at this plant-based and gluten-free eatery.
If you find yourself at Healthy Junk, try the Anaheim Chili-Pepper Burger, the Long Live Caesar, and the BBQ Chick Burger. The Kid Nuggets and Kid Nachos are two of the many delicious options explicitly designed with kids in mind. The Triple Chocolate Brownie is our go-to dessert recommendation.
Meals at this restaurant start at $15, which is moderately pricey. Hours are 11:30 a.m. to 9 p.m. Monday through Thursday, 11:30 a.m. to 10 p.m. on Friday and Saturday, and 11:30 a.m. to 9 p.m. on Sunday.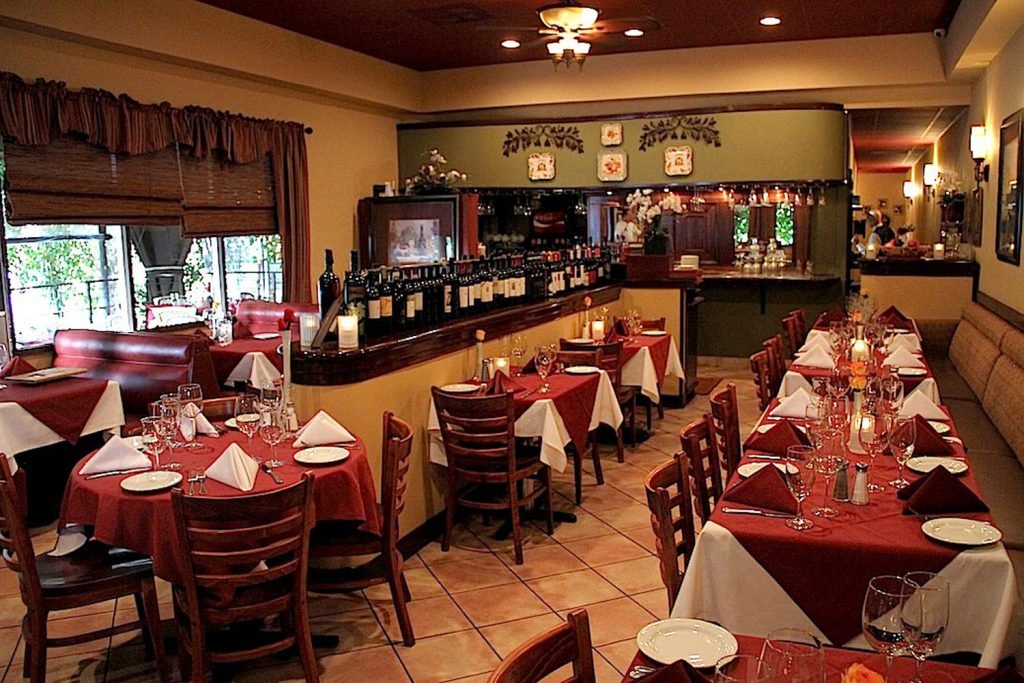 It's time to get dressed for a night in the town where you'll forget you're still in sunny Southern California. Baci di Firenze Trattoria has been providing Anaheim with authentic Italian cuisine for almost a decade. You might overlook this unassuming corner in a strip mall beside the Santa Ana River.
As soon as you enter, you'll be met by kind staff and a cozy ambiance. Pasta, veal dishes, and risottos, among other Italian standards, can be found on the menu. Try the lobster ravioli or the chicken with mushrooms, artichokes, and flamed demi-glaze brandy sauce for a modern twist on classic dishes. They serve customers from Monday to Saturday and have a stellar reputation for their delicious food and friendly service.
Baci's patio is available for private events and may be enclosed for year-round outside dining. Daily and weekly private dining are open. You can reserve the restaurant's main dining room for private Sunday events for up to 52 guests. It's recommended that you book a spot in advance. It's expensive, but an adult dinner's $30 starting price is well worth it.
We highly recommend visiting this restaurant; if you are a pet owner, you will love this restaurant. Dogs are welcome at Baci di Firenze Trattoria in Anaheim. Customers are encouraged to eat outside with their pets whenever the weather permits.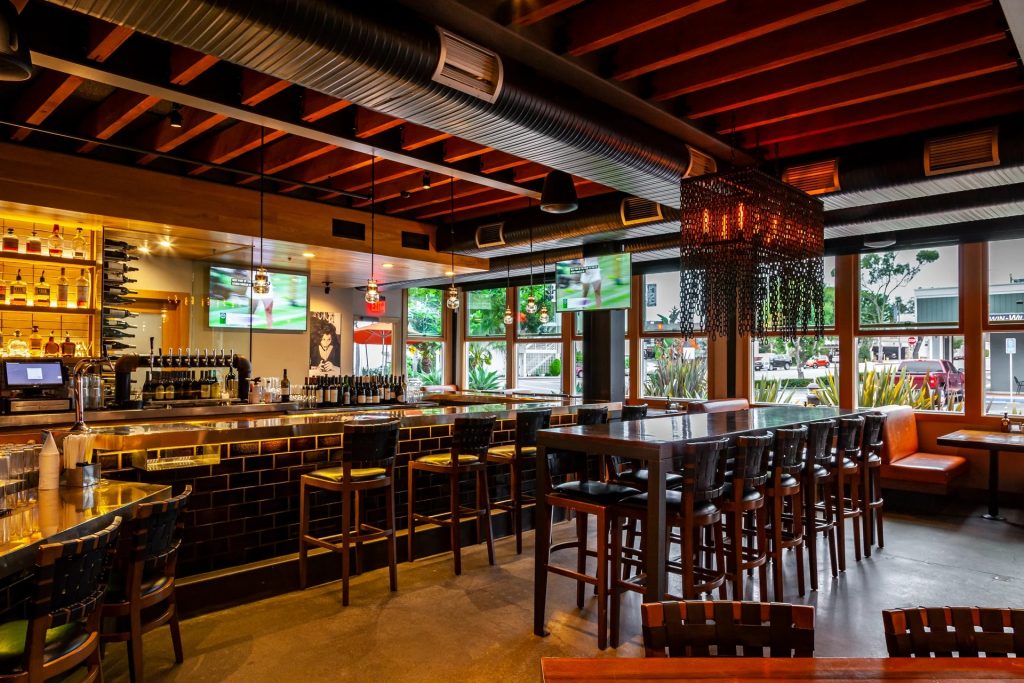 Reunion Kitchen & Drink owners wanted to provide a place where friends and family could get together and share a meal. The satisfaction of our guests is our number one concern; thus, they treat them with the utmost care in providing excellent service. But, it's an inviting setting for a delicious dinner shared amongst good company.
The restaurant's atmosphere is bright and spacious, and the kitchen is visible from the dining area. The dishes take cues from traditional favorites but are then given a creative spin. Some of the most well-liked menu items are barbecue ham on a swiss cheese, barbecue sauce sandwich, and turkey pot pie. Breakfast, lunch, or supper at Reunion Kitchen & Drink will be one of the most pleasant and simple dining experiences you've ever had.
We highly recommend the Rosemary's Chicken & Biscuits, Pan Roasted Salmon, OC Sourdough Burger, and Classic Cheeseburger from the Reunion Kitchen. Beers like Coors Light and Guinness, both bottled and on tap, are available as beverages. They have great drinks, including the Sparkling Ruby Rose and the Mango Martini. We always finish our meals with a slice of Bob's Hot Fudge Cake.
They have a fantastic kid's menu with items like the Texas Grilled Cheese and the Winner Winner Chicken Dinner. If you want further information, you can look at their website. The atmosphere is trendy, prices start at $10, and the cuisine is decent. Outdoor seating is available, although reservations are strongly suggested due to the high volume of customers. The restaurant is open from 4 pm to 10 pm on weekdays and weekends.
Related: These Del Mar Restaurants Will Hype Up Your Taste Buds
PokiNometry was founded in 2014 by Julian Fukue, and since then, the company has made it its mission to serve only the freshest and most delicious poke bowls possible. There is a simple, over-the-counter ordering system at PokiNometry's poke bowl restaurant. They were the first to introduce the poke bowl to the region of Southern California.
At PokiNometry, you may have a one-of-a-kind fresh seafood experience tailored to your preferences. Customers create their unique bowl of deliciousness in a cafeteria-style line. First, you can choose a base of rice, salad, chips, or a wrap. When that's done, it's time for the filling. You can choose from eight high-quality sushi fish served above a bed of crab meat, avocado, cucumber, and white onion. Add any desired sauces and garnishes, and it's finally ready to eat.
Choose with confidence, knowing that all ingredients are at their peak of freshness. Customers in Anaheim can't get enough of PokiNometry made-to-order, individualized sushi bliss in a bowl; thus, the restaurant has seen tremendous success. Prices start at $10; excellent quality for the cost. The prices are also reasonable, so it's a win-win, and becomes quite a well-liked restaurant in Anaheim.
If you're hungry, go to PokiNometry for a bowl of sushi rice topped with fish and onions. Crab meat and scallops can also be enjoyed as a wrap and salad. You pick what goes into your bowl, then spice things up by adding some ginger or chili sauce. Gluten-free and vegetarian options are available on the menu. This restaurant is open from 11 am to 9 pm Monday through Sunday.
Suggested Reading: 7 Best Beaches in Destin Florida: let the sound of the tides ooze your brain!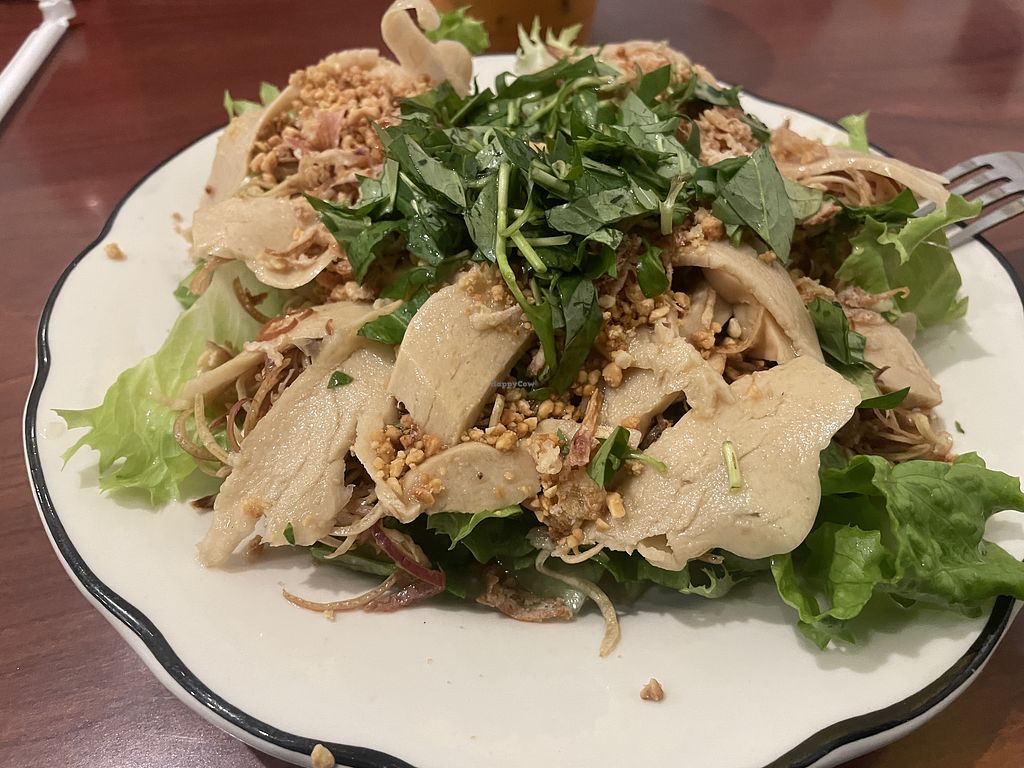 Vegetarians in Anaheim can satisfy their cravings at Thuyen Vien, a Vietnamese restaurant located in a strip mall on S Euclid Street. The food at Thuyen is renowned for being traditional Vietnamese.
The restaurant may be charming on the outside, but the food is truly outstanding. Dishes like the Yang Chow Fried Rice, lemongrass chicken, crispy chicken, bistec, and lamb are just some of the highlights of the menu at Thuyen Vien. You can pick from several different beverages, including Snapple, Thai Tea, Young Coconut, and Vietnamese Coffee. Cheesecake and flan are two of the restaurant's most popular desserts.
The space is cute and cozy despite its modest size. The prices at Thuyen Vien are incredibly low, with most evening entrées costing less than $15. Garlic chicken, banana leaf tacos, and pumpkin curry are house specialties. They also serve an excellent bowl of pho, which is always a hit and our top pick.
Although some menu items may be labeled as "meat," rest assured that they have been lovingly prepared without animal products and with vegetarians in mind. With that being said, we highly regard this restaurant as one of the best ones in Anaheim for Vegans.
The Ranch provides a contemporary take on the Wild West with its decor. The tech firm founder opened this café and saloon to provide a respite from the frenetic pace of the modern California tech industry.
Fresh, local ingredients are the hallmark of The Ranch's broad menu of mouthwatering steaks. There are almost 10,000 different kinds of wine to choose from. When you enter, you'll feel as though you've been transported to a cozy country diner where each dish is made from scratch. The menu comprises classic American dishes prepared with care and the finest ingredients.
All the steaks are sourced from ranches in the United States and hand-cut to order. Grass-fed lamb is used, and it comes from a Colorado farm that was flown in for the occasion. Green bean casserole and twice-baked potatoes are great side dishes that add to the homey atmosphere. If you're looking for a spot to slip on your cowboy boots and get down on the dance floor, the Ranch is the place to be.
At The Ranch, try the Certified Sustainable Chilean Sea Bass and the 24-Hour Braised Cape Grim Grass-Fed Beef Short Rib. Pair one of their many wines with any delicious dishes they provide. Our top picks are any of the Chardonnays or a Banfi, Rosa Regale. Finish with a slice of their delicious Bourbon Chocolate Cake or Sticky Toffee Pudding.
Both the service and the environment are excellent. The restaurant is a classic steak house, and the prices start at $15 and go up to $20. Making a reservation is necessary. The restaurant is open from 5 pm to 9 pm, Monday through Friday, and from 5 pm to 10 pm, on Saturdays and Sundays.
Things To Consider While Visiting Restaurants In Anaheim
The following are a few of the most important aspects that our team took into account before choosing a restaurant in Anaheim. We recommend that you also take a look at these factors.
Location: Pick a place that is within walking distance from your location. Driving home afterward can be a major hassle if you want to go out and have a good time. Spending an extra $50 on a cab ride to the restaurant is wasteful. Of course, the rules change if the area has a beautiful view or any other fantastic feature. However, the restaurant's food must be outstanding for the $50 cab fare to be worthwhile.
Ambiance: Even if a restaurant is stunning aesthetically, you may find that the decor is different from your liking. Look around to see who dines there. If you want to have dinner with these people and think it would be fun, reserve a table. Find a spot that isn't too close to the kitchen and has some air circulation. Even if you'd rather not, you may have to get some work done when dining out. You should reserve a private space at a restaurant for meetings where business is discussed.
Good Value: When it comes to dining at restaurants, prices are an essential consideration. When traveling with a large group, finding a restaurant that offers good value for the money is crucial. This option does not imply that you are cheap but that you are receiving a good value for the money you spend. For example, Napa Rose has an expensive meal
Food and Wine Pairings: Choose a restaurant according to the cuisine you're craving. There are a wide variety of restaurants in Anaheim, so pick one that serves a cuisine you enjoy. In addition to that, the wine list is crucial. In certain restaurants, the wine list features bottles of France's six most expensive wines at exorbitant prices such as The Ranch. In other cases, there are bottles with high costs that come from unknown locations. If you enjoy wine, choose a bottle that doesn't break the bank but still looks and tastes great.
How We Pick Our Recommendations?
After visiting Anaheim, and many other parts of California, we were able to devise this list of restaurants in Anaheim. Our recommendations are based on personal experience, quality of food, ambiance, variety of food, and exclusive aspects of these restaurants. To validate and make our opinions even more reliable, we also took the perspective of other guests who were at these restaurants to ensure credibility. Our team spent a good time in Anaheim and we went to several coffee shops as well.
Wrapping Things Up!
There's a wide variety of options at these Anaheim restaurants. Whether you seek seafood, Italian, or Pan-Asian food, these restaurants have covered you. You can expect fresh, flavorful food at any of these restaurants because they all share the goal of pleasing their customers.
7 Best Restaurants in Anaheim
What is Anaheim, California, famous for?
Anaheim is the second-largest city in Orange County and is well-known as the location of the Disneyland Resort, the Anaheim Convention Center, and two major sports franchises, the Los Angeles Angels of Anaheim and the Anaheim Ducks of the National Hockey League.
How far is it from Anaheim from L.A?
If you leave Anaheim and head straight for Los Angeles, the trip should take about 28 minutes and cover 25.5 miles (41 kilometers).
Which restaurant in Anaheim is famous for wines?
If you're looking for the finest wine in Anaheim, look no further than The Ranch Restaurant. Almost ten thousand varietals of wine are available here.
What are some of Anaheim's most well-known eateries?
The Napa Rose, Healthy Junk, and Baci di Firenze Trattoria are just a few well-known eateries in Anaheim.
Where can you eat authentic Italian food in Anaheim
Baci di Firenze Trattoria is a restaurant that offers an extensive range of Italian cuisine items including pizza, lobster ravioli, and chicken with mushrooms as well.