Del Mar, a charming beach town in California, is located just to the north of San Diego. A benefit of staying in this seaside gem is the easy access to so many fantastic restaurants that are near hotels like Wave Crest Resort. While many visitors to Del Mar, California, absolutely love spending a summer day at Torrey Pines State Beach or the Del Mar Racetrack, others prefer dining at one of the town's seafood restaurants while taking in the view of the ocean. Bookmark or save our list of the top eateries in Del Mar to enjoy food as you've never had before!
Del Mar Restaurants You Should Try On Your Next Visit!
Check out these top eateries in Del Mar to indulge your inner foodie
In close proximity to Powerhouse Park & Beach is the laid-back beachside eatery Jake's Del Mar. Jakes is a beachfront restaurant that is among the best restaurants in Del Mar for numerous reasons. First off, they offer an extensive menu you can take in the breathtaking views. There is something for everyone, from locally caught Carlsbad mussels to California lamb with mustard and spices to a wide variety of gluten-free options. Jakes has also received praise for its environmental sustainability initiatives.
Through the restaurant's floor-to-ceiling glass windows, you can see the entire ocean view from inside. It's a great place to visit after strolling along the beach and is great for kids. The menus for lunch, dinner, and Sunday brunch feature fresh, edgy flavors and local, sustainable ingredients.
It's the best on the west coast, featuring chef-driven California coastal cuisine, handcrafted cocktails, and incredible ocean views. Jake's provides something special, whether it's for a special event with friends and family or a date night with a loved one.
You can try some of the restaurant's specialties, such as shrimp scampi and mixed seafood pot (which includes fish, lobster, and mussels). Don't miss the delicious Hula pie when it comes to dessert. It consists of whipped cream, chocolate fudge, and toasted nuts on top.
All diners at Jakes have a variety of parking options, including valet parking, paid self-parking in the lot, and metered parking. The restaurant is open 7 days a week, but for more information about the hours of operation, you should visit their website.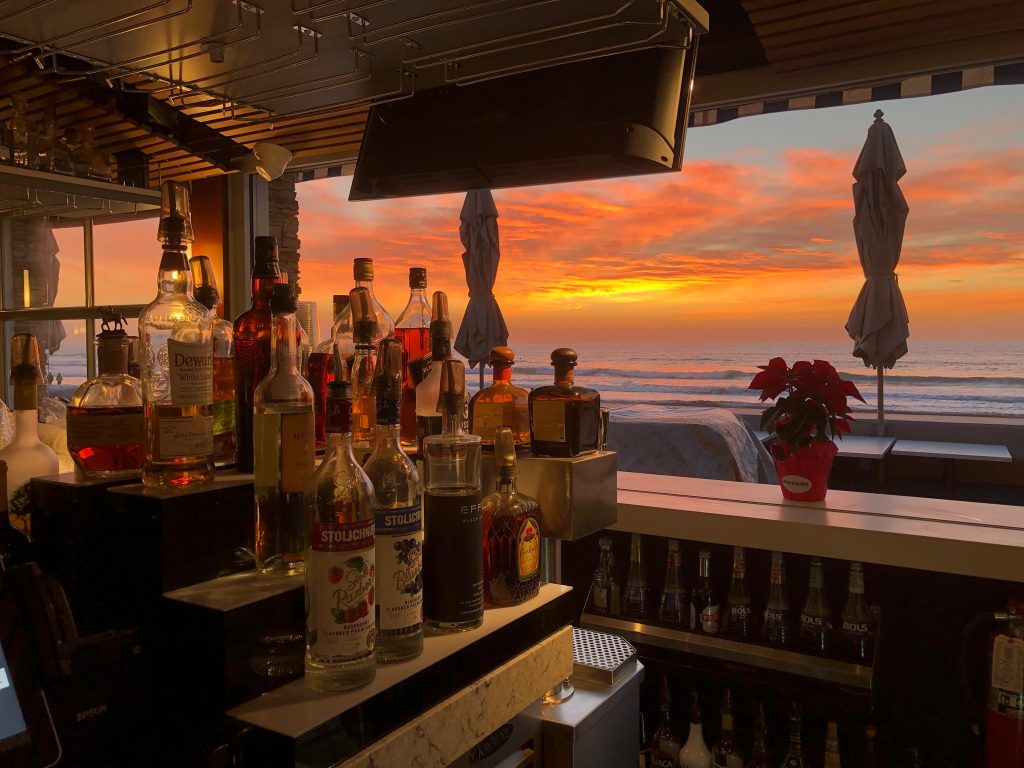 The Poseidon Restaurant in Del Mar symbolizes the Southern California way of life by fusing the beachside ambiance with a casual dining setting.
The heart-capturing view will blow your mind the moment you enter Poseidon. Sitting on the lovely outdoor patio at Poseidon puts you right next to the sand and the beach. You can enjoy truly stunning sunsets and if the time of year is right, catch a glimpse of whales moving up or down the coast with such a spectacular ocean view.
This family-style restaurant abides by the Monterey Bay Aquarium's seafood watch guidelines when serving fresh and reliable seafood for dinner. Delicious foods from the sea and the land are featured on the chef-curated menu. One of the delicious cold appetizers at Poseidon is a daily fresh oyster. The oysters are served with lemon and mignonette on the half shell (a type of sauce).
A sizable circular fire pit is available at the bar, which is nice on chilly fall or winter nights. They can also accommodate allergies to dairy, nuts, and gluten upon request. Other popular options include their Maine Diver Scallops, Wasabi Sesame Crusted Yellowfin Tuna, and daily fresh-catch specials.
Poseidon is definitely worth visiting on your next trip to Del Mar. For brunch, lunch, and dinner, it's a picturesque location. Although it's a great spot for a date night, because of its laid-back beach atmosphere, it's also ideal for diners of all ages.
Pro-Tip — The restaurant offers discounted food and drinks from 4:00 to 6:00 PM (Tuesday through Friday).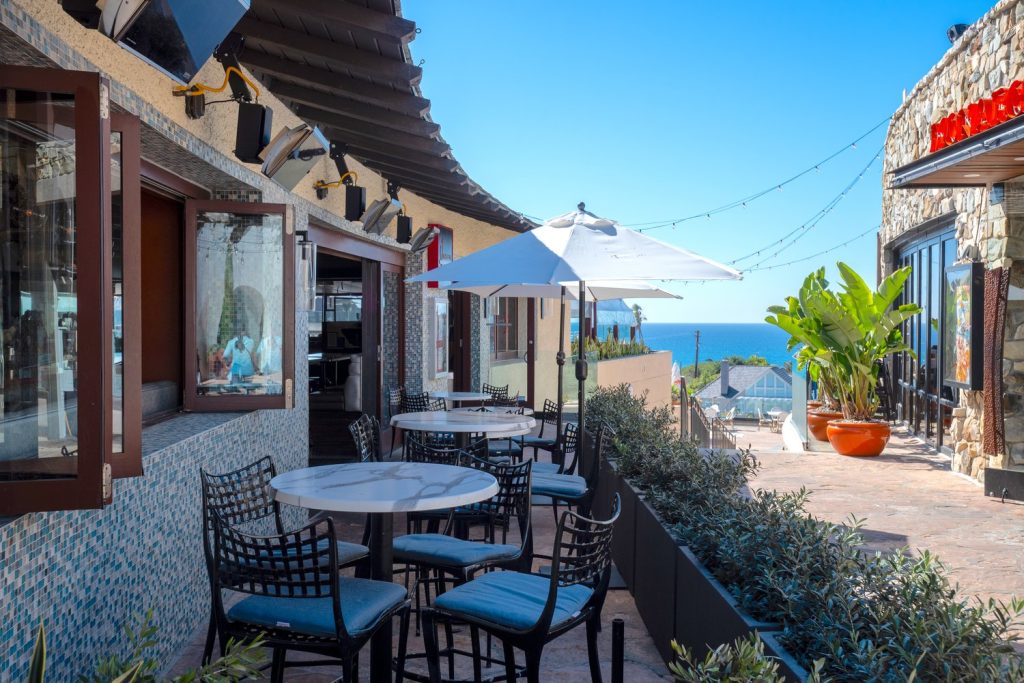 Pacifica Del Mar is the place to go if you're looking for a classy and upscale setting to dine with your special someone and is also one of the best restaurants in Del Mar. In addition to being delicious, the settings are stunning and distinctive in the neighborhood.
Pacifica offers a dog-friendly patio with a stunning sunset view that is in the ideal location. Because of this, over the past 30 years, it has established itself as a reputable location for hosting large celebrations and numerous weddings.
Fresh seafood, steak, pasta, and other inspired dishes are featured on their menu, which is also complemented by an award-winning wine list and creative cocktails. Customers can enjoy savory seafood and meat dishes at Pacifica. Some of the popular dishes include the grilled filet mignon, seared rare ahi, and herb-roasted branzino (a type of sea bass).
You can also consider ordering their Sugar-Spiced Verlasso Salmon, Grilled Swordfish, Pan-Roasted Chilean Halibut, or Center-Cut Filet Mignon with a side of Roasted Fingerling Potatoes after starting with their Crispy Calamari or Steamed Mussels. Additionally, they provide half-priced wine bottles every Thursday and $5 tacos on Taco Tuesdays.
You can sample after-dinner desserts like bon bon, daily sorbet, and original burnt cream. If you're staying at Wave Crest Resort during the week, don't forget to take advantage of their Wednesday half-price martini night.
Warm service, excellent food, and drinks will make your dining experience memorable whether you choose to eat on their elegant ocean-view patio, in the lively dining room, or at the bar.
Similar Read: Variety of Eateries You Must Try in Temecula
At 1201 Camino Del Mar, there is a charming Mediterranean bistro called Beeside Balcony. The restaurant is a popular destination for a laid-back evening in Del Mar because of its covered balcony facing the stunning ocean and welcoming dining area.
Beeside Balcony serves high-quality meals to its customers, using ingredients from nearby farms for everything from organic free-range lamb to prime steak. Some favorites include lamb meatballs, pesto shrimp linguini, and Spanish grilled octopus (sauteed shrimp with pesto, chili, and sauce).
Other options include their Spanish Grilled Octopus, Gratin De Pasta, and Peppercorn Filet Mignon. Try their Prickly Lady, Mint to Bee, or Del Mar Derby if you're in the mood for a house cocktail. If you're looking for a sweet treat to enjoy after dinner, they have a ton of incredible dessert options. The most frequently ordered is their Pineapple Delight or Warm Apple Tart.
To satisfy all visitors, they offer both alcoholic and nonalcoholic drinks. There are a lot of choices on the impressive wine and beer list. Every day of the week, the restaurant is open for lunch and dinner between 12:00 pm and 9:00 p.m.
Del Mar Rendezvous, voted San Diego's Best Chinese, Best Vegetarian, and Best Gluten-Free restaurant, has been attracting locals with a wide variety of Chinese cuisine complemented by a contemporary fusion of Asian flavors for more than a decade. It is also one of the most popular restaurants in Del Mar.
Rendezvous offers more than a hundred menu items, including more than 40 vegetarian and gluten-free dishes, allowing you to sample traditional Chinese cuisine with modern Asian flavors in a welcoming and laid-back setting.
Order and try shrimp and chive dumplings if you enjoy spicy Chinese cuisine. They are made by hand, and a medium-hot sauce is placed on top. With sauteed seafood, vegetables, and egg noodles, spicy seafood noodle soup is also excellent.
It has a warm, intimate atmosphere perfect for a date night or a casual family dinner. Try their Xiangjiao, an eggroll rolled in cinnamon and filled with banana cheesecake, if you have time for dessert.
Enjoy meals that are gorgeously presented, and peek into the open kitchen to see the chefs at work. It's the ideal location for lunch or dinner because of the casual-chic ambiance and award-winning wine list. All these factors make it a restaurant in Del Mar that you shouldn't be missing! Also, check out the best Chinese food Santa Ana offers if you are really into Chinese cuisine.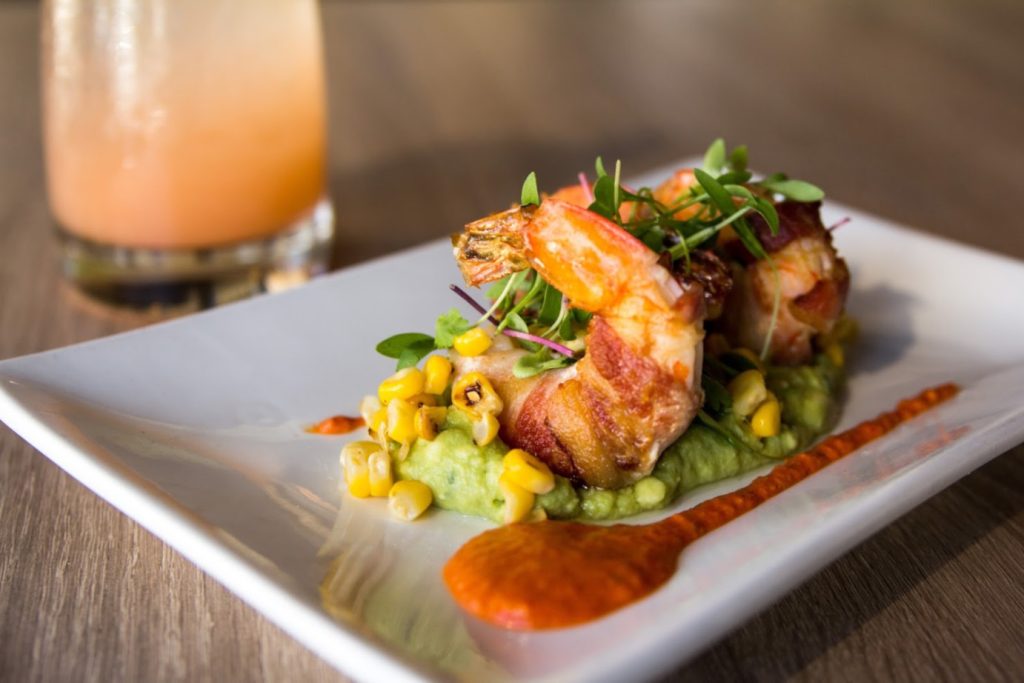 Sbicca, a renowned restaurant that opened in 1998, offers a wide range of fine wines and California cuisine. The restaurant has received several prestigious awards, including Gold Medallion Recipient and Award of Excellence.
Although it's not right on the sand, Sbicca has a rooftop terrace with a beautiful sea view. As a result, it can be a fantastic location for special events and small gatherings. Additionally, the restaurant offers off-site catering services for gatherings with up to 200 guests.
Shareable plates and casual classics like crab cakes, Mexican white shrimp, and California tacos are all on the menu. Both the crab cakes with avocado-mango slaw, Cajun aioli, and Meyer lemon as well as the crispy calamari strips with sweet chili glaze and arugula are delicious. Another one of their standout dishes is Crispy Shrimp
Dumplings with Scallions, Sweet Soy, and Jalapeno. Chef's Creations and Casual Classics are also great menu options if you're really hungry.
Additionally, they have an unmatched wine list with a variety of alcoholic beverages. Customers also appreciate Sbicca's long-standing policy of "no corkage fee for BYOB wine." Besides, bottled wine is half off on Tuesdays and Thursdays if you forget to bring your own bottle. On other days, mimosas cost $3 to $5 per drink. Sbicca, which takes its name from its founder, has been a favorite neighborhood restaurant in Del Mar for more than 20 years.
For the best coastal views, have lunch, dinner, or weekend brunch on the restaurant's second floor. We can assure you that there are a lot more options available during happy hour here than at other local restaurants.
With so many great seafood restaurants in Del Mar, Coya Peruvian Secret is a refreshing change of pace. Coya is a game-changer with its menu of fusion and modern Peruvian cuisine. Within walking distance of the beach, it is situated in a charming cottage-style hideaway in the center of Del Mar. The outdoor seating area is surrounded by a flower-filled garden and offers a lovely ambiance in addition to excellent service.
Unless you're starving or don't mind a take-home box, consider sharing the portions because they are large. However, given how delicious the food is here, you'll want to. Sangria is a popular drink among consumers, as it is excellent, fruity, and flavorful. One drink will not suffice, so you will have to request a carafe.
It is highly advised that you start by ordering the Mexican Ceviche with Avocado. Also, try the Lomo Saltado (Peruvian Steak Stir-Fry), a dish made with perfectly seasoned filet mignon, onions, tomatoes, French fries, and garlic rice, as an alternative.
One of the best places to enjoy Mexican cuisine in Del Mar, California, is En Fuego Cantina & Grill. The restaurant welcomes locals and tourists to cherish authentic dishes that maintain the flavors of Mexican cuisine and enjoy live music. This upscale restaurant offers a fixed-price menu of high-quality seasonal Californian dishes in a stylish setting with mood lighting. In their bar and lounge, sushi is also available.
There is a large variety of good lunch and dinner options. You can sample flavorful burritos made in the Del Mar style. They consist of flour tortillas encased in yogurt salsa, Fresca salsa, and shredded cabbage.
The extensive menu at En Fuego Cantina and Grill also features traditional favorites such as fresh guacamole and chips, carnitas, fajitas, and enchiladas. Consider ordering one of the house specials, such as the classic Chile Rellenos, which consists of battered and stuffed Anaheim chilis that are then topped with tomatillo sauce and a three-cheese mixture.
On some specific days of the week, they create special menus. Every Monday, a tortilla dish called a cheese quesadilla and bean burritos are available. Otherwise, starting at 4:30 PM every Tuesday, En Fuego serves customers a variety of tacos.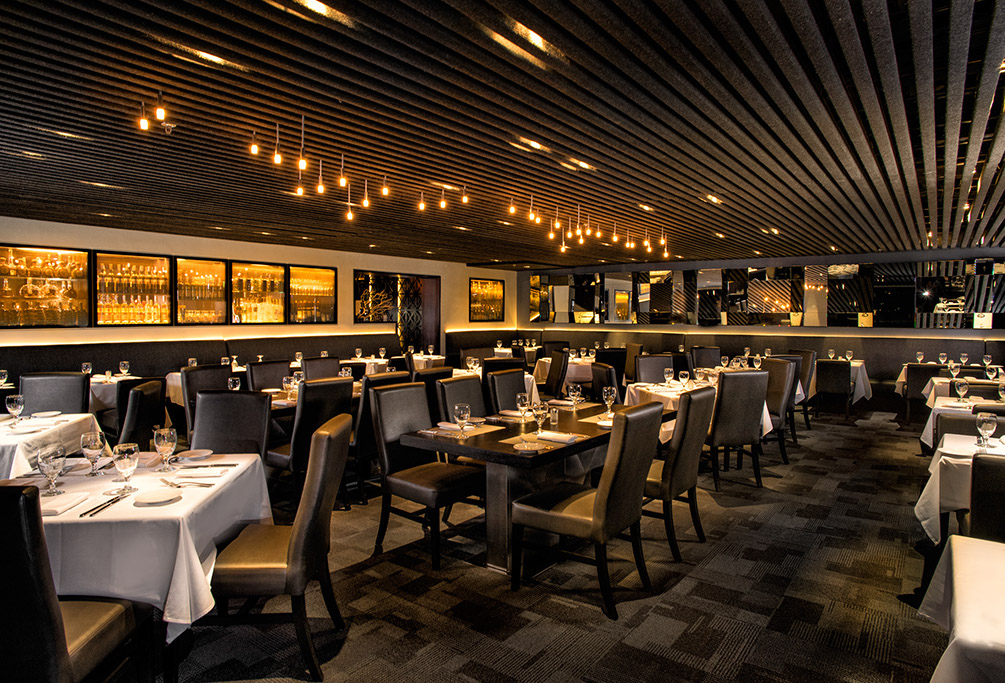 A short distance from the San Diego Showpark's horseback riding area is the MARKET Restaurant + Bar. This upscale restaurant offers a fixed-price menu of high-quality seasonal Californian dishes in a stylish setting with mood lighting. In their bar and lounge, sushi is also available.
On their three-course tasting menu, they provide a wide range of options. Start with their Local Grapefruit & Avocado Salad or Braised Bacon & Poached Egg Salad. Then, for your second course, try their Sweet Pea Tortellini & Crispy Eggplant. Enjoy their Hazelnut-Praline Mousse Cake for dessert after dinner.
This place is a must-visit if you're planning a trip to Del Mar. Stop by to enjoy the best cuisine with affordable prices.
Things to Consider When Visiting Del Mar Restaurants
Following are a few important tips to help you pick the most suitable restaurant in Del Mar
Quality of Food — The standard of the service or food provided is the most crucial aspect to take into account, and most people will do so. Look up the best restaurants in Del Mar to go to or order from if you'd like to have Indian food for the day. If different cuisines are preferred by each person, a multi-cuisine restaurant will be the best choice. The authenticity of the food served can also be taken into consideration when choosing a restaurant. When examining the quality of the food in a restaurant, you can look for anything that is on your list of concerns.
Variety of Food — Restaurants in Del Mar are specifically known for offering specialized food experiences. Some will have good Chinese, while others will feature exceptional American cuisine. Plan accordingly before you head over.
Customer Service — An essential component of any dining experience is customer service. Regardless of the restaurant, you choose to eat at, the attitude and conduct of the staff could make or break your experience. We recommend you pick a restaurant that offers top-notch ambiance as well as service. Among our choices, most restaurants offered highly tailored and responsible waiting and customer service.
Hygiene — Does the restaurant have a poor reputation for cleanliness? If so, such places ought to be stayed away from. You run the risk of developing health problems like a bloated stomach and food poisoning in unhygienic restaurants. Make sure the restaurant is hygienic and welcoming. The best part is that Del Mar restaurants in our list have been well-known for cleanliness and hygiene factors.
How Do We Pick Our Recommendations?
We chose the best restaurants in Del Mar for families based on analysis by our travel team as well as feedback from other diners who had been to these places. We selected the eateries based on their ambiance, favoring those with open, lively settings. We picked restaurants with interesting interiors and engaging atmospheres to keep the whole family excited. The restaurants that have the most variety in terms of food also made it to our list because every person has a different food preference.
Editor's Pick: Top 35 BEST Vegan Restaurants In Anaheim For You To Visit
Time to Eat at Del Mar!
Del Mar is a fantastic place to spend your next vacation and enjoy the best beaches on the Pacific Coast. If you're in the mood for something different, you can also be sure to find a large selection of seafood or international specialties. This directory of Del Mar, California's top eateries should make it easier for you to decide where to eat.
FAQs
Restaurants in Del Mar - FAQs
What are some of the best restaurants in Del Mar?
Some of the best restaurants in Del Mar include Jake's Del Mar, Poseidon Restaurant, and En Fuego Cantina & Grill.
Which restaurant offers the best Chinese food in Del Mar?
Del Mar Rendezvous offers the best Chinese food in Del Mar.
Where can I go on a date in Del Mar?
You can go on a date to Poseidon Restaurant in Del Mar which offers a special setting for couples and also has great food.
Where can I find American food in Del Mar?
Beeside Balcony offers American Food and Mediterranean Cuisine in Del Mar