Weekend Brunches are just an excuse to catch up with your friends and family. Dubai; being known for luxury and glitz, is second to none for its calmative and extravagant brunches. It has a bunch of opulent brunch places with enticing food and intimate vibes to refresh your soul. If you happen to visit Dubai, the following are the restaurants where you can also enjoy a relaxing weekend brunch.
Staying in Dubai for a week? Here is a complete plan for maximum recreation and if you're confused about what airline to choose for flying to Dubai, check out our comparison of the 3 major gulf carriers.
Some restaurant serves their brunches in food outlet style with various cuisine options, while, some give you a fine dining experience with a high-end vibe. You can choose what suits your taste the best from the places mentioned below.
Best Restaurants In Dubai
Following are the restaurants with the best food and ambiance when it comes to bunches in Dubai, and you surely will keep coming back to them for their excellent services.
Caviar Kaspia is a famous restaurant that has its roots in Paris. The restaurant, after its success in its native place, has picked DIFC as its first international outpost, and it has not disappointed its customers at all. From the location to the interiors, the scenic views and the cozy French vibe of the place are a match to no other. Their menu of authentic Russian and French dishes is too good to miss out on!
Its ground floor is beautifully decorated with gold frames and has kept the French vibe very much alive in the emirate of Dubai. The ground floor is a very sophisticated dining place; however, there is also a top floor with dining on the terraces with beautiful views and a live DJ making the atmosphere electric. There is also an outdoor dining place which is the best to enjoy brunch.
The restaurant has a great brunch menu which starts with baked potatoes. You can get eggs of your choice like; mimosa eggs, eggs benedict, or whatever your preference may be. They have extended their menus and have added some of their signature dishes to their brunch menus such as risotto, stuffed croissants, and side dishes like fries and many more. You can also enjoy several desserts from their menu but the best one has to be the rosewater milk cake which was so fluffy and tasted delightful.
The service was also good. Their staff was friendly and nice and, their recommended food was the best. This place is open for brunches on the weekends. The ambiance of the place, food, and customer service all add to a perfect re-energizing weekend brunch. However, the place fills up pretty quickly so it's best to get your table booked beforehand.
Social Distrikt is one of its kind sort of restaurant in Dubai, at a very convenient location of The Pointe. The restaurant has a food hall, and food is served in a buffet style. So there are stalls of different cuisines, mainly; Italian, American, and Mexican, and a ton of food options. You can go fill your plate up with whatever you want and come back to your table with it.
The interiors are nice and lively. There is dining inside the hall, and then there is dining outside. Its upstairs space is really fun with live music and beautiful views. The best part about the music is they entertain your requests. The whole atmosphere is so tranquilizing, and the food is good too. Outside dining is beautiful with fairy lights and plants around which becomes even dreamier at night. The place also has a little playroom for kids where they can enjoy coloring and painting which makes it a perfect place for brunch with family.
The food outlets, apart from the other cuisines also offer Indian, Greek, and Japanese food. Their pasta should not be missed as it is easily the best pasta you will have for a while. They also have a couple of salad options and desserts, specifically cheesecake; it's a chef's kiss!
The service quality is top-notch. Their servers help you with your choices of food and are very nice. They also accept pets. There are arcades where you can unleash your inner child and enjoy playing games. From live music to an exquisite food menu, family-friendly and pet-friendly too, a weekend brunch doesn't get any better than this does it.
Niki bean resort and spa are known for its beautiful scenic views and extravagant parties with pools and loud electric music. However, the resort also has a café which is set up right on the beach. This café's music and atmosphere are so warm and subtle, making it perfect for a soothing weekend brunch. The seating arrangement and the décor match well with the outdoor setup of the café and the beach as if it's a part of the whole natural scenery.
The brunch is buffet style. There are various options like meat, seafood, pasta, oysters, prawns, and many more. The basic cuisine that is served is Southern French. Various types of eggs are also available. Their best, however, is the mini dessert towers, cheesecakes just melt in your mouth, and chocolate tarts are just out of this world.
The service quality is five stars. You don't have to wait much for your food and they keep filling up quickly too. They also have special offers for kids less than 12 years. The brunch is served between 1 to 4 pm on a first come and first serve basis.
The best thing about this brunch apart from the incredible food, ambiance, and background music has to be the views of the stunning Arabian Gulf and Dubai skyline. It just takes your breath away. There is also complimentary access to the pool and beach area after brunch to take a swim. If not the brunch this dip surely will re-energize you for Mondays!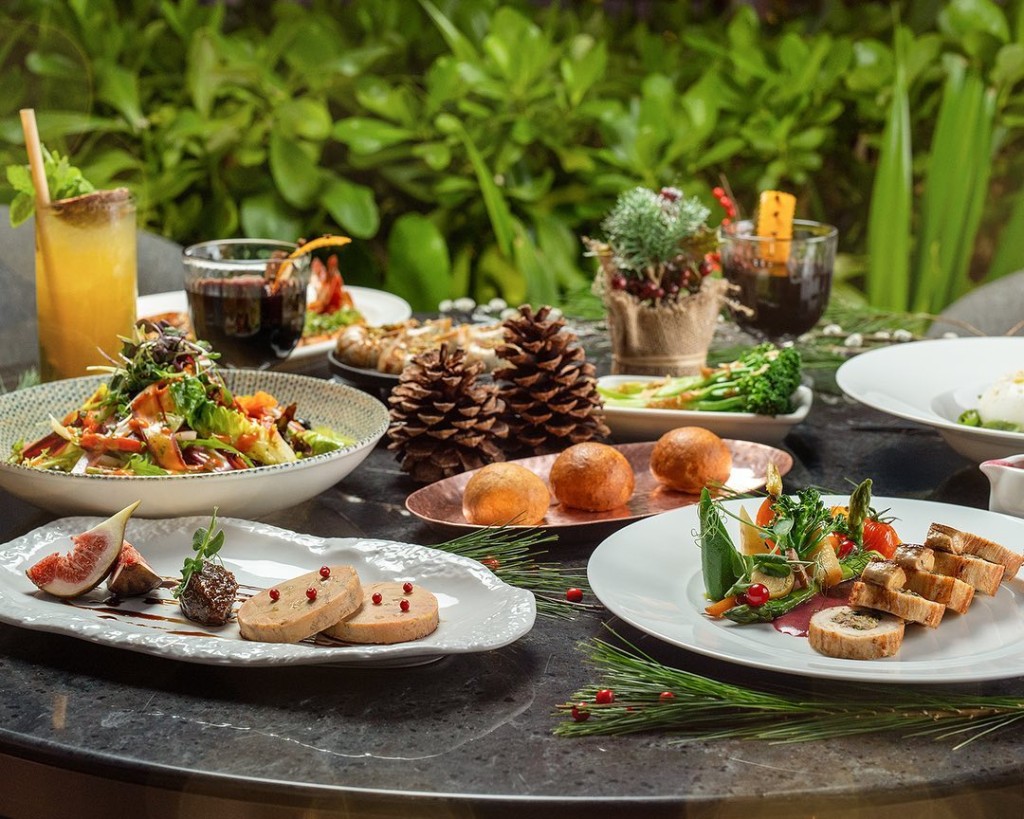 Garden of the dreams is a beautiful and intimate space utilized by the JBR beach resort for a high-quality brunch. The gorgeous view of the JBR skyline is the cherry on top of the beautiful interiors of this place. This stunning place is adorned with beautiful lights and plants with a live DJ making the atmosphere even more hypnotic. The bright colors of this place match well with the flavor-filled brunch they offer.
Their menu is vast and full of stuff that is typically loved by everyone. From freshly baked pizzas to homemade pasta and risotto, the fried chicken dishes and rib-eye steaks and prawns, they have got it all. The best thing about their menu is the vast variety of healthy meals they have available. They have a variety of salads to order from which is unlike many other brunch places. Their sweet dishes are also amazing and keeping their choices of healthy food options steady, they have fruit bowls too.
The place has got a very luxurious feel to it from the ambiance to the decors; the place is the exact kind where you would like to step right after stepping out from the yacht. Their service quality is really good. The waiters and waitresses help you above and beyond to make you feel comfortable. Another noticeable thing is the servers are just a bell away so you don't have to get up every time you need to refill your drinks, unlike other buffets.
All in all the atmosphere It's a perfect place for a soothing weekend brunch and is the one for you too if you like to eat your Saturday brunches in places that seem like a dream!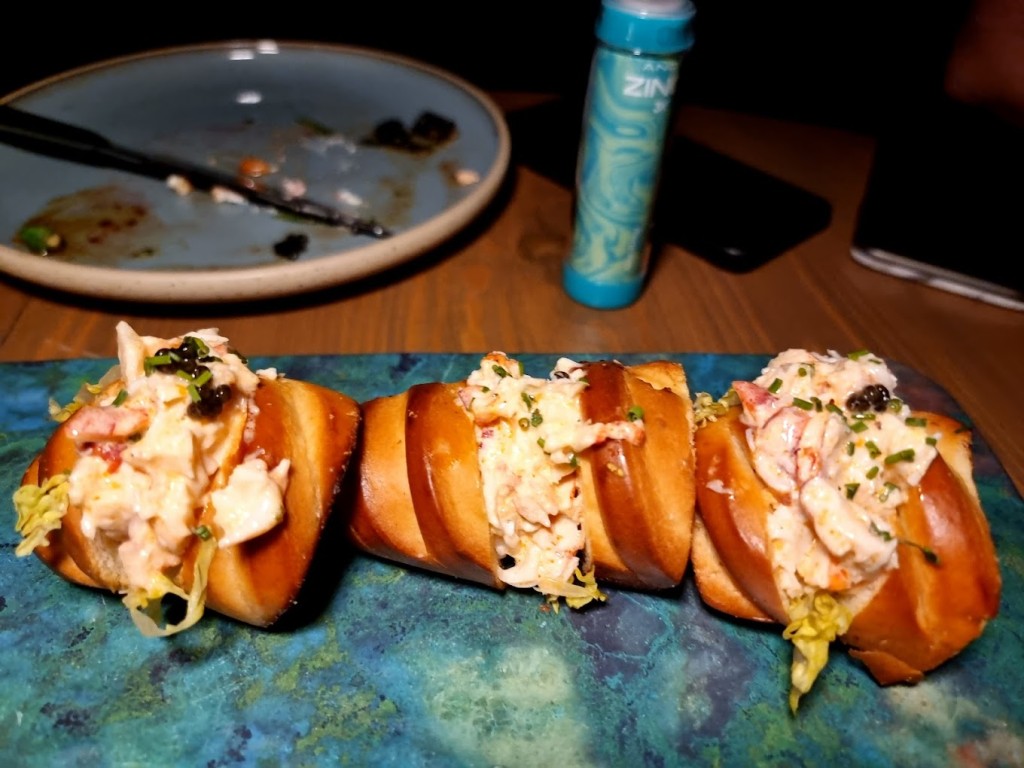 Bar Du Port is located at the lush waterfront Dubai Harbour. This port restaurant serves its brunch on the vast terrace with a beautiful view of the water bodies of Dubai Harbour. The décor of the whole place is so chic and classy. Their color scheme is so aesthetic making it a perfect place for clicking some Instagram-worthy shots in this absolute dream of a place.
Their brunch is served between 1 to 5 pm and they have an extensive menu for you to order from. The extensiveness of the menu is not confined to the food or desserts only but also the drinks. Their bar serves drinks that are not only good for your taste buds but also a treat to your eyes; looking like a piece of art in a glass.
They specialize in French cuisine and serve a three-course meal. The chicken pops in starters are delicious. Their appetizers were good too. The main dishes include risotto, Australian beef tenderloins, smoked salmon, marinated shrimp, and many more. Their menu is heaven for seafood lovers as they have a lot of seafood options in their brunch menu. The desserts will satisfy the cravings of your sweet tooth with yummy raspberry cake and many other options.
Their customer service is good too. The staff, from the reception to the serving was accommodating and nice. If you are confused about what to order, ask the staff, and they will not let you down. The place is perfect with the bohemian decors, stunning views, and amazing food, you got to be convinced it is all that and more!
Toro Toro restaurant was established by Chef Richard Sandoval in Dubai as a tribute to his Latin heritage. The restaurant's interior is beautifully decorated with tribal Latin patterns, palm leaves, and dark walls that are representative of their culture. This uber-chic restaurant has developed its menu inspired by foods from Peru to Brazil and has put together several dishes in its brunch menu which will make your mouth water.
Their brunch is a three-course meal with an extensive menu for starters, mains, and desserts. The best dishes on their menu, however, have to be their tacos, steaks, and shrimp. They also have a lot of options for drinks. The food overall is splendid and the ambiance of the place was delightful too. Their bright interiors and yummy food accompanied by the music in the background make it even more intimate and appealing.
Their customer service is great. The place is not overly crowded and the music is also not too loud. Their staff is attentive and they look after you well.
The time for brunch at this place is 1 pm to 4 pm. Overall it is a nice place for a family brunch or even for a more intimate affair. The vibe of this place will make you feel at home and the amazing flavors of the food and hospitality will make you come back to this place every week for a cozy brunch.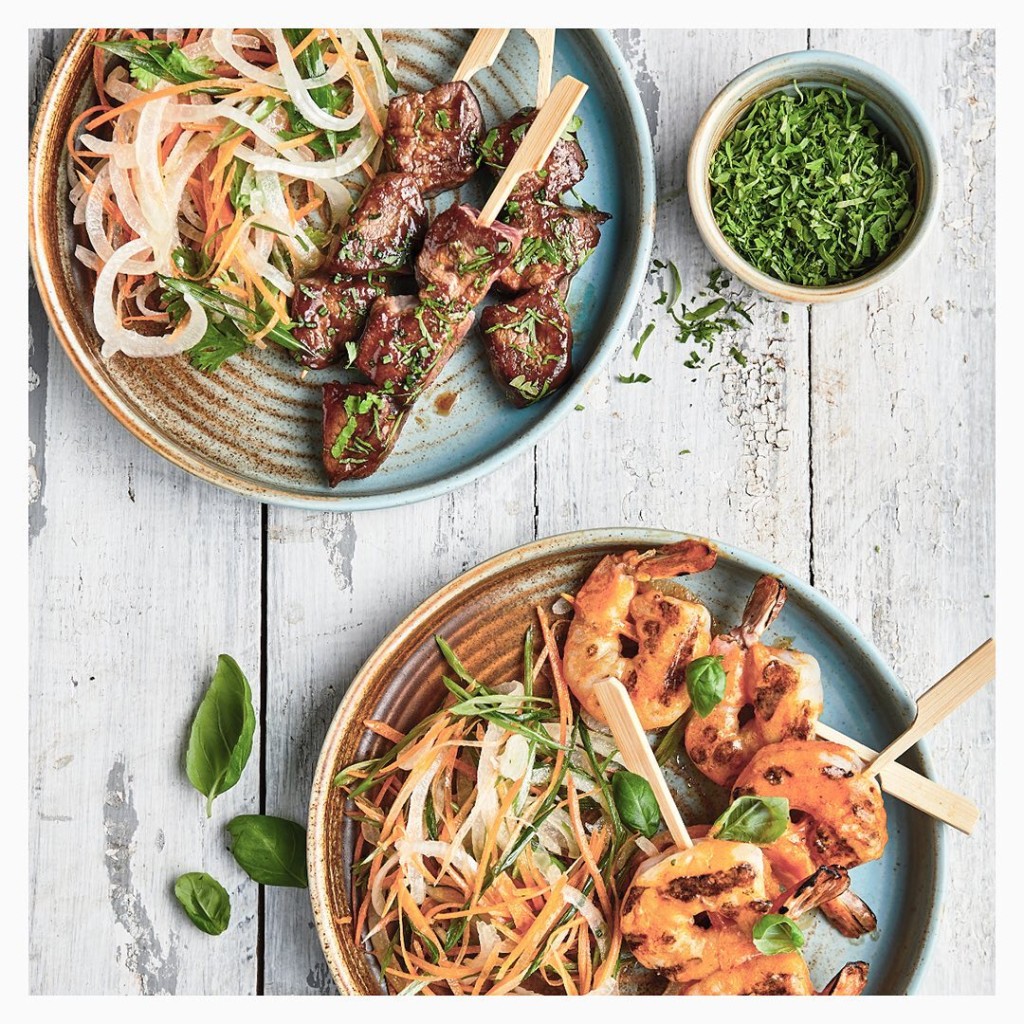 Koko Bay is a famous restaurant inspired by Bali on West Coast Beach. It is a gorgeous setup with great options for food for brunch. The interior decorators have worked hard to make every corner of this place instagrammable. There is indoor seating and outdoor seating. Both areas are nice and cozy, but the outside seating with stunning views looks straight out of a painting.
The place specializes in Asian cuisine. There is also a bar available. The food is so rich and aromatic; the kind that will heal your taste buds with flavor-full-ness and calm your senses with aroma therapy. Everything was great, but the best ones on the brunch menu that you must try were tuna ceviche and rib eye. They also have a long list of drinks on the menu to order from. The starters, mains, everything was splendid. Among the dessert options, you have to try the mango cake, it was so good.
The place is accessible for people in wheelchairs. There are high chairs available too, which makes it a perfect spot for a family brunch if you have toddlers with you. This place is also dog friendly, and there is also live music. The atmosphere is so pleasant that in no time you might see yourself at the open mike singing your heart out.
Their customer service is five stars. The staff is incredibly nice and helpful. This place has got it all in the literal means, from the delicious food to the warm vibes, gorgeous views of the beach, and pleasant weather; all of these will make your weekend brunch better than ever!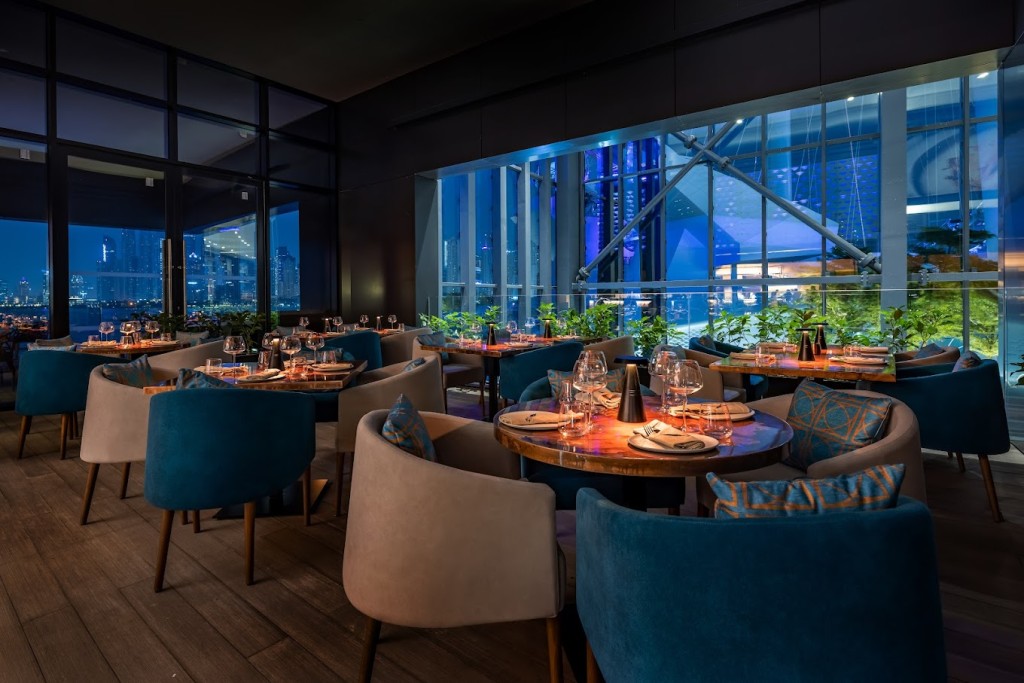 Vaga is a new upscale restaurant on blue waters island. It follows the theme of the blend of amazing Arabic and Armenian cultures and styles. Its interiors are very much inspired by the two with the nomadic blues seen everywhere. The roofs are high and adorned with luxurious chandeliers. There are windows through which you can see the chefs cook. The place is huge with a cool-toned color scheme that is so soothing for the eyes.
The main cuisines served are Arabic and Armenian. Their food is delightful however the mixology of cocktails with both Arabic and Armenian flavors is the best part of this brunch. The atmosphere of this place is magical. There is indoor dining and upstairs outdoor dining where you can have your food with exquisite sceneries, making the whole experience even more magical.
Their customer service is five stars. The staff is attentive and friendly. They provided us with an ideal service. The place is accessible for wheelchair bounded individuals. There is also live music being played in the background taking this place further up a notch.
The place has modern vibes and calming lighting and interiors. It is perfect for a romantic brunch with your loved ones or a re-energizing brunch with your friends over the weekend.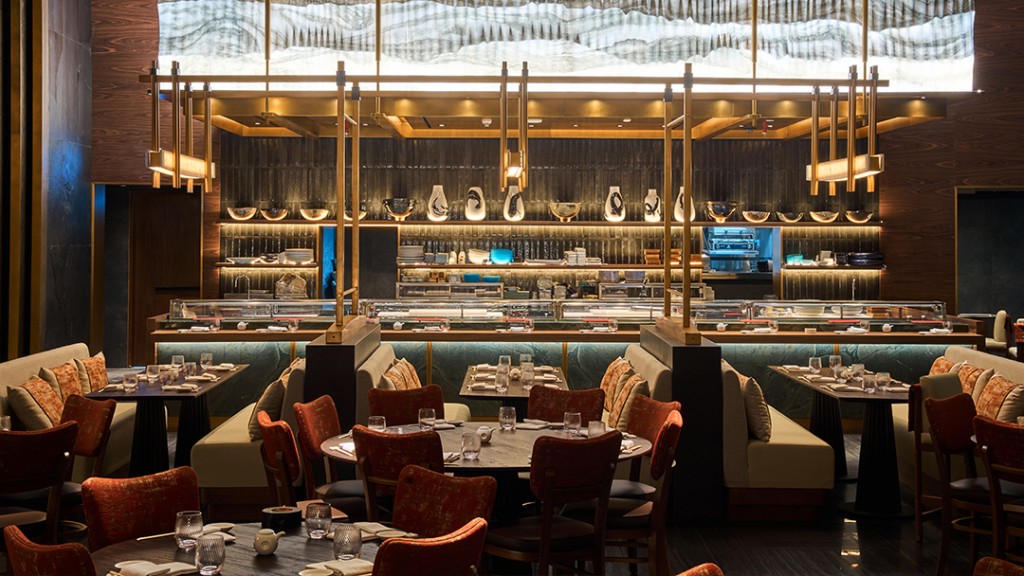 Nobu is a famous restaurant that has opened its branches in Dubai and started serving brunch as well. If you are looking for a luxurious Japanese meal in Dubai, this is the right place for you. With the brunch, you can enjoy the fancy taste of this place at a fraction of the initial price. As a side note, this restaurant is also a hot spot for some of the re-known B-town and H-town celebs, along with the high-end taste, you might also meet your favorite celebrities.
The interior of the restaurant has been designed keeping in view the originality of the place along with the large-scale blend of Dubai's glitz and glamour. You can see high roof ceilings with gold and luxurious settings all through the restaurant. The walls of the place are shiny and shimmery giving the illusion of an ocean wave, and the interior of the bar is berry red, making it look all fancy and chic.
As the place specializes in Japanese cuisine they have a ton of Japanese dishes, they also have a blend of French and Japanese cuisine available. The menu has all of the famous Nobu dishes in it, from the sushi and rolls to the black cod miso, truffle edamame, wagyu rib eye flambé, yellowtail jalapeno, and many more classic Nobu dishes. Their brunch ends with classic Japanese desserts like mochi ice cream, miso cheesecake, and many more.
Their customer service is good. The staff is nice and they do not put you on hold for long. All-embracing this is a perfect place for a weekend brunch if you are a fan of Japanese cuisine and premium Japanese-French foods. As a side note, you must try their premium white and rose wines; they are the best!
Things to consider before going to a Brunch
Check the menu — If you are going to have brunch at a new restaurant, make sure to check their menu beforehand, especially if you have dietary restrictions to make sure they have the food options and cuisines that you would like to eat.
Time — Check the time at which they offer brunch. Brunch timings can be different for different restaurants so just to make sure, check earlier on.
Booking — Making a reservation in advance is always better than not having any tables when you already have arrived. Most of the places have their tables booked so book yours, the sooner the better!
Have a little something before — Do not go to brunch on an empty stomach. Eat something light like a smoothie bowl or whatever your preference might be as brunch is supposed to make you feel cozy and not hangry.
Check ratings — Checking the ratings online is the best way to figure out if the place is worth your time and money or not. So make sure to check the service quality and ambiance online.
How Do We Pick Our Recommendations
The contemporary sightseeing attractions are what convinced us to pack our bags and land in Dubai as our next destination. While being at it, the weekend brunch culture in Dubai took us by storm which leads us to make this listicle for you guys. We also previously made a brunch recommendations list for different places like Anaheim, Santa Ana, Norfolk, and more. We visited all of the mentioned places and had the best time ever. Our recommendations are based on the food, service quality, ambiance, and variety of options available on the brunch menus. The list is not just based on our opinions but also on the experience of other travelers and online ratings.
Next Read: Insiders Guide to The Best Pizza in Dubai
Finest places In Dubai For A Revitalising Weekend Brunch - FAQs
What time do brunches start in Dubai?
Brunches start in Dubai from 2 pm to 5 pm every Saturday and Sunday.
What kind of dishes are served at brunch?
The dishes that are served at a brunch usually include a combination of both breakfast and lunch dishes.
How do brunches work in Dubai?
Brunching in Dubai is famous for its great food, lively atmosphere, and beautiful people.
Which is the best beach brunch place in Dubai?
Nikki Beach Restaurant and beach club Dubai is the best beach brunch place in Dubai.