One of the best things about living in Dubai is having easy access to a wide variety of eateries. The residents of Dubai come from all walks of life and all corners of the globe, making the city a true cultural melting pot. One of Japan's most beloved dishes, sushi, has recently become a culinary sensation in Dubai. There is a sizable population of people in the United Arab Emirates who are interested in Japanese culture and food, who reside primarily in Dubai. The most incredible sushi restaurants in Dubai have a dedicated following because of the authentic flavors and fresh ingredients they use in their dishes.
Editor's Picks -Best Sushi Restaurants in Dubai
Several things set apart a genuine sushi bar in Dubai. The quality of sushi relies on using fresh ingredients and preparing the sushi with the utmost precision and expertise to achieve the dish's purest, most traditional form. Our goal in creating this list is to help you find the excellent Sushi in Dubai without compromising on the quality.
Zuma, located in DIFC, is a high-end Japanese restaurant serving traditional Izakaya fare and is widely considered to be among the finest sushi restaurants in Dubai. You'll find this authentic Japanese restaurant in Dubai near the world's tallest skyscraper, Burj Khalifa. The Zuma menu in Dubai's DIFC is both tempting and extensive. Dishes are made from scratch and have rich flavors from high-quality ingredients.
The restaurant has earned its place among Dubai's best with its focus on simply prepared yet attractively delivered Japanese cuisine. Sushi, miso-marinated black cod, unagi bo sushi maki, pirikara gyu no makimono cocktails, sashimi, chocolate fondue, mushroom rice, tempura prawns, and maki rolls are just a few of the popular meals. We recommend trying one of the restaurant's specialties, black cod, because it is so insanely good.
Zuma is open from 12:30 pm to 03:30 pm for lunch and 7:00 pm to 12:45 am for dinner (Sunday to Wednesday), and from 12:30 pm to 3:30 pm for lunch and 7:00 pm to 01:45 am for dinner (Thursday and Friday), with an average per-person cost of AED 300.
Want to have an authentic sushi meal in Dubai? Jumeirah 2 is where you'll find Hseki, a restaurant inside the Bulgari Resort Dubai. This Japanese fine-dining restaurant is a little pricey but offers a once-in-a-lifetime experience. The overall ambiance of this place is exciting yet comfortable for you to enjoy the food!
You need to visit this restaurant if you're a true sushi enthusiast. Chef Masahiro Sugiyama, who hails from a family of sushi chefs, uses only the freshest ingredients daily. The Hseki menu is constantly evolving to use the best seasonal ingredients available. Miso soup, the house specialty omelet, and an assortment of sushi are served with every meal.
We recommend trying their Sango, kohaku, ruri, and hisui, and the renowned Sushi in Hseki. You can't go wrong with this hoseki if you're searching for a taste of genuine Japanese fare. This restaurant is pricier, so save it for rare occasions, or your wallet will hate you.
Lunch at Hseki is served daily at 1:00 pm (Thursday–Sunday), and supper (Wednesday–Sunday) is served between 6:00 and 8:30 pm for AED 550 – AED 1468 per person.
Suggested Reading: Daily Dose of Motivation: The Finest Gyms In Dubai For Everyone!
Wakame, located in the Sofitel Dubai Downtown, is our next pick for a fine choice of Sushi in Dubai. Wakame, one of Dubai's most-known restaurants, features attractive live sushi preparation prepared by expert chefs.
Wakame's live dim sum counters are another restaurant highlight, where your favorite dim sum is prepared in front of your eyes. You can find excellent sushi prepared with premium ingredients at this trendy Asian eatery in Dubai. Hamachi tataki, crispy kataifi prawn, volcano, and rainbow reloaded are some of the most popular dishes among regulars. The spicy tuna rock n' roll and the dragon are two of our favorite dishes there; we highly recommend them. Wakame is open daily from 12:00 pm – 1:00 am at an average price of AED 265 per person.
One of the city's most unique and long-running high-end Japanese restaurants is TOMO, which hardly requires an introduction. The rooftop patio offers spectacular views of the Dubai skyline at any time of day. The restaurant is renowned for serving delicious and accurate to taste Sushi in Dubai.
Tomo, in Japanese, refers to a lifelong companion. It is a beautiful location for friends to hang out and make memories over some tasty maki and nigiri rolls, as the name implies. To get an authentic experience of Japan while in the UAE, stop by this restaurant.
Great sushi and a cozy atmosphere await you at this restaurant with panoramic views of Dubai's skyline. Some of Tomo Raffles' must-try dishes include sushi, sashimi, chocolate cake, flounder fin, Japanese cured mackerel, and salmon roe. Sashimi is one of TOMO's signature dishes, so don't leave without ordering some!
The average meal cost at Tomo Raffel is AED 175 which makes it a pretty good choice for someone who wants to eat sushi at a lower price tag. The operating hours are daily from 12:30 pm to 02:45 pm and 6:30 pm to 12:30 am.
Whoa, did someone say unlimited sushi? If you say so! For those who can't get enough of the seaweed snack, a sushi buffet is a way to go, as you may sample as wide varieties as you like.
Sushi Nations is the best sushi buffet in Dubai since you can eat as much as you want without spending as much. Noodles, soups, dumplings, fried appetizers, many rolls, maki, and nigiri, seaweed wakame salad, and other dishes are not included in the all-you-can-eat sushi buffet. Maki rolls, noodles, and calamari are just some of the options on the menu. If you're a fan of seafood, you should check out Sushi Nations for its calamari.
Sushi Nations' lunch special is a deal at only 19 to 79 AED per person and is available from 9 am to 2 am, from Monday to Friday.
Special Pick: Finest Places In Dubai For A Revitalising Weekend Brunch
You can get some of the best Sushi in Dubai at this restaurant, located in the trendy Al Barsha section of the world-famous Mall of the Emirates. To satisfy sushi cravings at a reasonable price, Dubai locals and visitors alike go to Umami. Umami Dubai offers a variety of delicious traditional Japanese dishes, including some of the best sushi in the city. The many delicious options available at Umami are the California roll, salmon rolls, prawn tempura rolls, and sashimi.
You can get a taste of many different types of Japanese cuisine, including noodles, at Umami. If you go, take advantage of the Nigri sushi and tuna rolls doused in a delicious sauce. The restaurant Umami is open daily from 11 am until 11 pm. You can expect to pay about 47 AED per person.
Keep in mind that since the prices are quite low, you might have to wait for a while and not expect the level of exclusive service offered at other restaurants. However, we suggested it as an option so that visitors know where to get cheap sushi in Dubai.
Sumo Sushi and Bento in Media City Dubai is the place to go for a wide variety of sushi at a mediocre price. The restaurant serves a variety of tasty sushi rolls, and one of our favorites is the phoenix roll. It's a special sushi roll with salmon, sweet chili sauce, and crispy salmon sticks on top of prawns, crabstick, tempura, cucumber, and other seasonings.
The tiger roll, the Bangkok roll, the dragon roll, and the shinobi roll are all great options. They also provide heart-healthy options like Black Sushi rice, which is very delicious. The Neptune Rolls and the Dynamite Rolls are our top picks. If you don't feel like going out to eat, don't worry; they've just released a new delivery app called Sumo Sushi that will bring all your favorites to your door. What a perfect fit!
The restaurant is immaculate, the service is lightning-fast, and the employees couldn't be nicer or more helpful.
If you want to treat yourself to delicious sushi without breaking the bank, Sumo Sushi & Bento is the place to go. Stop by Sumo Sushi & Bento anytime between 11 am and 11 pm, every day of the week, for a reasonably priced dinner (AED 82, on average).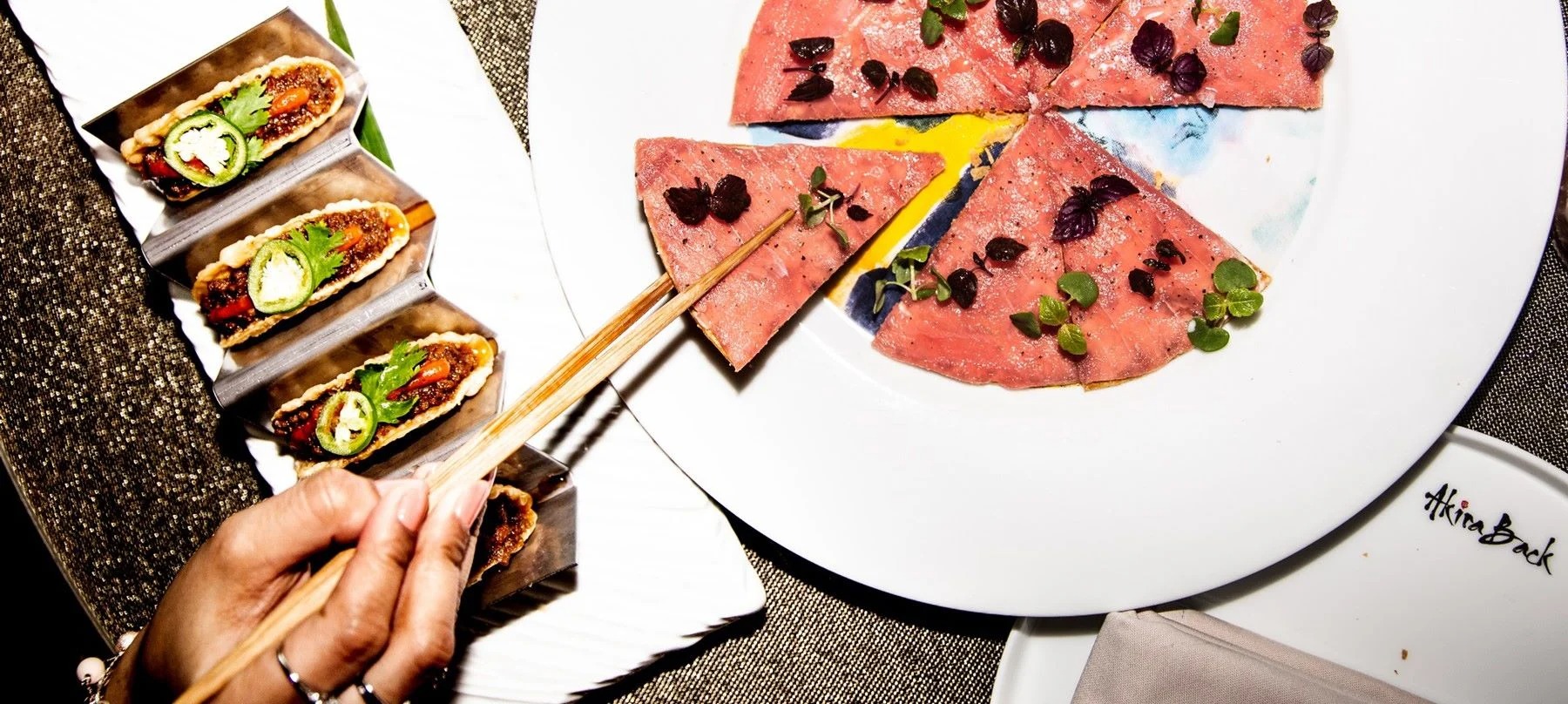 Akira Back, a Japanese chef, uses worldwide Korean tastes to create authentic Japanese cuisine. Located on The Palm West Crescent, this sushi restaurant is renowned throughout Dubai for its high-quality service and delicious Japanese fare.
The outdoor and private dining options and the extensive selection of sushi platters set Akira apart from other sushi restaurants (Vegetarians, Vegans, and Gluten-Free Options). The crispy pork belly, green monster, spicy Seoul, backed crab hand roll, and rock shrimp handrolls are just a few of the dishes that stand out on the extensive menu. You must get the wagyu tacos and the specialty sushi rolls if you go there.
The main reason why we recommend this restaurant is because of the sushi platters which fulfill your sushi cravings in an exotic manner!
There are three different discounts available.
Every Monday from 7 to 9 pm, ladies get in for AED 250.
Choose your three-course meal from a fixed menu by picking a lucky number between one and nine. Prices start at just AED 111 per person any night of the week between 7 pm and 11 pm.
Every Saturday from 1 to 4:30, we serve a candy-themed brunch. From AED 399 per person.
Akira Back's average per-person lunch cost is between AED 149 and AED 500.
Recommended Reading: 7 Burger Spots in Dubai That Will Leave You Speechless
You may have authentic Japanese food at Yugo for a reasonable price. Jumeirah Lake Towers is a popular tourist destination in Dubai, and that's where you'll find this restaurant.
Sushi and ramen are two comfort foods that many Dubai residents say they turn to when they need a break from the city. Yogo Sushi is an excellent selection of sushi and other Japanese dishes. The menu's spicy edamame and bang-bang shrimps are two of the most popular items.
You can get some of the outstanding sushi in Dubai here, including hamachi nigiri, kanikama nigiri, ebi nigiri, and tamago nigiri. Their teriyaki beef, udon, salmon, and maki rolls are some of the best food we have ever eaten, so we highly recommend trying these dishes.
You can visit yogo sushi from 10 am to 10 pm, Monday through Friday; customers can take advantage of Yogo Sushi lunch special at an affordable price of only 55 AED per person.
Time Out has named 3Fils the best Asian restaurant every year from 2018 to 2020 and is rated as the best restaurant in the MENA region by Forbes and one of the world's ten most incredible new restaurants by the publication. Additionally, it is situated in a truly one-of-a-kind location, the fishing harbor of Jumeirah. Located in a highly sought-after and widely recognized area close to Dubai Marina, this sushi restaurant can easily hold its own against the city's most upscale establishments. If you've never tried sashimi before, this is one of the ideal places to do so because of the restaurant's delicious and varied sushi.
The most popular items on the menu include hash brown with tuna, edamame shitake linguine, A5 wagyu maki, uni bowl, tai snapper, negitoro, and yokozuna. Sushi, octopus from Fremantle, and African Powerhouse, a dessert consisting of Ghanaian dark chocolate and Madagascar vanilla ice cream, are just a few dishes that will pique your curiosity.
The Salmon-Carpaccio and the seaweed salads are both must-tries. As we type this, we can almost still smell and taste them. The lunch offered at 3 Fils is a steal at only 146 AED per person and is available from 12 pm to 11:30 pm, from Monday to Friday.
Things to Consider before choosing a Sushi Restaurant in Dubai
Sushi lovers who dine out frequently know that not all sushi bars serve the same quality food. Finding a new sushi restaurant that meets your standards is an acquired talent, but there are some hallmarks you should look for in any restaurant you visit. In light of this, we will review some things to keep an eye out for when picking a new sushi spot.
The Chef's Reputation For Excellence — The sushi chef's skill and experience are crucial to any sushi establishment's success. There is a significant gap between a professional sushi chef and the person making the rolls you buy at the supermarket.
Local Reputation of the Restaurant — If a sushi restaurant doesn't have a good reputation, you can get sick from eating there, so it's important to research its history before you go. Customers can learn about the atmosphere, the prices of the food, and whether or not they were satisfied with their experiences at a restaurant by reading reviews written by those who have already eaten there.
Menu — The appearance of the menu is also an important consideration. What kind of sushi is being served, as well as whether or not the costs are reasonable given the level of expertise of the chef, may all be gauged just by a glance at the menu. A sushi expert can see if a restaurant lives up to its reputation by checking out the menu, usually posted online or readily available at the restaurant.
How Do We Pick Our Recommendations?
All of our suggestions have been researched extensively by our team of world-trotting experts and avid eaters who are always on the lookout for new and interesting cuisines to try. With this in mind, we work hard to ensure that our recommendations are useful for making informed choices while traveling. Our team member _____ is a sushi lover and we always go with her choice on picking sushi. We are sure you wont regret the experience as well.
Wrapping it Up!
There are many sushi options in Dubai, but the ten we've highlighted below are exceptional. Places like these will have you returning for more, thanks to their fresh seafood and unique rolls. Whether you're searching for a place to have a quick bite or celebrate a big event, we have options. As costs range from very expensive to very low, they are accessible to people with a wide variety of budgets. You should also read our guide on Seafood Restaurants in Dubai.
10 Best Sushi In Dubai- FAQs
Does Dubai have sushi?
Whether you like simple nigiri or are a fan of fusion maki, there is a lot of Japanese spot in Dubai that'll satiate every sushi craving
Which restaurant serves the best Sushi in Dubai?
Dubai is home to some of the world's finest sushi restaurants, including Zuma, Hoseki, Wakame, and Tomo Raffles.
Which restaurant in Dubai serves affordable sushi?
The Sushi at Sumo Sushi & Bento, Yogo Sushi, and Chez Sushi are incredibly delicious and reasonably priced.
Which restaurant in Dubai serves a sushi buffet?
To enjoy an endless supply of sushi at a reasonable price, there is no better option than Sushi Nations' buffet in Dubai.
Where in Dubai can one find the finest Japanese cuisine?
Located in DIFC, Zuma is widely considered to be among Dubai's finest sushi restaurants, featuring upscale takes on classic Izakaya dishes.