Previously, we covered an extensive guide on best things to do in New Jersey. But this time, we decided to be more specific. If you believe Edison, NJ is a dull town where the only options are gazing at light bulbs and phonographs, think again.
Edison offers a wealth of enjoyable and thrilling activities for history and science enthusiasts, or anyone seeking a good time. You can explore locations where Thomas Edison created remarkable inventions, such as his laboratory museum, mansion museum, and memorial tower. In short, it's a place for all kinds of people. Now, it's time to explore the best things to do in Edison, NJ!
Top Things to do in Edison, NJ
There are so many things to do in Edison, and some popular places include Thomas Edison Center, Rutgers Gardens, Farrington Lake, Supercharged Entertainment, New Jersey Convention & Exposition Center, Roosevelt Park, Rutgers Ecological Preserve, and Menlo Park Mall. These locations offer a variety of activities for visitors to enjoy, as shown below!
Head Over to Thomas Edison Center!
Calling all museum lovers! If you're passionate about history and innovation, the Thomas Edison Center is your kind of spot. It's not just a museum; it's a place that pays tribute to the incredible life and inventions of Thomas Edison (one of history's most influential figures). And guess what? It's right where Edison did his magical inventing at the Menlo Park laboratory.
Fun and Cool Things to Do
When you visit the Thomas Edison Center, you'll find a museum packed with fascinating items, like ancient objects, pictures, and interactive things to enjoy. I am sure history enthusiasts will be impressed by the revolutionary phonograph (known as the music machine) and the iconic light bulb, along with his pioneering movie camera.
But the adventure doesn't stop there. The center has a park outside with winding trails, spots for picnics, and a playground for endless fun. Everything you will see here is all about the incredible work of Thomas Edison.
Operating Hours
They welcome you with open arms from Thursday through Sunday, starting at 10 AM and keeping the excitement going until 4 PM. But, don't plan your visit for Mondays, Tuesdays, Wednesday or major holidays – they'll be taking a break on those days.
Price
Children under 4 can enter for free, while those aged 5 and above need to pay $5. Teenagers and adults pay $7, and senior citizens and military personnel also have a ticket price of $5.
Suggested Reading: Ultimate Guide to 13 BEST Restaurants In Montclair NJ
Relax at Rutgers Gardens!
Speaking from the heart, I'm a huge fan of green spaces, and for folks like me, I've got a top recommendation: Rutgers Gardens. It's like a 180-acre wonderland filled with plants from all over the globe, showing off their beauty and variety.
This garden is connected to Rutgers University (New Jersey's state university). Here, you can take part in various educational sessions and enjoy exciting events. What's even cooler is that it's open to everyone throughout the year so you can visit any time you wish.
Fun and Cool Things to Do
This place is like a plant wonderland with collections of all sorts of greens – bamboo, colorful rhododendrons, swaying ornamental grasses, herbs, fresh veggies, delicious fruits, blooming flowers, and even more.
It's not only about the plants; there's a whole world of special gardens just waiting to be discovered. There's the timeless Bamboo Forest, first planted back in the 1950s. And you'll also find the Rain Garden, the Pollinator Garden, the Shade Garden, and other places that let you connect with the beauty of nature.
Further, people can relax in the serene views of ponds, peaceful woods, bubbling streams, open meadows, and picturesque fields. And to make it even better, this place hosts fun workshops, guided tours, farmers markets, plant sales, weddings, and special events.
Operating Hours
Rutgers Gardens greets guests from 8 AM to 6 PM, from Tuesday through Sunday. However, they take a break every Monday. Just keep in mind that the hours might shift due to weather or special events.
Price
Admission to the garden is entirely free. However, if you intend to host an event at the garden, keep in mind that all events necessitate a $500 security deposit to confirm your selected date.
Enjoy at Farrington Lake
If you have a deep appreciation for the great outdoors, allow me to reveal a hidden gem known as Farrington Lake. This beautiful freshwater lake is nestled in Middlesex County, just a short distance from the charming town of Milltown. The lake came to life through the magic of a dam along Lawrence Brook.
Is this an ordinary lake? Far from it! Farrington Lake is more like the graceful expansion of Lawrence Brook with its faithful companions such as Beaverdam Brook, Oakeys Brook, and Ireland Brook.
Fun and Cool Things to Do
Farrington Lake is like a fun park for nature lovers. You can fish, boat, kayak, or go for a canoe ride. If you prefer to keep your feet on solid ground, there are scenic trails for hiking and biking.
And if you're a bird enthusiast, keep your binoculars handy. Underneath the water, there's a lively community of fish, like bass and trout. But it's not just a fish party, you might spot foxes, beavers, deer, and even turtles and frogs.
Operating Hours
The lake opens its doors from sunrise to sunset. You won't need tickets or permits to enjoy your adventure. Just remember to be a respectful visitor by abiding by the guidelines set by the New Jersey Division of Fish and Wildlife and the Middlesex County Parks and Recreation Office.
Price
The price varies based on your purpose. If you're simply visiting, admission is free. However, if you're booking the garden for a wedding reception, it may cost around $1800.
Editor's Pick: Cape May's Top-Rated Eateries: A Foodie's Guide
Stroll at Roosevelt Park
Looking for a fun day out with family or friends? If the answer is yes, then you must consider the 217-acre expanse of Roosevelt Park. Located where Parsonage Road meets U.S. Route 1, this park carries a storied past. It was established in 1933 when Edison was still called Raritan Township by earning the title of the most ancient park in the Middlesex County Park System. And its name? Well, it's a tip of the hat to President Franklin D. Roosevelt, who paid a memorable visit to Edison in 1936.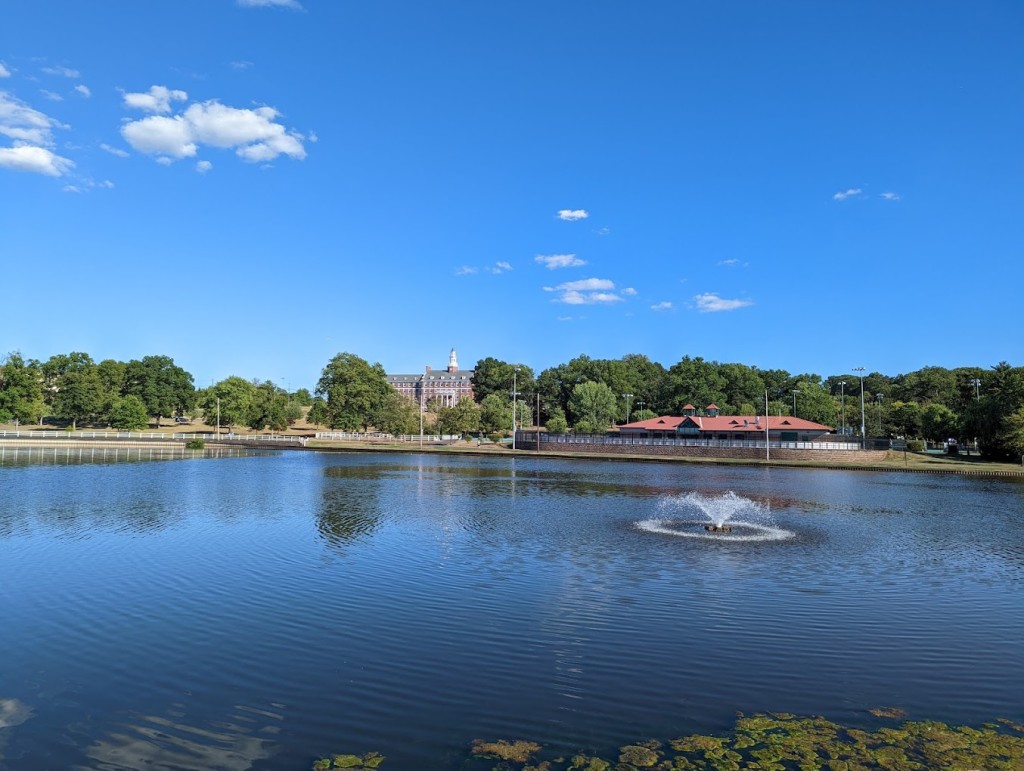 Fun and Cool Things to Do
This fun-filled hub is perfect for all, bringing together sports, arts, and culture. You'll find a big lake with a fishing pier and a boathouse that rents paddle boats and kayaks. There's an outdoor amphitheater where you can enjoy concerts and shows in the summer.
Highly Recommended: The star of the show is the Plays-in-the-Park program, which has been putting on musicals and plays for the community since 1963.
Kids have a playground with slides, swings, and climbing structures, while sports lovers have basketball courts, baseball fields, tennis courts, soccer fields, cricket fields, and even a fitness trail. And if you're in the mood for a picnic, they've got areas with grills and tables.
Operating Hours
The park is accessible year-round, starting half an hour before sunrise and closing half an hour after sunset.
Price
Entrance to the park is free, but if you wish to rent the clubhouse, the cost is $50 per hour, and you need to book it for a minimum of four hours.
Have Fun at Supercharged Entertainment
If you're up for some heart-pounding excitement, there's no better place than Supercharged Entertainment. It's a colossal indoor karting wonderland that holds the title of the world's biggest multi-level facility. No matter if you're with your family, or friends, you'll always find something fun to do here.
Fun and Cool Things to Do
At Supercharged Entertainment, you can race on the world's biggest indoor go-kart track with super-fast electric karts. If you're up for a challenge, try the Ninja Warrior course with cool obstacles. There's also a huge arcade with lots of games and prizes, and a virtual reality experience to explore new worlds.
For an adrenaline rush, give the two-story drop and twist tower ride a go. And when you're hungry or thirsty, head to the Thirsty Beaver for yummy food like burgers, wings, pizza, salads, and drinks.
Operating Hours
Supercharged Entertainment is open throughout the week with different hours of operation from Monday to Sunday. You can easily review their schedule and make online ticket reservations.
Price
The cost varies based on the activity and how long you want to enjoy it. For example, a single race may cost $29.00.
Spend Time at New Jersey Convention & Exposition Center
Considering your need for a venue to host your next event or to partake in the multitude of shows and exhibitions taking place throughout the year, the New Jersey Convention & Exposition Center becomes a prominent choice. Situated in Edison, NJ, this expansive facility offers flexible and versatile event spaces for trade shows, conferences, weddings, and parties.
Fun and Cool Things to Do
From art and culture to entertainment and education, this center has it all. They organize awesome events all year round. For example, there's Exxxotica 2023, which is the USA's largest adult event with exhibits, seminars, and entertainment.
Also, there's the Global Products Expo that displays things from all over the world like fashion, health, electronics, beauty, and more. If you're a Christmas fan, you'll enjoy Christmas Con, which is a holiday party with vendors, activities, famous guests, and a snowy wonderland.
Operating Hours
The center is open from Monday to Friday, from 8 AM to 5 PM.
Price
For regular admission, you can get a ticket for $10, but when I visited, I opted for a VIP pass, which set me back around $250. Keep in mind that this pricing was for the Christmas Con event, and ticket prices may vary for other events.
Experience Peace at Rutgers Ecological Preserve
Need a break from the city's busy life? Visiting Rutgers Ecological Preserve is a fantastic idea. It's a large forest area (360 acres) between two campuses in Piscataway. The preserve is a sanctuary not only for those who appreciate nature but also for dedicated wildlife enthusiasts. It abounds with a rich variety of flora and fauna. Going further into its depths, you'll find interesting stories of the past concealed within its enthralling historical locations.
Fun and Cool Things to Do
You'll find plenty of opportunities for outdoor enjoyment, education, and scientific discovery. For instance, adventure lovers can go on exciting journeys through the meadows, forest, and wetlands by biking, hiking, or jogging along the 7.5 miles of winding trails.
Throughout the year, they host a variety of engaging events and programs, including workshops, lectures, guided walks, and chances to volunteer. To get deeper into the ecology and history of the preserve, you can take an online tour or explore the informative brochure and trail map.
Operating Hours
Visitors, including the Rutgers community, can go to the EcoPreserve during daylight hours.
Price
There's no admission fee, although they do accept donations. And if you are arriving by vehicle, be aware that there is a $10 parking fee.
Shopping Spree at Menlo Park Mall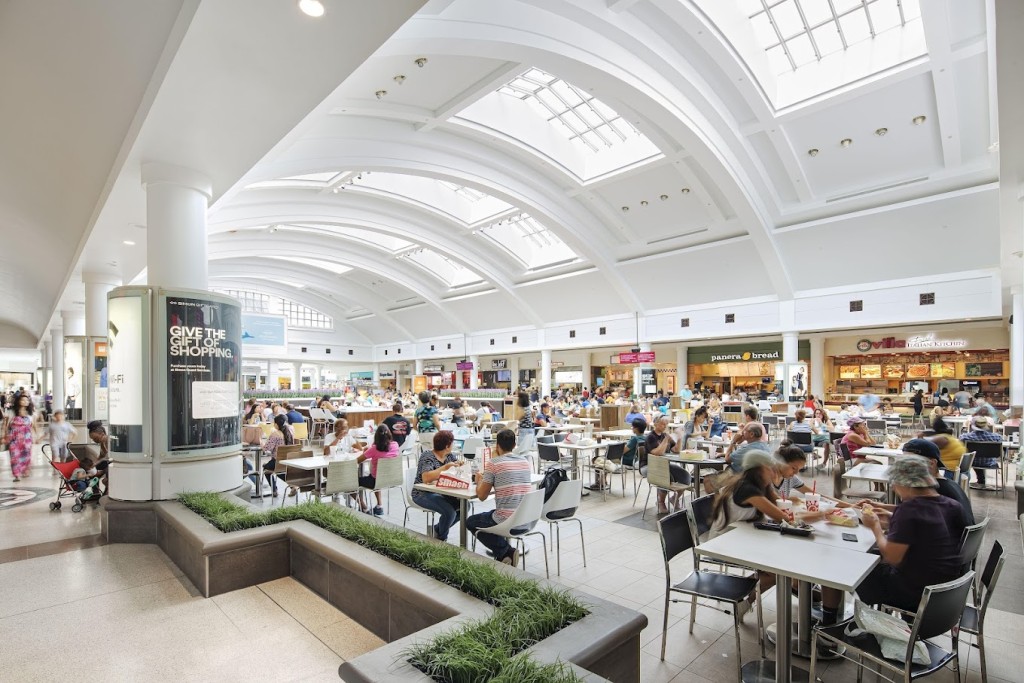 Lastly, but certainly not the least, Menlo Park Mall is the place I've chosen for shopping enthusiasts. It's worth noting that Menlo Park Mall is a two-level super regional shopping mall found at the crossroads of U.S. Route 1 in Edison. What's really impressive is its enormous size, which features a vast gross area of around 1,332,132 square feet. This mall offers over 165 unique stores, dining options, and activities for your enjoyment.
Fun and Cool Things to Do
Menlo Park Mall offers something for everyone, whether you're in search of fashion, beauty, fun, or food. You can explore popular brands like Adidas, Apple, Dr. Martens, Forever 21, H&M, UNIQLO, Vera Bradley, and Zara. Additionally, you have the option to catch a movie at the AMC Dine-In Theater or pick up a book at Barnes & Noble.
When hunger strikes, you can choose from a variety of dining options, including Benihana, Cafe Nordstrom, Havana Central, True Food Kitchen, Seasons 52 Fresh Grill, or Chick-fil-A. For a quick snack or a beverage, you can visit the Dining Pavilion, where you'll find Maki of Japan, Stewart's, Smashburger, Starbucks, and a wide range of other dining options.
Operating Hours
Menlo Park Mall offers a flexible schedule to cater to shoppers' needs. On Fridays and Saturdays, it's open from 10 am to 9 pm. Sundays have shorter hours, from 12 pm to 6 pm. During the week, from Monday to Thursday, the mall is open from 10 am to 8 pm.
Price
Ticket prices for Menlo Park Mall shows can differ based on factors like the specific show, day, season, and more. On average, Menlo Park Mall tickets in 2023 are priced at $94.96.
Final Words!
We've showcased great places with various activities. However, if you need specific recommendations, here's a handy guide. For those passionate about history, the Thomas Edison Center is a must-visit. Nature enthusiasts can enjoy Rutgers Gardens, Rutgers Ecological Preserve, Farrington Lake, or Roosevelt Park. We strongly suggest Supercharged Entertainment for thrill seekers and the New Jersey Convention & Exposition Center for art and culture lovers. And, of course, for fashion aficionados, Menlo Park Mall is the ideal destination. Whatever you decide, remember to check Edison's events calendar for town updates during your visit.
FAQs
Top Things to do in Edison NJ - FAQs
What are some of the best attractions related to Thomas Edison in Edison NJ?
Several of the key attractions associated with Thomas Edison include the Thomas Alva Edison Memorial Tower, which is a landmark commemorating his life and achievements, and the Thomas Edison Center at Menlo Park that is a museum showcasing his inventions and artifacts.
Are there outdoor activities available in Edison, NJ?
Yes! There are so many fun things to do in Edison such as visiting Roosevelt Park, checking out the Triple C Ranch, and having a good time at Supercharged Entertainment.
Which restaurants are recommended in Edison, NJ?
Well, you have plenty of options, but some favorites are Cypress Brewing Co, India sajawat & Puja Hut, and AMC Dine-In Theatres Menlo Park 12.