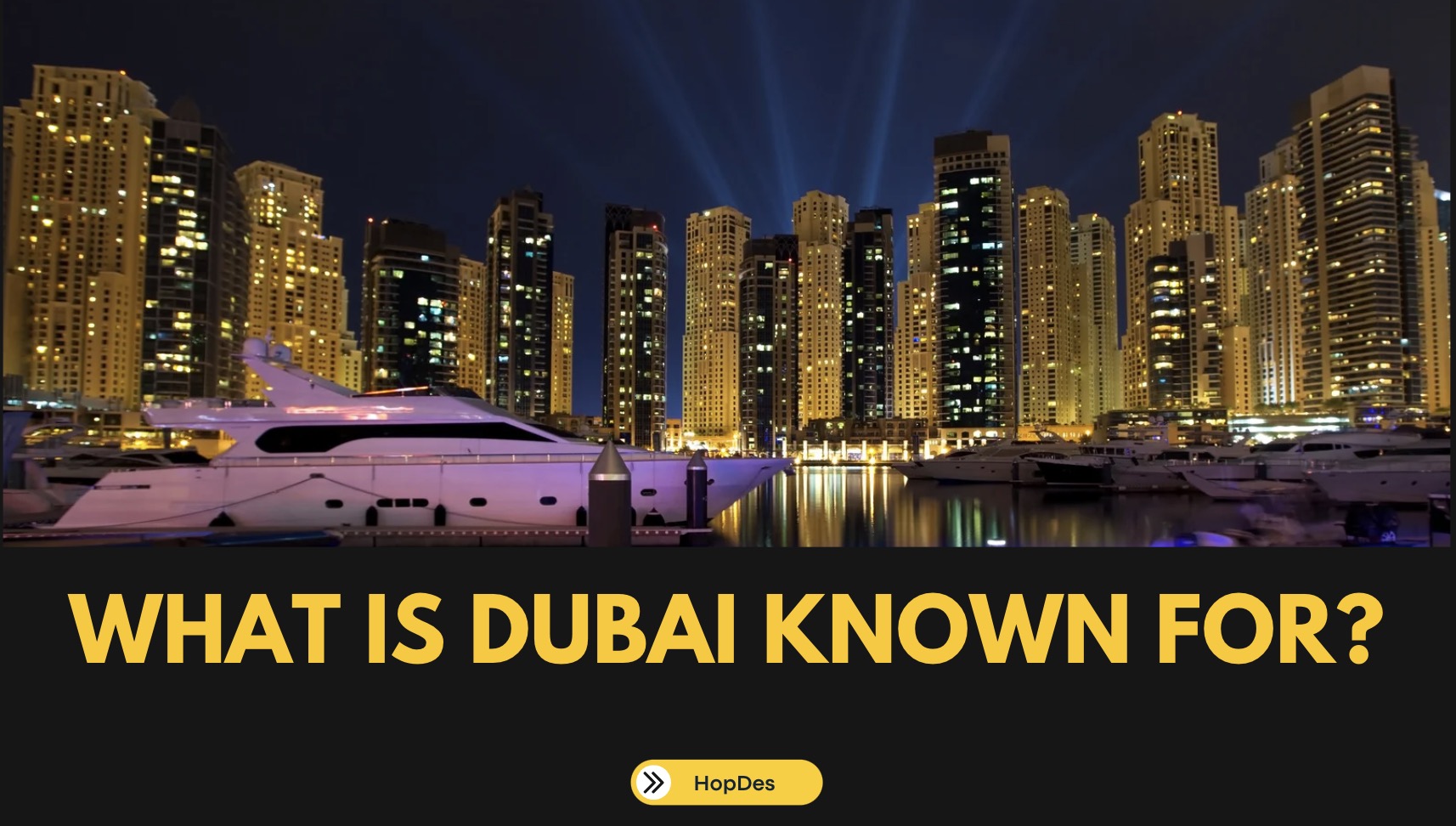 Dubai, the city that sparkles like a gem in the desert, has become famous worldwide. But what's the big deal about Dubai? Well, it's like a magical blend of old and new, where you can find towering skyscrapers touching the clouds and ancient traditions living side by side.
Picture a place where luxury knows no bounds and adventures in the desert await. It's a city open to the world, where people from all over come together.
So, what is Dubai known for, and why is it so famous? Join us as we uncover the secrets of this incredible city and the reasons that make it shine on the global stage.
Editor's Pick: 9 Elite Clubs in Dubai for Spectacular Night [2023 UPDATE]
A Small Lesson in History
Time for a small recap. A very long time ago, in the early 1700s, Dubai was just a tiny village by the sea. Only a few families lived there, and their main job was fishing. They would go out in small boats to catch fish to feed their families. It was like a small, quiet corner of the world.
In 1833, things started to change. The leaders of the Al Maktoum family came to Dubai and totally overhauled the city's policies. They encouraged people from nearby places to come and trade in Dubai. This was the beginning of Dubai turning into a busy trading center.
As the years went by, Dubai kept growing. By the 1930s, about 20,000 people were living here. In the 1960s, they found oil, which brought them extreme wealth. Dubai used that money to build things like great roads and buildings. By the 1970s, more than 180,000 people called Dubai home.
Dubai's journey from a tiny fishing village to a big, bustling city is a fantastic story. Today, it's filled with tall buildings, incredible ideas, and many tourists!
Must Read before visiting Dubai: Worst Time to Visit Dubai – SKIP THESE MONTHS
What Makes Dubai Famous
Have you ever considered what precisely this oil-rich country in the Gulf is famous for? Read on to find out!
Luxurious Malls
Dubai is home to some of the world's most extravagant malls, like The Dubai Mall, which is so gigantic that it could fit 1,200 Olympic-size swimming pools inside. It houses over 1,300 shops, including the famous Gold Souk, where you can find pure gold jewelry that's famous worldwide.
Theme Parks
Dubai's theme parks are a wonder of the world in their own right. FOR EXAMPLE, the IMG Worlds of Adventure is the world's largest indoor theme park, covering an area equivalent to 28 football fields. It's a place where you can experience thrilling rides based on your favorite superheroes.
Sunny Beaches
Dubai enjoys more than 300 days of sunshine each year, making it the perfect destination for beach lovers. Jumeirah Beach, one of its most famous beaches, offers breathtaking shores stretching for miles and views of the iconic Burj Al Arab Hotel.
Desert Adventures
The Dubai Desert Conservation Reserve, spanning over 225 square kilometers, is where you can enjoy desert safaris, ride camels, and even try sandboarding down colossal sand dunes. It's like stepping into a desert wonderland.
Check out Staying In Dubai For A Week? Here Is A Complete Plan For Maximum Recreation
No Taxes
Dubai's tax policies are incredibly attractive. There's no income tax, no capital gains tax, and no value-added tax (VAT) on most goods and services. This means more money in your pocket to enjoy all that Dubai offers.
Jaw-Dropping Infrastructure
The Burj Khalifa, standing at a breathtaking 828 meters (2,717 feet), is the world's tallest building. Imagine taking an elevator ride to the 148th floor and looking out over the entire city—it's like being on top of the world.
Amazing Real Estate
Dubai's Palm Jumeirah is an artificial island that looks like a massive palm tree. It's a remarkable feat of engineering and a prestigious place to own a home. It's like living in a work of art.
Expensive Cars
Dubai is home to some of the most luxurious cars on the planet. Lamborghinis, Ferraris, and Bugattis are a common sight on its streets. The Dubai Police even have supercars in their fleet, including a Bugatti Veyron.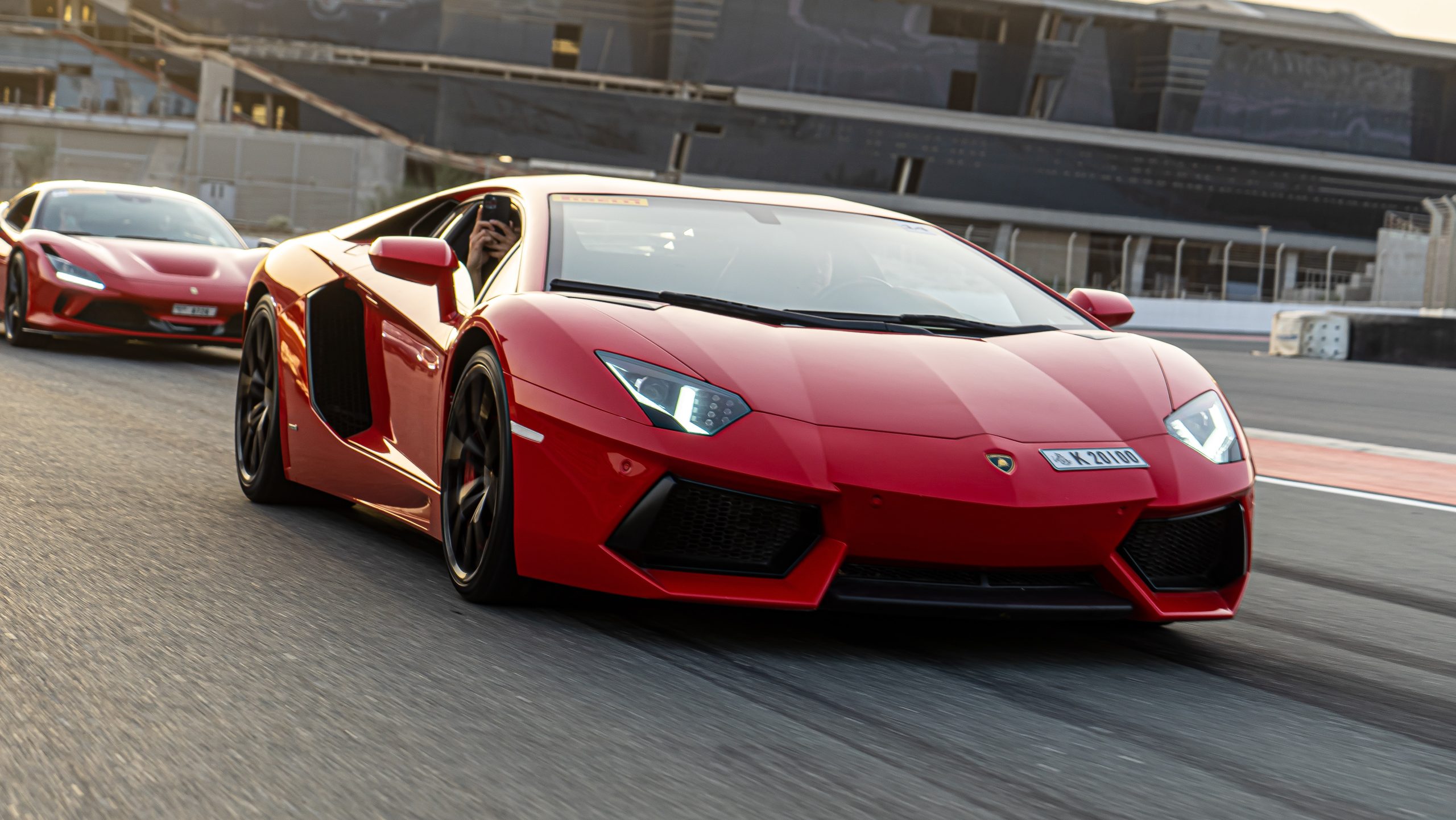 Safety
Dubai is one of the safest cities globally, with low crime rates. It's a place where people can leave their houses unlocked, walk around at night without any worries, and the police are known for their friendliness and efficiency.
Things to Check Out in Dubai
Now that we've talked about Dubai's roots, let's explore what wonderful attractions make Dubai the world-famous city that it is today:
Palm Jumeirah
Palm Jumeirah, one of Dubai's most iconic landmarks, is an island that looks like a gigantic palm tree, stretching out into the sparkling waters of the Arabian Gulf. It's not just any island; it's an engineering marvel. In fact, it's the world's largest artificial island.
Palm Jumeirah is like a paradise within a paradise. It's home to some of the most luxurious resorts and hotels in the world, offering breathtaking views of the sea. You can even stay in overwater villas that make you feel like you're floating on the ocean.
But Palm Jumeirah isn't just for the rich and famous. You can visit the Palm's public beaches, enjoy water sports, or take a stroll along the boardwalk known as the Palm Jumeirah Crescent. And if you're a foodie, there are fantastic restaurants with a view.
It's not just a place to visit; it's an experience that captures the essence of Dubai. Palm Jumeirah is a must-see on your Dubai adventure.
Burj Khalifa
Can you think of a picture building that seems to touch the sky? That's the Burj Khalifa, the world's tallest building, and it's right here in Dubai. The Burj Khalifa is not just tall; it's mind-bogglingly tall—828 meters (2,717 feet) tall, to be exact. It's like stacking several skyscrapers on top of each other.
But it's not just about the height; it's about what's inside. You can take an elevator ride all the way up to the 148th floor. From there, you'll get a view that's like no other. The entire city stretches out before you, and it's a sight you'll never forget.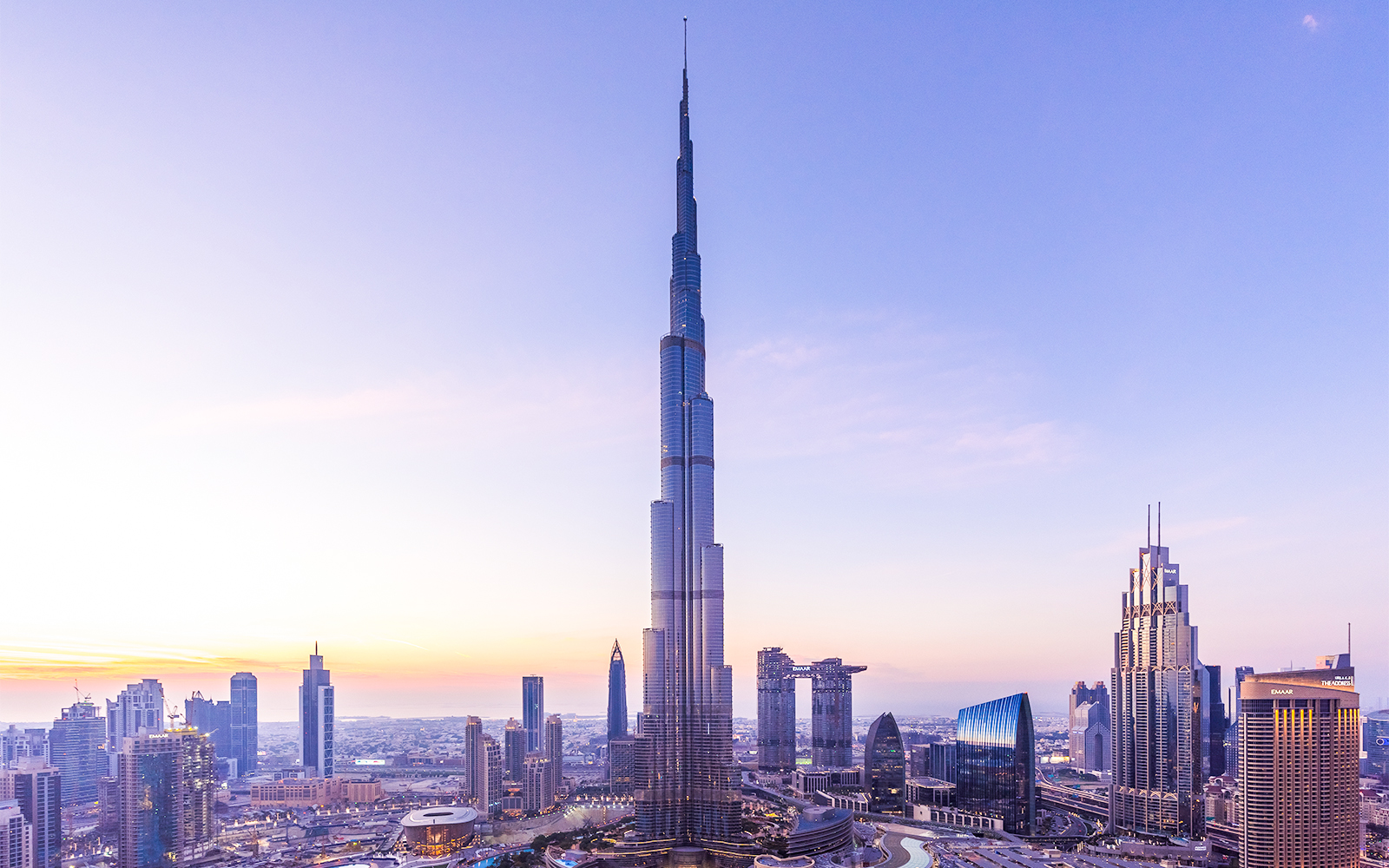 And if you're feeling adventurous, you can even take part in a "vertical marathon" where you climb all those stairs to the top. But don't worry; there's an elevator ride back down!
So, the Burj Khalifa is not just a building; it's a symbol of Dubai's ambition and a place where you can quite literally touch the sky. It's a must-visit when you're in Dubai.
Dubai Fountain
The Dubai Fountain is like no other fountain you've ever seen. Did you ever think there would be a fountain where the water would dance and sway to beats and melodies? Located right outside the Burj Khalifa and the Dubai Mall, the Dubai Fountain is not just any fountain—it's the world's largest choreographed fountain system. It's like a water ballet that will leave you fascinated.
The Dubai Fountain can shoot water up to 150 meters (492 feet) into the air. That's as tall as a 50-story building! And it's not just water; it's a captivating blend of water, music, and light.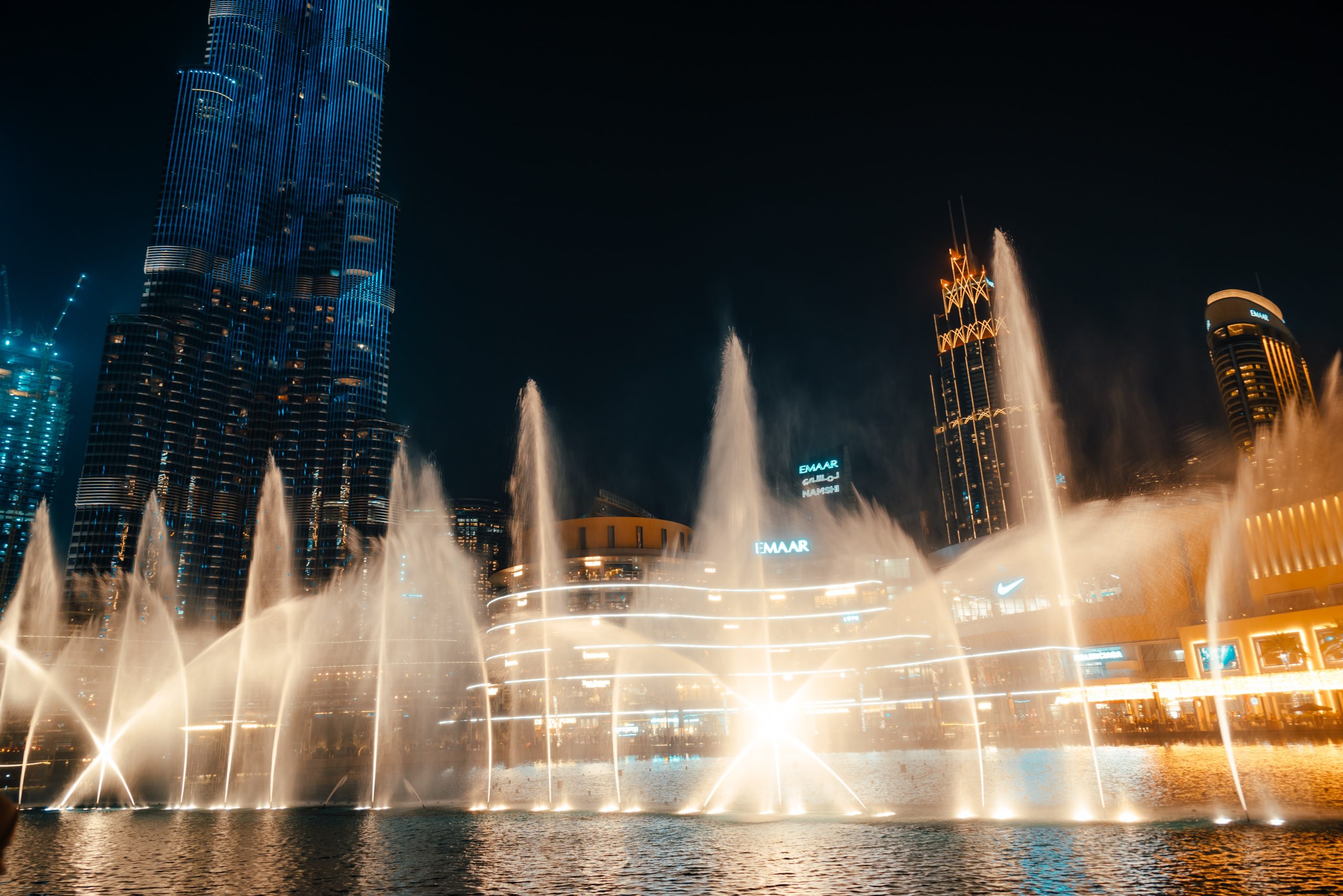 Every day, as the sun sets and the city lights up, the Dubai Fountain comes to life. From dusk till 11 pm at night, it dances to different songs, from classical tunes to contemporary hits. The water leaps and twirls in harmony with the music, and the lights add a magical touch to the performance.
What makes it even more special is that you can watch this incredible show for free. Just find a good spot around the fountain, and you'll be treated to a one-of-a-kind experience. It's a must-see attraction in Dubai, and it's a show you won't want to miss.
Burj Al Arab
The Burj Al Arab is one of the most famous hotels in the world. It's designed to look like a billowing sail, and it stands on its very own island in the sea. This hotel is not just luxurious; it's the world's only 7-star hotel. Yes, you heard that right, 7 stars!
The Burj Al Arab is 321 meters (1,053 feet) tall, making it one of the tallest hotels globally. But it's not just tall; it's also packed with extravagance. The suites here are some of the most luxurious in the world. One of the most famous spots at the Burj Al Arab is the Skyview Bar. It's like stepping into the clouds while you gaze out at the breathtaking views of the city.
Even if you're not staying at the hotel, you can still experience its charm. Just make a reservation at one of its world-class restaurants, and you'll enjoy a dining experience like no other.
The Burj Al Arab isn't just a hotel; it's an icon of the city's ambition and progress, and it's a must-visit when you're in Dubai.
Interesting Read: On a Budget? Here Are The Most Affordable Areas to Live in Dubai
Dubai Creek
In Dubai, there's a special place that tells the story of the city's history and culture. It's called Dubai Creek. This is the part of Dubai where the city began. Dubai Creek has been a busy trading spot for hundreds of years. Way before all the fancy buildings, this is where traders from all over the world used to meet and swap things like pearls, spices, and fabrics.
Today, Dubai Creek is still a lively place, but it's different. You can hop on a traditional wooden boat called an abra and cross the creek for 1 AED, just like people have done for a long, long time.
On one side, there's a neighborhood called Al Fahidi. It's got narrow streets, wind towers, and even an old fort that's been turned into a museum. This fort has seen more than 200 years of history! On the other side, in Deira, you'll find busy markets called souks. Here you'll see lots of shiny gold jewelry markets and smell all kinds of amazing spices.
Dubai Creek is where you can see how Dubai used to be and how it is now. It's like a bridge between the past and today, where you can feel the city's rich history and the exciting culture that's still alive. You've got to visit this place to really understand Dubai.
Dubai Mall
Dubai Mall isn't just a shopping center; it's like a whole city under one roof. This place is not only huge but also packed with incredible things to do. Imagine a mall so vast that it has over 1,300 shops. You can find everything from designer clothes to the latest gadgets here.
But Dubai Mall is not just about shopping; it's an entertainment wonderland. Inside, there's an indoor ice rink where you can go ice skating, even when it's super hot outside. There's also a massive aquarium called the Dubai Aquarium & Underwater Zoo, where you can get up close to all sorts of sea creatures, including sharks! Dubai Mall even has a life-size dinosaur skeleton on display.
And if you're into movies, there's a giant cinema complex where you can catch the latest blockbusters. Plus, there's an area called KidZania where kids can have fun while learning about different jobs. When you get hungry, you've got a world of options. Dubai Mall has a whole bunch of restaurants from all over the world. You can enjoy everything from burgers to gourmet cuisine.
Dubai Mall is not just a shopping destination; it's an all-in-one experience that's like a city within a city. It's a place where you can shop, eat, be entertained, and even see a piece of history. It's a must-visit when you're in Dubai.
Kite beach
Kite Beach is not just any beach, it's a hub of excitement and outdoor activities. This fun beach got its name because it's a popular spot for kite surfers. These brave souls ride the waves while attached to giant kites, and it's a sight to behold. You can watch them in action or even give it a try if you're feeling adventurous.
But if you prefer a more laid-back day, there are plenty of options. You can soak up the sun on the sandy shores, take a leisurely stroll along the boardwalk, or have a picnic with friends and family.
For fitness enthusiasts, there's a jogging track and outdoor gym equipment, so you can stay active while enjoying the sea breeze. And if you have little ones with you, there's a playground where they can have a blast. When it's time to refuel, you'll find a variety of food trucks and beachside cafes offering delicious treats. You can savor everything from ice cream to gourmet burgers.
Kite Beach is a must-visit for anyone seeking a perfect beach day in Dubai.
Souk Dubai
A "Souk" is just a fancy word for a market, and in Dubai, these markets have been around for ages. One of the most famous souks is the Gold Souk. Here, you'll find shops glittering with gold and jewelry. And here's a fun fact: There's usually around 10 tons of gold on display in the Gold Souk's windows at any given time!
But there's more to explore. There's the Spice Souk, where the air is filled with the amazing smells of spices from all over the world. It's like a fragrant adventure, and you can buy everything from saffron to cinnamon here. And if you're into fabrics and textiles, there's the Textile Souk. It's a dreamland for people who love colorful fabrics and materials. You might get inspired to create your own designs.
Now, here's the exciting part: Haggling is a big tradition in Dubai's souks. So don't be afraid to negotiate for the best price; it's all part of the fun.
Dubai's Souks are not just places to shop; they're like living pieces of history where you can find special things while connecting with Dubai's past. It's a must-visit for anyone who wants to explore the heart and soul of Dubai.
Wild Wadi Water Park
If you're looking for an ocean of fun and adventure in the heart of the desert, then the Wild Wadi Water Park is your dream destination. Wild Wadi has over 30 thrilling rides and attractions. It's the ultimate spot for some water fun on a hot day.
One of the coolest things about Wild Wadi is its unique setting. It's right next to the stunning Burj Al Arab hotel, and you can actually see the Burj Khalifa in the distance while you're sliding down water slides.
Wild Wadi has one of the tallest and fastest free-fall water slides outside of North America, called Jumeirah Sceirah. It's a heart-pounding, adrenaline-pumping ride that'll leave you screaming with joy. But if you prefer a more relaxed experience, there's a lazy river called Juha's Journey where you can just float along and enjoy the sunshine.
And for the little ones, there's a special area called Juha's Dhow and Lagoon with shallow pools and mini slides. It's like a water playground designed just for them.
Wild Wadi Water Park is not just a place to get wet; it's a place to have a splashing good time with family and friends. It's a must-visit when you're in Dubai, and it's guaranteed to put a big smile on your face!
Similar Read: Fancy the Nature at These Lush Parks in Dubai
Final Words
Dubai, a city of dreams, has transformed from a tiny fishing village into a global sensation. It kicked off with humble beginnings and has quickly grown to become the epitome of luxury.
This little gulf city has become a top tourist spot for all the right reasons. So, whether you're into shopping, history, fancy cars, or just having a great time, Dubai has something for everyone. It's a city that's a blend of old stories and futuristic wonders. Dubai is like a dream come true!