Dubai, known for its grandeur, captivates visitors with its vibrant nightlife. Drawing in countless tourists from around the globe, the city offers an array of entertainment options after dark. Whether you prefer upscale clubs or great bars, the possibilities are endless. Dubai's nightclub scene boasts an impressive clubbing culture, with top-notch venues hosting extravagant parties and events, complete with DJ nights for an unforgettable experience.
Let's discover some of the best clubs in Dubai where you can revel in the ultimate entertainment and fun.
Best Clubs In Dubai – Including Dance Clubs & Nightclubs
Dubai's club scene is teeming with a variety of choices, catering to every taste and preference. With numerous options available, you can select from lively atmospheres, luxurious settings, and a diverse range of music genres as well. Let's dive in-depth and find the perfect nightclub for you!
Blu Lounge and Club offers an exceptional nightlife experience for visitors. The club provides a fantastic atmosphere to relax and enjoy an evening with friends or colleagues. With regular live music events and DJ nights, guests can revel in the captivating entertainment.
The club's uniqueness lies in its vibrant events and offerings. Visitors can savor a diverse menu consisting of delectable drinks and light bites. The lounge is an ideal spot for early evening gatherings, providing food options and shisha. As the night progresses, the club beckons with its energetic dance floor, acrobatic shows, and captivating dancers. Its indoor setup is particularly advantageous during hot weather.
The approximate cost for a table reservation at this club is around $135 per person, which includes unlimited drinks and shisha.
Keep in mind that BLU Dubai admits only guests above the age of 21.
BLU Dubai is located at V Hotel Dubai, Al Habtoor City, Sheikh Zayed Rd, Dubai, United Arab Emirates.
Blu Lounge and Club operates from 10 PM to 4 AM every day of the week. The nightclub prides itself on maintaining cleanliness and providing top-notch customer service. The stage boasts stunning lighting and excellent sound system placement, ensuring music permeates throughout.
Techno parties are a highlight, featuring renowned DJs from Europe and around the world. Besides, what we personally love about it is its exclusive lineup of world-renowned artists and performers who grace its stage.
A visit to BLU guarantees a five-star clubbing experience. It has hosted performances by global stars like Travis Scott, WizKid, Tyga, Jason Derulo, and more. We strongly recommend you indulge in the electrifying ambiance of BLU.
Must-Read: Staying In Dubai For A Week? Here Is A Complete Plan For Maximum Recreation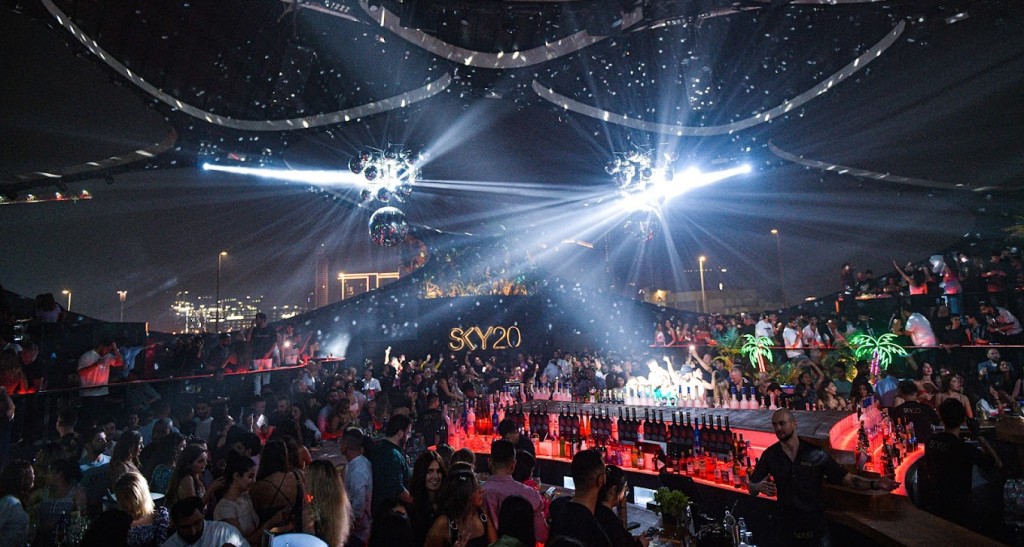 The outstanding open-air nightclub SKY2.0 is situated in Dubai Design District, United Arab Emirates, and it provides its guests with a remarkable and unforgettable experience. With its striking design and exemplary service, it stands out as an experiential trailblazer in the heart of the city.
Here, guests can expect world-class entertainment and groundbreaking technology, all set under the enchanting night sky. The venue attracts a large and glamorous crowd, creating a vibrant atmosphere for socializing and enjoyment. While it may not be ideal for a romantic night out due to the extreme crowd, it is perfect for those seeking a lively and energetic atmosphere with friends.
As for pricing, visitors can expect to spend approximately $136 for two people, including alcoholic beverages. This price range provides an estimation, and specific costs may vary based on individual preferences and services availed.
SKY2.0 operates from 10:30 pm to 4 am on Thursdays, Fridays, and Saturdays. On Sundays, Mondays, Tuesdays, and Wednesdays, the club is closed.
The club hosts exciting events throughout the week. B.I.G THURSDAY sets the tone for the weekend with urban vibes, featuring the best of Hip-Hop, RnB, and AfroBeats hits.
BOOMBOX FRIDAY offers a feel-good experience with iconic hits, disco balls, and neon lights. SIGNATURE SATURDAY, spun by renowned DJs, invites the wilder spirits of Dubai for an extraordinary night of Hip-Hop, RnB, and House mashups. It is one of the best dance clubs in Dubai.
Related: Best Breakfast in Dubai: Guide to Top 5 Best Spots
Ole Night Club offers a luxurious and memorable experience. With its contemporary decor, impressive drinks, and cuisine, it's the perfect setting for a delightful evening. Step into Ole Night Club and be captivated by its inviting ambiance, featuring plush furnishings and intricate details that create an atmosphere of sophistication.
Enjoy attentive service and warm hospitality, making Ole truly special. Indulge in the sophisticated menu, offering international dishes with an authentic touch. Ole stands out with its vibrant nightlife and special events like Caliente Latin Night on Thursdays and Off Brunch on Saturdays. The energy is infectious, with music filling the air and delicious menu options. State-of-the-art sound systems and a great selection of beverages ensure an unforgettable time.
This amazing club is open daily from 4 pm to 3 am throughout the week.
Ole Nightclub is Located in Dubai's vibrant Downtown District at Souk Al Bahar.
Don't miss the renowned "Freaky Friday," where the world of Bollywood comes alive with pulsating beats and delectable cocktails. Whether you seek a luxurious night out, remarkable dining, or an exciting party atmosphere, Ole Night Club is the finest nightclub in Dubai to go for.
Editor's Pick: These 8 Restaurants Offer Authentic Indian Cuisine In the Heart of Dubai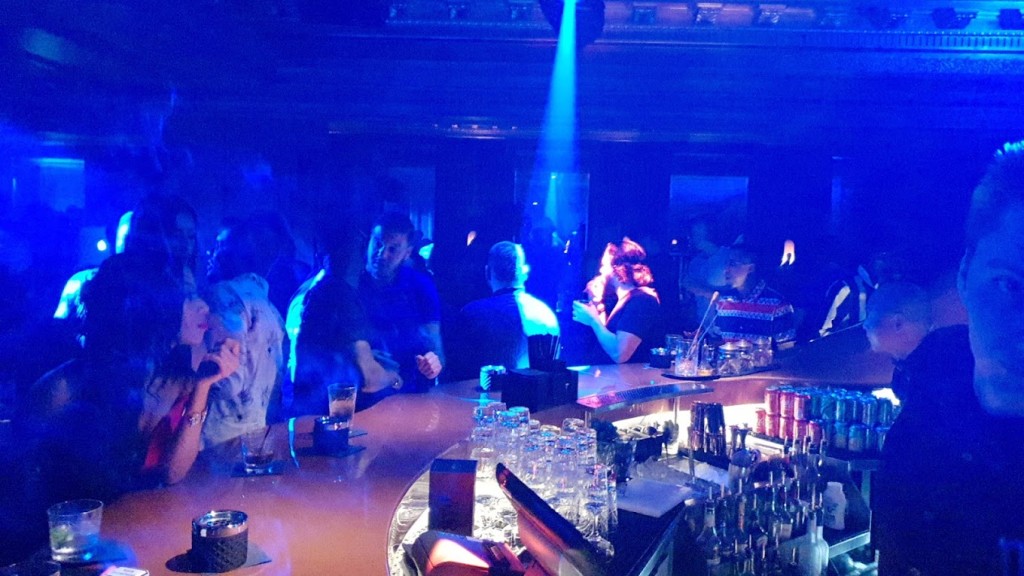 Visitors can embark on an extraordinary journey at Secret Room Dubai, located underground within the opulent Five Hotel on Palm Jumeirah. Immerse yourself in the captivating atmosphere of this nightclub, surrounded by 18th-century European furnishings, an enchanting hand-painted mural, antique candelabras, and intricate crown moldings.
Designed by the renowned architect Paolo Ferrari, the rose gold avant-garde bar stands as a mesmerizing centerpiece.
What sets Secret Room apart is its exclusive feature: selected clients can register their fingerprints for seamless access, adding an air of exclusivity to your experience. Prepare to be amazed by the state-of-the-art sound and lighting, meticulously curated by regional leaders, ensuring an exceptional audio and visual journey.
Its exact address is No. 1 Palm Jumeirah – Dubai – United Arab Emirates.
The bar prices are surprisingly reasonable, with mixed drinks costing a relatively affordable $15.
On Thursdays, Fridays, Saturdays, and Sundays, from 11 p.m. to 3 a.m., guests can enjoy the one-of-a-kind atmosphere of Secret Room. The facility is closed on Mondays, Tuesdays, and Wednesdays
The pulsating beats of Hip-Hop and R&B provide the foundation for Secret Room's music, while also exploring genres such as trap, dancehall, reggaeton, Afrobeat, house, and EDM. Some clubgoers are given the special privilege of driving their own cars into the club itself, which ups the level and adds to the overall excitement of the evening. All in all, it truly offers the vibe of an exceptional club in Dubai.
Suggested Reading: 10 Burgers in Dubai That You Will 100% Love + 3 Vegan Options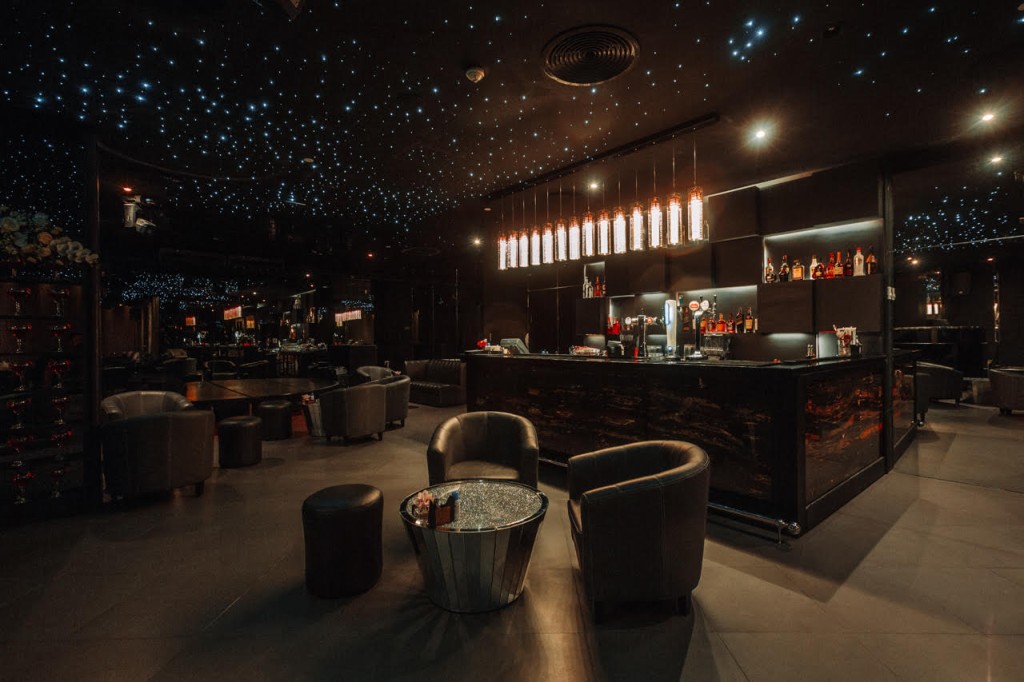 Magnum Dubai, nestled in the vibrant heart of Dubai, is an exquisite nightclub and lounge that promises an unparalleled experience. Immerse yourself in the epitome of luxury as you step into its lavish interiors adorned with a fusion of modern and traditional elements, creating an ambiance like no other.
With a cutting-edge sound system and a sprawling dance floor, the nightclub invites you to surrender to the rhythm of captivating live music performances and themed nights showcasing local and international talent.
For a more intimate and relaxed setting, Magnum Dubai boasts an exclusive lounge where you can unwind in plush seating amidst ambient lighting. The lounge offers a premium sound system and a tantalizing menu featuring a fusion of international and local cuisine, crafted by highly skilled chefs. Sip on handcrafted cocktails, sample top-shelf spirits, and indulge in a selection of non-alcoholic beverages.
Magnum Dubai is open from 7:00 PM to 3:00 AM, giving you plenty of time to enjoy all that it has to offer.
2 people should expect to pay up to $55 approximately.
Elevate your experience with the VIP package, designed to provide an extra level of exclusivity. Enjoy personalized service, access to a private lounge, dedicated servers, and a tantalizing array of premium food and drinks, all while reveling in the best seats in the house.
Situated on Al Mattla'ee Street in Dubai Marina, Stella Di Mare Hotel, The Boss exudes exclusivity, epitomizing the city's vibrant nightlife scene. Its renowned five-star service guarantees a glamorous experience throughout the week, while the awe-inspiring interior showcases cutting-edge sound and lighting installations.
With a welcoming staff, The Boss creates the ideal ambiance for unforgettable evenings with friends. Indulge in an extensive array of champagnes, spirits, cognac, and more, ensuring a refined drinking affair. The world-class music enhances the atmosphere, providing guests with premium entertainment.
Visitors benefit from validated parking and valet services, adding convenience to their experience. The nightclub boasts a comprehensive full bar, offering a wide selection of wines and beers. Embracing modernity, digital payments are seamlessly accepted. The music repertoire spans African, English, and international hits, appealing to diverse musical preferences. Delight in international cuisine, embarking on a culinary journey that tantalizes the taste buds.
Wednesdays bring the special Ladies Night promotion, from 7:00 PM to 3:00 AM, treating ladies to unlimited drinks for approximately $27.
Noteworthy features include live DJs, captivating entertainment, fine dining options, shisha availability, comfortable indoor seating, and the recommendation of table bookings.
It is widely agreed that Armani/Privé Club is considered the best club for dance in Dubai. It is located at Sheik Mohammed Bin Rashid Blvd No 1, Burj Khalifa, Armani Hotel Dubai, and offers a truly iconic clubbing experience. You may immerse yourself in the world of luxury and sophistication designed by none other than Giorgio Armani himself. Indulge in the elegant lounge area, where you can socialize, relish delectable food, and sip on exquisite drinks.
For a captivating ambiance and stunning city views, make your way to the vibrant terrace zone. When the time comes for an unforgettable dance experience, head over to the main club area. Get ready to groove to the beats spun by resident and international artists and DJs, who will keep the energy high all night long.
Now, let the music transport you to a world brimming with energy and excitement, as you revel in the stylish and chic atmosphere that this nightclub exudes. Whether you're an ardent Armani enthusiast or simply seeking an exceptional clubbing experience, this venue promises an unforgettable night out.
Armani/Privé Nightclub operates from 11.00 PM to 03.00 AM and is closed on Mondays and Wednesdays, ensuring that you have ample opportunities to experience the unforgettable ambiance and entertainment on offer.
You can reserve regular tables for approximately 6 guests at a cost of around $820.
Drai's is an essential destination for extraordinary nightlife in Dubai, seamlessly blending the allure of Las Vegas with the grandeur of Dubai in the vibrant Meydan area. Prepare to be mesmerized by sensational live performances, dazzling light and sound shows, and incredible music, leaving an indelible impression.
Step into the electrifying atmosphere of Drai's as its doors open at 10:00 PM on Sundays, Tuesdays, and Fridays.
The party keeps going strong until the early morning hours until 4:00 AM.
The cover charge prices at the venue are as follows: Females can expect to pay between $20 and $50, while males can expect to pay between $30 and $100.
Drai's Dubai sets itself apart with impeccable service and meticulous attention to detail. With renowned artists performing against breathtaking visuals, this open-air nightclub is the ultimate party destination in Dubai, attracting top names in hip-hop and R&B like Drake, Nelly, Nicki Minaj, and Kendrick Lamar.
As an award-winning venue, Drai's sets the benchmark for an unparalleled nightlife adventure. Expert mixologists, exclusive high-end table services, and access to celebrated international artists make it a standout in the MENA region. Don't miss the chance to make memories at Drai's and experience an unforgettable night in Dubai.
Related: Fancy the Nature at These Lush Parks in Dubai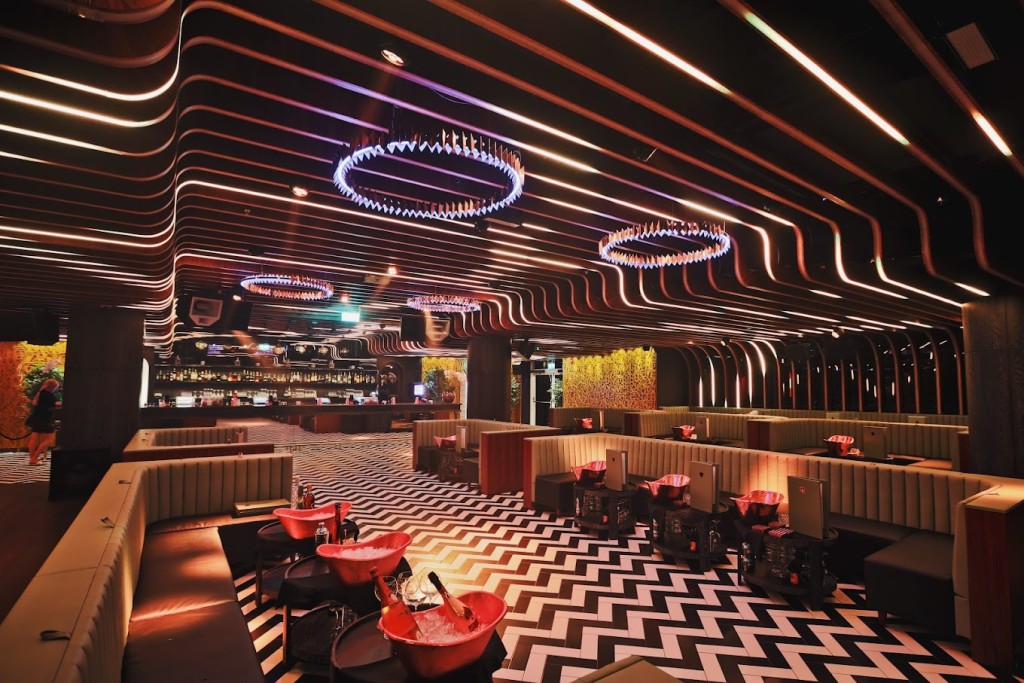 Experience an unparalleled fusion of New York City's vibrancy and the opulence of Las Vegas at 1 OAK Las Vegas Nightclub in Dubai. Located within The Mirage, this sophisticated venue offers a world-class nightlife adventure.
Immerse yourself in impromptu performances by rising music talents and unexpected appearances by A-list celebrities, making each night truly one-of-a-kind. With cutting-edge audiovisuals, captivating artwork by Roy Nachum, and two music-filled rooms, the sprawling 16,000 sq. ft. space sets the stage for an extraordinary evening.
Open on select nights, 1 OAK is a magnet for music enthusiasts and celebrity aficionados alike, attracting notable names such as Fergie, Jessica Alba, Joseph Gordon Levitt, Adam Levine, Kid Cudi, Pitbull, and Wiz Khalifa.
The cover charge at 1OAK Nightclub is typically priced at $20 to $50 for females and $30 to $75 for males.
Things to Consider Before Choosing a Dubai Nightclub
When choosing a club in Dubai, it is important to be mindful of certain factors to ensure a seamless and enjoyable experience. Dubai's conservative nature and emphasis on discipline and regulations call for attention to the following details before heading out for a night of clubbing.
Dress Code: Be aware that certain nightclubs enforce strict dress codes, such as dresses for women and shirts for men. To avoid any complications at the entrance, it is advisable to confirm the dress code with the club beforehand and ensure you are appropriately dressed.
Check Schedules: While bars generally close at 1:00 AM, some clubs extend their operating hours, allowing guests to continue dancing and enjoying the music until 4:00 AM. If you prefer an extended night of fun, consider researching clubs that offer this extended timeframe.
Age Restriction: Certain clubs have age restrictions and only allow entry to individuals aged 25 and above. To avoid disappointment, it is recommended to inquire about any age restrictions before planning your visit.
Season: Certain months are the absolute worst time to visit Dubai. We don't recommend going in these months as many clubs might be closed down and you might not enjoy it much either.
How Do We Choose Our Suggestions?
Our selection process for nightclubs in Dubai focuses on the atmosphere, music genres, reputation, and reviews by other people who have been there. We prioritize clubs with captivating ambiance, diverse music offerings, and a proven track record of hosting exceptional events and artists. By incorporating visitor feedback, we provide reliable recommendations that align with positive experiences. To provide you with an even more realistic and firsthand perspective, one of our travel team members personally visited all of these clubs and shared their amazing experiences with us.
Final Word
We have carefully curated the above list, offering clubs that cater to a variety of tastes and interests. Whether you're a fan of energetic atmospheres, exclusive settings, or eclectic music genres, our recommendations cover it all. From dance enthusiasts to those seeking a more laid-back vibe, we hope our suggestions will help you find the perfect clubbing experience in Dubai.
Best Clubs In Dubai - FAQs
What are some of the best clubs in Dubai?
BLU Dubai, Ole Dubai, and 10AK NightClub are some of the best clubs in Dubai.
What do you wear to clubs in Dubai?
The dress code in Dubai clubs ranges from chic casual to glam, allowing for a variety of stylish outfits.
Can you kiss in a nightclub in Dubai?
Kissing in public is prohibited in Dubai, but discreet displays of affection may go unnoticed.
Which part of Dubai has the best nightlife?
The area around Burj Khalifa, Dubai Mall, and Dancing Fountains is known for its vibrant nightlife and numerous attractions.