There are numerous restaurants in Dubai that take breakfast very seriously, as it is said to be the most important meal of the day. Though many hotels and local eateries offer a wide spread of morning meal buffets we are here to help you kick off your morning in style in the famous city of gold. Whether you're looking for a huge fry-up to mop up a night, a stack of pancakes to soothe your morning sweet tooth, or perhaps a dainty avocado toast to fill up your plate with good fats we have you covered with our list of best breakfast in Dubai.
Breakfast Bliss: Our Favorite Places to Start Your Day in Dubai
Dubai is home to a diverse range of breakfast spots that cater to all tastes and preferences, from traditional Arabic fare to modern international cuisine. Let's find out more about the best breakfast places in Dubai.
Hidden away in the CourtYard of Al Quoz is a modern-day bistro known as the Cassette. Inspired by the passion for art, music, design, culture, and amazing food, Cassette was established in February 2019 by Haidar Madani. According to the owner, their menu takes a "Modern Persian Direction" to create a captivating and authentic story for their brand with hints of French flavors.
Their breakfast menu is pretty wide-ranging offering omelets, acai bowls, and several vegan options. Our personal favorite of the place is:
Eggs Benedict: 2 poached eggs served with baby spinach, a choice of beef bacon or smoked salmon, and an English muffin topped with orange hollandaise sauce.
Their drinks menu comprises a vast variety of coffees, smoothies, homemade juices, wellness teas along with many different seasonal drinks. The Cassette doesn't take reservations so make sure to plan your trip to the cafe ahead of time.
Open daily from 8 am to 6 pm Cassette has been serving customers great food, coffee, and vibes. Cassette has made its name by joining a range of cultures, backgrounds, and experiences, creating memorable moments for its team and customers.
The Cassette is a great place to hang out with friends, hold casual work meetings or even enjoy a peaceful meal all by yourself. With its industrial interiors, a small terrace, and leafy foliage, the place is designed with reusable material which gives it extra marks for sustainability and environmental-friendly aspects. There is also a small corner filled with vinyl records for sale and the kind of playlist that encourages guests to hang around all day long.
Suggested Reading: The Ultimate Guide to Visiting Abu Dhabi on Transit and Stopover
Visit "The Farm", a unique and one-of-a-kind restaurant located in the Green community of Al Barari. It is the perfect spot to recharge after a long, adventurous night in Dubai. Founded and owned by the famous Zaal family of emirates, The Farm is known as an oasis of calm.
Serving from 7:30 am to 10:30 pm, The Farm has been an ideal place away from the city's heat and noise to enjoy delicious meals with loved ones since 2012 by many locals and tourists.
A key feature of The Farm that distinguishes it from all other restaurants in Dubai is its enchanting setting. A stunning waterside backdrop and botanical garden complement the indoor and outdoor areas, which are designed to blend with the natural environment. This gives an ideal breakfast environment to the restaurant, especially for relaxation seekers.
The Farm offers a wide spread of menu items serving all day long. Their top-rated breakfast dishes include
Healthy Breakfast Burrito: Freshly made tortilla stuffed with chopped red onions, tomatoes, bell peppers, sausage baby spinach, and cilantro topped with soft guacamole and scrambled eggs.
The Farm's Mushroom Florentine: Multigrain English muffins buttered and toasted to perfection, served with poached eggs, sautéed mushrooms, and topped with hollandaise sauce.
Our personal favorite is the Masala Omelet: An Indian twist to your classic omelet, Farm fresh eggs mixed with diced tomatoes, chilies, spring onions, coriander, onions, and chaat masala. (Be sure to read our guide on Indian food in Dubai!)
The restaurant's interior design, from the comfortable bistro-style seating to the nature-inspired music, has been carefully crafted to ensure that every detail provides the guests with a tranquil dining experience.
The restaurant is truly a leisure social hub that treats its customers with the best quality, nutritious food made with flavors inspired by Mediterranean, Middle Eastern, Thai, Asian and Indian cuisines. Sourcing organic produce from reputable merchants, the chefs claim that the best hand-picked decadent ingredients are used in the preparation of the food.
Along with a kids menu, The Farm also panders to an extensive variety of dietary restrictions and requirements, like gluten-free, dairy-free, paleo, vegan, and vegetarian, the Farm has something for everyone making it one of the best breakfast spots in Dubai.
Craving a healthy hearty meal and a good brew to start off your day? Head to NightJar Coffee to enjoy one of Dubai's best brews along with an amazingly delicious breakfast menu. Situated in the lanes of Alserkal Avenue is this hipster-like artsy café known as the NightJar Coffee.
The brand was established in 2017 as a wholesale business by a group of eclectic coffee lovers that later began dealing with Coffee roastery, cold brews, and craft beverage production. The warehouse was soon followed by an online store and then finally a flagship eatery and coffee roastery in 2018. Leon Surynt, the owner, is very proud of where and how his coffee beans are sourced from ethical partners. He often travels to the farms to meet with the farmers in order to guarantee a quality blend to roast and serve.
Nightjar offers an all-day breakfast with a load of exciting dishes on the menu. Our recommendation at the place is:
Avo Sourdough Toast: a crisp toast topped with creamy and rich avocado, poached egg, and a crispy, tangy hazelnut caponata.
House Cured Salt Beef Sandwich: the best salt beef sandwiched between crisp sourdough toasts with cheddar cheese, pickles, and red cabbage.
Crème Brûlée Pancakes: soft and fluffy ricotta pancakes layered with vanilla custard and topped with fresh raspberries and jam.
To wash down the meal we recommend you try their kombucha or the nitro cold brew that comes in a variety of flavors like orange, cherry, and maple.
The Looks of the café make it stand out in the industrial lanes of Alserkal, with vibes of fancy cafes and bistros from big cities like New York and London emitted by the dark-toned interior, neon lights, and brightly colored vinyl records decorating the dark walls. Inside the café is their bar with drink taps pouring out their famous special house-made cold brews. Serving daily from 10 am up to 9 pm Nightjar is the perfect place to read, work and even hang out with friends. It is truly one of the best coffee cafes in Dubai!
After you are done with breakfast, head over to the best sushi restaurants in Dubai for a fantastic Japanese lunch!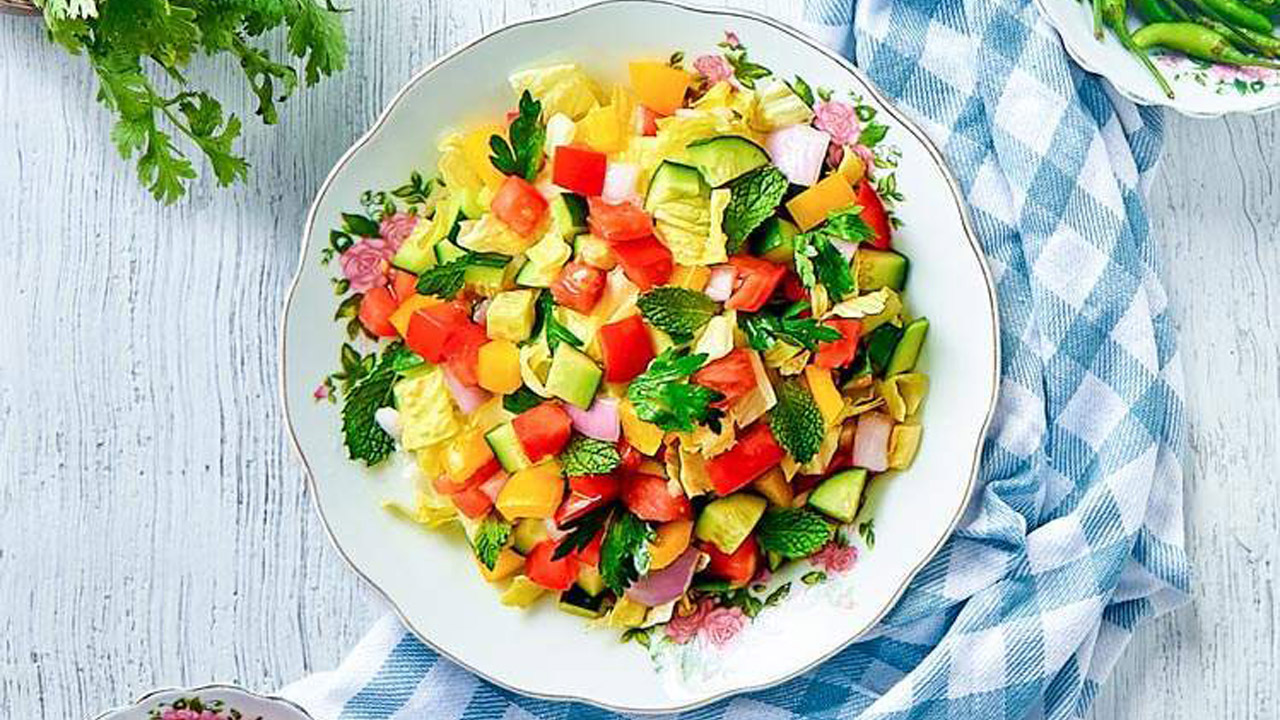 If you're looking to experience traditional Arabic culture through food, Arabian Tea House Café is your top must-visit place in Dubai. Established by an Emirati Ali Al Rais in 1997 with the idea of reliving the past and showcasing the history of his country to visitors, the café has made its name by providing customers with an authentic Arab experience. Ali Al Rais refers to the café as his little hideaway as in this quiet spot, traffic weakens to hum, and a languid breeze swoons around you as if it were always a calm afternoon.
Located in the Al Fahidi district, Arabian Tea House serves its customers from 8 am to 9 pm every day. The historical neighborhood of Al Fahidi is famous for its traditional-looking buildings from the 18th century and was formerly known as Al Bastakiya.
The Arabian Tea House serves breakfast, lunch, and dinner, the café has indoor seating as well, making it a quaint and family-friendly spot to enjoy your meal. Though the cafe is most popular for its hot beverages and breakfast items, they do offer quite a variety of dishes and have something for everyone.
A must-have at the Arabian tea house is:
Special Emirati Breakfast Tray: It consists of vermicelli cooked with cinnamon, cardamom, and saffron topped off with an omelet, served with date molasses, melted cheese, watermelon jam, dango (chickpeas), baked beans, cheddar cheese, and bajella with fresh traditional Emirati bread.
The cafe offers a wide range of hot and cold drinks to go with your breakfast, our top pick in the traditional section of hot beverages is their Special Zuhurat tea made with a blend of herbs, fruits, and flowers.
Some of the locals of the place also refer to the Arabian Tea House as Basta Art Café. The café is basically an old-fashioned house of wealthy pearl traders built in the early 1920s. The entrance of the café has a beautiful hand-painted welcome sign and is garlanded up with bougainvillea flowers. Behind the doors of the stone architecture, your eyes are drawn to a lovely secret garden with white rattan chairs, turquoise benches, lace curtains, and a variety of beautiful plants and flowers.
As Dubai's economy grows, the Arabian tea house has expanded beyond Al Fahidi and opened new branches in Sharjah, Jumeirah Archaeological Site, The Mall Jumeirah, Montenegro, and Egypt (Dubai House). You should definitely have breakfast over here on your next tour to Dubai.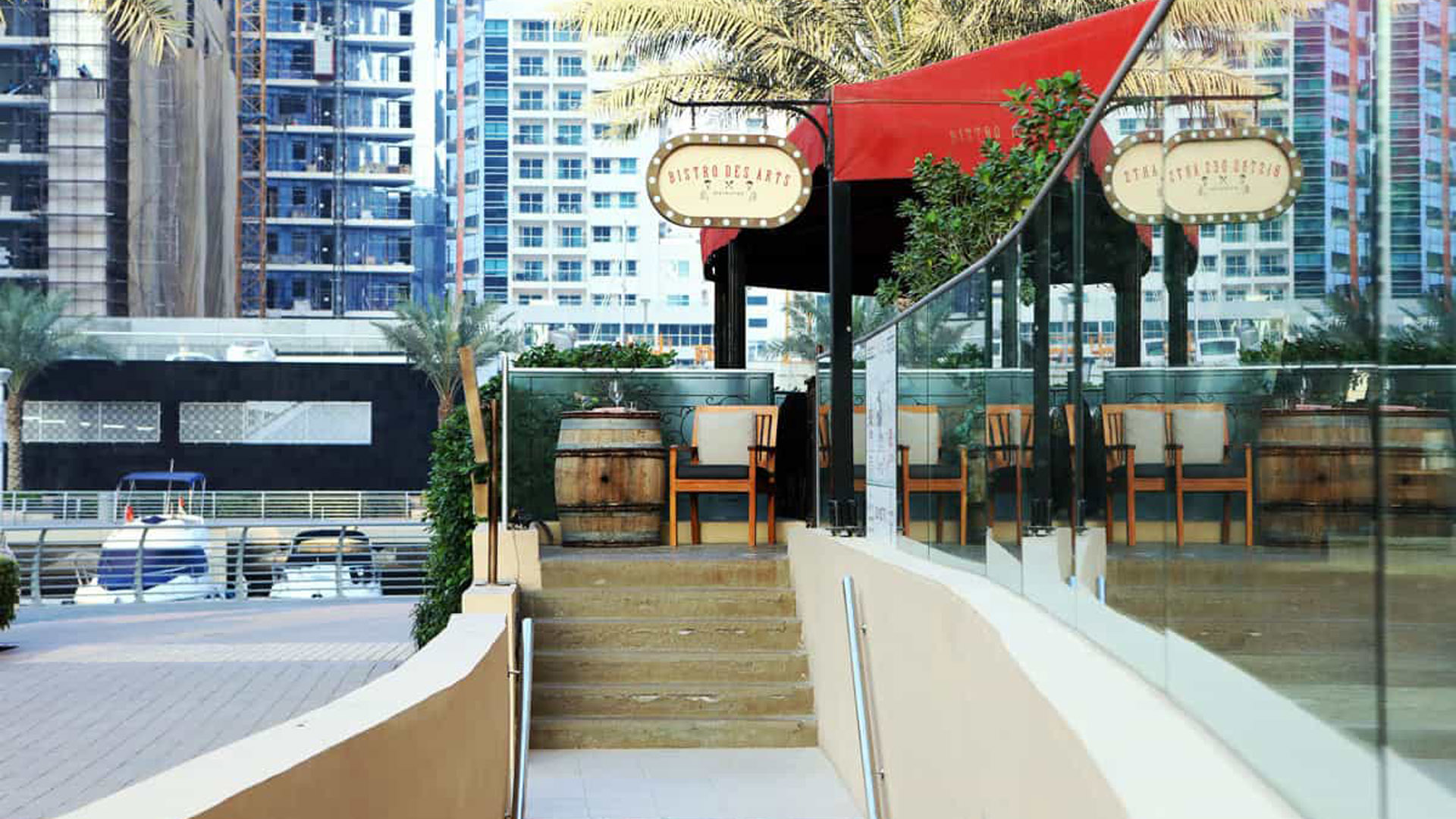 If you love crepes, croissants, baguettes, and all things French to start off your day, you cannot miss out on Bistro Des Arts. Owned by French entrepreneurs Julien Pilard and Jonathan Vercoutere, Bistro Des Arts is a cozy French bistro overlooking the water on a corner of Dubai Marina Mall, serving classic home-style French food to its customers.
The owners with their passion for home-grown concept wanted to serve Dubai a taste of France without the high price tags hence they launched Bistro Des Arts in 2015 it wasn't the typical fine dining French restaurant that you would find in Dubai it's one the first causal French cafes of the city and has worked its way hard to make a name for itself. The bistro serves from 8 am to 11 pm daily.
Bistro Des Arts offers a great value breakfast menu with some of the best French breakfast staples. Our top picks from the café are:
Eggs Royal: two poached eggs and smoked salmon served on top of freshly made brioche bread, topped off with hollandaise sauce.
French Toast: the perfect crisp on the outside, soft and fluffy on the inside French toast is made with freshly baked plain or chocolate croissants served with a scoop of vanilla ice cream topped with chocolate/caramel drizzle.
Our favorite healthy option "Le Healthy": is a bowl of fresh yogurt topped with berries and granola, Coffee of your choice, Egg whites, fresh fruits, and detox juice.
From the seaside promenade, you can access the café to a spacious terrace with small round tables scattered around the floor under the dotted red awnings, like the ones usually spotted in the quaint streets of France. On the inside, there is a small bar located opposite the kitchen and a center farmhouse table surrounded by round tables nestled together to give off a cozy French feel.
The walls are decorated with paintings and pictures of streets and buildings of France, and soft classic French music plays in the background loud enough to be enjoyed. The interior, staff, and vibe play a huge part in the café's warm and welcoming vibe.
The unique part of their service is that one of the owners is usually present while the restaurant is running and he isn't just there to sit aside on a table or behind a counter overlooking the service but he goes around to the tables chatting to the customers, serving and clearing tables, helping customers with the menu and making sure that the guests are having a good time.
The act of an owner working alongside his staff is very rare in restaurants here in Dubai hence it also adds up to the friendly, inviting French atmosphere. For this reason, specifically, our team really enjoyed the breakfast in Dubai and recommends it to our readers as well.
Recommended Reading: Fancy the Nature at These Lush Parks in Dubai
Things to Consider Before Picking Your Breakfast Spot in Dubai
Following are a few things we considered before picking a breakfast place in Dubai. You should consider them too.
Price: We recommend picking a restaurant that offers you more or at least equivalent value for money. This doesn't mean that you pick a cheaper restaurant but that you compare the quality, quantity, and experience that the place is offering with the amount of money you are willing to pay. For example, at a street-side café or food stall, a stack of pancakes and a cup of coffee from a coffee machine is cheaper than the one that you'll be having at Nightjar café but those crème brûlée pancakes and a cup of Nightjar's special brew is going to have an impeccable taste that you won't be able to find anywhere around town.
Ambiance: When searching for a place to have breakfast in Dubai you need to consider the ambiance of the café/restaurant. Dubai is a fast city and getting the chance to slow down and enjoy a peaceful early morning meal can set your day's mood of relaxation. Make sure that you get to the café a couple of minutes prior to your reservation or if you don't have a reservation make up your mind to spend time waiting a while before getting seated or try to pick a time that is not considered a rush hour.
Service: Every dining experience should include excellent customer service. You can determine whether or not you have a good experience at a restaurant by the staff's attitude and behavior. Select a restaurant that has a reputation for providing excellent service. Though good service is usually expected from the waiters, sometimes the waiters are super busy or overworked hence there can be a chance of a mishap. Either way, service is an important factor and we really appreciated the service of Bistro Des Arts Dubai.
Food: Make sure that the meal that you are getting is something that you cannot make and replicate at home as the experience of the place and food will reduce significantly. Choose a restaurant in Dubai should be that offers you something true to Dubai's heritage. The Arabian Tea House is one of the places that you just cannot miss out on if you are looking to experience authentic Arab culture. Also, make sure that the place you are considering visiting for breakfast has the ability to serve meals according to your dietary restrictions such as gluten-free and/or vegan.
How We Pick Our Recommendations?
With our team's love for traveling and eating out, we have had an easy time extracting and listing out Dubai's must-try spots for breakfast. We scoured the city and tasted out-of-the-box breakfast options to inspire your next breakfast meal. Along with our own personal experience and travel to Dubai, we have also taken opinions and conducted surveys from locals and tourists of the city to help us curate this list of the best breakfast places in Dubai.
Conclusion
In conclusion, Dubai is a foodie's paradise when it comes to breakfast options. Whether you're a fan of traditional dishes or prefer a more modern take on breakfast, there's something for everyone in this bustling city. From the iconic Eggs Benedict at The Scene by Simon Rimmer to the mouthwatering shakshuka at The Brass, Dubai's breakfast scene is truly diverse and offers a wide variety of culinary experiences. So, whether you're a local or a tourist, make sure to check out some of these amazing breakfast places to start your day off on the right foot.
Breakfast Places in Dubai - FAQs
Which restaurant in Dubai offers the best Arabic breakfast?
Arabian Tea House in Dubai offers the best quality Arabic breakfast with the finest ambiance and surrounding environment to upbring the aesthetics.
Which restaurant in Dubai has the best morning coffee?
We recommend NightJar Coffee if you are looking for the perfect cup of joe and Crème Brûlée Pancakes.
What is the price of an average breakfast in Dubai?
An average breakfast in Dubai can cost you between 120DHs to 180DHs ($32 – $50).