Dubai is known for having one of the best and most well-maintained parks. Due to the weather conditions being very friendly and moderate, parks are famous places in Dubai for families to visit. The parks in Dubai have lots to offer including various different amenities. These include large playgrounds, gardens, lawns, benches, picnic areas, etc. Not just this, the parks also have vending machines, snack bars, and much more for you and your family to enjoy. Dubai is much more than just skyscrapers and massive malls. Going to one of Dubai's many lovely parks is the best way to enjoy the outdoors once the heat has finally subsided.
8 Famous Parks in Dubai
When planning a trip to Dubai some of these parks are a must-visit for you. Most of the parks allow free entrance. However, there are some which might require a paid entrance too.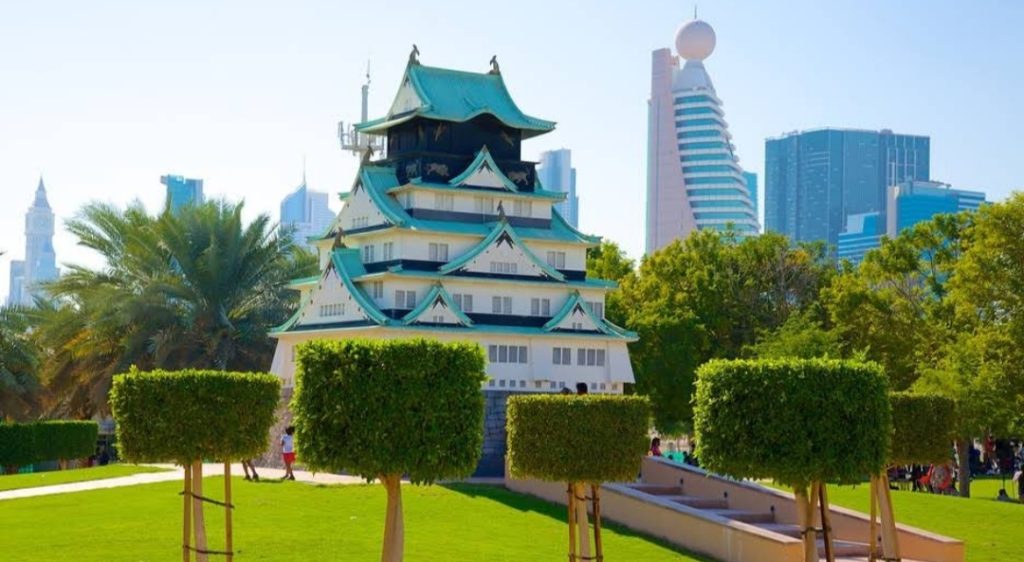 Once the summer heat has passed, local families love to visit the parks along with friends and family. The best park to go to and enjoy at such a time of the year is Zabeel Park in downtown Dubai. This sizable park consists of 51 hectares.
The park has two major attractions, the dinosaur park, and the glow garden. The dinosaur park includes animatronic dinosaur models and a small museum devoted to dinosaurs. The glow garden, on the other hand, is a garden that is illuminated at night with twinkling lights to create a magical garden. Both of these attractions are included in the park's southern section. The Zabeel Park offers plenty to keep the younger members of the family entertained.
Not just this, the park also offers rides and swings for your children to enjoy. The children's playground equipment is located in numerous other designated areas throughout the park.
While locals enjoy picnicking on the expansive lawns and using the running track at Zabeel Park, the Dubai Frame, which is in the park's northeastern corner, is what draws city visitors. With galleries that take you through Dubai's history, this picture-frame-shaped observation tower moves you up to the sky roof at 150 meters for stunning views of the entire city. However, it must be kept in mind that the park does not offer free entrance. There is a small entrance fee of AED 5 to the park.
Suggested Reading: The Finest Gyms In Dubai For Everyone
If you're looking for a park with scenic views and some water, Creek Park is the place to go. This Park is the second-largest public park area in the city. It encircles the western bank of Dubai Creek allowing visitors to enjoy the views of the water. The park is located at Umm Hurair 2 – Dubai.
The walkway that surrounds the creek here is the main draw for many tourists, whether they come to stroll and take in the scenery or to take pictures of the creek. The expansive lawn areas at this park are surrounded by beautified flower bed displays. In the lawns, families' hangout during the weekends when the weather is nice to enjoy a chit chat or even barbeque.
There are several cafés and restaurants located within the park, as well as a designated barbecue area for families and groups looking for a more considerable picnic experience. Not only this, the park also offers rental bicycles that are available on-site for the people if they want to ride a bike through the park's spiral trails and enjoy the air and views.
If you have a young science enthusiast, you'll love the Science Activity Center which is located in Creek Park's Southern Section. There is a planetarium, a theater, and a ton of hands-on science exhibits inside.
Meanwhile, children can also enjoy other activities like racing around on pedal-powered Go-Karts, explore the various miniature playgrounds, and scoot, bike, or run through the expansive greenery. There is also a Dolphinarium, and a 30-meter-high cable car at this Park. The entrance to this park will cost AED 5 and it will be free for children under 2 years.
This location is a bird watcher's and nature lover's paradise. Mushrif Park, a 13-acre parkland on the eastern edge of the city, is a favorite among parents looking for a place for their kids to run around and burn off some energy. There are numerous activities available over here for children of all ages making it one of the most family-friendly parks in Dubai!
The northern part of the park is home to Aventura, Dubai's tree-top adventure-activity course with numerous rope swings and zip lines. Mushrif also has a public swimming pool complex, one of which is specifically designated for kids.
Along with running tracks and designated cycling trails, the park also accommodates a horse riding school that offers both rides and ongoing lesson packages. You can expect a very different experience from what you would typically find in the normally exquisite city parks. One interesting fact about this park is that it is the oldest natural park in Dubai. The park is frequently used for family get-togethers and barbecues during the winter weekends.
A wide variety of other amenities are available at this park, including bike paths, sports courts, camel and horseback riding, a model home village, children's play areas, restaurants, and even a toy train service. The entrance to this park will cost you 3 AED per person.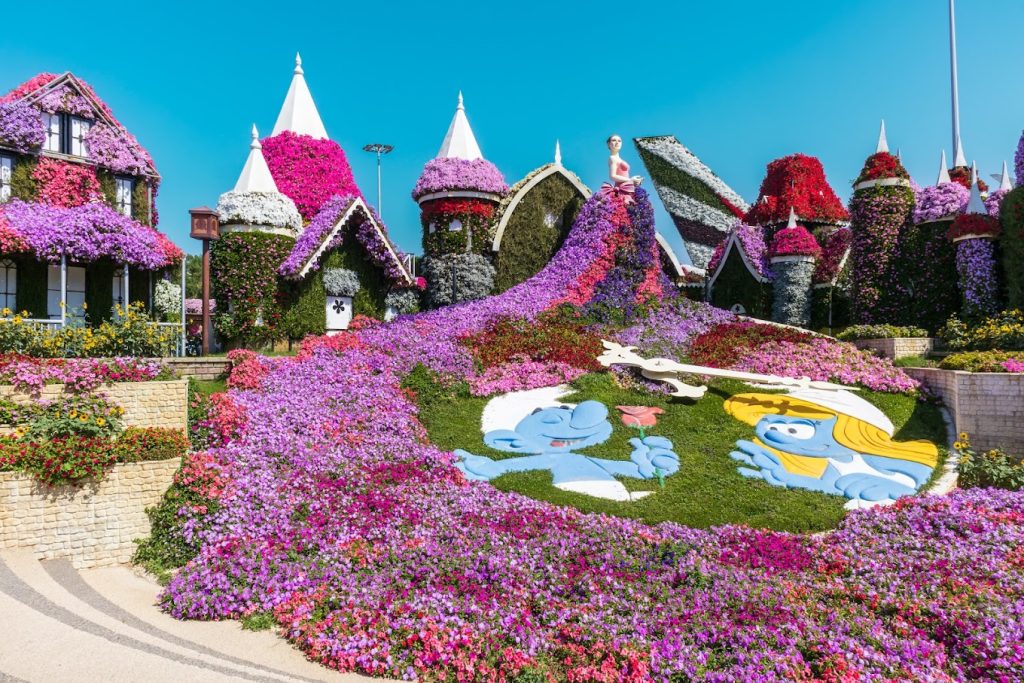 If you plan on strolling through a park that consists of flower displays, Dubai Miracle Garden is the park to visit. Just as the name says, the park is a miracle garden because of its miraculous nature and range of flowers and plants. Over 150 million flourishing flowers fill the 72,000 square meter space of this enormous floral garden.
The flower exhibits include enormous floral A380 airplanes, which is the largest floral sculpture in the world, finely landscaped flower beds, mesmerizing 3D designs, villages, and castles. All of these are made of flowers.
There is also a Disney Avenue area with massive floral and shrub Disney characters for younger children to see and enjoy. Additionally, the park also regularly offers on-site family entertainment. Contrary to Dubai's public parks, you cannot bring outside food or beverages into the park area, but there are 30 outlets for refreshments, including restaurants, more simple cafés, food stalls, and shops.
With so much offered at this park, it is not free and one has to pay a reasonable amount to get here. There is an entrance fee of AED 75 for adults; however, children under three have free admission. The park is open from approximately November to April each year. The garden has many dining options, lovely swings, and play areas. Enjoy some beautiful family photos, but arrive early to avoid the crowds and the heat.
Recommended Reading: 7 Burger Spots in Dubai That Will Leave You Speechless
Al Barsha Pond Park is a landscaped green area built around a man-made lake located in Dubai's southern neighborhoods, offshore from Dubai Marina and The Palms Jumeirah. The park's 52 acres are covered in well-kept garden strips, and there are many trees to provide shade for the wide, 1.5-kilometer running path that circles the lake.
The park's main draw for neighborhood exercisers is its rubber-surfaced running track, which is well-liked by walkers, skaters, and runners alike. If you are looking to enjoy the park without having to walk, you can rent yourself a bike. For this, Al Barsha Pond Park's bike rental facility rents out bicycles, e-bikes, and go-karts. Rent a bike for yourself and enjoy the beautiful views of the park and pond both while biking. A separate cycling path circuit weaves around the lake for bikers and cyclers.
Instead of walking around the lake, you can also rent pedal boats to enjoy within the lake itself. The boats are available as both pedal and solar powered. There are three kid-friendly playground areas on-site for local families. Within the park, a few cafés serve refreshments.
Therefore, if you are hungry or thirsty you may visit these cafes to enjoy a good drink or snack for yourselves. Also, entry to the park is free but the inside activities such as bike rentals will cost you a mediocre amount.
Safa Park, two blocks away from the coast of Jumeirah Beach, is a very well-liked large open space, with Dubai Creek flowing through the park's landscaped gardens and lawns. Safa Park, one of the city's first specifically created public park areas, was established in 1975.
Visitors can now admire the fact that Safa Park used to be outside the city's boundaries when it was first built because the city has since encircled it and moved steadily southwest down the coast, putting Safa Park in the heart of Dubai. Safa Park is located directly on Al Wasl Rd. and is bounded by Sheikh Zayed Rd.
Safa Park, which is renowned for its excellent team sports facilities, has tennis courts, basketball courts, a track for runners, and bike rentals available on-site for using the park's trails. 3 distinct play areas with plenty of shade for picnics, a small food stand, and restrooms are all present in the park. On weekdays, it is fairly quiet, but on weekends, it comes to life with lots of families.
There are numerous boat rental facilities available at this park that allow you to rent a pedal boat, specifically. There are numerous locations with playground equipment throughout the park for families with young children.
Photographers will adore this particular park because, in addition to its ideal greenery, it is home to over 200 different bird species. We highly recommend this park for someone interested in catching scenic views, exploring nature, and just enjoying the serenity.
Editor's Pick: Staying In Dubai For A Week? Here Is A Complete Plan For Maximum Recreation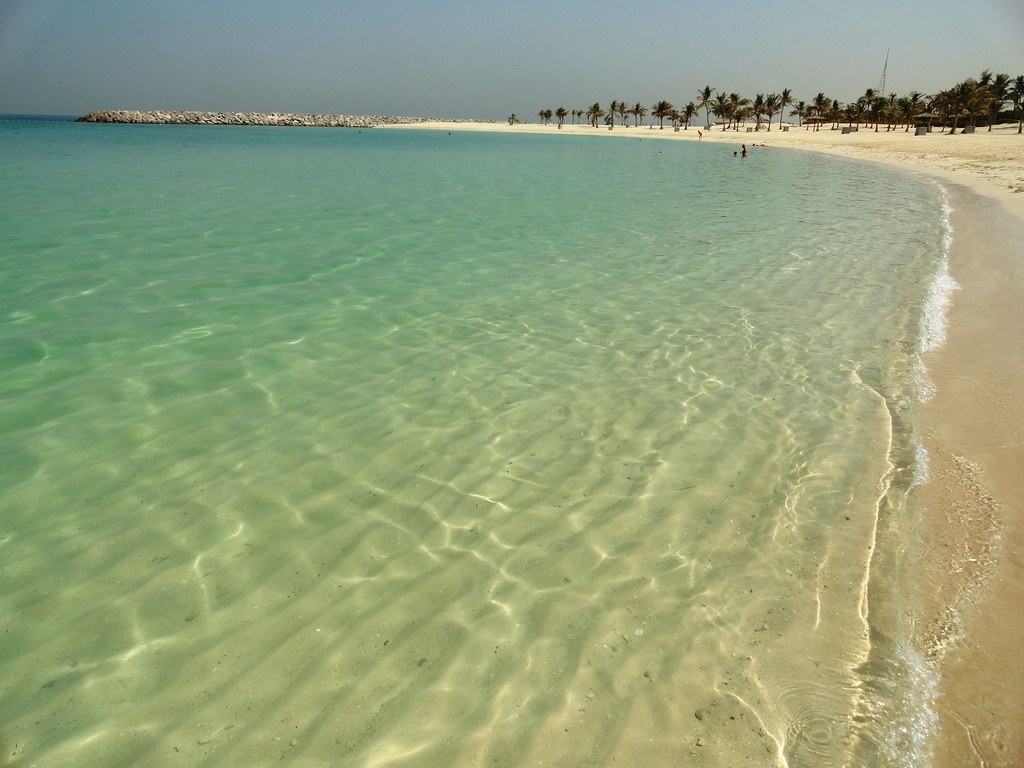 This lovely park and beach are combined on the Deira side of Dubai Creek. Greenery and Sand come together at the Al Mamzar Beach Park! The region includes a small peninsula's point that extends into the water and faces Sharjah.
It is also connected to several beaches that are ideal for large groups and families who enjoy being outside and swimming in the refreshing water. The park provides a spectacular view of the Sharjah Lagoons. It's one of Dubai's best parks for a picnic by the beach with family and friends just based on the views.
There are five sand surfaces: four on the beach park's eastern side and one on the western side. Between them is a spacious (55,000-meter) stretch of well-kept lawn bordered by palm trees, with numerous curving paths for cycling, running, and strolling through the area.
A sizable green park with playgrounds for children, areas for picnics, and jogging trails is adjacent to the swimming pool and water sports areas. There are lifeguards on duty, as well as restrooms and small holiday homes that can be rented daily.
In the garden area, there are also designated spots for grilling and lots of room for picnics. If you haven't brought your own food, the park's various food vendors and a few cafés offer refreshments. The entrance will cost 5 AED per person.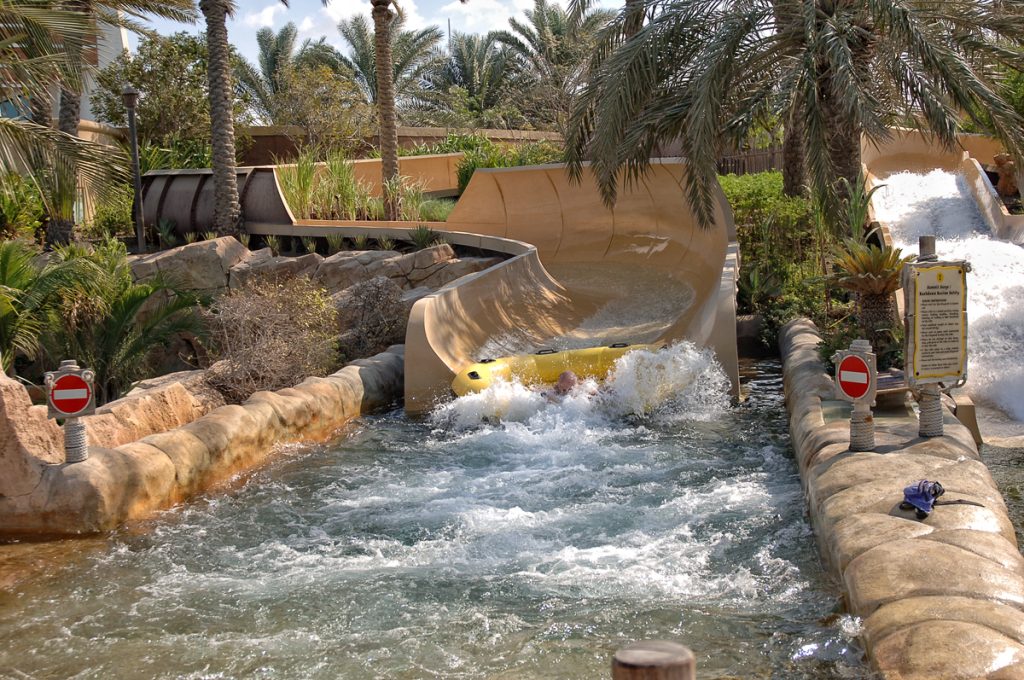 If you're looking for a park where you can jog, run and exercise while enjoying the views to the famous Burj Al Arab, Umm Suqeim Park is the place to go. This Park is opposite to the Umm Suqeim Beach and is enjoyed by locals.
This small park is the best location for exercising locals who come here to run or walk on the jogging circuit within the park, which is located opposite Umm Suqeim Beach. This is a great option for evening workouts for local joggers and runners because the jogging circuit is well-lit after dark, making it especially well-liked by the neighborhood's solo female runners.
Despite its small size, the park is well suited for families and has a sizable, well-kept playground area for kids as well as picnic tables for larger groups who wish to spend more time there. This park is considered an ideal spot for lunch which is why many families gather over here at this time! There is a café located inside the park if you don't want to bring your own food. Umm Suqeim Park doesn't charge a fee for admission.
The ideal urban family getaway, this splendidly picturesque park is well-liked by both locals and foreigners. On weekdays, only women are allowed, and on weekends, men are allowed to visit with family. Within the grounds, there is a playground appropriate for slightly older kids, along with a cafe and restrooms. Spend an evening here as you enjoy the closeby greenery and you'll truly admire this park.
Things to Consider Before Visiting a Park in Dubai
We considered the following aspects before curating the list of famous parks in Dubai. Find out important factors we considered before visiting a park in Dubai.
Services and Amenities — Before visiting a park, the first thing to consider is what the park will be providing you. When visiting a park, it is important to look into the services and amenities that will be available. If you are planning on enjoying a picnic at the park without having to cook or bring food from home, check if the park has any cafes, vending machines, or food stalls available. Apart from this if you are looking for outdoor fun check whether the park provides bikes, boats, and jogging tracks. When visiting with children, it is necessary that the park provides services like restrooms, food stalls, and water.
Parking — It is important to consider a park with a parking lot if you are going to be visiting in a car. If the park does not have a parking lot, it will be difficult for you to find a place to park your car. In Dubai, if you're parked in the wrong location, you will be fined. Therefore, prefer going to a park where a parking facility is available for you and your family's ease.
Timings and Weather — In Dubai, due to the weather being moderate and warm mostly, people prefer visiting parks during the evening time. Most of the parks in Dubai are not shaded which means that the sun will be right above your heads and you'll be exposed to sunlight. For this reason, the best time to visit a park in Dubai is after 3 or 4 PM. During this time, the heat will settle and the day will begin to cool down. So when planning, plan to visit during the evening or at night. We don't recommend visiting parks from April to September as these are quite hot.
How Do We Pick Our Recommendations?
Our recommendations have been compiled for our readers to easily locate and enjoy a park in Dubai. These recommendations will definitely prove to be the best recommendations for you and your family to enjoy. Be it a beach park or an open-air park, we have covered all of these in our list so that you don't miss out on any good parks while you're visiting Dubai for the best experience. We also gathered opinions from other visitors who visit these parks frequently to know about their thoughts. All these recommendations have been gathered after thorough analysis and information so that you and your family are at ease and enjoy most.
Conclusion
The varieties of parks that are available in Dubai are the perfect getaway for families and people looking for places to go enjoy the fresh breeze and weather. During the night these parks light up and bring out a great vibe for you to enjoy even if you are solo. The best part about visiting these parks is that you can enjoy food, have a picnic, and even let your children enjoy the swings and rides. People in Dubai rush to these parks during the weekdays and especially on weekends to relax and spend quality time.
Suggested Reading: Finding the Best Seafood Restaurants in Dubai
Parks in Dubai - FAQs
What is the best park to go for nature lovers?
The best park for nature lovers would be the Dubai Miracle Garden as it has flower exhibits.
Which Park in Dubai allows dogs?
Safa Park allows dogs to enter within the park as long as they are leashed.
What is the best time to visit parks in Dubai?
You should visit parks in Dubai during September to April because these are moderate weather months. During May to August, the weather in Dubai is extreme.
What is the best park in Dubai to enjoy swimming?
Mushrif park includes separate swimming pools for men, women, and children.