After reviewing the worst time to visit Bali, we decided to head over in the middle of the desert, on the coast of the Persian Gulf, to the sparkling metropolis of Dubai. It is a metropolis of ostentatious wealth, where towering buildings and artificial islands in the form of palm trees extend out into the sea. You may find a more traditional culture and interesting historical landmarks behind all the bling and glamor.
The city has a lot to offer, but it is not always the most enjoyable vacation spot at all times of the year. Certain months are often considered to be the worst time to visit Dubai.
Also Read: Worst time to Visit Alaska
The Worst Time to Visit Dubai
Summer is the worst time to visit Dubai due to the scorching heat. Temperatures in Dubai can exceed 48 degrees Celsius (116 degrees Fahrenheit) or higher between May and August.
During this time, the heat is compounded by the highest levels of humidity. It might be unpleasant to spend much time outside in the city during this season due to the high temperatures and high humidity. The weather in Dubai is warm to hot year-round, but from April to October, it is so hot that even locals tend to stay indoors most of the time.
During the warmer months, several of Dubai's most popular tourist spots may also shut. Local Parks, Dubai Fountain, and other spots can shut for short periods of time each summer to undergo maintenance. Be careful to research the attractions' hours of operation in advance.
Heat exhaustion and heatstroke are real risks during the summer's harshest months in Dubai because of the combination of high temperatures and high humidity. If your body temperature rises too high and stays there for too long, you might suffer from heat exhaustion.
Heat exhaustion is characterized by profuse perspiration, fainting, nausea, headache, and muscular cramps. Heatstroke occurs when the body's core temperature increases to unsafe levels, potentially causing organ damage. Taking these measures can help you have a safe and memorable time in Dubai in case you visit during summer!
Put on sun-safe apparel that is both light and loose-fitting.
Stay away from dehydrating substances like alcohol and coffee. Use a refillable water bottle and have it with you at all times.
If you have to go outside, look for a place to rest in the shade, whether it be a tree, a structure, or an umbrella.
If you can, spend as little time as possible in the sun, particularly when it is really hot out.
To reduce your body temperature, you may use a damp cloth. You may use it to bring down your body temperature by wrapping it around your neck or forehead.
A portable fan is a practical and easy method to beat the heat in the great outdoors.
Early mornings are great too, and you can have a fancy breakfast in Dubai.
When is the Worst Time to Visit Dubai: According to Other Tourists
Hopdes board member, Zalah Khan, visited Dubai last year and said, "The hot and muggy weather of Dubai in the summer explains why prices drop. Outside of air-conditioned shopping centers, hotels, and taxis, you can't do much of anything but swim in chilly pools; even the ocean seems like a hot bath. Even at night, the humidity remains high, making the heat seem much worse. You'll be saturated in sweat after only five minutes of outdoor activity. Although I make multiple annual stops in Dubai, I would never consider planning a vacation there during the summer".
Umar Ali said," I am a seasoned traveler who does well in a variety of summer climates. This includes not only the dry heat of the Middle East (Egypt, Syria, etc.), but also the humid heat of the Far East (Malaysia, Thailand, and Mauritius), where we are currently experiencing record-breaking temperatures. But, summer in Dubai is unbearable; the heat and humidity were too much for me".
Related: Worst Time to Visit Mexico – Avoiding Crowd and Bad Climate
Most Expensive Time to Visit Dubai
Since hotels in Dubai tend to fill up months in advance, December through February is the most expensive period to visit the city. Depending on the time of year, a round-trip flight from New York to Dubai might cost anywhere from $1000 to $1300.
Most flights are connecting services, making them ideal for vacations with several stops, however, Emirates, British Airways, and Royal Brunei also provide nonstop options. We also reviewed and compared the best airlines in the Middle East you can choose for your trip to Dubai.
Travelers should prepare ahead if they want to take advantage of the various activities and festivals held during this season.
Palm Jumeirah, Dubai Marina, and Downtown Dubai are among the city's most sought-after hotel districts. All the best hotels in Dubai, from the most affordable to the most lavish, can be found across the city's many districts and are conveniently located near the city's most popular landmarks.
Costs for a standard hotel room vary from $50 to $300 per night.
Most Crowded Months to Visit Dubai
Even though Dubai is open to visitors year-round, the desert temperature means that certain times of year are better for relaxing on the beach than others. Winter, from November through February, is Dubai's busiest time of year. For the first quarter of 2023, over 4.67 million tourists entered Dubai.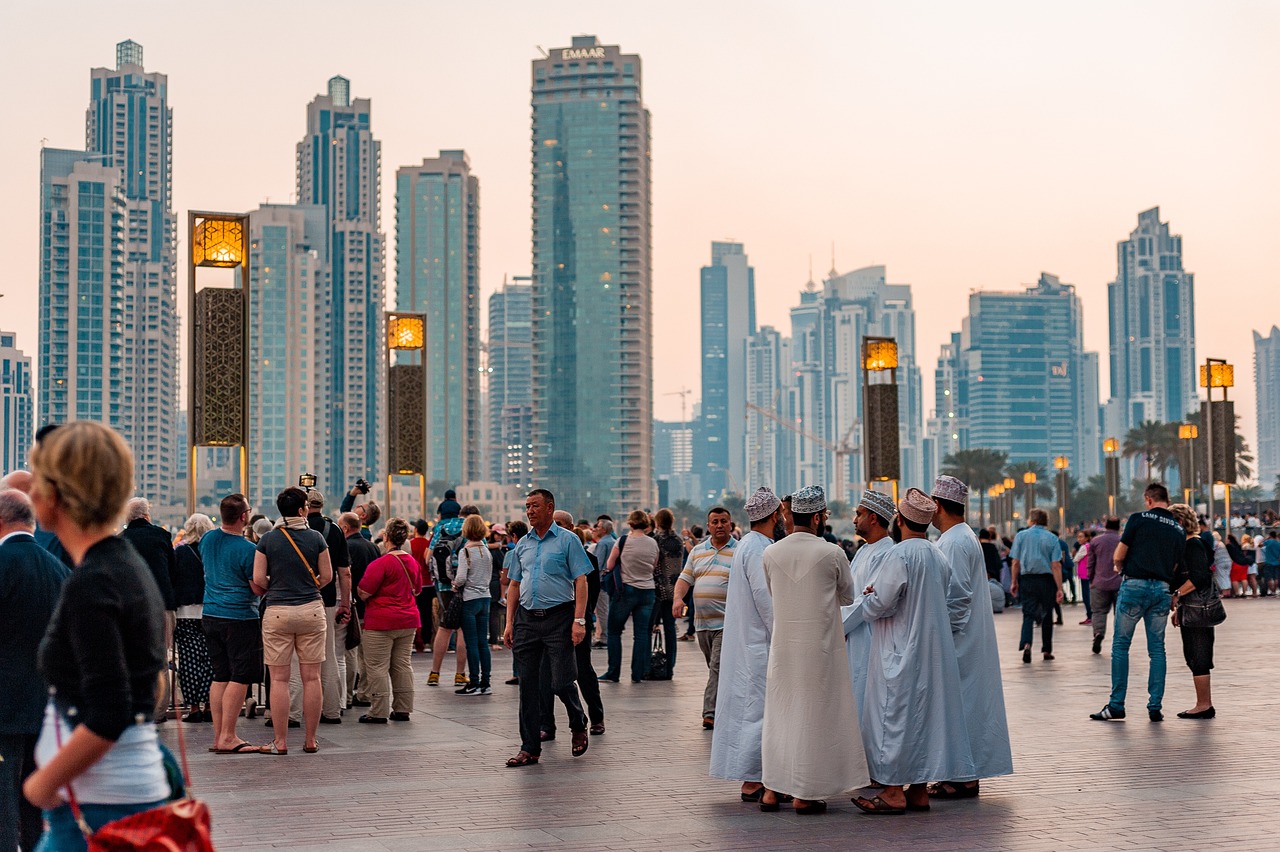 The weather is pleasant for outdoor activities, making this a great time to view the attractions rather than waiting until the hot summer months. Since so many people want to Visit Dubai at this time, prices go up and crowds become worse.
When to Visit Dubai: Month-by-Month Analysis
Let's explore Dubai on a monthly basis and see which month is better for visiting.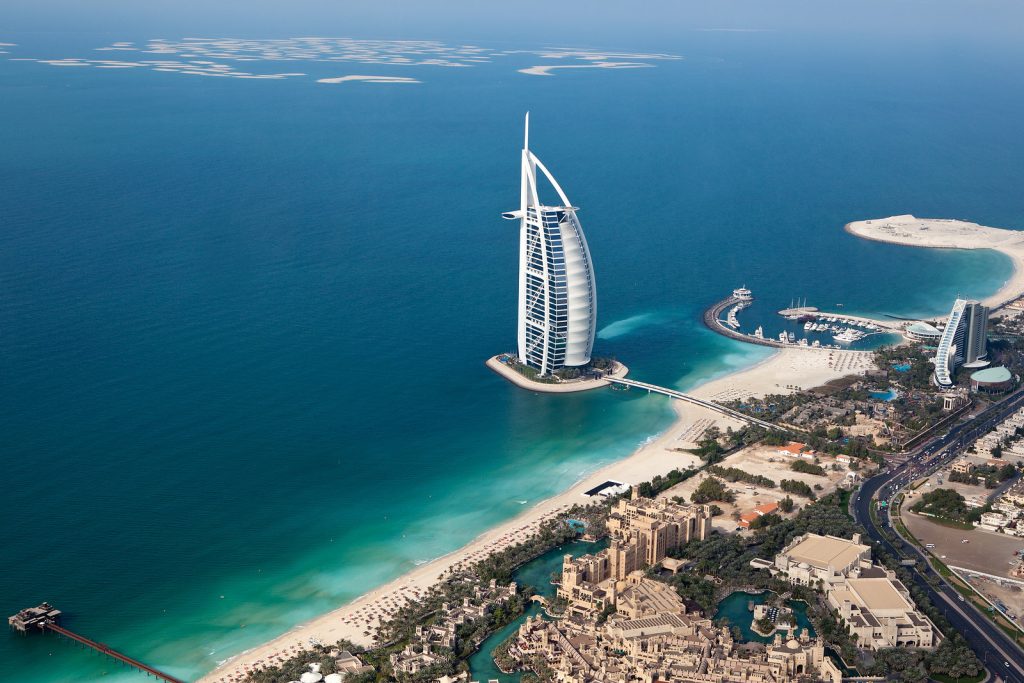 January
The weather in Dubai in January is wonderful, making you want to spend the day outside. Ordinarily, the weather is a comfortable 20 degrees Celsius (67 degrees Fahrenheit). The pleasant weather is ideal for outdoor pursuits like skydiving, ziplining, and hot air balloon rides. After the New Year, the city gets fewer visitors since the worldwide holiday season has ended.
February
Temperatures rise steadily during the month of February, often peaking in the 25 degrees Celsius and sometimes approaching the 30 degrees Celsius mark. As the month continues, there is a greater chance of precipitation. The weather is perfect for outdoor activities and trips to the beach.
There are more celebrations and activities this month due to the pleasant weather. Because of these factors, high tourist volumes are expected at the beaches. At major tourist destinations, masses of visitors sometimes need longer wait times and lines. Travel and lodging costs continue to be high.
March
The weather is perfect for a trip to the beach, and the water is warm enough for swimming. Average highs reach 28 degrees Celsius, and the likelihood of precipitation gradually declines. Modest clothing, including covered shoulders and knees, is advised while visiting a city or a mosque. As a result of the high volume of visitors, hotel rates may remain high.
April
In April, Dubai has already seen the onset of summer, with noticeable increases in temperature. As the days become longer and hotter, and as the nights gradually drop down, the social calendar naturally shifts to accommodate the new times.
The water is warm enough for swimming, but if you go to the beach you should protect yourself from the sun by constantly using high-quality sunscreen. Easter is a popular holiday, so expect more crowds and more tourists around that time.
May
Maximum daily temperatures rise into the upper 30s as summer comes. It is hard to spend a lot of time outside; therefore the beaches are usually deserted. People often seek refuge in places with air conditioning.
June
With 12 hours of sunshine, the scorching heat of summer does not let off much in the evenings, and it continues to rise. Highs often hover around the mid-30s, and precipitation is rare. You will want to avoid being exposed to the heat as much as possible, instead spending time in cool inside environments like stores and hotels.
July
The warmest month of the year has arrived, with average highs of 43 degrees Celsius. Hotels and flights to Dubai are at their lowest costs of the year. There are hardly any other visitors, and most tourist spots are deserted.
August
The weather in August is similar to that of July. The discomfort of even brief outside exposure is intolerable. When bad weather discourages people from visiting, hotels will often offer big discounts to get customers in. Even if the weather outside is awful, there is much to do and see in the air-conditioned city like visiting Dubai Mall, and Emirates Mall.
September
In general, September ushers in drier and less humid conditions. The sea is smooth and clean, and the conditions are getting better for swimming and other water sports.
Suggested Reading: Fancy the Nature at These Lush Parks in Dubai
October
As the mercury begins to drop, more people from all walks of life will be taking advantage of the outdoors. Daytime highs hover around the mid-30s, and precipitation is quite unlikely. The influx of visitors is picking up again, but it is still not at its height, so there are fewer people about to get in the way of your sightseeing.
November
The temperature rises to the mid-20s throughout the day, making it more bearable to spend time outside. It is bright, and it rains only seldom. Many people visit Dubai in the winter to escape the cold because of the city's pleasant climate. Because of the tremendous demand from tourists during this peak season, lodging costs have skyrocketed.
December
The mild climate persists, with highs in the low to mid-20s on a daily basis. While precipitation is somewhat more expected this month, it is still not very common. Bring a light jacket since it might become cold in the mornings and nights. As the number of visitors continues to rise, so do room rates.
Conclusion
Dubai is a fantastic destination for any kind of vacation, whether you want to spend your time shopping, exploring the desert, or lounging on the beach. Traveling to Dubai in the summer is the worst time to visit there and hence not recommended. You may have a stress-free and delightful vacation in Dubai if you know when to avoid going there.
Follow our Worst Times to Travel Section.
Worst Time to Visit Dubai - FAQs
When is the worst time to visit Dubai in terms of high temperatures?
The worst time to visit Dubai in terms of high temperatures is during the summer months, specifically June, July, and August. Temperatures can soar above 40 degrees Celsius (104 degrees Fahrenheit) during these months.
When is the worst time to visit Dubai if you want to avoid crowds?
The worst time to visit Dubai if you want to avoid crowds is during major holidays and events, such as the Dubai Shopping Festival in January and February or the Dubai World Cup in March. These events attract a large number of tourists, making the city very crowded.
When is the worst time to visit Dubai if you have a limited budget?
The worst time to visit Dubai if you have a limited budget is during the peak tourist season, which falls between November and April. During this time, hotel rates and flight prices are typically higher compared to the rest of the year.