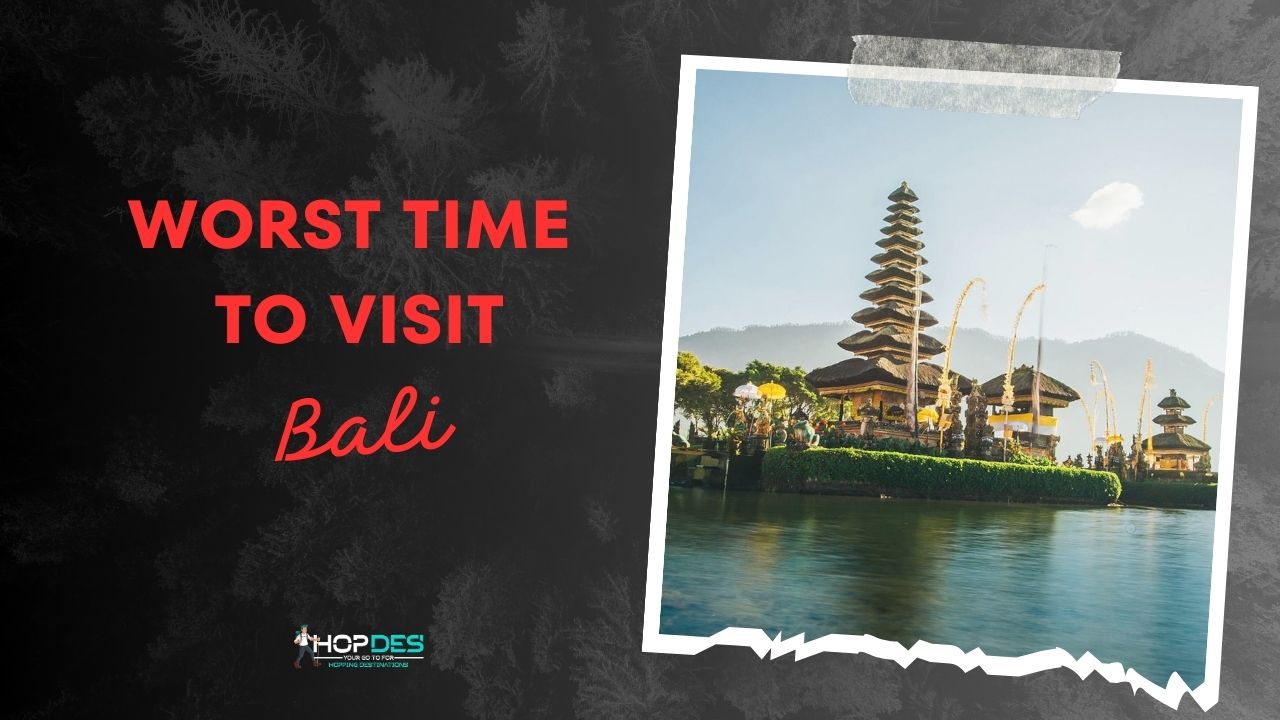 Bali, a destination renowned for its breathtaking beauty and vibrant culture, sometimes fails to live up to the grand expectations of travelers. Visiting Bali during the rainy season (October to April) is often considered the worst time to visit Bali.
Far too often, eager adventurers unknowingly explore Bali during its worst times, unaware of the challenges ahead. Understanding why these times can dampen the experience is vital to ensuring an unforgettable trip.
Also, check out the worst time to visit Dubai!
What Is The Worst Time To Visit Bali?
The worst time to visit Bali is during the months of November to March because
This is the time of extreme rainfall with the peak season in December
This is the time when it is most crowded in Bali owing to Holiday and Honeymoon season.
However, it depends on what you prefer. Maybe, you would want to enjoy the party vibe, or you may not have issues with the rain.
Weather in Bali: When Not to Visit Bali?
Bali gracefully transitions between two contrasting seasons: the vibrant dry season, spanning from April to September, and the unpredictable wet season, from October to April. The dry season offers a striking dichotomy with radiating sunny days and a refreshing absence of humidity.
On the other hand, the rainy season in Bali unveils a series of challenges that make it the worst time to visit Bali island. Let's explore some of these challenges:
During the months of October to April, rainfall becomes a frequent companion, casting a shadow over outdoor activities and beach excursions.
The changing ocean currents exacerbate the situation, resulting in an unfortunate consequence: the accumulation of plastic waste along many pristine shores.
As the rainwater carries debris from land and sea, beaches may lose their natural splendor, diminishing the idyllic beach experience that travelers seek.
The visibility of the water takes a hit, making it less suitable for snorkeling and diving enthusiasts longing for crystal-clear underwater encounters.
The waves, agitated by the seasonal weather patterns, tend to be higher, causing ferry rides to become bumpier and less pleasant.
Related Reading: When is The Best Time to Book For The Cheapest Airline Tickets?
Why Rainy Season Regarded as the Worst Time to Visit Bali?
Several factors combine to make the rainy season the most unpleasant time, including poor weather and fewer opportunities for outdoor fun. Here are some of the more important and compelling ones: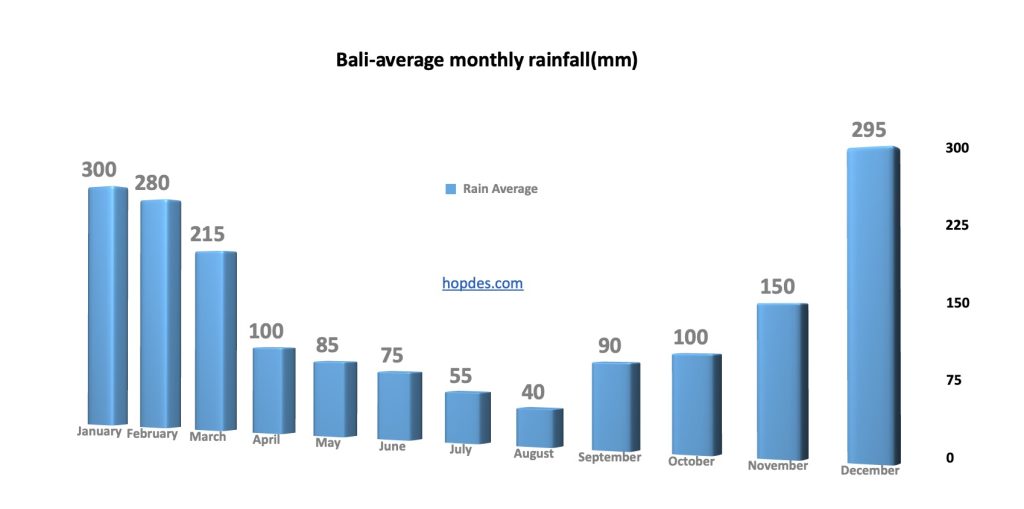 Flooding
The worst time to visit Bali is characterized by the risk of flooding, which can disrupt travel plans and pose significant safety concerns. Heavy rainfall during the rainy season increases the likelihood of flooding in low-lying areas and regions with inadequate drainage systems such as Seminyak and Kuta.
Further, floodwaters can inundate streets, hotels, and tourist sites, causing inconvenience and limiting access to popular destinations.
Landslides
The combination of heavy rainfall and the island's rugged terrain increases the vulnerability to landslides, especially in areas with steep slopes. Tragically, recent events serve as a reminder of the dangers associated with landslides during this period.
For instance, Karangasem Regency experienced significant landslides on 7 October 2022, that resulted in the loss of three lives, injuries to three individuals, and the displacement of eight people. The occurrence of landslides can pose a grave threat to personal safety.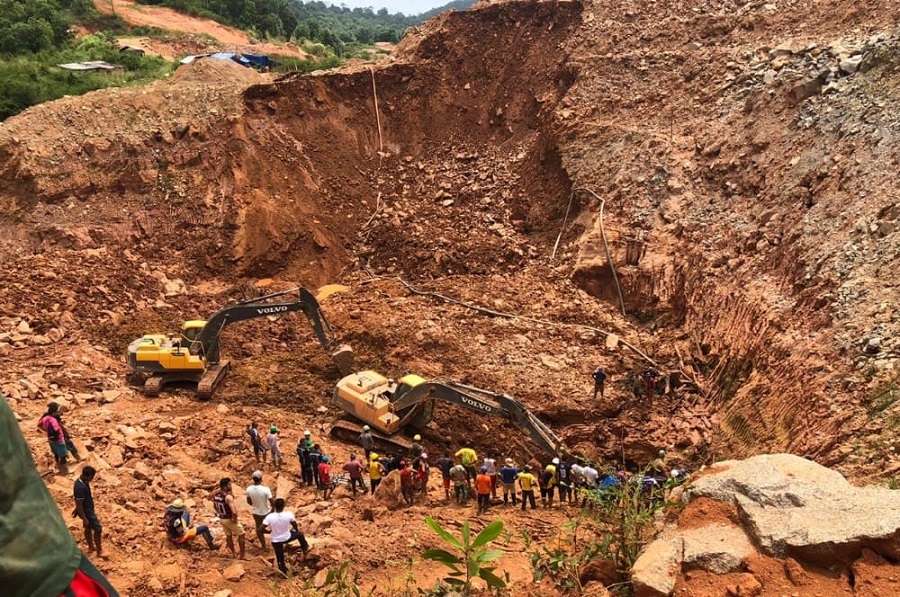 Unbearable Humidity
With an average humidity level of about 85-90%, the island's air carries a sense of stickiness that can be challenging to bear. The combination of heavy rainfall and elevated moisture levels in the air contributes to a sense of heaviness and discomfort. Due to the oppressive humidity, travelers may find it difficult to engage in outdoor activities and fully enjoy the island's attractions.
Editor's Pick: Kiahuna Beach – Complete Guide & Things to Do
Dampened Adventure
The rainy season hinders outdoor activities, such as hiking, water sports, and exploring the island's natural wonders. Continuous rain and damp conditions make it challenging to fully engage in the thrilling experiences that Bali has to offer. Since Bali is a land of exploration, you won't be having much fun in the rain.
Mosquitoes and Disease Risk
The stagnant water from heavy rainfall creates breeding grounds for mosquitoes, including those that carry diseases such as malaria and dengue fever. Travelers spending time outdoors during this period are susceptible to mosquito bites and potential health risks.
Weather-Induced Closures
The high waves and strong currents make swimming unsafe, leading to the closure of famous beaches for the safety of visitors. Additionally, outdoor attractions, hiking trails, and adventure parks may be closed or limited during the rainy season.
Hurricane or Typhoon
Even though hurricanes and typhoons rarely make landfall in Bali, visitors should be aware that the region has a monsoon climate. It means that it can be quite windy, with heavy rainfall, and even dangerous at the worst time of year to visit. Unpredictable weather patterns can interrupt travel plans and pose risks, even if they are not as severe as hurricanes or typhoons.
Suggested Reading: Updated Guide to Best German Village Restaurants
Bali's Climate: Worst Months to Visit Bali
In this month-by-month guide, we provide highlights and insights for each period, allowing you to assess the pros and cons and decide which time aligns with your preferences and priorities. It will also help you in making a memorable and enjoyable trip to Bali, also avoiding the worst time to visit Bali.
January in Bali
The wettest month with frequent downpours
Uncrowded temples and spacious beaches
Lower prices and economical trip
Intermittent sunny spells
Cultural festivities of the Gulungan festival
February in Bali
The wet month with regular heavy rain
Lower prices and fewer visitors
Laid-back holiday
Dry hours on the beach
Exploring indoor activities
March in Bali
Showers starting to subside
Lower prices and longer gaps between rain
Appreciating the scenic beauty
Relaxing on the beaches during drier moments
April in Bali
Dry season begins
Warmest month
Minimal rainfall
Blue sky days and clear seas
Occasional showers on about one day in three
May in Bali
Pleasant weather conditions
Minimal disruption from rain
Ideal for island hopping and jungle adventures
The balanced combination of good weather and affordability
June in Bali
Fine weather with lots of sunshine
Ideal for outdoor activities
Water activities and cultural festivals
Peak tourism season begins toward the end
Early bookings recommended
July in Bali
Great island conditions
Warm temperatures and clear skies
Minimal rainfall
Enjoy Trekking Mount Batur and water activities
Bali Arts Festival and potential crowds
August in Bali
Best month weatherwise
Clear skies, warm temperatures, and no rain
Ideal for snorkeling and outdoor pursuits
Higher prices and increased demand
Early bookings necessary
September in Bali
More balmy weather
Warm temperatures and clear skies
Shoulder month with dropping tourist numbers
Lower prices and favorable conditions
Outdoor activities with fewer crowds
October in Bali
End of the dry season
Increasing rainfall
Lower prices and deals available
Last chance for diving before the rainy season
Ocean visibility starts to decrease
November in Bali
Off-season starts
Hot and humid weather with a few downpours
Rough sea conditions
Plenty of things to do
Some water activities may be limited
December in Bali
Rainy season in full swing
Hot/warm weather with occasional downpours
Opportunities for sunny spells on the beach
Indoor activities and cultural attractions
Higher prices during the holiday season
Similar Read: Worst Time to Visit Goa
What Other Travelers Say About Worst Time to Visit Bali?
One of our team members Sara Anwar shared her disappointment with her Bali trip during the rainy season, stating, "We were disappointed during the rainy season in Bali. Many popular attractions were closed or inaccessible due to landslides and flooding caused by the heavy rain."
Similarly, another member of Hopdes, Zalah Khan, recounted her own experience, saying, "I encountered heavy rainfall and storms during our stay in Bali in October. It affected the visibility for diving and snorkeling, and we couldn't fully enjoy the underwater beauty."
We can confidently conclude that the rainy season in Bali presents significant challenges and drawbacks for travelers. That's why it's important to check the weather forecast before you leave.
Conclusion
The worst time to visit Bali is during the rainy season from October to April. This period brings unpredictable weather, heavy rainfall, high humidity, limited outdoor activities, mosquito risks, and temporary closures of attractions.
The frequent rainfall taints the beaches with plastic waste. Reduced water visibility dampens the allure of underwater exploration, while rough waves create discomfort during ferry rides. No doubt! Bali has much to offer, you just have to choose the right time to ensure a more enjoyable and memorable trip.
FAQs
Worst Time to visit Bali - FAQs
What's the worst month to visit Bali?
Bali's rainy season lasts from November to March, the absolute worst time to visit the island. Afternoon showers and rough seas are common during this time of year, making outdoor activities and trips to the beach less than ideal for tourists.
What time of year is Bali cheapest?
Accommodations in Bali are at their lowest prices between October and March, the wet season. There are fewer tourists in these months, so hotel occupancy rates are lower. Because of this, it is a great time for those on a tight budget to take a trip.
What is Bali's rainy season?
The months of November through April are wet in Bali. Rainfall is prevalent, and the skies are frequently gloomy, despite the average temperature of 31 degrees Celsius. In general, the wettest months are December and January.