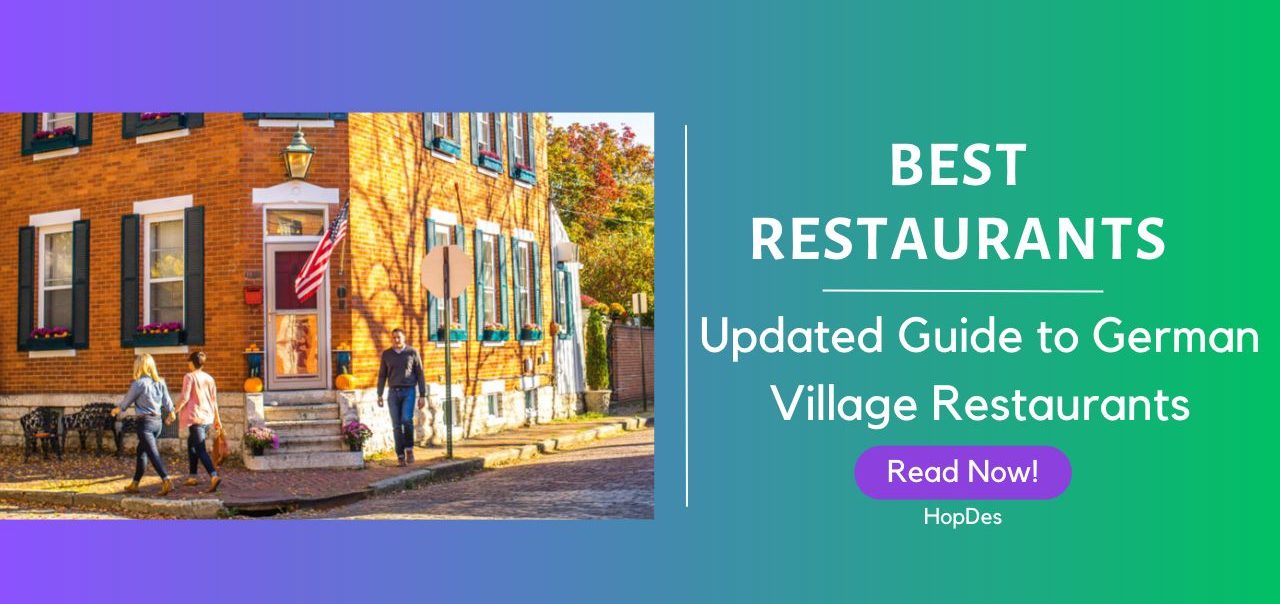 Gorgeous German Village in Ohio is well-known for its quaint brick homes from the 19th century. However, this area also boasts a fantastic and varied dining scene. In a variety of Columbus's restaurants, both old and contemporary, diners will find some of the city's finest cuisine and settings. As a frequent traveler and self-proclaimed foodie, I have compiled a list of the best German village restaurants. Everyone, from OSU students to locals or tourists, can have a good time here with exceptional food and top-class ambiance.
German Village Food Culture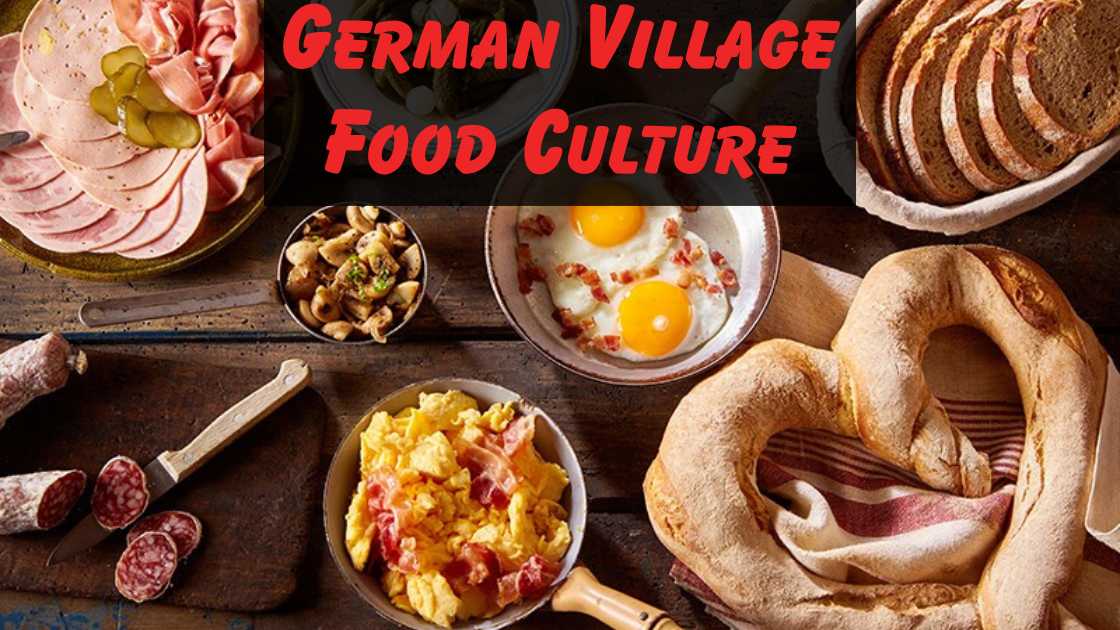 Numerous eateries in German Village provide both authentic German cuisine and unique fusion creations. Popular German street cuisine includes currywurst, while sauerkraut-bratwurst balls make a great appetizer for a group. Schnitzel, a breaded and fried pork cutlet, is also quite popular at numerous restaurants.
If you're looking for a strong and nourishing meal, the sauerbraten (a pot roast cooked in sweet and sour gravy) is a great choice. Customers keep going back for more of these dishes because they accurately represent the whole range of flavors in German food.
The area is also a heavenly spot for dessert lovers as one can get a variety of German-style pastries such as streusel, strudel, and black forest cake. Soft, warm pretzels are a common snack and are often served with mustard or cheese sauce.
Now that you are aware of the mouthwatering food culture of German Village, Columbus, let's head on to discovering some of the best restaurants in the area.
Best German Village Restaurants
There are a variety of restaurants to choose from in German Village, each with its own atmosphere and specialty. To assist you in sorting through the myriad of possibilities, follow this list of the top restaurants in this area.
[item_carousel id='208′ timeout='5′]
Old Mohawk Restaurant, located on Mohawk Street, is a classic spot in German Village, Columbus that's been around since 1933. The restaurant's history is still evident in the walls, and it's an excellent spot for the whole family to enjoy.
One of the restaurant's specialties is its famous crustless pizza at $11.95, which is worth trying for the unique taste and crust you won't find elsewhere. The ambiance is perfect for a romantic night out, a family dinner, or a casual hangout with friends.
One of the coolest things over here is that the restaurant has live music, a large bar with plenty of options, and a menu that caters to both meat and veggie lovers. Their bratwurst dinner is a must-try as they source their bratwurst from Carly's Brats in Bucyrus, Ohio.
Further, this restaurant is popular for Bratwurst Sandwich at $16.95, and its signature Turtle Soup, a 32 oz. portion for $21.95. Additionally, they offer other specialty dishes such as the Meatloaf Dinner served with green beans, mashed potatoes, gravy, and dinner rolls, and the traditional chorizo and beef Lasagna Dinner.
Overall, the delicious meals at this eatery cost between $11 and $30 per person. The restaurant is open Tuesday to Saturday from 11 am to 10 pm and Sunday & Monday from 11 am to 9 pm.
After you are done with your food, head over to some Spectacular Waterfalls In Ohio.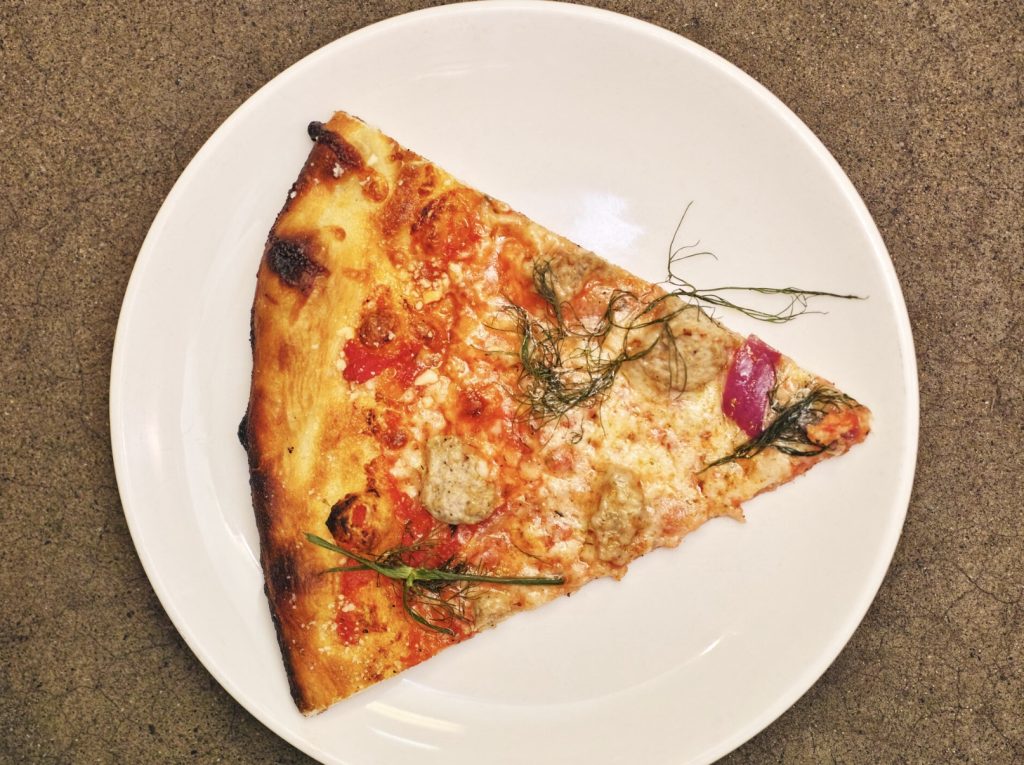 In Columbus, Ohio, you'll find Harvest Pizzeria and Bar, a restaurant that puts a creative spin on traditional foods. The restaurant takes great care in serving only the freshest foods, many of which come from inside Ohio. Due to this, the artisan pizzas produced are full of flavor and attract many repeat customers.
If you can't make up your mind, the roasted garlic pizza and the mushroom pizza always fly off the shelves so don't miss. Many patrons also recommend the Harvest Margherita pizza. Don't leave without tasting the Brussels sprouts appetizer; it's a wonderful and unique way to begin your meal.
The ever-changing beer and wine list is one of Harvest Pizzeria's most notable features. The restaurant's extensive wine list features bottles to suit every palate and mood, from light and refreshing lagers to hearty reds. This amazing restaurant has gluten-free and vegetarian pizzas available upon request for those with special dietary needs.
Although the cuisine is the primary draw, Harvest Pizzeria's chill, and friendly vibe keeps people coming back. The atmosphere is lovely, the service is excellent, and it would be a great place to take a date for lunch or dinner.
The lunch special at Harvest Pizzeria, which includes a 9-inch pizza and a salad, costs only $11.50. The S'mores brownie is the perfect ending to your meal. Overall, the cost of a meal here ranges from $8 to $18 making it one of the best restaurants in German Village, Columbus.
This eatery is open to customers from Tuesday through Sunday, serving lunch and dinner from 11 a.m. to 9:30 p.m. during the week and until 10 p.m. on the weekends.
Recommended Reading: The Best Things to Do in Chillicothe, Ohio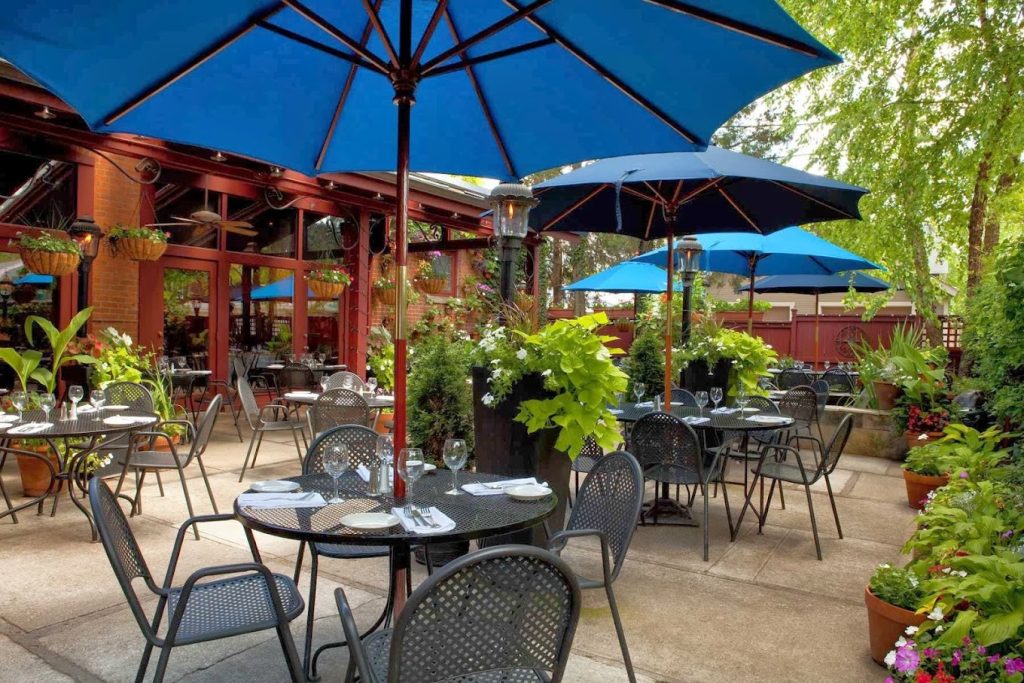 A great place to eat in Columbus is Barcelona Restaurant and Bar, which can be found at 263 E Whittier St, 43206-2323. The restaurant's goal is to become an integral part of the Columbus food scene. They work hard to ensure that the entire dining experience, from the ambiance to the service, is enjoyable.
Tapas, paella, wines, desserts, beers, and cocktails are just some of the many options available at this Spanish restaurant. We really recommend the Camarones al Ajillo and the Empanadas as they are the hot favorites!
Tourists often go to this restaurant to try the city's famous paella as it is known for its delectable variety of ingredients. New and exciting items are added to the menu on a regular basis making it all the more interesting for foodies!
There is also a wide variety of Italian American fare for visitors to pick from in Barcelona Restaurant. One can go for Pizza with a thin crust, hot garlic bread, ravioli, steak sandwiches without buns, and much more. The average cost of a meal for one person is between $31 and $40 which makes it slightly pricier than other German Village restaurants.
Restaurant amenities include a bar for pre-dinner drinks, a dining room with dim lighting ideal for a romantic evening, and a patio voted best in 2013. One more special is that they offer only the freshest ingredients, bake all of their bread and desserts in-house daily, and give you reasonably priced, freshly cooked daily specialties. All of this gives the visitors a pleasant and healthy experience.
On weekdays, it's open from 11 AM to midnight, and on weekends, it's open from 5 PM to midnight.
Related: Discover the 7 Best Restaurants in Columbia SC
This fantastic eatery can be found at 525 S 4th St, Columbus, OH 43206, USA, and provides a one-of-a-kind eating experience with a focus on fresh ingredients and creative meals. The menu features a wide range of options, from starters to salads to sandwiches to brick oven pizza to calzones to strombolis to desserts.
The founders have worked in the restaurant business for over 20 years, therefore everything on the menu is created from scratch and served fresh daily. The restaurant has an elegant yet welcoming atmosphere. One finds the right vibe with modern furnishings, warm lighting, and exposed brick walls. Despite the high price tag of $70 for the supper buffet, regular meals typically cost between $4 and $17.
We also recommend the East Coast oysters and the yellowtail carpaccio. Other food fans we talked to also expressed the greatest satisfaction with the Brussels sprouts, mashed potatoes, and mac & cheese options for their side dishes. The cocktails are fantastic but also potentially "dangerous", so be sure to make arrangements for safe transportation home or designate a sober driver.
The desserts are also exceptional, with the cookie, and butter cake medley plates. You will also be amazed at the extremely kind, helpful, and professional staff. Valet parking can also be paid for without using cash at this restaurant.
There is no service on Tuesdays, but you can visit between 12 and 9 every other day of the week. Every Friday and Sunday, there is free live music.
South Village Grille is an underrated eatery, and that's because most people aren't aware of it. It features a Modern American menu inspired by traditional European cooking methods. Visitors will find the restaurant's address—197 Thurman Ave, Columbus, OH 43206, USA—convenient and straightforward for guests to find.
With a range of dishes, including pizzas, steaks, and fresh oysters, there is something for everyone to enjoy. Their drink selection is among the finest ones in the area, with an extensive wine list that pairs well with modern American cuisine.
Standout dishes at this restaurant include Chicken & Grits, House Burger, Short Rib Pizza, To Wong Foo Roll, Nigiri, and the Special of the Day. The service may get slow at times but the staff is friendly and knowledgeable, with bartenders who have a wealth of knowledge and great customer service. Besides, when one gets such delicious food, the slow service may be well worth it! The average cost of a meal at this wonderful restaurant is less than $30.
The food at this restaurant is seasonal, so each visit is different. Payment options include cash, checks, and major credit cards, and services provided include curbside pickup, delivery, takeaway, and dining in. This restaurant provides a one-of-a-kind and entertaining ambiance with live German polka four nights a week.
Their lunch menu is available from 11 am to 3 pm Monday through Friday, their dinner menu is available from 4 pm to close every day, and their brunch menu is available from 11 am to 3 pm on Saturdays and Sundays. Be sure to visit accordingly!
Special Pick: A Foodie's Paradise: Tremont's Must-Visit Restaurants
Lindey's Restaurant & Bar, located at 169 E Beck Street, Columbus, Ohio 43206, is regarded as one of the top German Village restaurants in Columbus.
The Duroc pork chop and the Ohio Amish chicken are two of Lindey's most popular specialties. Prices range from $8 for salads to $38 for dinner meals, and the menu has crowd-pleaser dishes such as cedar plank salmon, crab cakes, tournedos of beef, and grilled Caesar salad.
There is no better dessert than the Post Mortem. Weekend breakfast, gluten-free options, and Thanksgiving dinners—Lindsey's has it all. This eatery has a per-person price range of $31 to $60. Event planners and guests alike will appreciate Lindey's for its individualized meals and attentive service.
Lunch and dinner service is available daily from 11 a.m. to 10 p.m., Sunday through Thursday; on Friday and Saturday, service is available from 11 a.m. to 11 p.m. It's hard to imagine a better restaurant in German Village than this one since it is chic and spacious while still offering a cozy and welcoming feeling.
Related: The 6 Best Women-Led Restaurants in New York
Things To Consider For Choosing the Best German Village Restaurants
When it comes to choosing a restaurant to visit in German Village, there are several things to consider to ensure a memorable dining experience.
Culture: Being mindful of cultural norms and manners is also essential when dining out in a German Village. It's customary to wait to be seated and not to seat yourself. Also, it's advisable to use utensils when eating, among other cultural practices.
Ambiance: Another key consideration is the ambiance of the restaurant. Whether you're looking for a romantic dinner or a fun family night out, the right ambiance can enhance the dining experience. Many restaurants collaborate with restaurant consulting firms to create the perfect setting, so don't forget to check out photos. Fortunately, all restaurants in our list match the criteria for an unbelievable ambiance!
Investigating the Menu: One crucial factor is investigating the menu before heading out. With many restaurants now publishing their menus online, you can get a glimpse of what dishes are available and determine if they appeal to your taste. It can also make ordering a breeze when you arrive at the restaurant.
Seasonal Dishes: Seasonal dishes are an important aspect to keep in mind when dining in German Village. Many restaurants in the area take advantage of locally sourced, seasonal ingredients, incorporating them into their menus.
With all these factors to take into account, we recognize how difficult it may be to eat out in German Village. That's why we only recommended the best restaurants in the region as mentioned above. Authentic German cuisine, Modern American cuisine, and fusion dishes are just a few examples of the specialties that each restaurant offers.
What Criteria Do We Use To Select Our Suggestions?
Our travel team spends more time eating than traveling, as each of them is a food lover! Therefore, all of us have meticulously searched the area to present to you the most enjoyable and unforgettable dining experiences. We follow a strict selection process that involves visiting each restaurant multiple times and trying various dishes to ensure quality and consistency. We take into account several factors, such as ambiance, service, and overall dining experience. Apart from that, we also consider customer reviews and ratings, as well as unique or seasonal dishes offered to provide a complete dining experience.
Note: Our recommendations are not biased towards any specific cuisine or restaurant, but rather based on various elements that contribute to an exceptional culinary experience.
Conclusion
Discovering the perfect dining spot in German Village can be a daunting task, given the vast array of options. But fear not, our team of food connoisseurs and specialists has curated a list of the top 7 restaurants in the area to save you the hassle. As a local or visitor, we aim to steer you towards an unforgettable culinary adventure that's sure to leave a lasting impression.
German Village Restaurants - FAQs
What type of food should you try in German Village, Columbus?
Schnitzel, Sausage, Rouladen, Schweinshaxe, and Sauerbraten are some of the best food items you should try in German Village, Columbus.
What dessert options are available in German Village, Columbus
You can try out the Black Forest Cake, Pretzels, Apple Strudel, and Linzer Torte are some of the best desserts available at German Village.
What is the favorite food of Germans?
Popular dishes among Germans include Sausages, Rouladen, Schnitzel, and a range of Potato dishes combined with Beer.