With its vibrant and cosmopolitan atmosphere, it's no surprise that Dubai is a foodie's paradise. From classic Italian pizzerias to unique Middle Eastern-inspired recipes, this guide will take you on a delicious journey to find the best pizza in Dubai.
From the most popular spots to unique hidden gems, you're sure to find something that satisfies your craving for delicious pizza. Whether you're after a casual lunch, or an evening out with friends, there are plenty of delicious options for all budgets. So read on and discover the top places to get a slice of the best pizza in Dubai! Enjoy yourself and bon appetit!
Suggested Reading: Finding the Best Seafood Restaurants in Dubai
Top 10 Pizza Places to Find the Best Pizza in Dubai
We have compiled a list of the top 10 pizza places in Dubai to help you find the tastiest, most delicious, and best pizza in Dubai. From wood-fired ovens to classic American-style pizzas, these restaurants and eateries serve up some of the best pizzas in town!
At Luigia, you can experience the authentic taste of Italy through their wood-fired pizza. They use only the freshest ingredients to craft their signature pizzas, from juicy Italian tomatoes and fragrant herbs to generous portions of cheese.
The stone oven gives the pizzas a crisp bottom that is lightly charred, with a chewy and airy crust on top that is perfect for holding all the flavors. Each pizza is topped with a generous amount of traditional Italian toppings, making each bite full of flavor and texture.
Their pizzas are carefully crafted to give you an unforgettable culinary experience. Your taste buds will be delighted with each delicious slice. In addition to their classic pizzas, they also offer their unique creations like their sundried tomato and ricotta pizza, which is sure to tantalize your taste buds.
With its inviting atmosphere and delicious eats, Luigia's is the perfect spot for a special evening out with family or friends. Whether you're looking for a cozy night in with traditional Italian dishes, or an exciting evening out with creative pizzas, you can find it at Luigia's. Come experience their unique pizza styles and pristine ingredients for yourself! You won't be disappointed.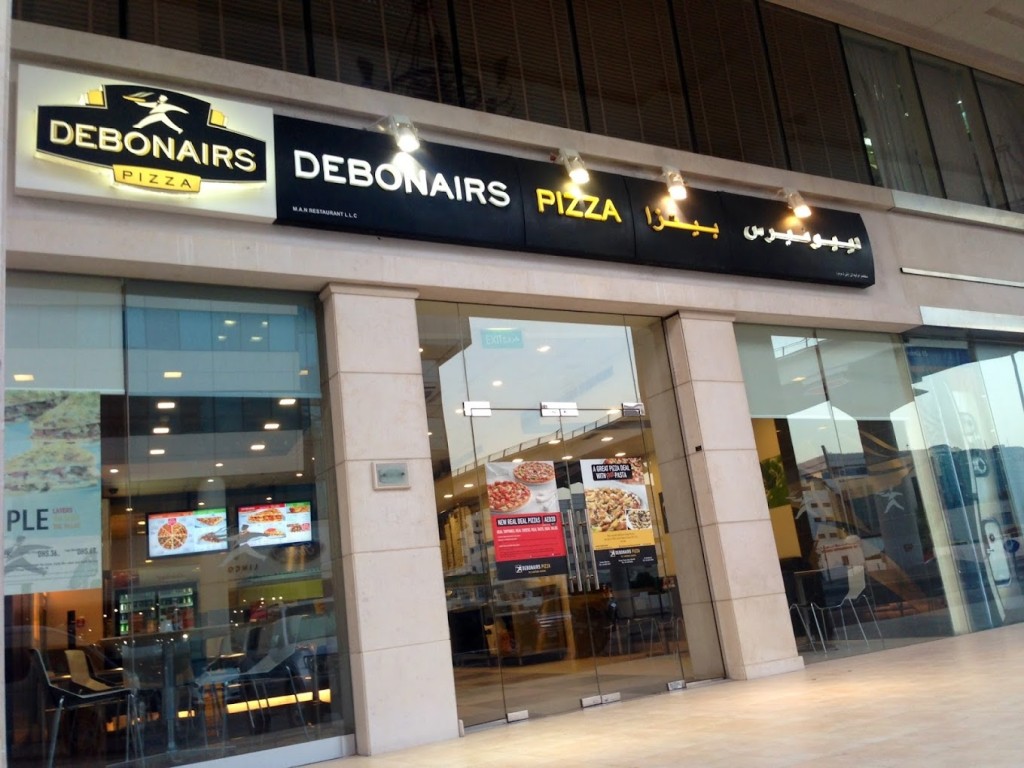 Debonairs not only serve delicious pizzas with a variety of toppings but also offer customers an exciting range of crust upgrades. From the original and thin crusts to double-stacked toppings and even filled sandwiches as pizzas – there is something for everyone at Debonairs!
Their signature option is the crammed crust, which offers a unique and filling pizza experience. The restaurant is also well known for its attentive service and delicious recipes that are lovingly prepared with only the freshest ingredients.
Whether it's their succulent meat-filled pies or their zesty vegetarian pizzas, Debonairs has something for every pizza lover. The venue is also highly Instagrammable, with its chic decor and great lighting – perfect for taking 'foodie' shots! So why not head to Debonairs today and experience their mouth-watering pizzas?
With a range of crust upgrades, delicious toppings, attentive service, and sumptuous pizzas, you will be sure to have an unforgettable experience at Debonairs! Don't forget to share your photos online and maybe even invite some friends along for a pizza night out.
At Freedom Pizza, you're in for a tasty adventure! Their oven-baked crusts are freshly made and delicious – perfect as a snack or meal. You can choose from thin or thick crusts, both of which are loaded with flavourful toppings.
Whether it's their famous 'Mexican Fiesta' – a meaty and spicy delight, or their Paneer Tikka – a delicious vegetarian option, you'll be sure to find something that tickles your taste buds!
If you're looking for a guilt-free pizza experience then Freedom Pizza is a perfect choice. With plenty of vegan and gluten-free options available, everyone can enjoy their delicious pizzas. Try their 'The Free-gan' pizza which is loaded with bell peppers, caramelized onions, jalapenos, cherry tomatoes, and vegan cheese!
If you're looking for something a bit more indulgent then there are also options like truffle oil pizza or the classic Margherita topped with buffalo mozzarella.
You can also order Detroit-style pizza from Freedom Pizza if you're looking for something a little different. This type of pizza is characterized by its thick, deep-dish crust and generous toppings – perfect for when you're feeling extra hungry!
To complete your meal, why not try one of their delicious side dishes like the slow-cooked pulled beef sliders or the all-natural chicken tenders, perfect for sharing.
Don't forget to finish off with a cake or dessert – they offer plenty of vegan and gluten-free options so you'll be sure to find something that suits your dietary requirements! With its wide range of pizzas, from classic flavors to unique creations, Freedom Pizza guarantees a flavourful experience for all. So, go ahead and treat yourself to something special – you won't regret it!
800 Pizza
View Website
Get Directions
PERFECT FOR: Classic four formaggi (Dh51), with Italian mozzarella, gorgonzola, emmental, and parmesan
At 800 Pizza, their pizzas are nothing short of delicious! All of them are made with the freshest ingredients and topped with generous helpings of Italian herbs and spices that make for an explosion of flavor in your mouth.
The Margherita pizza is a classic, with its Italian buffalo mozzarella and parmesan cheese, while the Diavola pizza promises a burst of spiciness with its beef pepperoni. For something more unique and gourmet, try the Black Truffle carpaccio or Smoked Provola pizzas.
Vegans can find something to enjoy in their delicious vegan-friendly pizzas too! The crusts at 800 Pizza are always thin, light, and crispy, making them ideal for a single meal. But that's not all they offer! 800 Pizza also has authentic Italian-flavored pasta dishes, such as the classic Spaghetti Bolognese or the seafood-filled Carbonara.
You can even choose to add your favorite toppings to this delicious past for an extra kick of flavor. When it comes to flavor, 800 Pizza has it all! So come and experience the authentic Italian taste of 800 Pizza today! From classic favorites to unique and gourmet selections, you're guaranteed a delicious meal every time.
Give it a try and taste the difference for yourself! Naples-inspired pizza has never tasted so good!
Pitfire is an ideal destination for pizza lovers in Dubai. With two locations in JLT, it has a welcoming and relaxed atmosphere that makes everyone feel right at home. Whether you're looking to sit down and enjoy your meal or take it away to eat later, Pitfire has you covered.
The pizzas here are legendary and considered some of the best takeaway options around. They are prepared with care, featuring a crunchy yet puffy crust and perfectly tangy sauce that is well-balanced with generous toppings.
For something unique, try The Hipster – this tasty twist on the classic Margherita includes crushed tomatoes, sun-dried tomatoes, a three-cheese blend, baby spinach, and a pesto swirl. Additionally, the Spudnik is great for those who prefer a tomato-free pizza with roast potatoes, caramelized onions, rosemary, and grilled chicken.
With a wide variety of delicious pizzas to choose from and friendly service that will make you feel at ease, Pitfire is one of Dubai's favorite pizza joints for a reason. So, if you're looking to satisfy your pizza craving, head over to Pitfire and treat yourself to an unforgettable experience!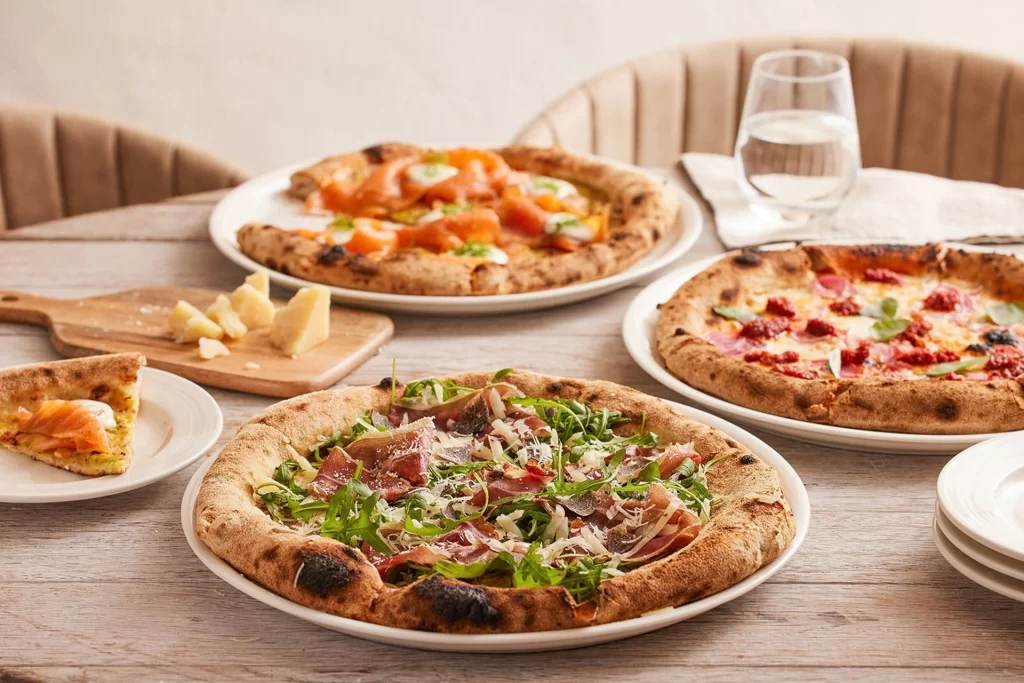 Perched atop the coral-sand beaches of Dubai's Palm Jumeirah, Il Faro is an Italian restaurant that offers spectacular views and an array of delicious dishes. Its name, meaning "lighthouse" in Italian, describes not only the shape of its circular blue-and-white building but also serves as a beacon for hungry beachgoers seeking a tasty meal.
Inside or out on the terrace, diners can bask in panoramic views of the Burj Al Arab and JBR shoreline while enjoying a variety of delectable dishes like pasta, seafood, salads, and antipasti. But if you're looking for something truly special, try one of Il Faro's mouth-watering pizzas.
For a real feast, the Pulcinella (Dh96) is topped with homemade sausage, mozzarella, green capsicum, and baby potatoes – a perfect combination of flavors that will leave you wanting more!
And don't forget to visit Il Faro on Tuesday nights for the amazing ladies' night offer: unlimited pizza (from select options) and drinks for just Dh150 each. It's an unbeatable deal that allows you to sample some of the restaurant's favorite flavors without having to choose just one! So come down and experience Il Faro, where gorgeous views meet tantalizing tastes. Bon appetit!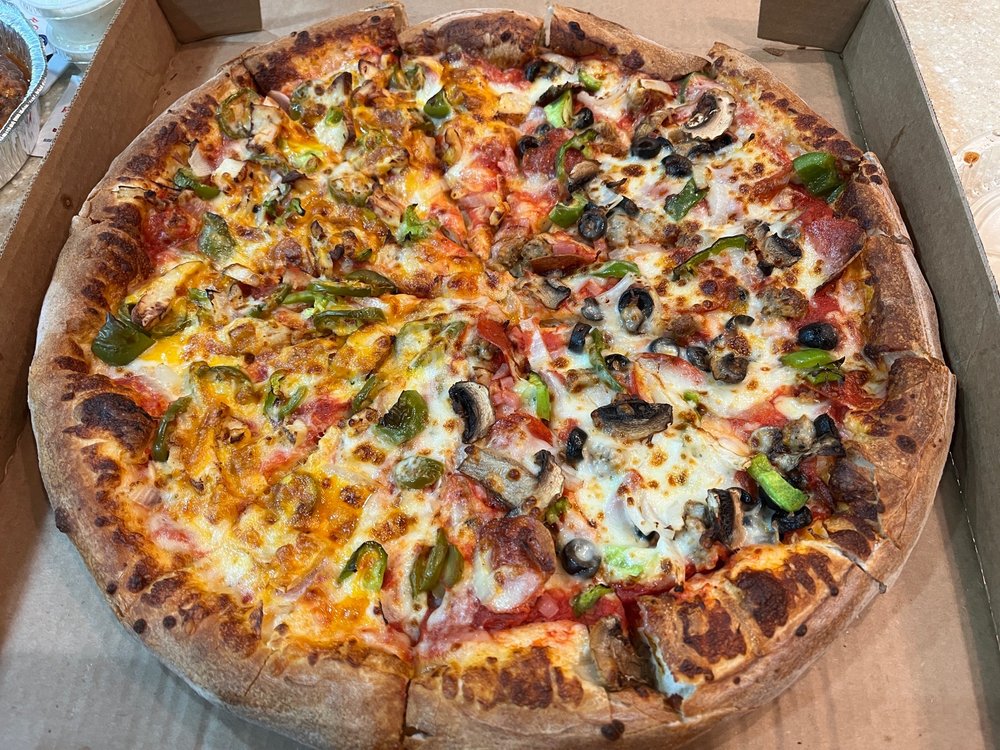 This small Italian pizzeria located in Al Barari is a great spot for anyone looking for a delicious pizza. The pizzas here are thin-crusted, and many of them boast minimalistic yet flavorful toppings.
One popular choice is the All Arabiata with its combination of tomato sauce, mozzarella, garlic, chili oil and flakes, Parmesan, and parsley – but there's also the Al Prosciutto that comes with tomato sauce, Italian mozzarella, and either turkey or beef ham.
Vegetarians will be pleased to find that this restaurant has plenty of vegetarian options as well! We recommend you try their Pesto Pizza made with sundried tomatoes, mushrooms, roasted zucchini, roasted eggplant, and pesto sauce.
Best of all, these pizzas are reasonably priced – making it a great spot for anyone looking for an affordable Italian meal. So if you're in Al Barari and craving some delicious pizza, this is the place to visit!
Bonus: The restaurant also offers a variety of Italian-style appetizers such as Arancini, Panuozzo, and Focaccia – perfect for starting your meal. So why not stop by for some delicious Italian cuisine? You won't regret it!
If you're looking for something a bit out of the ordinary, Jamie Oliver's roast chicken pizza is worth trying. Topped with secret chili sauce, jalapeños, Parmesan cheese, fresh chili, and mint, it's a flavourful combination that will tantalize your taste buds.
Another great option to try is "Mushroom Fritti" – deep-fried grey oyster mushrooms with herby breadcrumbs and garlicky mayo. A delicious alternative to blooming onions, this dish is sure to make an impression!
With its unique flavors and unusual ingredients, Jamie Oliver's pizzas are sure to provide an exciting dining experience. Take a chance on them – you won't be disappointed!
World-famous pizzeria Motorino is bringing a slice of New York to Dubai with its first international expansion. This Neapolitan pizza joint, originally from NYC, is serving up authentic pies made with traditional Italian ingredients imported directly from Italy.
The crusts are thin and crispy, bubbling with flavor, and just the right amount of char. But it's not just about the pizza at Motorino — they also boast a fully-licensed bar serving up delicious cocktails and other drinks that pair perfectly with your pie.
With an extensive menu full of classic and modern recipes, Motorino is sure to satisfy everyone's cravings for Italian eats! Visit this legendary restaurant in Dubai for a taste of the Big Apple!
The classic debate of whether pineapple belongs on a pizza has been a hot topic for decades. But PizzaExpress has brought forward an exciting and delicious solution to this age-old controversy with their Hawaii-Not pie.
This tantalizing combination of veal bacon, pineapple chutney with béchamel, fresh basil, red onion, garlic oil, mozzarella, and Parmesan even includes chopped parsley and chili oil to spice things up.
For an even more enjoyable experience try the scrumptious dough balls with garlic butter dip available at PizzaExpress. So why not join in on the conversation by trying out this unique twist on the classic argument?
After all, it's worth trying something new – so don't be afraid to branch out and discover the deliciousness for yourself. Tastebuds, you're welcome!
Things to Consider
When it comes to choosing the best pizza in Dubai, there are a few factors that must be considered. Taste, quality of ingredients, and price are just some of the things one should keep in mind when selecting the perfect pizza. To make sure you get the best bang for your buck, here are some things to consider before you choose the best pizza in Dubai:
Taste — Make sure to find out what other customers have to say about a certain restaurant's pizzas. Ask friends, and family or read online reviews so you can gauge how good their pizzas are.
Quality of Ingredients — Research what type of ingredients the restaurant is using and make sure they stay consistent with their preparation methods. The fresher the ingredients, the better the pizza will be.
Price — Cost plays a major role when it comes to selecting the best pizza in Dubai. Do some comparison shopping and find out which restaurants offer the best deals for their pizzas.
Variety — Another factor to consider is if the restaurant offers different types of pizza such as thin crust, deep dish, or stuffed crust. This way, you can mix and match your order according to your preferences.
Location — Consider where exactly you'll be eating and decide if it's convenient enough to visit often. Some restaurants may deliver or have pickup options so make sure to check that out too before making a decision.
Customer Service — The quality of customer service is just as important as the quality of the food. Make sure that the restaurant offers friendly and helpful staff as well as a convenient ordering process.
By considering all these factors, you can be sure to find the best pizza in Dubai for your liking and budget. Enjoy!
We have also listed the top-ranking award-winning burgers in Dubai and If you're planning on spending a week in Dubai, we've put together a complete plan for maximum recreation during your stay there.
How Do We Pick Our Recommendations?
We put a lot of thought into the quality, reputation, and overall experience when recommending the best pizza places. We consider a variety of factors such as customer feedback and reviews, price, ingredients used, popularity among locals, atmosphere, style, and size when deciding which pizzerias to include on our list.
Additionally, we visit all locations with our taste testers so that you can be sure you're getting the absolute best advice for finding the best pizza in town. Our team also does extensive research online to make sure that each spot meets our high standards for quality and service before it makes it onto the list.
So no matter which restaurant you choose from our recommendations list, you can be sure you're getting the very best pizza in Dubai! We also understand that everyone has their own opinions when it comes to pizza, so we do our best to include a wide variety of options on our list.
That way, whether you're looking for something classic or unique, traditional or gourmet, there will be a place that meets your needs and tastes.
Next Read: Finest Places In Dubai For A Revitalising Weekend Brunch
Insiders Guide to the Best Pizza in Dubai - FAQs
What type of pizza is most popular in Dubai?
Margherita and Pepperoni are two of the most popular types of pizzas ordered in Dubai.
Are there any vegetarian options for pizza?
Yes, many restaurants offer vegan and vegetarian-friendly pizza options.
Is delivery available for pizza orders in Dubai?
Yes, several restaurants offer delivery services for their pizzas.