Who doesn't love a nice hot pie with loads of cheese and loaded with toppings of choice? That being said, it usually isn't easy to find the perfect spot, especially when you are craving it badly and don't have the luxury of experimenting. For times like these, our best pizza in Norfolk, VA, the guide is here to the rescue!
Best Pizza In Norfolk, VA
Satisfy your taste buds and pizza cravings with our fool-proof guide to delicious pizzas. Skim through different pizza places and find your favorite one with our brief description of each eatery.
Cogan's Pizza
If you happen to be in Ghent, you cannot miss this place. Nothing fancy or over the top. A casual little eatery with pizza as its prime focus. Cogan's Pizza is a place that offers other delicious items on its menu, but the show stealer still retains its pizza.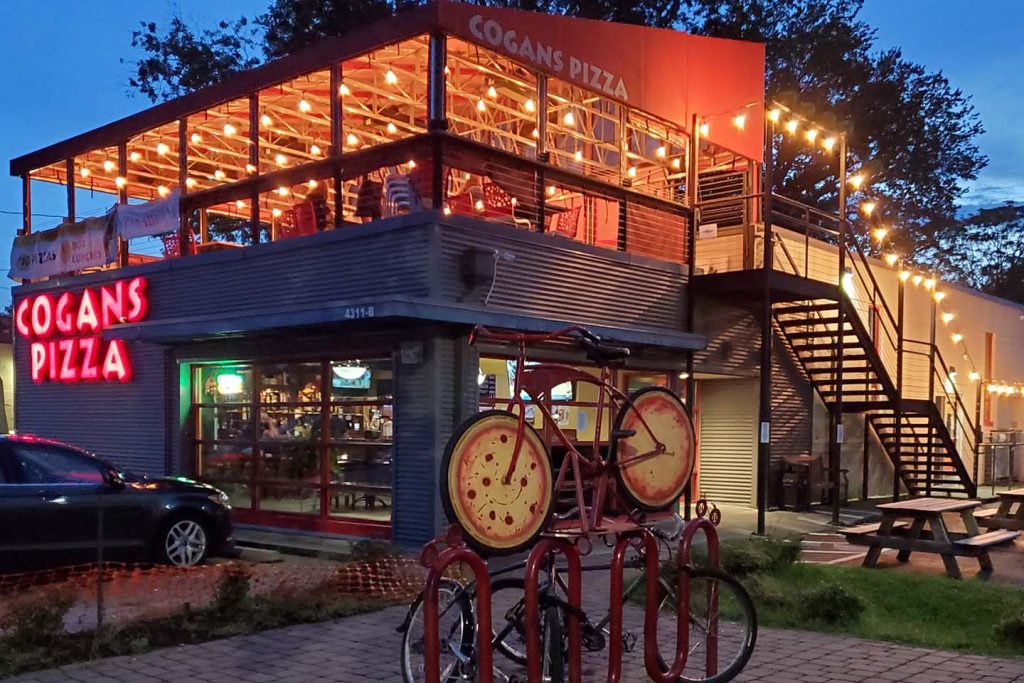 Their happy hour is from Monday to Sunday, 11:00 AM to 07:00 PM – a wide window, so you can't miss it. Moreover, they have a patio sitting to enjoy amazing company on a great weather day, munching on your favorite pizza and sipping your favorite chilled drink.
Specialties: Spaceman, Pepperoni Pizza Rolls, Vegan Philly Pizza, and 5 Cheese Pizza.
Address: 1901 Colonial Ave, Norfolk, VA 23517, United States.
Contact:

+1 757-627-6428.
Ynot Italian
If you want to indulge in some high-quality Italian goodness, then Ynot Italian is the place. This eatery is exactly what this locality was missing in regard to the best pizza in Norfolk, VA. Along with that comes another amazing feature about this place. You don't have to wait as long as you usually do at other pizza places.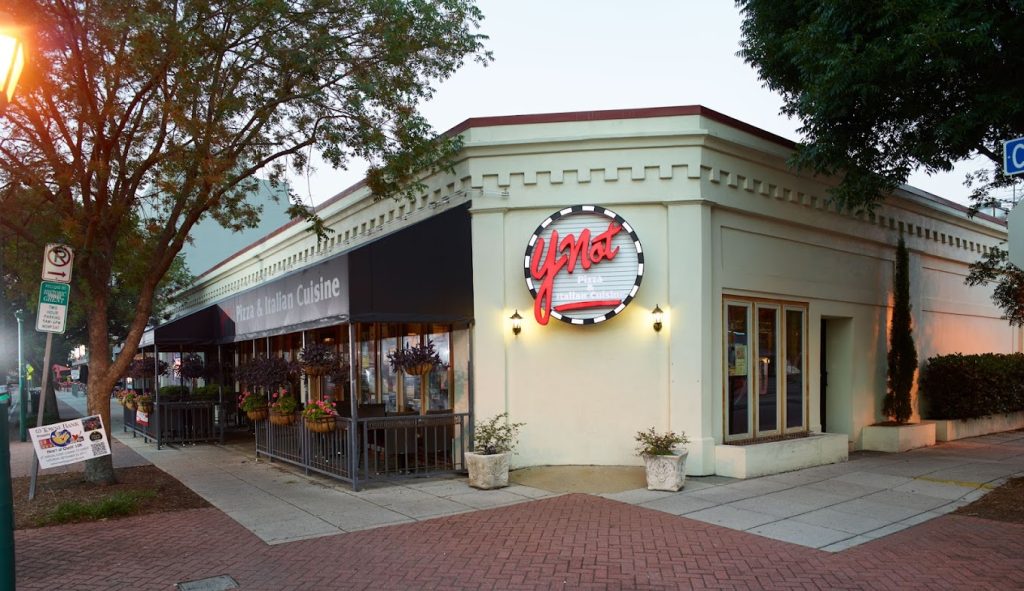 This adds brownie points to the entire eating-out experience. So if you want to take the steam off, relax, and satisfy your pizza cravings with a bunch of friends, this can become your go-to spot. Mostly because this place lets you customize your pizza; it is on everyone's priority list when they are in the mood for an out-of-the-box kind of pizza.
Editor's Pick: The BEST Haunted Houses In Virginia Beach
Specialties: Garlic Rolls, White Pizza, Marinara, Baked Ziti, Veggie Pizza, and Pepperoni Pizza.
Address: 1517 Colley Ave, Norfolk, VA 23517, United States.
Contact:

+1 757-624-9111

.
Granby Street Pizza
This eatery has a cozy vibe to it. Their staff is amiable. The overall atmosphere is laid back, so you can relax and be in your comfort zone. The serving size at Granby Street Pizza is way more than what you usually get at pizza places. Some of the items on their menu are more than enough for two persons in a single serving.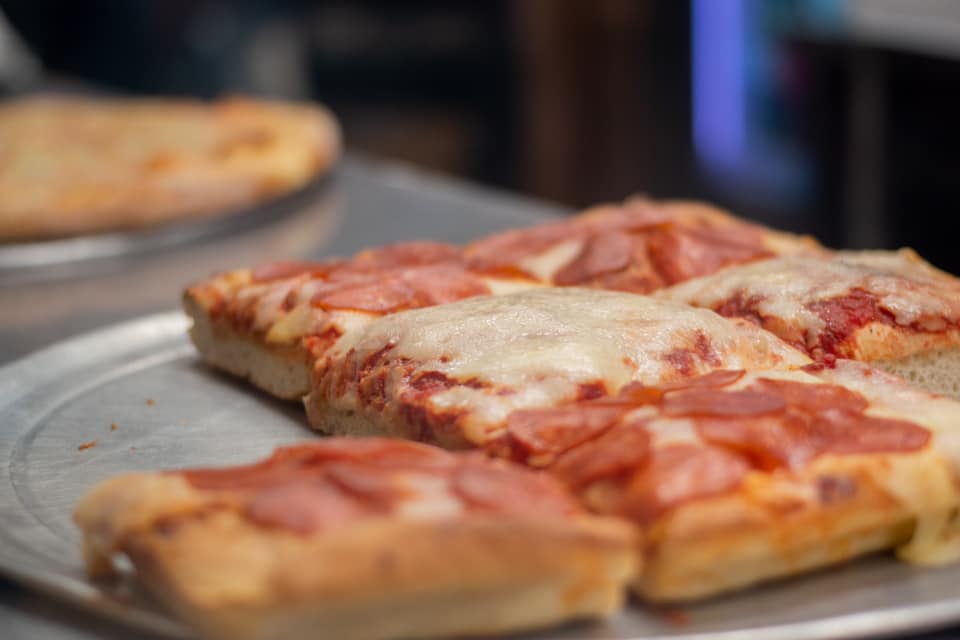 Although they sell new-york style pizzas, you can taste the Italian seasons exploding in your mouth with each bite you take. Other than pizzas, the calamari, calzones, and cannoli at this eatery are also a local's favorite and will have you returning.
Specialties: Stuffed Meat Granby Street Special, Italian Flag Bianca Pizza, Elena's Greek Salad, and Chicken Ranch Pizza.
Address: 235 Granby St, Norfolk, VA 23510, United States.
Contact:

+1 757-622-5084

.
Your Pie
Ever tried hot honey topping on your pizza? Are you open to exploring new trends, flavors, and toppings to find the best pizza in Norfolk, VA, or are you the regular-order kind of person? In both cases, Your Pie is a place that have you covered.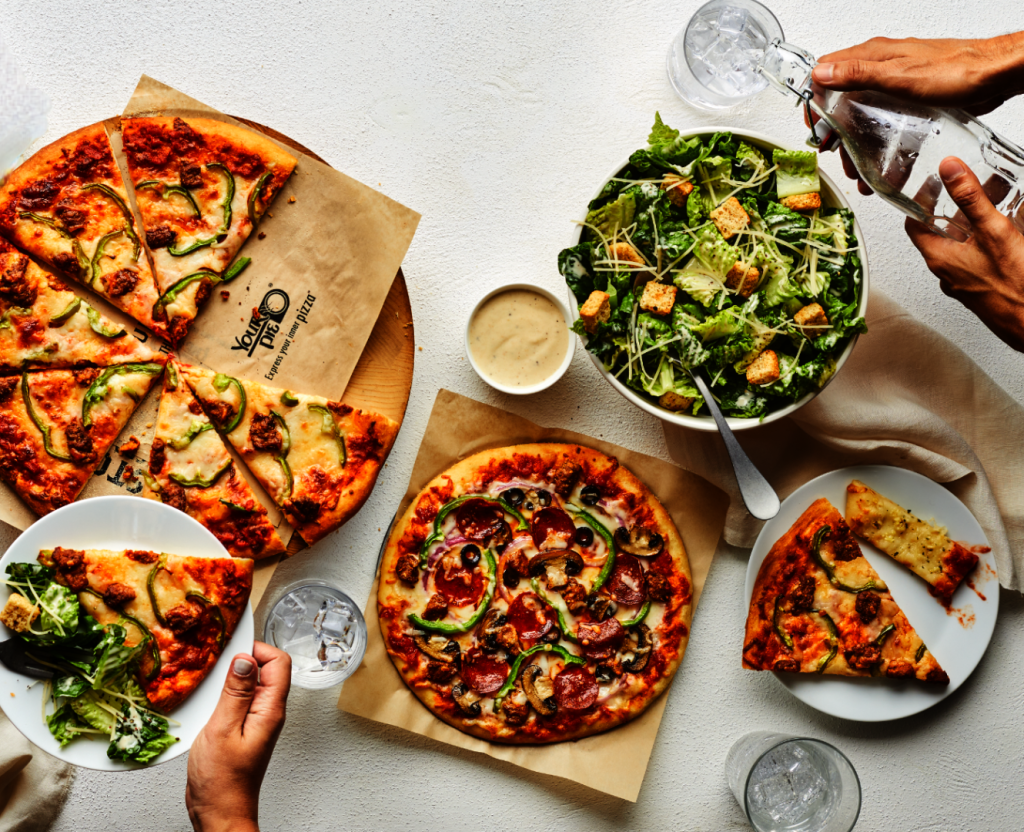 This restaurant has a special hot honey sauce that you get to pour on top of your pizza, and tastes heavenly. They have tons of options to choose your topping from and their cauliflower crust is a house special. The place is not too costly either. Roughly 10$ for a whole pie! Also, check out the best sandwiches to try in Virginia Beach.
When you finish your pizza, don't forget to order their gelatos for the creamiest yet lightest on the gut ice cream experience.
Specialties: BBQ Chicken pizzas, Buffalo Chicken Pizza, White Pizza, and Italian Sausage.
Address:

7550 Granby St #90, Norfolk, VA 23505, United States.

Contact:

+1 757-502-7679

.
The Bakehouse at Chelsea
An underrated pizza place that you will instantly fall in love with. Don't miss out on stopping at The Bakehouse at Chelsea for a quick pizza bite on your next trip to Norfolk, VA. They undoubtedly make the most original Neopolitan-inspired pizza. The best part is that their pizzas are prepared in a wood-fired oven – as authentic as it gets.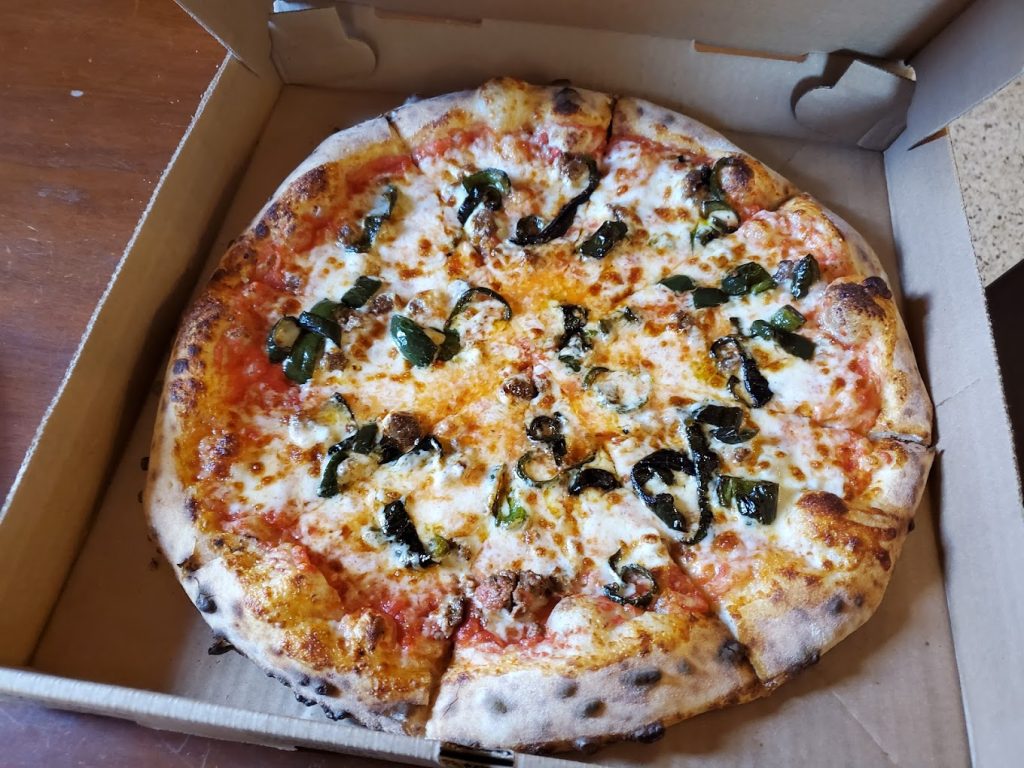 On top of that, you will also be able to satisfy your sweet cravings under the same roof. This place specializes in freshly made baked goods whose fragrance will get your mouth watering instantly.
Specialties: It's a Cheese Pizza, Chorizo Poblano, Carnivore, and Chocolate Croissant.
Address: 1233 W Olney Rd, Norfolk, VA 23507, United States.
Contact:

+1 757-644-6939.
Del Vecchios
Del Vecchios is a place that has a "get straight to business" vibe. The place is nothing top-notch, nor is the interior fancy. But it sure is a clean and pleasant place to eat at. Coming to food, specifically pizzas, they do a phenomenal job and are undoubtedly serving the best pizza in Norfolk, VA.
A twist to their best pizzas story is that they also specialize in stuffed crust pizzas with both California style and New York style stuffed crusts available. You can choose whichever suits your taste buds and devour away!
Specialties: Chicken Ranch, Cannoli, Cheese Steak, Spaghetti, and Buffalo Chicken.
Address: 1080 W 47th St, Norfolk, VA 23508, United States.
Contact:

+1 757-440-9300

.
Benny Damato's
If people of Norfolk are craving some New-york style pizza, must give this place a try and thank us later! New-york style pizza in Norfolk, VA, does not get any better than this. Don't be surprised by their price per slice, their serving is humongous and they are very generous with toppings.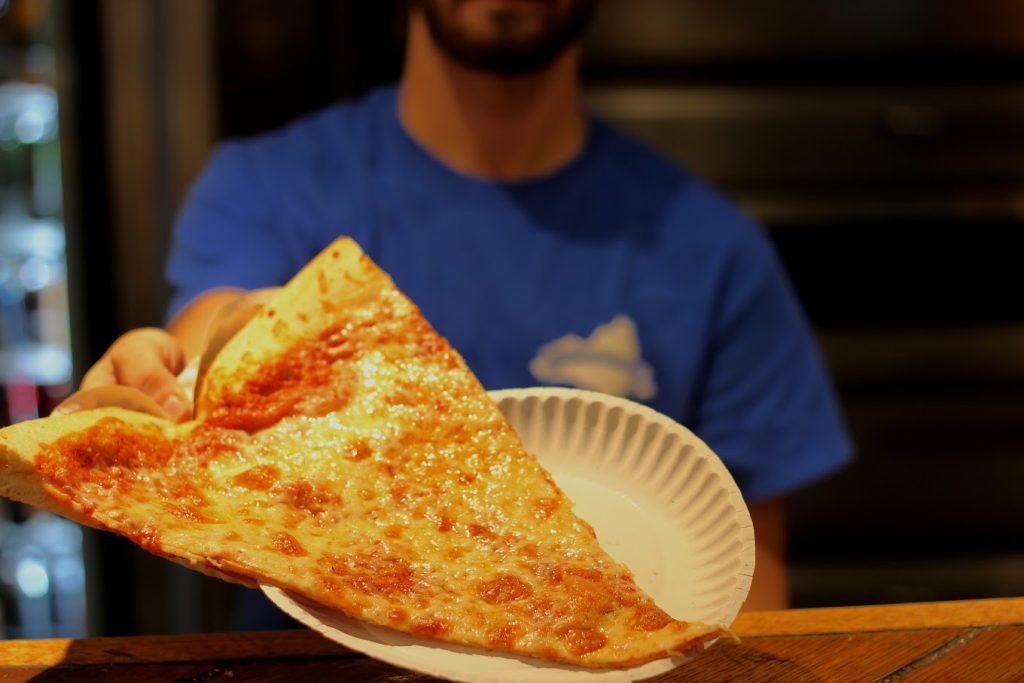 Benny Damato's doesn't have an ample seating area and instead gives a bar-type vibe. They do have an outdoor seating option. Perfect for grabbing a pizza slice with a little heart-to-heart with your best friend. Of course, the takeaway option is always on the table.
Specialties: Whole Cheese Pizza, Pepperoni Pizza, and Italian Sausage Pizza.
Address: 131 Granby St b, Norfolk, VA 23510, United States.
Contact:

+1 757-395-4696.
Azalea Inn & Time Out Sports Bar
Azalea Inn & Time Out Sports Bar is a place where you will constantly be checked on in order to make sure you are being well taken care of. The owners are seen roaming around keeping everything supervised to ensure super delivery of service.
It is one of the few places that have an ambiance that suits both a formal romantic dinner as well as a family lunch or a brunch with friends. It has an outdoor sitting area that compliments the weather when it is pleasant outside. Their pizzas are a little different than what you will normally find in Norfolk. It has a burst of Greek flavors instead of the usual New-york or Italian flavors.
Specialties: Hawaiian Pizza, Greek Pizza, Saganaki, Gyro Platter, and Prime Rib.
Address: 2344 E Little Creek Rd, Norfolk, VA 23518, United States.
Contact:

+1 757-587-4649.
Regino's
This pizza place is nothing short of the standard best pizza in Norfolk, VA. It has all the flavorful ingredients, dough made from scratch, rich, creamy varieties of cheese, and an original house sauce. Regino's Italian Restaurant is a place not so chic or crowded.
The overall vibe here is very relaxing and informal. But their pizzas are bursting with flavor. Although the prices are not very reasonable, the pizzas are worth every penny! The ingredients used are all of top quality, and the pizzas are made with the traditional wood-fired way of baking.
Specialties: Greek Salad, Parms, Ravioli, Baked Ziti, Lasagna, Santorini Pizza, and Olympus Pizza.
Address: 3816 E Little Creek Rd, Norfolk, VA 23518, United States.
Contact:

+1 757-588-4300

.
Baker's Crust
Baker's Crust is a place that recently opened up but won hearts sooner than expected. The chef here firmly believes in baking everything on a wood fire, whether it's a pizza or anything else. The eatery has a cozy indoor sitting area to devour your meal and a lively outdoor sitting option to enjoy the fresh air with a nice meal under the sky!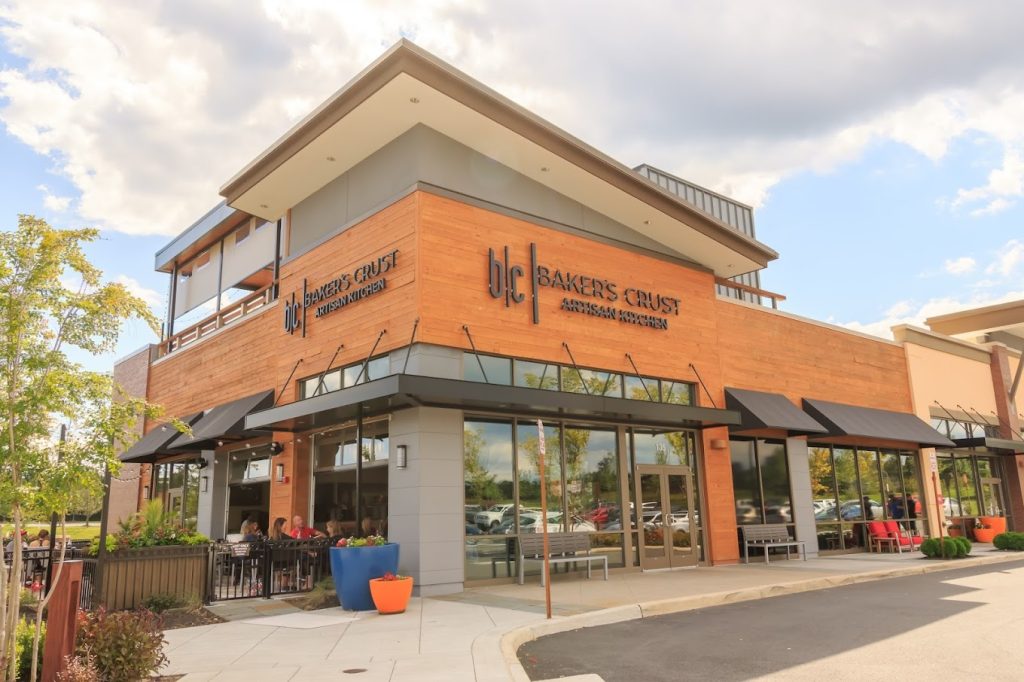 Baker's crust is popular for the thin crispy crust of pizzas, so do try that option when ordering pizzas. They are also great at making Neapolitan-style inspired pizzas, in case you have a taste for it.
Recommended Read: 30 BEST Places To Live In Norfolk, VA
Specialties: Swanky Benedict, Fried Chicken, Eggs Benedict, and Chicken Shawarma Sandwich.
Address: 330 W 21st St, Norfolk, VA 23517, United States.
Contact:

+1 757-625-3600.
Fellini's
Fellini's is a restaurant inspired by European culture in regard to the general atmosphere inside the place. To sum it up, you will experience a nice, warm, and cozy vibe here. The eatery is run by a family that is extremely devoted to bringing a luxurious yet affordably best pizza in Norfolk, VA experience to its customers. The business has been up and running for more than 30 years, so they are undoubtedly good at what they do.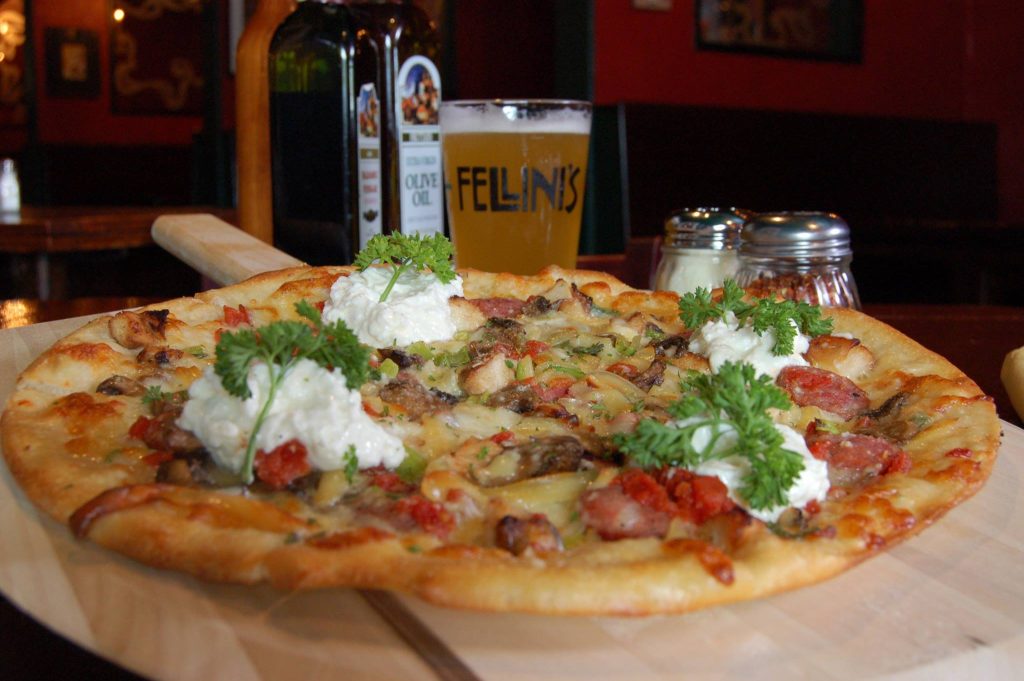 Although pizza is the star of their menu, they also make show-stopper salads and appetizers. To add the perfect acidic touch to the rich and creamy pasta and pizzas, you can also opt for something from their bar.
Related Read: The BEST Bars To Visit In Norfolk VA
Specialties: Greek Salad, Ziti Fellini, Manicotti, Bourbon Street Pizza, and Norfolk Special Pizza.
Address: 3910 Colley Ave, Norfolk, VA 23508, United States.
Contact:

+1 757-625-3000.
Marco's Pizza
The restaurant is an old chain but this branch opened up recently and has a cute little setup. At Marco's Pizza, you will find amazing Italian taste buds-inspired pizza. And only at this eatery, you will get a variety of four types of crusts to choose from. Whatever topping you pick, their pizzas taste phenomenal, and the secret to that is their popular sauce with a mix of three different kinds of cheese.
If this doesn't have you drooling, we don't know what will. And if you're looking for more options, check out our list of the Top 33 Lunch Restaurants in Norfolk, VA.
Specialties: White Cheesy Pizza, Deluxe Pizza,
Address: 7721 Hampton Blvd, Norfolk, VA 23505, United States.
Contact:

+1 757-227-5888.
Antonio's Pizza & Italian Ristorante
Antonio's Pizza & Italian Ristorante has the most expertise in keeping the crowd hooked. They will grab your attention with their appetizing menu, keep you addicted to the delicious food and win your hearts with their reasonable pricing.
They don't have an ample sitting space but it is great for an informal evening out with friends or loved ones. This eatery takes inspiration from Italian flavors and lives up to its name in bringing amazing Italian culture flavors to the table.
Specialties: Cheese Pizza, Ceaser Salad, Greek Salad, and Meat Lover's Pizza.
Address: 1710 E Little Creek Rd #101, Norfolk, VA 23518, United States.
Contact:

+1 757-588-8585.
UNO Pizzeria & Grill
UNO Pizzeria & Grill is a place that dates back to its establishment in Chicago in 1943. With that many years of experience, it is hard to imagine someone would be better than them in providing the best pizzas in Norfolk, VA. They have multiple branches in different places now.
This branch in Norfolk has a very welcoming and warm vibe to it. Like you are lounging at your place! Their deep-dish pizzas are a local's favorite but you can always try other pizza options on their menu. They also have a delicious vegetarian pizza with a variety of toppings.
Specialties: Deep Dish Pizza, Meat Market Deep Dish Pizza, Prima Pepperoni Pizza, and Veggie Pizza
Address: 5900 E Virginia Beach Blvd, Norfolk, VA 23502, United States.
Contact:

+1 757-466-0923.
Mike's Pizza
This restaurant is quite old and has been running successfully for over 40 years! Talk about experience. Mike's Pizza is a place that has a variety of items on its menu but pizzas are on top of its list of expertise.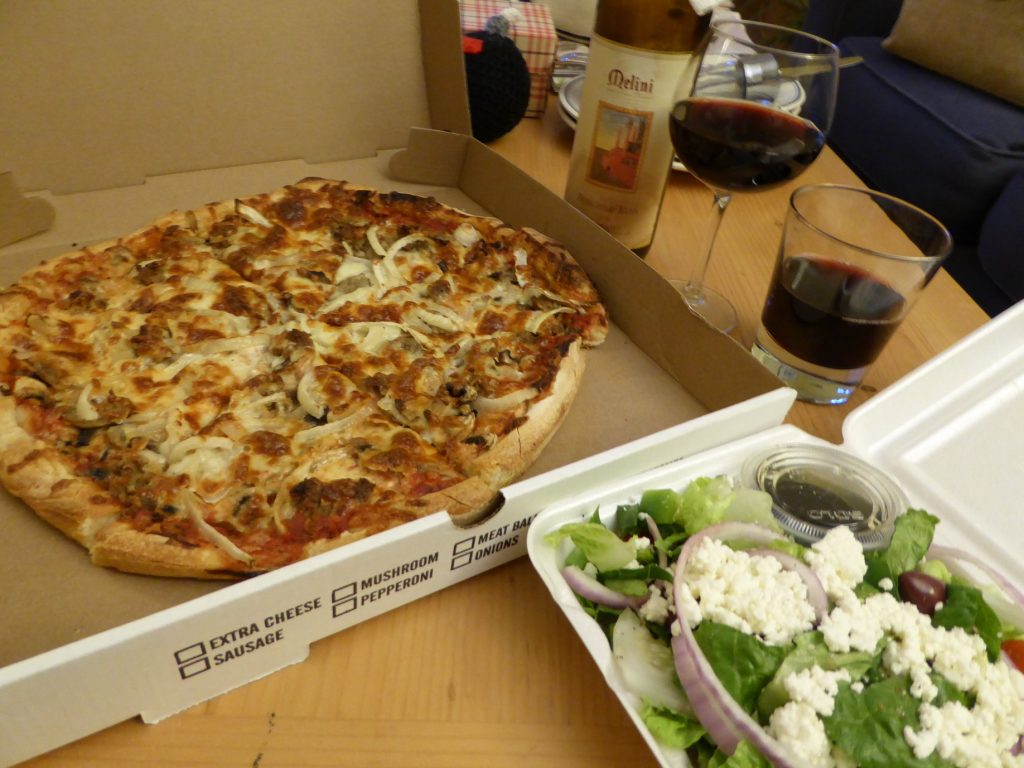 From the moment you walk into this place to the moment you step out, you will feel welcomed and heard. What's distinctive about their pizzas is the dough that is homemade and made from scratch. This truly gives a boost to the flavors. Other than that, their marinara sauce is so delicious it will have you coming back for more.
Specialties: Greek Salad, Lobster Bisque Soup, Pepperoni Pizza, and Tzatziki.
Address: 8218 Hampton Blvd, Norfolk, VA 23505, United States.
Contact:

+1 757-423-2000.
Sour Street Pizza
As is evident from its name, Sour Street Pizza serves a delicious sourdough pizza crust. It is simply amazing, to begin with. You will love it even without the toppings. So imagine what toppings would do to the flavor game. It will give your tastebuds a dance to remember.
They have a very limited menu, but each item is hand curated with a lot of thought process, love, and effort. Their toppings come in two types of combinations. One is the unique combo which consists of arugula and prosciutto with a mix of warm honey. At the same time, the other combination is rather typical, consisting of Margherita and pepperoni.
Specialties: Burrata Caprese Salad, Margherita Pizza, and Pepperoni Pizza.
Address: 3351 Chesapeake Blvd, Norfolk, VA 23513, United States.
Contact:

+1 757-403-6705.
Five Boroughs Restaurant
This restaurant is home to many people craving Egyptian flavors! But if we talk about the best pizza in Norfolk, VA, they are a steal deal. Especially on Sundays, you can avail of their deal of slices for $1. The pizza slices are big, have good value for money, and are a great hangout place for a random friends meet-up.
Other than pizzas, this place specializes in middle-eastern and halal food. The variety of flavors you find here is like none other. Five Boroughs Restaurant is a place you will come to for different food cravings as they are very diverse in their menu. And if you're looking for a fun shopping experience, check out the best thrift stores in Norfolk VA.
Specialties: Chicken Shawarma Sandwich, Shawarma Platter, Chicken Pita Combo Lunch Special, and Falafel Platter.
Address: 2019 Colley Ave, Norfolk, VA 23517, United States.
Contact:

+1 757-226-7219.
Franco's By The Bay
The speediest service you will find in Norfolk is here! Your pie will be out and about in a jiffy. If you are starving and craving pizza at the same time, head over to Franco's By The Bay to get your problem solved.
This place serves the most delicious and near-to-original Italian cuisine. The place and interior are nothing fancy. But instead, it does have a very clean and cozy vibe where you can indulge in comfort food to make your worries disappear!
Specialties: Calzone, Antipasto Salad, Manicotti, and Stromboli.
Address: 169 W Ocean View Ave Norfolk, VA 23503.
Contact: (757) 531-8100.
Golden Pizzeria
Last but not least, Golden Pizzeria is a place whose cheese pull of pizzas is the talk of the town. You will not find this level of cheesy pizza anywhere in Norfolk. Not for dine-in only, but even when you do take-away or deliver it to your place, the pie will be as hot as it could be with the same cheese pull as in the restaurant.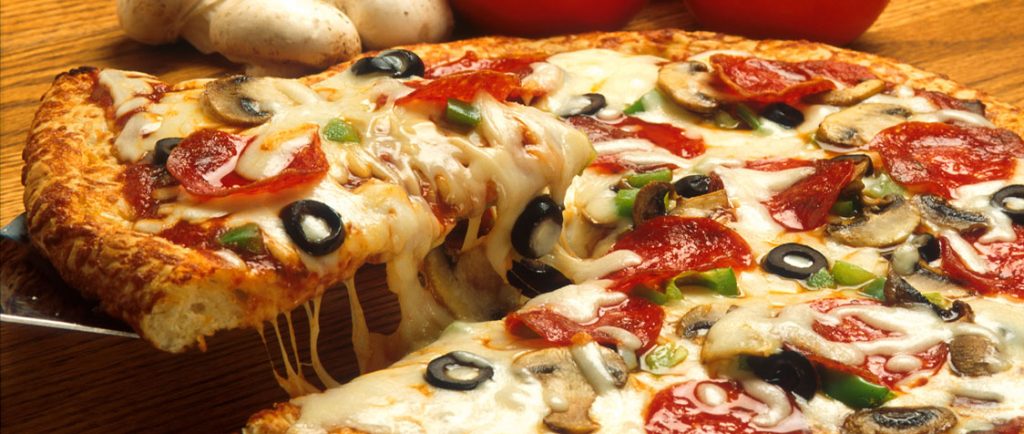 Sick of fast-food chain pizza and looking for an alternative? This restaurant will win your tastebuds in the blink of an eye.
Specialties: Philly Cheese Steaks, Cheese Pizza, Baked Ziti, and Greek Salad.
Address: 5401 Tidewater Dr, Norfolk, VA 23509, United States.
Contact:

+1 757-640-1002.
Conclusion
We hope you enjoy reading our guide about the best pizza in Norfolk, VA, as much as we enjoyed preparing it for you. Pizza is the ultimate comfort food, and there is no denying that. So to be able to know all the great places that offer the comfort food you need is nothing less than bliss. Happy eating! And if you're in the mood for something different, Check out the Best Thai Food Virginia Beach has to offer.