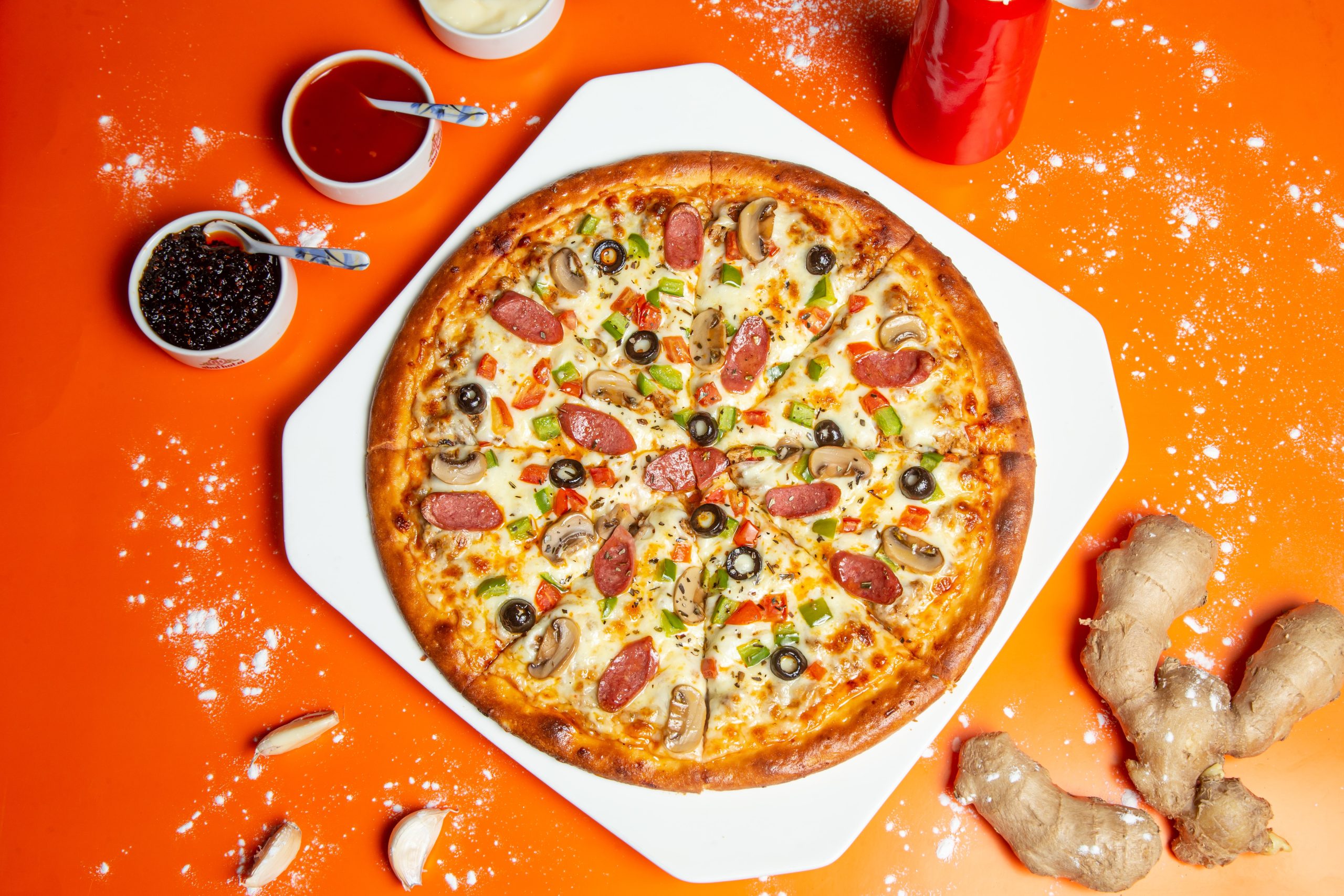 In spite of the fact that there are countless topics on which reasonable people might spend hours debating, there is one thing on which nearly everyone can agree upon is that pizza is one of the best foods on the planet. People naturally prefer savory, sweet, fatty, and dense meals. All of these things may be found in pizza. This is why we've compiled a list of the best pizza Santa Ana offers. Santa Ana is also known for its delicious taco options. Here's our list of the top 33 places to get the best tacos in town.
Best Pizza In Santa Ana
The good pizza in Santa Ana is made possible by abundant farm-fresh ingredients and skilled cooks. It's no surprise that the quality of the cuisine scene in this state is constantly improving. Those who have been baking pies for generations, as well as those who have started their businesses, all compete against one another. As a result, we've compiled a list of the greatest pizzas in Santa Ana to commemorate the occasion.
Loosies Pizza
Loosies Pizza serves the best pizza in Santa Ana California. It's better to enjoy their pizza after a night out at the bars. Depending on the kind, a slice costs anywhere from $4 to $5. Buying a full pizza for 8 slices is a better deal because the pieces are larger.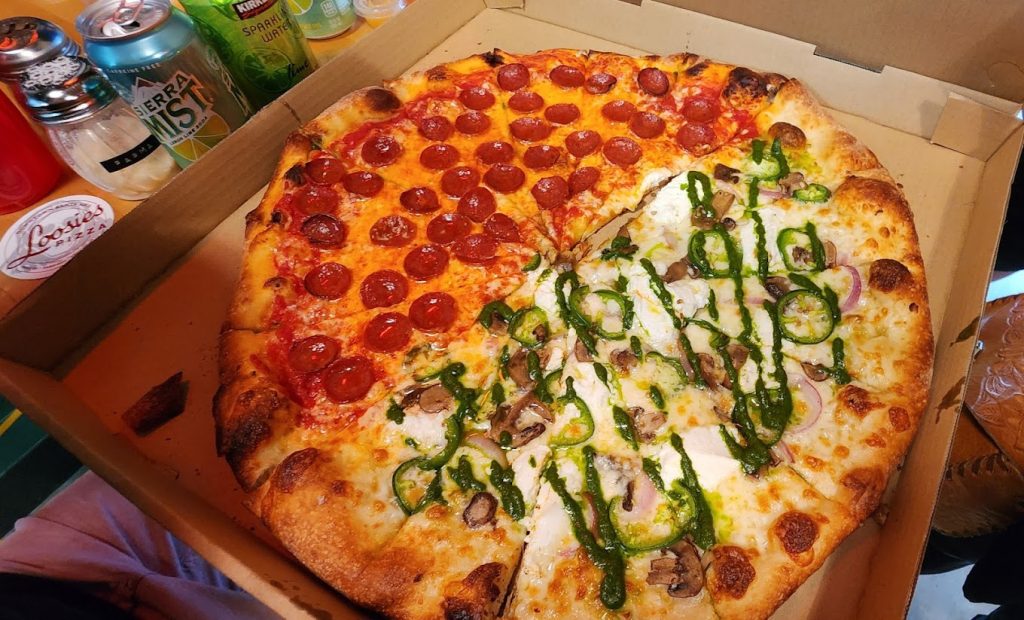 Loosies Pizza is one of the few counter-service pizzas by the slice restaurants in Orange County, and it's one of the best in the area. From the crispy crust to the high-quality cheese and tomato sauce, this pizza is authentic New York style.
Address: 300 E 4th St Ste 103, Santa Ana, CA 92701, United States

.

Specialties: White Ferrari and Margherita.
Mongiello's Pizza and Wings
Their pizzas are hot, wonderful, juicy, and fresh. Its pizza sauce is the greatest part. Fresh oregano's taste and scent permeate the sauce. Additionally, the restaurant's atmosphere is cozy, spotless, and well-lit.
It's hard to go wrong with any of their pizza or wing options; their dough is nearly as flaky as it gets without being overly thick, and they have a huge menu to choose from. Everything you could possibly desire in a pizza place is available here.
Address: 515 N Main St, Santa Ana, CA 92701, United States

.

Specialties: Hawaiian Pizza and Pesto Pizza.
Late Night Pizza
Quite oily but still a good pizza, which is ideal for a late-night supper. The crust is thin and crispy, and the toppings are far more flavorful than at any other pizza joint. Toppings and sauces may be altered to suit your preferences, and you can even choose anything other than tomato sauce.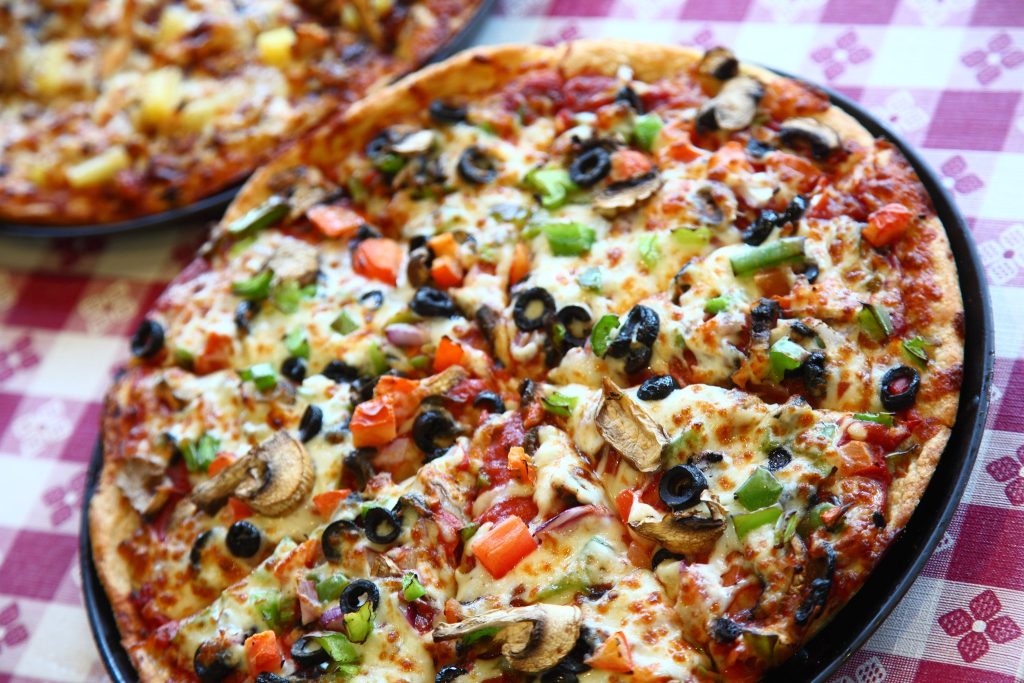 If you are bored, don't worry; the crew is always ready for a good laugh. They'll even throw in a few cookies as a bonus.
Address: 122E 17th St Unit 104, Santa Ana, CA 92706.
Specialties: BBQ Chicken Pizza and Gluten-Free Pizza.
Terra Mia Pizzeria-Tustin
This is a great location. They have the best pizza Santa Ana provides. Terra Mia's initial site in Laguna Niguel has been a local favorite for years, and this is their second location.
Their specialty is NY-style pizza, which includes hand-tossed dough, a thin and crunchy crust, and large pieces that can be folded up for easy transport and storage.
The thin and crispy pizza at this establishment makes it a terrific choice! It's not a cracker crust, but it's sturdy enough to sustain its weight when you bite into it. Pizzas such as eggplant parmesan, chicken and ranch, and others can be found on the menu at this restaurant. You may also get spaghetti and wings here, as well as beer and wine.
Address: 1641 Edinger Ave # 102, Tustin, CA 92780, United States

.

Specialties: Meat Lovers, Meatballs, and Cheese Pie.
Folks Pizzeria
This is a really charming little Costa Mesa place. Folks is just a few doors down from the Native Foods store. It's hidden behind the Wine Bar, yet it's a delightful little haven of Italian cuisine in the heart of The Camp.
High-quality ingredients are evident in the rustic/artisan house-made dough they employ and the cheese mix they utilize. This pizza is unlike anything you'll find anywhere else. Not only are their pizzas outstanding, but so are all of their other food items.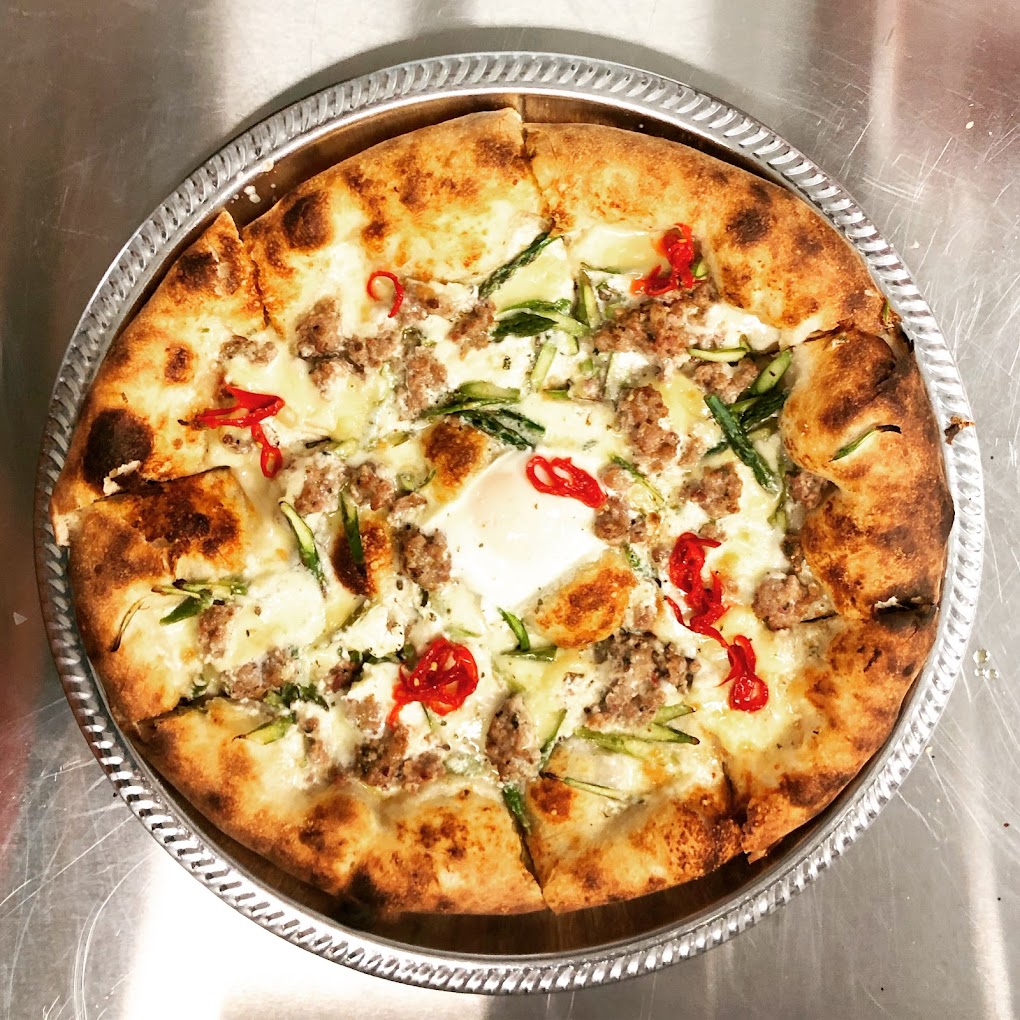 The Caesar salad from them is fantastic. Fresh bread and butter on top of meatballs is an excellent combination. Homemade ranch, finished with the chef's kiss.
Address: 2937 Bristol St a102, Costa Mesa, CA 92626, United States

.

Specialties: Fennel Sausage Pizza, Caesar Salad, and Free Range Chicken Wings.
Rafael's Pizza
There's no need to get out of your car; just stroll right in and get a piece of pizza, a salad, or some wings. The lunch specials are much better than the cost. All of the cuisines served at the restaurant is prepared to order and is tasty.
The flavor of the ingredients is evident, and the crust is light and not greasy. Everything from the spaghetti to the cinnamon pie is delicious, which makes it worthy of being called one of the best pizzas in Santa Ana.
Address: 128 W MacArthur Blvd, Santa Ana, CA 92707, United States

.

Specialties

: Meat Lovers' Pizza, Pepperoni Pizza, and Calzone.
Recommended Read: BEST 33 Breakfast In Santa Ana
Rance's Chicago Pizza
The pizza here is fantastic, and it will change your life. With stuffed, pan, and Tavern (thin) pizzas, Rance's provides a wide choice of specialty pizzas, or you may design your own. Their secret family recipes are used to make their dough, sauce, and even dressings, all of which are created daily on-site.
In Orange County, it's the only location to get authentic Chicago-style deep dish. When it comes to pizza crust, finding one that doesn't crumble is a challenge, but Rance's is so delicious that you could eat it on its own.
Address: 1420 Baker St, Costa Mesa, CA 92626, United States

.

Specialties: Bruschetta and Deep Dish Pizza.
Bari

Pasta & Pizza
Amazing food is served here. There are no exceptions. They have nicely sized servings that are served hot enough to keep warm on the way home or throughout delivery.
If you're looking for a quick and cheap Italian pizza, this is the place to go. The meals here are delicious. It's hard to go wrong with the lasagna and the chicken pesto rigatoni. Garlic bread is included with every pasta dish, which is a nice touch.
The people of Bari are adored since they're always kind and friendly. The prices are really reasonable, the servings are large, and the pizza is just wonderful.
Address: 1640 E 1st St #A, Santa Ana, CA 92701, United States

.

Specialties

: lasagna, chicken pesto rigatoni, and garlic chicken pizza.
Pizza Trio
The pizza is delicious and has no oily or greasy aftertaste. Plenty of cheese and garnishes are used in this dish, plus you can personalize your pizza to your heart's content. The crust is flaky and flavorful, with just the right amount of chew and crunch.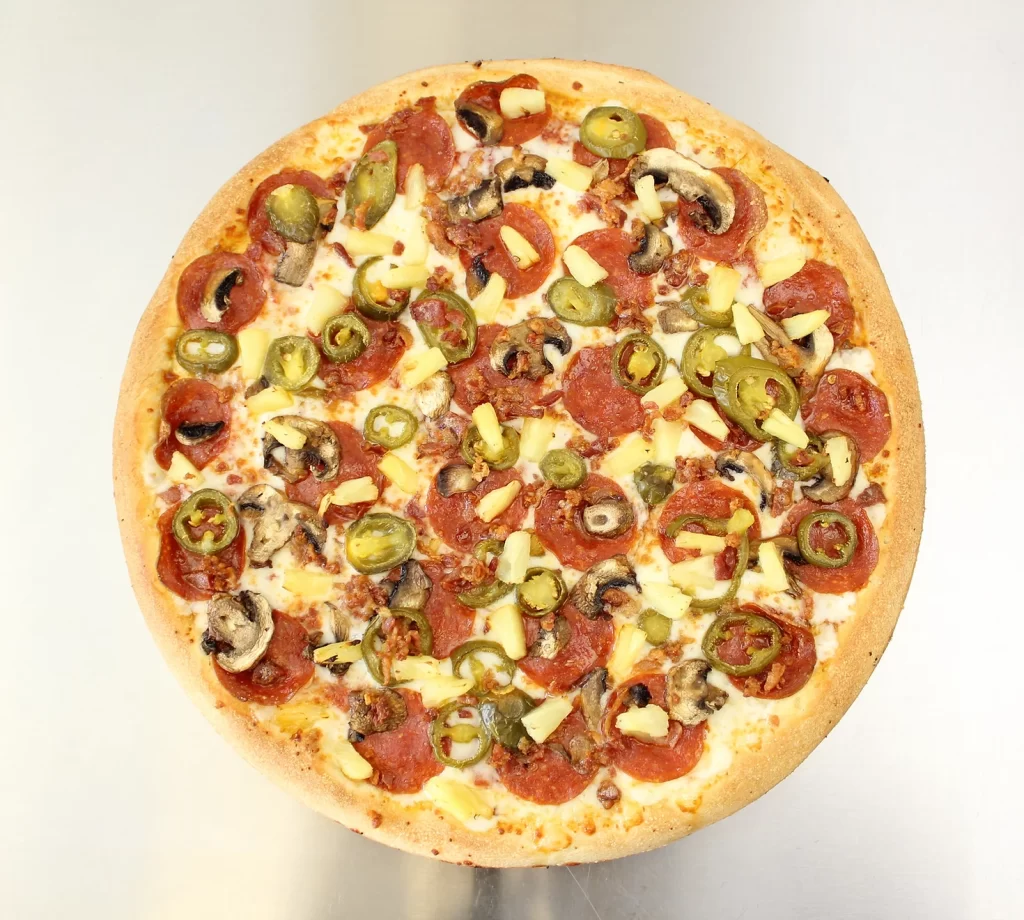 Even if it takes you a while to determine what to order, the employees are quite kind and patient. It's simple to find a spot, which is unusual. Hence, this place offers the best pizza Santa Ana will remember.
Address: 1640 E 1st St #A, Santa Ana, CA 92701, United States

.

Specialties: Santa Ana Pizza and Supreme Pizza.
Buccaneer Pizza
The pizza sauce, in particular, tastes great and is somewhat sweet, indicating that it is created from scratch rather than from a can. There's plenty of cheese, and the crust is firm. A style that is neither too thin nor too thick but somewhere in between.
They have many options, all of which are of high quality. While the costs aren't slashed, they're still reasonable, given what you get.
It's a small take-out eatery, and most of its business comes from outside customers. Even though the eating space is tiny and unattractive, it does the job if you need to dine there.
Address: 2757 N Grand Ave, Santa Ana, CA 92705, United States

.

Specialties: Buccaneer Combo, Meat Lovers Pizza, and Pizza by the Slice.
Giovanni's Pizza
Torpedoes, pizza, spaghetti, and calzones are some of Giovanni's best offerings, as are their other Italian specialties. It is a great small pizza place that also provides tortas, tacos, lasagna, and a few other things in addition to pizza. Aside from sit-down restaurants, Santa Ana also boasts some amazing taco trucks. Check out our list of the 14 best taco trucks in town.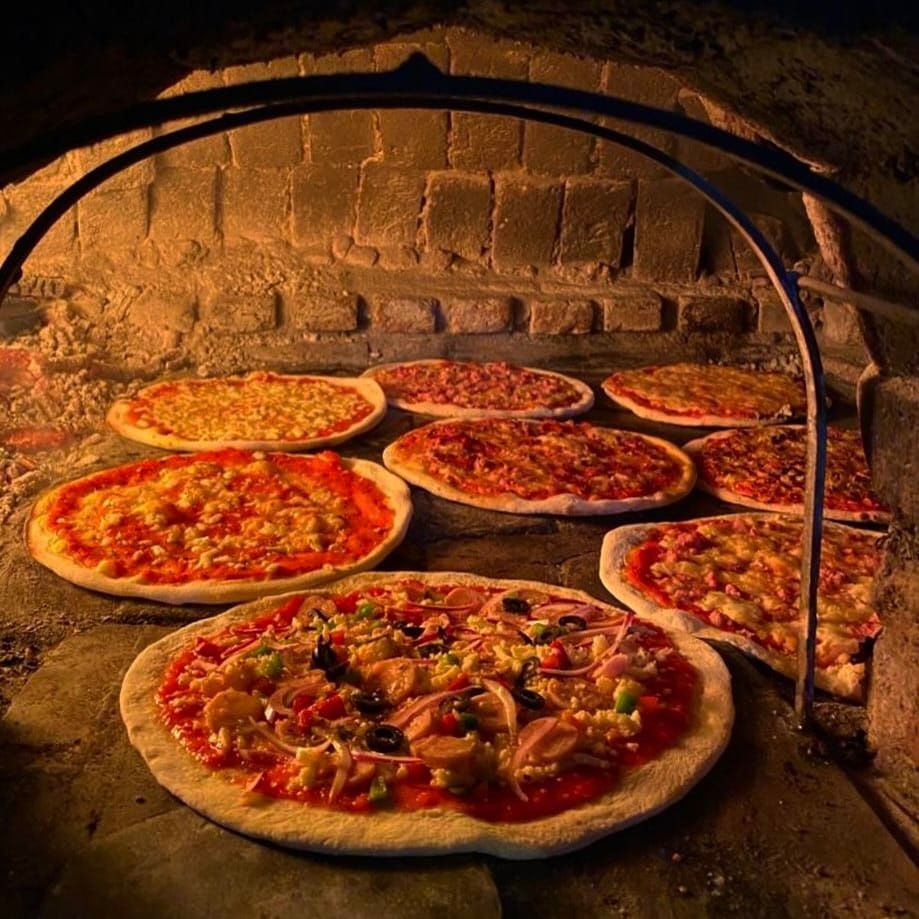 This fantastic family-owned restaurant in town has been serving fast and excellent cuisine for quite some time. Make sure you have cash because it is a cash-only establishment. The staff consistently goes above and above to provide wonderful customer service.
Address: 1526 S Flower St, Santa Ana, CA 92707, United States

.

Specialties: Torpedo Sandwich, Pepperoni Pizza, and NEW Chorizo Fest Pizza.
Peroni Pizza
Despite the quality of the pizza and wings, the service seemed a little stale. There is a five-minute wait for any pizza other than pepperoni and cheese, but who can't wait that long? Overall, it's a great place for the neighborhood and even quite clean.
This place never fails to impress. Their food is delicious and reasonably priced, and even if the restaurant is packed, there's no significant wait.
Address: 200 W 1st St, Santa Ana, CA 92701, United States

.

Specialties: Pepperoni pizza and Buffalo wings.
California Pizza Kitchen
The best pizza Santa Ana provides can be found at California Pizza Kitchen. In a sleek, contemporary environment, this national fast-food business serves customers creative pizzas, spaghetti, and salads. If you're looking for a different kind of pizza, they provide a variety of California-inspired recipes.
It isn't easy to pick just one thing from their extensive menu. It isn't easy to choose among their complimentary mini plates, which you can acquire by downloading their app. There are prizes worth far more than salad plates if you join their rewards program on the app. And if you're looking for a fun day trip, Santa Ana is also close to some beautiful beaches. Here are our top picks for the best beaches near the city.
Address: 2800 N Main St, Santa Ana, CA 92705, United States

.

Specialties: Thai Chicken, Chicken Tequila Fettuccine, and Wild

Mushroom

.
Birrieria 'la raza
One of the locals' favorite food trucks is Birrieria La Raza. It's a great treasure that's well worth unearthing. Everything on their menu is great and memorable, but the quesotaco is truly amazing and unforgettable.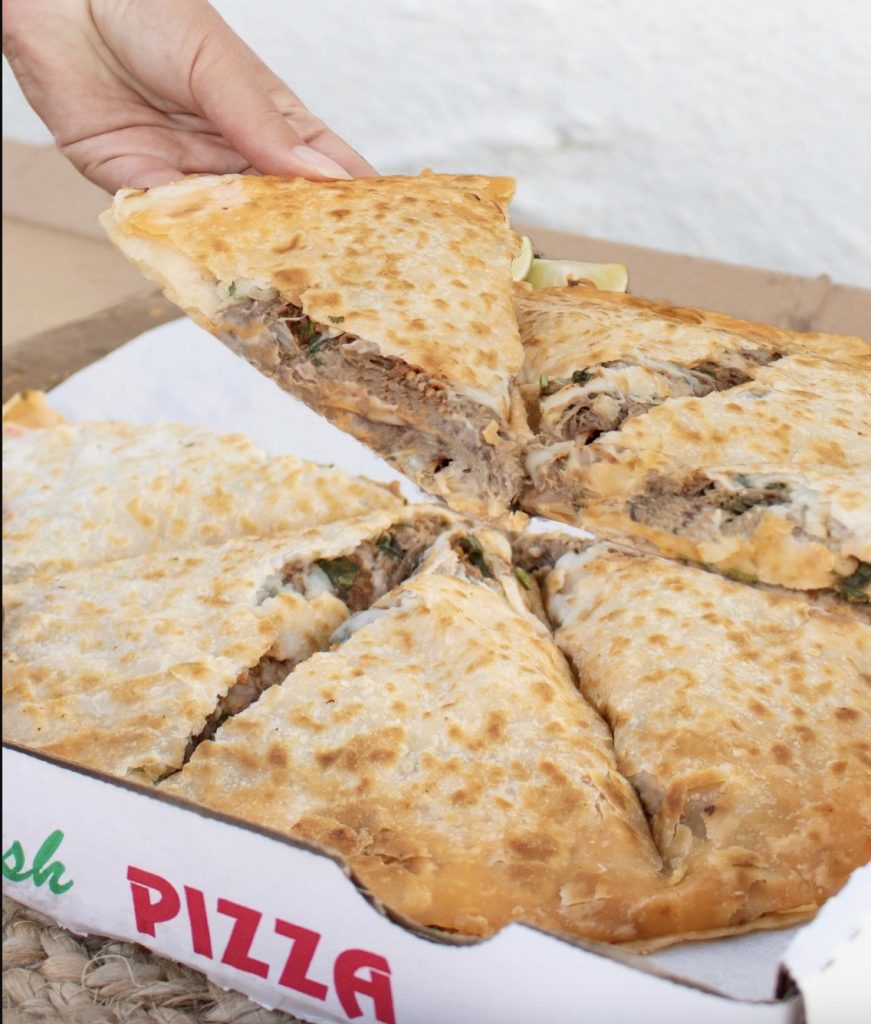 So much meat goes into the Birria pizza, which is really more of an overstuffed quesadilla. Everything has the ideal balance of flavor. The Birria pizza costs $20 and serves three to four people, making it well worth the money.
Seven days a week, they're open from 10:30 a.m. until 9 p.m.
Address: 1120 W Warner Ave, Santa Ana, CA 92707, United States

.

Specialties:

Birria Pizza, Birria Tacos, and Birria Ramen.
Editor's Pick: Top 18 BEST Chicken Sandwiches In Santa Ana
The Pizza Press
Create your own pizza at The Pie Press, and you'll be immersed in an experience of décor, quality, and pizza. Based on a 1920s Americana newspaper, their motif evokes a bygone period when newspapers were the cornerstone of local communities.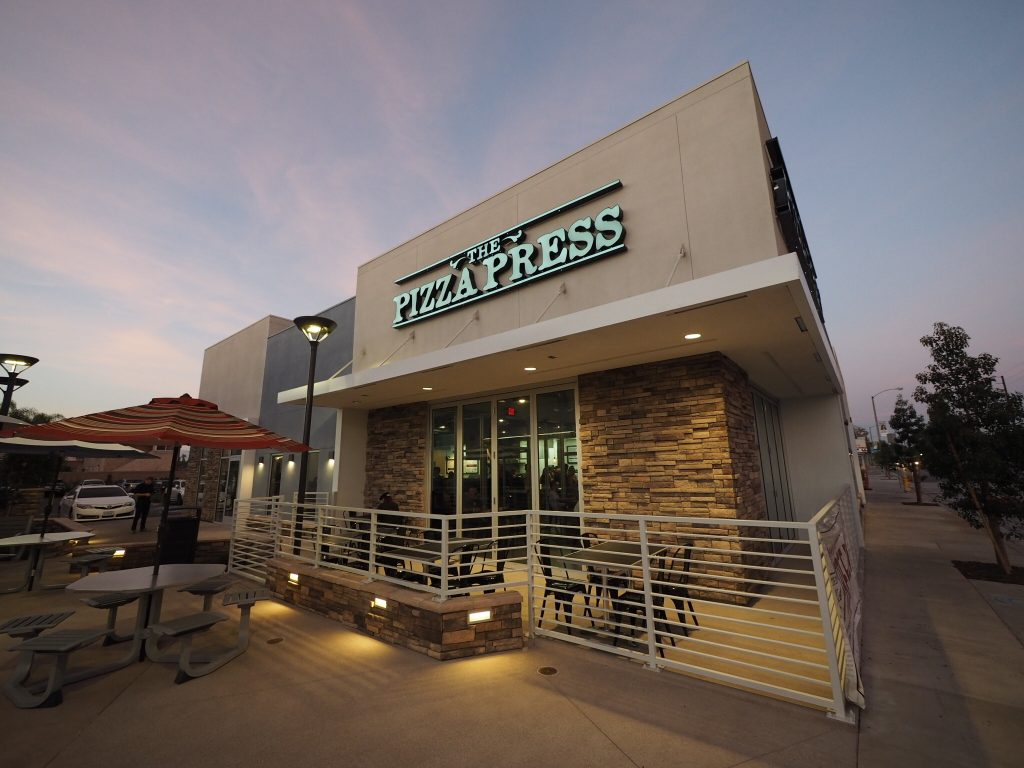 You can't go wrong with The Pizza Press in Downtown Santa Ana. Mimi, the shop's owner, is kind and helpful. Despite its size, the restaurant appears to be in good condition. And if you're looking to relax and unwind after enjoying a delicious pizza, Santa Ana also has some amazing massage options. Here are our top 15 picks for the best massage experiences in the city.
Address: 117 W 4th St Unit 101, Santa Ana, CA 92701, United States

.

Specialties: Cheese Pizzas, Mini Pizzas, and Pepperoni

Pizza

.
Conclusion
Although this is, the conclusion of our list of the best pizza Santa Ana has to offer. For families that enjoy pizza on Friday nights, we hope this list will help you choose the best pizza joint for you and your loved ones. You never know; you could find a new favorite place. Our expert team also recently made suggestions for the best pizza in Norfolk, Dubai, Anaheim, and Panama Beach.