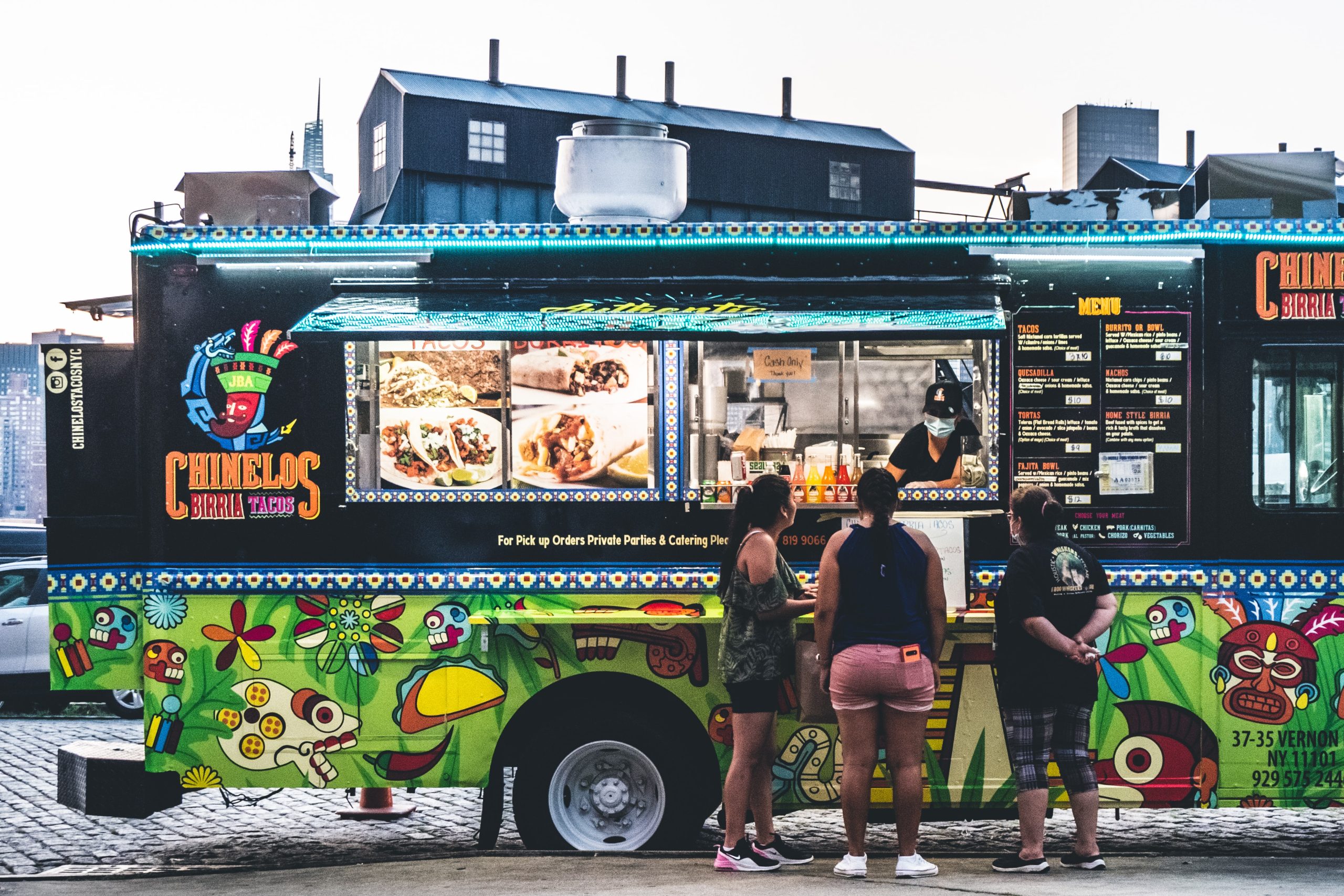 Tacos are a popular Mexican dish comfort food that is not only moved by native Mexicans but everyone around the world. Americans, especially, find this Mexican delicacy tasty and familiar. Moreover, it is the go-to option for many. Therefore, we will tell you about some of the best taco trucks in Santa Ana, where you will find a wholesome collection of tacos. In addition to the tacos from the taco trucks, Santa Ana also offers a wide variety of other traditional Mexican dishes. From tamales to enchiladas, the city is home to some of the best Mexican food in the area. 
Taco Trucks In Santa Ana, CA
All these taco trucks are popular in the city, and people have positive things to say about the tacos. They make fresh tortillas for each taco so that you find the best taste. Also, you will come across friendly staff in these taco trucks, which will guide you well. Let's move on and learn all about them.
Alebrije's Grill Taco Truck
This amazing taco truck you should pay a visit to is on top of our list. Alebrije's has the yummiest tacos in town, with options for choosing your favorite meat, shell types, and even toppings.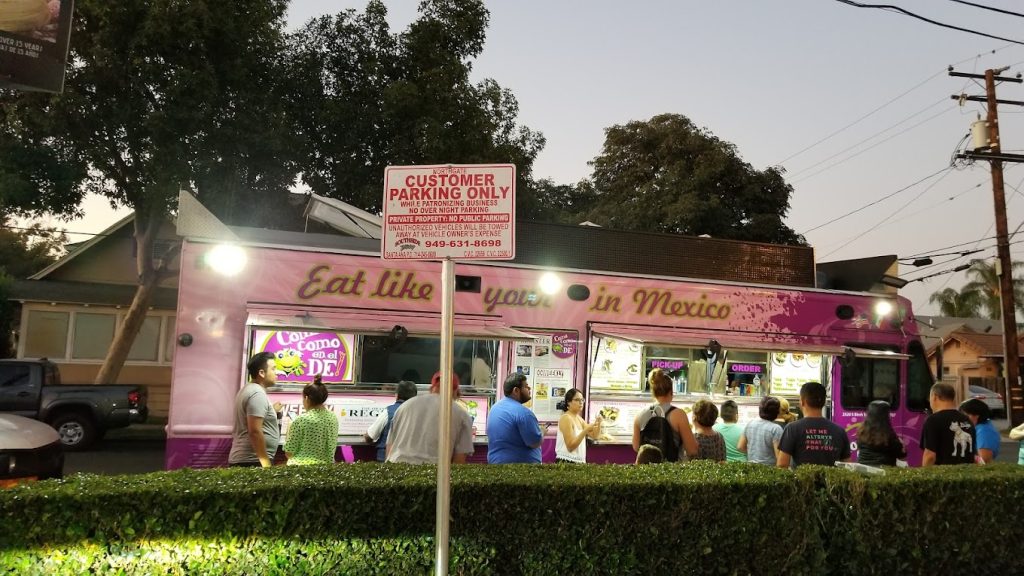 As a result, they will hand you a perfectly made taco to impress your tastebuds. Besides, almost everyone recognizes this pink taco truck in Santa Ana, CA.
Address: Cubbon St And S Main St Santa Ana, CA 92707.
Specialties: Al Pastor Taco and Carne Asada.
Cabanas Tacos
Cabanas has some of the cheapest tacos you can get. However, they never compromise on the quality and taste of their food. You will experience deliciousness in each bite.
Moreover, the serving size is plentiful to satisfy your taco cravings and send away the random hunger pangs that hit you in the middle of the day.
Address: 601 E St Andrew Pl Santa Ana, CA 92707.
Specialties: Lengua, Tripas, and Al Pastor Tacos.
Taqueria La Fortuna Taco Truck
It is another taco truck in Santa Ana you can head to for various tacos. You will witness a casual atmosphere around the car. Hence, you can take your kids here as well. Furthermore, the corn tortillas are crispy and authentic, which gives their tacos a distinct touch. After enjoying the delicious tacos from the taco truck, head to one of the nearby beaches for a relaxing day in the sun. 
Address: 310 N Euclid St, Santa Ana, CA 92703.
Specialties: Tripa Taco.
Taqueria Ayutla Oaxaca
Next, we have Taqueria Ayutla Oaxaca to suggest for tacos. It serves incredible tacos with ample fillings and finger-licking sauces to make them yummier.
You will devour each bite of your food. Thus, we can call it one of the best food trucks in Santa, specializing in tacos.
Address: 2631 S Main St Santa Ana, CA 92707.
Specialties: Al Pastor, Carne Asada.
Erick El Taquero Taco Truck
You will not be disappointed with your pick when you visit this taco truck. The friendly staff will welcome you and note down your specifications carefully. They will serve you fresh and appealing tacos with a short waiting time.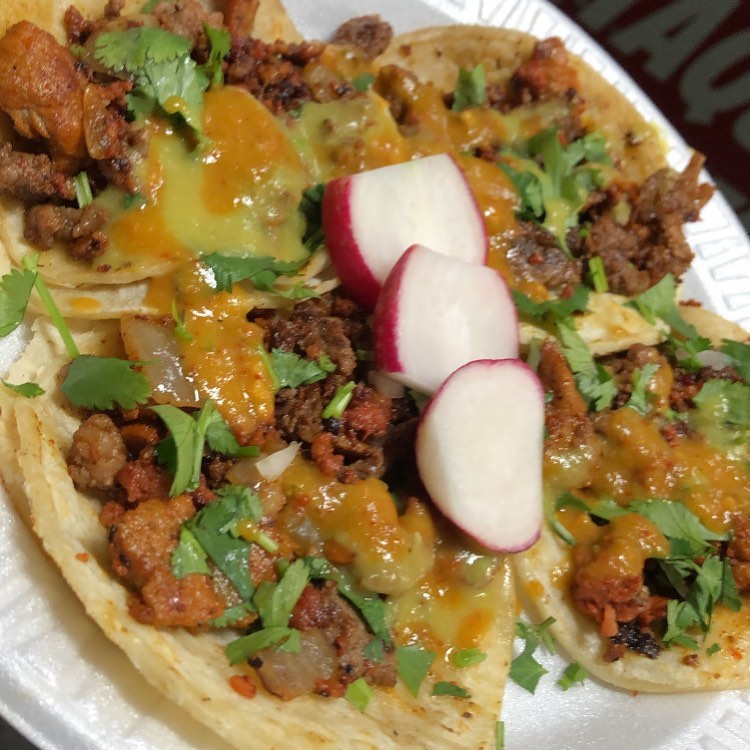 Address: 199-101 Goetz Ave, Santa Ana, CA 92707, United States.
Specialties: Suadero and Buche.
Tacos El Beso
The chefs make handmade tortillas for the tacos to ensure the right texture. The tortillas are fried to perfection to ensure crispiness and taste.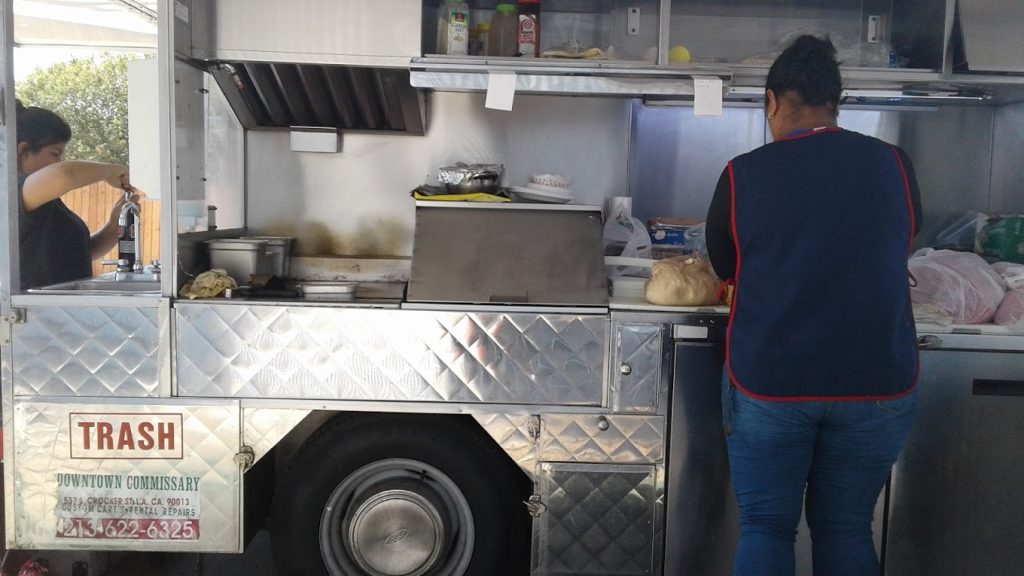 In addition, the food trucks offer many flavors, such as Birria, Al Pastor, Carnitas, and Polo, among others. Make sure to try them all.
Address: 811 N Farview St Santa Ana, CA 92703.
Specialites: Picaditas, and Birria.
Lonchera 'Los Gueros' Tacos Al Vapor
Lonchera Taco is a good taco truck in Santa Ana. They will provide you with a plate of nicely cooked tacos, made according to your liking.
Besides, they have a pleasant staff who works hard to make your visit memorable. Undoubtedly, it is a great taco truck in Santa Ana.
Address: 1910 Old Tustin Ave, Santa Ana, CA 92705, United States.
Specialites: Quesadillas, and Tacos.
Tacos Los Tapatios
It opens daily at 3 pm to bring you Mexican goodness. Everything is made freshly at this taco truck to give you the best food experience. Moreover, the truck has incredible owners who will cater to your instructions.
Address: 959 N Susan St Santa Ana, CA 92703.
Specialites: Asada, Pastor, and Tripe.
Recommended Read: Top 18 BEST Chicken Sandwiches In Santa Ana
Tacos El Gringo
Tacos El Gringo operates from 5 to 9 pm every day in Santa Ana. You will come across a tasteful variety of tacos that will leave you in awe.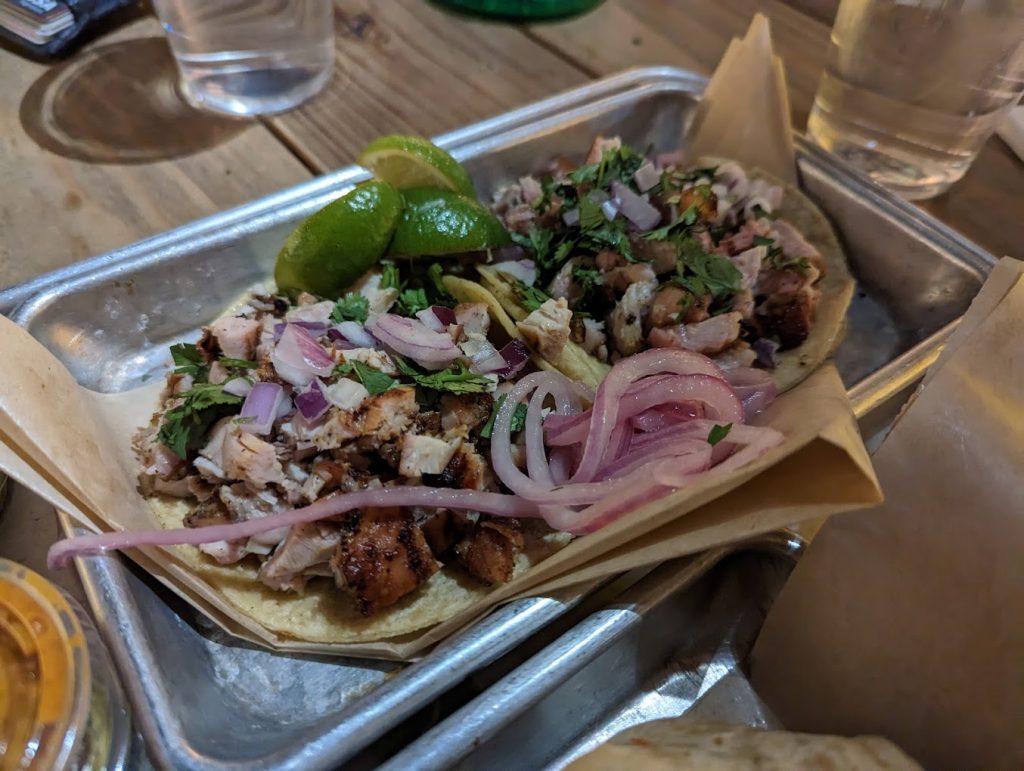 Furthermore, the meat is well-cooked and juicy to give your food a distinct taste. The tortillas are also fresh and soft.
Address: 1624 E 18th St, Santa Ana, CA 92705, United States.
Specialties: Queso Tacos.
El Paraiso Food Truck
The best part is that you can go here for any meal of the day since it opens at 10 am. You will be surprised by the huge serving size. Hence, El Paraiso can be your go-to food truck whenever you are craving some tasty tacos in Santa Ana. Santa Ana also offers a wide variety of delicious breakfast options. From classic diner fare to unique and creative dishes, there's something for everyone. Check out the best 33 breakfast spots in Santa Ana.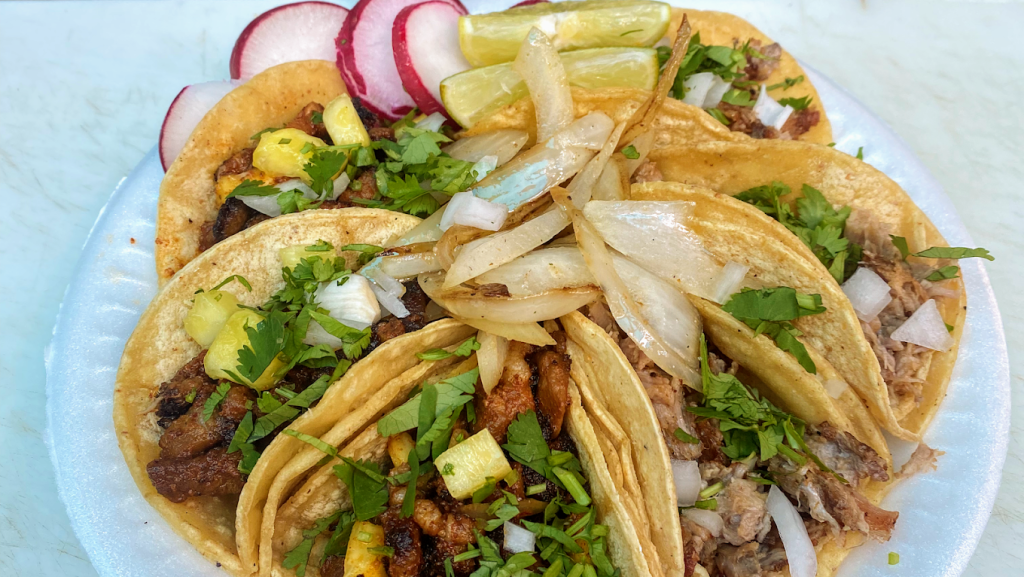 Address: 111 W Highland St, Santa Ana, CA 92701, United States.
Specialties: Chicharron Tacos and Al Pastor.
Taqueria Azteca
Do not miss out on this food truck when searching for the top tacos. It counts among the best taco trucks in Santa Ana. Additionally, they also have delicious salsas to pair with your tacos.
Address:

 

5112 Hazard Ave, Santa Ana, CA 92703, United States.

Specialties: Tripa, Al Pastor, and Carne Asada.
Tacos Manuel
Tacos Manuel has the best Carne Asada Tacos in town. It has been a fan favorite for a long time. People come here from different places to get their hands on the popular dish. It is served with grilled onions and jalapenos to give an exciting presentation.
However, the truck is closed on Mondays. So, you can come here any other day of the week except Mondays to enjoy the delicious tacos.
Address: 17th & Mabury Santa Ana, CA.
Specialties: Carne Asada and Chorizo.
Amaa Taco Truck
Now we have this superb taco truck that you will not regret visiting. The tacos are delicious and nicely filled with meat, vegetables, and sauces.
Moreover, you will get hot and fresh tacos whenever you come here. On the other hand, you might have to wait for some time before your order is ready.
Address: 100 Goetz Ave, Santa Ana, CA 92707, United States.
Specialties: Chorizo and Cheese Tacos.
Editor's Pick: Top 33 BEST Bars In Santa Ana In 2022
Camila's Tacos
Camila's Taco Truck deserves a spot in our compilation. The chefs are consistent with the recipes. Thus, you will get the same great taste in every order. Also, the Super Tacos is a must-try. It will give you a peak Mexican experience.
Address: 1601 S El Camino Real, San Mateo, CA 94402, United States.
Specialties: Super Tacos, Quesadilla.
Conclusion
Conclusively, if you have read the guide carefully, you should now know about the best taco trucks in Santa Ana that you can visit for delicious tacos. Each of these trucks prepares fresh and hot tacos to satisfy your cravings. Also, they have friendly staff to make your visit extraordinary.
So, look no more and give these taco trucks a try.