To prepare an authentic version of a certain food item outside of its motherland is nothing less than an achievement. But what's even more difficult than preparing it is finding the right places where the magic happens. That is where we come in – to save your time and energy in exploring the best birria in Santa Ana. If you are looking for more authentic experiences, check out our guide for the best Vietnamese Food in Santa Ana.
Best Birria In Santa Ana
Our elaborate guide will not only lead you to some of the best Mexican food places but also covers food trucks that offer delicious birria on their menu. Everything is briefly given an overview from parking space to menu items, prices, and ingredients. Find your pick!
La Super Birria
Once you try this place, there's no going back, and the worst part is, you are not going to find anything remotely as delicious as this place. It is going to keep you wishing for a Birria place like this one in your hometown after you have tried Birria from here.
If you happen to be visiting for the first time, we recommend you try their Birria tour. It has three types of tacos, each one better than the previous one. The staff is very friendly – always smiling. The staff is bilingual in case you speak English only.
Overall, this place has a wide variety to choose from and so much flavor in each item it is hard to find anywhere else!
Taqueria El Zamorano
You can tell by the number of layers of tortillas they serve how professional and experienced a place is in order to keep it from breaking when it gets wet. Usually, what other eateries achieve with a minimum of 2 layers of tortilla, this place is able to pull off with only one layer – and it does not break when wet with all the gravy and sauces !!
They have a variety of meat offerings, and each one is as flavorsome, juicy, tender, and rich in taste as the other one. It is a little on the pricey end, but it is definitely worth every single bite. The parking can get a little busy as it is not too spacious, so you might want to keep that in mind when hunting for the best birria in Santa Ana.
Navarros Taqueria
This is a small eatery with charming and modern, and trendy vibes inside. Apart from that, the Birria here is to die for!! Extremely delicious food and so light on the gut that you will find it hard to stop. Nice and soft on the inside, crunchy on the outside with the perfect balance of greasiness – they are just the right amount of everything.
If you happen to visit this place, try out their Asada Nachos, Quesabirria, and Asada Fries on our recommendation, and thank us later!!
El Cabrito
For everyone that had an unpleasant experience with the service of this place, give it another chance on our recommendation, and we promise it will not disappoint!! In all fairness, this place was under renovation the past year due to the pandemic and was temporarily operating out of a food truck.
But they are back now and back with a bang. It is the kind of place that becomes regular for years and years. The Birria here is very tender and juicy, and it leaves no aftertaste at all.
Tacos Y Birria El Guerro
Before we begin reviewing this eatery, they only accept cash. So go with your wallets full! A sign that a certain place is selling the most authentic and the best Birria in Santa Ana, is that they will barely be able to speak proper English. The staff at this Birria truck is very friendly.
Their Birrias are so flavorful you will definitely enter a food coma after having their food. They have a wide variety of salsas available. However, some people reported their tacos to be a bit greasy but trust us, it is that grease that brings all the flavor. It is in no way greasy in an unhealthy way.
Birrieria Guadalajara
Another favorite Birria spot of the locals is this place with handmade tacos. It does not have ample seating space but they have managed to provide indoor as well as a small outdoor sitting space. Their parking space also isn't too spacious which gets in the way of your food experience. People tend to do takeaways but some of their delicious items are just not cut out to be a takeaway order.
Some examples are Burrito de Birria and Quezabirria. By the time you reach your destination, the food items have become soggy and no longer look how they were initially supposed to look. To get the most out of your experience with this eatery, we suggest you dine in or have your food immediately after ordering i-e in your car, etc.
But other than making the best birria in Santa Ana, they have delicious food and are experts in making tasty handmade tacos. Santa Ana is known for its delicious tamales, check out BEST Tamales in Santa Ana you can have.
Burritos La Palma
This place will have you confused and thinking about whether to rate them a 5-star or 4 because it's almost next to perfect in its seasonings, rates, service, and ambiance. However, the serving size of this birria place in Santa Ana, is a little less than what would fill up your tummy if you have a normal appetite so make sure to order more than you usually do at other places.
The Birria here is as tasteful and fresh as you would like, although the dipping gravy is a little less in quantity as per our liking. If you are also in team gravy, we suggest you ask them for more with your order. But overall, Birria from this place will have you daydreaming about it even days later! So watch out for more frequent visits, a disclaimer.
La Birria Loca
If you are not much of a risk taker and don't prefer experimenting with trying new places then you should come here. You cannot possibly go wrong with this place.
This food truck will be the answer to your Birria cravings. Usually, you do not see birria restaurants in Santa Ana adding meat into consumption but here you will find it served with meat inside, and trust us, it tastes heavenly. Parking tends to become a hassle with food trucks but not with this one, as you will find it parked next to a big grocery store parking lot.
The owner is really nice and will help you order in case you are out exploring the best birria in Santa Ana for the first time and are not sure what to get.
Birrieria La Raza
A true hidden gem of a food truck waiting to be discovered by you. If you ever see this truck show up while you're in Santa Ana, CA, consider yourself lucky and give it a shot. This truck can satisfy two of your cravings at the same time with their famous Birria Pizza. You can now enjoy both pizza and Birria at the same time.
Not just that but they also have ramen in combination with Birria. How innovative is that?
To make things better further, they are open throughout the week. Even on Sundays! So any day of the week you crave a Birria, do yourself a favor and head over to this food truck for the best birria tacos in Santa Ana.
Recommended Read: The BEST Beaches Near Santa Ana
Birrieria & Pupuseria Jalisco
A tiny, underrated, and very easily missed kind of a place this is. But what it has to offer to its customers outweighs all the rest. They don't have much parking space or seating space but their food and service will have you running back for more.
Also, their serving size is great for its price. The food is always served super fresh and super quick. You don't have to go through the waiting phase; for us, this adds a lot of points in deciding the best birria in Santa Ana. Moreover, after having the Birria they make, you will also want to try everything else on their menu.
Tacos Y Birria Miguelito
A hidden gem in Birria business for plenty of reasons. But also a bummer for a few reasons. Starting with why you should visit this place, our number one reason is their ability to simultaneously prepare full of flavor and juicy yet crispy. Not soggy or greasy like most places – a feat that not every Birria place can achieve.
Moreover, their prices are economical compared to the friendly, quick, and quality service they provide. They have plenty of parking space in the street as it is a food truck. They have a phenomenal variety of items on their menu, along with the salsa variety.
If you want to try something else along with your Birria, try their broth, as it will get your taste buds dancing.
The only downside is that there is very little sitting space with them, which is a bummer when you have amazing food.
Taqueria Ayutla Oaxaca
This food truck upgraded and moved to another spot three years ago. Some people find the previous version better but to others, this upgraded version is as good as the previous one. In any case, this place is a must-visit if you are craving Mexican cuisine, more specifically to experience one of the best birria in Santa Ana, CA.
In the quest to find the best birria in Santa Ana, if you happen to be a spice lover, beware that they don't have the intense spice kick in their flavors to entertain a bigger radius of mass but to those who like more spice levels, their salsas are here to the rescue! Santa Ana's hot chicken scene is not to be missed if you love a good spicy kick. Check out our list of the top places for the best hot chicken in the city.
This is the kind of place that becomes a go-to spot so do give it a try. Besides, they are open every single day of the week so you can squeeze in a quick stop here on your trip to Santa Ana, CA.
Taco's Gutierrez
This place serves the kind of Birria you go looking for from street to street. Trust us, after having their food you will wake up the next morning waiting for it to be meal time so you can go again!
The staff is super friendly and the service is super quick. Their green sauce is an absolute favorite of the locals around the area so don't miss that when placing your order. Do yourself a favor and try out their Birria Queso Taco to be mindblown by the flavor bomb that will explode on your taste buds.
It is an easy-to-miss place so you might want to keep an eye out.
Taqueria El Gordito
The best part about this place other than serving the best birria in Santa Ana and other heavenly food items is that it accepts a card payment, unlike many other Mexican food places. So if you are out ordering from them in the middle of the night, you don't have to worry about getting cash first.
The owner of this business makes his own recipes and is very devoted to bringing the traditional Tijuana style to the items on their menu. Their salsa bar has a variety of homemade salsas and dressings. The regular size serving is huge and enough to fill up your belly so don't order too much.
The only downside is that anyone doesn't really understand English over here. So you better grab that Mexican friend or you will have to get google translate up and going.
Editor's Pick: The Best Parks for Families to Visit in Santa Ana
La Rancherita Tortilleria & Deli
This place has its own little tortilla factory, which explains why its tortillas are next to perfect. However, this place lands last on our list of Best Birria in Santa Ana. It certainly doesn't mean their Birria is anything less than exceptional.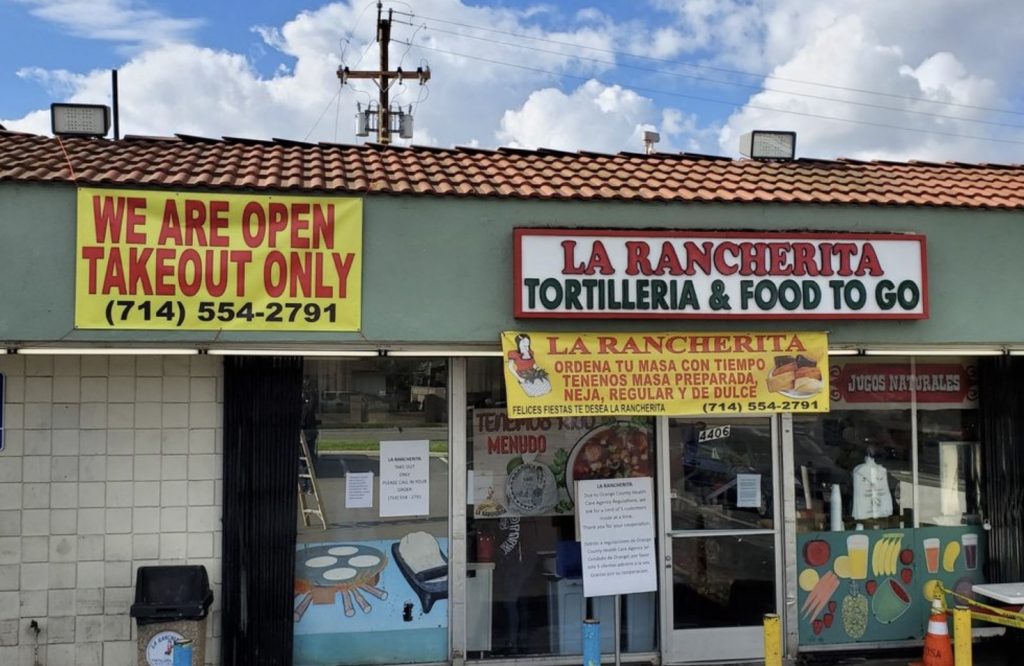 It is like a hidden treasure in the Birria business waiting for you to stumble upon. The flavors and food quality is top-notch and hit the bull's eye in terms of deliciousness every single time!
Hoping you find your ultimate go-to birria place through our list of best birria in Santa Ana. It will satisfy your Mexican food cravings and help the businesses flourish and expand by getting a surplus of customers. This will, in turn, drive them towards maintaining a better standard and providing quality food. And if you're in the mood for something different, Santa Ana also offers some delicious sushi options. Here are our top picks for the best sushi in the city that you must try.