There are numerous search engines available for finding affordable flights, including popular tools like Skyscanner, Hopper, and online travel agencies such as Priceline and Expedia. However, if you are looking for affordable flights without sacrificing quality? Try Google Flights! It's like having a personal travel agent, but with no commission fees. Plus, their Price Guarantee feature means you can get a refund if prices drop after booking. With easy filtering options, finding your perfect flight has never been easier. Say goodbye to the hassle and hello to stress-free travel with Google Flights! If you're looking to post travel updates on Facebook, you could check out this guide on how to post travel updates on Facebook. With just a few clicks, you'll be able to share your adventures with everyone you know!
What is Google Flights?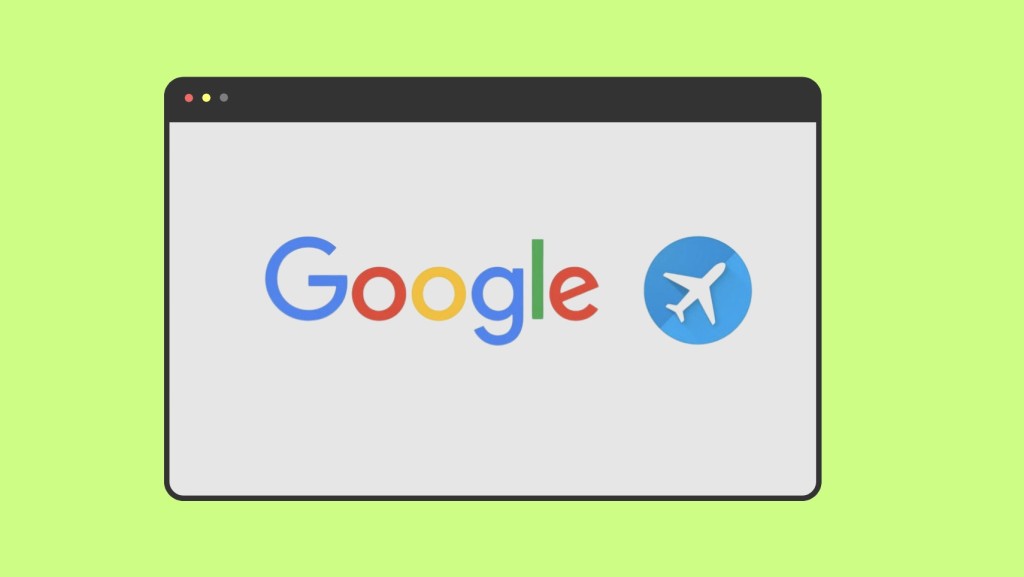 Google Flights is a flight search engine that offers various benefits to users. It enables users to compare and purchase flight tickets from third-party suppliers, making it easy to find the best deals. Google Flights allows users to view flight schedules of multiple airlines simultaneously, including departure times, transit airports, and ticket prices, enabling users to choose the best option conveniently and efficiently.
A significant advantage of Google Flights is its ability to search for affordable plane tickets quickly without requiring any specialized knowledge. The tool aggregates data from all official airline sources to provide users with accurate and up-to-date information on price, trip time, flight segments, and more. Additionally, Google Flights assists with trip planning by providing information on attractive destinations, great hotels, and tracking flight rates.
Google Flights works similarly to traditional ticket comparison tools, displaying flight schedules of multiple airlines and other relevant information on a single page. When a user finds a suitable airline, they can click on a button to be redirected to the airline's website to complete the ticket purchase. With its user-friendly interface and powerful features, Google Flights is a valuable tool for anyone looking to save time and money while booking flights.
How Do Google Flights Work?
Google Flights is a metasearch engine that helps users find the best flight options for their travel needs. The platform aggregates flight schedules, itineraries, and seat availability from various airlines to present users with a comprehensive view of ticket prices, including taxes and additional fees such as baggage fees.
After finding a suitable flight, users can book their tickets directly through the airline or through an online travel agency. It is important to note that Google Flights serves solely as a search tool and does not facilitate the actual booking of flights. By providing a user-friendly interface and access to extensive flight data, Google Flights simplifies the process of finding and comparing flight options to help travelers make informed decisions.
Interesting Read: Here's why putting a crayon in your wallet during travel is the best idea
Is Google Flights Reliable & Accurate?
Google Flights is highly reliable in terms of providing accurate and up-to-date flight information. The tool sources its data directly from the airlines and online travel agencies, meaning that any discrepancies or errors are usually on the airline's end rather than Google's. While there may be occasional instances of out-of-date pricing due to cached data, these are typically rectified within seconds or minutes. Additionally, since Google Flights is only a search tool, there is no need to be concerned about booking issues as you will ultimately book your flight directly with the airline.
Do cookies from your browser affect flight prices on Google Flights?
There's no need to clear your cookies or use incognito mode when searching for flights on Google Flights. These tactics won't impact the price, and there's no secret day or time that's best for booking flights either. Unlike other travel sites, Google Flights doesn't use cookies or regional rules when displaying prices for airline tickets or vacation destinations. It simply aggregates prices from airlines and online travel agencies, and once you select a flight, you'll be directed to the official ticket website to complete the purchase. So go ahead and use Google Flights to search for the cheapest flights without worrying about cookies or incognito mode.
Airlines That Are Not Available on Google Flights
Google Flights offers a vast array of options to find cheap flights, thanks to its extensive reach in the airline industry. However, there are a few airlines that choose not to have their flights listed on Google or other search engines.
Among these airlines, Southwest Airlines is the most notable one that is absent from Google Flights. Unfortunately, you won't be able to see Southwest's fares directly on the platform. Instead, you'll have to go directly to Southwest's website to check out their prices. This applies to flights within the U.S. as well as to destinations like Hawaii, Mexico, or the Caribbean. It's worth noting that Southwest shut down a Google Chrome browser extension that displayed their fares.
Apart from Southwest, several popular Asian airlines like Air China, China Eastern, and Thai Airways are also not always available on Google Flights. This means you might have to explore their individual websites to get a comprehensive idea of their fares and flight schedules. Also, check out the airlines that provide the best meal on air!
Advantages of Google Flights
Google Flights is a powerful tool for finding the best flights for your travel needs. Here are some of the advantages of using Google Flights:
Speed and Efficiency: Google Flights is fast and easy to use. You can search for flights from multiple airlines and compare prices and options in seconds.
Calendar-View: Google Flights lets you see how the fares change over time with a calendar view. You can also see the cheapest dates to fly with a price graph.
Search Multiple Airports at Once: Google Flights allows you to search for flights from multiple nearby airports at once. This can help you find cheaper or more convenient flights.
Map-Based Search: Google Flights also lets you search for flights by destination on a map. You can see the prices and flight times for different places around the world.
Google Flights' Tools and Filters: Google Flights provides you with useful tools for choosing the best flights for your preferences. You can filter by price, duration, stops, airlines, baggage, amenities, and more. You can also see tips and alerts for saving money or avoiding delays.
Get a Refund with Google Price Guarantee: Google Flights offers a price guarantee for some flights. This means that if you book a flight through Google Flights and the price drops after you book, Google will refund you the difference.
Drawbacks of Google Flights
Google Flights is a popular tool for finding and comparing flights online. However, it also has some disadvantages that you should be aware of before booking your next trip. Here are some of them:
Not Always the Lowest Fares: Google Flights does not always show the cheapest fares available. Sometimes, you can find lower prices on other websites or by using different search parameters. For example, you may save money by booking separate tickets for each leg of your journey, or by flying with low-cost carriers that Google Flights does not include.
Limited Airline Options: Google Flights does not display flights from some airlines, especially smaller or regional ones. This means that you may miss out on some options that suit your preferences or budget better. For instance, Google Flights does not show flights from Southwest Airlines, which is known for its flexible policies and free checked bags.
Fewer Mistake Fares: Mistake fares are extremely low prices that occur due to human or technical errors. They are usually corrected quickly, but if you are lucky enough to spot one, you can score a great deal. However, Google Flights does not often find these fares, as it relies on data from airlines and other sources that may not update fast enough.
Unavailable Deals: Sometimes, Google Flights shows deals that are no longer available when you click on them. This can be frustrating and time-consuming, as you have to start your search over again. This may happen because Google Flights does not have real-time information on seat availability or price changes.
How to use Google Flights to Find Cheap Flights: (Step by Step Guide)
Below, you'll find a comprehensive guide on how to use Google Flights to find affordable flights:
Step 1: Access Google Flights
To start using Google Flights, simply go to the Google Flights website. You can access it by typing 'Google Flights' into your search engine or by going directly to the website.
Step 2: Enter Your Travel Details
Once you're on the Google Flights homepage, enter your travel details into the search box. This includes your departure and arrival airports, travel dates, and the number of passengers. Click on the search button to see available flights.
Step 3: Explore Destinations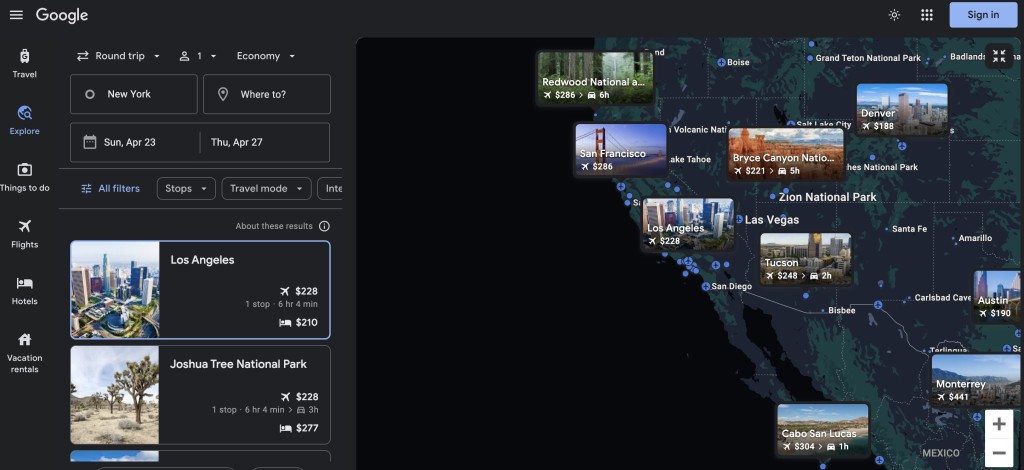 One of the best options on Google Flights is if you're not sure where you want to go, use the explore function to see the prices of different destinations. Simply click on the 'explore' tab in the left-hand side menu. You'll be presented with a map showing your destinations, with the search defaulted to a '1-week trip in the next 6 months'. From here, you can play with the filters in the search function in the top left to find your perfect destination.
Step 4: Refine Your Search
Once you know your destination, refine your search by entering it along with your planned flight dates into the 'flights' tab and hit search. Make sure you choose the correct number of passengers too. You'll then be presented with a list of flights sorted by what Google Flights considers best. At this point, you can sort by anything from price to emissions depending on what your main goal is.
Learn how to keep AirPods from falling out when traveling.
Step 5: Find the Best Fare
Now that you have all your filters locked in, it's time to find the best fare. If you're set on certain dates, simply sort your results by 'Price' in the 'Sort by' box in the top right-hand corner. If you have some flexibility with your dates, use tools such as the calendar selector, data grid, and price graph to find cheaper options.
Step 6: Book Your Flight
Once you've found your perfect flight, booking is easy. Simply choose your departing and return flight and you'll be presented with a range of websites from which you can book. If you're not ready to book right away, use the 'Track prices' feature to receive regular updates about changes to flight prices.
With these steps, you'll be well on your way to finding cheap flights using Google Flights.
Filters on Google Flights and What Do They Mean
To find a specific flight, there are several filters available to refine your search results.
Stops: You have the option to filter the number of stops you prefer during your trip or choose to only see nonstop flights in your search results.
Airlines: You can utilize the airline filter to narrow down your search results to specific airlines or airline alliances such as SkyTeam, Star Alliance, and Oneworld, whether you have loyalty to a particular airline or want to experience a five-star airline.
Bags: The carry-on bag filter removes budget carriers and basic economy fares without free carry-on bags, while still showing airlines like Delta and American Airlines. This eliminates many budget carriers from your search results. Also read, How to carry your Suit on a Plane and The Ultimate Guide to Measuring Luggage.
Price: If you're on a budget, you can conveniently establish the maximum price you're willing to pay for a flight.
Times: You can use the filter for departure and arrival times to discover flights that match your specific needs, whether you must depart in the morning or arrive by a certain time.
Emissions: You have the option to filter your search results based on carbon emissions, thanks to Google's recent updates aimed at steering travelers towards eco-friendly flights. This allows you to view only results that generate fewer carbon emissions.
Connecting Airports: You can instruct Google to show only specific results based on the airports you connect through, and you can also utilize the filter to exclude flights with excessively long layovers.
Duration: You have the option to set the maximum duration of your flight, limiting the amount of time you're willing to spend on a plane.
Additional Tips For Finding Great Flights
In addition to the features mentioned above, here are some additional tips you can use for securing a better deal on Google Flights.
Flight Price History Graph
One of the most helpful features of this search engine is its ability to analyze millions of flight fares and inform you whether the deal you found is worth it or not. Google Flights compares the price you found to the average fare and provides you with a chart that shows where your deal stands in comparison. This feature saves you from the hassle of manually comparing prices and gives you an instant analysis of whether the flight you found is actually a good deal or not.
By using this feature, you can rest assured that you are getting the best possible deal for your desired route. It's an excellent tool for those who don't have the time or resources to compare prices themselves. So next time you're booking a flight, be sure to check out Google Flights for the best possible deal!
Why do your feet swell while traveling? Click here to find out!
Select Multiple Airports
Google Flights offers a unique feature that allows you to search for multiple cities simultaneously, making it easier to find the best deals. This is particularly useful when searching for international flights and you're not sure which destination will offer the most affordable airfare.
With the ability to search up to seven departure and destination cities at once, Google Flights' city search feature is unmatched by other search engines. For example, if you're planning a trip to Italy and want to find the cheapest flights, you can search for flights to multiple cities like Rome (FCO), Venice (VCE), and Milan (MXP) all at once.
Similarly, if you're flying from the West Coast of the United States to Asia and want to find the best deal, you can search for flights departing from multiple cities like San Francisco (SFO), San Diego (SAN), Los Angeles (LAX), and Seattle (SEA) simultaneously.
By searching multiple cities at once, you can compare the prices and choose the most affordable option that fits your travel needs. This feature is a great way to save time and money while booking your next trip.
Filter Out Airlines You Want to Avoid
Please note that the following step might lead to a higher cost for your flight options.
While the initial search results may seem appealing, you may come across some negative reviews about certain airlines. In such cases, you can use the 'Airlines' filter located at the top of the page to remove undesirable options from your search results.
However, it's important to keep in mind that by eliminating some airlines from your search, you may end up with fewer flight options, which could potentially lead to higher prices. This step is entirely optional and should only be used if you have specific preferences or had a negative experience with a particular airline in the past.
Ultimately, it's all about finding the right balance between the price and quality of the flight options available to you. So, use this step with caution, and don't forget to weigh the pros and cons before making a decision.
Also, check out The Ultimate Comparison between 3 major Gulf airlines, Emirates, Qatar Airways, and Etihad Airways.
Track Prices
Google Flights offers a fantastic feature for those who are not ready to book their flights just yet. The 'Track prices' feature is a game-changer that helps you stay updated with the flight prices you are interested in.
To access this feature, click the toggle switch located above the flight results on the left-hand side of the page. Once you've toggled it on, you will receive regular updates about the changes in flight prices based on the parameters you have selected. This feature is especially useful if you're flexible with your travel dates and have some time to wait for a good deal.
If you are logged into your Google account, you can easily keep track of the flight prices and make a booking as soon as you see a deal that suits your budget. However, it's important to keep in mind that flight prices can go up as well as down, so it's best to book your flights as soon as you find a good deal. Overall, the 'Track prices' feature is a great tool for travelers who want to stay on top of the latest flight prices and snag the best deal.
Mailing Lists
In addition to relying on deals mailing lists to find cheap flights consistently, there are other methods you can use. However, these alternatives require flexibility in your travel dates and destinations.
One example of a deals mailing list is Jack's Flight Club, which offers amazing fares and a free membership option for those in the UK. I personally used this service and found it to be fantastic.
If you are based in the US, you can check out Going™ | Formerly Scott's Cheap Flights, which follows similar principles and sends notifications when they discover affordable flights.
Refund option for post-booking price drops
Google Flights has recently introduced a groundbreaking feature called "Price Guarantee," which can potentially eliminate your worries about booking a flight before a price drop.
This feature promises to refund the difference in fares if the price of your selected flight drops after you've made a booking. Google officially announced this feature in April 2023, after testing it for a few months. The best part is that you can claim up to $500 a year through this feature.
It's important to note that the price guarantee option is not available for all flights on Google Flights. Currently, it's only available for flights departing from the United States, and you can mostly find it for Alaska Airlines, Hawaiian, and Spirit flights. Furthermore, to be eligible for a refund, you must book your flight through the "Book on Google" checkout platform and have Google Pay set up.
This powerful feature adds an extra layer of protection and peace of mind for travelers who are hesitant about booking a flight early due to the fear of a potential price drop. So, next time you're booking a flight on Google Flights, be sure to check whether the "Price Guarantee" option is available for your selected flight.
Check out How To Travel With A Hamster: By Plane or Car.
Book in Advance
Google Flights can help you find the best deals on flights when you're planning your trip well in advance. By using the platform's advanced search options, you can filter your search results to find the most affordable flights for your travel dates.
As a general rule, it's recommended to book your flights at least three weeks before your departure date to find the best deals. Google Flights can help you find the most affordable flights by comparing prices across different airlines and travel dates. You can even set up price alerts to receive notifications when prices drop, so you can book your flights at the lowest possible price.
In addition to booking in advance, you can also save money by traveling during off-peak seasons and avoiding major holidays. Google Flights can help you find the best times to travel by showing you a calendar view of the cheapest days to fly. This feature is especially useful if you have some flexibility in your travel dates and want to save money on your flight.
Few Additional Hacks From Experts at HopDes
While Google Flights is definitely a solid starting point for your flight search, it's never a bad idea to also check out other OTAs like Momondo or Kayak. Sometimes they might have even better deals that Google missed. So don't put all your eggs in Google's basket – it's always good to shop around and compare prices before making your final decision.
Another hack to find the best flight deals is to consider alternate airports. By entering up to seven departure and arrival airport codes into the search box, you can quickly compare prices and see if flying out of or into a different airport could save you some serious cash.

Take advantage of the 24-hour rule if you're unsure about booking a flight. Simply book the flight to lock in the price, and if you change your mind, you can cancel within 24 hours and get a full refund.

Also, check out tips and tricks on how to travel with Insulin on a plane!
Conclusion
In conclusion, Google Flights is a powerful tool that offers a wide range of features and benefits to users looking to find the best flight deals. With its extensive filtering options, Price Guarantee feature, and the ability to book directly with airlines, Google Flights simplifies the process of finding and booking flights while saving users both time and money. Furthermore, with its reliability and accuracy, users can trust the information presented to them when searching for flights. So, next time you need to book a flight, consider using Google Flights to find the best options available.
Back to top button