Florence is a beautiful and engaging metropolis set in the backdrop of glorious historic museums and galleries. The city is filled with historic places for the recreation of history lovers and visitors alike. Visitors are often enticed by delish Florentine cuisine, historic museums, and glorious views of the sunset at the Ponte Vecchio. However, the big question is always about where to stay when one visits the amazing city. Earlier, we visited several resorts in South Carolina, Oklahoma, Illinois, and Bermuda. After our team visited Italy, we gathered a list of exciting resorts which are sure to enrich your experience at the city of Renaissance.
Our Recommendation of Hotels and Resorts in Florence
If you are looking for an amazing vacation with your family or partner, you can take a look at our recommended resorts to suit your vacation plans.
Italiana Florence resort is a dream come true for couples. The hotel is situated in Viale Europa 205, 50126 Florence. Italiana Florence Resort is a 4-star property that offers unmatched luxury and comfort for its guests at steal prices. The hotel is frequented by couples and has a high rating among visitors for several reasons.
One of the most known aspects of this hotel is its amenities. The resort features auto rental, bike rental, laundry service, international breakfast, bar, garden, and a gym as well. Moreover, there is an outdoor swimming pool which is enjoyable for couples. Equipped with a modern in-house restaurant and bar, Italiana Florence hotel ensures you are at ease with your partner!
As far as rooms are concerned, there are multiple kinds of suites available for unmatched luxury for couples. There are classic Double Rooms, Triple Rooms, King Rooms, Junior Suites, and Triple Rooms. Besides, there are well-furnished suites and rooms which provide all amenities for the comfort of guests. With soft mattresses, comfortable bedding, and peaceful environment, you will surely relax at your best. The rooms are also equipped with uninterrupted heating arrangements for the comfort of guests! The average cost of a deluxe double room is anywhere between $130 and $135.
You can choose to take out food from nearby restaurants Lo Stravizio (550 m) and Restaurant Firenze Sud (600 m). SeaFood from Lo Stravizio is one thing you shouldn't miss. There are also nearby pizza shops like Giardino Piazza Francia which will let you enjoy the tantalizing pizza on the streets of Florence. The top nearby tourist attractions include Uffizi Gallery and Palazzo Vecchio. The best part? The hotel also offers guided tours around Florence and Tuscany so you can roam around with convenience. Overall, this resort is truly an exceptional one, particularly recommended for couples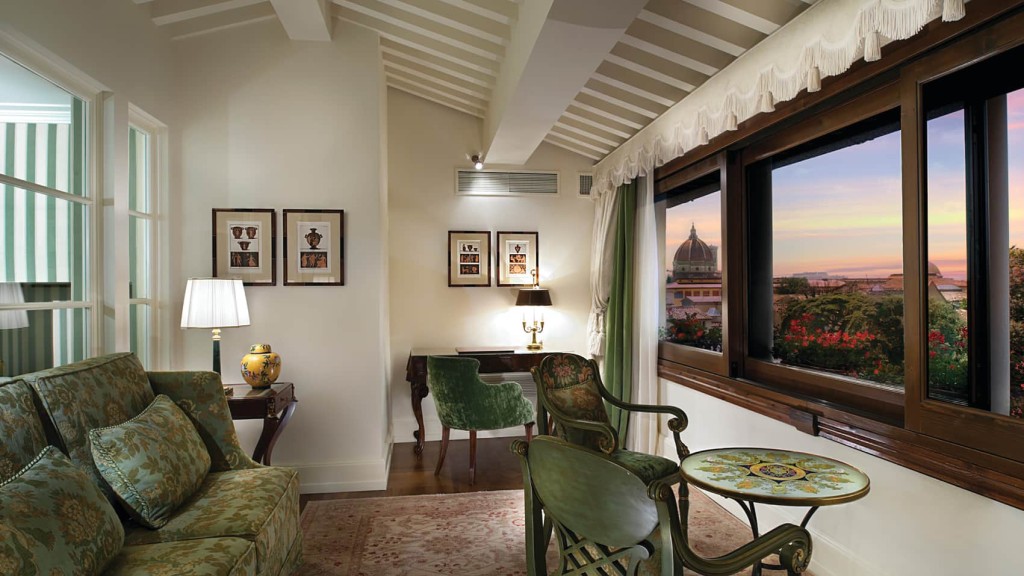 Four Seasons Hotel Firenze is a wholesome experience for a perfect family holiday for those who can afford a steep price point. The resort is an all-inclusive package for all types of families looking for a perfect entertaining vacation. The property is located at Borgo Pinti 99, San Marco – Santissima Annunziata, Florence. The hotel is constructed on two buildings with a sprawling green garden setting the buildings apart.
Four Seasons Hotel Firenze offers many suites for its visitors including the Superior King Room, Family King Room, Junior Suite, Executive Suite, and Galleria Suite. All these suites are equipped with balcony views, air conditioning, heating arrangements, WIFI and TV connections. The royal and presidential suites are equipped with soundproofing technology for maximum privacy. Minibar is also included in almost every room. The smallest room over here has a size of 39 square meters and is charged at $700 per night. On the other hand, the Royal Suite is the biggest room with an area of 239 square meters with a per night charge of $20,000. Truly, the Four Seasons Hotel Firenze is one of the most luxurious resorts in Florence, Italy.
All in all the resort provides an unmatched vacation experience with its amenities. There are State-of-the-Art Pools, Outdoor Dining Experience, Personalized Service, 5-Star spa, Auto Rentals, and Fitness Center over here. The way this resort is designed, one can truly fall in love with the aesthetics of this place.
Apart from that, one of the unique aspects about this resort is its architecture which is embedded with unique elements of the renaissance combined with modern facilities. The hotel offers a two-floor extensive spa with a Turkish bath allowing you to relax on your vacation. The dining experience at the hotel is also made special through a Michelin Star restaurant for the visitors.
What we love about this resort is its central location. The property is situated at a 15 min walk distance from the Cathedral and the Uffizi art gallery. There are several other famous attractions nearby including Synagogue and Jewish Museum of Florence, GAME OVER Escape Rooms, and Adventure Rooms Florence as well. The escape rooms are quite a fun activity, especially if the entire family is out for a fun time in Florence. You can visit the Academia galleria with a stroll down the lane and restaurants like Giordani Al Borgo. Other nearby visitor attractions include the Museum of Natural History in Florence and the San Marco Museum.
Our team highly recommends this exclusive resort in Florence for someone who does not have an issue with the budget. You won't regret the experience over here!
Suggested Reading: Best Italian Restaurants in Norfolk VA
The Hotel Davanzati is another one in our list with a perfect location in the picturesque city of Florence. The outlook of the property has been designed to capture the attention of avid history lovers. If you are willing to enjoy a historically relevant experience at an affordable price, then Davanzati should be your choice. The hotel is a 3-star rated property with an average rental starting from $120 for its double room. The address of this hotel is Porta Rossa 5, Uffizi, 50123 Florence.
There are five different types of rooms for the guests including single rooms, double rooms, Superior triple rooms, Superior Quadruple rooms, and superior double rooms. The rental of a single room starts from $90 and goes up to $200 for the superior quadruple rooms making it one of the cheapest hotels in Florence, Italy. All rooms are equipped with basic amenities including Wi-Fi, Complimentary Breakfast, Safe, Minibar, and a TV. The hotel also offers a rental service to facilitate your travel plans around the city without a hassle.
The staff is quite helpful and friendly to the guests as well which is one aspect we loved about this place. They assist you with basic stuff as well as help you out in extras while making sure nothing in service is compromised.
Another reason why you should opt for this hotel for your stay is its ideal location. If you like taking walks with your partner, you can enjoy nearby attractions such as La Bussola, a restaurant with Florentine cuisine famous for its delicious pizza and wine. Likewise, if you are an avid fashion enthusiast, you can explore the Musée Salvatore Ferragamo. The museum celebrates the life of Salvatore Ferragamo, a famous shoe designer. You can visit the historic Boboli gardens at a meager distance of 900 m from the hotel if you are someone who enjoys lush green outdoor places then.
Ideally, all of these factors make it one of the best hotels in Florence, Italy! We hope you have fun.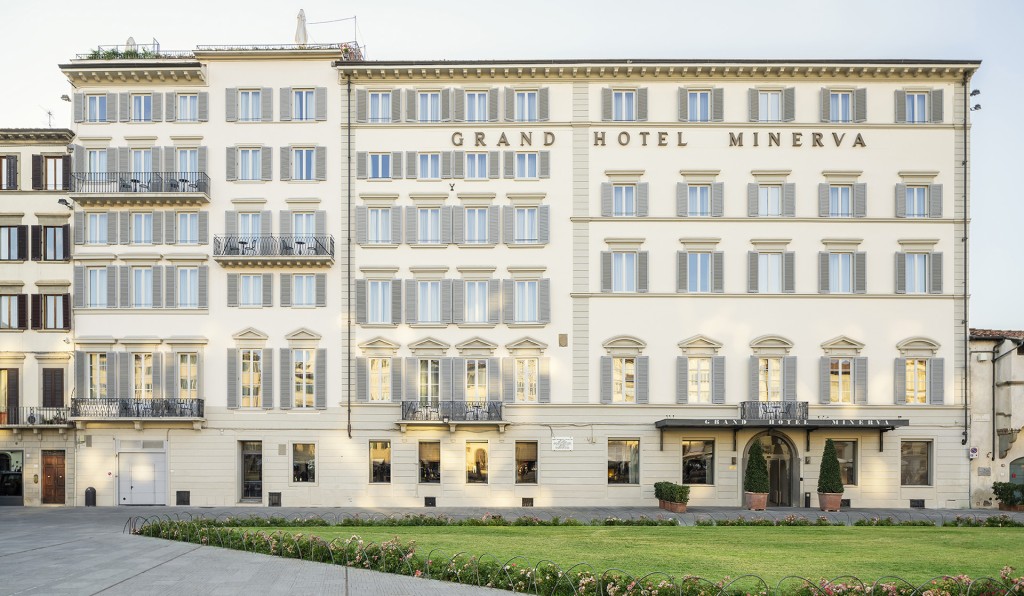 Next up on our list is The Grand Hotel Minerva. If you are willing to enjoy a wholesome experience of luxury and unmatched convenience with your family, you should be heading to Grand Hotel Minerva located at Piazza Santa Maria Novella 16, Santa Maria Novella. If you are someone who prioritizes family comfort over other aspects, this hotel is going to complement your vacation goals. Based in the heart of Florence and just 500 m away from the Cathedral, the hotel offers many amenities including rooftop swimming pools, Spa lounges, and entertainment rooms for the younger ones.
There are different types of rooms available according to the preferences of the guests. These types include a Premium Twin room, Premium View room, Deluxe Double room, Romantic Double room, Romantic Junior suite, Suite with Frescoes, and Executive Family rooms. The rental for a twin room starts at $190 whereas the family suite costs around $540 per night. No matter what room you select, you will be entitled to a complimentary breakfast which is a variety of Italian, Vegetarian, Gluten-free, American, and Buffet cuisines.
If you are looking for an inclusive family vacation, this hotel could be your choice due to the range of activities offered for families. You can avail the bike tours for exploring the city with your family and also get a walking tour for an additional charge. Babysitting services are also offered on-site allowing a couple to enjoy time to themselves. Couples can engage in the luxurious and comforting couple massages offered at the hotel's spa or visit the fitness center for some exercise.
You can also enjoy a stroll at nearby attractions such as Piazza del Duomo di Firenze, a historical square frequented by visitors around the globe. In addition to that, if you want to learn more about the historic aspects of Florence, you can visit Bargello National Museum, a former prison turned into a historic museum with your family to enjoy the historic eccentricities of Florence.
Some of the unique aspects we noticed about this resort is that it is pet-friendly, offers better accessibility to elders and toddlers, and offers pick-and-drop from the airport as well.
Overall, we recommend this property for an amazing stay with your family in the heart of Florence. With a spectacular architecture as well as the immense level of comfort offered, you'll surely like it!
If you are a couple looking for an authentic historic place to enhance your vacation goals or celebrate a wedding, Art Hotel Villa Agape located at Torre Del Gallo 8-10, 50125 Florence should be amongst the top considerations. The building of the hotel gives off a rustic and robust vibe reminiscent of the rich history of Florence. The hotel was a former residence of the Duchess of Anna D'Orleans. Surrounded by a gigantic park in a sprawling area of 8 hectares, the hotel is a pleasing sight for the history and nature lovers visiting Florence.
What we love about this hotel is the conservation of the rustic and archaic feel of the building without tampering with the comfort of the guests. You'll see yourself closer to nature with lush greenery and flowers spread all across the resort.
The rooms have been facilitated with various modern amenities such as Wi-Fi, ensuite bathrooms, TVs with satellite channels, electric kettles, and designated wardrobes for the guests. The types of rooms offered at the property include a Small Double room, Double room Annex, Standard Double, Superior Double, Junior suite, and Superior Single as well. The price of the small double room starts from $120 whereas the highest-priced junior suite is priced at $150 making it one of the best budget-friendly resort picks in Florence. Rooms are Moreover, the hotel also offers a Bridal Suite if you plan on having a wedding at this lovely location!
We are recommending this hotel as a couple-friendly spot due to the variety of activities suited for sending time with your partner. You can enjoy bike cycling through the picturesque city of Florence at an additional charge. Moreover, you can take part in an authentic Tuscanian cooking class with your partner. To flare up your romantic plans, the hotel offers to arrange for theme-based dinner nights which are guaranteed to enhance your vacation moments. Moreover, you can also enjoy taking guided walking tours throughout the city at your convenience. All these activities are surely going to enhance your experience. Couples can also enjoy a fun yoga session with each other which helps keep their fitness goals in check!
Related: Top 10 Hotels in Positano Italy With A Scenic View
You can enjoy the majestic and romantic garden of Giardino Delle Rose. The garden has a lot to offer in terms of the incomparable natural beauty of lush green spaces with beautiful flowers, statues, and fountains.
One can also have a tantalizing meal at Trattoria Omero, a famous restaurant located 10 min drive from the city of Florence. The restaurant is built uphill which helps the guests enjoy a spectacular view of Florence in a serene environment. Amongst its specialties, pear with goat cheese, Picci with rabbit, Sweet Boar Stew, and Florentine steaks have been ranked the highest by visitors.
The hotel is a favorite amongst visitors due to its cozy rooms, dedicated staff, and delish breakfast coupled with an ideal location. If you are keen to enjoy a romantic getaway with your partner, we recommend this hotel on our best resorts in Florence for couples.
If you are a traveler tied on a budget, you can consider this tiny hotel located at Viale Dei Mille, 6, Campo Di Marte, Florence. Enjoy a comfortable living facility without breaking the bank! The property is situated in the quiet streets of Florence a bit distant from the city Centre for travelers who enjoy privacy and look for serenity in their travel experiences. There is a connection between the hotel and historic centers making it a hard-to-miss opportunity for art and music lovers.
The rooms are quite spacious despite being moderate in their pricing. Every room is decorated with ethnic and modern furniture which adds to the excitement of the guests. The hotel offers Superior Double Room, Classic Double Room, and Deluxe Double Room. The average rental for the classic double room starts from $75 and goes up to $90 for the deluxe double room. The rooms are generously spaced and offer all basic amenities such as TVs, Refrigerators, Air-conditioning, and Wardrobe spaces. Despite being moderately priced the hotel does not offer any fewer amenities which makes it an ideal stay place in Florence for travelers on a budget.
If you are interested in experiencing a majestic view of the enchanting city of Renaissance then your go-to destination should be Piazzale Michelangelo, situated just 2 kilometers away from the hotel. The square offers an incredible view of the city which is surely going to amuse you! You can also visit Bar Ristorante Stadio in the locality if you are an avid seafood lover. Apart from seafood, the restaurant is known to serve some excellent kinds of pasta especially "Cozze e pecorino" which is a treat not to be missed! The Uffizi gallery is also 2 kilometers away from the property.
Our traveler's reviews suggest the staff of the hotel to be committed and friendly whereas the rooms were praised for their spaciousness, cleanliness, and facilitation on the whole.
Recommended Reading: 12 Italian Restaurants You Should Visit in Laguna Beach
Things to Consider Before Choosing a Resort in Florence.
Following are a few important aspects one should consider before picking a hotel or resort in Florence, Italy.
Look for Relevant Activities — Whether you are visiting a resort for a family vacation or an exclusive couple trip the activities present on the property should be in your interest. You don't want to waste your holidays on activities that do not suit you and your accompaniers. Every property has facilities that can add to your experience. For example places like Art Hotel Villa, agape offers on-site activities suited for a couple to enhance their vacation.
Value Your Comfort — Travelers need to understand the threshold of discomfort they can tolerate while on vacation. If you are looking for a relaxing vacation, the comfort at the property is an important aspect to keep in mind. Our recommended list contains hotels that have provided exceptional comfort to the guests. For instance, The Palazzo Lombardo is especially known for its super comfortable beds. Don't let an unworthy experience drain your vacation energy and spoil your mood!
Understand The Weather — You need to keep your vacation plans in line with the weather conditions. Florence has the hottest month July when the temperature soars to 25 degrees Celsius and the coldest in January with an average temperature of 7 Degrees Celsius. The best months to visit Florence are between May and September since all the outdoor activities are in full swing due to optimal weather conditions.
Planning the Right Budget — Choosing the right budget for your travel plans is incredibly important. Typically in Florence, the minimum Rental value of a hotel room starts from near about $70 and goes up to $20,000 as much luxurious as it becomes. The budget is subject to your preferences, family size, and planned activities. However, setting a minimum budget of $1000 per traveler is necessary while planning a 7-day holiday in Florence.
How Do We Pick Our Recommendations?
We are committed to provide authentic feedback of certified travelers to guide our readers in the best possible manner. Our recommendations are handpicked through self-experience as well as information provided to us by other travelers. This helps in a more validated output that makes it more realistic and accurate for the readers. When evaluating the different types of resorts in Florence, we evaluated different aspects about customer satisfaction, the reputation of services, and hotel's location to help customers find their perfect vacation dream!
Final Thoughts!
Florence is a historic paradise due to its ancient history and relevance with the Renaissance period. The city is home to beautiful landscapes offering a beautiful insight into the cultural and historical landmarks of the world. Our list of resorts and hotels in Florence is surely going to help you plan your vacations in the heart of Florence!
Resorts in Florence - FAQs
What is the best time to visit Florence?
The best time to Visit Florence is between May and September due to moderate weather situations and temperatures ranging from 18 degrees Celsius to 32 degrees Celsius.
What are the best family resorts in Florence?
The best family resorts of Florence include Four Seasons, Italiana Florence resort, and Grand Hotel Minerva as they offer maximum comfort, Family Suites, and a range of family activities as well.
What is the cheapest resort in Florence, Italy?
Palazzo Lombardo Affittacamere is one of the cheapest resorts in Italy where the prices begin from $70 a night.