Bainbridge Island is located only a short ferry ride from the heart of downtown Seattle in Washington. There are a bunch of amazing activities to indulge in on Bainbridge Island if you're looking for a quick getaway from the city to kick back and loosen up. Grand forests that stay true to their name, breathtaking sunsets across the water, and 150-acre public reserves are all good excuses for a more extended trip.
With our guide to the best things to do on Bainbridge Island, you can find your own piece of island paradise. And if you're looking for lively vibes, check out our list of 10 fun things to do in Rehoboth.
Fun-Filled Things to Do at Bainbridge Island
On Bainbridge Island, there are many activities you can go for, whether your interests are shopping, outdoor entertainment, or even arts. Here is a list of our top picks for fun things to do at Bainbridge Island.
Browse through the Bainbridge Island Museum of Art
View Website
Get Directions
PERFECT FOR: Exploring the Art of Bainbridge Island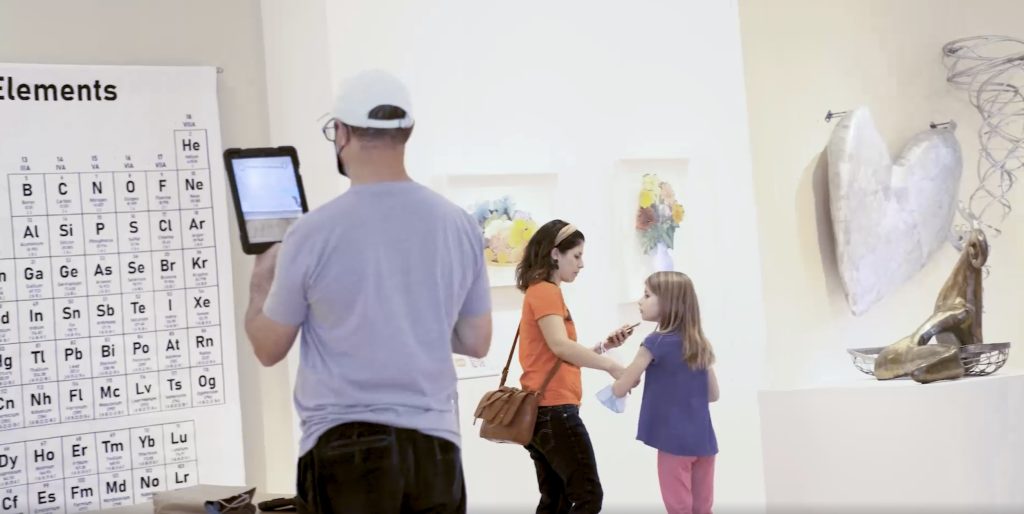 The Bainbridge Island Museum of Art is a modern and contemporary art gallery renowned for its changing exhibits. The majority of the modern art on display in this museum is created locally. You will adore these exhibits if you have any interest in art or a keen eye for contemporary art. Check out their book room and take a stroll down the hallways to find more art.
There is no entrance fee for the public to enjoy its repository. The museum offers something different to see on each visit because its exhibitions are regularly changed. Therefore, if you're interested in finding out which artists will be featured, visit their website beforehand. The two art floors should take 30 to 60 minutes to explore. This museum hosts a variety of exhibitions and events, so be sure to also look at the website for upcoming activities. The museum itself also offers wireless internet services.
You can also plan your visit during lunchtime to enjoy a great meal at the restaurant of the museum. There is also a store next to the museum where a variety of goods are sold, including jewelry, items for the home, artwork, books, etc. This store is open to its visitors every day from 10 am to 5 pm. We recommend buying some souvenirs to always keep you reminded of this great museum.
Pro Tip — The museum offers timed tickets only which you must reserve online in advance. Limited slots are available so be sure to get yours soon, based on your schedule.
Both camping and hiking are things travelers usually enjoy. Fay Bainbridge Park is located 7 miles north of the ferry terminal. Visitors can enjoy views of Mount Baker, Mount Rainier, and the Cascade Mountains from Fay Bainbridge Park. However, if you're up for an adventure, you can also camp out on the beach for the night. This park also offers tent sites, RV sites, and cabins for camping.
Anyone who wants to avoid camping out can just spend two hours here. There is a fantastic playground, as well as numerous picnic tables and shelters. Among the additional park amenities are a boat launch, flushing toilets, a sandpit, and a fun play area as well. There is a designated watercraft storage area for those using the Cascadia Marine Trail. You can also observe shellfish harvesting and have a picnic in a covered or open area at Fay Bainbridge Park. The abundance of shells on this beach adds to its beauty. Collect them as a souvenir!
Pro Tip — Reservations must be booked at least 10 days in advance so that you can enjoy them without any hindrance or prolonged waiting.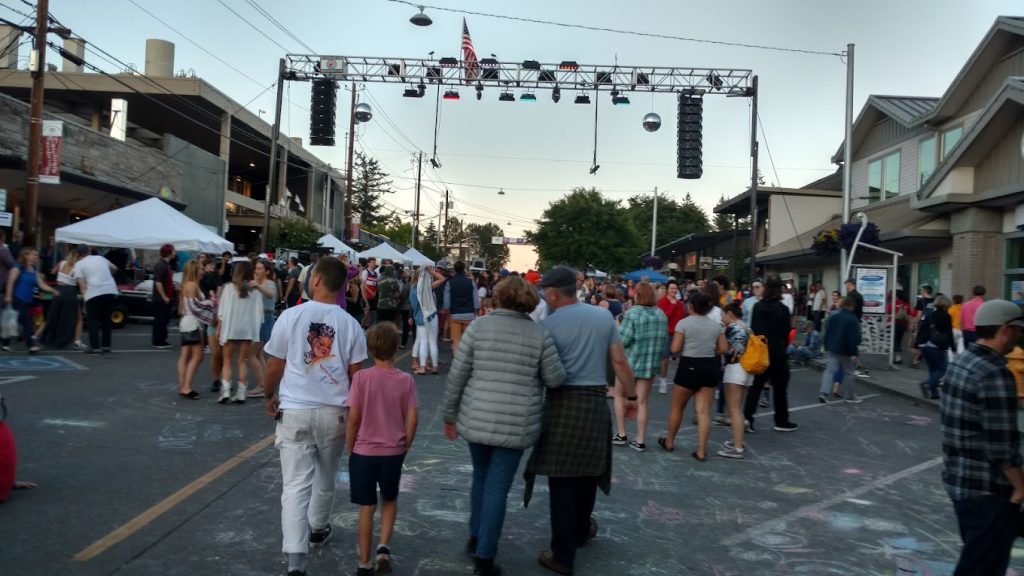 The downtown area of Bainbridge Island is only a mile away from the ferry terminal. One of the 13 Washington State Historic Main Streets that have received a national award is the downtown area. Some of the shops you must visit include Backstreet Beat (for books and CDs), Millstream (a local gift shop), and Bainbridge Apothecary and tea shop (for teas and herbal medicines).
People wandering in and out of the stores create a lively Saturday afternoon atmosphere along this main shopping and dining street. Benches provide a place for the visitors to sit and enjoy people-watching while possibly enjoying a cup of coffee and a bagel.
The best part about this place is that you don't really need a high budget. With a variety of shops and activities, you always have flexibility in spending. The downtown shops are a good place to visit on Bainbridge island, particularly if you are with a group.
It is very feasible to visit Downtown Shops at Bainbridge Island for just an afternoon because you can walk there from the ferry. You could go shopping, eat lunch, and return home. Of course, if you have some more time to stay, Bainbridge Island has a lot more to offer!
Similar Read: 8 Fascinating Things To Do In Southern Minnesota
The 150-acre Bloedel Reserve is home to a beautiful blend of the outdoors and landscaped areas. It was once owned by Virginia and Prentice Bloedel, who benefited from the area's timber industry and spent more than 30 years cultivating the picturesque landscape that is still visible today.
In 1988, the Bloedel Reserve, a public garden and forest reserve, opened to the public. Today, anyone can come to wander the grounds and take in the breathtaking natural beauty for a small charge of admission. Less than two miles from the Agate Pass Bridge, it is situated on the far northeastern tip of the island.
A two-mile dirt trail that forms a significant loop around the property is the most popular path for exploration. Along this route, visitors will come across open meadows, shaded forests, and thriving wetlands. You can also expect to see wildlife, such as barred owls, that like to blend into their surroundings.
There are 14 different landscapes to admire at this reserve, so it would be best to spend at least two to three hours there. No food or beverages are allowed in the reserve to avoid messing with the landscapes. Besides, pets are also not permitted here. However, photography and cameras are always welcome.
We recommend spending around 2 hours at this place to fully explore it, have a snack, and enjoy the heart-captivating views.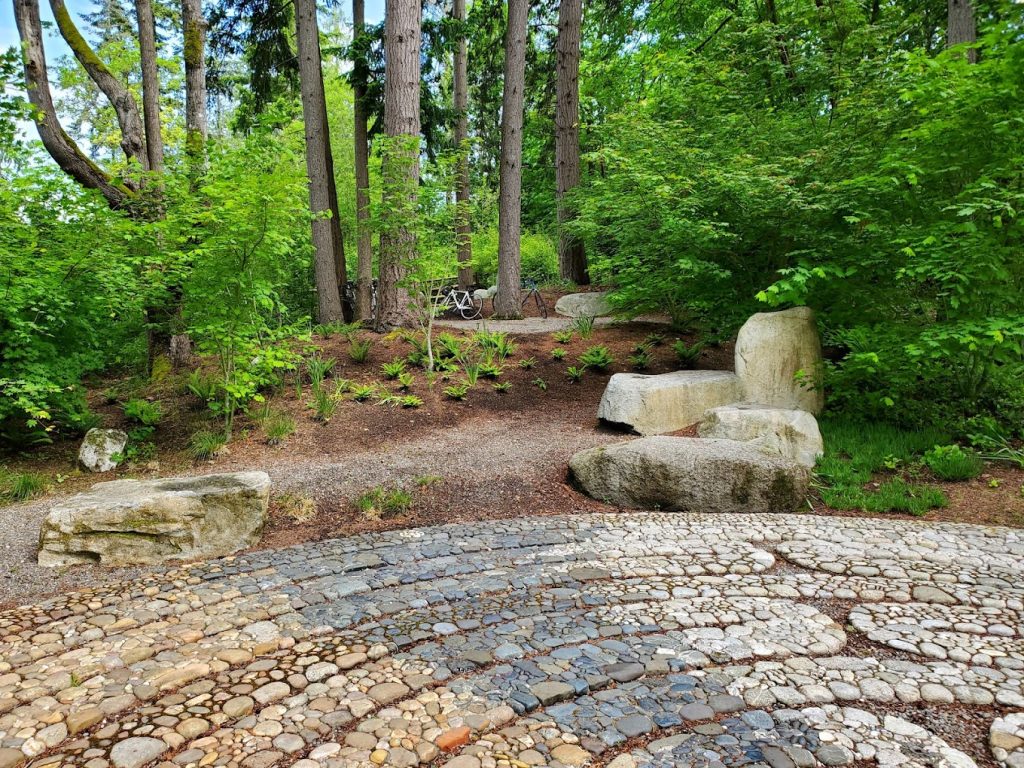 If you're looking for a peaceful moment of reflection at Bainbridge Island during the day, visit Hall's Hill Lookout and Labyrinth on the island's south side. The Bainbridge Island Park Foundation owns and maintains the location, and it is open all year long from dawn until dusk. This modest public area has a view of Blakely Harbor, landscaped walking trails, benches, and a stone mosaic labyrinth created by a garden architect from Portland.
Visitors are requested to be quiet and respectful while they are here. Consider carefully walking through the stone labyrinth step by step if you want to have a pleasant experience. Keep in mind that there is less parking at the park. Bringing a car along is not a good option.
Come here for a meditation session if you enjoy yoga and peaceful vibes. When you enter the picturesque park, a feeling of peace and calm will overtake you. It is the ideal location for connecting with your inner self. The lookout's peace is further enhanced by its nearness to the ocean, which offers visitors a meditative setting in which to relax and enjoy.
Keep in mind that there aren't any restaurants close by. The nearest spot is Harbour Public House almost 1.9 miles from Hall's Hill Lookout and Labyrinth.
Pro Tip — The labyrinth can be easily missed, especially if there are cars parked in front of it and signs in front of it. Locate a gravel pull-out to get to the labyrinth.
The Harbour Public House is a well-known bar and restaurant with waterfront views. Due to the lovely view of the marina and the excellent food served here, it is one of Bainbridge Island's most well-known eateries. This restaurant should be on your list of things to do in Bainbridge Island because it is actually a historic building that has been renovated recently.
Each week, they host a number of special dining occasions, such as an English-style Sunday roast. A number of regional seafood dishes, mouthwatering burgers, and a variety of bar food and appetizers like tuna and oyster sliders, fried calamari, quesadillas, hummus with veggies, and nachos are among the menu's highlights. According to our evaluation, the must-try food items are the deep-fried oysters, fish tacos, and fried calamari because they are top-notch, tasty, and cooked to perfection!
Battle Point Park is located between Battle Point Drive and Arrow Point Drive, with Frey Avenue forming the northern boundary. The main and East entrances of the park are situated on Arrow Point, and the third entrance is located on Battle Point Drive. It has a 90.3-acre footprint and served as a naval radio station. Currently, a 1.6-mile pathway connects the park's numerous tourist attractions and activities.
There is a lot of space in the park. Battle Point has two ponds, soccer fields, a jogging trail, a horse area, three softball fields, two tennis courts, a basketball court, a large play structure for kids, a roller hockey rink, a disc golf course, a garden area, a maintenance shop, and offices for the park district. Ideally, this makes it an ideal place for anybody since it offers a diverse range of activities.
The Kids Up — The Next Generation of Play playground is one of the most well-liked attractions. This unusual play structure offers much more than the typical monkey bars and slides. There is many themed climbing and exploring features on it, such as orca whales, octopuses, and a 47-foot-long ferry.
The kids can play by the pond while you and your family can go biking on the trails. If you have a pet, such as a dog, you can also play fetch in this park. All of this makes it great for family picnics.
Blackbird Bakery is a Bainbridge Island treasure and a popular hangout for both locals and tourists. A family-run bakery and coffee shop, Blackbird Bakery serves seriously delicious coffee from the Herkimer Coffee Roasting Company, renowned for its ethical and sustainable business practices.
Delicious treats like croissants, pies, meringues, and seasonal cakes are offered on the menu. They also provide a small lunch menu that is entirely vegetarian and features soups, frittata, flatbreads, and scrumptious tarts if you're looking for a heartier meal. Can't decide because there are so many tempting options? Nearly everyone who tries the toast and jam gives it great reviews, and their potato quiche is outstanding.
This is the ideal starting point for your adventure if you are arriving on the island in the morning and you want a great snack towards the beginning of your trip. It should also be your last stop before boarding the ferry if you want to take home something from the bakery.
Also Read: Top 10 Things To Do On Your Day Trips From San Francisco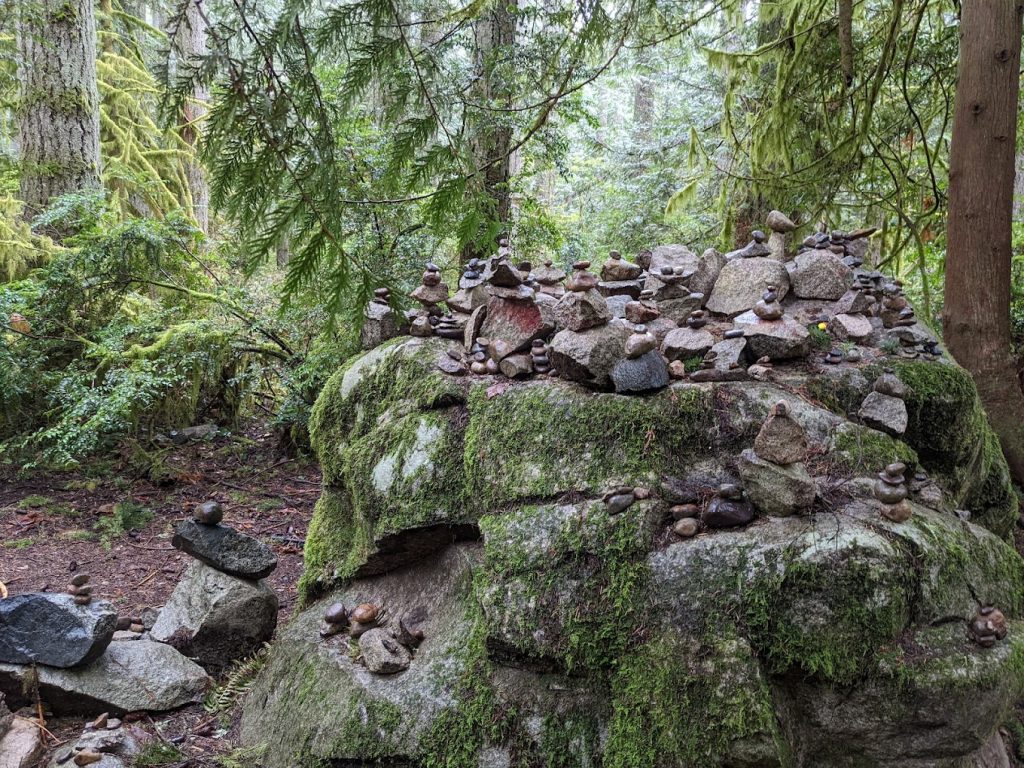 The Grand Forest is the best place on Bainbridge Island to go hiking. The Grand Forest East and The Grand Forest West are the two most visited points. There are roughly 3 miles of trails in Grand Forest East and Grand Forest West along with a 0.7-mile Hilltop Trail that links the two. Both parcels feature a beautiful green, second-growth forest that gives the impression of being far from civilization.
Grand Forest west connects to the one-mile Forest to Sky Trail, which leads to Battle Point Park for longer hikes. Grand Forest North is another worthwhile location to explore with a less-than-mile-long hiking route. The forest offers exotic views of cedars, maples, and a few giant conifers making it one of the most Instagrammable spots on Bainbridge Island!
Family picnics are a great deal of fun in this forest, especially with all the public picnic tables that are available. Have your walking shoes on before you arrive because the trails are so lovely! Keep in mind that restrooms are not present here. Hiking at the Grand Forest is one of the most popular activities for tourists in Bainbridge Island if you want to spend time with your family while being surrounded by lush greenery.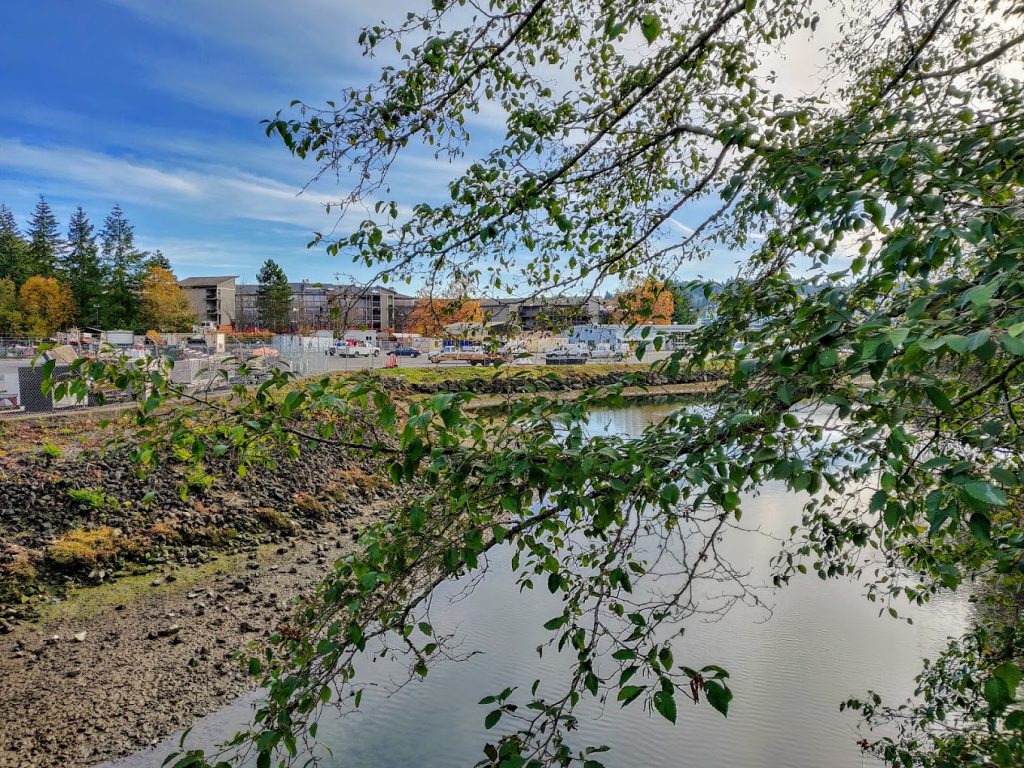 Waterfront Park (5.5 acres), located off Brien Drive in Eagle Harbor, is only open during the day. It is a well-known hub for both civic and social gatherings. Summer performances, picnics, yearly festivals, special events, and musical performances are held in the park.
There is a children's play area and a relaxing outdoor area where you can sit back and have fun. Restaurants and retail establishments surround the park in Bainbridge Downtown. The year-round open City Dock is located 900 feet south of Waterfront Park. Guests can park their boats at the dock on a first-come, first-served basis.
Visit the Eagle Harbor Waterfront for some workouts and nature. You can unwind in the shade of giant trees, take in the views of the water, or choose to go on one of their walking trails here. Both the east and west loops are 1.5 miles long. Depending on how quickly you walk, both trails take about an hour.
With social gatherings, walks, and a whole lot of fun activities, it is a must-visit place on your trip to Bainbridge Island.
Editor's Pick: 10 Round-The-Clock Things You Should Do On Your Trip To SoHo
Things To Consider When Going To Bainbridge Island
To make sure you have the best trip to Bainbridge Island, keep the following things in mind.
Length of The Trip — The length of your trip should be the first thing you decide. Do you only have a day or are you coming for a longer stay? The more time you have, the more options you will have for where to go in Bainbridge Island. This will enable you to travel to more distant locations as opposed to close-to-hotel ones. You might be able to take a trip with multiple destinations if you have enough time.
Timing and Schedule — Most of the places listed above are to be visited during the daytime if you want to admire their beauty of them and enjoy the amazing views. Waterfront Park and City Dock, Grand Forest, and Fay Bainbridge Park are places that are open during the day. You can visit these places first and then roam around Bainbridge Island for the rest of the day.
Mode of Transport — There are only two ways to get to Bainbridge Island: by car and by ferry. The one-way route is 10 miles it will take 57 minutes to drive from Seattle, Washington, to Bainbridge Island using WA-305. Washington State Ferry is a company providing ferry service. The journey takes about 35 minutes and begins at the waterfront in Seattle. You can get the return ticket from Seattle. Most of the places at Bainbridge Island do not allocate parking lots. This means that you will be facing a slight difficulty when you travel by car.
How We Pick Our Recommendations?
When we pick out recommendations, we select a variety of options so that people with different interests can easily get to know about an ideal spot to visit. Our recommendations are highly dependent upon personal experience. However, we make sure that we also take into account the opinion of other travelers to ensure that precise and authentic information is conveyed to the end users. Also, check out our recommendations for things to do in Beacon, Ojai, and Buckhead.
Best of Luck!
What are you waiting for? Seattle is only a ferry ride away from Bainbridge Island. Bainbridge Island ought to be your next vacation destination because there are so many activities, sights to see, and hiking trails. Bainbridge Island offers a charming setting with picturesque harbors, extended coastal views, and peaceful country roads where you can explore stores, galleries, museums, and gardens. Budget-conscious visitors to Seattle can also include this trip in their places to visit because a large portion of Bainbridge Island is accessible for free or at a low cost. Save this list of fun things to do in Bainbridge Island because it will be very useful when you do plan your vacation.
Things to do at Bainbridge Island - FAQs
What are some of the best things to do at Bainbridge Island?
Some of the best things to do at Bainbridge Island include visiting the Fay Bainbridge Park, Downtown Shops, and meditating at the Hall's Hill Lookout and Labyrinth.
How big is Bainbridge Island?
The total area of Bainbridge Island is 168.6 km².
Are there any kids activities at Bainbridge Island?
Yes, there are many activities for kids at Bainbridge Island including visiting the Waterfront Park & City Dock, Eating a snack from Blackbird Bakery and visiting the Fay Bainbridge Park.