Visiting Virginia Beach any time soon? Or are you already there? Whatever the case is, we are happy you get to enjoy a beachy outdoor trip! We know that nothing will be better than a tasty, unique breakfast to kick off your busy adventure in the city. Therefore today, to help you get the best breakfast in Virginia Beach, we are going to list a handful of them. 
20 Best Breakfast In Virginia Beach
There are some amazing breakfast places you can head over to for an innovative and budget-friendly breakfast that will satisfy your tastebuds for sure! You can have a look at all of them below. 
The Bee and the Biscuit
One of the best parts about this place is that they have a scenic waiting area for customers who have to wait during busy hours. 
Cooked with fresh and natural ingredients, the breakfast menu includes plentiful Entrees, such as "El Wrapo Breakfast Burrito served with Country Potatoes." Meanwhile, The Bee and the Biscuit also serves innovative Benedicts and Omelets for breakfast, like the "Cowboy Benedict " and "Chorizo Omelet " which will be an absolute treat to your taste buds.
The restaurant has a super nice staff, with quick service and a cozy environment which will give you the feeling of your grandmother's house.
Bay Local
Located close to the shore, Bay Local is an excellent breakfast place in Virginia Beach.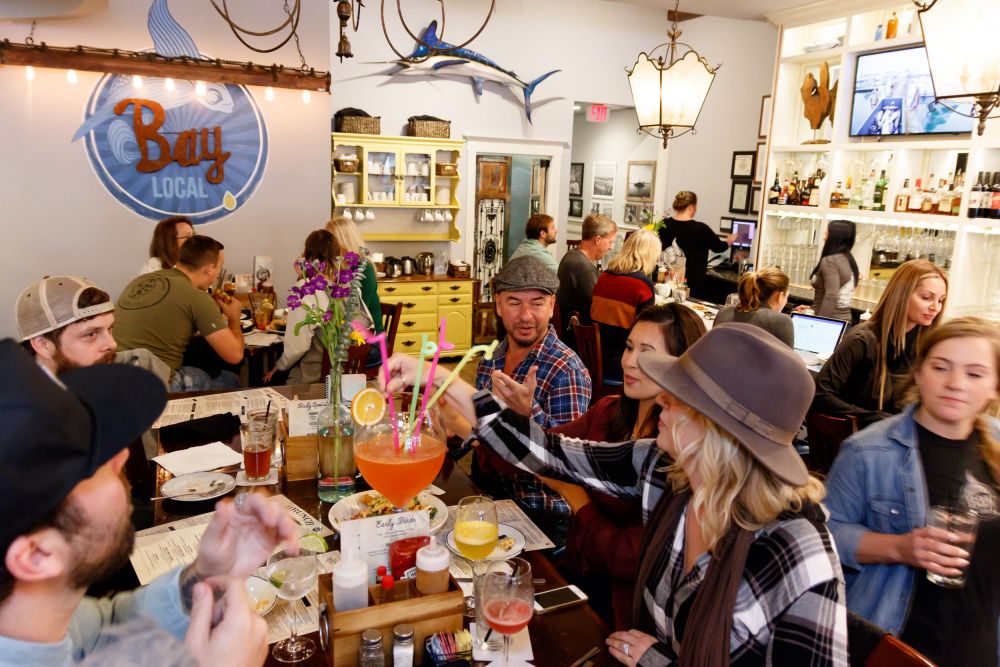 They have an extensive breakfast menu that includes delicious items, like the "Breakfast Burrito" which is stuffed with flavorful meat, eggs, and fresh potatoes with a yummy cheese sauce topping! Sounds like a perfect breakfast item to us. 
A few other items you can try here for breakfast would be, "Blueberry Waffles" and "Sausage Biscuits." They serve food in enormous portions which will fulfill your appetite nicely. And yes, the presentation is always on point!
Moreover, at Bay Local, you will be welcomed by friendly and accommodating staff who are ready to help you out in any part of your visit. 
Pocahontas Pancake House
If you love having pancakes for breakfast, this restaurant is for you! The Pocahontas Pancake House serves really delicious pancakes that are light and fluffy.
With a central location on the oceanfront of Virginia Beach, you will enjoy a family-friendly atmosphere with a relaxing view while you munch on a tasty breakfast.
This Virginia Beach breakfast place has unique pancake flavors, such as "Three Pigs in a Blanket", "Silver Dollar Pancakes", and "Blueberry or Strawberry Pancakes" which will leave you coming back for more!
Furthermore, The Pocahontas Pancake House has Gluten-free pancakes as well. Therefore, everybody can enjoy these awesome pancakes for breakfast. Besides, the menu also includes Waffles, French Toast, Eggs, Breakfast Sandwiches, and basically everything you can have for breakfast.
Village Inn
Serving delectable breakfast for the past 60 years, Village Inn has earned a name for itself as one of the best breakfast restaurants Virginia Beach has to offer.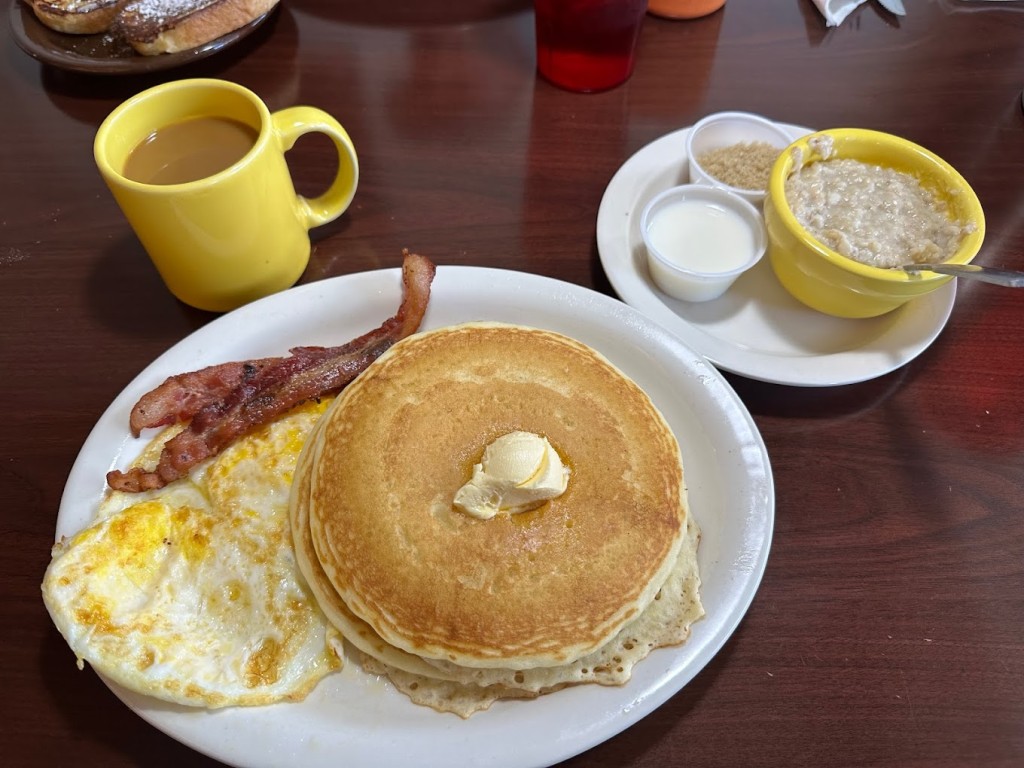 Their Signature Skillets are a must-have if you decide to give this place a try. Oh, and do not forget to order their made-from-scratch buttermilk pancakes and crepes. You will thank us later for sure!
Plus, you can even order a customized omelet for breakfast in which you can add your favorite ingredients to the three-egg omelet. It will make you feel at home.
Village Inn has reasonable prices and serves large enough portions to fulfill your hunger for the day, something that makes it one of the best places for breakfast in Virginia Beach. 
Zeke's Beans and Bowls
Another superb breakfast place you can try during your trip to Virginia Beach. Zeke's Beans and Bowls have vegan-friendly and gluten-free dish options, so go here if you fall in either of the categories.
Zeke's Beans and Bowls have vegan-friendly and gluten-free dish options, so go here if you fall in either of the categories.
The BYO Acai Bowl is an interesting dish where you choose a base of acai or peanut butter acai. It is then followed by a granola topping and any other toppings of your choice from almond, banana, strawberry, blueberry, kiwi, and more. You have to select any 3 toppings from the list to enjoy a customized Acai bowl.
In addition, they have pokes, salads, pitas, groms, and smoothies on the breakfast menu. This place is known for healthy food that is flavorful at the same time for the perfect mix.
Duck Donuts
Donuts are the ideal breakfast for all the donut-lovers out there, and there are no Donuts better than these.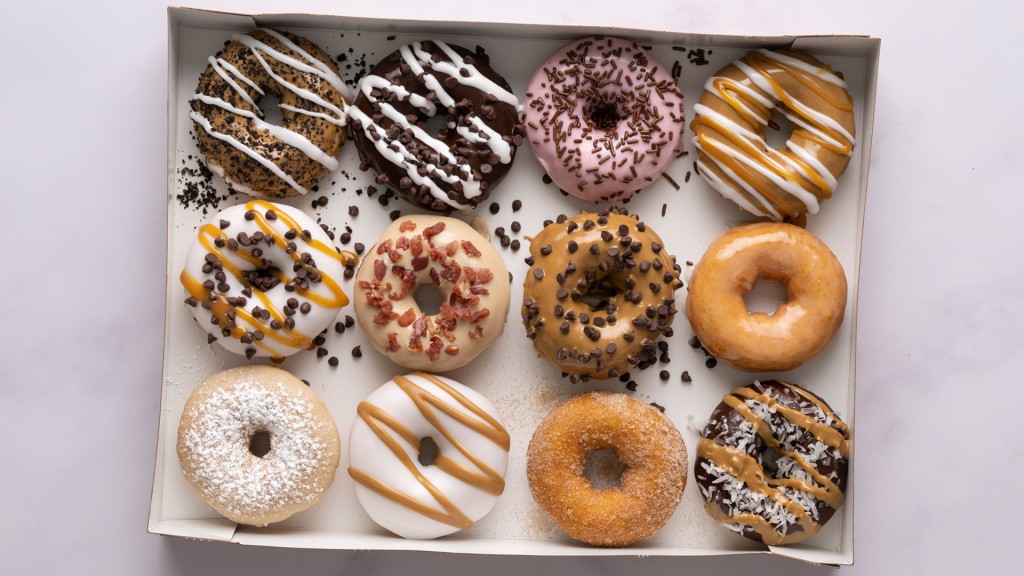 Duck Donuts serve piping hot donuts topped with your favorite toppings, like rainbows and chocolate, graham cracker crumbs, chopped peanuts, and a lot more.
The best part about this place is that you can get a donut made perfectly according to your liking by selecting the coating, topping, and drizzle to go with your donut.
Here, you can get your hands on the most interesting donut flavors, for instance, "Beach Ball", "Blueberry Lemonade", "Bacon in the Sun", "Maple Bacon" and the list goes on. Once you have the first bite of your favorite donut, you will be tempted to try all of its distinct flavors!
Apart from this, you can also enjoy ice cream, sandwiches, coffee, and lattes at this ideal breakfast spot in Virginia Beach.
Rick's Cafe
You will be lost choosing the items from the vast menu. Whichever item you choose, Rick's Cafe will not disappoint you in terms of freshness and portion size. 
Established in 1986, this restaurant has not stopped serving finger-licking food since then. The breakfast menu includes sandwiches, french toast, pancakes, salads, and breakfast platters that will serve you and your family.
This restaurant is loved by the locals of Virginia Beach for its hospitality, friendly staff, delicious food, and quick service. Therefore, we can say that it is one of the best breakfast places in Virginia beach.
Simple Eats
Friendly staff, well-decorated dining area, and quick service. Simple Eats will be an amazing pick for your breakfast at Virginia Beach.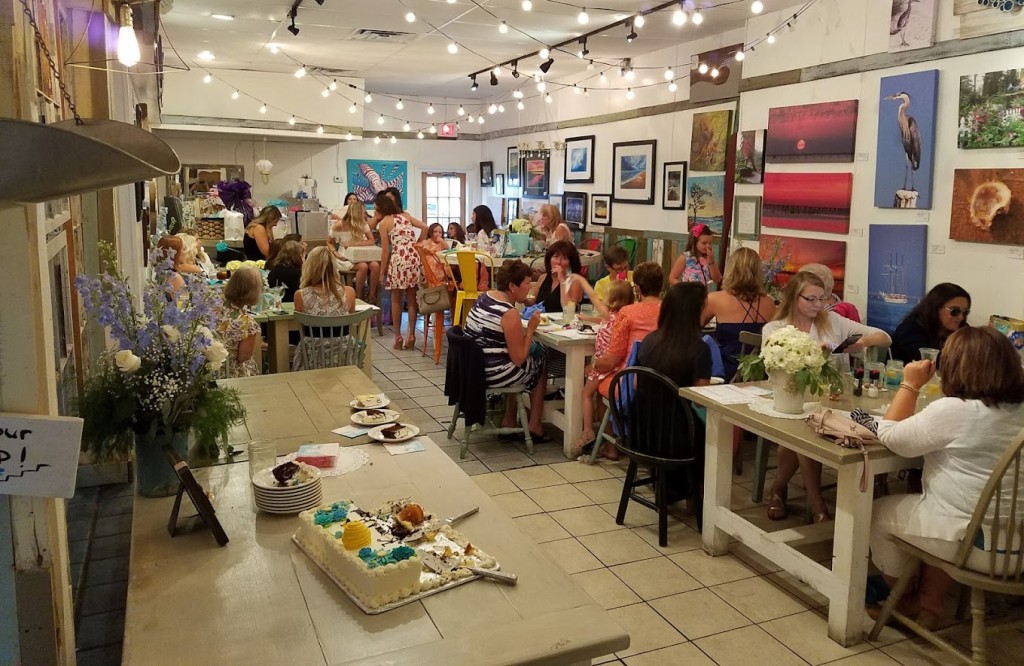 One of the most popular items on their menu is the Breakfast Burrito. Made with healthy farm eggs, bacon, sausage, cheddar cheese, flour tortilla, housemade salsa, and fresh fruits, this will be the total winner for your tastebuds.
They have yummy sandwiches, flatbreads, and nutritious salads for vegans! Simple Eats chooses fresh ingredients for all its dishes and serves plentiful quantities of every item.
Similar Read: Top 35 BEST Vegan Restaurants In Anaheim For You To Visit
Ray Ray's At The Mayflower
Once you have food here, it will be hard to forget the taste and ambiance. You will definitely keep coming back.
Located near the Virginia Beach Boardwalk, Ray Ray's is an underrated gem, serving flavorsome dishes, such as "Steak and Eggs', "Fried Chicken and Waffles", Bennies, Omelette, and a lot more. You will be surprised by the huge portions of dishes served.
In addition, you will not have to wait for long hours, and your food will be served fresh and quick.
Anchor Allie's
A classic breakfast menu is available throughout the day at Achor Allie's. 
Anchor Allie's is a friendly-family Virginia Beach restaurant where you can pick your favorite breakfast item from a large array of dishes. The menu selection is excellent, to be honest! It has "Smoked Salmon Bagel", "Bangor Bowl", and "Allie's Avocado Toast" as their special breakfast items! 
Those who have tried the food at Anchor Allie's talked about the place in positive words. A majority of the customers loved its Benedicts and Sandwiches. The place serves food in large portions to satisfy your cravings to the max!
Besides, Anchor Allie's has friendly staff who will guide you about any dish you want to know about! The environment is nice, with spacious seating arrangements so that the place does not feel crowded. 
Sunnyside Cafe and Restaurant
This American cafe is one of the best places in Virginia Beach. Facing the beach, this restaurant offers a pleasant sight of the beach.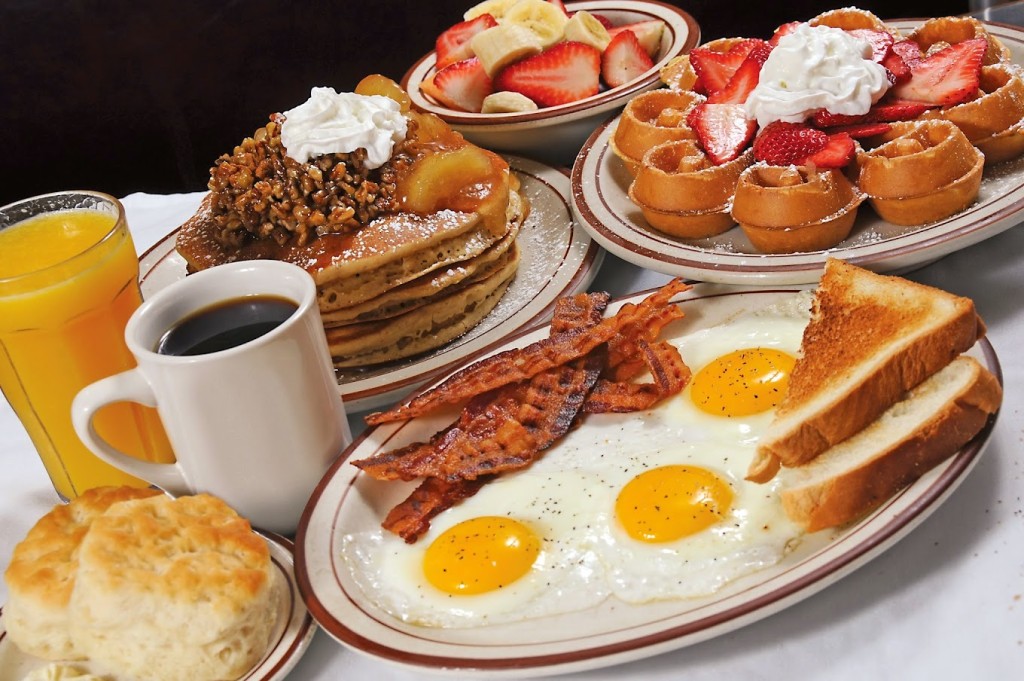 Sunnyside Cafe has a nice patio where you can sit down to chat with your friends and family while soaking in the nature around you. 
Coming to the menu, they have a great choice of food. The menu has all kinds of pancakes, waffles, eggs, meats, fruits, and drinks you could want for a healthy and delicious breakfast. The old-fashioned homemade french toast will feel like you made them at home, but filled with extra love!
Like all the other breakfast places, they have a friendly staff who will welcome you with open arms and guide you to the right seating place for your group. 
This cafe has Greek Yogurt Specialties, and it's the only place where you can enjoy authentic Greek yogurt, Fage. 
Another distinguished item you will find on the menu is "Breakfast Pizza". You can select any omelet from the menu and request it on a pizza crust to make a luscious breakfast meal.
Honey Bee Pancake House
If you want Gluten-free food, this is your spot for breakfast in Virginia Beach.
Honey Bee Pancake HouseHoney Bee Pancake House has Buckwheat Pancakes which are the real deal. The taste is so amazing, that you would want an unlimited stock of these pancakes.
Moreover, it is one of the few breakfasts buffets Virginia Beach has where you can enjoy luscious pancakes, waffles, eggs, biscuits, and meat items.
Your kids will love this place and it has a kid-friendly atmosphere. Therefore, if your gang consists of children, have breakfast here.
Waffle House
One more traditional breakfast place you can visit while you are at Virginia Beach. Present in 25 states, with more than 1900 functional restaurants, Waffle House serves top-notch breakfast.
They have a distinct flavor that you will not find anywhere else. It specializes in waffles, t-bone steaks, cheese and eggs, hash browns, pork chops, grits, and ham, all of which are provided in plentiful servings for your appetite.
What's more?
The staff is super helpful and they will be there for quick and efficient service. You will get extremely fresh food, no matter which item you order. The chef cooks everything from scratch for each customer so they can have the best experience at Waffle House.
The Bagel Baker
Bagels for breakfast sound nice enough! And yes, The Bagel Baker was voted as the Best Bagel Shop in Virginia Beach in the Virginian- Pilot's Best of Contest.
The best part about this place is that they make fresh dough every day for their bagels. You will get soft, fresh, and extremely delicious bagels for your breakfast
From bagels to breakfast sandwiches and salads, everything is made from natural ingredients. No additives, Powdered Eggs, Fats, or Preservatives are added in the making of their items. 
The cream cheese and lax in the New York-style Bagels have a unique flavor. They will leave a taste in your mouth you can hardly get over. Not only the bagels, but customers had good things to say about the eggs and sandwiches as well. 
Editor's Pick: How to check out of a Hotel? – The Complete Guide
Doc's Taylor Restaurant
You will enjoy a quick service in the best breakfast places in Virginia Beach. 
They have unique items, like "Curry's Irish Corned Beef Hash", "The Flatliner", "Breakfast Burrito", "The Pungos" and many more tasty items for you to try. You can also take help from the staff and get a dish according to your liking.
Also, the place has a parking area for your ease. The food will be made from scratch, according to your customized instructions so that you can indulge in the delicious experience with every bite.
The prices are reasonable and the quantity is sufficient for all the items. Once you visit the place, you will see that Doc's Taylor Restaurant does not compromise on quality and quantity. Everything will be perfectly cooked and seasoned.
The Egg Bistro
Here, the staff will serve you the best breakfast in Virginia Beach VA. Whatever you order, you will receive it fresh and within a few minutes! 
A plate of hot, juicy breakfast items such as Steak and Eggs, Carnitas Breakfast Burrito, Steak Bowl, and various flavorsome omelets made with natural ingredients are the things you will enjoy here.
You can even create your omelet and breakfast burrito with different meat options, veggies, and cheese to get a dish that you will love, exactly according to your food preferences. Thus, you will feel nostalgia for home with the taste.
You can also request gluten-free and vegan-friendly food options so that everybody can enjoy the food to the fullest.
Another fantastic thing is that you get to enjoy food in an ambient environment with a parking lot facility as well, where you can safely park your vehicle.
First Watch
Fresh, and innovative dishes for your breakfast.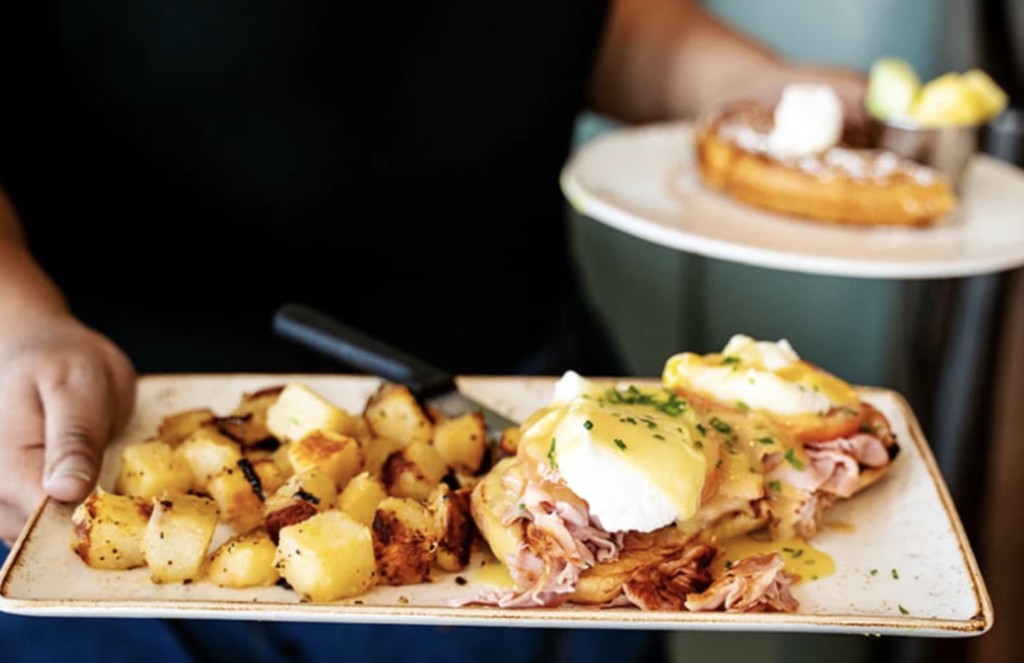 First WatchFirst Watch serves some of the best breakfast in Virginia Beach VA which you will definitely remember for a long time for its superior taste, and quality.
The restaurant has ample items on its menu. The Blueberry Muffin Top Griddle Cakes will be a true delight for your tastebuds. Apart from this, they also have "Trifecta", "Sunrise Granola Bowl", "Chickichanga", "Smoked Salmon Benedict" and so many more out-of-the-box dishes that you will love.
Furthermore, you won't regret spending your money at this place because the food will be worth it. The items are served with an awesome presentation and in a huge serving size that you can even share with others.
Everything from the staff to the environment will help you make happy memories of your time at Virginia Beach!
Conclusion
Now that you have learned about the best breakfast Virginia Beach has, we hope you have a great time wherever you choose to have your breakfast. You can also search up the place online to see what the customers are saying about its food and service to make an informed decision. Good luck and have a safe and joyous trip to Virginia Beach!