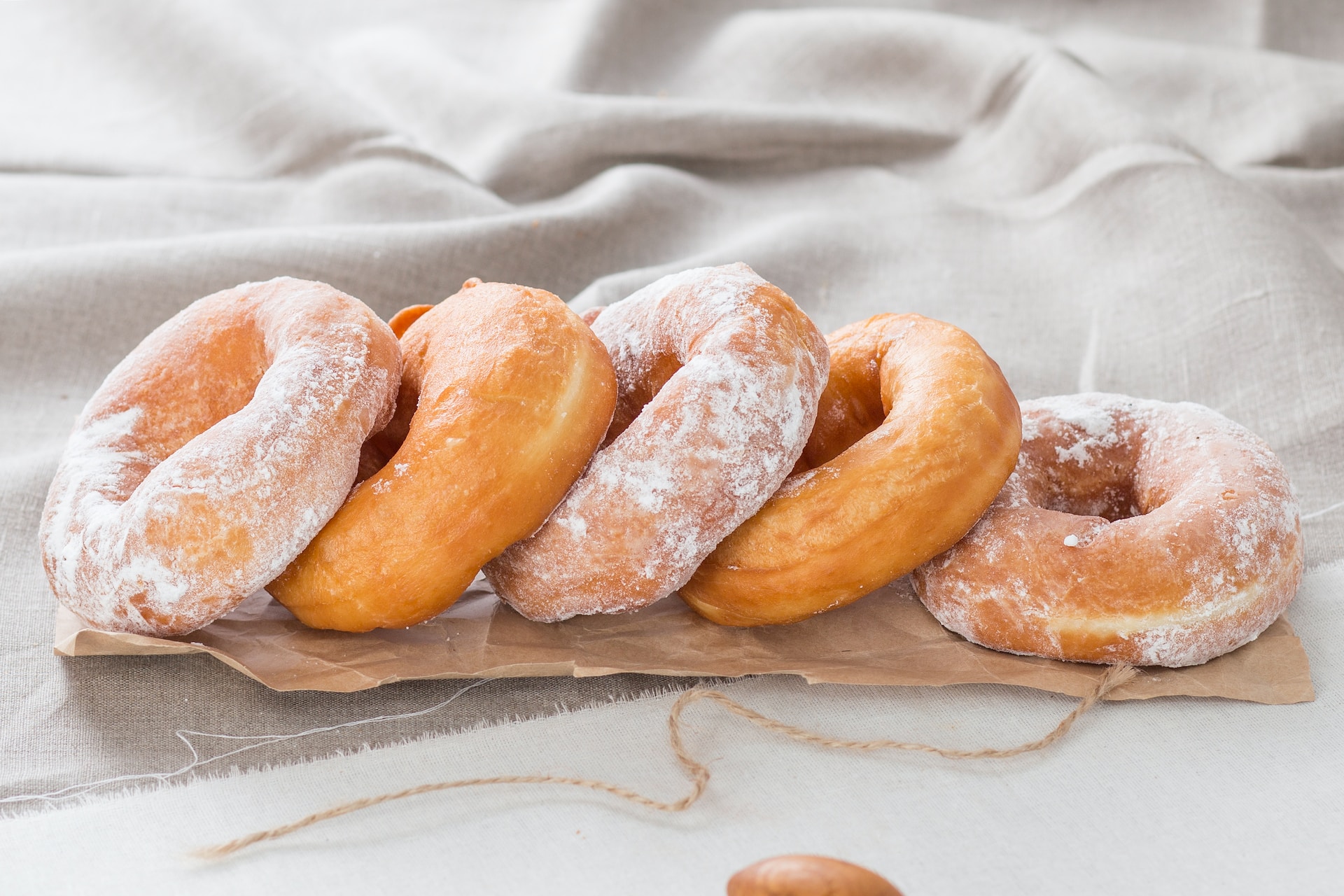 Going to Virginia for your next trip? And worried about missing out on your favorite local donuts for some time? Don't worry! Let us introduce you to some of the best donuts in Virginia that you should try out during your trip. Virginia is home to flavorsome and unique donut combinations which will keep you hooked from the first bite. Everything from texture to taste is spot on! So, let's find out all about these amazingly delicious donuts in this article.
Best Donuts in Virginia
Here is a list of the best donuts you can find in Virginia that will leave you coming back for more!
Texas Donuts
Located in Virginia VA, this is among the best donut shops in Virginia. You will get soft and creamy donuts full of gooey goodness. These southern-style donuts will melt in your mouth and leave a taste you will remember forever!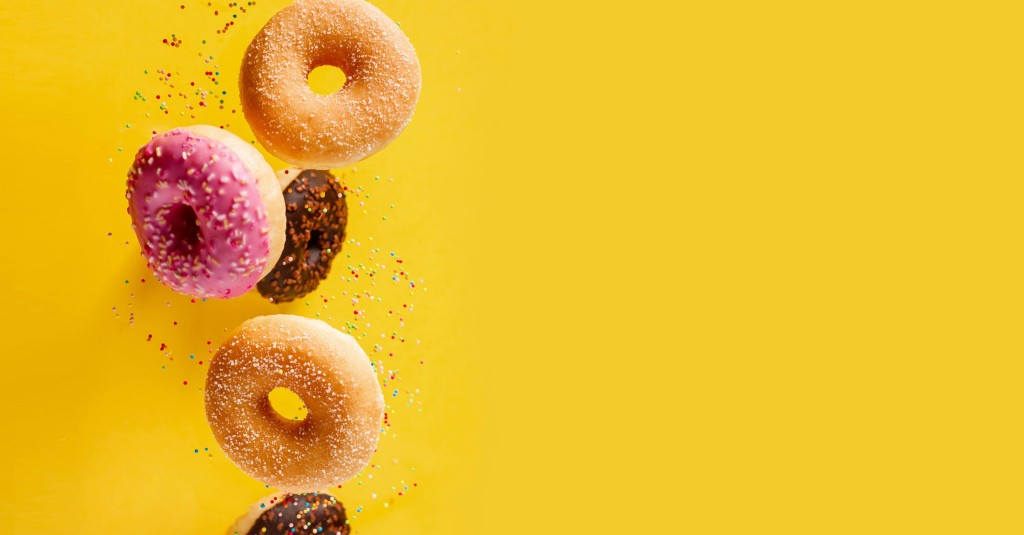 Originated in 2002, Texas Donuts have been baking and frying fresh and hot donuts daily for their customers. You will get to pick your favorite donuts from an abundant collection of flavors, like chocolate cake donuts, donuts with jelly filling, Cinnamon, and much more.
Apart from this, you can also order Croissants, Kolache, Bubble Tea, and Iced Coffee at this lovely donut shop.
Sugar Shack Donuts
Offering one of the best donuts in Richmond Virginia, Sugar Shack can be your go-to donut shop! The superb part about this place is that most of their donuts are vegan-friendly or have vegan alternatives. They also make gluten-free options so that everybody can enjoy donuts, regardless of their food preferences.
Here, you will find unique flavors, such as Maple Bacon, Salted Caramel, Chocolate Salted Caramel, Cherry Cheesecake, Original Glazed Donuts, and more. You can buy a dozen delicious donuts at very reasonable prices at Sugar Shack.
Plus, the restaurant offers wheelchair accessibility, making it an inclusive place for everyone. You will feel a cozy vibe at this shop, and the staff will be ready to help you in any step of your purchase.
Dunkin'
How can we forget Dunkin' when talking about donuts! Dunkin Donuts Virginia Beach can be your go-to donut shop in Virginia if you are used to having their flavorful donuts.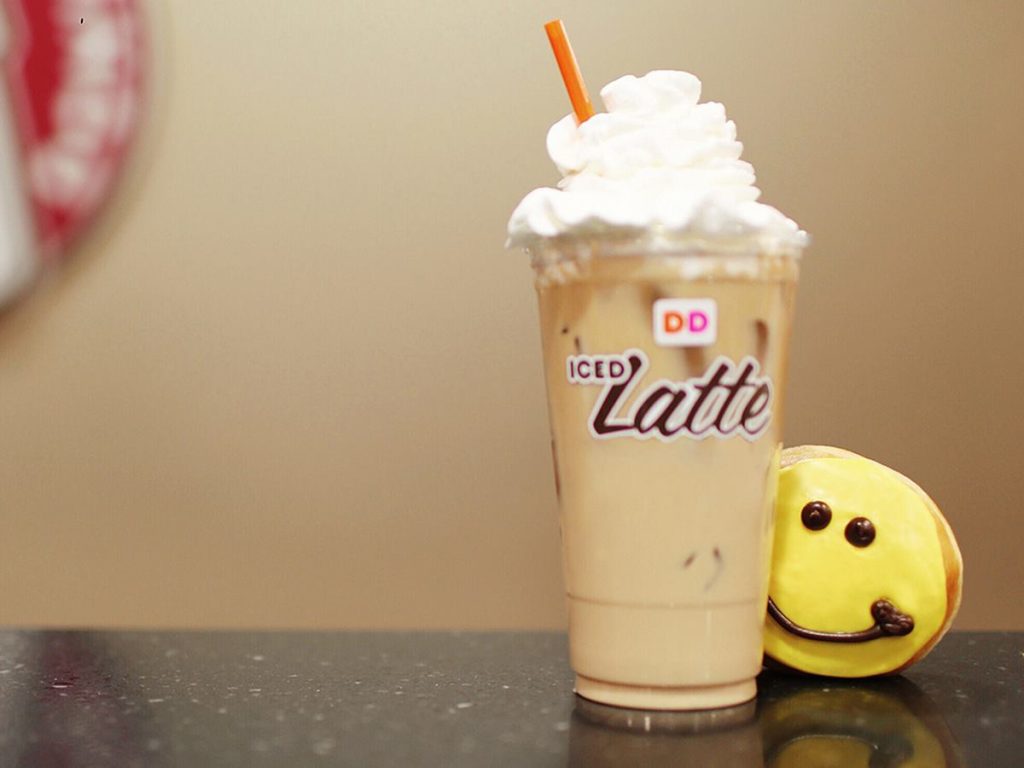 We know that Dunkin' offers tasty donuts and breakfast sandwiches worldwide, which is why we understand why you would want to pick this place for donuts over and over again.
They have flavors like Blueberry Cobbler, American Dream, Apple Crumb, Apple n Spice, Eclair, Frosted Vanilla Creme, and a whole lot of unique combinations for your tastebuds. Being one of the best donuts in Virginia, they always offer soft and fresh donuts that are hard to resist!
Besides, you can also munch on its Munchkins treats, the small, tasty bites of sweetness. Dunkin' also has nicely blended shakes, lattes, coffee, and other beverages you can enjoy after a long day out.
Carol Lee Donuts
This lovely donut shop has been around since 1968, run by three generations of a family. They have gained vast experience in making the perfect donuts for their customers, thus, you will not regret visiting this place. 
Being some of the best donut places in Virginia, they offer four different donut options; yeast-raised donuts, cake donuts, filled donuts, and handmade donuts. The various flavors include Blueberry, Cinnamon, Maple Iced, White Iced Sprinkle, Cookies' n' Cream, Bavarian Cream, Lemon Filled, Raspberry Filled, etc. 
Along with the donuts, you can order side beverages like chocolate milk, cappuccinos, and coffee for extra delight to your taste buds.
Interesting Read: The Ultimate Guide To Exploring Northern Lights
Duck Donuts
One more cool donut place you can head over to for your sweet cravings. It counts among the best donuts in Virginia. At Duck Donuts Virginia Beach, you also have a made-to-order donut option, thanks to which you can choose everything from coating to the drizzle. A donut made for you!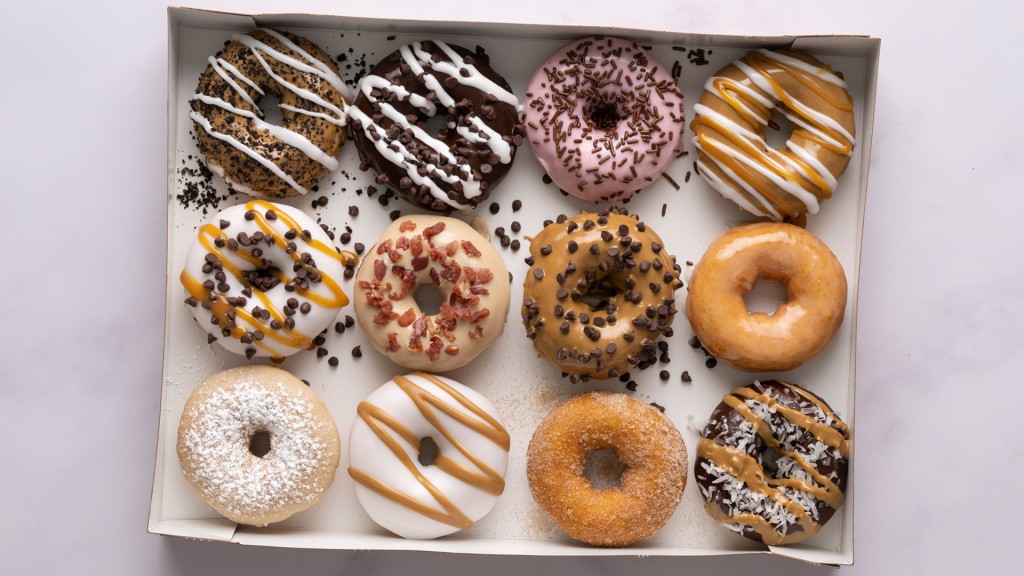 They have a large array of unique flavors, such as Peanut Butter Paradise, S'mores, Raspberry Fluff, The Boardwalk, Coconut Island Bliss, and so much more that it will take you extra time to decide your favorite pick!
Also, this place also has seasonal donut flavors, like Peach Pie, Peach Cobbler, Strawberry Shortcake, and Blueberry Crumble, among others, for the Summer specials.
Additionally, you can also enjoy coffee, ice cream, sandwiches, pizza, and espresso at this beautiful donut shop. 
Dixie Donuts
You will find a range of the tastiest donuts here, which can even beat the popular donut brands. It has a nice environment and a sophisticated interior. Plus, you will not have to wait long for your turn at the counter. 
They serve fresh donuts with a variety of awesome flavors, for instance, Bavarian Cream, Raspberry, Samoa, Boston, and French Toast Donuts, which satisfy your tastebuds with new flavors.
Furthermore, you will come across a friendly and humble staff at Dixie Donuts who will respond to any of your queries with their best efforts. You will always want to stop by this gem of a donut shop every time you visit Virginia.
Krispy Kreme
With their branches around the United States, you will find Krispy Kreme in Virginia as well. They undoubtedly offer some of the best donuts in Virginia that you will ever put in your mouth.
In addition, the store has a spacious seating arrangement for you and your family, so the place does not feel too crowded. There are no long waiting lines, and you can get your hands on your favorite donut flavors within a few minutes.
About the flavors, Krispy Kreme gives you plenty to choose from. Some great donuts include Raspberry Glazed, Lotus Biscoff, Apple Crumble, Original Filled Kreme, and a whole lot of exciting flavors for you to try.
As soon as you enter the shop, your nose will be met with a pleasant and sweet smell of fresh donuts.
Astro Doughnuts and Fried Chicken
Serving donuts along with fried chicken? Sounds like an interesting combination! The Astro Doughnuts will not disappoint you in terms of their freshness and texture. Also, the flavors are excellent!
They have Cinnamon Sugar Cake, Vanilla Glazed Cake, Maple Bacon Cake, Chocolate Glazed Cake, and Creme Brulee among other donut options. You will fall in love with their glazed donuts as soon as they reach your tastebuds. 
The shop always gives you piping hot and fresh donuts, which you can enjoy during your trip to Virginia Beach. The donuts are rich in flavors!
Recommended Read: Visa-Free Travel: A Comparison of the Most Powerful Passports
Pure Eats
Donuts, Burgers, and Beer, you will find it all under one roof at Pure Eats. They make exceptionally good donuts that are house-made and fresh for their customers.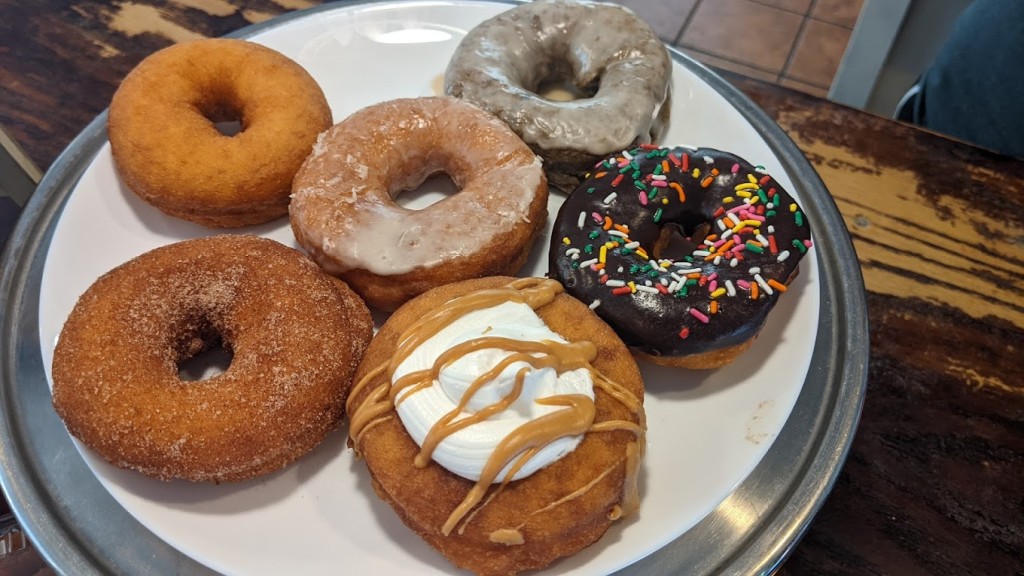 A distinctive aspect of this place is that you will come across a new donut flavor every day. At Pure Eats, flavors change daily to add an exciting element to your visit and kick out the mundane routine of choosing from an assorted collection.
You will be filled with curiosity about which donut flavor you will get to have on the day of your visit. However, the Classic Cinnamon Sugar flavor is available throughout the week.
Apart from this, their menu has breakfast sandwiches, hash browns, milkshakes, burgers, wraps, salads, and much more to send away your hunger pangs.
Good Company Doughnuts and Cafe
This is a great place to be during your Virginia visit. They specialize in hand-cut donuts which is pretty rare to find these days. Good Company Doughnuts has a friendly staff who will welcome you with a lovely smile and open arms so that you feel right at home.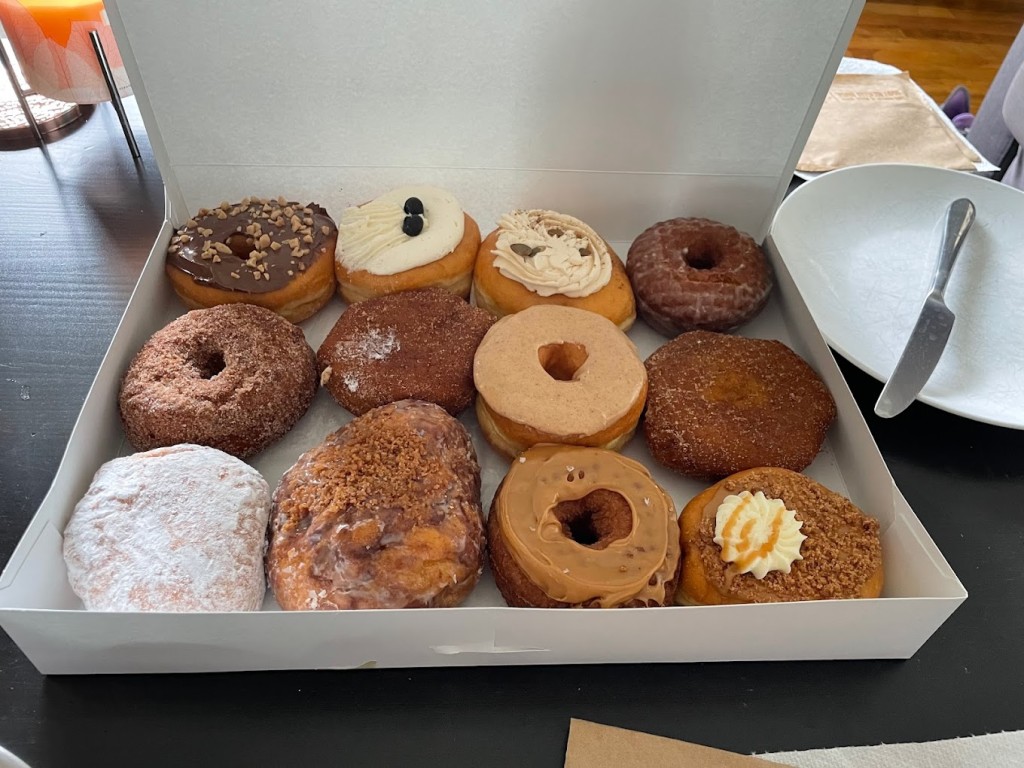 This cafe has a spacious parking area so that you do not have to go through the hassle of finding an empty parking spot near the shop. Hop into the cafe, and you will be surrounded by a whiff of freshly made donuts and breakfast items.
Plus, this restaurant has a nice patio where you can sit and enjoy the lovely atmosphere while you finish your order.
Here, you can have crazy good donuts in Virginia beach, like Caramel Apple Crumble, Butter Crunch, Chocolate Covered Strawberry, Cran-Apple Pistachio Glazed, and other distinct options. The taste is worth every penny you spend on these best donuts in Virginia.
Okie Doughkie Donuts
A funky donut shop in Virginia that will amaze you with its vibe and specialties. They serve special Okie Holes, which are square-shaped donuts available in Glazed and Chocolate Iced variants. The glazed ones especially are super delicious with a taste that is hard to forget.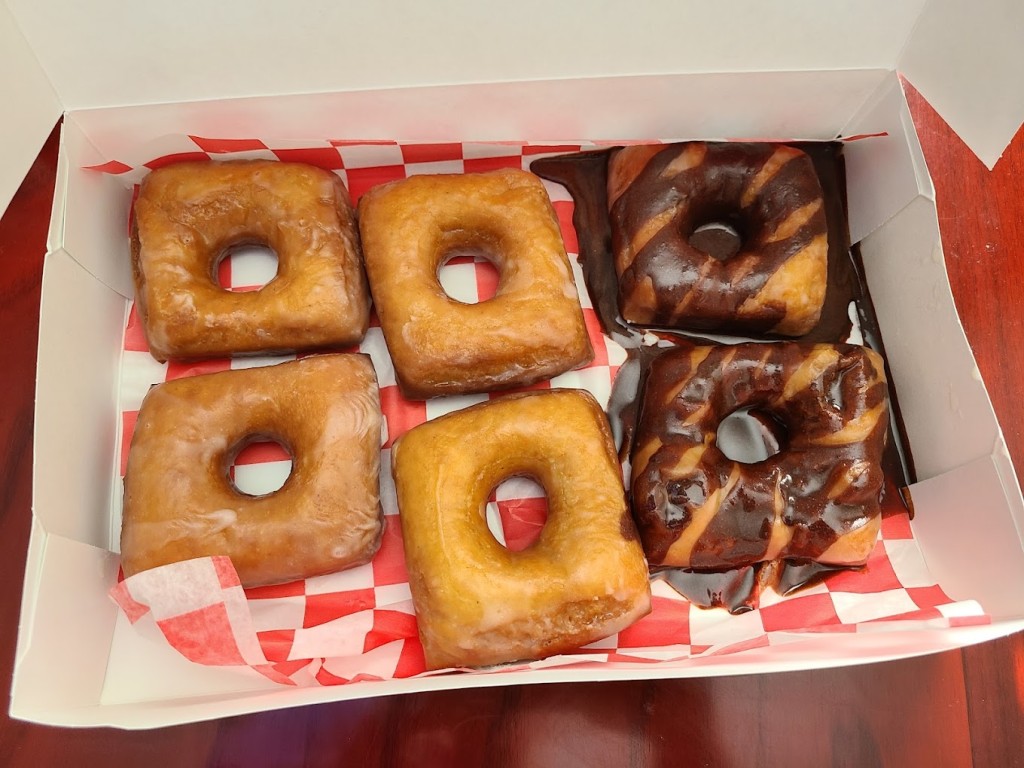 Moreover, Okie Doughkie Donuts have Holy Fryers and crispy fried croissants with yummy coatings. Hence, a variety that you will not come across often.
Editor's Pick: Here's How You Can Get Sand Out of Hair: The Easy Ways
Peace, Love, and Little Donuts
Get your hands on these donuts while you are in the city. Their journey began in 2008 with a single mission to make funky, delicious donuts that are true to their core. The whole place has a great aesthetic vibe with a very friendly staff who are there for you every step of the way.
All of their donuts have a balanced taste, with all the flavors complementing each other nicely to give you a tasty mouthful.
The Funkadelic flavors are Banana Crunch, Apple Pie, Blueberry Pancake, Banana Split, Lemon Blueberry, Salted Pretzel, and a lot more. These will give a burst of flavor to your taste buds.
Takeaways 
So, this was all about the best donuts in Virginia. Be sure to check out as many donut shops as you can because each of them offers a distinctive flavor. One important reminder; visit donut shops in the morning to get your hands on freshly prepared donuts. The donuts will have such a soft texture that they will slide down your tongue before you even know it.