Dave & Buster's is a chain of entertainment centers that have become widely successful thanks to positive word of mouth from customers. The company's headquarters are located in Dallas, Texas. However, despite its popularity, Dave & Buster's is not well situated in terms of accessibility. There are now just around 140 outlets in the United States but sadly only 2 in Canada.
Best Places Like Dave & Buster's
Several businesses have attempted to imitate Dave & Buster's success. Some have thrived, while others have struggled and ultimately given up. Let us check out some of the finest places like Dave and Buster's.
Punch Bowl Social
If you like Dave & Buster's, you would like Punch Bowl Social. Punch Bowl Social has been around for ten years, but with just 15 locations in the United States, it does not quite have the reach of Dave & Buster's. If you happen to live near one, though, you should check it out.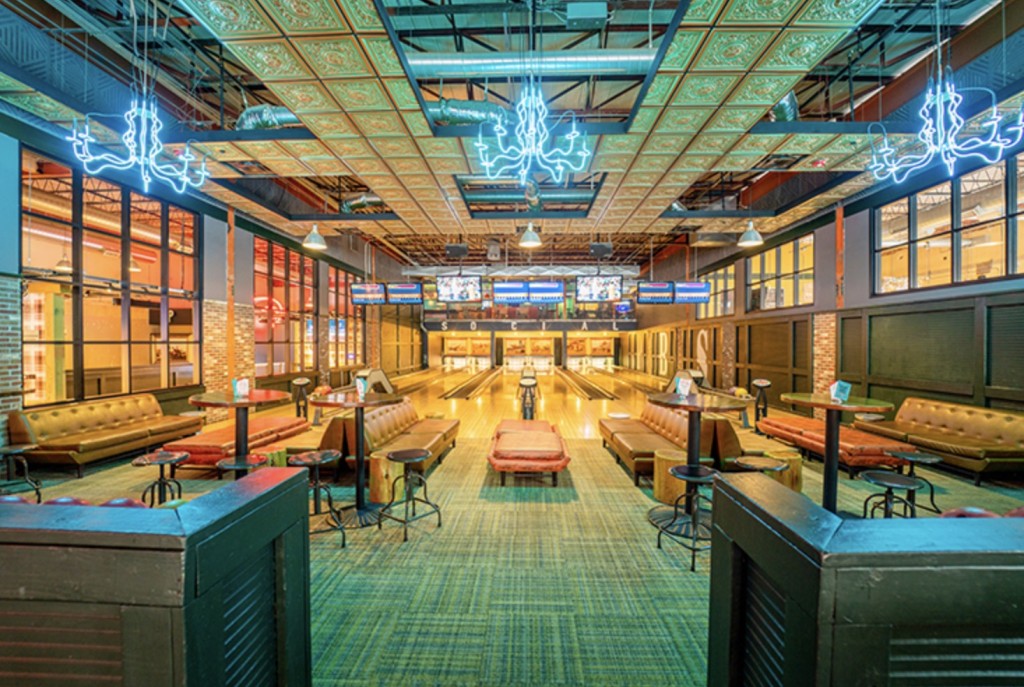 Similar to Dave & Buster's, Punch Bowl Social provides arcade games to accompany the cuisine and drinks. The atmosphere is more mature, and customers can have fun with the many activities available, as well as enjoy delicious food and, even, sing their hearts out at the karaoke machine.
The food and artisan beverages are always rotating. You will enjoy your time over here and feel precisely like Dave & Buster's.
Laser Bounce
Laser Bounce is an indoor entertainment center that offers a wide range of exciting attractions and activities for both kids and adults.
You can play a variety of activities, such as shooting ranges, trampolines, virtual reality, arcades, laser tag, air hockey, bowling, and ping pong. Besides, one can also trade in their winnings for some very cool stuff. The center boasts a diverse selection of arcade games, including classic favorites and the latest interactive experiences. From racing games and shooting galleries to basketball challenges and skill-based games, there's something for everyone to enjoy.
There are not many dining options, but you can still get items like nachos, hot dogs, pretzels, pizza, sodas, and other grab-and-go snacks
The service at Laser Bounce is top-notch. Among the several ticket choices, the unlimited 1-hour pass represents the greatest value which is our recommendation as well. Packages can also be purchased online from the Laser Bounce website.
Chuck E. Cheese
When comparing Chuck E. Cheese to Dave & Buster's, it is easy to see the similarities in both restaurants' designs. There are presently 612 corporate and franchise locations for Chuck E. Cheese, making it the largest rival to Dave & Buster's.
Chuck E. Cheese is ahead of the game in a big way because although you may not have a D&B in the neighborhood, yet, you can always locate a Chuck E. Cheese. Pizza is their specialty dish with a wide variety of toppings, but they also serve wings, salads, and appetizers.
Besides, Chuck E. Cheese offers a selection of sandwiches and wraps that are perfect for a quick bite or a meal on the go. These include options like chicken sandwiches, turkey and cheese wraps, or veggie wraps.
Chuck E. Cheese is an ideal place for birthday parties and other events. They provide a range of plans so you can choose the right one without breaking the bank. Family outings to Chuck E. Cheese are always fun. In addition to the classics like air hockey and skeeball, they also have the latest arcade games. Many Chuck E. Cheese locations have designated play areas filled with tunnels, slides, ball pits, and climbing structures.
On the weekends, guests can enjoy live shows as well which makes it a perfect substitute for a place like Dave and Buster's.
Lucky Strike
Another place like Dave & Buster's is Lucky Strike. This bowling alley and entertainment complex aims for a more premium crowd. Lucky Strike is a chain of bowling alleys and restaurants that are found all across the United States. Lucky Strike provides a more modern bowling experience with its sleek, modern decor and state-of-the-art lanes. It is a great place for parties and romantic evenings alike.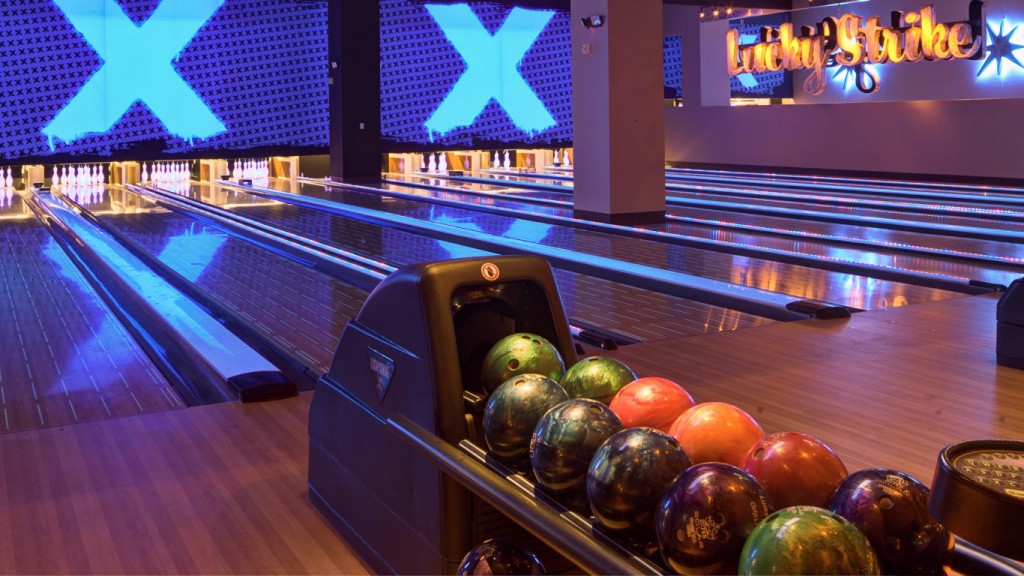 Lucky Strike's menu has more upscale options than any standard bowling alley, with items like truffle mac & cheese and ahi tuna poke bowls. The bar also has a wide variety of artisanal drinks, such as beer and wine.
Bowlero
Bowlero is an excellent alternative to Dave & Buster's for those in search of a fun night out with friends. Bowlero, formerly known as Bowlmor, is more than just a bowling facility as it has 300 sites throughout the United States. There are arcade games, food, and drinks available over here (just like Dave & Buster's!).
Bowlero was launched in 2013 when AMF Bowling Worldwide was teetering on the brink of insolvency and reorganization was necessary. The restaurant features the standard fare of chicken wings, lamb lollipops, oven-fried pizza, vegetable spring rolls, and more.
They also have dishes like their iconic 6 lb. Behemoth burger and their 123-ounce dunk tank drink, both of which they recommend sharing. Bowlero has a wide variety of specialty beers as well for those who find the dunk tank too much fun.
Besides, many Bowlero locations feature a sports bar and lounge area where you can relax, socialize, and catch your favorite sports games on big screens. It's a great place to unwind, enjoy a drink, and cheer on your team.
Moreover, just like Dave & Buster's, Bowlero offers customizable party packages that include bowling, food, and drinks. They have experienced event planners who can assist in organizing and ensuring a memorable experience for all attendees.
Main Event
The fact that Dave & Buster's acquired all of the Main Event last year is what makes it so fascinating as a venue like Dave & Buster's. Main Event is a family entertainment center that provides good cuisine and has fun activities like bowling, arcade games, laser tag, miniature golf, virtual reality games, gravity ropes courses, and even karaoke.
Main Event serves the usual suspects when it comes to cuisine, including cheesy breadsticks and loaded fries as starters and burgers, chicken sandwiches, and pizza as mains. Since Dave & Buster's now own Main Event, the establishment's policy of not selling alcohol may alter.
And let's not forget about the gravity ropes courses, where you can test your balance and bravery as you navigate through thrilling aerial obstacles. Feeling like a superstar? Step up to the karaoke stage and unleash your inner diva, serenading the crowd with your favorite tunes and leaving everyone in awe.
Besides, you can engage in exhilarating laser tag battles, dodging lasers and strategizing your way to victory. All in all, it really sounds like a place for fun, food, and entertainment (just like Dave & Buster's)
Suggested Reading: Guide to Traditional Russian Dishes You Must Try
Bowlmor Chamblee
Bowlmor Chamblee has plenty of party rooms for anyone looking to have a good time after work. It is similar to Dave & Buster's in the sense that it includes bowling lanes and also features gambling, restaurants, and other facilities.
Everything from the welcoming service to the spotless premises to the delectable food is top-notch. The restaurant's prime location in front of the bowling alley means that diners can take in a game while they eat or vice versa. Not only can you relax in the exclusive VIP section, but the club also has a terrific DJ.
There are plenty of activities for the entire family, but if bowling is your sole interest, you should reserve a lane in advance. Bowling alleys with private lanes are available for parties and other special occasions.
If you're seeking a more exclusive experience, the VIP section at Bowlmor Atlanta is the place to be. Relax and unwind in a luxurious setting as you enjoy personalized service and premium amenities.
Moreover, for those who seek a little thrill, Bowlmor Atlanta features a gambling area where you can try your luck and indulge in games of chance. Whether it's spinning the roulette wheel, testing your poker skills, or playing your favorite slot machines, the excitement is always at your fingertips.
With so much offered, Bowlmor Atlanta is truly a place that we call, even better than Dave & Buster's.
Editor's Pick: The Cheapest Cruise to Antarctica: Antarctic Voyages on a Shoestring
The One Up
If you are a fan of Dave & Buster's, you will love The One Up which is a bar and arcade that is second to none. Amazingly, you can enjoy the games here without paying a dime. If you are looking for a great place to have a game night in Los Angeles, go no further than The One Up. However, keep in mind that this restaurant does not welcome anybody younger than 21.
You can pair your meal at this bar and grill with some fun in the arcade. Indulge in a menu crafted to satisfy your cravings, featuring a tantalizing array of bar and grill favorites. Sink your teeth into juicy burgers bursting with flavor, or savor crispy chicken wings slathered in mouthwatering sauces. Truly "Yummy-licious"
The best part about coming here is that they provide unlimited play on all of their arcade games at no additional cost to you. It's an arcade aficionado's dream come true!
Family Arcade LA
In California, Family Arcade LA is the greatest substitute for Dave & Buster's. This destination is ideal for those who wish to take a break from their hectic lives to relax and have some fun. They take pride in the cleanliness of their environment, thus there are plenty of hand sanitizers available.
The parking lot at the back of the building is available for your use at no cost. The pinball machines and video games are many and of high quality. The only drawback is that you can only pay with cash, but surprisingly, there is an ATM right on the premises. Here's the cherry on top: for a mere $25, you can have a full day of unlimited play at Family Arcade LA (excluding the infamous claw machine).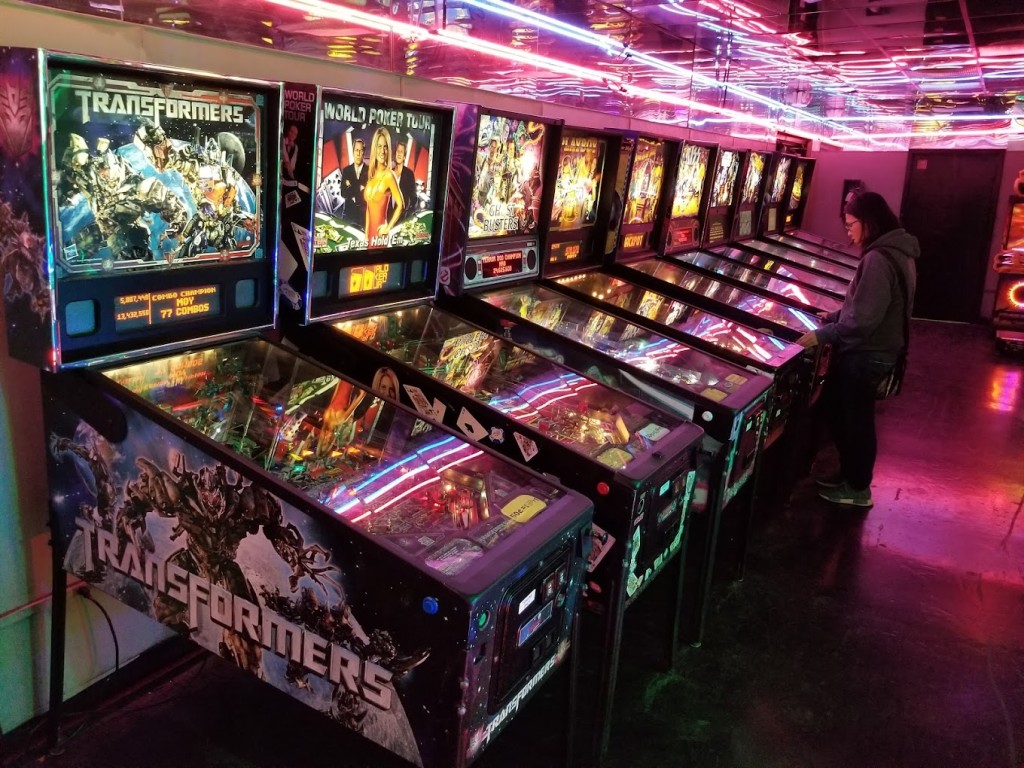 Whether you're a fan of classic pinball or seeking the latest gaming thrills, you'll find yourself spoilt for choice. From skill-based challenges to action-packed adventures, every corner of this arcade is brimming with high-quality gaming experiences that will keep you entertained for hours on end.
Therefore, a night here with friends is going to be one hell of a night to remember with the vibe matching the same as Dave & Buster's.
Suggested Reading: TOP 16 Dana Point Restaurants [6 Ocean View Restaurants]
Playdium
In the same vein as Dave & Buster's, Cineplex Entertainment, via its subsidiary Player One Amusement Group, operates a network of family entertainment centers called Playdium. On September 7, 1996, the first flagship store, known then as Sega City at Playdium, opened near the Square One Shopping Centre in Mississauga, Ontario, Canada.
A digital game card is loaded with play credit and tickets for games and these can be used immediately or saved up to use throughout a two-hour session. All games need credits, but redemption games have the added complication of potentially rewarding successful players with digital tickets.
Time blocks are not supported by all computers. It is not possible to use Player One brand cards with other brands. An Xscape card cannot be used at Playdium, and vice versa.
They provide a variety of meals and drinks as well. The Playdium Store, run by the same corporation, sells arcade games and other home entertainment options.
When it's time to refuel and recharge, Playdium has you covered. They offer a variety of delicious meals and refreshing drinks to satisfy your cravings. Whether you're in the mood for classic comfort foods, savory snacks, or indulgent treats, the diverse menu at Playdium ensures there's something for everyone.
TopGolf
Similar to Dave & Buster's, TopGolf offers both arcade games and a full menu. While they may not have an arcade such as Dave & Buster's, they do provide a gaming experience with their many different miniature golf courses and convenient locations.
TopGolf is more fun when played with more people. TopGolf has several other games, including Angry Birds (the video game), Quick 9, Jewel Jam, Top Chip, Top Pressure, and Closest to the Hole. TopGolf's food and drink options are a major draw for many people.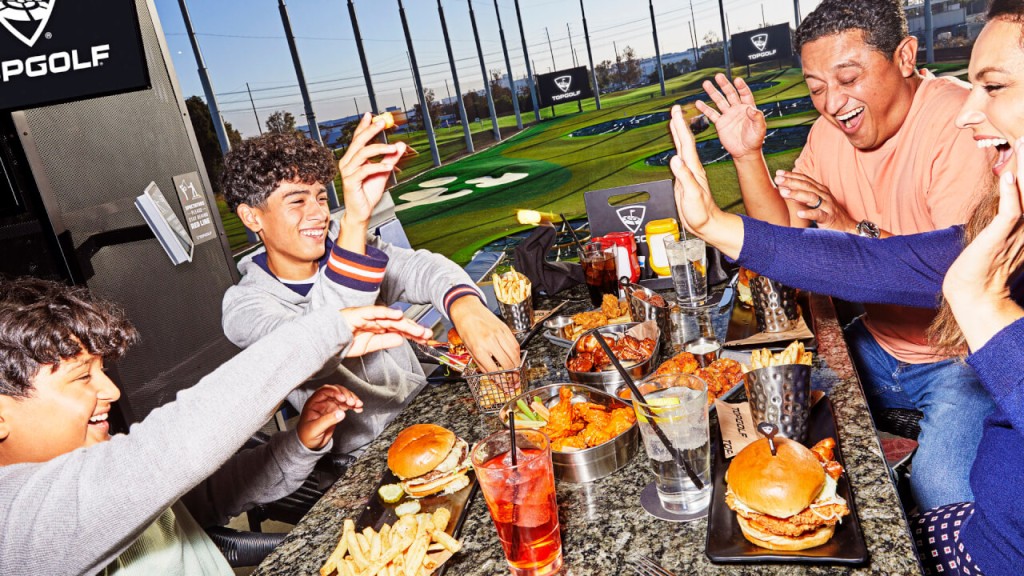 TopGolf's drink selection varies by location but often includes both alcoholic and non-alcoholic beverages. Wings, tacos, chicken tenders, flatbreads, burgers, salads, and wraps are just some of the items that can be found on their menu, which also varies by location. If you are not quite satiated by the conclusion of your meal, TopGolf also offers a delicious variety of sweets.
TopGolf is best enjoyed with friends, family, or colleagues. Gather your crew, challenge each other to friendly competitions, and revel in the joyous camaraderie that fills the air.
With its convenient locations, engaging games, delectable food, and vibrant atmosphere, TopGolf caters to those seeking a dynamic and memorable experience that combines recreation, competition, and fantastic dining—all under one roof.
Related: Ultimate Guide to 13 BEST Restaurants In Montclair NJ
Safe House
Step into a world of mystery, intrigue, and delicious delights at Safe House, the ultimate alternative to places like Dave and Buster's.
It is a great alternative to places like Dave and Buster's. Safe House combines cuisine with arcade games. Thrill-seekers should make their way to this hotspot in the heart of Chicago. The restaurant's decor and activities are all centered on the premise of espionage. Several covert operations are available, each with its unique agents, traps, riddles, and loot.
The restaurant's decor sets the stage for adventure, with hidden passages, secret rooms, and enigmatic clues lurking around every corner. Your mission, should you choose to accept it, is to navigate the thrilling activities and unravel the secrets that lie within.
Everyone in the family or a group of friends would have a good time there. Feel free to bring the little ones since everything here is suitable for them.
Safe House doesn't just excel in its interactive and exhilarating activities—it also delivers on the culinary front. Feast on a range of delectable dishes, carefully crafted to tantalize your taste buds and provide the sustenance you need for your daring missions. All these aspects make it one of the best alternative places to Dave & Buster's.
Oasis Family Fun Center
Similar to the popular family entertainment center Dave & Buster's, Oasis Family Fun Center has a large variety of games and activities for both kids and their parents.
The Oasis Family Fun Center has a whopping 20,000 square feet of exciting attractions. Kids under the age of 12 will have a blast on the enormous Soft Playground at this indoor amusement park's Family Fun Center. Jumpshot Trampoline Basketball is a game for children ages 4 and above that mixes the thrill of trampoline leaping with the excitement of basketball play.
The Vault Laser Maze Challenge entails escaping a 16-foot octagonal room without touching any of the laser beams. Climbers of all ages will enjoy the challenge of scaling Mount Oasis, a vertical rock face that stands 16 feet tall.
In addition, the arcade has 60 of the newest video games and mini-bowling for your youngsters to enjoy. Also available is a fully stocked snack bar with Old Forge Pizza and other tasty snacks. There are 6 fantastic party rooms, perfect for celebrating special occasions like birthdays.
Suggested Reading: 9 Best Korean Restaurants In NYC That You Must Try
GameWorks
Like Dave & Buster's, GameWorks is a nationwide network of entertainment venues that has a sizable arcade, esports lounge, and full-service food and bar. Those looking for alternatives to Dave & Buster's will find GameWorks to be a great choice, with locations all around the United States.
Esports fans will appreciate GameWorks' specialized esports lounge, where they can participate in Fortnite, League of Legends, and other popular games. Esports fans will love this lounge because of the relaxing atmosphere and top-notch gaming facilities it provides.
There is a complete bar and restaurant at GameWorks, with a wide variety of beverages and food. Dine in front of one of their numerous HDTVs while keeping up with your favorite teams.
Andretti Indoor Karting & Games
Go-kart racing at high speeds, an arcade, and a restaurant/bar are just some of the attractions of Andretti Indoor Karting & Games. Andretti is an excellent option for anyone looking for establishments similar to Dave & Buster's, with locations throughout Georgia, Florida, and Texas.
Indoor go-kart racing on state-of-the-art electric karts that can hit 45 mph is the major draw at Andretti. This is a wonderful adventure for people of all ages. Andretti is more than just a go-kart track; it also has laser tag, a ropes course, and a huge arcade.
Scene75 Entertainment Center
The Scene75 Entertainment Center is an enormous indoor amusement park with attractions and activities suitable for people of all ages. Scene75 is a great alternative to venues like Dave & Buster's, and they have locations in both Ohio and Pennsylvania.
Scene75 has a wide variety of attractions, including a big arcade, go-karts, mini-golf, laser tag, and bumper cars. This is a great place to take the kids since there is fun for everyone. Scene75 is a restaurant and bar that provides full service for every occasion, from birthday parties to business meetings.
Round1
Round1 is a Japanese network of game and hobby shops that was founded in 1980. This place has been successful in Japan for decades before attempting to expand to the United States in 2006. However, they were unable to settle on a suitable site in the United States, and their efforts were ultimately unsuccessful.
4 years later, in the Puente Hills Mall in California, they tried again, and this time they succeeded.
Since then, Round1 has established a plethora of competing entertainment facilities for Dave & Busters. Arizona, Florida, Georgia, Maine, Kentucky, Pennsylvania, and Utah are just some of the 27 states where you can now find this amazing establishment. Their goal is to expand exponentially.
In 2019, Round1 announced its intention to grow by 10 new outlets annually.
Round1's specialty is Japanese arcade games, making it stand out from other similar establishments. You will not find many of these games in arcades anywhere else in the United States. It is a great place to spend the evening since it not only has an arcade but also karaoke and bowling.
Recommended Reading: Best BBQ In Dallas – 8 TOP RATED BBQ Restaurants
Barcade
Like Dave & Buster's, Barcade offers arcade games and a social atmosphere. The arcade bar chain Barcade has outposts in the Midwest, the West Coast, and the Great Lakes region. They sell American craft beers and have a variety of vintage arcade games, with the first opening on October 1, 2004, in Brooklyn.
Their formula is straightforward: start with a low-key pub that serves craft beer and has excellent music, and then stock it with dozens of retro gaming consoles. What makes a bar arcade enjoyable is the absence of things like swipe cards, high-priced new games, and children. For just a quarter, you can play all of the iconic arcade games from your childhood, like Ms. Pac-Man, Galaga, Q*Bert, Tetris, Arkanoid, Dig Dug, and Centipede.
The Night Game Houston
Another restaurant/bar/arcade, however unlike venues like Dave & Buster's, kids are not permitted at The Night Game Houston. Reservations can only be made by those above the age of 21. You and your date would have a blast from 9 p.m. until 3 a.m. in the world's biggest and most opulent adult playground.
The Night Game Houston has a 1200 square foot dance floor with a dancing cage, 2 dance poles, and a shadow box for the hottest silhouette displays, in addition to fully equipped private playrooms with security and cleaning personnel.
All of these events include top-notch audio courtesy of expert DJs, a bar stocked with free drinks and staffed by friendly bartenders, a covered outdoor space, and free snacks.
Suggested Reading: Top 7 Restaurants in Paris With Eiffel Tower Views You Need to Try
How Do We Pick Our Recommendations?
Talking to the people helped us find similar places like Dave and Buster's. Hopdes' team further narrowed it down to the ones that deserve to be on the list. We gave careful consideration to the whole atmosphere of each place and chose ones with tasty food and exciting ambiance. All of the places on our list are great alternatives to Dave & Buster's for affordable family fun that will not leave anybody in the group feeling deprived.
Conclusion
When it comes to seeking out thrilling entertainment venues that offer a fusion of games, delicious food, and a vibrant atmosphere, places like Dave and Buster's are in a league of their own. Whether you're a fan of classic arcade games, virtual reality adventures, bowling, laser tag, or any other exhilarating activity, these venues provide a haven for enthusiasts of all ages. Get ready to play, indulge, and create unforgettable moments. The fun starts here!
Places Like Dave & Buster's - FAQs
Can I host special events or birthday parties at these venues?
Absolutely! Places like Dave & Buster's that we mentioned often provide event and party packages to make your celebration extra special. Whether it's a birthday party, corporate event, or team-building activity, you can enjoy a fun-filled experience with dedicated party rooms, customized menus, and exciting entertainment options.
What are some of the best places like Dave & Buster's?
Chuck E. Cheese, Bowlero, Main Event, The One Up, Family Arcade LA, and Playdium are some of the best places like Dave & Buster's.
What kind of food and dining options can I expect at these venues?
These entertainment destinations take their culinary offerings seriously. You can expect a diverse menu that goes beyond typical "bar food." From delicious appetizers like wings and loaded fries to mouthwatering burgers, pizzas, salads, and more, there's a wide variety of options to satisfy your cravings.