Dana Point, with its beaches, cruise tours, fancy boutiques, and other luxurious elements, is an attractive destination for many travelers.
As the renowned Dolphin and Whale Watching Capital of the world, this vibrant destination not only offers breathtaking wildlife encounters but also a feast for taste buds. Prepare to embark on an extraordinary journey as you indulge in delectable dishes and savor unforgettable moments in these exquisite Dana Point Restaurants!
From authentic Italian delicacies to tantalizing South American creations and beyond, these exceptional restaurants cater to a wide range of preferences.
Whether you prefer an intimate indoor setting or the fresh air of outdoor dining, there is a perfect spot waiting for you. Explore them with us here in this article!
Overall Best Dana Point Restaurants
There are plenty of restaurants in Dana Point with a warm, welcoming ambiance, and impressive service quality. You can find your next favorite from the list below.
Luciana's Ristorante is a family-owned restaurant set up 25 years ago in Paris. Luciana's Ristorante has a branch in Dana Point as well!
This family restaurant has continued its legacy of excellence and is still famous for its authentic Italian taste even after so many years. Their modern taste blended with the typical spices makes for a perfect, heartwarming meal.
The ambiance of this place is exceptionally outstanding! There are two spaces to dine in:
An indoor space, which gives off a royal vibe; with a red and white color scheme.
An outdoor patio that has a very cozy and warm feel to it. Reserving your table on the patio is recommended. The Californian weather, mostly if not all the time, is perfect and adds to the dining experience.
The food over here will definitely make you drool! Luciana's Ristorante specializes in Italian cuisine and also offers vegan-friendly options. You might have had lasagna and pasta at various Italian places before, but this one is going to make you forget them all.
If not for the great ambiance, you will be coming to this place again and again for its out-of-this-world taste.
Also, if you are into Italian cuisine, do check out Italian Restaurants in Laguna Beach.
For the service, we rate it a 4/5. Their servers are very professional and instantly make you feel at home. However, sometimes, orders get delayed during rush hour! You can also book their hall if you want to entertain a larger audience. The patio is also available for a cocktail hour.
The restaurant is also really affordable, and considering the amazing food, it is definitely one of the best restaurants in Dana Point!
Jimmy's Famous American Tavern is another one of the top restaurants in Dana Point. Even though the restaurant doesn't have a patio, the windows provide a good enough view of the beautiful harbor across the road. The interiors of this restaurant are very luxurious, with woods and dark and cool tones blended well, providing a very exclusive sort of touch to the overall ambiance of this place.
You can also see their amazing wine collection displayed on the racks. As a side note, you have to taste their wine; it was exquisite.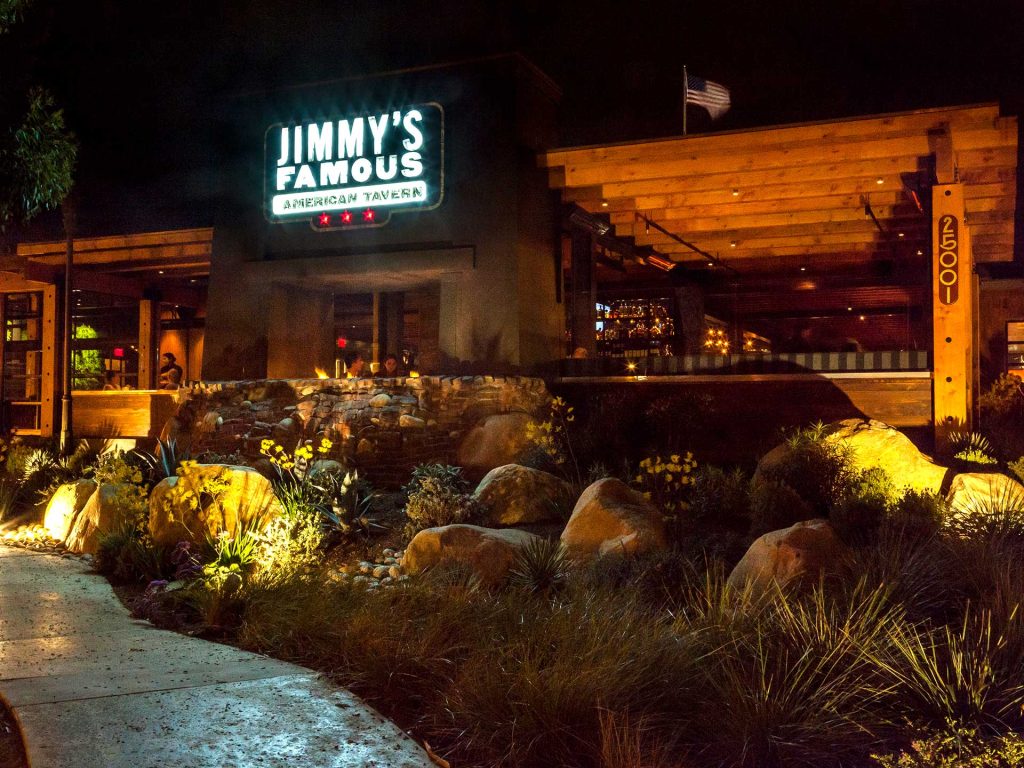 Their food over here is the chef's kiss! They specialize in local cuisine and also have vegan, vegetarian, and gluten-free options on their menu. From desserts to wines, beers, a kids-friendly menu, a brunch menu, and cocktails, they have got it all. You can also order from their day's special which will not let you down in any aspect.
The dishes we recommend over here are
Fried Calamari
Jimmy Burger with Beer
Cowboy Burger
Sesame-Crusted Albacore Burger
The staff here is accommodating and you don't have to wait much for your order as they have a really quick service. They also serve generous portions so you can get your food packed too.
You can order their food at home through their delivery service. All in all, it is a great place to have a fun catch-up with friends and enjoy the juiciest burgers!
Harpoon Henry's seafood restaurant is another one of the amazing restaurants in Dana Point and is mainly known for the "freshest seafood in Dana Point"!
The interior of the place is minimalistic and has a very refreshing vibe to it. The best part is the stunning view of the harbor as well as the gorgeous view of the ocean outside. Enjoy the serene while taking bites of delicious food!
Harpoon Henry's specializes in American cuisine and also serve seafood with all the modern twist. You can find everything from vegan to gluten-free meals and kids meals here. However, for the best experience, try out
Cioppino (Fresh fish with shrimp, scallops, mussels, and clams along with garlic bread)
Mahi Mahi Macadamia (Macadamia nut crust, orange mango sauce, and salsa)
Atlantic Salmon (The Best Salmon in Dana Point)
The outside patio is heated and beautifully designed, matching the overall calming aura of the place. Then there is a fancy dining area which is just as good as the patio, if not better. Sitting outside is recommended cause the scenery paired with their food is too good to miss out on.
It is a reward-winning restaurant too, from Southern California Restaurant Writers Association, and this is also one reason why we consider it among the best restaurants in Dana Point!
If you love seafood you might also want to check out the top Laguna Beach seafood restaurants.
RJ's Café is another one of the restaurants you will find while driving along the Dana Point harbor. What makes it so special? Their pleasant vibe and the low-key environment! You can just sit back, relax and have a meal with your friends and family without a care in the world!
The owner's concept of making guests feel at home while enjoying amazing food is reflected everywhere in this café.
The interior decor is very funky way, with aesthetic beige being the main shade. The outdoors also have a very basic vibe which is unlike any other diner in this area.
This café specializes in American cuisine and serves breakfast and lunch regularly. All of their food is great, but their breakfast menu has to be the best in the area. They have a wide range of stuff on their breakfast menu; from basic toast and bacon to pancakes, eggs benedict, biscuit, and gravy, or even healthier options like oatmeal and much more.
From their lunch menu, they have sandwiches, burgers, or healthier options available like soups and salads. We recommend that you try:
Lobster Benedict
Swiss Cheese Burger
Club Sandwich
Stephanie's Sandwich
You can check the full menu from RJ's Cafe's official website.
Their service is truly top-notch. The staff compements the vibe of the place, which is super friendly. With the amazing staff and great food, you will love every moment of your experience here!
If breakfast is your favorite meal of the day, you should also check out these phenomenal places in Boston that offer mouthwatering breakfast.
Wind and Sea Restaurant is also in Dana Point and has views of the Pacific Ocean on three of its sides. This restaurant was a premium steak house which is now a posh restaurant in Dana Point, California.
As soon as you enter, they will provide you with a table and drinks. Also, their staff is understanding, welcoming, and friendly. You can get your order customized to comply with dietary restrictions, and they will accommodate you as much as possible.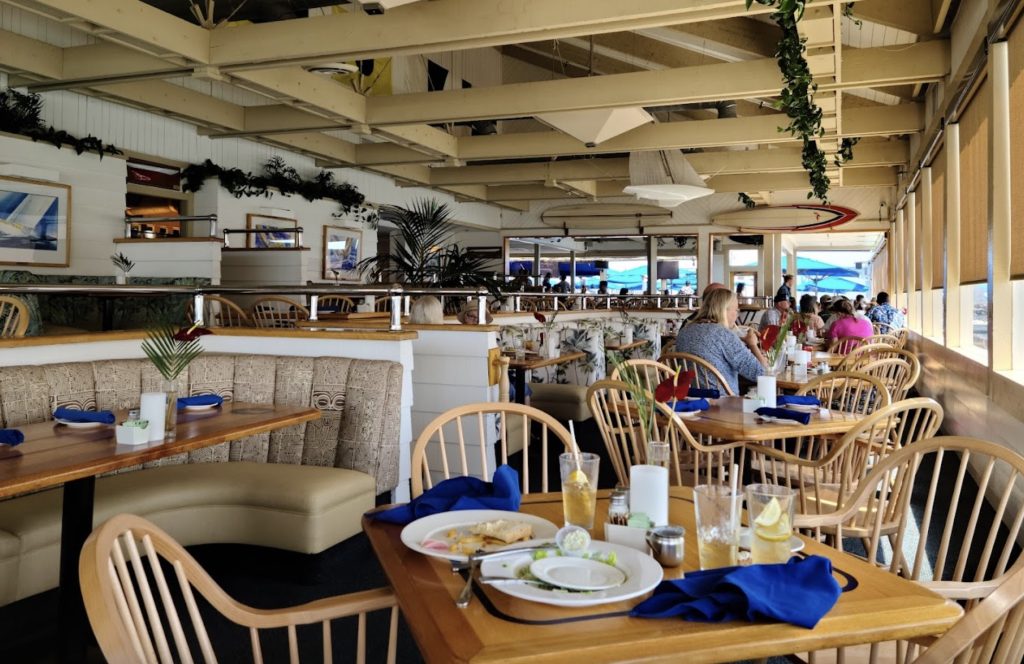 The interiors of this restaurant are elegant and understated. Since the views around and the architecture in itself are nice, the decorations are very minimalistic, which adds so much character to this place.
The food offered at this restaurant will exceed your expectations! We recommend trying out
Fish of the Day
Hawaiian Chicken
Wild Caught Shrimp
Australian Lobster Tail (Don't miss this!)
Another plus point of this place is its fireside dining which they have recently added by extending their patio. Trust me when I say, "It is so tranquilizing and calming".
Once you get to experience their hospitality and great food with outstanding views, you will surely visit again!
Best Dana Point Restaurants With an Ocean View
Views of the ocean along with food? Couldn't ask for a better combination. Check out our top picks for restaurants in Dana Points with an Ocean View.
Chart House restaurants are known for having the best food and gorgeous views, and they have win in both departments. If you love having food beside the serene ocean waters, go here. It offers the best view of The Pacific Ocean in Dana Point, along with tasty food and fancy interiors.
Like many other restaurants in this area, they also have an indoor and an outdoor area. Both of those areas have a very magnificent and luxurious vibe to them.
They specialize in American cuisine and also serve seafood. They also have vegan, vegetarian, and gluten-free options available. More specifically, you have to try their
New York Strip Steak
Mac Nut Mahi
Wild Caught King Crab
as these are just an "irresistible delicacy", as suggested by Umar Ali, our team member.
For the deserts, try out the New York Style Cheesecake. This place gets full pretty quickly, so you might want to go early or get your seats reserved beforehand.
The outdoors maintains the same opulent atmosphere as indoors. If given the option, sit outside as the earthy smells enhance the flavor of their yummy food.
One of the best things about this restaurant is that you can also get a private dining hall booked for special events like graduation ceremonies, memorial day weekend, and even Father's Day.
If you love dining at restaurants with gorgeous natural views, you might want to visit these restaurants in Niagara on the lake with a scenic view.
Raya is a resort in Dana Point, California near Laguna Beach. Along with other luxuries the resort offers, it has beautiful dining overlooking the Pacific Ocean. The in-house restaurant offers famous South American coastal cuisine by Chef Richard Sandoval. This restaurant also uses locally produced goods, and you can taste the authentic tastes of the land in their dishes.
The resort offers various dining spaces like an indoor dining space, a pool café, a bar, and a beautiful outdoor sitting area with breathtaking views of the ocean.
The indoor spaces are decorated with beautiful art pieces, making the entire space artistic and chic. And the outdoor spaces with views of the ocean and the pool are magical and intimate.
As for the food, they offer South American cuisine and also have vegan, vegetarian, and seafood options. Some of the things you don't wanna miss are:
Brussels Sprouts
Halibut
Thai Curry
Al Pastor with Spicy Shrimp
Last but not least, as cliché as this sounds, their burgers are amazing. If you love a good burger, you might also want to visit these amazing burger spots in Norfolk, VA.
With its beautiful decor and scenic views, it's a perfect place for a romantic dinner with your significant other. We recommend visiting this place at sunset for a romantic evening! The serene atmosphere of the outside with the yummy food is an experience one should not miss.
Turk's Restaurant
View Website
Get Directions
PERFECT FOR: Waterfront hangout with nostalgic decor featuring hearty seafood, burgers, beer & classic cocktails.
Embrace the nostalgic charm of Turk's Restaurant, a delightful waterfront hangout in Dana Point. Step inside, and you'll be transported to a bygone era, with its classic American decor and inviting ambiance.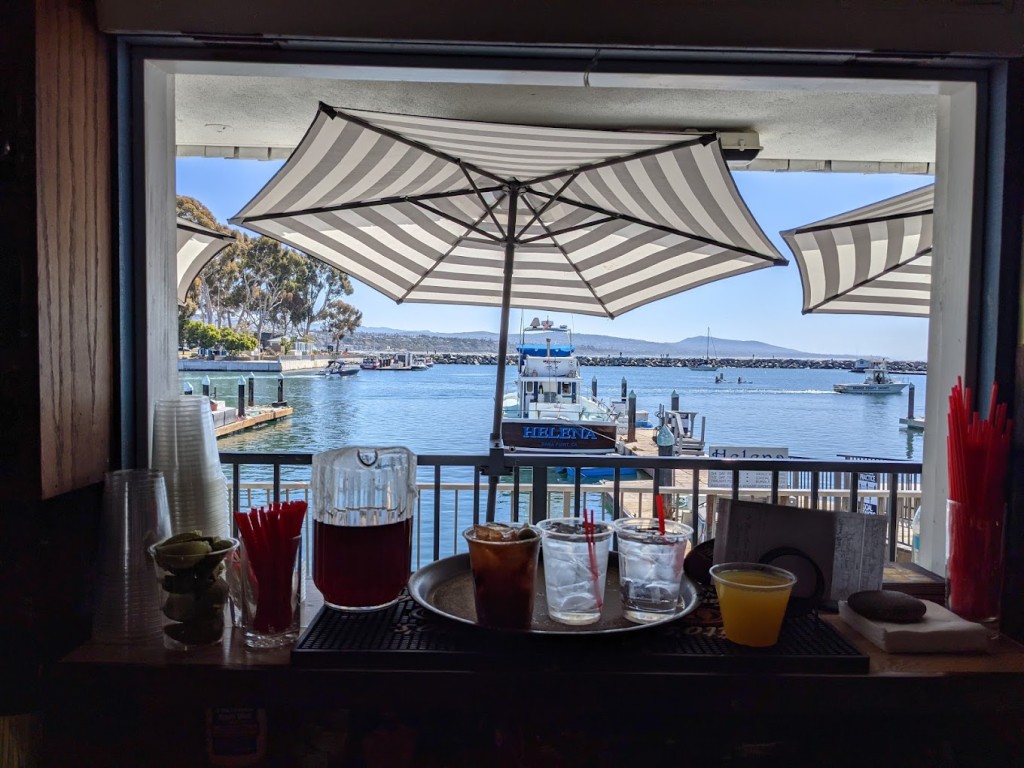 Turk's Restaurant is known for its hearty seafood dishes, mouthwatering burgers, and a fantastic selection of beer and classic cocktails. Whether you're craving a juicy shrimp cocktail, a perfectly grilled burger, or a refreshing craft beer, Turk's has it all. Their fish and chips are not to be missed!
As you soak in the waterfront views, you can't help but appreciate the laid-back atmosphere and friendly service. It's the perfect spot to gather with friends, enjoy delicious food, and relax with your favorite drink in hand.
Start your day off right at Proud Mary's Restaurant, the go-to spot for a delightful breakfast and lunch experience in Dana Point. With its classic American dishes infused with Mexican flavors, this restaurant offers a unique culinary journey that will leave your taste buds craving for more.
As you savor your meal, take in the breathtaking harbor views that Proud Mary's has to offer. The picturesque setting adds a touch of charm to your dining experience, creating a serene and inviting atmosphere.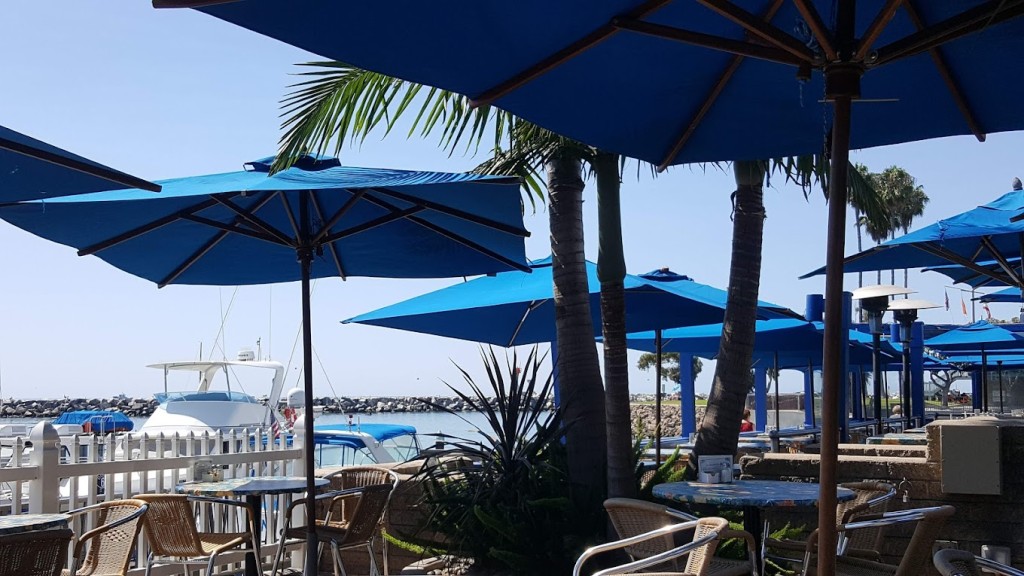 Indulge in a variety of mouthwatering dishes, from fluffy pancakes and hearty omelets to flavorful Mexican-inspired specialties. Pair your meal with one of their refreshing cocktails for a truly satisfying experience. Don't forget to try their clam chowder and Bloody Mary on your next visit!
Proud Mary's Restaurant is not only a place to enjoy delicious food, but it's also a gathering spot for friends and families to create lasting memories. The friendly staff and warm hospitality make you feel right at home, ensuring a memorable dining experience.
Stella's is an exquisite Italian eatery that exudes elegance and sophistication. Step into the enchanting world of Stella's and be transported to a supper-club setting where live music, delectable cuisine, and a twinkling terrace create an unforgettable dining experience.
As you enter Stella's, you'll be captivated by the upscale ambiance and the inviting atmosphere that fills the air. The restaurant offers a full bar where skilled mixologists craft tantalizing cocktails to complement your meal.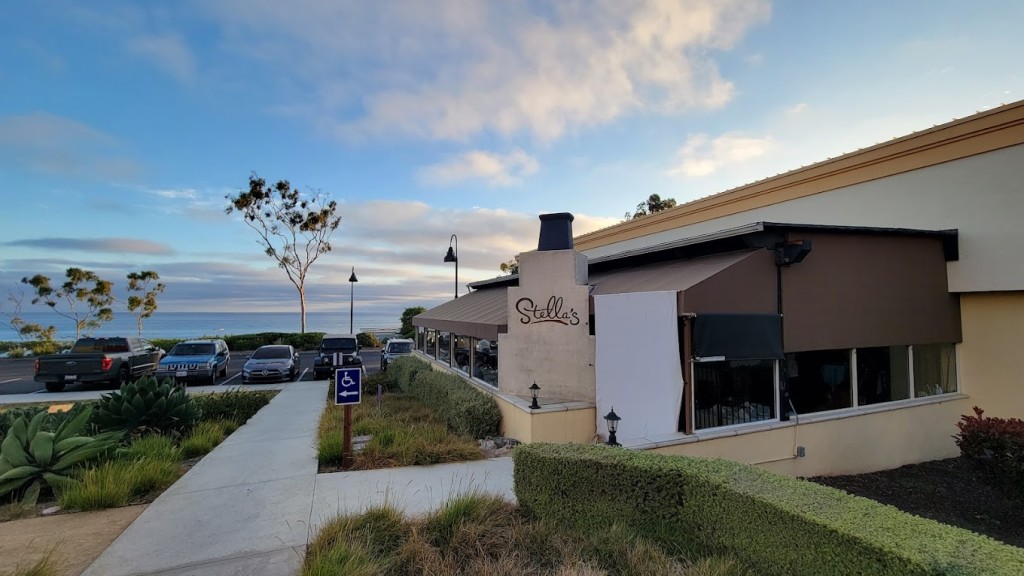 Indulge in Stella's menu, which showcases the best of Italian cuisine. From classic favorites to innovative creations, each dish is meticulously prepared using the finest ingredients. Be sure to try their
lobster
shrimp ravioli (their special!)
Italian Pizza
Whether you crave handmade pasta, succulent grilled meats, or fresh seafood, Stella's delivers an exceptional culinary journey that delights the senses.
Revel in the enchanting atmosphere, indulge in the exquisite cuisine, and let Stella's transport you to a world where culinary artistry and captivating melodies intertwine.
Nestled along the stunning shores of Dana Point, the exclusive Monarch Bay Beach Club awaits its privileged members with open arms. This hidden gem offers an idyllic retreat for those seeking a serene and luxurious waterfront experience.
With its unrivaled oceanfront setting, Monarch Bay Beach Club presents a haven of serenity.
While at Monarch Bay Beach Club, members can delight in a range of amenities and services designed to enhance their experience. Indulge in the culinary delights offered at the club's renowned restaurant, where a team of talented chefs crafts exquisite dishes using the finest ingredients.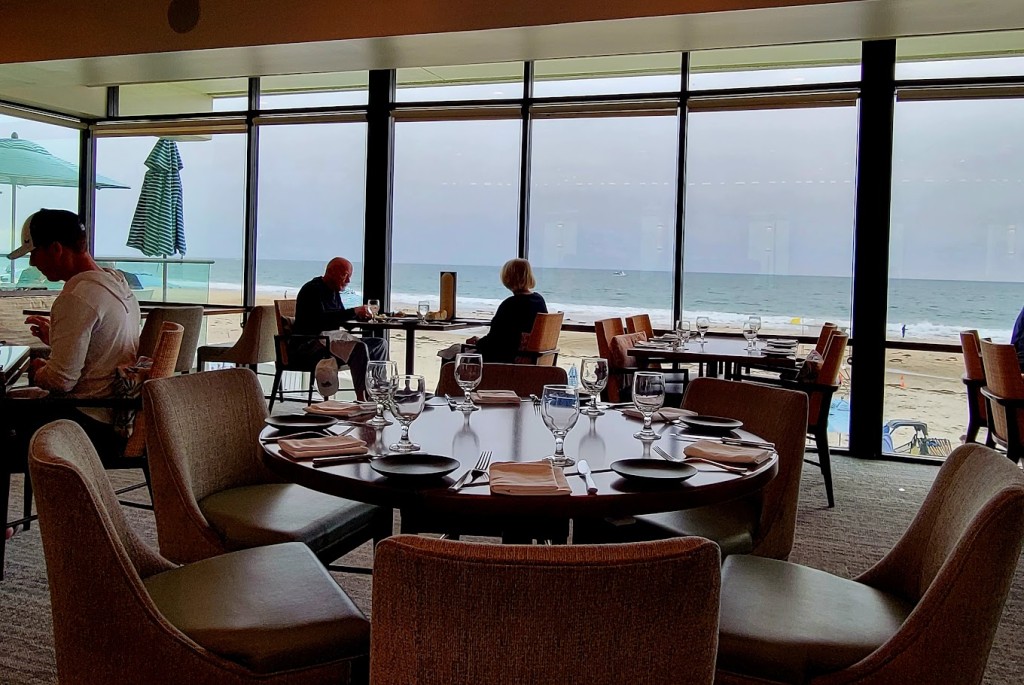 From fresh seafood to artisanal creations, each bite is a testament to the culinary expertise that defines Monarch Bay Beach Club. We recommend giving try to their:
Fish & Chips
Fisherman Stew
Calamari Appetizer
Whether you're seeking a quiet escape or engaging in social gatherings with like-minded individuals, Monarch Bay Beach Club offers a sanctuary that combines luxury and relaxation.
Experience the vibrant and laid-back atmosphere of The Shwack Beach Grill, a beloved waterfront eatery in Dana Point that perfectly captures the essence of California beach culture.
Located just steps away from the sand, The Shwack Beach Grill offers a unique dining experience where you can savor delicious food while enjoying breathtaking views of the ocean. Whether you're a local looking for a casual spot to hang out or a visitor seeking a taste of the beach lifestyle, this grill has it all.
Their menu showcases a variety of culinary delights, including fresh seafood options, hearty salads bursting with flavor, and delectable appetizers that are perfect for sharing with friends and family. Don't forget to try their famous fish tacos, a local favorite that will transport your taste buds to the shores of Baja California.
If you're a taco enthusiast looking for more taco options, check out the best tacos in San Diego!
The Shwack Beach Grill is not just a place to satisfy your cravings; it's a destination where you can unwind, indulge, and soak up the vibrant beach vibes. Whether you're enjoying a meal with friends, catching a game on the outdoor TV screens, or simply basking in the coastal ambiance, The Shwack Beach Grill is a must-visit spot for a quintessential beachside dining experience in Dana Point.
After having an amazing burger at The Shawk Beach Grill, check out Auqariums in California that look too dreamy to be real!
Dana Point Restaurants with Live Music
Music is enriching for the soul. Check out some of our top picks for Dana Point Restaurants with Live Music!
Luxe Restaurant and World Famous Martini Bar
View Website
Get Directions
PERFECT FOR: Live Entertainment. Live Music and Full Bar.
Experience the epitome of culinary excellence and live entertainment at Luxe Restaurant and World Famous Martini Bar in Dana Point.
As the sun sets, the atmosphere comes alive with the sound of live music. Immerse yourself in the captivating performances of talented bands, adding a vibrant and energetic vibe to your dining experience. With a menu that artfully combines seafood, steaks, and classic Italian dishes, Luxe offers a delightful fusion of flavors to tantalize your taste buds.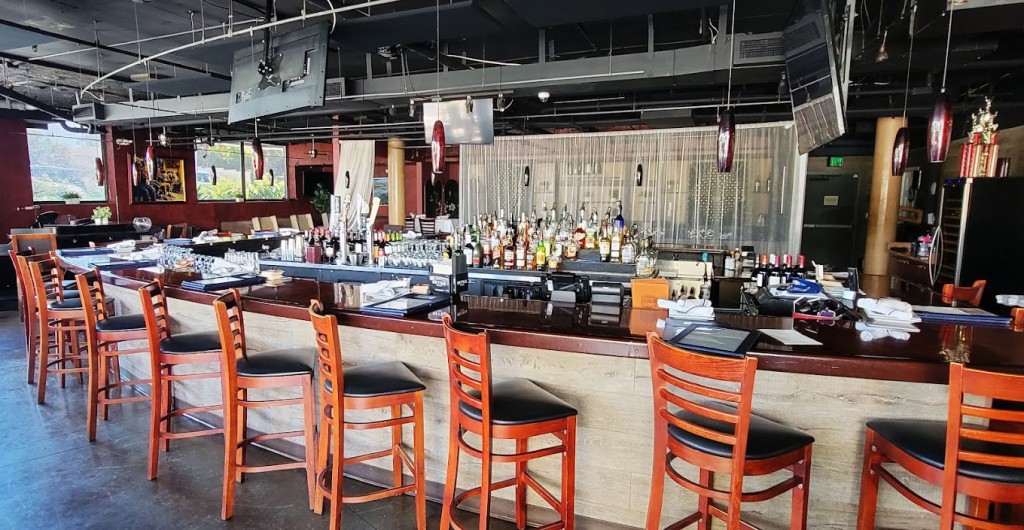 Indulge in the extensive bar selection, renowned for its world-famous martinis and an impressive array of beverages.
With its unparalleled combination of delectable cuisine, live music, and a welcoming ambiance, Luxe Restaurant is the ultimate destination for those seeking a remarkable night out in Dana Point.
Perched above Dana Point Harbor, Stillwater Spirits and Sounds is a hidden gem that promises an extraordinary dining experience accompanied by local entertainment and handcrafted libations.
Showcasing a commitment to sustainability, this waterfront haven uses locally-sourced produce, meat, and fish, ensuring each dish bursts with freshness and flavor.
Prepare to embark on a culinary journey as you peruse the tantalizing menu, where a harmonious fusion of ingredients awaits. From succulent seafood to savory meats and delightful vegetarian options, Stillwater offers a diverse range of dishes that cater to every palate. Some must-try dishes are the
Grilled Cheese Sandwich
Tomato Bisque
Lava Cake
Avocado Toast
Ceviche
Calamari Provencal
Immerse yourself in the lively ambiance of Stillwater as local performers take the stage, serenading you with their captivating melodies and creating an unforgettable atmosphere. Whether you're enjoying a romantic evening or gathering with friends, the live entertainment adds an extra layer of excitement to your dining experience.
Like Russian dishes? This is a guide to the best traditional dishes that you must try!
Family Friendly Restaurants in Dana Point
Here are a few Family-Friendly restaurants in Dana Point to help your loved ones have a blast in Dana Point:
The Point Restaurant & Sports Bar
View Website
Get Directions
PERFECT FOR: Seafood, burgers, brick-oven pizzas & local craft beers in a family-friendly spot with harbor views.
The Point Restaurant & Sports Bar is a fantastic family-friendly destination that caters to all ages and tastes. Situated in a prime location with picturesque harbor views, this establishment offers a delightful dining experience. They offer delicious seafood, mouthwatering burgers, brick-oven pizzas, and a wide selection of local craft beers.
Step inside The Point and you'll immediately feel the warm and inviting atmosphere that makes it an ideal spot for families. The friendly staff goes above and beyond to ensure every member of your family feels welcomed and comfortable.
The menu at The Point is designed to satisfy even the pickiest eaters. From fresh seafood delicacies to juicy burgers cooked to perfection, there's something to please every palate. The brick-oven pizzas are a crowd favorite, boasting a crispy crust and an array of delectable toppings.
What sets The Point apart is not just its delectable cuisine but also its commitment to creating a family-friendly experience. The restaurant offers a range of amenities and activities to keep the little ones entertained, ensuring a memorable outing for the whole family.
The menu at Coastal Kitchen offers a diverse range of options to please every member of the family. From mouthwatering sandwiches to succulent steaks and enticing New American entrees, there's something to satisfy every craving. The chefs at Coastal Kitchen are dedicated to using fresh, locally sourced ingredients to create dishes bursting with flavor and quality.
While the food takes center stage, Coastal Kitchen also offers a selection of expertly crafted cocktails to complement your meal. Whether you're looking for a refreshing mocktail for the little ones or a sophisticated cocktail for the adults, their beverage menu has something for everyone.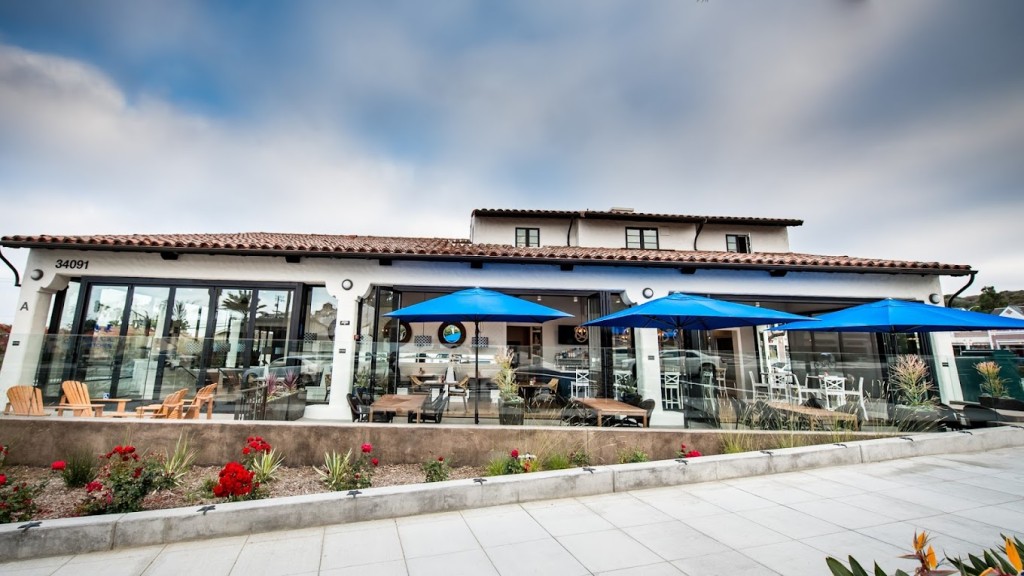 One of the standout features of Coastal Kitchen is its commitment to providing a welcoming and enjoyable experience for families. The attentive and friendly staff ensures that children are well taken care of, offering kid-friendly menu options and going the extra mile to make everyone feel comfortable.
The bright and modern decor of Coastal Kitchen adds to its family-friendly atmosphere, creating a welcoming space where everyone can relax and enjoy their dining experience. Whether you're celebrating a special occasion or simply enjoying a casual meal together, Coastal Kitchen provides the perfect backdrop for making lasting memories.
Looking to have fun with your kids? Check out 7 Places like Chuck E. Cheese for a fun experience!
Things To Consider Before Going To A Restaurant in Dana Point
The following are a few of the factors to keep in mind before picking a restaurant in Dana Point.
Menu — Keep in mind that most restaurants in Dana Point are seafood restaurants, right beside the ocean. In case you plan on eating chicken or other meat, check out the menu online. Make sure you like what's being served at the restaurant you picked. Also, if you have dietary restrictions, be sure to check if the menu caters to your needs.
Ambiance — Before making a reservation, ensure that the ambiance of the venue aligns perfectly with the event you wish to celebrate. For a family dinner, explore if they offer a kid-friendly menu. On the other hand, an intimate dinner calls for a captivating atmosphere. The good news is that all of these establishments boast an array of gluten-free and vegan options, catering to diverse dietary preferences.
Location — Make sure you understand the location of the restaurant. This way, you won't get stuck in traffic and will make it to your reservation on time.
How Do We Pick Our Recommendations?
Dana Point is also known for being the whale-watching capital of the world, and we all love wildlife and nature. This makes Dana Point the perfect spot for us. Apart from exploring wildlife, we also enjoyed dining at Dana Point Restaurants. We created this list for you so you can try only the finest restaurants in the area.
Our recommendations stem from a variety of factors: exceptional service, captivating ambiance, and mouthwatering flavors. We've carefully curated this list, taking into account the experiences and opinions of fellow visitors and online ratings.
Dana Point Restaurants for a Phenomenal Dining Experience - FAQs
What are the best restaurants in Dana Point that provide takeout?
Some of the most popular restaurants in Dana Point that provide takeout are RJ's Café and Luciana's Ristorante.
What are the best restaurants for large parties near Dana Point, CA?
The best restaurants for large parties near Dana Point, CA, include Salt Creek Grille and Jimmy's Famous American Tavern.
Why is Dana Point famous?
Dana Point is famous for being the Dolphin and Whale Watching Capital of the World, for its private tour boats, luxury spas, cruises, and boutiques.
What airport do you fly into to get to Dana Point California?
You fly into John Wayne Airport to get to Dana Point California.
Does Wind & Sea restaurant offer drinks?
Yes, they do offer drinks.