There are several variations of the classic hamburger. Griddle-cooked smash burger with a crispy surface and a low bun profile. Pub burgers are piled high with toppings and sauced to the brim. Vegan burgers are experiencing a resurgence in popularity. It's not difficult to locate the best burgers in Norfolk these days.
Also, check out our guide to the best burgers in Salt Lake City and Dubai!
Best Burgers In Norfolk
Is there anything better than a hot, juicy burger to get your taste buds tingling? There aren't many more enticing dishes than this time-honored classic. But where can you find the greatest burgers in Norfolk, with so many alternatives available? For those of you in Norfolk looking for the best burgers, we've compiled a list of some of our favorite local spots.
Jack Brown's Beer & Burger Joint
Located in the heart of downtown Norfolk, Jack Brown's is a local favorite for hamburgers. This is the place to go if you're looking for an excellent burger and don't care about fancy meals.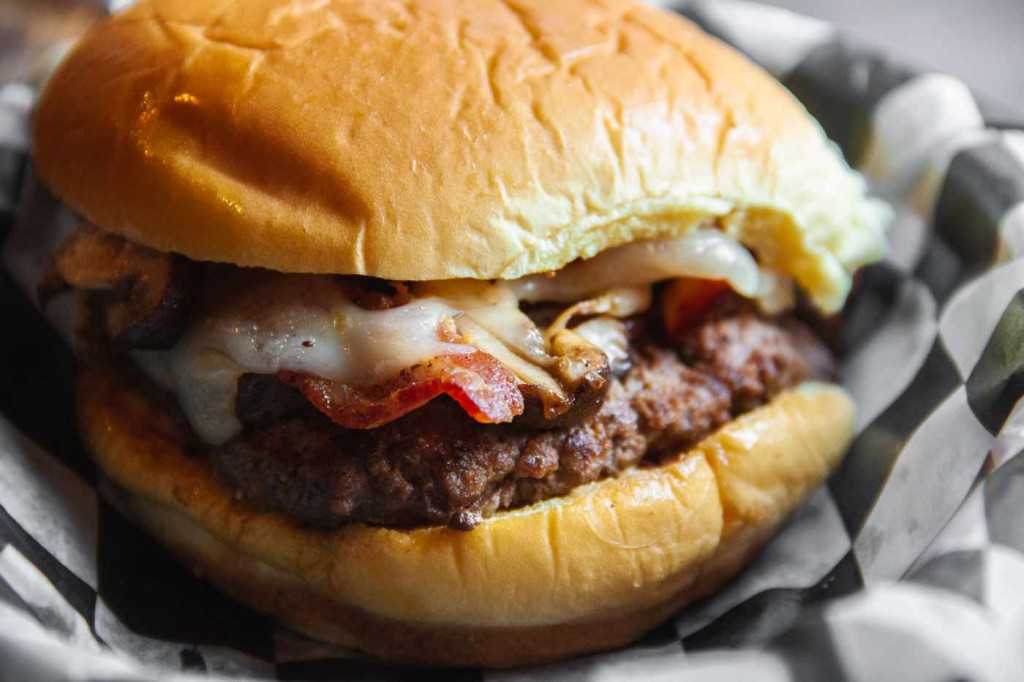 A delicious burger is what you'll get here instead of white linen tablecloths and a fancy welcome at the door. For this burger, don't expect a monster but rather a high-quality burger. It's juicy and delicious. However, there aren't any sesame seed buns to be found here.
Address: 131 Granby St Ste 1 Norfolk, VA 23510.
Specialties: Greg Brady's Burger, Chiflet, and Cheeseburger.
Salmich's Burgers & Hoagies
The greatest burgers, fries, hoagies, and service can all be found here. This restaurant offers generous servings at very inexpensive prices. To find a place that offers great food at reasonable prices, go to Salmich's Burgers and Hoagies.
Their sandwiches are enormous, and the cuisine is top-notch. You become thrilled when you have one sitting there in front of you.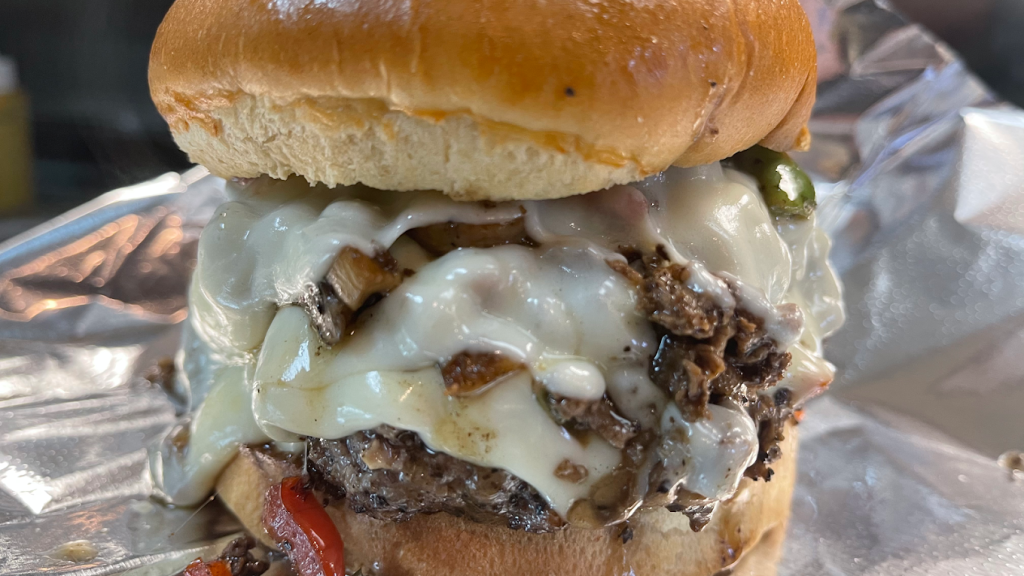 Address: 1371 E Little Creek Rd, Norfolk, VA 23518, United States.
Specialties: Beef on Weck, Steak Hoagie, and Billy Burger.
Manny's Burger
According to locals, Manny's Burger offers the best burgers in Norfolk. Friendly and helpful employees provide excellent service. Orders can be placed at a single window. Parking is abundant, but the number of picnic tables is limited.
Find the finest chicken sandwich you've had your whole life. Come hungry since this monster is enormous. Pick up some crinkle fries to go with your huge iced beverage at the picnic table. They have some great, straightforward options on their menu. If you're looking for a change from burgers, be sure to try the best pizza in Norfolk, VA.
Address: 2912 Lafayette Blvd, Norfolk, VA 23509, United States.
Specialties: Manny's Burger Special, cheeseburger, and iced tea.
80/20 Burger Bar
80/20 aims to utilize the greatest ingredients available. No chemicals or antibiotics exist in any of the beef that comes from Virginia and North Carolina. In addition to sourcing their protein from nearby sources, they also make some of their own.
Every day of the week has a different offer, plus there's a rotating monthly burger. More than 120 craft beers and a wide assortment of wines and cocktails can be found at this establishment.
Address: 123 W 21st St, Norfolk, VA 23517, United States.
Specialties: Alamo, Heritage, and Lesner.
Fuddruckers
In the center of Norfolk, a Fuddruckers can be found on East Little Creek Road, just off Tidewater Drive.
Toppings for your burger might include cheddar, tomatillo salsa, and a variety of different vegetables. Consider adding cheese and a few upscale garnishes to your order for an added fee. You get to choose the size and color of your burger.
It's also worth noting that the service here, both in front of the counter and once you're seated, is top-notch.
Address: 7750 Tidewater Dr Suite 301, Norfolk, VA 23505, United States.
Specialties: Bacon Cheddar Burger, Turkey Burger, and Bourbon Burger.
Fatburger & Buffalo's Express
Casual diner Fatburger & Buffalo's Express serve you burgers, fries, and milkshakes that are made from scratch using only the freshest, most flavorful ingredients. Fresh ingredients and traditional culinary methods are used to prepare every dish.
Friendly and welcoming employees make this place a pleasure to stay at. Even on the busiest of days, they are always kind and helpful. Their online ordering system is extremely user-friendly and straightforward.
Address: 1551 Premium Outlets Blvd, Norfolk, VA 23502, United States.
Specialties: Fatburger and nuggets.
Flight 1500 Bar & Grill
The Flight 1500 Bar & Grill can be found inside the Norfolk Airport DoubleTree. Beer, appetizers, fries, and the best burgers in Norfolk are all available at this establishment. It is conveniently located next door to the Hampton Inn. Tacos, sliders, crab cakes, and other delicacies are on the menu, as well as beer flights.
One of their best sweets is the bread pudding flight. Cocktails such as the Paloma are also quite enjoyable. There are no delays or problems with the service provided.
Address: 1500 N Military Hwy, Norfolk, VA 23502, United States.
Specialties: bread pudding and Paloma.
1608 Crafthouse
The concept of 1608 producing their own ingredients ensures surprise and quality for the price you pay.
Indoor and outdoor eating is available. It's much nicer to sit outside, and it's a lot more laid back. Some of their local brews are discounted during happy hour.
There are a lot of unusual alternatives on the menu, which is unusual for casual eating. This menu stands out because of the unique combo options it offers.
Address: 1608 Pleasure House Rd, Virginia Beach, VA 23455, United States.
Specialties: Bacon Cheeseburger, Pork Burger, and Lamb Burger.
Gourmet Burger Bistro
The Gourmet Burger Bistro menu is extensive, and the meals are delicious. There are five dishes on their happy hour menu that are all priced at $5, and the serving sizes are ideal for sampling a variety of foods from their menu. They also have a great DJ, and the atmosphere is a lot of fun as well.
The staff and environment are the best parts of this establishment. The turkey burger loaded with cheese is delicious and not dry at all, unlike most turkey burgers you'll find.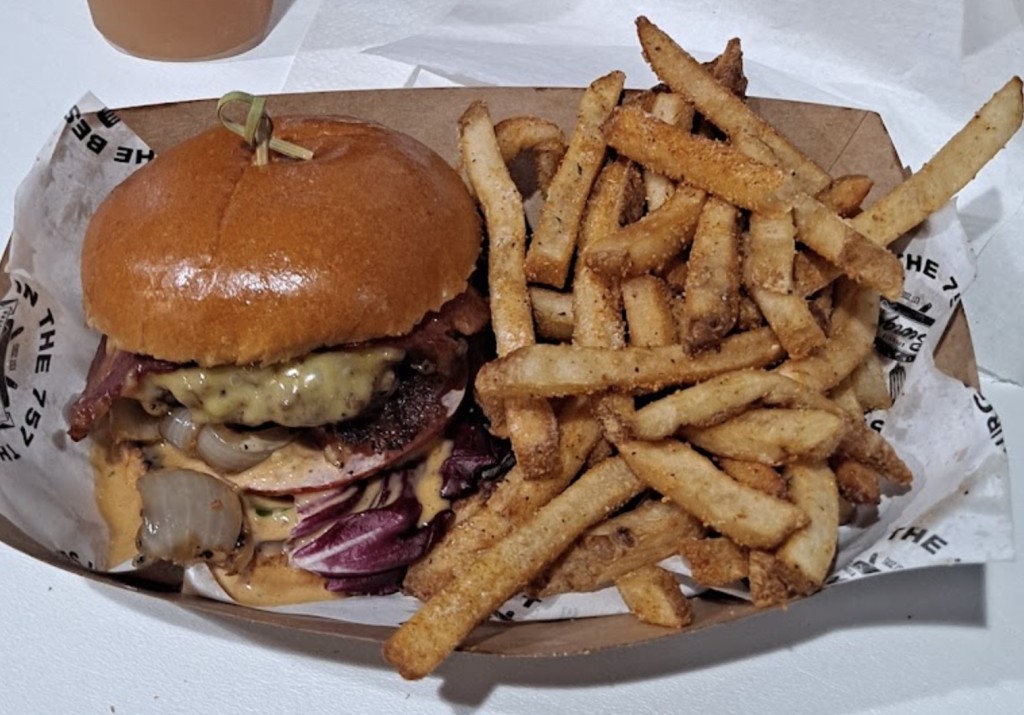 This restaurant illustrates that not all burgers are made equally. A standard burger and a gourmet burger can be distinguished by their distinct flavors and textures.
Address: 6083 High St W, Portsmouth, VA 23703, United States.
Specialties: Sticky Wings, Empire Burger, and Da Mack.
Grain
During the weekends, Grain serves up a delicious selection of brunch fare and beverages. As the fine option for one of the best burgers in Norfolk, this rooftop club features a fire pit and patio overlooking the Elizabeth River and the Norfolk skyline.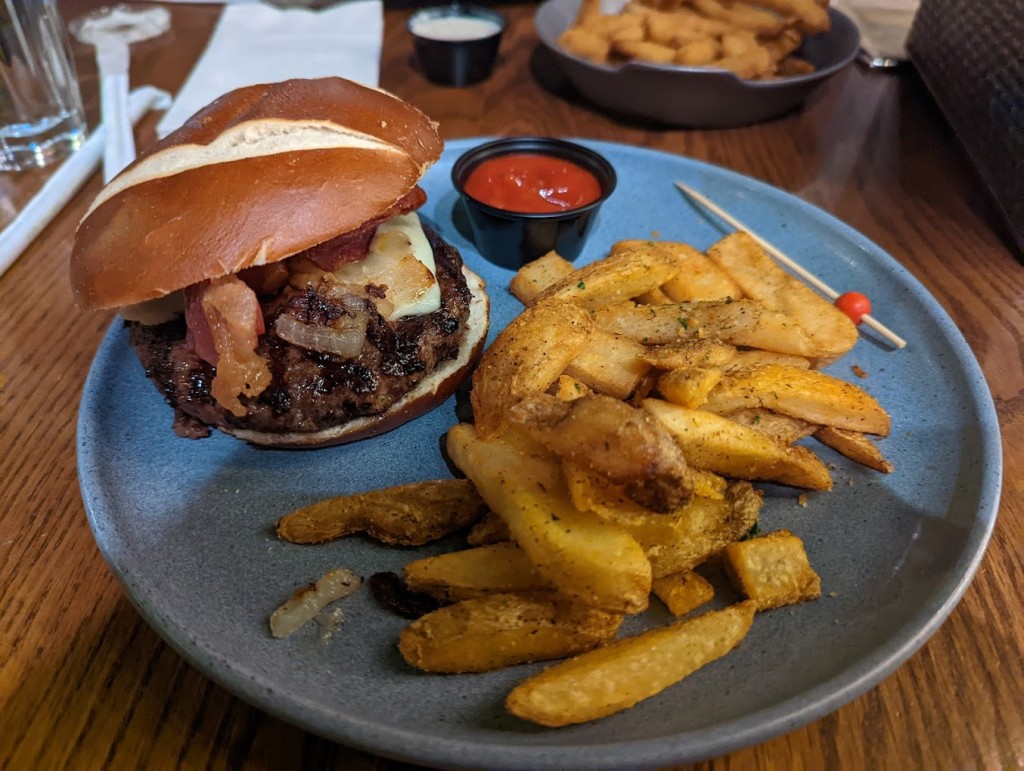 To put it mildly, they have an outstanding Cavalier burger. The tastes are fantastic. It isn't overpowered by anything else. You could taste the lettuce, tomato, cheddar, and beef in every mouthful. It was a good experience.
Address: 100 E Main St, Norfolk, VA 23510, United States.
Specialties: Cavalier burger, Black Bean Burger and Smash Burger.
Pendulum Fine Meats
It's one of the few sites in Norfolk with a reputation for consistently good workmanship. Everything they have here is tasty and well-prepared since they take their art extremely seriously.
They have a fantastic sandwich selection, and their burger is one of the best you'll ever taste. Thick, juicy patties are served on toasty bread that's been buttered just right. Definitely add some of their spicy sauce to the mix.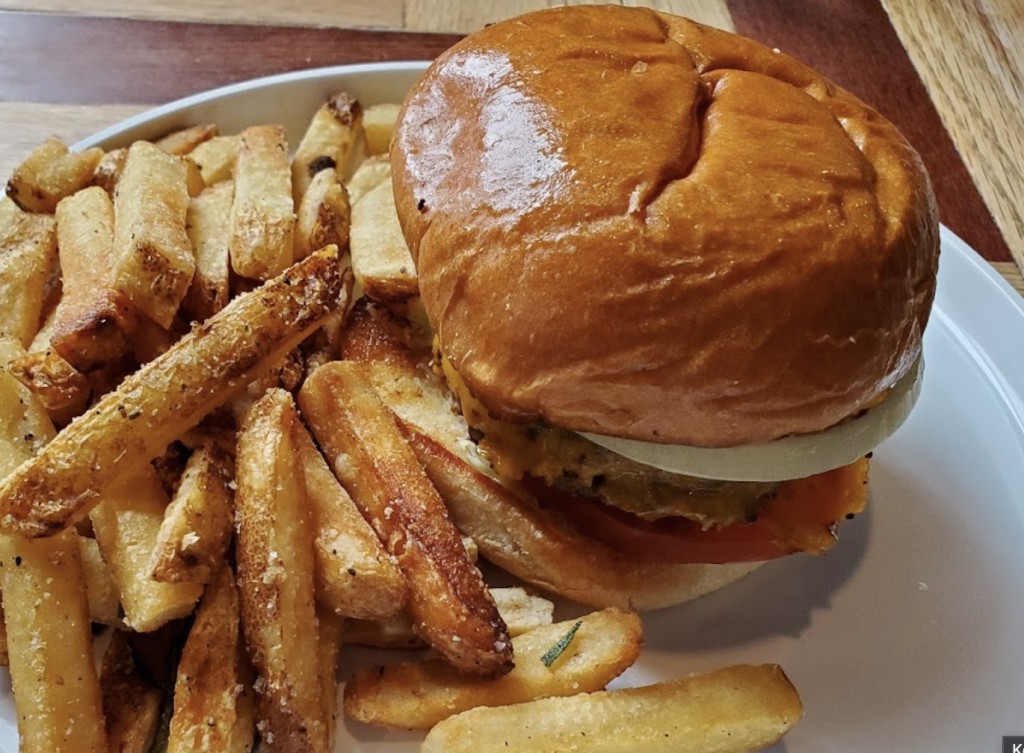 Address: 820 Shirley Ave, Norfolk, VA 23517, United States.
Specialties: The Butcher, Big Tex, and Cleaver Burger.
Recommended Read: BEST Bars In Norfolk VA
LeGrand Kitchen
In Norfolk's Highland Park, a tiny, more upscale restaurant called LeGrand Kitchen serves the best burgers in Norfolk. The variety of spices and levels of heat is excellent. The food is also excellent.
The moment you step inside, you'll have the distinct impression that you're entering someone's home. The atmosphere is warm and welcoming. The interior design is kept to a minimum. Seating is quite restricted due to COVID, and the dining tables are far apart.
The service and ambiance were excellent. Locals adore the kitchen's open design. You'll be able to observe every step of the cooking process.
Address: 4515 Colley Ave, Norfolk, VA 23508, United States.
Specialties: Chicken Sandwich, the Big Mac and Legrand Burger.
Redwood Smoke Shack Texas Inspired BBQ
The Redwood Smoke Shack has revolutionized the way people view barbecue. It's hard to imagine a better place for a BBQ connoisseur than this one. Redwood even goes so far as to offer absurd daily specials like the Feast Mode Burger and the Big Beef Ribs, just to name a few.
Seating is available both indoors and outside. This restaurant's combination of delicious food and friendly service is hard to beat. These restaurant owners place a high priority on providing excellent customer service.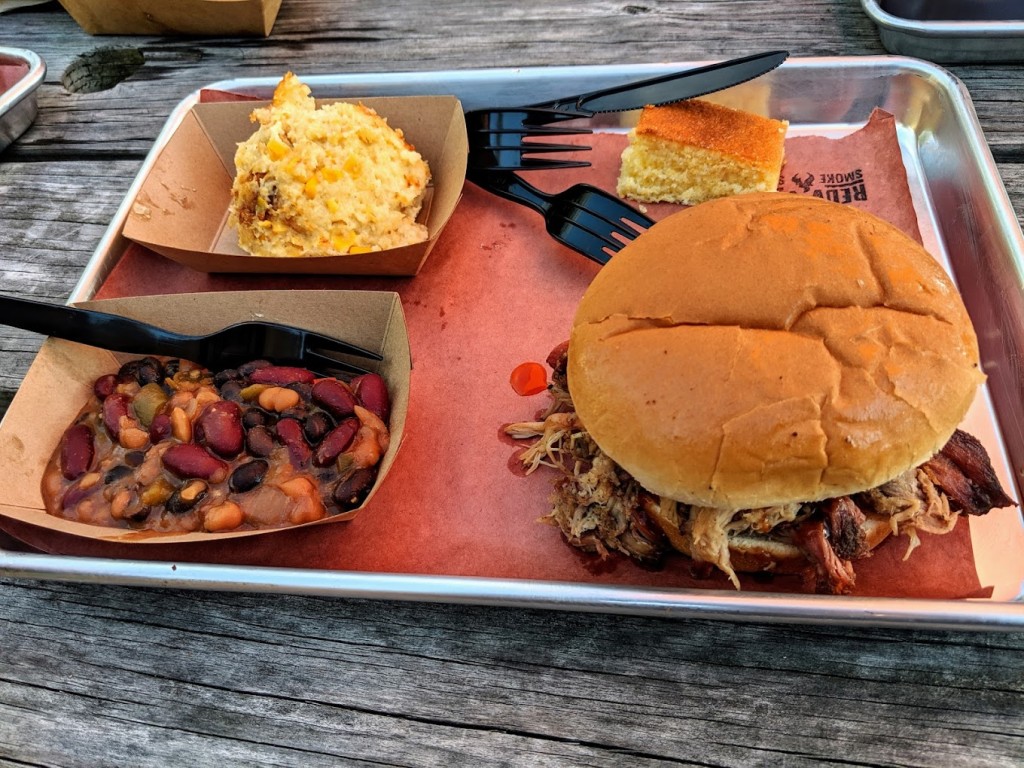 Address: 2001 Manteo St, Norfolk, VA 23517, United States.
Specialties: Brisket Sandwich, Smoked Chicken Sandwich, and Feast Mode Burger.
Karla's Beach House
Located at 13th and Ocean View, it's a nice small spot. The employees are pleasant.
It's larger than imagined and filled with local paintings, many of which may be purchased. You might come here with sandals on your feet and the sand between your toes and not feel out of place. On top of everything else, a complete bar is available.
You feel confined as soon as you enter the building. However, the cuisine is excellent. The burgers, in particular. There's never a dull moment around here. It's best to park across the street because on-street parking might be scarce. Also, check out the best breweries in Norfolk if you are craving a drink!
Address: 3248 E Ocean View Ave, Norfolk, VA 23518, United States.
Specialties: Surf and Turf and Bang Bang Shrimp Wrap.
Press 626 Wine Bar
It's a great little spot. These people know how to cook, and it shows in the quality of their cuisine and wine. Seating is available both inside and outside, but reservations are recommended.
Their PRESS Burger is a favorite among the locals. It is made with roasted red peppers, caramelized onions, arugula, handmade boursin cheese, and balsamic reduction on brioche bread.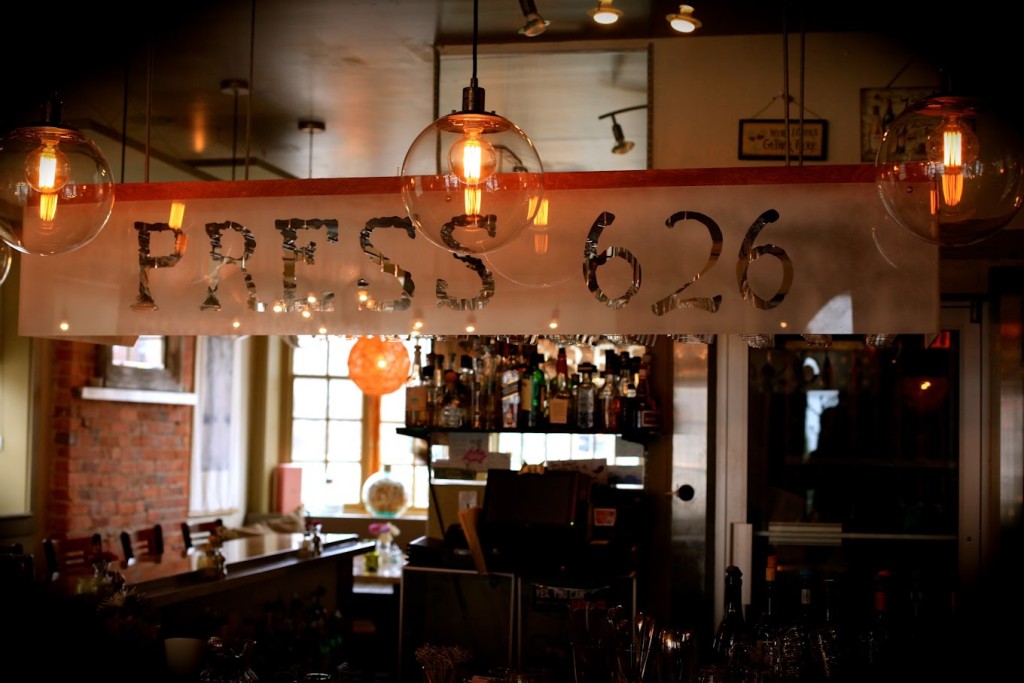 Address: 626 W Olney Rd, Norfolk, VA 23507, United States.
Specialties: Tuna Melt, Cuban sandwich and PRESS Burger.
Doumar's Cones & Barbecue
Doumars has never let anyone down. Their swift and high-quality service with the nicest vehicle hopping definitely transports you back in time. Enjoy a delicious lunch with your loved ones, whether you choose to eat in or take out.
The waffle cone was invented here, and the world's first cone machine can be found here as well. However, they've broadened their offerings to include some of the best burgers in Norfolk.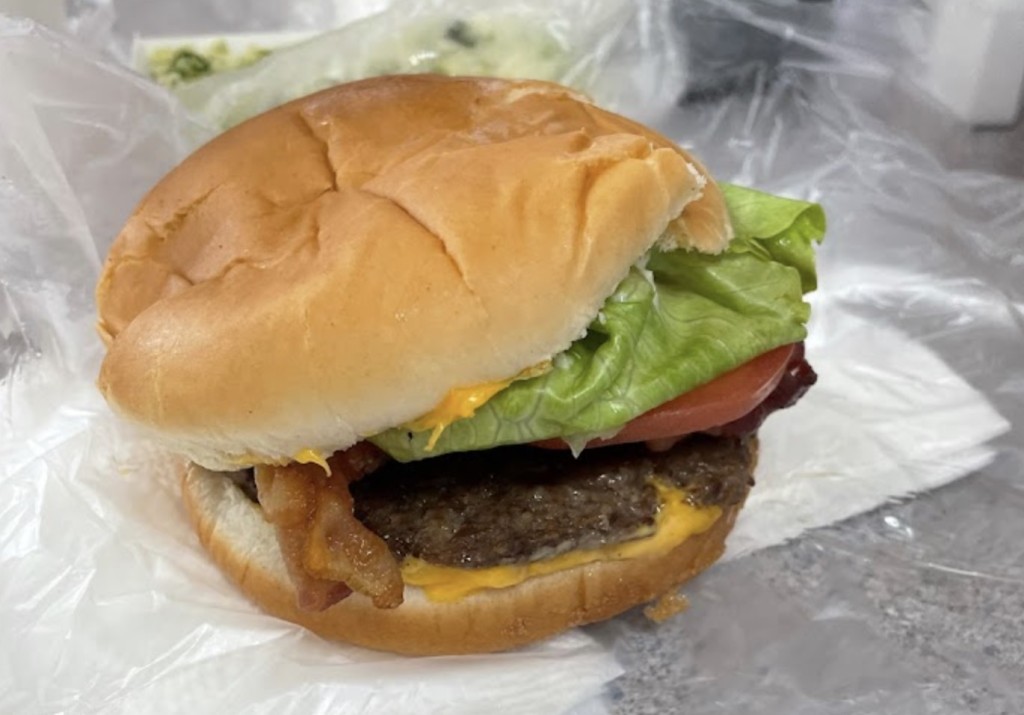 It is easy to make yet delicious. It's a pleasant and speedy experience. When the dish is delivered, they supply all of the condiments you'll need.
Address: 1919 Monticello Ave, Norfolk, VA 23517, United States.
Specialties: Cheeseburger, Taylor Pork Roll Sandwich, and Steak Sandwich.
Johnny Rockets
Johnny Rockets is a classic diner-themed American restaurant that puts on a fun and lighthearted dining experience.
There are just burgers, certain sandwiches, fries, tater tots, onion rings, and milkshakes on the menu at this restaurant. There are limitless fries served on a white plastic plate with a ketchup smiling face on top.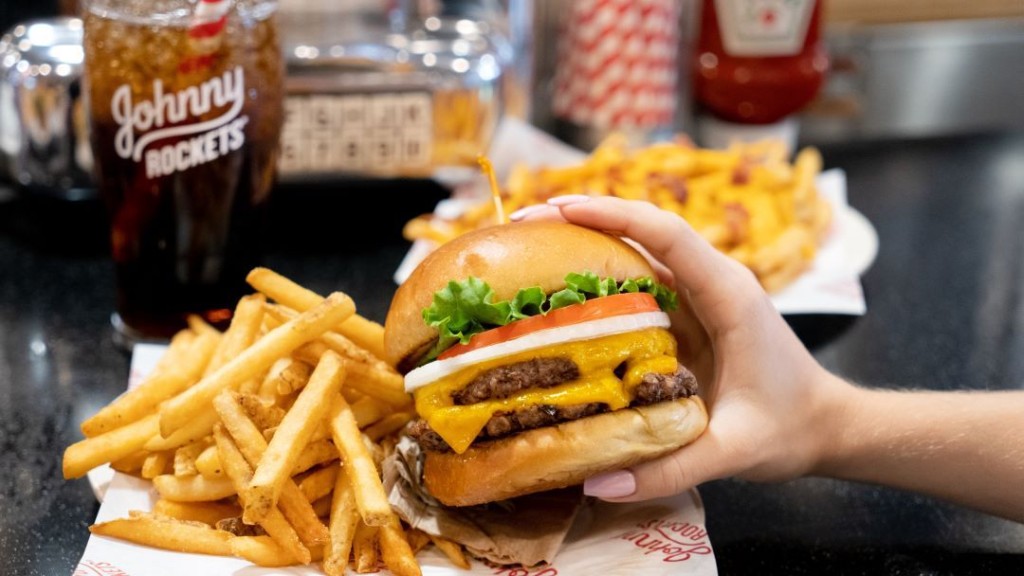 Regardless of the time of day, the meal is prepared in front of you, and the service is excellent. It's possible to catch them performing a song or two at random.
Address: 300 Monticello Ave, Norfolk, VA 23510, United States.
Specialties: Smoke House, Spicy Houston, and Kids Grilled Chicken Strips.
Cook Out
Cook out is a sure bet every time. They've received over 200 honors for their freshly made burgers cooked outside in the Southeast, and they've gained a huge fan base.
When you order from them, you get a ton of high-quality meals and sides. The price is reasonable for what you receive, making it a solid choice. It's impossible not to fall in love with the milkshakes.
For good reason, the line is always long, but it moves quickly. Their cheddar-style burger is out of this world.
Address: 1105 N Military Hwy, Norfolk, VA 23502, United States.
Specialties: Cheddar style burger and Steak style hamburger.
Conclusion
The first time you discover your new favorite burger joint, it's an unforgettable experience. With every mouthful, these best burgers in Norfolk will quickly become a top contender for your all-time favorite. That concludes our research of the city's top burger eateries in Norfolk, Virginia.