Nothing quite fills the bill like a good ol' burger when the craving creeps up on you. Are you salivating at the thought of a gourmet burger while in the stunning Salt Lake City? There's much to do here and so many fantastic burger joints and restaurants to choose from, each offering something unique and memorable in taste and presentation.
You could be feeling adventurous enough to walk into a burger joint you've never tried before, or you're too hungry to take risks and feel that some research would do you good. Either way, we've got you covered. Here are some burger joints you can't miss in Salt Lake City, Utah because we've put together a list of only the best for you. If you happen to be in Norfolk, VA, and are in the mood for a delicious burger, be sure to check out these 19 BEST Burgers In Norfolk VA.
Urban-chic restaurant The Copper Onion offers a gourmet take on American fast food. Copper Onion's hospitality never lets its customers down ever since it opened ten years ago.
Each dish is prepared daily in-house, emphasizing sourcing ingredients indigenously and sustainably. The brasserie-style restaurant serves American cuisine with a phenomenal depth of flavors, making it a choice you wouldn't want to miss.
Ryan Lowder, the founder of The Copper Onion, grew up in Utah and later moved to New York. The chef brought his expertise and fresh perspective back to his hometown and revamped the classic American burger with his unique epicurean twists.
Copper Onion has another great catch that has become part of its identity; it's directly across the street from The Broadway Theatre.
At different times of the day, Copper Onion offers different options for breakfast, lunch, late afternoon, and supper, each of which offers an array of distinctive flavors, forcing you to rethink your definition of the perfect burger! The bartenders at Copper Onion are remarkably creative at their craft and serve up incredible drinks, perfectly complimenting the downtown setting.
The burgers at The Copper Onion are wildly popular in Utah, and making reservations is a must, especially on weekends. They serve up the juiciest gourmet burgers available in a wide variety of different types and flavors. Countless Google reviewers have called it the "best burger they've ever had".
Recommended Read: The Most Popular Sioux City Restaurants – Local Favorites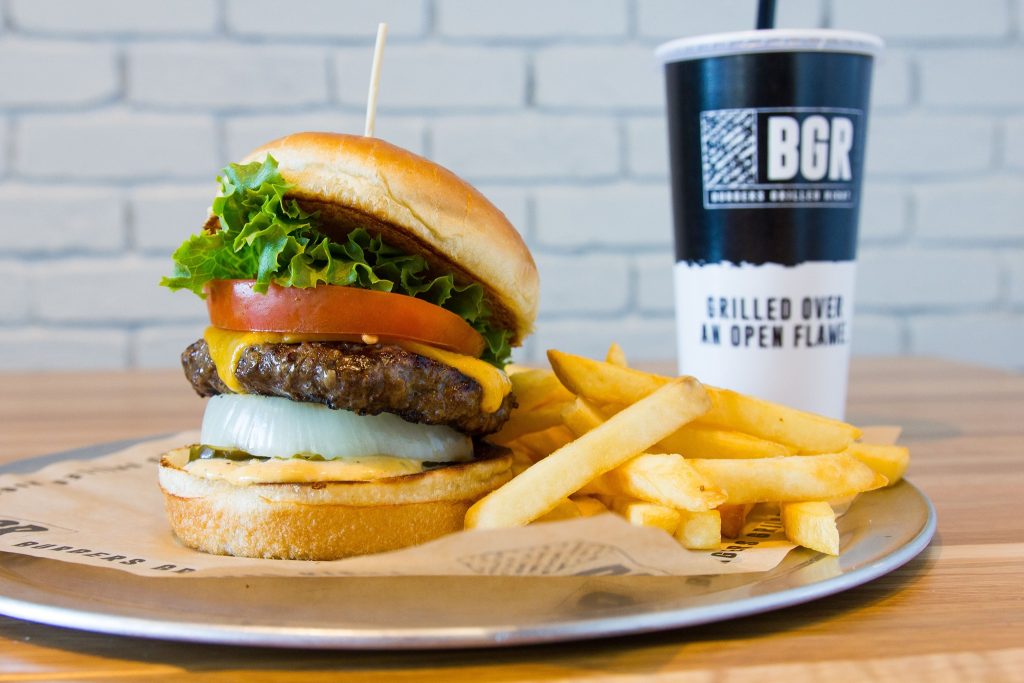 While BGR is a big chain nationally, it is a small, artisanal one focused on quality and deserving your attention and effort. The lone BGR in Utah is now located in Wilmington in the middle of Sugar House.
First and foremost, the name tells you exactly what to anticipate at this gourmet burger joint. Burgers are grilled to order at BGR: rare, medium, well-done, or anything in between – you make the decision. The same is true for the bun, which comes in wide varieties such as gluten-free, classic brioche, and even keto lettuce wrap options.
And you know, when a restaurant is happy to serve you a burger to order, you can count on quality. And what's a better quality guarantee when a restaurant is willing to prepare your burger to order? From the premium 6 lb beef patties to their all-natural chicken burgers, turkey burgers, sushi grade ahi, and their amazing veggie burgers, everything at BGR is top-of-the-line and delicious.
The same is true of their selection of free and special toppings, which are even occasionally produced on-site fresh. The environment and staff at BGR are exceptionally hospitable and welcoming. Oh, and their milkshakes are to die for! Do you need any more reasons to visit BGR?
They may not be the absolute number 1 on our list, but these guys still make one of the best burgers in all of Utah! The 21+ roadhouse-style bar/restaurant is known for its fantastic burgers. There's a reason why Lucky 13 has been a Salt Lake City institution for so long.
They're only a bit west of Smith's Ballpark and typically bustling with loyal customers ready to dig into some of their juicy beef patties are what dreams are made of with a huge serving size! The Celestial Burger is our top recommendation; A sizable beef patty, house-smoked ham, caramelized onions, cheddar cheese, and special in-house sauces are all placed on top. Still, every one of the 11 regular burgers at this Utah roadhouse is worth trying.
Please don't underestimate the waiting time at Lucky 13 because it can get long and certainly test the patience of a hungry customer; however, the environment is incredibly hospitable, and the burgers offer an experience worth having. Some of their classics include Hamburgers, Cheeseburgers, and House-Smoked Bacon Cheeseburger.
The names of their gourmet burgers are very amusing, and some are hilariously sarcastic, such as "The Breath Enhancer", which is their delicious garlicky burger paired with rosemary.
The Fungus Amongus: mushrooms are sautéed in red wine and a touch of garlic and Swiss cheese. The joint is also famous for its challenge of finishing the Big Benny and The Lucky 13 Burger by yourself in an hour, and the restaurant awards you $200!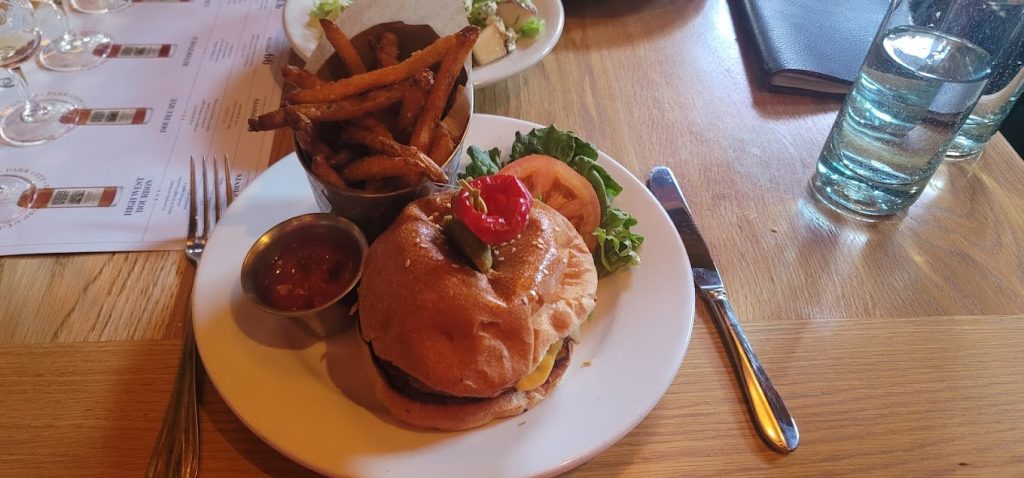 High West Distillery & Saloon is not just a burger joint since it offers a full and comprehensive menu with much more than just burgers.
There is a fine selection of entrees to choose from, but their burger is phenomenal and famous all over Utah. Originally a small business in the heart of Park City, it has since expanded to become a well-known brand with four distinctive locations.
High West launched its distillery in Wanship, Utah, in 2015. It features a 1600-gallon copper pot still and serves as a venue for whiskey sampling, pairings, and instructional tours.
High West Distillery & Saloon in Park City's mountains perhaps offers one of the greatest burgers in the entire state of Utah; it is undoubtedly included on our list of the city's top eateries.
A gorgeous 8 oz., the High West Burger is magnificent. A blend of bison and beef served with hand-cut rosemary crinkle fries, aged gruyere that has been broiled, blue cheese, BBQ-glazed sweet onion, and crispy fried shallots. The motto here is pairing whiskey with food and is, according to them, "one of the most underrated experiences in the world".
The wide variety of whiskey perfectly compliments their Western Mountain Cuisine burgers. So be sure to enjoy your big juicy burger with a whiskey to go with it.
Hale launched Hires Drive-In in 1959 while Don Hale was a professional grocer. This restaurant has been a long-time favorite of our Salt Lake City residents. Big hires are widely appreciated for their hand-cut fries available in different cuts, homemade special onion rings, in-house secret dipping sauces, and the good ol' frosty beer.
They are all about a cheery time of eating with friends and family. Their burgers aren't gourmet with over-the-top combinations or attention-grabbing names. They're just the simple, classic burgers that, in taste, beat so many others in Salt Lake City.
Don't forget to pair your Big H with any of their hand-cut fries or seriously addictive onion rings, along with a thick Oreo shake. Their Oreo shake has been a family favorite for generations, and countless people feel that their burgers are incomplete with this sugar bomb of a shake!
You will find this simple and cozy deli in the middle of the Central 9th district. They don't, however, stick to just one thing. The pizzas and mouth-watering smash burgers served every Monday night at Central 9th have also made the restaurant very popular in Salt Lake City.
They provide amazing meals along with a complete experience of a wonderful environment. It's the kind of place that would be the first to come to mind when you think of a convenient hang-out spot. The signature specialty of their two thinly smashed patties truly makes this one shine.
The patties serve a lot of crispiness and crunch while the inside is still juicy and has a wonderful meaty taste. Franklin's toppings are pretty straightforward. The bun is excellent, as you would expect from Central 9th, known for its baked goods.
The highlight is the same lusciously fatty patty made with American wagyu from local farms. Franklin lets visitors pick their temperature spot-on with their customer service. The house-smoked bacon is thick and meaty, going very well with the tender beef delivering distinctive deliciousness.
Editor's Pick: 9 Phenomenal Places In Boston That Offer Mouthwatering Breakfast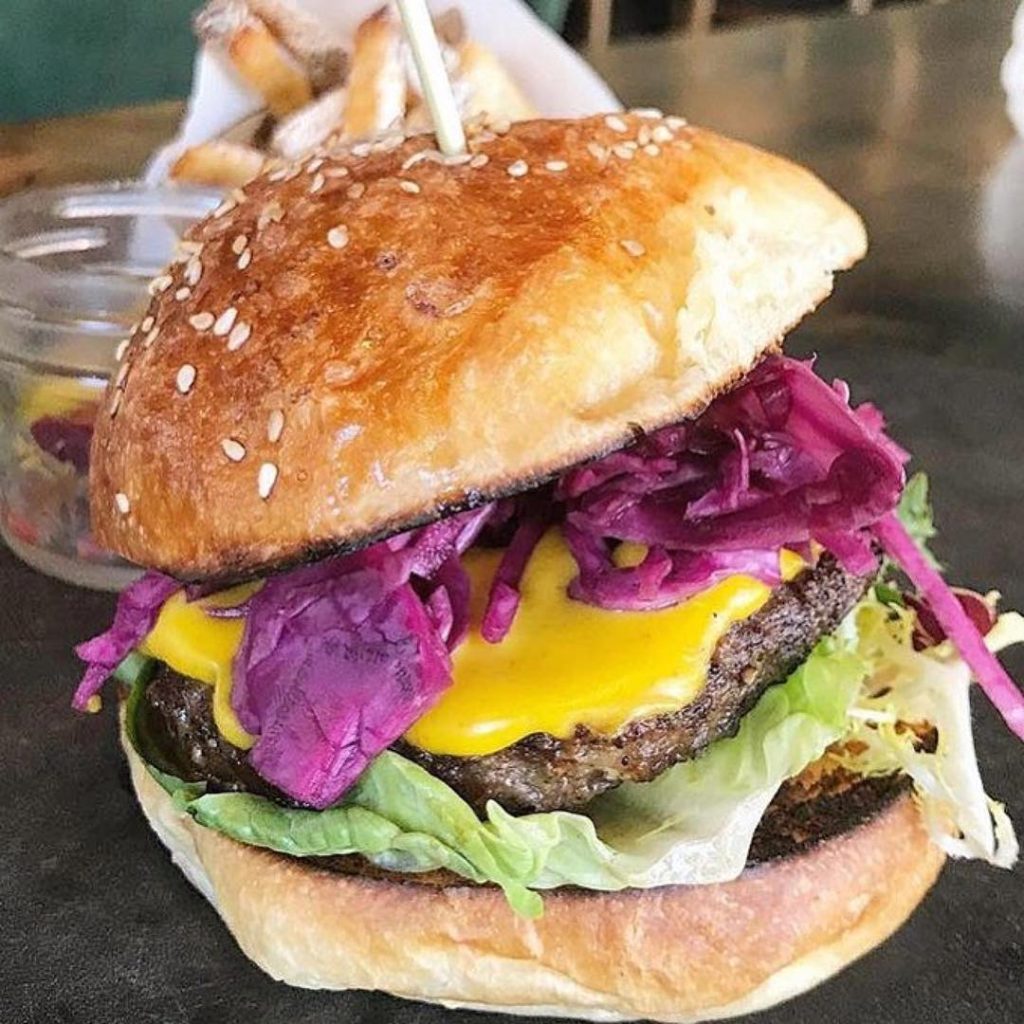 Want to go fine dining in a restaurant with gorgeous interiors? HSL is your best bet. Handle, a company based in Park City, Utah, gave rise to HSL. HSL is a chef-driven, beautifully designed dining experience that mixes the best of Handle with fresh dishes that go well with its urban setting.
Stunning interior design, a wood-fired oven, and an outstanding cocktail menu. The focus of HSL's menu is a joyful exploration of seasonal dishes. People seem to rave about HSL's food, the ambiance, and the highly attentive and sweet customer service.
What's great about the burgers is the consistency of their amazing taste. A delicious patty made of savory beef flanks is offered here for only $16 and served on a cornmeal-crusted bun that stands up well to the weather.
It also includes a house-made American cheese, tomato, lettuce, and zesty cabbage slaw. The platter comes with a jar of homemade pickles and a mound of steak fries fried in duck fat. Sounds heavenly, doesn't it?
Fresh Niman Ranch beef, caramelized onion, aioli, and what can only be described as caramel bacon are all cooked together to create the signature Pago Burger, which is served with house-made chips. As an eatery, Pago's is all about freshness, local produce, and sustainability.
Pago's candied bacon is particularly famous for elevating the burger to another level of culinary greatness. It's remarkable how many individuals can fit in such a tiny space here. The Pago experience is unique because customers can be cozily seated at the bar and interact with Chef Michael Richey.
At the same time, he prepares the Pago Burger, which is one of Utah's favorite gourmet burgers. Pago's slogan is "wild to the table", and they use only the freshest ingredients to hand-craft innovative American Bistro meals.
The seasonal menu varies accordingly to offer the greatest products available at any given moment. Stopping at Pago is a wise idea if you're in the vicinity.
They occasionally serve a Lamb Burger for dinner too. The burger will knock your socks off for $10 a plate. How could you not try something so delicious at such a good price point?
While savoring the taste of a mouth-watering burger, don't forget to book your stay at one of these top resorts in Utah for the ultimate vacation experience.
Things to consider before going out for burgers in Salt Lake City
Carry your favorite sauce – Take your favorite sauces with you if you're in doubt about whether the restaurant you're visiting will have them or not, such as a special kind of fusion sriracha or a fusion Thai chili sauce, etc.!
Always Carry wipes – Always carry wipes for sticky situations (quite literally). Burgers are a messy business, and dropping them on your favorite top or bottoms is the last thing that'll help a smooth dine-out experience.
Do your research – Study the place and see if it's family-friendly or not. Not all of these recommendations are suitable for children, infants, or teenagers, so be sure to call and ask before going with your family.
Behave accordingly – Be kind to the staff. If the waiter attending to you seems busy or makes some mistake, you can always make sure to communicate your concerns to them with kindness.
Making reservations always helps – If time is something you're short on, make reservations in advance through the website given by the restaurant on google, or you could even call them up if that's what you find easier to do.
Study the menu – If the restaurant you're visiting is on the more high-end and expensive side of the spectrum, study the menu and decide beforehand about what you'd like to have. If you prefer to decide on the spot, then take your time and ask the waiter in detail about the items appealing to your imagination. The more information the water can give you, the better it is for a great experience because nothing ruins dining out like an order gone wrong from the restaurant's end. Hate gherkins in your burgers? don't forget to let the waiter know!
How do we pick our recommendations?
Reliable information is our topmost priority and as a very big foodie, I visited numerous of these locations and prioritized personal experience as one of the foremost aspects that make each restaurant worth your time and money. I have made sure only to recommend places that have left a mark in my memory regarding taste and service.
We pay attention to all the little things that make a dine-out experience memorable. No matter the subject, we only want you to visit and try the top-tier burger places in Salt Lake City. Also, check out our recommendations for the best burger spots in Dubai.
When designing our list of recommendations, we make sure that the list has everything for someone; These places will have something for every type of burger lover out there. We researched evaluations of each of these restaurants in SLC to determine whether they would fulfill the criteria of the perfect place, considering their services, consistency and markers, and budget-friendliness.
While many places in the list are high-end, we still insist you try them because, according to our analysis and personal experience, these make for very compelling choices!
You'll never find better burgers than these at Salt Lake City - FAQs
Which is the most famous meat used in the burgers in UTAH?
Locally produced or imported beef is generally preferred in burgers in UTAH. Pastrami is highly preferred in beef burgers in this city.
Which is the oldest burger chain in Utah Salt Lake City?
Since 1978 Crown Burgers is running at this place, making it one of the oldest burger chains in Utah, Salt Lake City.
Which burger joint has the most branches in UTAH?
McDonald's takes the lead with having 101 branches in 44 cities in UTAH.