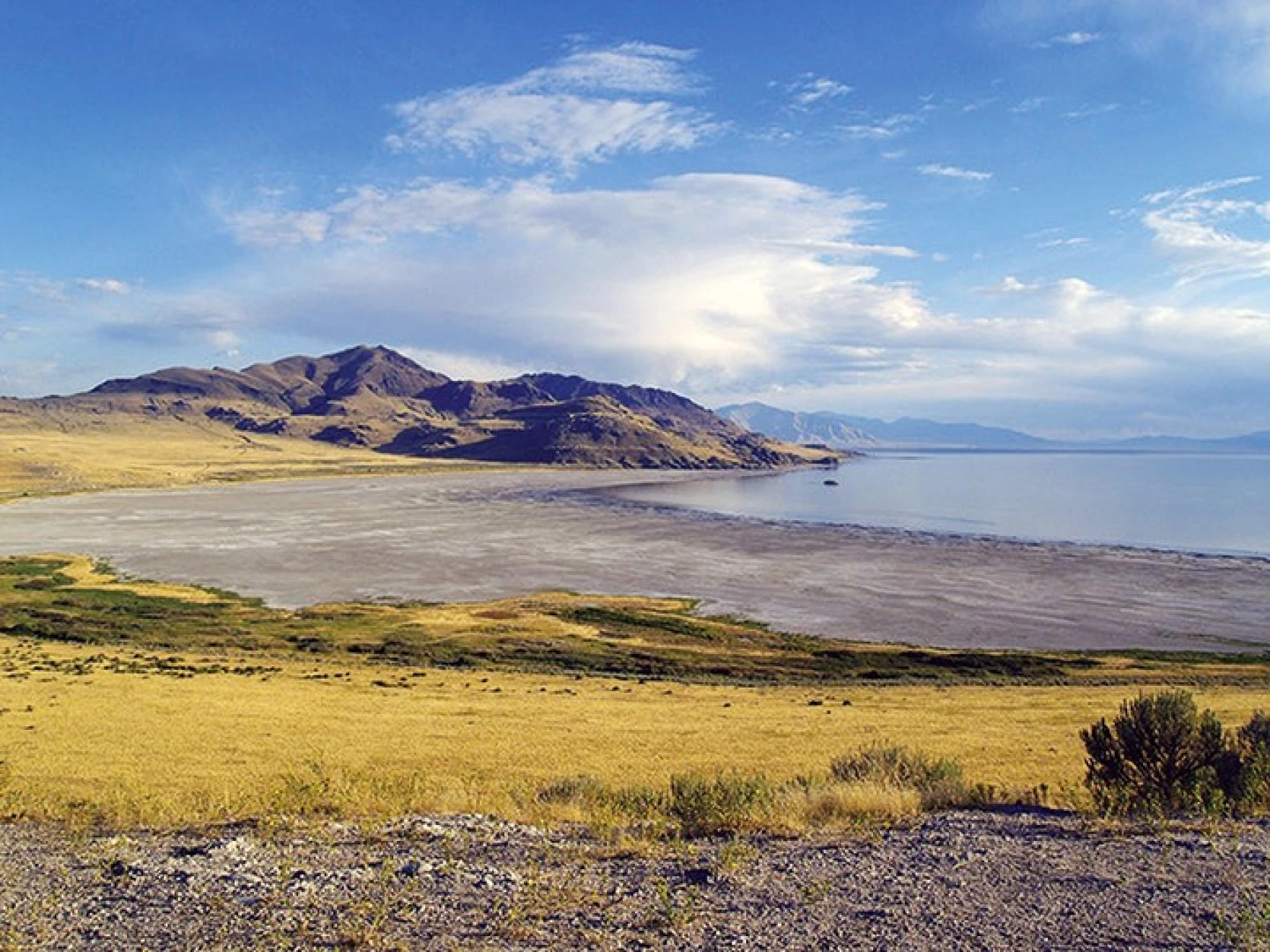 Looking for a place to truly get away from it all? Utah has some of the best resorts in the country that offer stunning views, luxurious amenities, and endless activities. From the beautiful red rocks of Zion National Park to the alpine terrain of Snowbird Ski Resort, there is something for everyone looking for an escape. Whether you want a romantic getaway or a family-friendly retreat, these resorts offer relaxation, adventure, and comfort in breathtaking settings like no other. Moreover, if you enjoy exploring new places, have a look at our recent list of Top Idaho's tourist attractions as well.
Which One Is the Best Resort In UTAH
Whether you're a nature lover or an active adventurer searching for adrenaline-pumping activities, luxury resorts in this state can provide unparalleled comfort in an unforgettable environment. Read on to discover some of the finest resorts that Utah has to offer!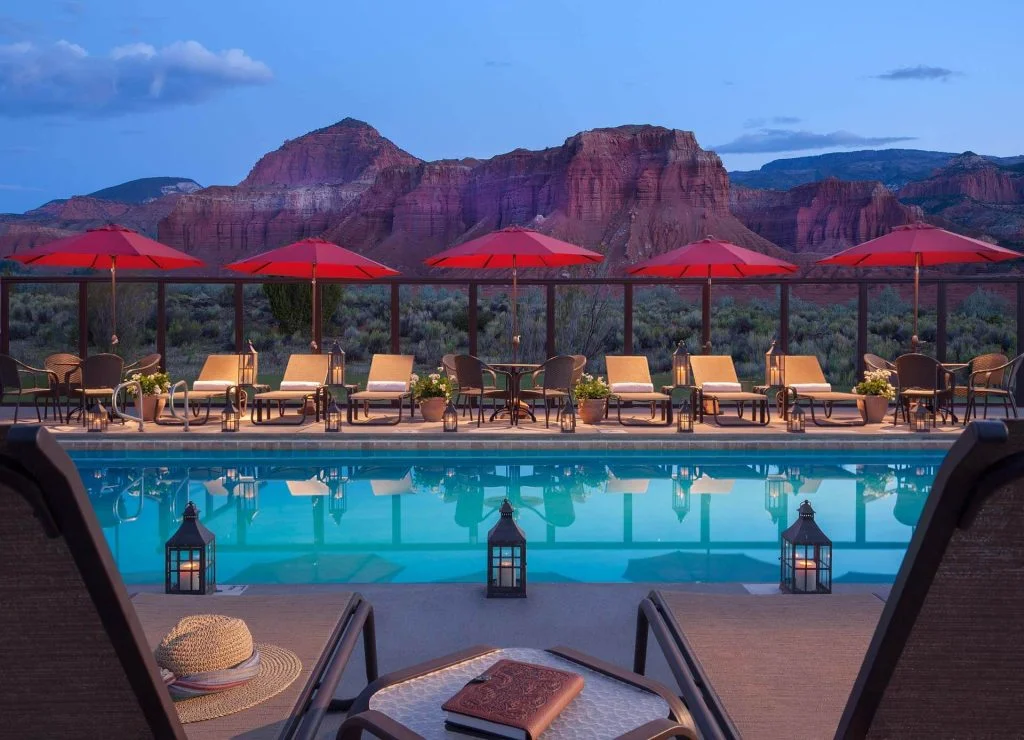 Capitol Reef Resort in Torrey, Utah, is a serene and beautiful 58-acre oasis nestled among mountains and breathtaking views. Just outside the boundaries of Capitol Reef National Park. Guests can choose from spacious cabins, modern teepees, and unique Conestoga Wagons – each accommodation offers something special. It offers all the amenities needed for a comfortable stay, including air conditioning (in select units), cable TV/DVD player (in select units), Wi-Fi access throughout the property, a complimentary breakfast buffet each morning (at select units), and much more.
The resort's grounds are dotted with trees, wildflowers, ponds, trails, and wildlife – making it the perfect destination for nature lovers. A few miles away lies Capitol Reef National Park – a protected desert expanse known for its colorful sandstone formations and ancient petroglyphs. Or take a scenic drive through nearby canyons to gaze upon rock arches or even catch a glimpse of bighorn sheep roaming freely in their natural habitat!
Capitol Reef Resort offers outdoor activities ranging from fishing and paddle boating on their stocked pond to lounging by the pool or cuddling up near the fire pit while stargazing under millions of stars overhead. Day trips from the resort include visits to historical sites such as Anasazi cliff dwellings or incredible hikes throughout Utah's stunning red rock canyon country. And if you're looking for something more adventurous, embark on guided rafting trips down roaring rapids or horseback rides through rolling hillsides!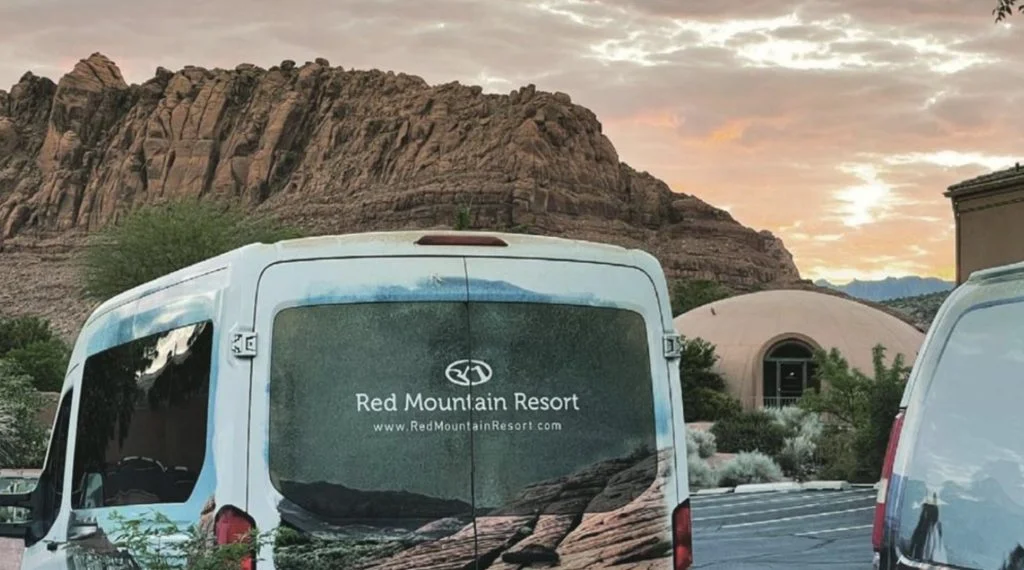 Red Mountain Resort is located in the heart of St. George, Utah, and provides its guests with a unique experience of adventure and relaxation. The resort offers accommodations, dining, outdoor activities, and numerous packages to create an unforgettable stay. Guests can explore stunning Zion or Bryce Canyon National Parks, while Snow Canyon State Park is nearby.
The resort houses several cozy suites with amenities such as balconies, fireplaces, and kitchenettes that are perfect for families or romantic getaways. For those looking to indulge in relaxation, this resort offers a full-service spa featuring treatments such as massages, facials, and body wraps tailored to individual needs. Additionally, the resort features innovative workshops focused on self-improvement; these include yoga classes, meditation sessions, cooking lessons, and much more.
Outdoor enthusiasts will also find plenty of activities to enjoy at Red Mountain Resort. Go for a leisurely stroll along the walking paths or take a more challenging hike on one of the many nearby trails. To make sure no one leaves unsatisfied, mountain biking excursions, paddle boarding trips, and rock climbing areas are available to explore during your stay.
At this resort, guests can take guided tours through Zion National Park or Bryce Canyon National Park to learn about their history while taking in breathtaking views along their adventure! Well, if you love to visit parks and want to enjoy those mesmerizing park scenes with your family, then we suggest you check our research list of the best parks in Santa Ana.
Moreover, Snow Canyon State Park offers a unique opportunity for guests who want to explore Utah's land of red rocks further. With so much available at Red Mountain Resort, we guarantee your stay will be one you won't ever forget!
Bluff Dwellings Resort & Spa in Utah is a unique and historic destination offering guests a peaceful and luxurious experience. Nestled between the majestic sandstone cliffs of the region, this hotel is an oasis of tranquility and beauty. Guests can enjoy breathtaking landscape views and listen to stories and ancient legends from ancestral Puebloan-inspired dwellings.
This luxurious seasonal resort, nestled amongst captivating sandstone cliffs, is an idyllic escape tucked away in southern Utah. Just 41 miles from awe-inspiring ancestral ruins at Cedar Mesa National Monument, Hovenweep National Monument, Bears Ears National Monument, and San Juan River. At Bluff Dwellings Resort & Spa, you will be pampered with luxurious amenities throughout your stay. The accommodations are spacious and offer stunning views of the terrain below. Visitors can choose from a selection of rooms with modern-day amenities such as Wi-Fi access, flat-screen TVs, and premium bedding for maximum comfort during their stay.
For those who focus on a more relaxed getaway, this resort offers an array of additional services, including spa treatments, yoga classes, and health club facilities – there's something for everyone! There are also excellent onsite dining options that feature local ingredients in creative dishes that will tantalize your taste buds.
Sand Hollow Resort
View Website
Get Directions
PERFECT FOR: Those looking for an active getaway, a place to enjoy nature, or relax.
Sand Hollow Resort is a premier destination to escape and relax in beautiful Southern Utah. They are located near the stunning red rock landscape of Zion National Park. Visit during any season to take advantage of their outstanding amenities, including luxury lodging options with fully-equipped kitchens, heated pools & hot tubs, fitness centers, and much more! With its convenient location near St George airport and ZN park shuttle service, getting here is easy. Experience first-hand why so many guests rate this resort as one of their favorite destinations in Southern Utah!
Start your adventure with golf at the award-winning Championship Golf Course. This 18-hole course was recently ranked as one of the top 100 resort courses by Golfweek and has been recognized multiple times as the best golf course in Utah. With towering views of the surrounding red rock mesas and natural sandstone formations, it's no wonder this is such a popular spot for golfers worldwide.
But that's not all that Sand Hollow Resort has to offer! From jet skiing and kayaking on the reservoir to ATVing through desert trails, plenty of exciting activities are available here. If you prefer something more relaxing, explore miles of hiking trails or rent a paddleboard and take in views from up above. Remember fishing too – anglers can reel in bass, trout, catfish, and more from the nearby lake or river!
Flanigan's Resort And Spa Springdale Ut - Hotel Zion National Park
View Website
Get Directions
PERFECT FOR: Those who wish to experience the beauty of nature while enjoying the luxury.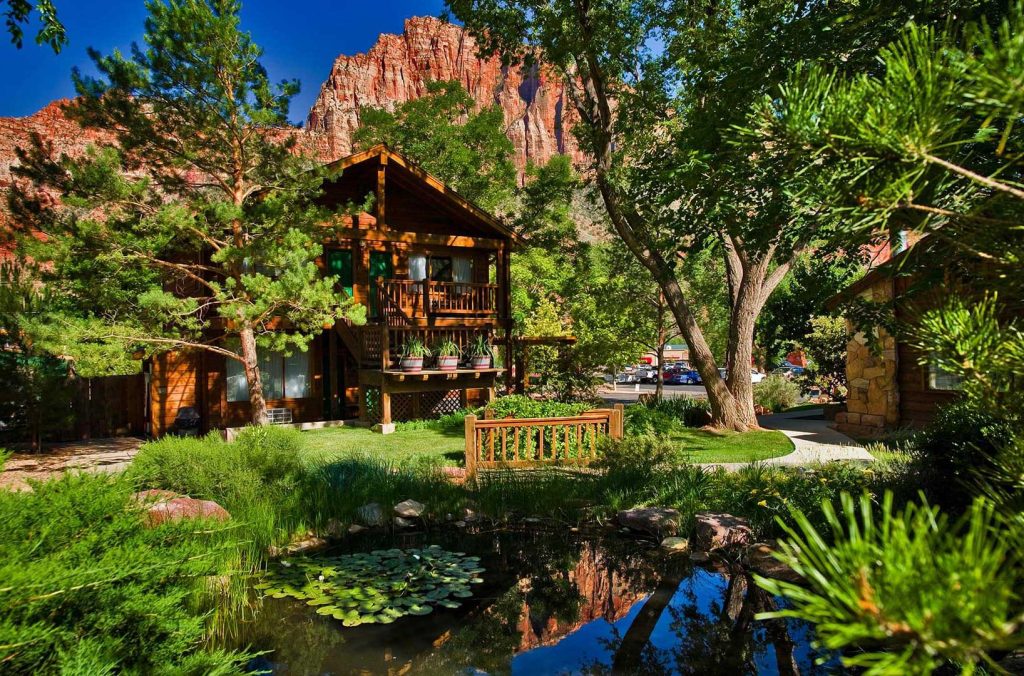 Flanigan's Resort and Spa Springdale, UT, is a boutique hotel in Zion National Park, Utah, USA. It offers classic lodge-style accommodations with modern amenities and features. From its convenient location just five minutes away from the park's south entrance and Visitor Center to its spacious guest rooms and suites, The resort provides an exceptional experience that will make your trip unforgettable. The Zion Human History Museum and the Zion Canyon Visitor Center are both 15 minutes walk from this rustic hotel with canyon views.
The property offers an array of activities for visitors on site or in the surrounding area. Guests can spend their days lounging by one of two outdoor pools or take advantage of complimentary bicycle rentals to explore nearby trails. The hotel also offers kayak rentals for those looking to paddle down the Virgin River Gorge or take part in a guided tour by experienced guides from Zion Paddling Adventures. For those seeking some rest, Flanigan's spa offers various massage therapies, body treatments, and other services designed to promote wellness.
At night, guests have plenty of options when it comes to dining out. Take advantage of room service or grab a bite at one of several restaurants within walking distance from the resort, such as Oscar's Café & Bar, The Spotted Dog Café & Pub, Bit & Spur Restaurant & Saloon, and more! Additionally, each room or suite provides access to complimentary Wi-Fi so you can easily stay connected during your stay.
The resort is nestled on the rim of the Virgin River, directly beside Confluence Park below. From this vantage point, guests will enjoy sweeping views of lush green riverbanks against a stunning backdrop of lava rock cliffs while also taking in the iconic view of Pine Valley Mountain. Inside each dwelling, you will discover a great balance between modern designs, classic touches, and technology features, making it easy to relax and feel truly at home.
Each unit features spacious living areas with comfortable furnishings and amenities that cater to both business travelers' needs as well as those seeking a leisurely stay. There are two bedrooms – one king or two queen beds – plus a sleeper sofa for extra sleeping space. Fully equipped maintenance kitchens make it simple to whip up food after a long day exploring all that Southern Utah offers. Well, if you are a foodie always looking to taste new types of food from different regions, check out our list of the most popular Sioux city restaurants and enjoy!
For those looking to venture out into La Verkin and its surrounding towns, they're free to do so with ease; vehicles may be parked at each unit, or a shuttle service can transport guests around nearby attractions such as Zion National Park or Snow Canyon State Park via The Dwellings private shuttle service. Plus, there are plenty of hiking trails onsite, so you won't even need to leave The Dwellings grounds. All these features, combined with its convenient location, make The Dwellings an excellent choice no matter what adventure you seek in Southern Utah!
Zion Wildflower Resort - Glamping Zion National Park
View Website
Get Directions
PERFECT FOR: People to enjoy the breathtaking panoramas with all the modern luxuries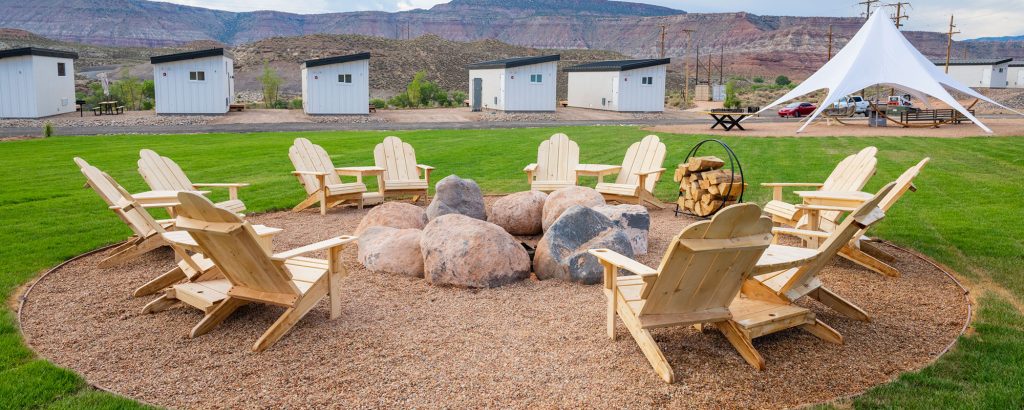 Zion Wildflower Resort offers a unique and luxurious glamping experience just minutes from Zion National Park's entrance. With ample amenities such as air conditioning, feathertop beds, modern bathrooms, billowing canvas tents, and covered wagons equipped with king-size beds and cozy bunk beds. The accommodations are designed with comfort and luxury, with attention given to every detail needed for an unforgettable experience. Cooking facilities are available to prepare your meals, and a complimentary continental breakfast is served in the morning.
The resort provides a wide range of entertainment options onsite. From yard games to fire pits, hammocks, and more, you can soak up the sun in the afternoon or relax by the campfire at night. The resort is conveniently located only fifteen minutes from Zion National Park's entrance and makes for an ideal base camp for exploring the beautiful outdoors.
There are also plenty of outdoor activities available such as rafting trips down the Virgin River, which can be booked through the concierge desk at Zion Wildflower Resort, making it easy to explore everything this region offers without having to worry about finding different tour companies or destinations. For those looking for some rest after a long day of hiking, the resort offers rocking chairs on private porches so that guests can take in peaceful views while enjoying the fresh air of nature.
Newpark Resort is an idyllic destination that combines contemporary luxury and easy access to some of the best skiing in northern Utah. Located at the edge of the scenic 1,200-acre Swaner Nature Preserve, it is only minutes away from Park City's renowned ski resorts. It is also home to the state's first LEED-certified resort community, making it a great choice for travelers looking for sustainable options.
At Newpark Resort, guests are welcomed with thoughtful amenities, including gas fireplaces, heated bathroom floors, and private decks with hot tubs – all designed to ensure a pleasant stay. This highly rated hotel also offers free shuttles via Park City Transit to downtown Park City so you can easily explore its vibrant arts and culture scene and various eateries and shops. Additionally, this resort guarantees its guests the best rate when they book directly through its website or app. Free parking is another bonus available to those staying here.
In addition to all these great amenities, what makes this resort truly special is its incredible location near Utah's many natural wonders – from snow-capped peaks and rushing rivers to lush forests and hidden meadows. Whether you're here for a ski weekend or a summer getaway, there's something for everyone to enjoy in this picturesque setting. From horseback riding along mountain trails to fly fishing in riverside streams, you'll find plenty of opportunities for adventure close by. There are also plenty of cozy cafes, quaint boutiques, and lively pubs nearby where you can grab a bite or drink after an action-packed day outdoors.
Things To Consider While Choosing The Best Resort In UTAH
Whether you're looking for a fun family vacation or a romantic getaway, there are plenty of great resorts in Utah. Not only in Utah, you can also find amazing yet top-notch resorts in South Carolina. But how do you know which resort is best for you? Here are some things to focus on when choosing your ideal Utah resort.
Location And Accessibility — The first thing to focus on when choosing a resort is its location and accessibility. It would help if you thought about whether or not the resort is close enough to other attractions you want to visit during your stay. If it's too far away, you may spend more time and money on transportation than you would like. Additionally, if you plan to drive yourself, ensure that the resort has easy access to major highways and routes.
Amenities — When it comes to resorts, amenities are key. Make sure to check out what amenities each resort offers before making your decision. Many resorts offer spa services, pools, hot tubs, fitness centers, restaurants and bars, golf courses, and more. It's important to find out what amenities each resort offers to get exactly what you're looking for during your stay.
Price — Price can be a major deciding factor when selecting the best resort in Utah for your vacation needs. While some resorts offer more amenities or better locations than others, they also cost more. Do your research to find the perfect balance between price and features before booking a hotel room or suite at any given resort.
Safety & Security — When looking for lodging during a stay in Utah, it's important to ensure you're aware of the safety and security measures each option has put into place. Research protocols are implemented by staff at potential properties so you can travel without worry, knowing your experience will be secure from start to finish!
Research — For a successful stay, research is key! With the wealth of reviews available online from previous travelers, you can gain a comprehensive insight into each hotel's amenities and customer support. This includes getting an idea for room quality and overall experiences. To paint the most accurate picture possible when researching hotels, it is critical to read multiple sources before making your final decision.
How Do We Pick Our Recommendation?
At Utah Resorts, we have gone the extra mile to curate a list of the top accommodation options with our users in mind. We examined various factors from cost to location and even sent out personnel to visit each hotel to get a genuine sense of the experience onsite. To further ensure the accuracy and quality of our selection, we read reviews from prior guests, allowing us to get an authentic perspective on how great these resorts are. This way, you know that our recommendations come through thorough examination and assessment.
Final Words
When choosing the best resort in Utah for your next trip, several factors need to be taken into account—location and accessibility, amenities offered by the resort itself, and price—to ensure that you get exactly what you're looking for from your stay. By taking these considerations into account ahead of time, you can ensure that your vacation is one of relaxation rather than frustration!>Therefore, we have made it easy for you by compiling the best resort list in UTAH. You can now choose the best resort for yourself in no time.
8 Best Resorts In UTAH - FAQs
What is the #1 vacation attraction in UTAH?
Zion National Park is the #1 vacation attraction in Utah.
What is the right month to go to UTAH?
The first quarter of the year, the months of April, May, and June, as well as the months of August, September, and October, are the best months to visit Utah.
What are 3 things Utah is famous for?
In addition to hosting the Sundance Film Festival, Utah is renowned for its vibrant Mormon culture, breathtaking natural scenery, pastrami burgers, and pastrami.
What is the rainy season in UTAH?
Early in July, the monsoon season in the Southwest of the United States picks up and can last until mid to late September.
Why do people travel to UTAH?
UTAH is well-known for its many national parks, ski areas, and picturesque roads.