For foodies looking for epic tacos that will make your taste buds explode with joy, San Diego is the place! The city is known for serving great Mexican food, so we've compiled a list of the best tacos in San Diego because there are so many places to choose from and no visit is complete without one. Try some tacos with tender meat, homemade tortillas, and delicious salsa.
San Diego, California is filled to the brim with satisfying, bold, and authentic street tacos and they have made sure to keep the taste and standards progressively innovative so that newer people introduced to this delicious dish can also enjoy the great variety.
Related subject: BEST Mexican Food In Santa Ana You Should Try.
It goes without saying that some of these hole-in-the-wall shops might make you hesitate to visit them but don't worry because they really know what they're doing when it comes to tacos.
6 Places To Taste Mind-Blowing Tacos In San Diego; Recommended By San Diegans
San Diego is full of taco shops, from flavorful authentic Mexican street stands to artisan tacos filled with creative ingredients, there are so many options to choose from, you may have a hard time choosing which one to try on your trip. So, save yourself the hassle with this guide to the best tacos in San Diego for you!
If you're a taco lover who loves to enjoy delicious bite-sized meals in a playful and fun atmosphere, Lucha Libre is for you! You might notice that this taco shop is a bit eccentric with the decor because the theme revolves around the Mexican wrestling called Lucha Libre which translates to "free fighting".
Hot pink walls, gold accents, and drool-worthy tacos set Lucha Libre Taco Shop apart when it comes to Mexican fast food in San Diego. There are three locations: Mission Hills, North Park, and Sycuan. It's a great package for those visiting with friends and family as Lucha Libre offers a fun atmosphere, reasonable prices, great service, and both vegetarian and pescatarian-friendly menu options.
The taco branch we explored is located a little north of downtown in the Mission Hills neighborhood. The Rojano brothers opened this incredible taco hotspot in 2008 out of their love and passion for Lucha Libre fighting and Mexican food, which is reflected in the shop's decor and featured Lucha Libre items. Not to mention, traditional Mexican Lucha Libre wrestling is televised in the shop to keep the vibes alive.
Usually, you don't need to make a reservation for a taco shop but this place does and you shouldn't miss it if you want to taste authentic tacos certified by locals. Visitors can take a lot of innovation on authentic Mexican cuisine at Lucha Libre without losing the taste or feel of real authentic Mexican food.
Although they serve traditional Mexican-style tacos, they have a slightly more modern edge that adds a Californian twist to them. In addition to having great tacos, you can order a burrito, bowl, or one of the many veggie options, unlike many neighborhood taco restaurants.
Classic tacos are irresistible but be sure to try the unique menu items like the famous Surf & Turf Taco with steak, shrimp, avocado, queso, and a special "secret chipotle sauce." Made with Beef Birria, pinto beans, cilantro, onions, and spicy salsa, the Birria Taco is hands-down a must, along with Steak Queso Taco that is served up with chicken steak, crispy cheese, avocado, cauliflower, and secret chipotle sauce.
Lucha Libre Taco Shop serves delicious Mexican and other cuisines all day which means you can enjoy brunch, lunch, and dinner as well as late-night dining here.
You will also enjoy, A Foodie's Paradise: Tremont's Must-Visit Restaurants.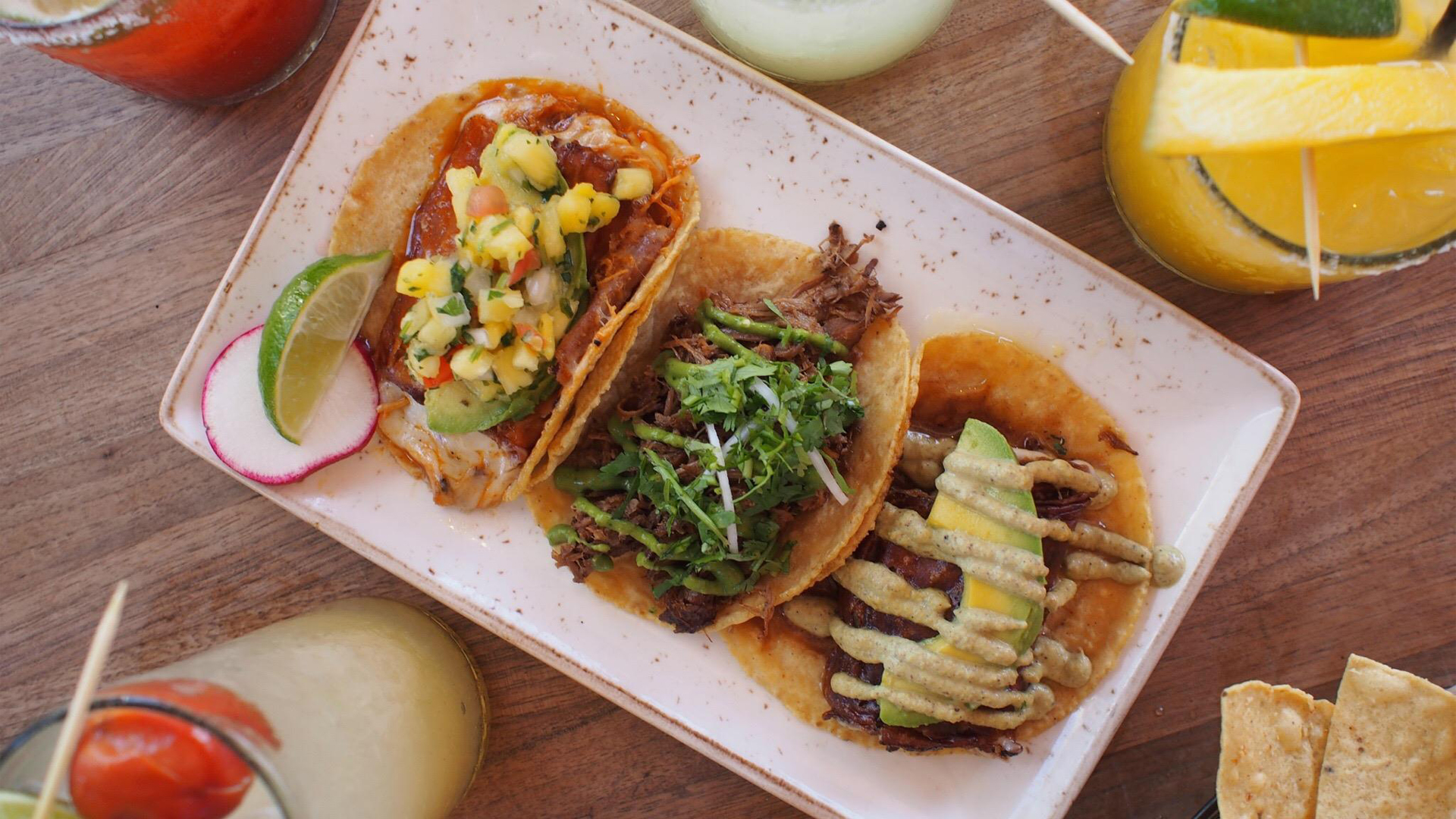 While you're still in Mission Valley, allow us to introduce another must-visit taco spot that serves up some of the best San Diego tacos ever, the Puesto – Mission Valley. Puesto serves the highest quality Mexican street food style tacos at two San Diego locations – Headquarters and Mission Valley.
Its newest location in Mission Valley pours house beer alongside your choice of tacos at a casual outdoor dining patio just a short walk from La Jolla Cove Puesto welcomes guests to incredibly delicious bite-sized meals.
Puesto has set the pace for the luxury taco market in San Diego with filet mignon, jidori chicken, and lobster-stuffed tacos, among other upmarket ingredients. The Filet Mignon Taco is a huge crowd-pleaser because it is served in so many variations. A crunchy cheese brings spice to avocado and pistachio serrano salsa.
Another variation of Puesto's Filet Mignon Taco is served with made-from-scratch blue corn tortillas topped with tender, perfectly cooked meat, melted crispy cheese, and complimentary chips and salsa. These same ingredients bring the flavor of the crispy chicken al pastor taco that makes it clear that Puesto deserves the number one spot in our San Diego Taco Guide.
There are plenty of other delicious options for meat lovers, but on the other hand, Puesto apparently hasn't forgotten to keep their vegetarian guests in mind as the menu also includes vegetarian options and delicious side dishes, such as their Nogada Guacamole with mango pico de gallo, pomegranates, and walnuts.
Located on Broadway, Chula Vista, approximately 8.0 miles from the US-Mexico border, this most popular classic Mexican food taco shop full of all the traditional dishes remains always bustling with Mexican cuisine lovers as they line up at various meat stations established in Tacos El Gordo.
This popular taqueria opened its first San Diego location in the 90s. The family-owned and operated taco shop now has two more operating branches in San Diego and four more in Las Vegas, Nevada. Each branch maintains a focus on using the finest ingredients to create authentic Tijuana-style tacos.
Even after 2 decades of top-notch experience in business, the food at Tacos El Gordo is cheap enough that you can get a dozen without putting a strain on your wallet. They also have a great variety of Mexican food for their customers.
However, what could be better to put in your mouth when your stomach is grumbling than handmade tortillas, carefully seasoned meats, and fresh toppings?
They know the heart of the customer No wonder Tacos El Gordo is known as one of the top taco shops in San Diego and rivals TJ Tacos in Escondido. Apparently, the original location still takes drive-thru orders, but the larger Broadway location has a unique ordering system, meaning, you line up based on which meat you choose for your tacos.
Carne Asada, Adobada, Cabeza, Sodero, Tripa, etc. are the meat stations you can find at the shop. So, be sure to wait in a few different lines because you'll be craving for more anyways.
If you are feeling adventurous, and have unusual meat options that you don't see on the menu every day, our recommendation is to try the most popular al pastor with pineapple.
While this taco restaurant is full of good things, including great service, good prices, a friendly atmosphere, and a vegetarian- and pescetarian-friendly menu, one thing that is a bit sad is that many Tacos El Gordo locations close around evening making it just an ideal lunch destination. However, some stay open late into the night so you can enjoy brunch, lunch, dinner, and even late-night dining.
The Taco Stand
View Website
Get Directions
PERFECT FOR: Eating tacos in the heart of two beautiful Southern California beach towns.
Taco Stand is another taco outlet inspired by Tijuana's taco stands and this particular location is the first one they set up. Striving to bring Showa hospitality to the SoCal region, it serves the most authentic Tijuana tacos, burritos, fried churros, quesadillas, and other items.
The Taco Stand is a beloved local spot, with a charming restaurant in La Jolla and a beautiful outdoor patio in Encinitas, serving tacos in the heart of two beautiful Southern California beach towns.
This place proves to be an all-rounder that offers classic proteins and some veggie-friendly items in the form of tacos and burritos. They offer the freshest ingredients, good quality meats, made-from-scratch guacamole and salsa, homemade chips, and corn tortillas to bring drool-worthy and organic taco wraps to the table.
Also, their burritos and other Mexican dishes are made with equal care and attention. The best thing about the menu is that it is easy to read, understand and order, and so is the ambiance of the shop. Taco Stands offers great value, good service, and pescetarian- and vegetarian-friendly options and is open for brunch, lunch, and dinner.
The mind-blowing combo of spicy pork paired with sweet pineapple chunks in the El Pastor Taco is a must-try at the taco stand. Finish off your meal with their homemade churros and dipping sauces to brighten up the flavor, as all meals are served using fresh homemade tortillas and a variety of mouth-watering salsas. Every taco here is fantastic but the Baja (battered fish taco) is fantastic and may be one of the best fish tacos in San Diego!
Some other taco options are corn asada (beef), al pastor (pork), chicken, spicy shrimp, and grilled fish. For those who prefer a veggie option, they can order the mushroom or nopal (cactus) taco. Besides that for the breakfast menu, the Taco Stand has delicious breakfast items to enjoy for takeout at nearby Moonlight Beach.
Make sure to also read our latest 2023 guide on Where to Get The BEST Breakfast In Santa Ana CA.
Although Taco Stand opened its first location not way back in 2013 in the upscale La Jolla neighborhood before they knew it Tijuana-style tacos were quickly taking San Diego by storm. Now you can visit any of their 8 locations around San Diego. A fun tip is to indulge your taste buds and try their protein tacos with Rosarito-style churros for dessert.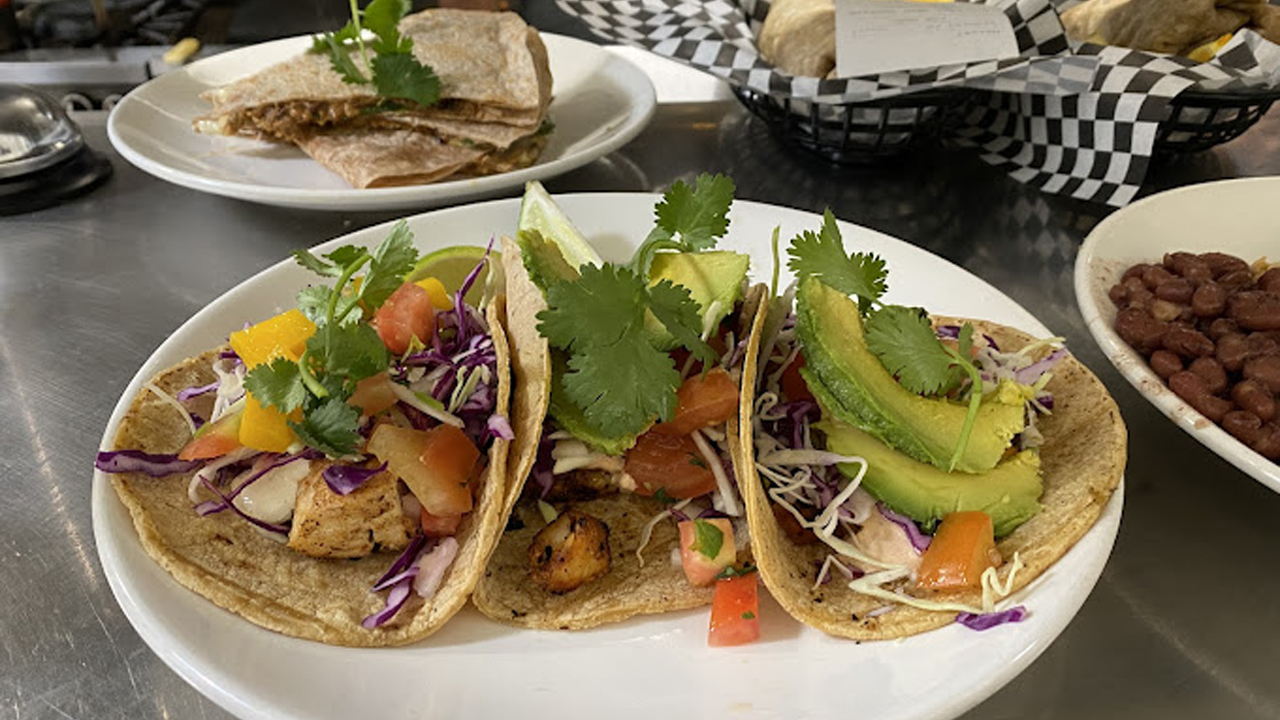 With a combination of high-quality organic ingredients and tacos, Haggo's Organic Taco opened in 2011 and has a reputation as a great place to go if you're looking for healthy options. Located in Leucadia's Encinitas neighborhood, Haggo's exploded in popularity after a visit by Guy Fieri and a feature on Diners, Drive-Ins, and Dives.
In addition, restaurant owner Courtney A. comes from a strong food and beverage background and has a high knowledge of organic foods.
This taco spot is 100% certified for organic tacos by locals. Their specialties include organic chicken, beef, and local Pacific halibut. It's a great place to try some sustainable seafood tacos and there are great options for vegetarians and vegans. Haggo's Organic Taco is a ridiculously affordable place, with tacos starting at $5 and ranging to no more than $8 per piece.
Now let's talk about the worth-discussing ambiance, this place is an ideal place for group gatherings, to bring your kids for a healthy dining experience. Haggo's Organic Taco also allows pets. Customers can order takeouts from this locally owned and operated taco shop.
Of course, Hugo's Organic Tacos is a great place for lunch and dinner, but they also announced that they are open for breakfast on the weekends, making this place a must-try on your trip to San Diego.
Oscar's Mexican Seafood
View Website
Get Directions
PERFECT FOR: Experiencing the unique fusion of seafood and crispy bite-sized tortillas.
Since this travel guide is all about introducing diversity so how can we forget Oscar's Mexican Seafood? This taco restaurant was founded in 2011 by Oscar Valenzuela, who grew up in Alamos, Sonora, and always had a unique talent for making good food. He is considered one of the pioneers of a new way of preparing fresh quality simple food that tastes great.
His founded seafood-inspired menu ranges from traditional tacos, like battered fish and steak, to more unique combinations. If you're a fish lover, you won't regret trying the Taco Special filled with smoked fish, delicious shrimp, and scallops. And although Oscar's specializes in seafood, their steak taco is one of the best in town, thanks to its super-juicy and flavorful meat.
Their Surf and Turf Tacos and Battered Fish or Shrimp Tacos, both are served with cabbage, onion, tomato, and red pepper with a difference of fish or shrimp based on your preference. The steak taco and spicy shrimp taco are drool-worthy cheesy options, while the smoked fish taco has an interesting avocado twist. Likewise, you can find a great variety of seafood and taco combinations at Oscar's Mexican Seafood. So, whether you're in the mood for seafood tacos or a variety of vegetarian options, Oscar's has you covered.
This Latino-owned taco eatery is an ideal spot for lunch and dinner plans with family and friends. Children are absolutely welcome in the dining area's indoor and outdoor patio seating. Also, Oscar's Mexican Seafood offers both takeout and delivery.
While we're discussing seafood, make sure you add this list of Top 20 Laguna Beach Seafood Restaurants during your ongoing trip to California.
Things to know before you go on to eat The Best Tacos in San Diego:
Ask Before You Order — Most places have small tacos where 2 – 3 tacos make a great meal. If they are very small, possibly 4. Ask for sizes before ordering so you can estimate how many you will need.
Bring Some Wet Wipes — as your hands may get sticky from salsa, crema, or guacamole.
Don't Hesitate To Try New Things — If it's your first time at a taco shop, try a few different flavors because before you know it your favorites are replaced with a new flavor.
Learn Authentic Names — To avoid confusion, memorize the original Spanish names to make an effective order at the restaurant. The listing is as follows,
Carne Asada for beef
Adobado or Carnitas for pork
Al Pastor for marinated pork
Pescado for fish
Pollo for chicken
Nopal for cactus plant
Sale On Tuesday — Most if not all taco shops in San Diego offer discounted prices on Tuesdays for Taco Tuesday!
Know The 7 Types — Make sure you know the 7 basic types of tacos and a little history to enjoy the dining experience and avoid making the wrong order at a restaurant.
Tijuana style tacos
Tacos de Pescado
Baja-style fish tacos
Tacos de Pastor
Tacos de Barbacoa
Tacos de Carne Asada
Tacos De Carnitas
Don't Miss Out On The Street Tacos in San Diego — During your trip, explore the many taquerias scattered throughout the city for an experience in the city. Plus, you never know you might find your favorite tacos at one of the street stands or food trucks across town.
How Do We Pick Our Recommendations
We've selected the best tacos in San Diego for readers based on analysis by our travel team, as well as feedback from other diners who've visited to provide our readers with an unbiased and informative travel guide. We selected the eateries based on their exceptional views, food quality, customer service, facilities, and the general lively atmosphere of the place. We chose Taco Shops with interesting interiors and charming atmospheres to introduce readers to so that they are as excited as we are. Restaurants with the most variety in terms of cuisine are also included in our list because everyone has different food preferences. Mexican cuisine in San Diego definitely reminded us of the variety of Anaheim cuisine that we discovered on our last trip to California.
Final Words
Tacos are an ancient food that deserves the utmost respect. Whether it's your first trip to San Diego, or you're a local looking for your new favorite taco joint, finding the best tacos in San Diego will be an adventure your taste buds will remember forever. Tacos are a staple of San Diego's culinary scene and there are plenty of options to suit every taste and dietary preference. From authentic Mexican cuisine to vegan options and classic fusions of flavors, the most incredibly appetizing and the best diverse range of tacos welcomes you to have the crispiest adventure in San Diego!
Explore 6 of San Diego's Most Loved Taco Spots - FAQs
What is the number one taco place in San Diego?
According to Yelp, Ed Fernandez Restaurant Birrieria, located at 2265 Flower Avenue in San Diego's Nestor neighborhood, was named the top taco spot in America.
Does San Diego have the best tacos?
Yes, San Diego has the best tacos and is basically synonymous with arguably the most elite tacos in the nation.
Is San Diego a foodie city?
San Diego is consistently ranked as one of the top "foodie" cities in America.
Why are Tijuana tacos so good?
An integral part of Tijuana-style tacos is its heat source. These tacos are cooked over mesquite wood, burning as close to the meat as possible so that the protein character is quickly formed and infused with a smoky flavor.