The coastline of the Golden State of California includes the picturesque beaches of San Diego, then the mesmerizing lakes of San Francisco, and more, which make local and international tourists fall prey to its beauty. While we are at it, remember to check out the Top 10 Things To Do On Your Day Trips From San Francisco.
However, the golden coastline caters to many water activities, such as fun beach vacations with friends and family where kids and elders enjoy surfing. In contrast, chilled family members sip the luscious wine while watching the ocean and its gentle waves.
But ever wondered what lies beyond, what else can be enjoyed by the sea apart from these regular picnics? If this is something that has ever bothered you. In that case, the answer is California's best aquariums, where never-before-seen creatures from shallow tide pools to coral reefs and even the mysterious depths successfully connect curious land-dwellers like you to the sea.
California Aquarium: Home To Beautiful Sea Creatures You've Only Seen In Movies
California boasts some of the best aquariums in the world, where millions of locals and tourists from around the world come each year to witness the diverse marine life of the Pacific Ocean and beyond.
Aquarium of the Pacific, Long Beach
View Website
Get Directions
PERFECT FOR: Adults to enjoy swimming with diverse species of fish and children to enjoy the experience of touch tanks.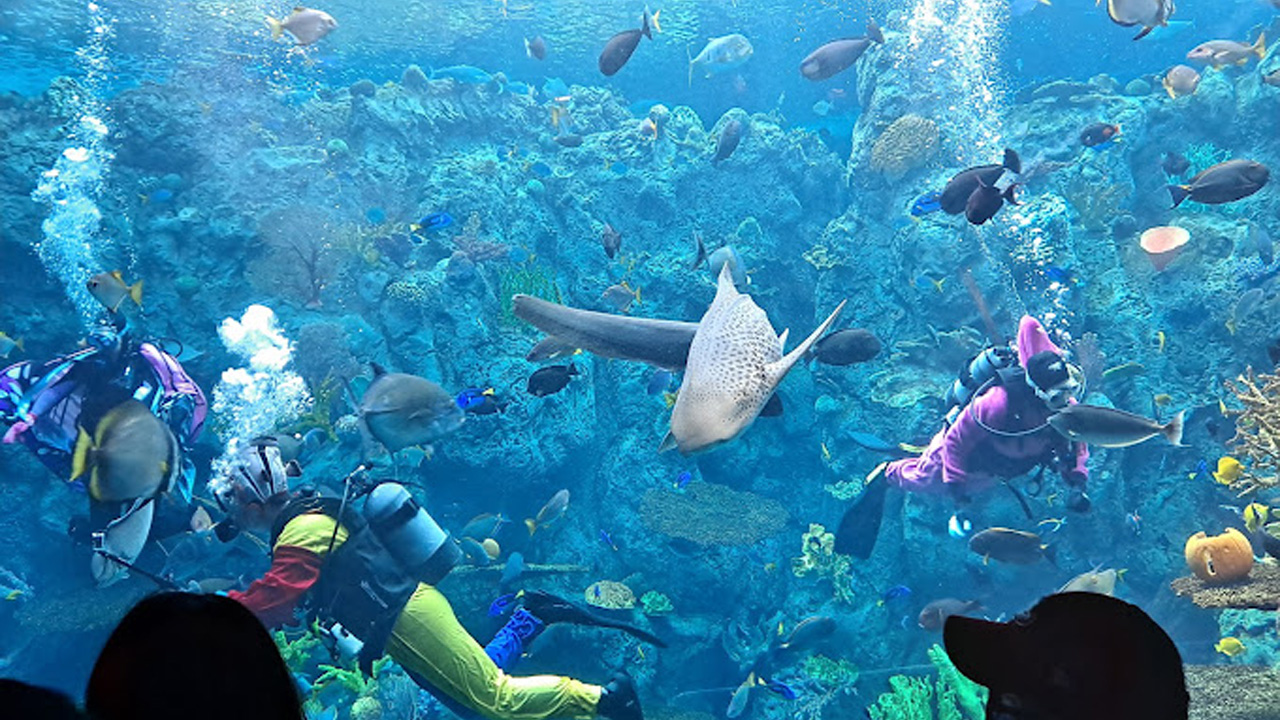 Along with the Queen Mary cruise ship, Long Beach boasts the presence of the largest aquarium in Southern California. As such, the Aquarium of the Pacific is the fourth most visited aquarium in the country, with an impressive number of aquatic activities and excellent exhibits.
Speaking of exhibits, when visiting the Aquarium of the Pacific, one thing that will surely amaze you is the life-size blue whale sculpture, nearly 100 feet tall, hanging above the patrons. The aquarium is a three-story tank exhibit, each with a fascinating depiction of the marine life and creatures that live off the coast of Santa Catalina Island.
Now let's come to the most exciting part you may be eagerly waiting for, the marine animals you can see in this fantastic aquarium. So, let's start checking off the list with crowd favorites worldwide, especially the kids, seals and sea lions, sea otters, tropical fish, sea turtles, and sharks.
Additionally, visitors can see the magical sea world in front of them, separated by glass, and physically interact with them on the touch tank. This shallow pool contains exciting sea creatures, such as crabs, sea urchins, and anemones, but also more exciting critters, such as small sharks and stingrays. I mean, it clearly shows why more than 1.5 million visitors, whether local or from around the world, flock to this aquarium every year.
Besides the Touch Tank, visitors can have a similar experience with colorful and beautiful birds in the Lorikeet Forest. Tourists are allowed to touch and get close to the birds, and after paying a fee, one can even feed the birds their favorite flavored nectar.
Enough about the simple and essential experience of touching animals. What if I told you that you could dive into a tank and swim with adorable sea creatures? Interesting, isn't it? But for that, you better follow one condition, be an adult with a valid diving certificate. If you are such a person, congratulations! You are allowed as a group of four to dive into the harmless magical world of around 600 tropical fish.
The Aquarium of the Pacific is home to 1100+ marine animals. For those who want to learn more about these creatures, their habitats, and their diverse life, you can attend special science programs led by scientists to explore all the answers regarding the ocean and life in it.
You should remember when visiting the aquarium with kids that you can't eat or take food inside the exhibit. But don't worry; there are nearby places inside the building where you can get snacks and food with a food permit to eat inside that dedicated area only.
Steinhart Aquarium at the California Academy of Sciences
View Website
Get Directions
PERFECT FOR: The unique experience of seeing Albino Alligators, Coconut Octopuses, the world's largest indoor Coral Reef, and more.
The Steinhart Aquarium at the California Academy of Sciences has been open for 100+ years and has strived to innovate and transform a fun and evolving exhibit style into a more scientific one. Steinhart Aquarium was the first to exhibit marine creatures such as coconut octopuses and managed to create the world's largest indoor coral reef.
Now home to nearly 40,000 living animals belonging to approx. With nine hundred species, Steinhart Aquarium is one of the most biologically diverse aquariums in the world and undoubtedly one of the best in California.
The aquarium features African penguins, a butterfly pavilion, deep-sea flashlight fish, and Steinhart's most famous resident, Claude, the albino alligator. We noticed during our visit that the aquarium, exhibits, and the space are dimly lit, so if you're traveling with kids, make sure you dress them as thoughtfully as possible. The best way is to dress them in bright colors and hats so that you can spot them in a crowd or from a distance.
You should follow the early arrival and departure policy to get the most out of your visit to the California Academy of Sciences Steinhart Aquarium. Since the early hours, the place is usually less crowded, and most importantly, the African penguins are fed at 10:30 am and 3 pm. So, it goes without saying that watching the penguins happily waddle and feed will be one of the most exciting things for you and the kids.
Monterey Bay Aquarium
View Website
Get Directions
PERFECT FOR: Learning about marine life and how to feed Sea Otters and Penguins.
The Monterey Bay Aquarium is and has always been one of the most beautiful and fascinating aquariums in the entire country. Most importantly, it was the natural inspiration for the children's favorite animated film, Finding Dory. This means that Dory and her friends were swimming in the ridiculously gorgeous ocean is what you will see on a visit to the aquarium.
The giant 200 aquarium houses around 35,000 marine animals belonging to more than 550 species and helps visitors observe the unique lifestyles and habits of all these creatures. Now the most fun part of the aquarium is the sea otters that serve as the pride of the Monterey Bay Aquarium.
Sea otters love to perform and entertain guests first. Yet, sadly, this fun and engaging interaction is going to happen through a glass separation between you and the otters. However, you get the chance to turn the tables in the offshore kelp forests, where you can not only see and meet live otters and penguins but also feed them snacks and have the chance to pet them. Because the otters and penguins are well-trained by expert aquarists, they are amenable to human interaction, making this aquarium child- and family-friendly on many levels.
So, if you visit a Californian city, you must visit at least once to witness the great world of fascinating marine animals, but if you can't make it. Monterey offers a great solution to this problem, with the aquarium's website running live feeds from cameras trained on penguins, sea otters, turtles, and sharks.
Speaking of sharks, just like the otters and penguins we see now, the Monterey Bay Aquarium used to pride itself on housing the fearsome great white shark. However, the aquarium is now unable to do so due to complications, namely resources, an immense number of it just to pay for the maintenance of white sharks. Yet, white sharks are bound to die outside their natural habitat, the ocean, no matter what zoos and expert aquarists do.
The aquarium offers food options such as sandwiches, salads, pizzas, and more. Apart from this, children's food is also available at a reasonable price. Grab a window seat to enjoy the ocean while you dine on a delicious meal. In addition, delicious desserts like coffee, corn chowder, baked pretzels, and octopus donuts are available but beware of visiting the dining area or cafe during lunch hours as the restaurant is bustling.
The eatery of Monterey Bay Aquarium apparently reminded us of the Scrumptious Meal that we enjoyed at 7 Eateries in Big Sur we visited.
Top off your wonderful trip with an onsite Monterey Bay Aquarium store where you can purchase unique gifts and souvenirs for your kids and family, such as jewelry handmade by local artisans, toys, games, stuffed animals, apparel, books, and more – Featuring all the cute aquarium animals.
Santa Barbara Museum of Natural History Sea Center
View Website
Get Directions
PERFECT FOR: In-depth learning about the ever-evolving aquatic life and the animals that inhabit it.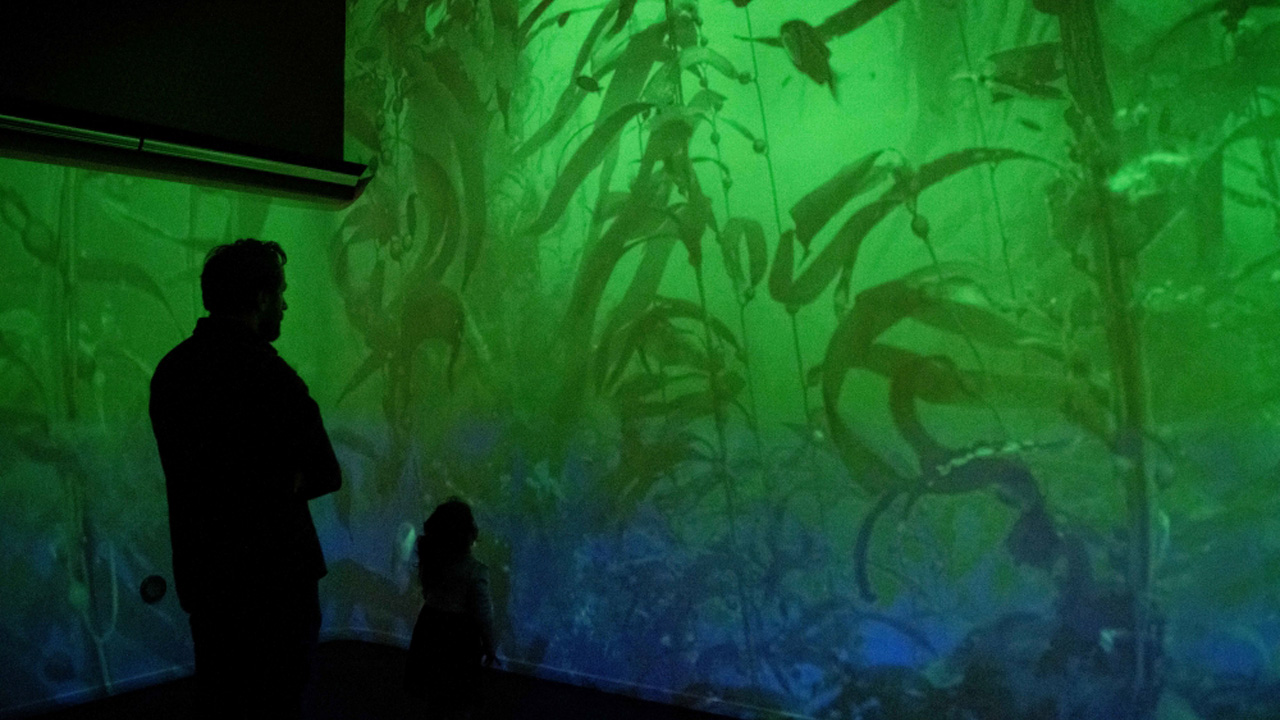 The Santa Barbara Museum of Natural History opened in 1987 to expand its marine center and provide an educational experience emphasizing mammals and fish and the abundant marine life along the Santa Barbara Channel coastline. The museum offers visitors up-close encounters with rays, sea urchins, and sharks by allowing a "Gentle Touch with Two Fingers." Oceanographic tools enable everyone to play and explore the ever-evolving local aquatic life on the center's wet deck.
"Touching Gently with Two Fingers" is part of the permanent exhibit visitors can enjoy year-round. Still, aquarium operators also host a variety of discreet programs such as unique events, special educational programming, and school field trips. You can explore the underwater world of the channel's unique habitats, from rocky reefs to kelp forests, and see animals on the Santa Barbara Channel in a new exhibit that includes the two-spotted octopus, the moon jellies, giant Pacific seahorses, and more.
The Santa Barbara Museum of Natural History Sea Center is not an exhibit but a research center and an important place in ocean conservation and wellness. On the Marine Mammal Mezzanine, you will not only get up close to a life-size statue of a gray whale mother and calf, but you will also learn about many other marine mammals that live here or are migratory creatures of the Barbara Channel.
Let's take a moment now to celebrate the White Abalone Recovery Consortium Program, of which the Sea Center is a proud part and, as a result, has successfully prevented the extinction of the endangered marine snail. Happily, the White Abalone Recovery Consortium program isn't the only thing to be excited about. You can also book the space for weddings, receptions, and private parties.
Santa Monica Pier Aquarium
View Website
Get Directions
PERFECT FOR: Educating yourself about marine animals and helping your favorite aquarium inhabitants year-round by adopting one from the center.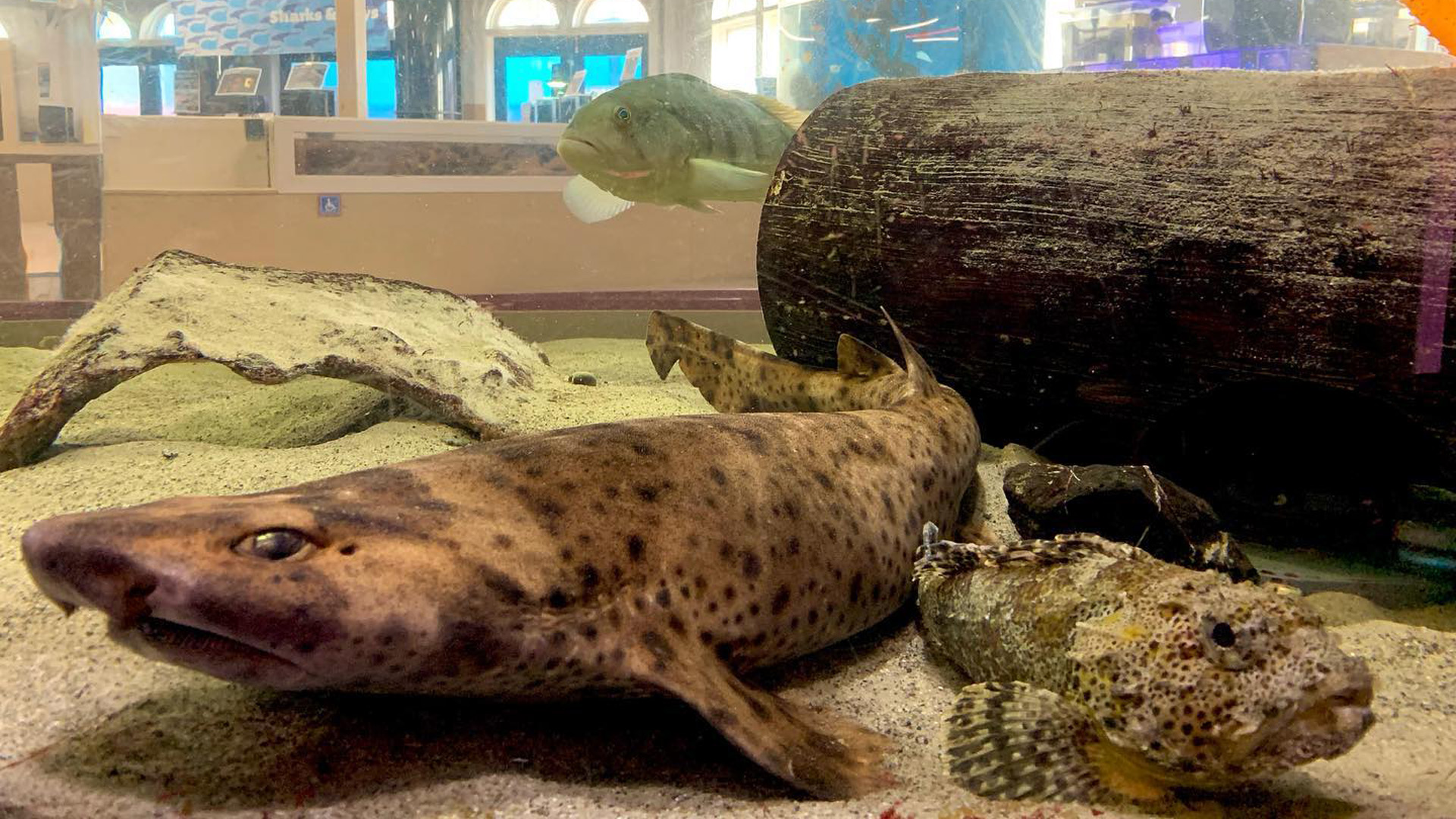 Santa Monica Bay, a body of water stretching from the Los Angeles coastline to Malibu to the Palos Verdes Peninsula, is one of the most popular tourist destinations. Despite not being a giant aquarium, the Santa Monica Pier Aquarium, home to 100+ species of marine animals, has earned a place in the hearts of locals and tourists alike due to the quality of its exhibits, location, and ambiance. Interestingly, all of the marine animals that live and are displayed in the aquarium are native to Santa Monica Bay.
The aquarium is located on the ground level beside the pier. It is operated by Heal the Bay, an environmental nonprofit "dedicated to making the coastal waters and watersheds of Greater Los Angeles safe, healthy, and clean."
One can enjoy fun-filled events and activities at the Santa Monica Pier Aquarium. Whether celebrating a birthday, learning about marine biology, or getting involved in environmental advocacy, Heal the Bay Aquarium has all the necessary opportunities and resources wrapped up under its sleeve.
The fantastic things that make this attraction more than a marine life exhibit are the mission and values ​​of the owners and operators of this aquarium. Spotlight displays of seahorses, moon jellies, rays, sharks, eels, halibut, starfish, and more, plus educational programs such as long-term and seasonal camps, allow eager learners to broaden their science and community experience. Thus the Santa Monica Pier Aquarium offers countless opportunities to learn about life, oceans, and marine animal conservation.
As a visitor, you can protect your children and family's ocean and marine habitats by participating in Heal the Bay Aquarium's daily public support operations and special events, such as private events, creative projects, and beach cleanups.
Moreover, the aquarium has this lovely Aquadopt program. A marine animal adopter can "adopt" an animal by donating to care for and feed their favorite aquarium resident for a year. This year-round Aquadoption includes a packet that includes an adoption certificate, animal photo, fact sheet, and a year-long membership to Heal the Bay Aquarium.
After Heal the Bay, you may also like to explore the 5 Stunning Bays In Wales You Never Knew Existed.
Things to Consider Before Visiting Mesmerizing Aquariums In California
Dress Up Thoughtfully — Aquariums are low-light spaces, with the only light inside the building coming from spotlights that the marine animals receive. So to avoid missing out on your child, dress them in bright colors and dress yourself comfortably and according to the weather.
Bring Light Snacks, Just InCase — Most aquariums we have mentioned have a no-snack-in-the-aquarium rule because either the cafe or the dining area is located inside the building or nearby. But if cravings turn to hunger, you should bring light snacks to eat in food-only areas.
Check-in Advance if the Aquarium is Toddler-Friendly — Some aquariums and zoos may have narrow walkways that are difficult with larger strollers. If possible, consider using a baby carrier, sling, or a small umbrella stroller to help you move around more easily.
Encourage Children to Actively Explore — Always check to schedule special events in advance. A petting area or an aquarium with a touch tank is an especially great learning opportunity for your kids, so encourage them to explore their curiosity!
Visit Gift Shops — If the aquarium you visit has an on-site store or gift shop, check it out and buy cute stuffed animals and books for the kids to take home as a souvenir.
Consider A Membership — If you're in town for an extended period, you might consider buying a family membership instead of just a day ticket. Two tickets to visit an attraction in a year are often more expensive than an annual membership. Before purchasing a ticket, be sure to consider any potential savings from purchasing a membership.
How Do We Pick Our Recommendations
Our travel team carefully analyzes each attraction to compile California's most impressive list of research centers and public aquariums. We consider several factors to make the best possible choices for our readers, such as marine life, environmental impact, amenities, best reasons to visit, location, and more. Moreover, don't forget to check the list of 8 must-do things in California to explore the city to the fullest. Finally, we also consider/study guest explorer reviews to verify the data and information collected to closely mirror other people's experiences.
Conclusion
Aquariums offer an opportunity to gaze into a different world, specifically underwater. California's aquariums have everything from viewing adorable sea otters and penguins from afar to feeding and swimming with diverse sea animals. If you are curious about marine life and its inhabitants, there is no better place to quench your curiosity than the California Aquarium effectively. Kids and adults can have a great time at the water exhibits. So, if you are in California and wondering where to spend a memorable time, wonder no more and join the magical and beautifully evolving world of aquatic creatures. Happy Exploring!
5 Mesmerizing Aquariums In California That Look Too Dreamy To Be Real - FAQs
What is the biggest Aquarium in California?
The aquarium of the Pacific is the biggest in California.
Is the Aquarium of the Pacific handicap accessible?
The Aquarium of the Pacific and its exhibits are wheelchair accessible. Wheelchairs are available for free at check-out at the information desk.
What is the most popular aquarium in California?
Monterey Bay Aquarium is the most popular aquarium in California and the US.