The city of Venice is stunning in its history, beauty, and romance. In addition, it is rather compact, making it possible to completely explore it in a few days. When planning a trip to Venice, there is a lot to see. Such a long time would be required to see them all. Most visitors can only spend a short time in this enchanting metropolis. If you want to have the most memorable vacation possible in Venice, start with this short list of must-see places.
Our Recommendation of Places to Visit in Venice, Italy
It is no secret that Venice is one of the world's most famous cities, and for good reason: there are many attractions there. This guide will cover the top 10 wonderful places to visit in Venice, Italy, for anyone fortunate enough to visit this one-of-a-kind city.
This plaza, which goes back to the 12th century, is close to various interesting attractions. Even though it is Venice's biggest plaza, the beautiful homogeneity of its architecture on three sides helps to bring the space together and create a sense of intimacy. St. Mark's Square (Piazza San Marco), despite its beauty as a piece of architecture, is more popularly known as "Venice's living room," where locals and visitors alike gather, sip coffee, stop to speak, meet friends, take tours, or just pass by on their route to and from other destinations. It is located at 30124 Venezia VE, Italy.
It has arcades at 3 sides and below them are boutiques and even fashionable cafes. St. Mark's Basilica, with its irregular, exotic shapes, swirls, mosaics, and beautiful stone filigree, marks the open end. The campanile's masonry tower rises high above it. You may get great views of this lively square from its highest point. The ticket cost of a 30-minute tour to St. Mark's Campanile is €15.00 ($15.9). It can be a great place to visit as a couple or even with family. You will feel like mixing in with the locals.
Related: Our 7 Recommendations of the Top Cities to Live in Italy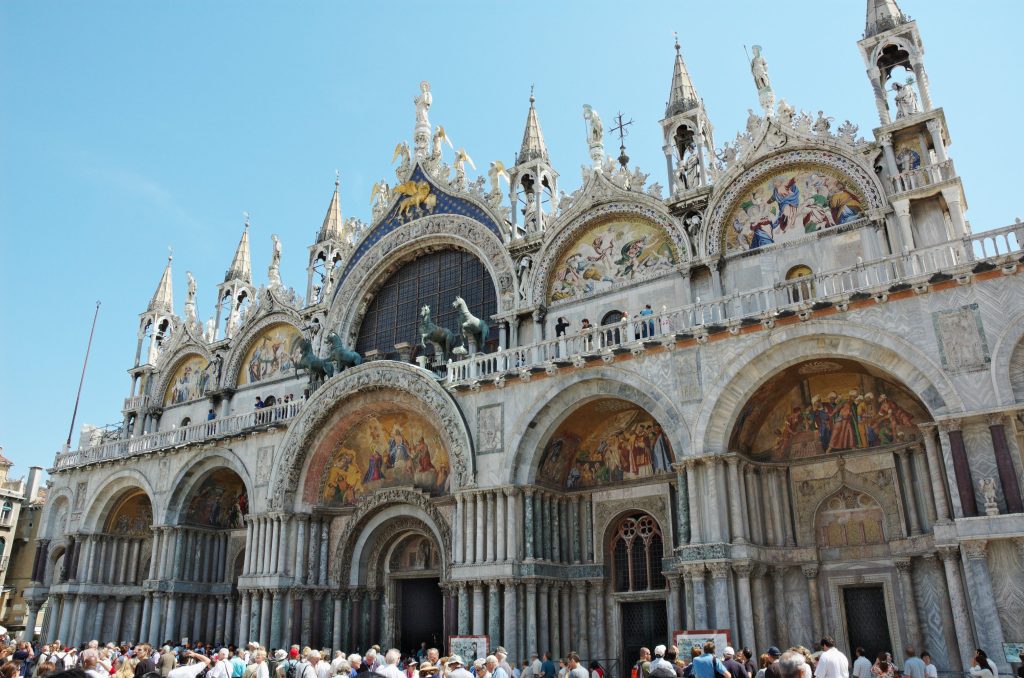 In the ninth century A.D., construction began on what is now known as St. Mark's Basilica. St. Mark's Basilica (Basilica di San Marco) is the most famous cathedral in Venice and one of the most recognizable buildings in the world. It was formerly the private chapel of the Doge and is filled with Byzantine art treasures that were looted from Constantinople and carried back by Venetian ships. It is located right beside Piazza San Marco at 30124 Venezia VE, Italy.
The outside and interior of the Basilica di San Marco are equally impressive due to the church's towering domes and elaborate design. Only a little glimpse of the 4,240 square meters of gold mosaics that adorn the domes and walls can be seen in the mosaic images set into the façade above the doors. These give the lofty interior a very Byzantine feel, but you can also discover treasures from earlier eras, like mosaics created by artists you will see all around the city, including Titian and Tintoretto. Basilica tickets are available for 3 Euros ($3.19) each (free entry for up to 6 years). Opening hours are 9:30 AM – 5:15 PM (Monday – Saturday) and 2:00 PM – 5:15 PM (Sunday and Holidays).
Located in the heart of Venice, the Doges' Palace is a palace designed in the Gothic style. This palace was formerly the official home of the Doge, the center of administration, and the courthouse for centuries; now, it houses a museum. As a museum, Doge's Palace has a plethora of rooms, cellars, and hallways. When you buy a ticket to the museum, you have the option of exploring on your own or joining a guided tour. The Bridge of Sighs offers one of the most unforgettable views of Venice. Inmates awaiting their death would enjoy one last look at the city from this window. It is located at Piazza San Marco, 1, 30124 Venezia (next to St. Mark's Basilica).
Just think about all of the great things that happened here back in time. Seeing this mansion is a must if you are in Venice. Both self-directed and guided tours of the Palace are available. Wonderful vistas of Venice will continue to unfold as you explore the Palace. The Palace is open from 8:30 AM to 7:00 PM (April to October) and till 5:30 PM (November to March). There is a €25 ($26.5) entrance fee, and an additional €5 ($5.3) is required for the tour.
This city's primary canal stretches from the railway station to the vicinity of Piazza San Marco. The canal itself is worth exploring, whether on foot or by water bus. All of the prominent families have grand palaces that face the canal, with ostentatious Venetian Gothic and Early Renaissance front façade that welcome guests. It is located at 30100 Venice, Italy.
Grand Canal excursions from the water provide the ideal perspective to see the canal's sights. The Grand Canal can be explored in many different ways, including by boat, gondola, or waterbus (Vaporetto). There is a "75-minute ticket" to Vaporetto that allows you to see all the sights along the Grand Canal. Rent a private gondola for around €80 ($85) or enjoy a brief shared gondola ride over the Grand Canal for just €30 ($32). Motorboat tours on the Grand Canal with an expert guide cost just €30 ($31.8) per person. If you ever go to Venice, this is one activity you shouldn't miss on.
When in Venice, you must take a short voyage across the lagoon to the island of Murano and Burano. Murano is famous for its glassmakers. As early as the 13th century, they were stationed here. Burano is well-known for its vibrant architecture and intricate lacework.
Glass shops and workshops of all kinds line the canal banks of modern-day Murano, displaying anything from mass-produced souvenirs to handmade masterpieces. The Glass Museum is housed in the 17th -century Palazzo Giustinian and has one of the world's finest collections of Venetian glass, spanning from the Roman era to the early 20th century. It would be a shame to visit Venice and not take this tour of the islands. Purchase a souvenir from here to mark a memory of your trip.
Taking an organized trip is the best and most cost-effective method to see these islands. It is a boat ride with a guide. Tickets for this tour are €20 ($21.2).
This museum of contemporary art, which dates back to the 18th century, is located at 704 Dorsoduro, 30123, Venice. Peggy Guggenheim's private art collection is on display at her old home, Palazzo Venier dei Leoni, which is located on the Grand Canal. This museum features American and European works from the first half of the twentieth century, in contrast to the vast majority of Italy's other famous art museums, which are devoted to the works of Renaissance and Medieval artists.
The modest building's white interior provides a stark contrast to the bright and frequently dramatic artworks on display, which are from the Cubist, Futurist, Abstract Expressionist, Surrealist, and avant-garde movements. There are works by Picasso, Dali, Braque, Léger, Mondrian, Kandinsky, Klee, Ernst, Magritte, and Pollock in the permanent collection, and rotating exhibits include the work of other prominent artists. If you are an avid art fan, this is a must-visit place in Venice, Italy.
The sculpture gardens of the museum include the work of artists including Calder, Holzer, Caro, Judd, and Hepworth. This museum charges €15 ($15.9) for admission and is open from 10:00 AM to 6:00 PM (closed Tuesdays).
Also Read: 7 Amusing Things You Can Do In Fort Wayne
This opera building is right up there among the world's most famous and storied opera houses. The decision to call it La Fenice (The Phoenix) at the time of its construction in 1792 turned out to be prescient since the theater has indeed emerged triumphantly from the ashes. There have been three separate fires that completely gutted the theater, the most recent of which occurred in 1996. Opera and ballet events, as well as concerts, are regularly scheduled at La Fenice, which has a long and illustrious history that includes the world premieres of works by Rossini, Donizetti, and Verdi. This opera house is located at Campo San Fantin, 1955 San Marco, 30124 Venice.
La Fenice reopened in 2003 with somewhat more seats, although it is still a very tiny opera theatre, making it difficult to secure tickets to important performances. A self-guided audio tour of the theater's public spaces and beautiful Rococo interior is available and takes around 45 minutes.
Daily tours begin at 9:30 AM and conclude at 1:30 PM (will close many days at 5:00 pm or 6:00 pm, depending on rehearsals in the venue). Prices for the trip are as follows: €12.65 ($13.4) for adults, €9.20 ($9.7) for seniors and students (up to 26 years old).
Also, check out the Top 10 Iceland Waterfalls!
Several islands are part of the Venice municipality, and the city itself is divided into six main districts. The northernmost of these islands is called Cannaregio. The Jews of Venice were forced to relocate to this little island (named the "ghetto") in 1516 and the locals gave the foundry there the name "geto." The gates were closed and guarded overnight, so residents could only leave during the day. It is located at Museo Ebraico di Venezia, Campo del Ghetto Nuovo, Cannaregio.
Synagogues and the Museo Ebraico di Venezia (Jewish Museum), which displays relics from Jewish life in the city from the 17th century and beyond, testify to the continued existence of the Jewish community in the Cannaregio sestiere. Jewish groceries and delis are also easily accessible. A monument of bronze panels, constructed in 1980 by artist Arbit Blatas, facing the Ghetto Nuovo Square, pays tribute to the people who were deported during the Nazi takeover of the city in 1943. Explore the history of the Jewish community in Venice and the evolution of the Jewish Ghetto at the Museo Ebraico di Venezia. It is a lovely little museum with some fascinating exhibits.
The museum is open from 10 am to 5 pm and until 6.30 pm on Thursdays and is closed on Saturdays. Ticket prices (for the museum and two synagogues): Adult tickets are €12 ($12.7); children up to age 18 years and students up to age 26 €10 ($10.6).
Related: Top 10 Hotels in Positano Italy With A Scenic View
Palazzo Contarini del Bovolo is a modest palace in Venice. This structure dates back to the 15th century and has been meticulously repaired while retaining its distinctive architectural features. Because the stairwell has the appearance of a snail shell, the Italians gave it the name "bovolo," which translates to "snail." The view of Venice from the highest point of the spiral staircase is breathtaking. It is located at Calle del Scaleter, San Marco, 2215, 30124 Venice.
The iconic feature of this palazzo is the spiral staircase that ascends to the rooftop viewing deck which makes it one of the best places to visit in Venice, Italy. This staircase appears in Orson Welles's cinematic version of Shakespeare's Othello. Adult tickets are €8 ($8.5), while tickets for individuals under the age of 26 are €6 ($6.3).
Lido di Venezia is an island, and the town of Lido is located there. The island is well-known for its beach and its annual film festival. Although the island is usually peaceful in the winter, it becomes quite busy in the summer months of July and August. However, if you are staying in Venice for a longer period during the summer, you may simply take a day excursion to the island to get away from the hustle and bustle of the city's six districts. Together with Lido Pellestrina, the islet serves as a natural barrier between the lagoon of Venice and the Adriatic Sea. Most of the population lives on the island's narrowest section, although the northern and southern ends are rich in natural resources.
A vaporetto voyage from St. Mark's Square takes around ten minutes and costs around €2.8 ($3) and from the landing stage when you exit the boat, you may walk or ride a rental bicycle to explore Lido. The island is dotted with hotels and villas designed in the Art Nouveau style; to view the villas, take a stroll along a residential street. At the end of August and beginning of September, the Lido hosts the International Film Festival which takes place at the Palazzo del Cinema.
Editor's Pick: 9 Louisiana Beaches With Breathtaking Views
Things to Consider Exploring Venice, Italy
You should think about the following before making any plans to visit Venice, Italy.
Weather — When it comes to choosing a time of year to visit Venice, the seasons of spring and autumn are usually the most favorable. Weather-wise, it is perfect for sightseeing, and people are less than they are in the summer. Late April or May is, in our opinion, the greatest time to visit Venice, when the spring break is over and the weather has improved, crowds should be more bearable. The months of March and April are also lovely in Venice if you do not mind the cold; just try to avoid the Easter holiday.
The Budget — The availability of finances is the single most important consideration before starting any of these endeavors. Piazza San Marco, St. Mark's Basilica, and the beach at Lido di Venezia are just a few of the fantastic free or low-cost attractions for those on a smaller budget. Doge's Palace and the Bridge of Sighs, a Gondola ride down the Grand Canal, a visit to Murano and Burano Islands, and so on are all fantastic options if money is no problem
Suitable Places — The appropriateness and suitability of a place depend on whether you are visiting alone, with friends, with family, or with your romantic partner. For instance, if you plan to visit Venice with your romantic partner a Gondola ride or visit Murano, Burano, or Lido islands is most suitable for you. On the other hand, if you visit Venice with your family then Piazza San Marco or Scala Contarini del Bovolo or even a beach trip to Lido island are good options
How Do We Pick Our Recommendations?
Each recommendation was chosen by experts after careful analysis of many different criteria. After doing some research and asking around, we decided on these top-notch Venice places. We make a concerted effort to provide you with a wide variety of options, and we also consider the opinions of other visitors who were there at these spots. Keeping a broad range of visitors' ages and interests in mind, we have planned a wide choice of activities and sightseeing stops. All the places we suggest are great for a day out with a group of friends, a special someone, or the entire family.
Final Word
You may use our suggested wonderful places to visit in Venice, Italy during your stay in this fascinating city. Venice, Italy, is full of stunning architecture, lively performances, and hospitable locals. Visit Venice, Italy to roam some of the most wonderful places and soak in the city's rich cultural history. Come and witness for yourself what makes this city so special.
Exploring Venice - FAQs
Can you recommend a moderate-budget hotel in Venice?
Anda Venice Hotel is one of the cheapest hotels in Venice starting from €46.16 ($50) a night only.
Where should I take my date for the finest time in Venice?
Enjoy a romantic evening with a gondola ride along the Grand Canal or a performance at the historic Teatro La Fenice.
In Venice, what is the ideal spot to take your children?
The beach at the Lido is a great location for children. The spiral stairwell of Palazzo Contarini del Bovolo is another popular attraction to visit and take pictures of.
Which spot in Venice would you suggest for a good time that everyone could enjoy?
Wonderful spots for a family outing include the Doge's Palace and the Bridge of Sighs, as well as the Islands of Murano and Burano.