Iceland is renowned for its spectacular natural beauty, and this is especially evident in the country's stunning array of waterfalls. From towering cascades to serene plunge pools, Iceland's 10 most impressive waterfalls offer something unique for every traveler. For a breathtaking experience, explore some of these incredible sites and take in the power of nature at its finest. This guide will provide insight into the ten most spectacular waterfalls in Iceland and what makes each one so special. From thundering cascades to serene plunge pools, get ready to explore some of the country's most stunning sights!
Also Read: 10 Spectacular Waterfalls in Maine You Won't Believe Until You See!
[item_carousel id='202′ timeout='5′]
Top 10 Iceland Waterfalls
Explore some of the most stunning waterfalls in the world with a trip to Iceland! From thunderous cascades and hidden gems, there is no shortage of incredible waterfalls to discover. Here are our picks for the top 10 Iceland waterfalls that you must visit on your next trip:
Skogafoss Waterfall
View Website
Get Directions
PERFECT FOR: Experiencing the beauty of Iceland and marveling at its natural wonders.
Skogafoss is one of Iceland's most magnificent waterfalls. Located near the Ring Road in the south of Iceland, this waterfall stands at an impressive 60 meters high and 25 meters wide.
Its sheer size and power are awe-inspiring, as it cascades down into a broad pool beneath it. It can be seen from a distance, but nothing compares to standing at the base and feeling its mist on your face.
The waterfall is believed to have been created over 1000 years ago by a glacier, as evidenced by its curved shape. Its name comes from the phrase 'skogar' which means woods in Icelandic; this refers to the area of woodland surrounding the falls.
The best way to experience Skogafoss is by taking a hike up to the top of the waterfall. It's an impressive feat, as the climb can be quite steep and slippery in places due to its location near the sea.
Upon reaching the top of the waterfall, visitors are rewarded with breathtaking panoramic views of the surrounding landscape. Visitors to Skogafoss can also explore hidden caves behind the falls; these are accessed by hiking up steep rocks on either side of the waterfall.
The story goes that a local Viking chief once hid his treasure in a cave, and a ring from this hoard was discovered in 1690. This has led to plenty of speculation as to whether the ring was part of a larger hoard, so this makes exploration all the more exciting!
Skogafoss is also home to a wealth of wildlife including salmon, otters, and birds. It's an excellent spot for birdwatching due to its location near the coast. This breathtaking waterfall is worth a visit, and it can be enjoyed in any season.
Gullfoss, meaning "Golden Falls," is the most well-known of Iceland's waterfalls. Located on the Golden Circle, alongside attractions such as Geysir Geothermal Area and Thingvellir National Park, Gullfoss is a must-see destination.
The waterfall drops 32 meters (105 feet) over two tiers into a narrow, deep canyon; the resulting mist makes for a spectacular sight, even forming rainbows in sunlight. Looking for more spectacular waterfalls? Visit these Top 10 Spectacular Waterfalls In Ohio and enjoy the beauty of nature.
A footpath from the car park leads to a viewing platform from which its beauty can be experienced.
At the beginning of the 1900s, Gullfoss was subject to controversy when British investors wanted to use it for hydroelectricity.
Sigridur Tomasdottir, the daughter of the farmer who owned land near Gullfoss, fought against it and even threatened to throw herself in the waterfall if construction began.
Her efforts paid off and investors left; a plaque commemorating her successful campaign to protect Iceland's nature was put up in her honor at Gullfoss.
Visiting this breathtaking waterfall is an unforgettable experience and a reminder of the incredible power of nature.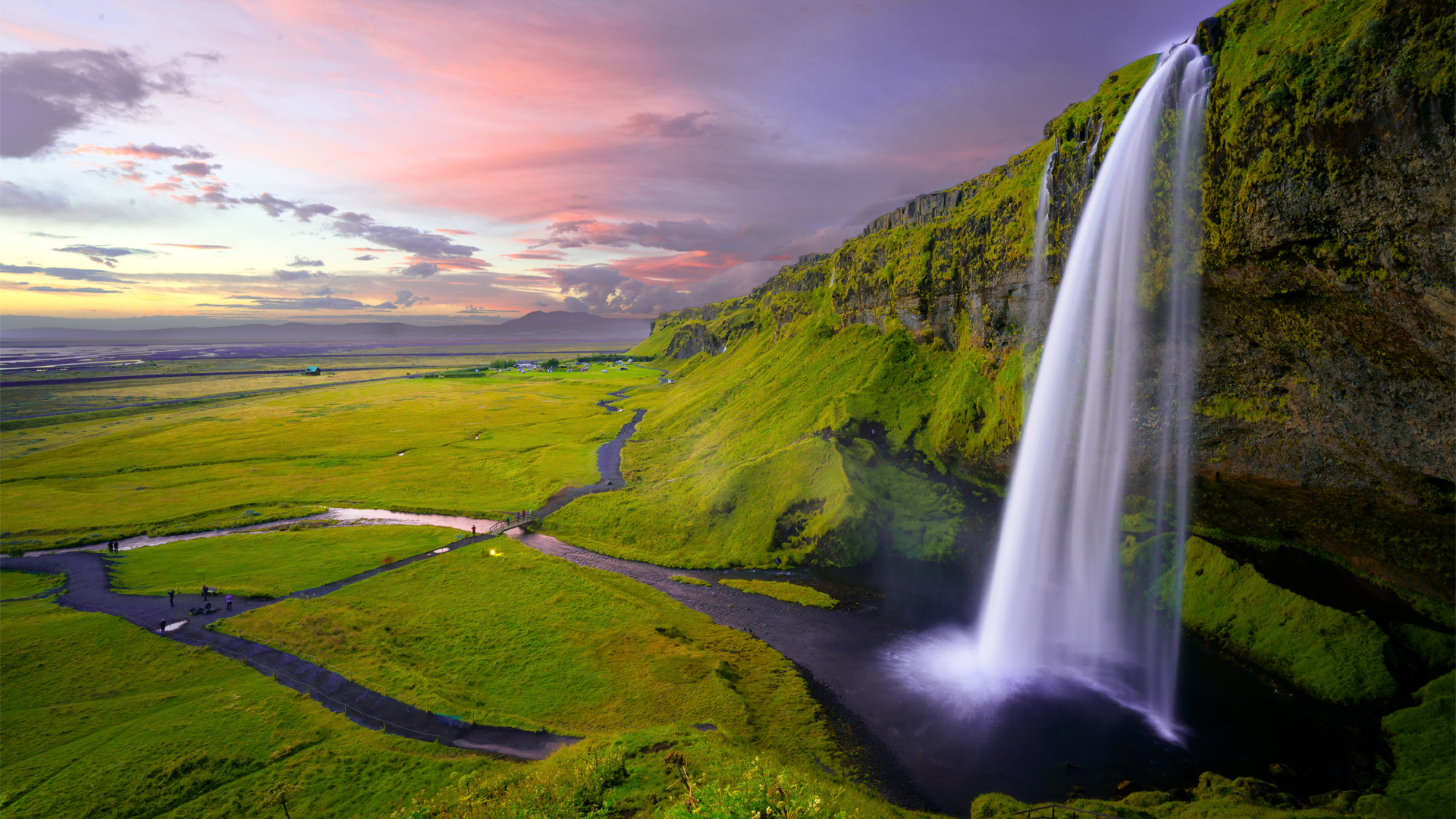 Seljalandsfoss, located in South Iceland about 80 miles from Reykjavik, is one of the most photographed waterfalls in Iceland.
It stands at a staggering 197 feet high and features an impressive path that encircles it. This pathway allows visitors to walk behind the waterfall for a truly unique experience and to take some incredible photographs.
Despite its grandeur, tourists can find another awesome waterfall nearby, Gljufrabui. While the former is quite popularly known, this one remains hidden in between the towering cliffs of Gljufura River, which is why its nickname translates to 'Canyon Dweller'.
To witness this stunning waterfall and walk behind it for an unforgettable experience, one should wear appropriate clothing such as hiking shoes and a waterproof coat, as there are a lot of sprays.
After visiting this waterfall, if an idea pops up in your mind to explore more stunning waterfalls then book your tickets to Wisconsin and visit these Stunning Waterfalls In Wisconsin for Your Leisure Next Trip.
Seljalandsfoss is one of the most beautiful places in Iceland and will make for an unforgettable journey.
Glymur Waterfall is the second tallest in Iceland, with a height of 650 feet (198 meters). It is located near Reykjavik in the rugged Hvalfjordur fjord and has long been admired for its beautiful cascades.
Depending on the time of year, visitors can view either stark grey and dark rock or vibrant green moss. Accessing the waterfall requires a five-hour hike and visitors must cross a river using a wire, as well as a suspended log.
The journey is strenuous, so it is advisable to hire an experienced guide with proper safety equipment.
The legend behind its name can be traced back to Icelandic folklore about an elf woman who turned a man into a whale. This mythical creature then caused an earthquake after crashing into the canyon where Glymur is located and creating a loud rumble, giving it its name.
For those wanting to explore this majestic wonder, consider taking a 10-hour Jeep Tour of Hvalfjordur which will take you to the waterfall as well as many other scenic attractions in the area.
Located in Skaftafell Nature Reserve in Iceland, Svartifoss, or Black Falls, is a 65-foot (20-meter) tall waterfall known for its dramatic contrast of the white water and dark hexagonal basalt columns.
A wooden bridge crosses near the falls, making it an ideal spot for photography. Inspired by Svartifoss, the Hallgrimskirkja church in Reykjavik and the ceiling of the National Theater of Iceland were designed with columnar architecture.
The hike from the Skaftafell visitor center to Svartifoss is 1 mile (1.5 km) long, and there are three smaller waterfalls below it along the east bank. The wild beauty of the area is characterized by canyons, hanging valleys, and glacial rivers.
To reach Svartifoss, take a 5.5 km (3.4 mi) round trip on a marked trail from the visitor center; views of the waterfall are best if you go up one path and down another.
The unique crystallized rock formations around the falls make it one of the more special waterfalls in Iceland.
Visiting Svartifoss is an unforgettable experience that should not be missed!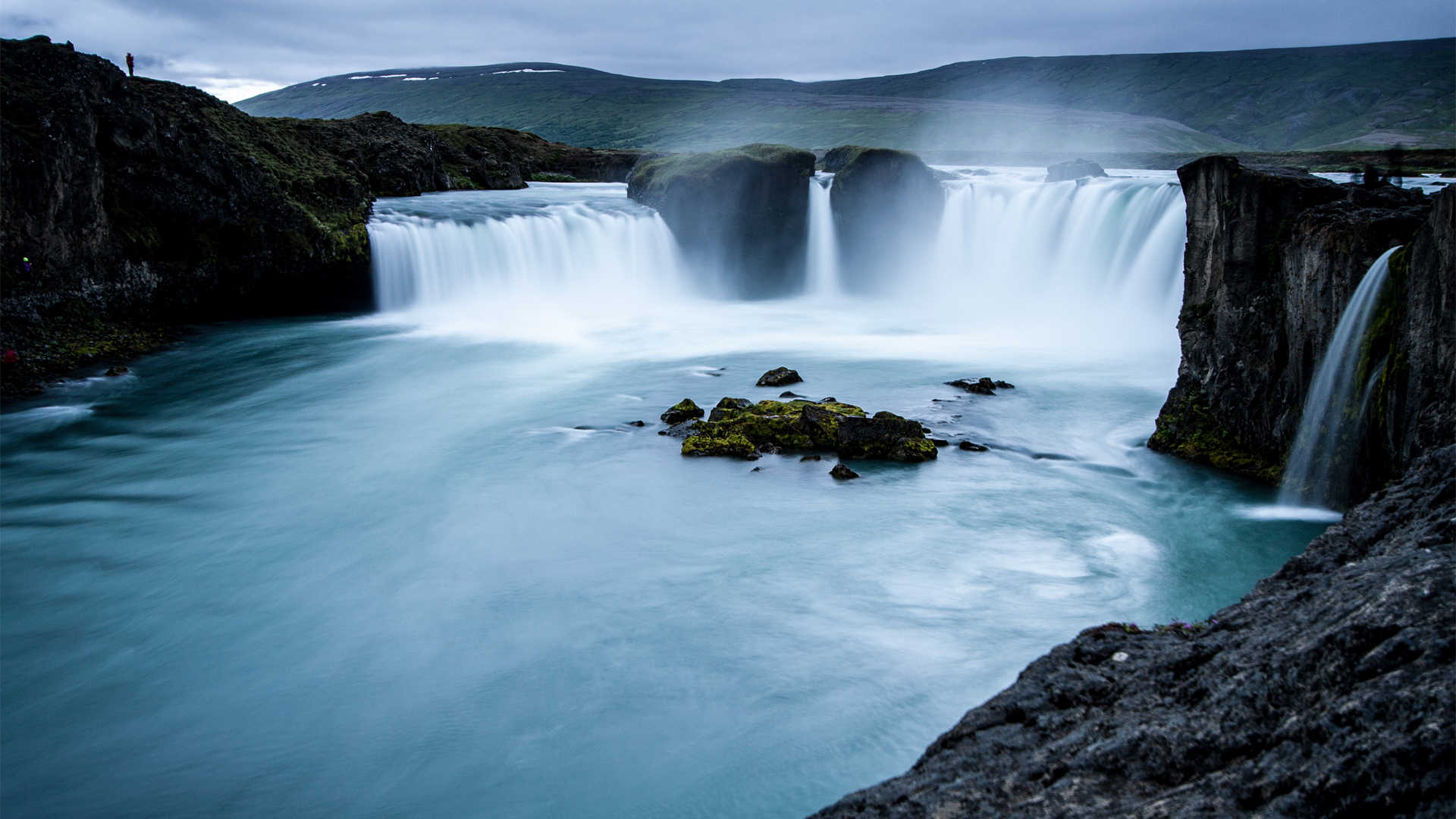 Godafoss, a majestic horseshoe-shaped waterfall located in North Iceland, is one of the most renowned waterfalls in the country. Its name translates to "waterfall of gods" and it has an impressive width of 98 feet (30 meters).
The fall itself is 12 meters high and flows into the fourth-largest river in Iceland, Skjalfandafljot.
It is said that the waterfall was given its name when a local chieftain threw statues of Norse gods into the water after converting to Christianity in 1000 AD.
Godafoss can be reached via a 9-hour tour from Akureyri or on the Diamond Circle route.
The memorable waterfall is also shrouded in myth, with legend stating that Thorgeir Ljosvetningagodi, the law speaker of Iceland's national assembly Althingi, threw his idols into the thundering water as a sign of his decision to make Christianity the official religion in Iceland.
Visitors can get close and marvel at this remarkable natural wonder, a testament to the history of Iceland.
Legends portray Godafoss as an important part of Icelandic culture and a symbol of the tough times that the nation has gone through while embracing its faith and beliefs.
Today, it remains an iconic landmark in Iceland that will continue to inspire generations to come.
Dettifoss is a stunning waterfall in North Iceland, located in the Vatnajokull National Park. It's 100 meters wide and drops 44 meters with an incredible force of 200 cubic meters per second.
The gray-white water, caused by sediments from nearby glaciers, gives it a unique, powerful appearance and its thunderous roar is an unforgettable experience.
This iconic waterfall was featured in the popular movie Prometheus and is part of the Diamond Circle Route, one of North Iceland's top attractions.
Even though it's easy to access by road, you should always check conditions before heading there in winter as roads can be closed due to weather.
Be prepared to be astounded by the immense power and untamed magnificence of Dettifoss! It is not only the most powerful waterfall in Iceland but also the second most powerful one in all of Europe – only the mighty Rhine Falls surpasses it.
Hraunfossar Waterfall
View Website
Get Directions
PERFECT FOR: Taking picturesque photos and enjoying the stunning natural beauty of Iceland.
Hraunfossar, in West Iceland, is a picturesque waterfall made up of dozens of small streams. The source of the Gullfoss Waterfall is the rivulets found within Hallmundarhraun, a lava field that was created by the eruption beneath Langjökull glacier.
For those traveling back to Reykjavík, Hraunfossar is a great detour. Visitors can explore the waterfall or nearby Barnafoss, and consider taking an Into the Glacier tour to walk inside ice tunnels carved out of Langjökull glacier.
Viewed from afar or up close, Hraunfossar is beautiful, with veins-like streams running through the lava field and then cascading over the cliffs. The 900-meter stretch is a sight to behold, with many visitors drawn to its unique dynamic.
To experience Hraunfossar's beauty, take a trail back to the falls or view it from the parking lot. Don't miss out on neighboring Barnafoss either – it's an easy walk to get there.
No matter how you choose to explore, Hraunfossar is a must-see in West Iceland.
Exploring Bruarfoss waterfall is an off-the-beaten experience in Southwest Iceland. Nestled in the Grimsnes area and located along the Bruara River, this hidden gem takes roughly an hour's hike to reach via a dirt and gravel path.
What makes it so special isn't its size or power, but rather its striking blue hue. Before arriving at the main attraction, visitors may come across two more waterfalls – Hlauptungufoss and Midfoss. Although less impressive than Bruarfoss, they still feature its signature aquamarine waters.
Despite being a logical part of Iceland's Golden Circle tour, it remains relatively undiscovered due to its location.
To access Bruarfoss, head towards Burarfoss Waterfall Access Bridge on your GPS. Don't expect crowds here – the blue waters and stunning gorge are yours to enjoy with little competition from other photo-seekers!
Nestled in the remote Westfjords region of Iceland, Dynjandi Waterfall is a sight to behold.
Locals call it the "Jewel of the Westfjords" due to its dramatic shape and sheer size. This impressive cascade measures 98 feet (30 meters) wide at the top and 196 feet (60 meters) at the bottom.
Descending an impressive 328 feet (100 meters), it will surely take your breath away with its roaring sound, earning it its translation "Thundering". If you have got a desire to visit the breathtaking waterfalls then don't forget to visit the Breathtaking waterfalls of North Carolina.
Travelers and nature enthusiasts alike flock to Dynjandi for a chance to capture its beauty in photography and marvel at the area's rich birdlife, stunning vistas, and picturesque coastlines.
Along the 15-minute hike to the fall from the parking area, visitors can check out six other waterfalls worth a look.
Once at the top of Dynjandi, be sure to take in its awe-inspiring trapezoidal shape likened to a bridal veil or multi-layered wedding cake.
A trip to the Westfjords is sure to be a rewarding experience, with many lesser-visited natural wonders and mountains, fjords, and cliffs awaiting discovery.
Visiting Dynjandi is a must for any nature enthusiast's itinerary!
Things to Consider Before Going to Iceland Waterfalls
Travelers who are looking for a unique and unforgettable place to visit should consider Iceland's waterfalls. From dramatic, cascading falls to serene streams, this northern European country offers an array of impressive sights to explore. Before planning your trip, here are some things to consider:
Weather Conditions — Iceland is known for its cold weather, so it's important to check the forecast before heading out. Make sure you have all the necessary clothing and supplies to keep you warm and dry throughout your adventure.
Accessibility — Many of Iceland's waterfalls can be hard to reach, as they are located in remote areas. Consider the terrain when planning your trip – will you be able to walk or do you need a vehicle?
Safety — Iceland's waterfalls can be very dangerous, so make sure you are properly prepared and familiar with safety protocols before heading out. Wear the right shoes and bring extra layers in case of an unexpected storm.
Cost — visiting Iceland's waterfalls can be quite expensive, so make sure you plan your budget accordingly. Consider any entrance fees or tour prices when deciding how much to spend.
With these tips in mind, you can enjoy a wonderful and unforgettable experience at Iceland's amazing waterfalls.
How Do We Pick Our Recommendations?
After visiting the enchanting waterfalls in Florida, our team arrived in Iceland. We take into account several factors when selecting our top 10 waterfalls, such as their scenic beauty and magnitude, accessibility, safety considerations, and more. All of these elements are taken into careful consideration before making our selection. Furthermore, we also visit each of the waterfall sites to ensure that they meet our standards for a quality experience. Ultimately, we strive to provide you with an unforgettable waterfall experience in Iceland! We are confident that after visiting any of the top 10 waterfalls recommended by us, you will never forget your time spent in Iceland. Whether it is a majestic and powerful Skogafoss or the peaceful and serene Seljalandsfoss, we guarantee that your visit to any one of these waterfalls will be an experience of a lifetime. We also survey our regular visitors to get candid opinions on what they consider to be the best Iceland waterfalls. We take into account their feedback and use it to inform our selection process. Our goal is always to provide you with the best experience possible and, therefore, we are continuously refining our list of recommended waterfalls in Iceland! We hope that this information helps you choose the perfect waterfall for your next trip to Iceland.
A Guide to The Spectacular Sights of 10 Iceland Waterfalls - FAQs
What kind of waterfalls can be seen in Iceland?
Iceland is home to a plethora of spectacular waterfalls, ranging from high and powerful falls to cascading ribbons of water.
Are all the waterfalls easily accessible?
While some waterfalls may be easier to access than others, most of them require a bit of effort to get to as they are hidden away in the countryside or volcanic mountains.
What kind of activities can I do at the waterfalls?
You can take part in a variety of activities, including sightseeing and photography, hiking, swimming, kayaking, and more.