The second-largest city in Indiana and the county seat of Allen, Fort Wayne is a busy hub of different leisure opportunities. It offers everything you need, whether you are on vacation or simply exploring the large city, including great music, museums, fun-filled outdoor activities, and magnificent landscapes. There is a mix of historic and contemporary buildings in Fort Wayne. Despite being tiny, this city offers something for everyone. Here are a few enjoyable activities to do in Fort Wayne. Fort Wayne also offers the opportunity to explore nearby small towns. These 7 small towns in Indiana will ease off your stress and provide a more serene experience.
Amazing Activities to Indulge In Fort Wayne
What follows is a list of all the amazing attractions and activities that can be found in Fort Wayne, Indiana, and will make you never want to leave!
The Foellinger-Freimann Botanical Conservatory is just one of Fort Wayne's many beautiful outdoor destinations. This glass greenhouse on Calhoun Street dates back to 1983 and covers an area of more than 25,000 square feet. Three enormous indoor gardens await your exploration. You can keep returning to the same gardens year after year thanks to the four annual seasonal exhibits. The Conservatory is located at 1100 Calhoun St, Fort Wayne, IN 46802, United States.
The conservatory has a stunning waterfall, desert garden, terrace, and exploration garden, as well as four inside displays that change with the seasons. The entrance fee for adults is $5 and $3 for children (3 to 17 years). Admission is free for children under 3 years and if you're looking for more waterfall adventures, be sure to check out The 8 Most Gorgeous Waterfalls Of Indiana.
The variety and quantity of trees in this garden are one of its most striking features. Over 502 plant species, including the iconic Saguaro Cacti, thrive in the climate-controlled environment of the Foellinger-Freimann Botanical Conservatory.
You might lose track of time wandering the gardens and seeing the butterflies as you become one with nature. Get away from the city's hectic pace and enjoy some quiet time among some of the most beautiful plant species in the area. Have a picnic in the park, stop for refreshments at the café, and pick up some mementos at the gift store en route to exploring this lovely location.
Nearby attractions include Fort Wayne Children's Zoo, Parkview Field, and Allen County Public Library.
The historic Embassy Theatre, formerly known as the Emboyd Theatre, is a stunning venue for cultural events in Fort Wayne. Since 1928, it has been a popular tourist destination, and it will soon be 100 years old. The theatre is located at 125 W Jefferson Blvd, Fort Wayne, IN 46802, United States.
The Fort Wayne Philharmonic Orchestra performs at a 2,471-seat venue on West Jefferson Boulevard. The price of a standard ticket is $10 and a family pack is $7.5. After being renovated as a theater and added to the National Register of Historic Places in 1975, it is now a popular destination for the performing arts. The Embassy Theatre also has a stellar reputation for organizing special events like weddings and celebrations.
If you are searching for something fantastic to do in Fort Wayne tonight, I highly recommend going to a Broadway play, where you can immerse yourself in the great art of Broadway with stunning lighting, appropriate sound effects, and skilled performers. The nostalgic atmosphere, glittering lights, and intricate design will leave a lasting impression. Take a seat, kick back, and prepare to be mesmerized by the evening's performances, whether you are at a Broadway show, a concert, or anything else of the kind. If you feel thirsty during the performance, there are concessions available for purchase inside the theater.
A significant attraction nearby is the Hilton Fort Wayne, located in the Grand Wayne Convention Center.
Lakeside Park and Rose Garden is a charming spot on Lake Avenue in Fort Wayne. Lakeside Park has been a staple of Fort Wayne since its inception in 1908. The park, which has been a beautiful part of the city for over a century, was planned by renowned landscape architect George Kessler. It is located at 1401 Lake Ave, Fort Wayne, IN 46805, United States.
In 1928, the Lakeside Park garden received the honor of being named a National Rose Garden. The Lakeside area has four lagoons, strolling walkways, an Italianate sunken garden, pavilions, and event structures. Playground equipment and fishing are both available at Lakeside Pond. The buried garden is the main attraction of this ancient garden as it has over 2 thousand rose plants of more than 150 species. The entrance to the Rose Garden is free making it one of the cheapest places to explore in Fort Wayne.
Millions of people visit the beautiful Lakeside Park and Rose Garden every year because it has been brought back to their former beauty. The park also has large basketball and tennis facilities, ice skating rinks in the winter, picnic spots, and hiking routes.
Editor's Pick: 7 Incredible Things You Can Do In Beacon, NY
When it comes to STEM (Science, Technology, Engineering, and Mathematics) education, Science Central is a game-changer. Historically, this large structure was the site of City Light & Power's power plant. Science Central, one of Fort Wayne's top attractions, has been welcoming visitors since it first opened in 1995. The building is located at 1950 N Clinton St, Fort Wayne, IN 46805, right in the heart of the city. Curiosity is encouraged at this hands-on museum.
At the moment, it is the place to go if you want to have some hands-on, educational, and entertaining fun with science and technology with your kids, their friends, and their teachers. Science Central is packed with fascinating displays and fun activities for visitors of all ages to enjoy and learn from. It is home to over 200 permanent displays and also hosts traveling shows from throughout the country. Children 2 and under, as well as members of Science Central, get in free. General admission is $12.00 at the door and $10.00 online.
Throughout the year, Science Central hosts over 130 exhibits that are both educational and entertaining. Lincoln Financial Foundation Demonstration Theater is the place to go whether you want to learn something new, have your photo taken with a mastodon, or just enjoy a fun and educational presentation.
Family-friendly vacationers visiting Fort Wayne cannot miss this North Clinton Street attraction. Younger guests are welcome to visit Kids Central and participate in the action. Pick up some souvenirs from the gift store and take the learning and entertainment with you.
The Castle Gallery is located at 1202 W Wayne St, Fort Wayne, IN 46802 in a 1905 Romanesque-style mansion, which is itself an impressive piece of architecture. In 1905, B. Paul Mossman and his wife were given The Castle on West Wayne Street as a wedding present. The gallery reopened in 1995 as an exhibition space for the works of contemporary artists from all around the world.
Since its 1995 transformation into an art gallery, the castle has shown works by artists from all over the globe, providing visitors with a unique opportunity to envision how their walls would appear adorned with pieces from the collection. Their roster of artists is always changing, but you can see who they're currently showcasing on their website. Vintage cherry, walnut, oak, and mahogany woods adorn the floors and fixtures of Castle Gallery. The gallery does not require a charge to enter but suggests a donation instead.
Travel plans may be arranged around the gallery's many events, such as book readings and concerts. Learn about its rich history while taking in the splendor of Castle Gallery. Parkview Field, The Embassy Theatre, and Allen County Public Library are also in the vicinity. We highly recommend visiting this museum art gallery if you are visiting Fort Wayne.
The Fort Wayne Museum of Art is a popular attraction at its address of 311 E Main St, Fort Wayne, IN 46802. The Fort Wayne Museum of Art began as a collection of studio sessions for local artists. Both the museum and what was then called The Fort Wayne Art School merged into a single entity until eventually splitting apart in 1977.
Interesting works of American art, from paintings and sculptures to glass and displays, may be seen at this gallery run by Arts United of Greater Fort Wayne. Nearly five thousand masterpieces by renowned artists from throughout the globe may be seen in the museum's galleries. Admission tickets for adults are $10, for students and senior citizens $8, and for families $25.
It also serves as an annual venue for many educational and social activities. Included among them are relaxing art lessons, internships at museums, and the yearly Three Rivers Festival's stunning Chalk Walk. There are currently ten thousand square feet of area at the FWMoA devoted to educating guests about art.
In addition to its permanent collection, the FWMoA often hosts temporary exhibits, which have included themes like African American Artists of Paulson Fontaine Press and Larry Burrows: Life in Vietnam. The entryway of the Fort Wayne Museum of Art is dominated by a collection of glass sculptures that are sure to draw you in.
Get a feel for the past and a lesson in American art while taking a nostalgic stroll through history. Have fun in a recreational learning environment. While you are here, do not forget to peruse the Paradigm Gallery gift store, which has works by regional and worldwide artists.
Recommended Read: Interesting Things To Do In Ojai For A Memorable Trip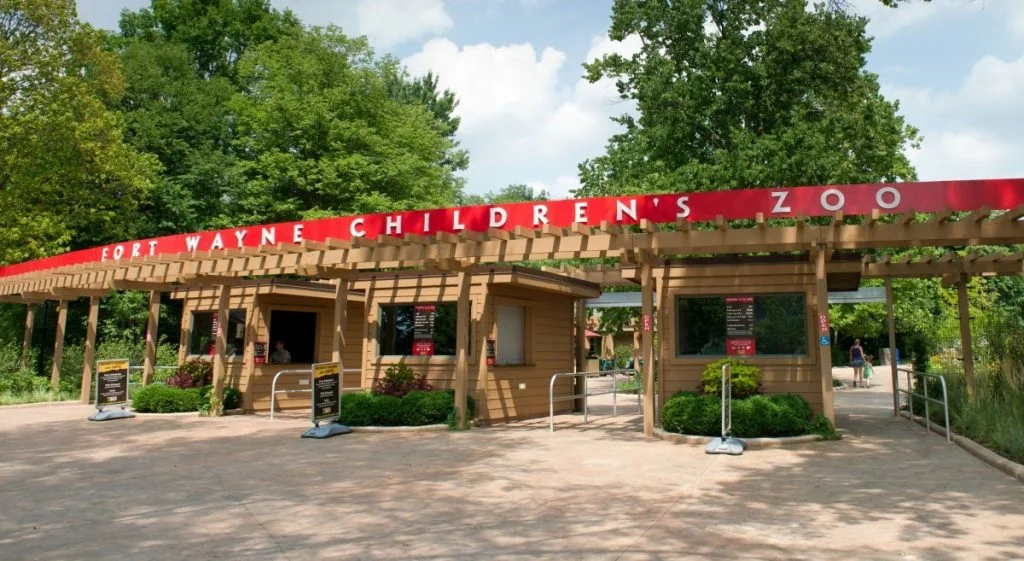 See for yourself why the Fort Wayne Children's Zoo is so highly recommended by local families.
Over 40 acres of exotic creatures, exciting activities, and breathtaking scenery can be found at the zoo, which is situated at 3411 Sherman Blvd, Fort Wayne, IN 46808. Zoo Admission for adults (ages 19-61) is $16; for children (ages 2-18) is $12; for senior citizens (ages 62+) is $14 and for babies (ages 1 and under) and zoo members are free.
One of the best things to do in Fort Wayne with kids is to take them to the zoo so that they may explore the natural world and learn to respect and admire the local fauna. More than a thousand different species are happily coexisting in their ecosystems, and visitors may view them all on a guided tour.
The Fort Wayne Children's Zoo, one of the top ten zoos in the nation, would be a wonderful place to have your next party or event. There is little chance of boredom setting in. There is enough to see and do between the monkeys swinging from branch to branch, the roaring lions, and the waddling penguins. Besides the zoo, there is also a tiny aquarium with rare creatures like the zebra shark, beautiful clownfish, and poisonous lionfish.
The zoo is a one-of-a-kind destination to see local and exotic animals side by side. Visitors may drive alone, take a bus, or walk from downtown Fort Wayne to the zoo's location. The zoo has been recognized as a Certified Sensory Inclusive venue by KultureCity, making it a great destination for families with children of all abilities. Guests with sensory issues may make use of amenities like sensory bags and headphones. The zoo also employs trained staff members who are sensitive to visitors' sensory needs making it a family-friendly place to visit in Fort Wayne.
Things to Consider Before Going to Fort Wayne
Listed below are things to take care of before you plan your vacation to Fort Wayne.
Collect Information About the Destination — Fusing material from guidebooks and our blogs to create a comprehensive itinerary. Make a list of all the places you would want to see, even if you know you probably will not have the chance. Try to make a schedule according to where you are staying. Visit the places farther to you at first because the closer ones can be visited at any time.
Plan the Itinerary Ahead of Time — Plan your route from one "must-see" to the next. Do not stop searching until you find the best options. Your plans should include some wiggle space for creativity and innovation. If you need to make any changes or cut any extraneous details from your strategy, do so now. Always keep some flexibility in plans to avoid last-minute changes.
Arrange the accommodation — If you are planning to visit Fort Wayne in a busy season you must reserve a room for the first night in advance. The budget-conscious traveler should have to search more to find the appropriate accommodation
How Do We Pick Our Recommendations?
The aforementioned recommendations have all been carefully chosen by experts who have taken into account every detail. Our expert team has also picked out recommendations for interesting things to do in Davenport, Chillicothe, and Rehoboth. After being in Fort Wayne for a long time, our team was able to compile a list of some of the best activities in Fort Wayne. We make it hard to provide a wide range of options, and we also consider the opinions of other travelers who have been there. We have selected several locations and areas of interest to appeal to a broad range of ages and interests.
Final Words
With our comprehensive guide on things to do in Fort Wayne, we hope that you are able to have a good and fun-filled time. Enjoy!
Things to do in Fort Wayne- FAQs
What can I do for free in Fort Wayne?
You can visit Lakeside Park and Rose Garden or Castle Gallery both of which are free.
What can I do in Fort Wayne with my children?
One of the biggest attractions for kids in Fort Wayne is the Children's zoo. In addition to that, you can also visit Science Central or Lakeside Park and Rose Garden.
What is a famous art gallery in Fort Wayne?
The Castle Gallery is one of the most famous art galleries in Fort Wayne.