Manhattan, the most densely populated borough in New York City, is a hub of activity, culture, and excitement. With so much to do and see, it's hard to know where to start. Whether you're a local or a tourist, there's no shortage of fun activities to do in Manhattan.
If you are looking for a good time in Manhattan, then you've come to the right place! The Big Apple is known for its vibrant energy, and there's no shortage of exciting activities to explore in this bustling metropolis. From tourist hotspots to hidden gems, here are some of the most fun things to do in Manhattan, New York City.
Exploring the Top Things to Do in Manhattan, NY
What follows is a list of all the amazing attractions and activities that can be found in Manhattan, and that you'll thoroughly enjoy.
Central Park, a 843-acre oasis in the heart of Manhattan, is a must-visit destination for anyone visiting Manhattan, NYC. With numerous walking and jogging paths, playgrounds, and ball fields, it's easy to spend an entire day exploring Central Park. Take a boat ride on the lake or enjoy a picnic on the Great Lawn. You can also visit the Central Park Zoo, which features animals from around the world.
One of the park's main draws is its wide range of activities. You can go for a leisurely stroll or bike ride along its winding paths, have a picnic on the Great Lawn, take a boat ride on the lake, or even go ice skating in the winter. If you're feeling more adventurous, you can explore the park's many landmarks, such as the famous Bethesda Fountain and the Central Park Zoo.
Another reason why Central Park is so much fun to visit is its stunning natural beauty. The park is home to a diverse array of flora and fauna, including dozens of species of birds, squirrels, and even the occasional raccoon. During the fall, the park is awash in vibrant shades of red, orange, and yellow, making it the perfect place for a scenic autumn stroll.
Whether you're looking to enjoy the outdoors, explore some of the city's most iconic landmarks, or simply relax and take in the beauty of nature, Central Park is a fun and unforgettable place to visit in Manhattan, NYC.
Times Square, the "Crossroads of the World," is one of the most popular tourist destinations in the world. With its bright lights, giant billboards, and bustling crowds, Times Square is a sight to behold. Take a walk around the square and check out the numerous street performers and vendors. You can also visit the nearby Madame Tussauds Wax Museum or Ripley's Believe It or Not! Museum.
This bustling commercial and entertainment hub, located in the heart of Midtown Manhattan, is an iconic destination that should be on every traveler's bucket list. Times Square is a feast for the senses. The bright lights, towering billboards, and constant energy create a one-of-a-kind atmosphere that's unlike anything else in the world. Whether you're a fan of Broadway shows, shopping, or just people-watching, you'll find plenty to keep you entertained for hours on end.
In addition to the many shops, restaurants, and theaters in the area, Times Square is also home to some of the city's most famous landmarks, including the ball drop on New Year's Eve and the giant crystal ball that sparkles in the center of the square.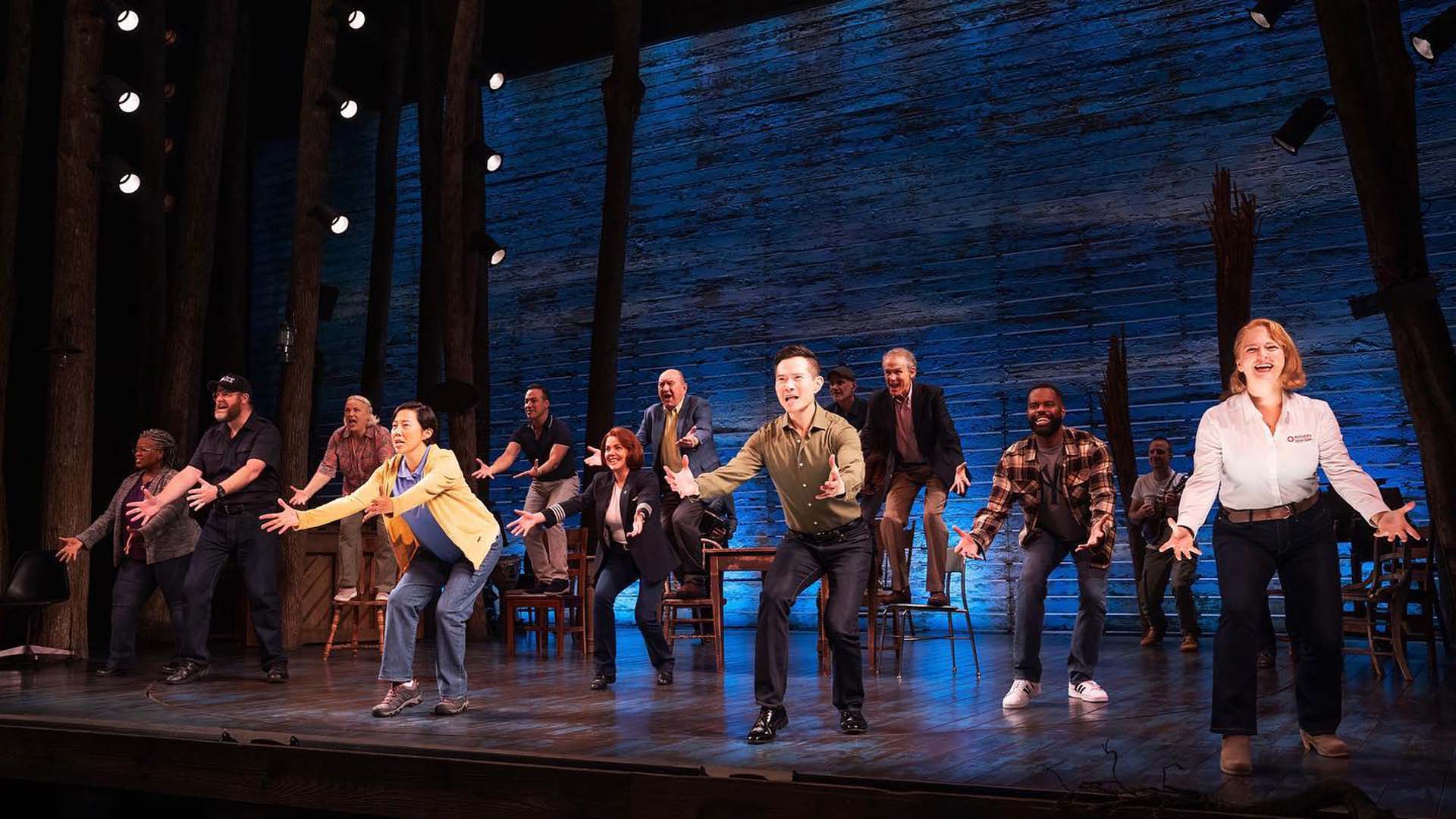 Manhattan is the home of Broadway, and there's no shortage of incredible shows to see. Tickets can be pricey, but you can often find discounted tickets at the TKTS booth in Times Square. There are plenty of reasons to visit New York City, but one of the must-do experiences is catching a Broadway show while you're in Manhattan. The lights, the energy, the talent – there's truly nothing like it.
For starters, Broadway shows are world-renowned for their quality and variety. Whether you're into classic musicals like "The Phantom of the Opera" or more modern hits like "Hamilton," there's something for everyone. And with so many theaters scattered throughout the city, you're sure to find a show that fits your taste.
But it's not just the performances that make a Broadway show so special. It's the entire experience – from the buzz of the audience as they take their seats, to the gorgeous costumes and set designs, to the stunning vocals and choreography. You'll laugh, you'll cry, and you'll be on the edge of your seat the entire time. Truly, this makes it one of the must-visit places in Manhattan, NYC.
For Your Next Trip: The Ultimate Guide To Exploring Northern Lights
Looking for a fun-filled adventure in the heart of Manhattan? Look no further than the Statue of Liberty! This iconic landmark stands tall as a symbol of freedom and opportunity, welcoming visitors from around the world with open arms.
Step foot on Liberty Island and take in the breathtaking views of Manhattan's skyline. Climb the 354 stairs to the top of Lady Liberty's crown for a panoramic view of the harbor. Learn about the statue's history and significance at the on-site museum, or simply soak in the atmosphere and snap some Instagram-worthy photos.
Although it is free to stay at the Liberty Land, there are certain tickets you need to enjoy the full experience. Reserve ticket with access to both the pedestal and the museum: $18.50 per adult (ages 13 and up), $14 for seniors (ages 62 and up), $9 for children (ages 4-12), free for children under 4.
On the other hand, if you are a big fan of Statue of Liberty and want access to the crown as well, you need to pay a bit more. Crown access ticket (includes access to the pedestal, museum, and crown of the statue) and costs $22.50 per person (all ages)
Whether you're a history buff, a nature lover, or simply looking for a unique and unforgettable experience, the Statue of Liberty has something for everyone. So come and see for yourself what makes this iconic monument so special!
Editor's Pick: What To Do On Easter 2023: A Definitive Guide
Try Some Street Food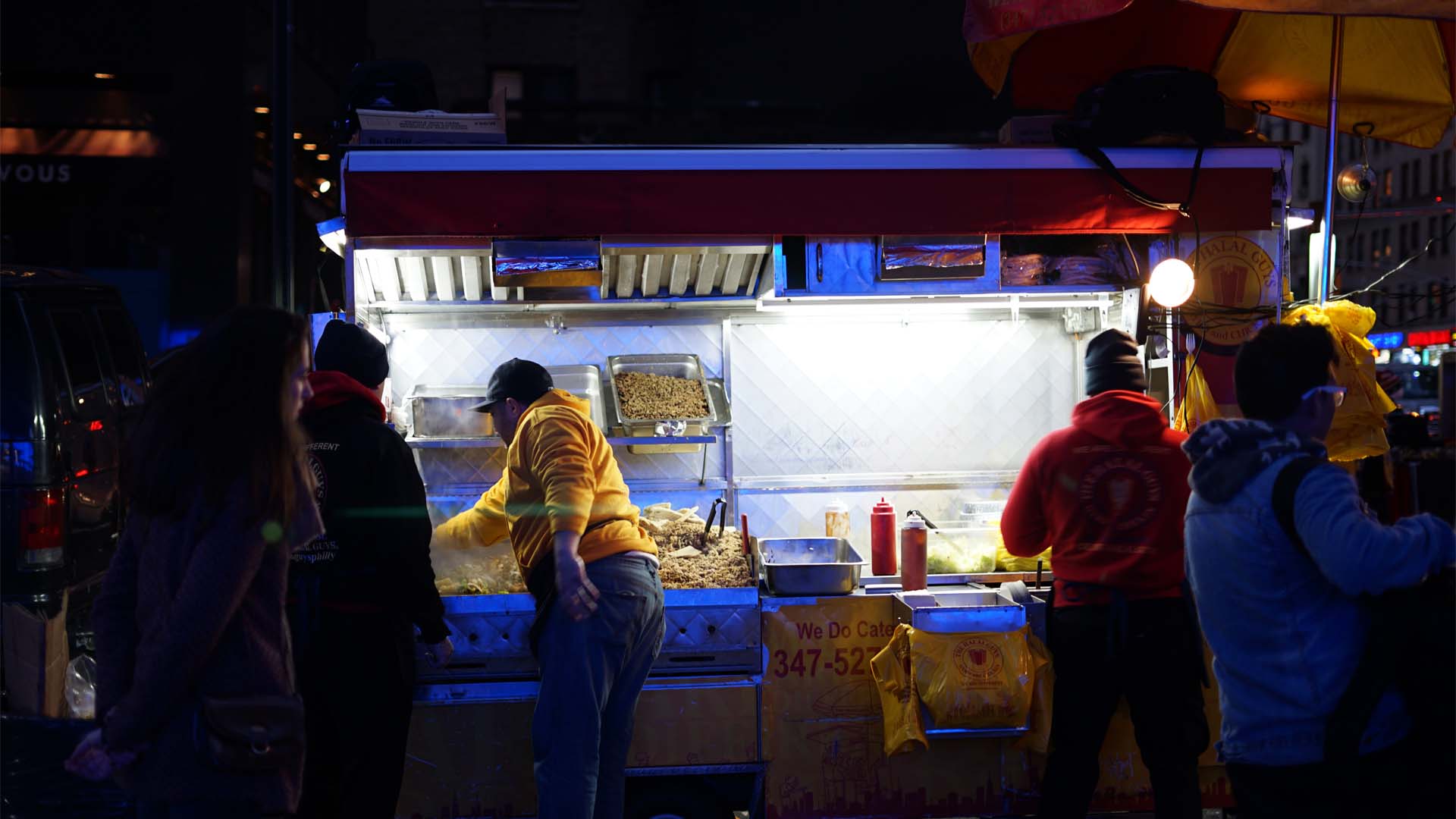 New York City is famous for its street food, and Manhattan has some of the best food trucks and carts in the city. New York City is famous for its iconic landmarks, vibrant culture, and diverse cuisine. But if you're looking for a true taste of the city that never sleeps, then you simply must try the street food!
New York street food is a culinary experience like no other. From hot dogs and pretzels to kebabs and falafel, there's no shortage of delicious and affordable options to choose from. Here are just a few of the many types of street food you can find in the Big Apple:
Hot Dogs – Arguably the most famous street food in NYC, the hot dog is a staple of the city's culinary scene. Whether you prefer yours with ketchup, mustard, sauerkraut, or all of the above, you're sure to find a vendor selling this classic snack on nearly every street corner.
Pretzels – Another classic New York snack, the pretzel is a must-try for anyone looking to indulge in some street food. These savory, doughy delights come in all shapes and sizes and are perfect for munching on the go.
Falafel – Looking for something a little more filling? Look no further than the falafel. This vegetarian dish is made from ground chickpeas, herbs, and spices, and is typically served in a pita bread with hummus, tahini, and fresh veggies.
Kebabs – For meat lovers, kebabs are a popular street food option. These grilled skewers are typically made with chicken, beef, or lamb, and are served with rice, salad, and a variety of sauces.
So what are you waiting for? Whether you're a foodie or just looking for a quick and tasty snack, Manhattan's street food is a must-try experience. So hit the pavement, follow your nose, and discover the delicious flavors of the Big Apple!
You can also find a variety of international cuisines, from Mexican to Thai, at food carts throughout the city. We also recommend visiting some of the best Korean restaurants in NYC.
Explore the Shops on Fifth Avenue
View Website
Get Directions
PERFECT FOR: Experiencing the Party and Lights in the Shopping District of Manhattan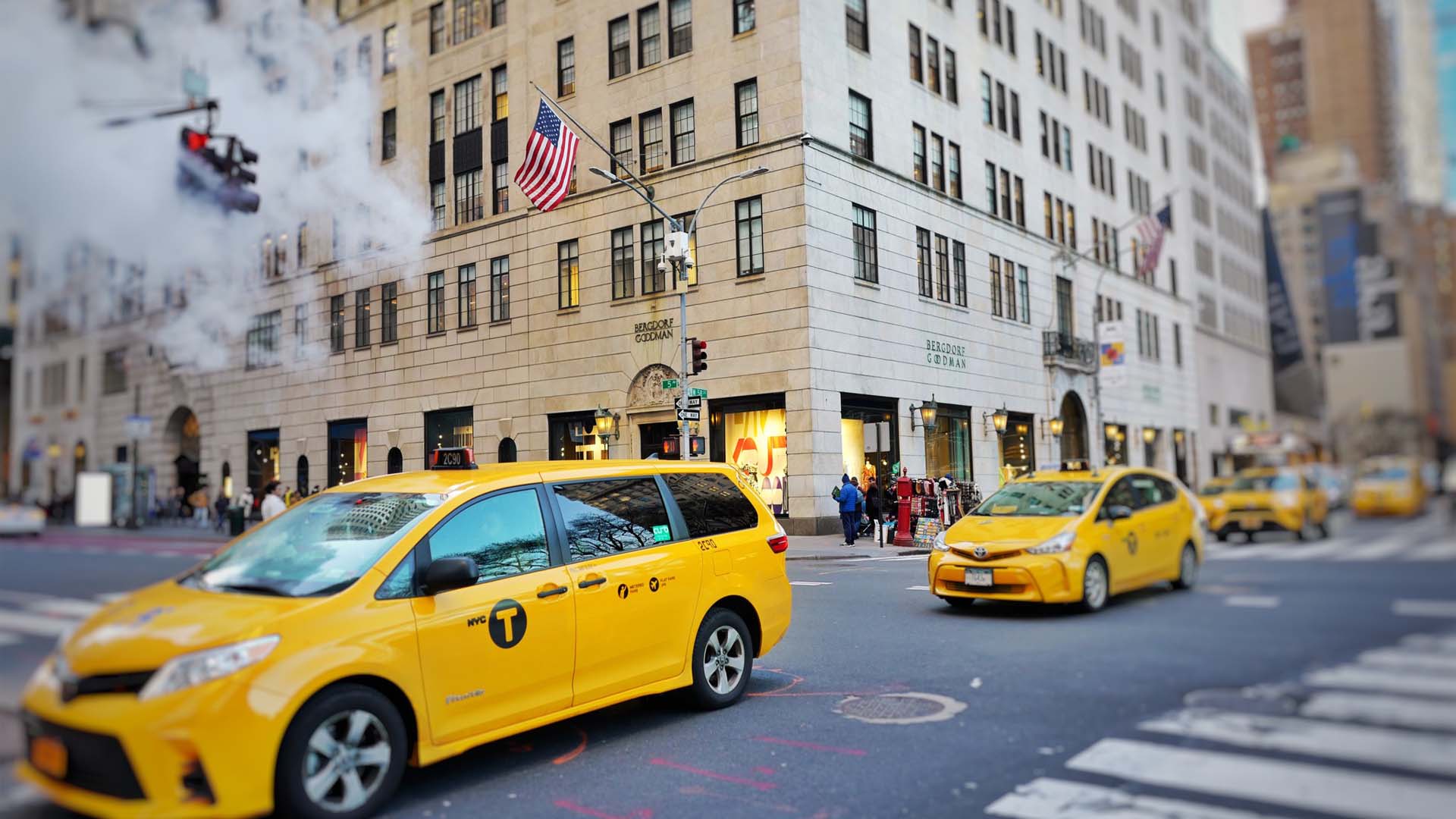 For fashion lovers, Fifth Avenue is a dream come true. This iconic shopping district is home to some of the world's most renowned luxury brands, from Tiffany & Co. to Prada. Even if you're not in the market for a high-end splurge, it's still worth taking a stroll down this legendary avenue to window-shop and people-watch.
Many people consider it a shopping paradise, a place where you can indulge in retail therapy and find everything from high-end fashion to quirky souvenirs. If you're looking for a fun and exciting way to spend your day, then exploring the shops on Fifth Avenue is definitely worth considering.
One of the reasons why Fifth Avenue is so popular is because of the variety of stores available. Whether you're looking for luxury boutiques, popular chain stores, or one-of-a-kind specialty shops, Fifth Avenue has it all. Here are just a few of the different types of shops you can find on this iconic street:
High-End Fashion: Fifth Avenue is home to some of the most famous luxury fashion brands in the world, such as Gucci, Prada, and Chanel. If you're in the market for a new designer handbag or a stunning evening gown, then these boutiques are a must-visit.
Jewelry Stores: Fifth Avenue is also known for its high-end jewelry stores. You can find everything from classic diamond earrings to trendy statement pieces.
Department Stores: If you're looking for a one-stop-shop for all of your shopping needs, then the department stores on Fifth Avenue are perfect. From Bloomingdale's to Saks Fifth Avenue, these stores offer a wide range of products, including clothing, accessories, and beauty products.
In addition to the wide range of shops, Fifth Avenue is also a great place to people-watch and take in the city's sights and sounds. So why not grab a coffee and spend a leisurely afternoon exploring the shops on Fifth Avenue? You never know what treasures you might discover!
Manhattan is known for its incredible culinary scene, and Chinatown is no exception. If you're a foodie looking for an exciting culinary adventure, then taking a food tour of ChinaTown in Manhattan should definitely be on your bucket list. With over 150 years of history and diverse food culture, ChinaTown in Manhattan is a melting pot of flavors and aromas that will tantalize your taste buds and leave you craving for more.
With a vast array of Chinese dishes to choose from, including traditional dim sum, roasted pork buns, dumplings, and bubble tea, taking a food tour of ChinaTown will allow you to indulge in some of the most delicious and authentic Chinese cuisine available in Manhattan. You will have the chance to try out new dishes and flavors that you may have never encountered before, as well as learn about the history and cultural significance of each dish.
Moreover, a food tour of ChinaTown in Manhattan is not just about the food – it's also an opportunity to learn about the rich history and culture of the neighborhood. You will have the chance to visit iconic landmarks, such as the Mahayana Buddhist Temple, the Museum of Chinese in America, and the Edward Mooney House, as well as learn about the fascinating history of Chinese immigration to the United States.
Lastly, taking a food tour of ChinaTown in Manhattan is a fantastic way to connect with people from different cultures and backgrounds. You will have the opportunity to meet and interact with local residents, as well as other foodies on the tour, all of whom share a passion for food and exploring new places.
All of these factors make it one of the most worth-it things to do in Manhattan, NYC. So why not take the plunge and join a food tour of ChinaTown in Manhattan today? Your taste buds will thank you.
The Empire State Building is one of the most iconic landmarks in Manhattan, and it's worth a visit for the breathtaking views alone. This iconic skyscraper has been a symbol of the city since its construction in the 1930s and offers breathtaking views of the Manhattan skyline.
Visiting the Empire State Building is an unforgettable experience that will leave you in awe of the city's beauty. You can take the elevator up to the observation deck on the 86th floor and enjoy a panoramic view of the city that never sleeps. You'll be able to see famous landmarks like the Statue of Liberty, Central Park, and Times Square from a whole new perspective.
In addition to the stunning views, the Empire State Building also offers a variety of exhibits and interactive displays that highlight the history and engineering behind this architectural wonder. You can learn about the building's construction and even test your knowledge with a quiz on the observation deck.
So don't miss out on the opportunity to see one of the most famous landmarks in the world – plan your visit to the Empire State Building today!
The High Line, an elevated park built on an abandoned railroad track, is one of the most unique parks in the world. The park features over 1.5 miles of walking paths, gardens, and art installations. Walking on the High Line is an excellent way to spend a leisurely afternoon while enjoying the picturesque views of the Hudson River, the skyline, and the beautiful greenery.
The park features various art installations and sculptures along the way, making it an excellent spot for art enthusiasts. Additionally, the High Line hosts several seasonal events like movie nights, concerts, and outdoor exhibitions. The park's design also includes ample seating areas, so you can sit and relax or people-watch for as long as you like.
The High Line is a popular spot for locals and tourists alike, making it a great opportunity to meet new people and make friends. Not to mention, the High Line is also a great place for photographers to capture stunning photos, especially during golden hour.
Overall, taking a walk on the High Line is a fun activity for all ages, offering a unique and memorable experience of New York City.
Suggested Reading: The 6 Best Women-Led Restaurants in New York
Things to Consider Before Going to Manhattan, NYC
The following few aspects are those that we considered before heading to several places in Manhattan, NYC. We believe you should also give them importance.
Weather — Manhattan has a humid subtropical climate, with hot summers and cold winters. The most pleasant time to visit is in the spring (April to June) or fall (September to November) when the weather is mild and the humidity is lower. The temperature over here varies from 28°F to 85°F.
Rush or No Rush — Manhattan is a popular tourist destination, so the crowds can be overwhelming during the peak tourist season in the summer (June to August) and around the winter holidays (late November to early January). If you prefer fewer crowds, consider visiting during the shoulder seasons of spring or fall. This is because, during these seasons, there is less rush.
Plan a High Budget — Manhattan is a tourist destination where you can expect the prices to be high. Most places where you go will cost you a hefty sum of money. Just a 4-person tour to the Statue of Liberty can cost you over $150. Besides, the accommodation is also expensive in the area. For this reason, we recommend planning a sufficient budget before heading to Manhattan, NYC.
How Do We Pick Our Recommendations?
The aforementioned recommendations have all been carefully chosen by experts who have looked at all the different options. At Hopdes, travel recommendations are often chosen based on a combination of factors, including user feedback, expert opinions, and data-driven insights, with the goal of providing travelers with the best possible experiences and helping them make informed decisions about their travel plans. We personally visited several places in Manhattan in order to compile this list of the best things to do in Manhattan, NYC.
Final Words
This list of exciting things to do in Manhattan was compiled in the hope that it would be useful for you in creating your itinerary for Manhattan. We have also been to several other places in the USA including Florida, Seattle, and Texas. Also, read our exclusive guides for further advice on travel.
Things to do in Manhattan, New York - FAQs
What is the most fun activity to do in Manhattan?
This is relative to how each person has fun. Some people may prefer to go watch a show on broadway, while others may want to check out the New York Zoo.
Which activity is the best value for money in Manhattan?
Going to Central Park or to The High Line is the activity that is the best value for money. There are so many fun activities to do on the side as well.
What is Manhattan famous for?
Manhattan is famous for its incredible city life- which includes Broadway and the Empire state building.