The best restaurants in Chicago, Illinois can be found at Navy Pier. You can find a variety of foods at Navy Pier to help satisfy your craving for a meal, snack, or dessert. Plus! Some new restaurants make dining even more exciting. With food options ranging from Chicago-style hotdogs, popcorn, and pizza to fancy restaurants; enjoy this ultimate guide for food lovers coming to Navy Pier to enjoy the "best of the best" whether you're visiting with family or going solo. If you're considering relocating to Illinois, Here are 6 cities to consider when relocating to Illinois.
The Best Eat-Out Places in Navy Pier
When it's time to eat, you can get something to eat at one of the pier's many accessible eateries. These restaurants give you a taste of Chicago's distinctive cuisine in addition to providing fuel for your pier adventures. See this list of the top Navy Pier eateries, which offers something for everyone:
Giordano's is one of Navy Pier's top eateries, and it's close to Polk Bros Park and the Chicago Children's Museum. With anyone you bring to the pier, this laid-back pizzeria is a great place to enjoy deep-dish, stuffed pizza, and other traditional Italian dishes.
Try their deep-dish, stuffed Bacon BBQ Chicken, Chicago-style, or Chicken Sausage Deluxe pies if you're in the mood for pizza. Also available is thin-crust pizza. If you're looking for something extra to enjoy, diners also recommend their Chicken Parmesan, Spaghetti with Meat Sauce, or Meatball Sub.
If you're extremely hungry, start with their boneless chicken nuggets or mozzarella triangles. With family and friends, Giordano's Navy Pier is a great place to taste Chicago's cuisine.
You must taste and try the perfectly cooked Chicago pizza, garlic cheese bread, and stuffed pizza before leaving. The highlight of this place is that it serves delicious cheese, cupcakes, and tiramisu. Also don't miss the delicious draft beer, cordial, or gin while you're here. Not only beer, but even delicious lemonade, coffee, and iced tea are available at this restaurant.
Choose from indoor or outdoor seating. It is said that the staff is pleasant here. In their reviews, customers emphasize the professional service they received. The prices at this pizzeria are noteworthy because they are reasonable. Visitors can relax and enjoy themselves here thanks to the cozy decor and pleasant atmosphere. It is a mid-range restaurant so people with a limited budget can also come in!
Recommended Read: Plant Salon in Chicago
Big City Chicken is a fantastic choice for those who enjoy grease. This fast-casual restaurant competes with national chains thanks to its delicious golden-brown fried chicken. Try one of the mouthwatering sandwiches, which come in original crispy, crispy BBQ, or hot and spicy flavors. Voted the best-fried chicken in Chicago in 2017, you can fulfill your craving with chicken wings, strips, or cheese fries! With the Spicy Chicken Sandwich, you can even turn up the heat.
Choose a four or seven-piece meal of chicken tenders with buttermilk ranch, honey mustard, buffalo sauce, or Big City Chicken's own BBQ sauce if you would want. You will enjoy a delicious side of waffle fries that are excellently seasoned, no matter what you order. Fries come in three varieties at the restaurant: regular, with cheese, and loaded with green chili cheese starting at $4.99 each.
After a long day of touring the Navy Pier, the freshly squeezed frozen lemonade, costing $6.99, is the ideal way to cool off. Adults can enjoy the restaurant's beer selection or vodka lemonade. Big City Chicken's hellishly delicious fast food options are finished off with ice cream floats.
All of these facts make it one of the best restaurants in Navy Pier for fast food experience!
The biggest rooftop venue in the nation is Offshore Rooftop & Bar, which is situated on the third floor of Festival Hall at Navy Pier. Enjoy the breathtaking panorama of Lake Michigan and the surrounding Chicago skyline. The venue can function year-round regardless of the weather thanks to its fully extendable roof.
Start with their avocado hummus or hickory-smoked chicken wings if you're treating your friends to dinner. Also, order a Sparkling Sapphire or Hotty Toddy cocktail along with their Faroe Island Salmon or Nashville Chicken Sandwich. During the weekend brunch, bottomless mimosas are also available. You can enjoy an external space with seating for 1,000 people while munching on American cuisine and trying one of their seasonal cocktails.
It's the ideal location for hanging out with friends or entertaining a date thanks to its two private lawns, seven cozily placed fire pits, and expansive entertainment and gaming area. Pizza and premium salmon are both available from the top-notch kitchen, but the extensive drink menu is what draws most people in. The bar is only accessible to those 21 and older after 9 p.m. to create a more casual atmosphere.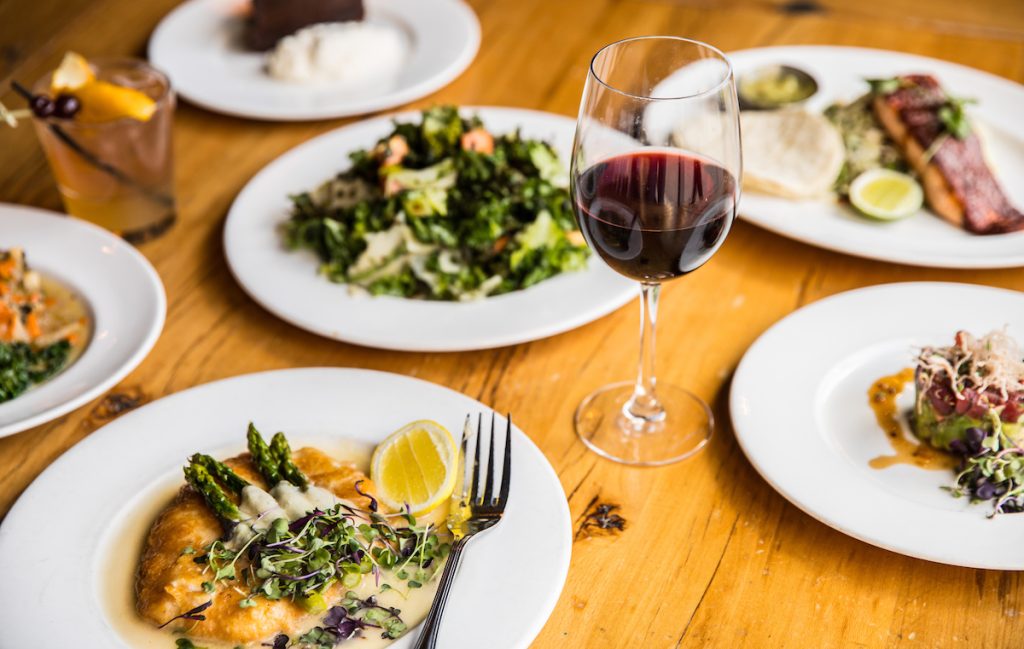 Beatrix is one of the top locations for fresh coffee and healthier dining, with locations throughout Chicago, including the Streeterville neighborhood near Navy Pier. Its warm and homey atmosphere makes it perfect for eating there any time of day, seven days a week. Their culinary team places a high value on using the best ingredients to enhance flavors.
The Truffled Pillow Ravioli with Mushrooms for dinner, the Ham & Cheese Croissant with Pineapple Yuzu Lemonade for breakfast, and the Prime Burger for lunch are some of the most highly recommended items on their menu. Also, don't forget to visit their coffee bar for their specialty brews and pastry counter for a salted caramel cookie or a dark chocolate brownie.
After exploring Navy Pier take a stroll to the Streeterville Beatrix, where you can order a variety of salads as well as entrees like chili and chocolate-glazed salmon and cauliflower steak. It surely is one of the best eateries you can find in Navy Pier.
Editor's Pick: The Most Popular Sioux City Restaurants – Local Favorites
Visit America's Dog & Burger if you're in the mood for some greasy deliciousness. Two brothers left Chicago in 1993 to take a road trip across the country, and that's how this restaurant got its start. They traveled to different states and sampled hotdogs and hamburgers before returning home and opening their restaurant on Navy Pier. They were able to compile a menu of traditional dishes from various cities thanks to their travels.
The Louisville and Baltimore dogs contain deep-fried sausage, while the Dallas dog has chili, shredded cheddar cheese, and onion. One of the most recommended items over here is the iconic Chicago hotdog. It is a popular choice for tourists who are just discovering the city's cuisine. Whatever you choose, you can eat in peace knowing that the restaurant only uses fresh Vienna all-beef sausages and certified Black Angus patties.
America's Dog & Burger offers a selection of burgers, dogs, chicken, and salads, including 7 unique 100% Black Angus beef & turkey burgers that are freshly grilled, as well as classic Chicago-style hot dogs and other hot dog bites. A dream come true, America's Dog & Burger offers a consistent product made with premium ingredients in a spotless environment. The best part is that everything on their menu will cost you less than $10. This makes it one of the best restaurants in Navy Pier. And if you're ever in Dubai, be sure to check out the burger spots in Dubai that will leave you speechless for more mouth-watering options.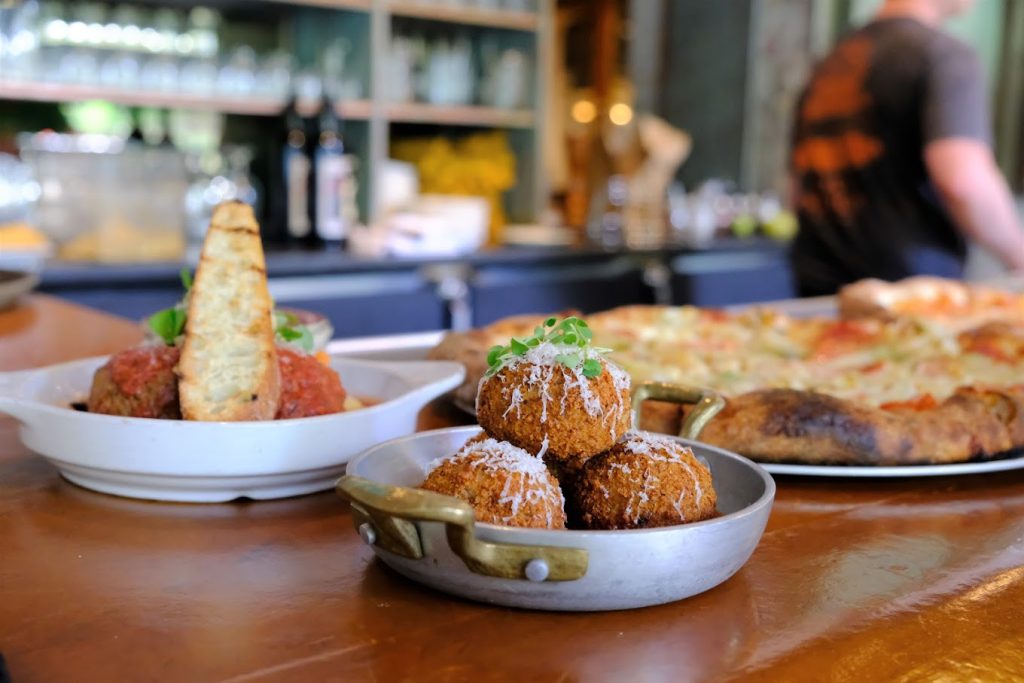 Robert's Pizza and Dough Company a chic pizzeria with a view of Ogden Slip is another outstanding fast-food option on the list of the best restaurants in Navy Pier that is suggested for any visitor to Chicago.
You can pair any beverage from their bar with their thin-crust pizza, which features enticing international flavors. Their Caramelized Onion Pizza, Chicken Parm Sandwich, Gnocchi, and Seafood Pizza are favorites among locals and guests. Additionally, you can add your preferred standard and premium toppings to a pie. There are many different toppings available, such as sausage with caramelized onions and fennel with pepperoni and honey.
Don't forget to try their Red Sangria, Cranberry Mule, or Spiked Lemonade to complement your meal. On the weekends, they also serve brunch, so be sure to try their famous Huevos Rancheros Pizza for a fiery sensation.
You can also leave your kids to enjoy the Ferris Wheel which is quite close to the restaurant. The good news is that the Ferris wheel can be seen in the distance from the patio. Your children will be absolutely fine and always in your sight. The entire experience of your children enjoying the Ferris Wheel while you eat a good meal is what makes this one of the best restaurants in Navy Pier.
If you're craving slow-smoked, traditional steakhouse favorites in a classy setting, Carson's Ribs Prime Steaks & Famous Barbecue Chicago is your best choice. It's tucked away within East River Plaza just minutes from Bennett Park. The sweets at Navy Pier can keep you full all day, but Carson's best meat dishes can help you end the night in style as you let the meat melt in your mouth.
After starting with their cornbread, think about ordering their full rack of Baby Back Ribs, Prime Rib, Slow-Smoked BBQ Pulled Pork Sandwich, or Chargrilled Mediterranean Shrimp as your main course. Enjoy your main course with ultimate double-baked potatoes or steak fries. They also have a sizable selection of wines, beers, and cocktails. A hot fudge sundae will help you wind down your evening. Keep in mind that this restaurant is slightly more expensive than the others. However, it offers good value for money considering the taste and ambiance of the place.
East of the Chicago Children's Museum is Jimmy Buffet's Margaritaville Bar and Grill, one of Navy Pier's top eateries with a tropical menu and ambiance. Be sure to stop by for a craft margarita when dining with your friends and family because their dishes make this restaurant the closest thing you can find to an island paradise in the heart of the Midwest.
Jimmy's Jammin' Jambalaya, Garlic Bacon Burger, Landshark Lager Fish & Chips, and Crispy Coconut Shrimp are, in visitor's opinions, their best offerings, especially when accompanied by a side of fries, onion rings, or black beans. Children 12 years of age and younger can also order from the kid's menu. The Blueberry Pomegranate Margarita and other tropical bar specials are not to be missed.
Inside, there is a relaxed, cozy atmosphere; outside, a weather-protected Tiki Bar and outdoor deck allow visitors to take in the boardwalk and Lake Michigan views. The menu features those legendary frozen concoctions in addition to the signature "Cheeseburger in Paradise" and cold draft beer, as well as seafood specialties, steaks, nachos, and a few local favorites. And, of course, margaritas! All of these items make it a restaurant in Navy Pier you would regret missing.
A Navy Pier restaurant called Snow Dragon Shavery serves incredible frozen desserts right by the water. After spending some time in Amazing Chicago's Funhouse Maze, treat yourself to its cozy, modern, relaxed atmosphere. The best part is that the majority of their frozen yogurt options are fat-free, so you won't have to worry about overindulging while traveling.
Think about trying their frozen yogurt topped with coconut shavings, fruit, Graham Crackers, Vanilla Macaroon Ice Cream Sandwich, Strawberry Shaved Snow, or Triple Chocolate.
You should also feel free to try their milkshakes, fruit smoothies, or organic bubble tea if you're thirsty. Green tea, passion fruit, and strawberry are the top three flavors available here. This place sells shaved snow in place of another ice cream shop. It's lighter, and flavors like key lime, mango, green tea, and coconut are available. Speaking of, you can also buy frozen yogurt, macarons, and fresh coconut water.
If you are just done eating out, this could be the perfect way to finish your course. After indulging in the delicious frozen desserts at Snow Dragon Shaver, consider spending the night at heart-capturing resorts in Illinois for couples.
Things to Consider Before Picking a Restaurant in Navy Pier
Keep notes of the following important aspects to consider before choosing a restaurant in Navy Pier.
Wait Time — Generally speaking, if a restaurant at Navy Pier is packed, it must be a really good one. You can decide to go above and beyond to visit these locations. Weekends and festivals might bring in a lot more customers to some restaurants. Make a reservation in these circumstances to avoid having to wait a long time. Arrive at the restaurant earlier than usual, before the crowd starts to flow in if you haven't made a reservation and want to reduce your waiting time.
Ambiance — Visit a restaurant where the overall atmosphere matches your mood or taste. Some restaurants have beautiful interior designs, but not all of them. Your dining experience is ruined because it shocks your senses. Find out the atmosphere's vibe from people or online. How loud is the music? Decor based on a theme? Is it too cold? Also, look for a restaurant where the atmosphere is enhanced by works of art and music that you enjoy. You can choose a restaurant with soft music or private or semi-private rooms for business meetings.
Coming With Kids? — Keep in mind that if you are coming with kids, you would surely have to pick a place accordingly. Not all places in Navy Pier are kid-friendly as some of them offer an adult-only exclusive experience where timings begin from 8 and onwards for people aged 21 and above.
How Do We Pick Our Recommendations?
The aforementioned suggestions have all been carefully chosen by experts who take into account every last detail. We make sure that our recommendations are diverse and consider the comments of numerous other eaters and customers who have already visited these places and restaurants. We purposefully selected a wide variety of venues and choices of cuisines to ensure that visitors of all ages and choices may enjoy themselves eating and enjoying at various eateries.
Related Read: Delicious Breakfast Places In Chicago For A Peaceful Vibe
Summing Up!
Some of Chicago's Near North Side's best flavors can be found at Navy Pier restaurants. If you're in the mood for a quick bite to eat, you don't have to wander around aimlessly because many of them are close to a number of attractions and rides. There are many treats you don't want to miss out on at this well-known Midwest tourist destination. From barbecue dishes to desserts, you can find all here!
FAQs
Restaurants in Navy Pier - FAQs
What are some of the best restaurants in Navy Pier?
Some of the best restaurants in Navy Pier include Giordano's, Big City Chicken, and Offshore Rooftop & Bar.
Which restaurant offers the best breakfast in Navy Pier?
Beatrix is the best breakfast spot in Navy Pier
Where can I get the best BBQ in Navy Pier?
Carson's Ribs Prime Steaks & Famous Barbecue Chicago offers the best BBQ in Navy Pier.
What is a good spot for dessert in Navy Pier?
Snow Dragon Shavery offers frozen yogurt and other desserts that are a treat you shouldn't miss in Navy Pier.