So, you've just checked into your hotel, dropped your luggage, and the thought of a delicious meal delivered right to your room sounds like the perfect way to unwind after your travels. But, you might be wondering, "Can I DoorDash to my hotel?" Well, here's the scoop: DoorDash can indeed be your hotel dining savior, but there are a few things you should know to make the most of this convenient service. Let's take a trip into the details and get you set up for a hassle-free hotel dining experience with DoorDash.
Can You DoorDash to a Hotel?
YES! DoorDash offers the comfort of ordering food directly to your hotel. The process closely resembles ordering for your home or workplace. While DoorDash doesn't impose strict location rules, it's advisable to check with the hotel to confirm their acceptance of DoorDash deliveries.
How Can You DoorDash to a Hotel?
Navigating the process of ordering food in a hotel using the DoorDash app is a breeze when you follow this step-by-step tutorial:
Download the DoorDash App
Begin by downloading the DoorDash App and completing the account setup. Provide all necessary details such as your name, address, payment information, and any other requested data. Alternatively, you can choose the convenience of linking your existing Google or Facebook account to create your DoorDash profile.
Explore Hotel Food Options
With your account in place, it's time to explore hotel food options. Upon opening the app, you'll encounter a search bar and multiple tabs listing nearby restaurants offering delivery services. Enter your hotel address in the search bar or enable location services for a tailored experience. This step unlocks a diverse array of dining choices right at your fingertips.
Restaurant Selection and Meal Choice
Now, choose a restaurant where you'd like to place your food order. Browse their menu and select your desired dishes or items to create your meal. Customize it according to your taste.
Review and Confirm Your Order
After selecting your dishes, click on the Proceed to Checkout button. Here, you can carefully review your order including the chosen dishes, their prices, applicable fees, and the estimated delivery time based on your location. Feel free to add special instructions like extra spice, if necessary at this stage.
Confirm Your Order and Make a Payment
After carefully reviewing your order details, click the Confirm Order button located at the lower right corner of the checkout page. This action will initiate the payment process.
Depending on your chosen payment method (cash, credit card, debit, or PayPal), you will be prompted to provide the necessary payment information including your credit card number and expiration date. Ensure accurate input before proceeding.
Order Processing and Real-Time Tracking
Once your order is successfully placed, the hotel staff will take over. They will meticulously prepare your order to meet your preferences and have it ready for delivery within the specified time frame you selected during the ordering process.
To stay informed about the status of your order, utilize DoorDash's real-time tracking feature available on the homepage. This feature enables you to track the progress of your order, keeping you updated on its estimated delivery time to your doorstep.
Editor's Pick: What's the Difference Between Hotel and Motel? Same Thing?
Can You DoorDash In Front of Your Hotel Room?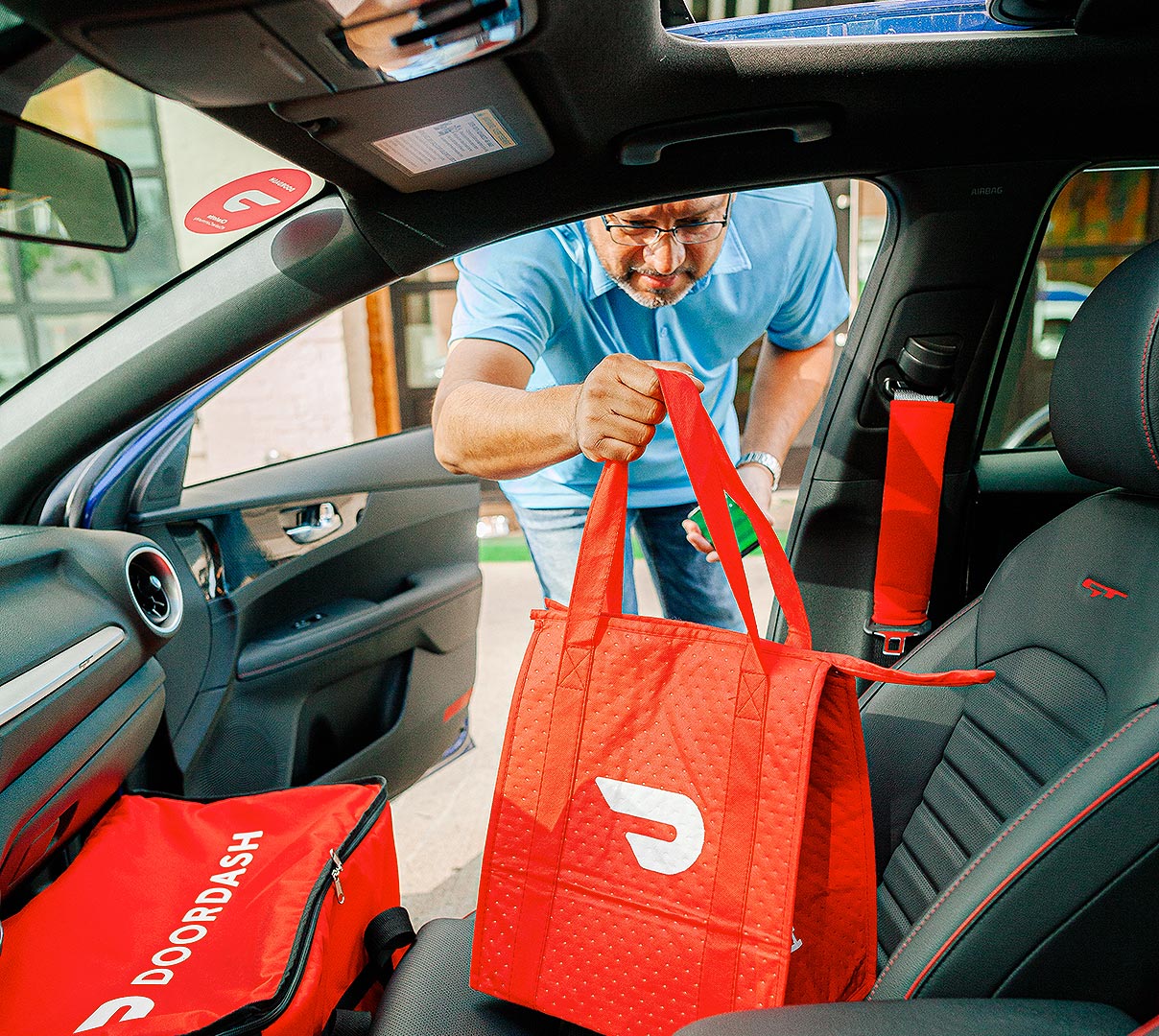 Yes! DoorDash can deliver food to hotel rooms, but it depends on the hotel's rules. Some hotels allow DoorDash drivers to bring food directly to your room if the drivers show proper identification and proof of your order. When ordering on DoorDash, you can specify your room number to make this process smoother.
But not all hotels allow this. Some hotels might only let you pick up your DoorDash order at the front desk or outside the hotel. In these cases, you'd need to meet the DoorDash driver at a spot designated by the hotel staff.
Personal Experience: This happened with me earlier in my trip in 2023 and was staying in the Ramada Hotel. The hotel policy was that any food i order has to be picked up from the reception, or the hotel's main gate. Upon inquiring, I was told that "It violates the privacy and comfort of our guests to constantly have food deliveries on their floors". It did sound like a fair point to me, so I was okay with it!
Read this too: Hotels For Solo Travelers In NYC
Are There Any DoorDash Discounts for Hotel Guests?
YES, but not always. For example, DoorDash introduced an exciting partnership with Wyndham Rewards, the loyalty program associated with Wyndham Hotels & Resorts in 2019. Thanks to this collaboration, DoorDash expanded its reach to over 3,700 hotels nationwide. This development brought the convenience of meal delivery right to the doors of hotel guests, allowing them to enjoy their favorite dishes without leaving the comfort of their hotel room.
To make this partnership even more enticing, DoorDash extended a special discount to hotel guests. Those who applied the promo code WR5 during their initial order received a generous $5 discount. Additionally, existing DoorDash users benefited from waived delivery fees when placing orders through the app. These enticing offers quickly attracted many people to take advantage of this unique alliance.
Another perk of utilizing DoorDash while staying at one of Wyndham's hotels was the extensive variety of restaurants available in the area. Whether guests craved Italian cuisine or something more exotic like Thai food, DoorDash offered numerous dining options. Moreover, the user-friendly mobile app simplified the process of ordering and paying for meals.
To make the best use of DoorDash, it is best to talk at the reception first as they can inform you of any possible exclusive discounts available at their restaurant.
Why Should You Opt for DoorDash for Hotel Dining
When it comes to ordering food delivery to your hotel room, DoorDash offers numerous advantages that can enhance your overall dining experience. Let's delve into a few of them below.
Convenience: DoorDash provides an incredibly convenient way to enjoy a meal without leaving the comfort of your hotel room. This is especially valuable if you're in an unfamiliar area or have a busy schedule during your stay.
Trying Local Food: See when you are in a hotel in a different place, you would want to try out the local cuisine here. And, for that purpose, DoorDash works the best.
Exclusive Hotel Discounts: Many hotels offer special discounts and deals to guests who use DoorDash such as waived delivery fees and discounted meals. These promotions enhance the value of dining out.
What if DoorDash Does Not Deliver to My Hotel?
There are several cases when door dash won't deliver to your hotel
Temporary Restrictions: There could be temporary restrictions in place for various reasons, such as inclement weather, security concerns, or local events that make it difficult for DoorDash to operate in the area.
Legal and Regulatory Issues: In some regions, there may be legal or regulatory hurdles that prevent food delivery services from operating in certain areas.
Technical Issues: Occasionally, technical glitches or app-related issues can affect the ability to place orders for certain locations.
During my last business trip, DoorDash wasn't available for hotel deliveries. Faced with hunger and limited options, I turned to Talabat, a local food delivery app. It was a pleasant surprise. The app's user-friendly interface allowed me to quickly order from a variety of cuisines. The tracking feature kept me informed about my order's progress. When the food arrived, it was well-packaged and delicious. Talabat not only rescued me from hunger but also introduced me to local flavors. This experience underscored the value of exploring alternatives, making Talabat a useful and memorable solution in a time of need.
So, while DoorDash was not able to deliver to my hotel, it wasn't really a problem, since a good alternative was to turn to other food delivery applications that offer to my hotel. Talabat was really helpful. On the other hand, Uber Eats was also a pretty useful option I would recommend based on my personal experience.
Final Words
DoorDash offers a convenient solution for hotel dining, allowing guests to enjoy a wide variety of meals in the comfort of their rooms. However, its availability can vary based on hotel policies, location, and other factors. When DoorDash isn't an option, alternative food delivery apps like Talabat and Uber Eats can step in to save the day. My personal experience with Talabat during a trip highlighted the value of having multiple options at your disposal. Whether you're seeking convenience, diverse cuisine choices, or exclusive hotel discounts, exploring different food delivery services can enhance your dining experience while traveling. And, once you are all done, remember to check out of the hotel properly.
Read this too: Best Resorts in St. Thomas That Feels Like A Home Away From Home
Can You DoorDash to a Hotel? - FAQs
What should I do if DoorDash isn't available for my hotel?
If DoorDash isn't available for your hotel, consider using alternative food delivery apps like Uber Eats or Grubhub.
Are there any tips for a seamless DoorDash experience when ordering to a hotel?
To have a smooth DoorDash experience at a hotel, make sure to provide accurate hotel address details, specify your room number for delivery, and communicate with the hotel staff.
What happens if my DoorDash order arrives when I'm not in my hotel room?
If you're not in your hotel room when your DoorDash order arrives, the delivery driver may follow the hotel's policy, which could involve leaving the order at the front desk or another designated area.
Can I use DoorDash to order from food trucks or street vendors near my hotel?
DoorDash primarily partners with restaurants, but occasionally, you may find food trucks listed on the app.