St. Thomas is regarded as a perfect getaway for millions of people who come here for its serenity and natural beauty and get immersed in its rich history, art and architecture, and other fun activities like golf, scuba diving, snorkeling, cruise tours, etc. The place is a hub for picturesque beaches and magnificent resorts and is also known for its striking nightlife. Below is all the information you need about the best resorts in St. Thomas that feel like a home away from home.
The definition of a perfect resort varies from person to person. Some people like staying at a calm and relaxing place with stunning views, while others want to enjoy as many activities as they can. Based on the information below, choose the resort that will suit you the best.
Have The Best Time At These Fine Resorts In St. Thomas
There are plenty of resorts at St. Thomas, some with a more luxurious environment while others with a more relaxed homelike feeling. Pick the one that is the best for you to spend your vacations in!
Marriott's Frenchman's Cove is a relaxing retreat overlooking Pacquereau Bay in the US Virgin Islands. Marriot hotels are known worldwide for their excellent services, and as expected, they leave no stone unturned to make their guests stay as comfortable and relaxing as possible here as well. The Frenchman's cove is a great place for a stay with your friends and family, as it has everything you can think of while looking for a getaway. It has a private beach, an amazing restaurant, lounges, great views, comfortable villas, and more.
The interior of this place varies from area to area, but the one thing that remains constant is the cool color themes. From the lobby area to the dining halls and bedrooms, the color scheme is more muted, which, when comes with all of the natural and scenic views around this resort, makes those areas a part of the whole scenery.
This resort offers a villa that comes with two to three bedrooms, a private dining and dining area, laundry, and a kitchen. The best part about living in this villa is waking up with a stunning view from your balcony. You also don't have to skip on your fitness goals as the place comes with a gym too.
They also have a restaurant in this resort that has the best burgers and a bar that also has a happy hour. While eating, you can also enjoy the views of the ocean, which is right in front of the restaurant area, making the food even better. They also have a grocery store which is called a marketplace, from where you can grab your snacks or anything you need and enjoy a movie night in the theater, which is another one of the amenities this place offers. The resort also has a water pool outside, which comes with an infinity edge, and also has water slides where you can let your kids enjoy themselves and have a blast yourself too. You might also want to visit these 8 Best Resorts In Utah during our next trip.
You can also enjoy snorkeling here which is just the cherry on top. Along with all the basic and luxurious things this place has to offer, the best one remains the private beach which is so beautiful to spend your days and nights at. Their staff is accommodating, and they make sure you are having the best time of your life here. This place is like a fantasy island, perfect for you if you need some time away from the hustle and bustle of life.
The Ritz Carlton is another one of the luxurious resorts in the Virgin Islands that provide you with a perfectly magical place to lay back and relax and spend some quality time with yourself. This resort has always been known for its magnificent interiors and opulent vibes. It has been renovated recently, and it is safe to say that it is as amazing as it has ever been. Their lobbies, rooms, and balconies are all so spacious and warm. The architecture of this place is stunning, which is why the decors have been kept minimalistic, which adds to the aura of this place.
The resort offers you various private bedrooms and villas; rooms with ocean views, however, are the best. Their private balconies are stunning, with comfortable sitting and gorgeous views of the bays; it's a perfect place to enjoy evening snacks or coffee with your family. The lobby of the resort is also really beautiful. There are staircases on each side of the main door that takes you towards the lobby that looks straight out of a Disney movie. Apart from all the basic amenities, there are pools, beaches, and a catamaran as well as babysitting facilities and a designated playing area for kids with a kid's pool.
There are restaurants, lounges, and a bar within this resort. They have various types of foods available, but more specifically, everything from their Italian food menu is a chef's kiss. Their lounges and bars have the perfect ambiance to have a chat with your acquaintances. They have a fitness center too, and a spa as well, which provides the best body treatments. Their outdoor spa facilities are so soothing and relaxing, not only for your body but also for your eyes. They also have beautiful gardens where you can take a walk and enjoy the serene atmosphere around you.
They also have a tennis court for people who like playing sports and an infinity edge poll. There is also a luxurious catamaran that you can book for your special events or enjoy dinners with your loved ones among the scenic views of the beaches and resort. They offer snorkeling tours as well as paddling boats for kids. If you are looking for a resort to enjoy quality time with your family, this is the perfect place for you!
Similar attraction: The Best Known Hotels and Resorts in Florence – Italy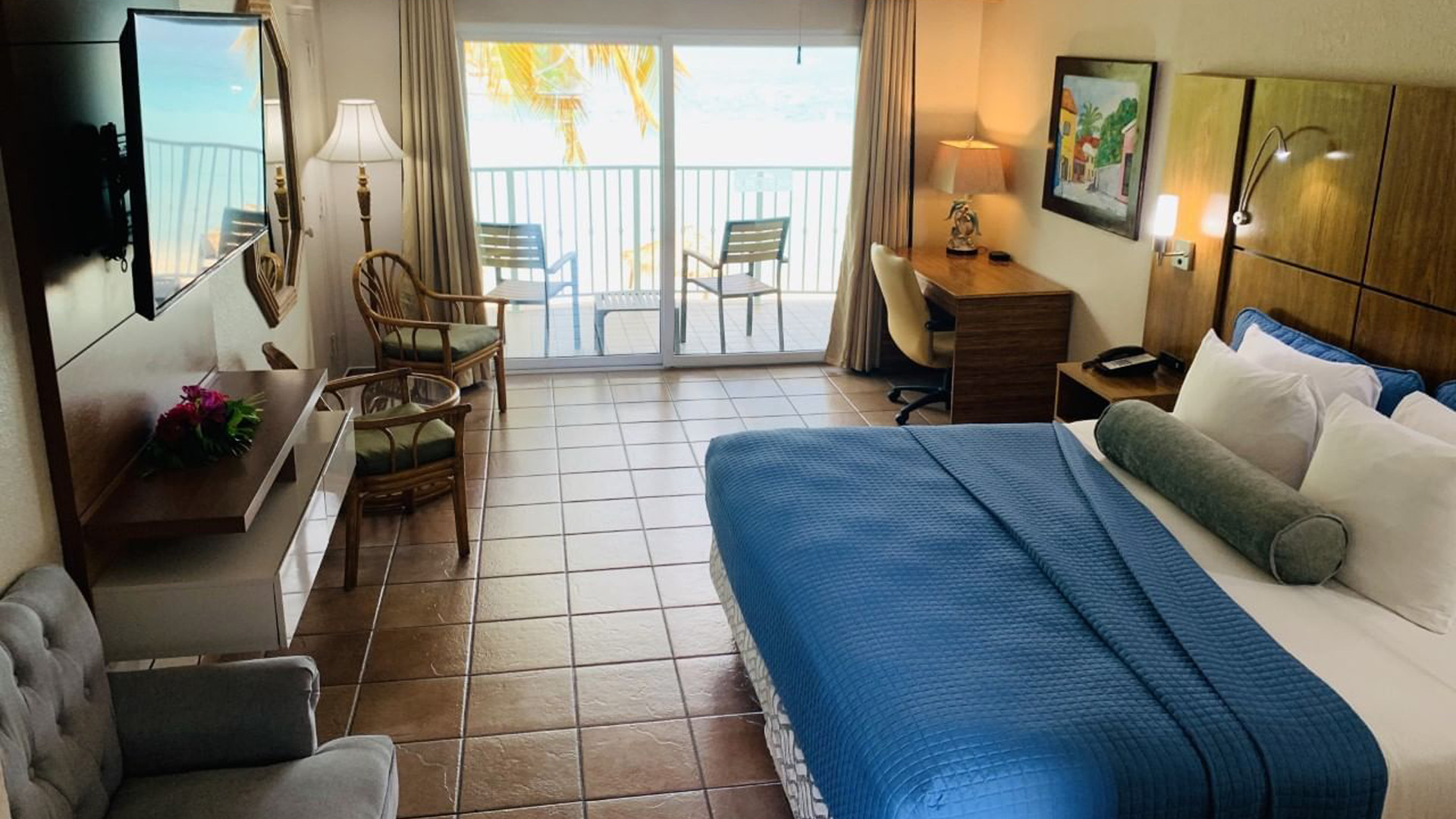 Emerald Beach Resort is a lodge that is made right on the beach overlooking Lindbergh Bay. It is a perfect place for a family holiday, especially if you want a very comfortable and homely environment away from home. They offer you a very calming aura and the most beautiful white sand beach in St. Thomas, which will be perfect for nature therapy. The resort also comes with all sorts of facilities and activities to make your time worthwhile during your stay at this place.
They offer beachfront rooms that are perfect for a couple, or if you have children, you can also get a double bed bedroom. Their rooms come with balconies and huge windows. Waking up with the beautiful sunrise and stunning views of the beach is a sight that can make so many things right, if not everything. They also have a pool inside the resort and a boutique, in case you want to buy some presents for friends. The place is also very close to some of the best shopping malls and restaurants in this area.
They also have an in-house restaurant, a bar, and a café, all located in front of the ocean. All of these places have a very casual vibe. Their café is perfect for a nice breakfast and shakes. You can enjoy seafood and other Caribbean cuisine dishes from their restaurant. Their beach bar, however, will be your favorite place because of its cool design and scenic views. If you like beachside resorts you must check these 7 Classy Resorts In Bermuda You Wouldn't Want to Miss! Especially when the golden hour hits the bar, it just looks straight out of a fantasy movie. They offer some really good drinks, and their pizzas are a must-try.
They also have a lot of water sports for people who enjoy them, including; snorkel gear, jet skis, stand-up paddleboards, paddle boats, and kayaks. Their service quality is amazing. The staff is nice too, be it the helpers at the pool or restaurant, they make sure you are having the best time. If you want to have a destination wedding, this is a great choice because of its breathtakingly beautiful location, and of course, great service and food. Whether you want to enjoy your time with your significant other or your family, this place is a perfect getaway!
Lindbergh Bay Hotel is a hidden gem in St. Thomas with its stunning white sand beach and beautiful scenery. The place is so cool, funky, and vibrant; when it comes to its color scheming and decor. It is such a pleasant surprise on an island that is full of places that are all so cool-toned and kind of muted. Apart from the beach and ocean, it also has a lot of plants, and greenery around, which gives this place a lot more color and makes it perfect for an escape in nature.
The rooms at this resort are all super comfy and come with all of the basic amenities. All of their rooms have a stunning view of the ocean, but the best one has to be the suite rooms that provide a much closer and wider view, almost making you feel like resting within the ocean around you. If you are into serene and relaxing resorts you would also like These Rhode Island Resorts That Are Known for Comfort and Service. They also have the same funky vibe going on even in their rooms and overall throughout the resort. You can also book this resort for your weddings as they offer a customized setting, and their venues are magical.
They also have a pool and a seaside bar where you can enjoy the best drinks in the whole of St. Thomas. The resort also has a business center, which is perfect if you are working remotely. You can also enjoy the splendid view of the waters from your balcony and can drink your worries away. It is also 10 minute's walk from the Emerald Resort which is a sister to this resort. You can enjoy the amenities offered by both of these resorts and have the best time of your life.
Their service quality is amazing. The place is really clean, and the best part about them is their super nice staff. From the moment you enter, they make you feel at home with their welcome drinks and give the best bits of advice on what places to visit and the best packages to take. Another great thing is that their rates are really attractive, so feel free to book this place for your vacations any time soon!
Bolongo Bay Beach Resort is a stunning family-owned all-inclusive resort that makes up for a perfect place to hang out and spend quality time with your kids. Different from many resorts at St. Thomas that are more on the luxurious side, this one feels rather intimate and warm. They have rooms and spaces in a row, at walking distance from the bay. The contraindication of the vast ocean with the small resort makes the feels just about right. The interiors of this resort are very minimal and simple, which gives this place more of a homely vibe.
There are several types of rooms here including; ocean view, landmark view, pool view rooms, and bridal suites. They are incredible and come with all sorts of amenities, but the best rooms have to be the first-floor rooms that have the most beautiful view of the ocean as well as the breathtaking patio. They also have an outdoor pool with a bar. You can enjoy your drinks or take a swim in the pool as well. Also, their drinks are really good, as they are made with a blend of local flavors.
Their food is pretty good too. If you want to enjoy something new, must try their nightly specials, they are amazing. This place is also known for its pretty fun nightlife. You can enjoy live music and DJ at night around the pool area and bar. The vibe of the place with the fairy lights adds to the electricity of the environment, and you can dance your night away or meet new people and have a blast. You can also book a tour on the catamaran and enjoy seeing nature closely.
They also have a lot of activities like kayaks, paddle boards, sailing tours, and windsurfing lessons. You can even take part in the famous "Snorkel Booze Hunt" where they hide the rum bottles in the bay, and you have to swim down and find those bottles. There are also various activities for juniors that they can enjoy. You can also book this resort for your wedding and other special occasions. Their service quality is amazing, and the staff is so kind no matter which part of the resort you are in, they will be of great help. If you are looking for a resort with a more intimate and relaxing vibe, this is the one for you!
Similar Attraction: 14 Best Resorts in Joshua Tree
Secret Harbour Beach Resort is a one of its kind sort of resort that provides its guests with the utmost warmth and the coziness of your home. The resort has apartment-style rentals that also provide its guests with private outdoor space. As for its interior, the place is filled with aesthetic stuff that is so relaxing to look at. The color-coordinated decors are a treat to the eyes. Their living spaces are just the right size, and big windows facing the ocean make them so good.
Their rooms are perfect too. They have ocean-view rooms and suites that you can book. Waking up as the sun's rays hit your room, and the calming sound of the ocean waves soothe your ears is an experience everyone should have whenever they can, so we recommend ocean-view rooms. In their rentals, they have a beautiful living area with a dining area, with all the basic amenities one might need. There is a beautiful garden and a walkway that takes you to the waters; you will be seen here many times as it is so pretty.
There is a pool with a spa as well. The best service is their aroma therapy, definitely try that one out. They also have a patio, an in-house beach-facing restaurant, and a bar. The fine dining with the beach facing is quite a vibe. Their food is best if you like to enjoy the local flavors and cuisines. They also have a grocery delivery service, in case you want to cook for yourself and enjoy your favorite snacks.
You can also enjoy scuba diving as they also have that service and instructors that will guide you throughout your experience. Also, you can get your booking for special occasions or weddings. They have various stunning seaside venues that sea lovers will absolutely adore. Their staff is very professional. They help you with as much as possible, and their service quality is top-notch. If you are into more private affairs, this place is for you!
Things To Consider Before Going To A Restaurant
Location — Before considering spending your holidays at a certain resort, do think about how far you are willing to travel for a place and book the one that is most convenient for you.
Food — The food has to be good. While looking for the perfect resort for you, make sure they serve the cuisines you like, and in case you have dietary restrictions, it is important to know whether or not they have got you covered!
Interests — Give a thought about the interests of the people you will be spending your time with and book a resort that offers the sort of entertainment that will cater to everyone. Like, if you people like pools, sports, and theaters, make sure the resort has all of those.
Reservation — Most of the resorts get fully packed during the holiday season, so get your reservations beforehand. Also, if you are getting the place booked for a wedding or some event, do check the place out beforehand.
How Do We Pick Our Recommendations
St. Thomas, Virgin Islands are the most visited islands in the world. These islands are known for their stunning sceneries, fine dining, and staying options and entertainment, which is why it was the next on our list to check for ourselves how much of it was actually true. My team and I booked our tickets right away, which eventually led us to the formulation of this list for you guys, so you only enjoy the best resorts this place has to offer. Our recommendations are based on the comfort of the place, service quality, activities, and overall experience. It is not solely based on our experience but also on the experience of other visitors. We have also considered the online ratings before making this listicle for you guys!
Best Resorts in St. Thomas That Feels Like A Home Away From Home - FAQs
Are there tennis courts at Marriott's Frenchman's Cove?
Yes, there are tennis courts at Marriott's Frenchman's Cove.
Does Emerald Beach Resort have Starbucks?
Yes, the Emerald Beach resort has Starbucks.
Does Lindbergh Bay Hotel and Villas have any great views?
Yes, the Lindbergh Bay Hotel and Villas have stunning ocean views.
Is Bolongo Bay Beach Resort an all-inclusive resort?
Yes, Bolongo Bay Beach Resort is an all-inclusive resort.