Flare leggings are the epitome of style and fashion. These pants are a must-have for those looking to infuse some excitement into their wardrobe while showcasing their curves.
They offer not just style and trendiness, but also comfort and practicality. Also, they can be matched with any kind of top, jacket, or accessory to create a dazzling outfit for any event.
If you're seeking a straightforward guide on what to wear with flare leggings, you've landed at the right place. We've got you covered with different summer and winter combinations in this guide.
Let's check them out and pick what you like!
What to Wear With Flare Leggings?
During the warmer months, women can showcase flare leggings with a variety of tops, including tank tops, halter tops, and sweatshirts. As winter approaches, these pants pair perfectly with a tunic sweater, shacket top, or a white shirt teamed with a cropped jacket. Whatever your style preferences may be, we've got all the tips you need right here.
Flare Leggings and Summer Outfits
Flare leggings score major points for being ready to slay in every occasion and season. When the summer vibes hit, you'll find loads of people rocking flare leggings with different tops. Some of the most popular and hot three combos are given below.
Idea 1: Tank Top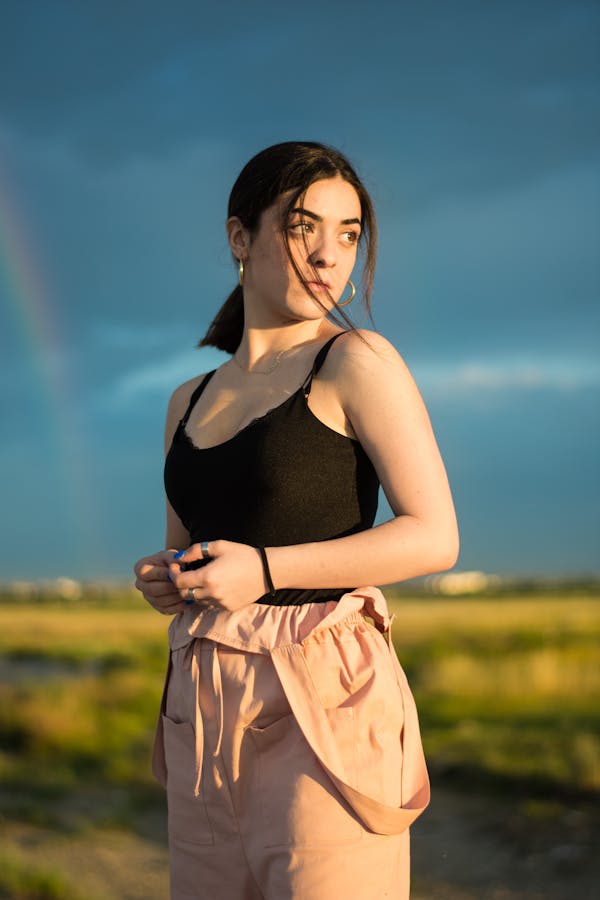 This idea is a passport to outdoor joy – whether you're out in nature, having a picnic in the park, or doing yoga. You can be soft and leisurely, but also elegant and eye-catching, if you follow our guidelines.
Top: To nail a sporty look, mix your flare leggings with a cropped tank top or a racerback. In tank top fitness, you're in charge, go snug for cozy comfort or wear a flowy for that easy-breezy workout vibe. But due to sizzling summer months, we suggest wearing a loose fitting and light-colored tank top such as white to keep those cool vibes alive.
Bottom: Appreciate the comfort of flare leggings made from light materials such as spandex, cotton, or nylon. If you come across flare leggings with unique additions like pockets, mesh panels, or charming ruffles, that's the one to grab. Take a stroll through the rainbow of possibilities; our top pick for this legging is the soft radiance of light pink.
Footwear: You've got the trio of options – flats, sandals, or flip-flops, all depending on your style and the weather. Want some suggestions? Black sandals bring elegance whereas white sneakers bring a breezy and relaxed vibe. The spotlight's on you for the final call!
Accessories: Wear stylish sunglasses for a touch of glamor, don a hat to stay shaded, or tie on a playful bandana for a hint of edge while keeping the sun at bay. Don't stop there, let your personality shine with carefully chosen jewelry. Sparkling earrings, a charming necklace, or jingling bracelets can transform your dress into a true fashion statement.
Idea 2: Halter Top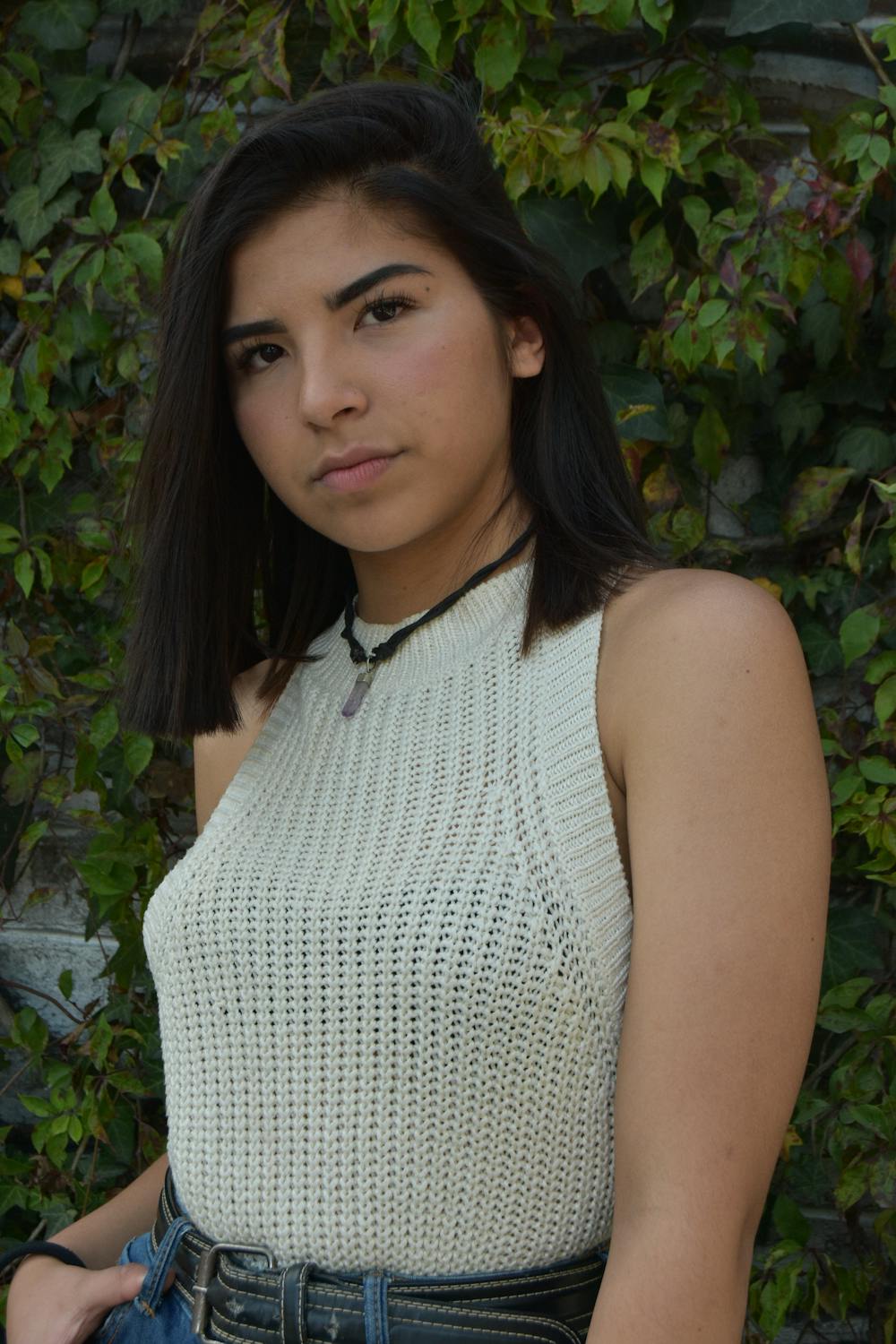 We've crafted this outfit with date nights, parties, and concerts in mind. It's your ticket to a trendy, flirty, and downright cute look. Wear it to steal the show at your next event because your style deserves its moment in the spotlight.
Top: Your top game? It's all about that halter life. Select one with either a strapless design or thin straps that gracefully wrap around your neck. Coordinate the color to harmonize with your flare leggings' energy. Feeling a date night? We recommend a black halter top. If you find yourself in a varied setting, think about rocking a red halter top for a touch of lively style.
Bottom: What's fantastic about this ensemble is its flexibility. You can pair your flared leggings in various styles like high-waisted, low-waisted, fold-over, or V-shaped waistbands. Our style maestros give their stamp of approval to every single of these distinctive styles. When it's time to match up top, keep it sleek with neutral or solid colors such as royal blue, red, black or white.
Footwear: Your feet have a world of choices; choose from heels, wedges, platforms, or boots. Consider the vibe of your outfit and the venue of your event to decide which pair will dance the night away with you. No matter what shoes you pick, just go with brown and black color.
Accessories: Want your boyfriend's eyes on you? Wear a statement necklace, eye-catching earrings, or bold rings to highlight your neckline and face. Also, you can enhance your dress with a cute clutch bag, a belt, or a stylish scarf. Trust us, these little details will render your outfit utterly unique.
Related: How to Wear a Crossbody Bag? [6 Ways to Style in 2023]
Idea 3: Sweatshirt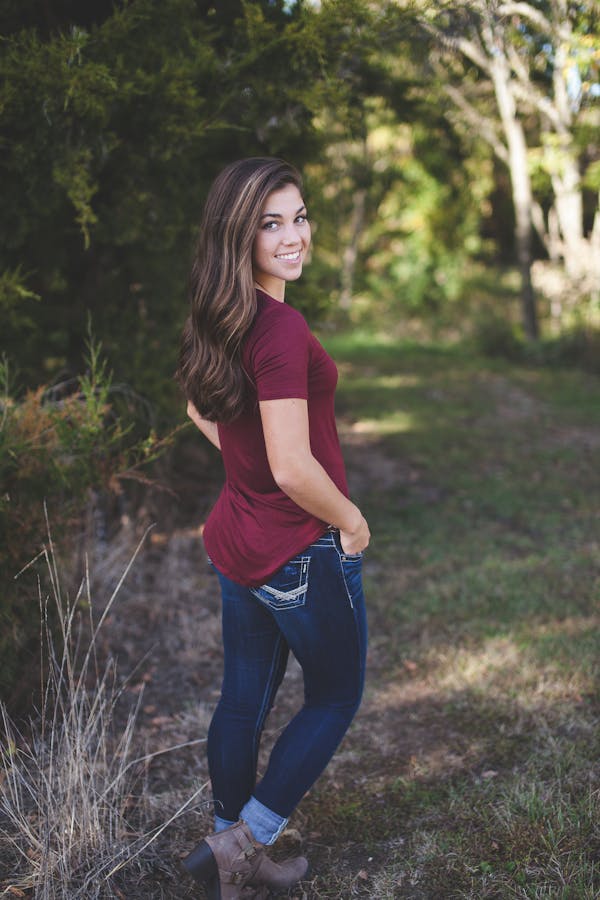 Summer fave alert! I wore this outfit on a recent road trip, and based on that experience, I can confidently say it's a winner for any type of outing. Oh, and I forgot to mention, I wore it again for a movie night with friends – it never disappoints.
Top: Level up your style game by choosing an chill, oversized or cropped sweatshirt for the top. Color? Totally your call, whether it's contrasting or matching with your flare leggings. In my fashion playbook, I went with a gray sweatshirt for the road trip and a yellow one for the movie night.
Bottom: You can feel super cool by wearing flare leggings made from sherpa-like material. When creating this style, search various designs like tie-dye prints, animal prints, or stripes. Let me spill the truth: I'm rolling with just two pairs, one in sleek black and the other in navy. The best part? They play matchmaker with a variety of tops.
Footwear: The choice of footwear relies on your desired level of coldness. To keep cool like me, go ahead and slip into some slippers just like I do (not recommended 😉). Alternatively, if appearance matters to you, UGG boots are a good option. While I prefer black, feel free to go for light and dark brown.
Accessories: To avoid an overload of accessories, opt for just a few. I went for a sweet gold necklace to flaunt my neckline and a cute black leather bracelet on my wrist. You can wear a watch on your hand and keep track of time to stay punctual. If your trip ventures into the night, cozy up with a beanie and gloves.
Idea 4 – Chic and Casual Stripes Meet Flare Leggings
When it comes to nailing the perfect balance between chic and casual, there's nothing quite like the classic combination of a striped shirt and black flare leggings. This ensemble exudes effortless style while offering comfort and versatility for various occasions.
Top: A striped shirt is a timeless addition to any wardrobe. Its nautical-inspired design adds a touch of sophistication to your look. Opt for a blue and white striped shirt for a sleek, monochromatic vibe, or experiment with colors to showcase your personality. You can go for a classic crew neck or a more relaxed V-neck, depending on your preference.
Bottom: Flare leggings are the epitome of comfort and style. The dramatic flare at the bottom of the leggings adds a touch of flair to your outfit. In black, they're incredibly versatile and can be dressed up or down with ease. Look for flare leggings crafted from comfortable materials like spandex or a cotton blend to ensure all-day comfort.
Footwear: To complete this outfit, you have a range of footwear options. For a casual daytime look, slip into a pair of white sneakers, which offer a fresh and sporty vibe. If you're heading out for a more upscale event, ankle boots with a subtle heel can instantly elevate your style. The choice between sneakers and boots allows you to adapt the outfit to the occasion.
Accessories: Accessories can make all the difference in elevating your look. Consider adding a stylish wide-brimmed hat for a touch of glamour and sun protection during daytime outings. A minimalist necklace or a statement piece of jewelry can accentuate the neckline of your striped shirt, showcasing your personal style.
Flare Leggings and Winter Outfits
Whether you're gearing up for a half marathon, planning a ski trip, or simply aiming for extra coziness on the couch this season, winter flare leggings are a necessity. The main thing is to opt for a great pair of flare leggings typically lined with fleece or double-layered to seal in warmth. Now, let's talk about your upper half – we've got various outfit ideas to keep your top toasty.
Idea 1: White Shirt under Cropped Jacket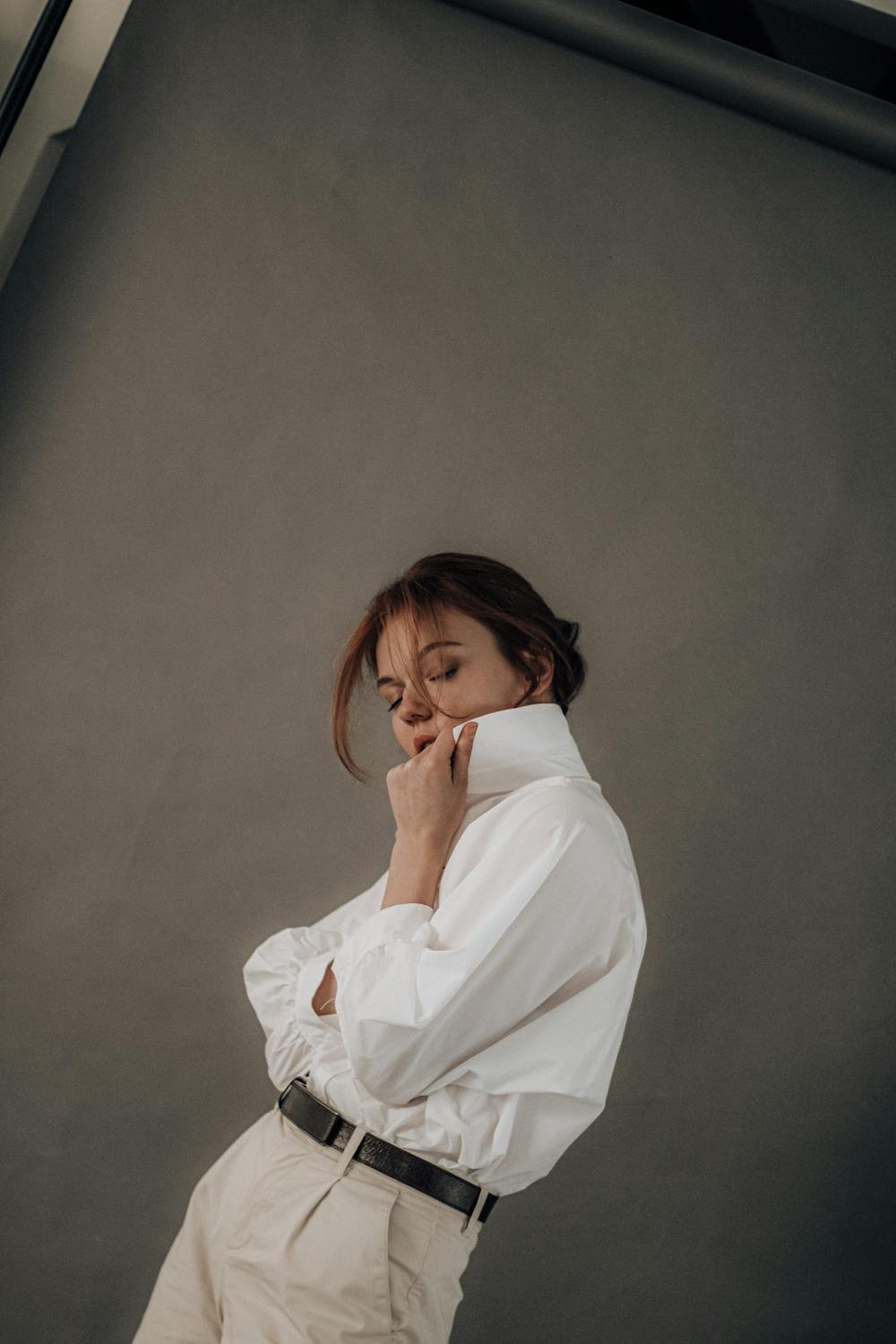 If it's your first job interview or a work meeting and you're not sure what to wear, don't stress. Take a deep breath! We've got a stylish outfit suggestion that works for future formal occasions too.
Top: For a formal occasion, pick a white shirt with a crisp fabric like poplin, twill, or end-on-end. Your shirt should have a collar that suits your face and neck shape; if you have a round face and short neck, a straight or pointed collar will work well. If it's a bit less formal, think about a white shirt with barrel cuffs and buttons. At last, complete your upper half by wearing a cropped jacket in a single, solid hue.
Bottom: Dress up your bottom for a formal event with flared leggings in solid colors such as navy blue, and black. Choose ones that widen from the knee and stop just above or below your ankle. And look for a pair with a high waist and made from smooth fabrics like ponte, faux leather, or velvet.
Footwear: Pick shoes that go well with your outfit and the length of your flared leggings. If you want to look taller and highlight your curves, invest in wedges, high heels. For a relaxed vibe, go for flats, loafers, or sneakers.
Accessories: Add items that enhance your look for the occasion and add allure. For example, think about adding a tie or bow tie that either complements or contrasts with your cropped jacket. Further, bring in a pocket square to infuse a pop of color or pattern. A watch, ring, or necklace can also be stylish additions. Just keep in mind, simplicity is crucial for an elegant touch so steer clear of excessive accessories.
Idea 2: Tunic sweater
Are you in the mood to socialize with friends, or is it time to buckle down and complete your errands? Regardless of your choice, this style provides comfort and a relaxed look for both scenarios.
Top: Select a tunic sweater that is lengthy and generously loose, which provides coverage to your hips or even your thighs. This tunic can be fashioned from wool, cotton, or various other warming materials. You can choose from a variety of colors and patterns, such as solid shades, classic stripes, or eye-catching geometric designs. To stay extra warm and well-covered, contemplate the practice of layering by adding a tank top or a lightweight camisole underneath.
Bottom: Turn your attention to your bottom part and enter the captivating galaxy of flare leggings. You have a diverse selection of color and material options, with timeless choices like black, navy, gray, and denim being consistently excellent. For a bit of extra style, think about leggings with special features like buttons, zippers, or pockets to infuse some interesting details to your appearance.
Footwear: Complete your look with fabulous foot coverings on those chilly days with a selection of boots, sneakers, or flats. To dial up the comfort factor, consider adding some socks or leg warmers. And for the perfect finishing touch, envision a palette featuring harmonious tones like rich brown, soft beige, crisp white, or classic black.
Accessories: When it's winter, accessories your outfit with a warm scarf, or some tasteful jewelry. While you have many options, consider wintery colors like cream, deep burgundy, rich mustard, or earthy green to capture the season's essence. Make your outfit truly stand out with some textured or shiny elements, such as knits, fur, or metallic pieces.
Editor's Pick: What to Wear to a Zipline – A Complete Guide For Adventurers
Idea 3: Shacket Top
If you're seeking the perfect all-in-one winter outfit for a casual outing, a party, or a romantic date, then this edgy and trendy style is your match made in fashion heaven.
Top: Attention to all who love loose and plaid clothing – the shacket jacket is here for you. Created from warm fabrics like flannel and wool and comes in a wide variety of colors and patterns to suit your personal style. You can wear it as a top by buttoning it up or as a jacket by leaving it open over a t-shirt or crop top.
Bottom: Flare leggings create a stylish contrast with the shacket and bring a touch of femininity to your outfit. You've got a wide range of choices when it comes to color and material, but classic options like black, gray, pristine white, or even a stylish leather pick are great. For a more daring look, try leggings with unique features like rips, studs, or lace.
Footwear: To enhance your winter outfit, pick ankle boots or wedges. This not only keeps your look coordinated but also offers extra warmth and a touch of sophistication. Colors that go well with this winter look are white or a vibrant red. If you prefer a more laid-back and sporty style, go for sneakers or flats.
Accessories: Upgrade your winter attire with some bold and impactful accessories like a trendy hat, fashionable belt, or stunning jewelry. You have a wide range of colors to choose from including black, white, silver, or gold. You can also give a try to leather, chain, or rhinestone pieces for a winter look that truly shines.
Suggested Reading: How To Wear A Fanny Pack: 8 Cool Ways To Style in 2023
Tips for Selecting the Perfect Top for Flare Leggings
As mentioned before, flared leggings complement various styles, but it's crucial to consider certain factors when curating your entire look. The following are some key aspects to focus on:
Look at the Event
Choosing the right outfit is all about fitting in with the occasion. If you're off to a formal event, consider pairing your flared leggings with a stylish blouse, a sharp blazer, and chic wedges. On the flip side, if you're headed for a casual outing, go for a comfy t-shirt, a trendy shacket, and cool sneakers to keep things relaxed and stylish.
Consider Style
Based on your unique taste and preferences, you might opt for various styles and trends. For instance, if you're drawn to a bohemian look, consider pairing your flared leggings with a breezy, flowy top, complemented by a fringe bag and a stylish floppy hat. On the other hand, if a minimalist approach suits you, select a simple top, structured bag, and hat to create an understated yet fashionable ensemble.
Think about Season
Pick fabrics and colors that match the season. In winter, choose materials that keep you warm, like wool, fleece, or velvet, and go for darker tones such as burgundy or navy. Alternatively, summer calls for lighter, breathable fabrics like cotton, linen, or silk, and brighter colors like white or pastels.
Read Next: What to Wear to a Burlesque Show? [2023 Guide]
Conclusion
Flared leggings can be mixed and matched with different types of tops to create various looks. For summer, you can wear a tank top, a halter top, or a cool or baggy sweatshirt. In the colder months, consider styling flared leggings with a tunic sweater, layering a white shirt beneath a cropped jacket, or opting for a shacket top. When selecting a top to pair with flared leggings, it's essential to ensure a harmonious balance in your outfit's proportions.
What to Wear with Flare Leggings - FAQs
Are flare leggings still trendy?
Yes, flare leggings continue to be on-trend and maintain their stylish status in the fashion scene.
What shirt to wear with flared leggings?
You can twin your flared leggings with a fitted or oversized t-shirt for a relaxed yet chic look.
Can you wear flared leggings to the gym?
The one word answer is yes! Flared leggings are flexible enough to accompany you to the gym.