Fanny packs, alternatively referred to as belt bags, have regained popularity as a stylish and practical accessory. Legendary filmmaker Spike Lee has long championed the use of fanny packs as a statement piece which has also influenced many others to follow suit.
The fanny pack is a versatile companion, whether you're going on a day trip, attending a music festival, or running errands, keeping your essentials close. However, wearing a fanny pack fashionably and functionally requires a bit of finesse.
In this guide, we will explore how to wear a fanny pack with confidence and style. Let's get going into the art of fanny-pack fashion!
How To Wear A Fanny Pack?
Young celebrities like Rihanna and Kendall Jenner joined in on the trend by incorporating fanny packs into their style. Eventually, the popularity of fanny packs extended to the music festival crowd as well. Thanks to the influence of celebrities, these versatile bags have experienced a notable resurgence in today's fashion landscape.
There are plenty of fashionable and creative ways to wear a fanny pack that will let you express your style effortlessly
The Classic Waist-Worn Style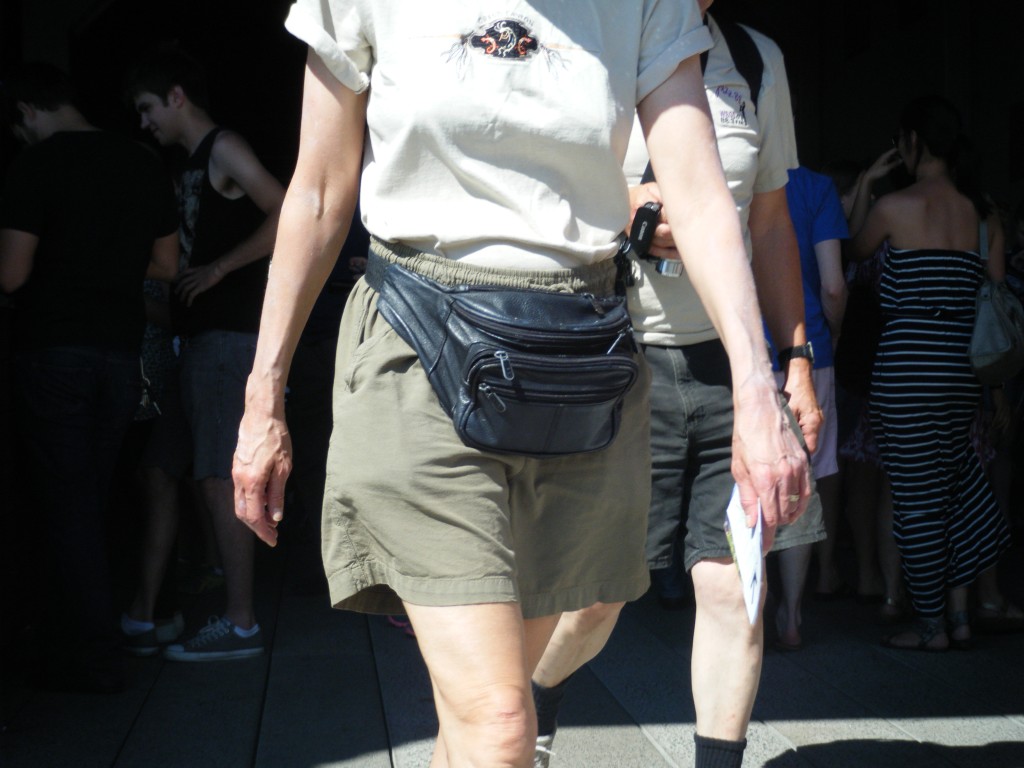 One of the most popular ways to wear a fanny pack is around your waist, resembling a belt. This style exudes a laid-back and relaxed vibe, making it an ideal choice for complementing jeans, shorts, skirts, or even dresses.
Its versatility allows for both practicality and easy access to your essentials. The waist look is recommended for various occasions, including casual outings, day-to-day activities, outdoor events or festivals, as well as sightseeing or traveling.
It offers a hands-free solution while adding a touch of functional style to your ensemble. Embrace this classic approach and elevate your fashion game with the waist-worn fanny pack trend.
Oversized Fanny Pack
An oversized fanny bag can be worn on top of your t-shirt to enhance your outfit in a fashionable and useful manner. Incorporating this accessory adds both form and flair to your overall look. Choosing a fanny bag in a different color or with a distinctive texture adds visual appeal and elevates your basic clothing items.
This style option is perfect for relaxed and laid-back events such as weekend get-togethers, informal lunches, or coffee outings. It seamlessly blends comfort with trendy fashion, making it a flexible choice for social gatherings with friends or family.
The Crossbody Trend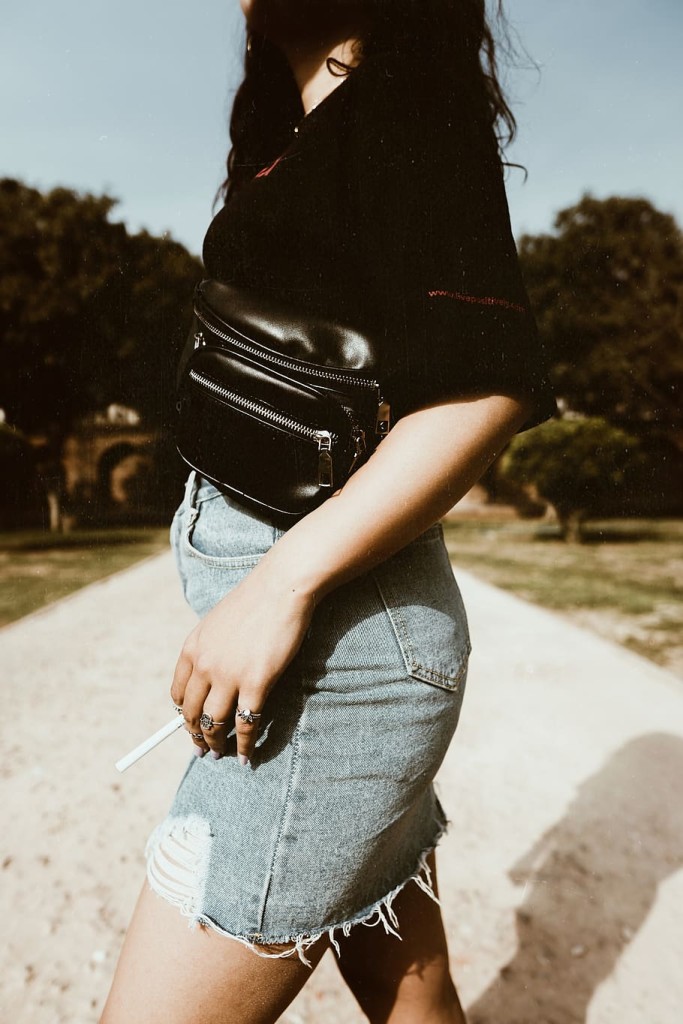 The Crossbody Look is a trendy and edgy way to wear a fanny pack. If you don't want to wear it around your waist, try draping it across your body like a one-shoulder bag. You can choose to position it on the front or back, depending on your personal style preference.
This fashion-forward look is favored by trendsetters and adds a contemporary twist to any outfit. It is particularly suitable for fashion-forward events, parties, nightclubs, and vibrant urban environments.
Additionally, fanny packs worn in the crossbody style make a stylish choice for art shows or gallery openings. They not only showcase your unique sense of style but also ensure that your essentials are conveniently within reach.
Editor's Pick: How to Unclog Ears After Flying With a Cold? [New Methods 2023]
Monochromatic Style
@carlarockmore

NYC OOTD! Don't you just love the monochromatic look with that pop of orange??? @lalignenyc ootd monochrome monochromeoutfit slingbag fashiontiktok
Crafting a monochromatic moment with a distinctive twist requires the incorporation of a coordinating fanny pack. Enhance the elegance of your outfit by embracing a seamlessly stylish look that reflects your taste. Choose your preferred monochromatic hue – be it timeless blacks, crisp whites, calming creams, or any other shade.
Then, add a fanny pack in a complementary color to complete your look flawlessly. Whether you're attending an elegant dinner or a fashionable gala, this monochromatic fanny pack guarantees style and practicality. You can also give it a try during a chic evening outing or a sophisticated celebration.
The Utility Belt
Incorporate a fanny pack into a utility belt ensemble for a unique and practical fashion statement. This fusion of fashion and functionality offers an opportunity to showcase personal style. Experimenting with multiple fanny packs worn together adds an extra touch of style to the look.
This option is particularly well-suited for outdoor adventures like hiking and camping, as well as music festivals, concerts, and tech-wear-inspired fashion events. It also fits seamlessly into street style and urban fashion gatherings, allowing you to showcase both functionality and personal style.
Suggested Reading: Skiplagging Travel Hack: Unbeatable Savings for Smart Travelers
High-Waisted Silhouettes
Heighten your fanny pack game by pairing it with high-waisted bottoms like jeans, shorts, joggers, or skirts. This elegant combination not only flatters your figure but also creates an elongated effect, highlighting your waistline.
It's the perfect choice for achieving a balanced and polished silhouette, regardless of your body type. You may adopt this trend for casual dates, brunch or daytime events, shopping sprees, or running errands.
You can also rock this look for casual dinners or gatherings with friends, effortlessly adding a fashionable touch to your ensemble. Try out high-waisted silhouettes and witness how they transform your fanny pack style.
Small Printed Fanny Pack
When you're aiming to showcase your unique sense of style, consider incorporating a small, printed fanny pack into your outfit. It serves as a refreshing departure from the usual statement necklace.
It also offers an opportunity to experiment by draping it over a dress and layering it with a lightweight jacket. This not only adds a personal touch to your autumn look but it also ensures that your essentials like lip gloss are easily accessible.
The beauty of this versatile fashion choice lies in its suitability for a wide range of occasions. Whether you're attending lively parties, elegant evening events, captivating fashion shows, or special celebrations, the printed fanny pack effortlessly elevates your outfit.
From chic cocktail receptions and delightful dinners to glamorous runway shows, this eye-catching accessory infuses your ensemble with a fashionable flair.
Cool Streetwear Style
To enhance the streetwear aesthetic of your attire, you can opt to casually hang your fanny pack over a single shoulder. This fashion pick imbues a relaxed and effortlessly trendy atmosphere, especially well-suited for outfits inspired by streetwear. For a well-proportioned look, combine your fanny pack with clothing items featuring patterns or prints.
To complete your ensemble with a contemporary flair, select chunky sandals. This style option is particularly suitable for a range of occasions, including streetwear events, urban fashion showcases, music concerts, and hip-hop gatherings.
Moreover, it serves as an excellent option for casual outings when you desire to infuse your style with a fashionable twist.
Must Read: 9 Elite Clubs in Dubai for Spectacular Night [2023 UPDATE]
Things to Consider When Wearing a Fanny Pack
Consider these key factors when wearing a fanny pack to ensure a stylish and tasteful look:
If you choose to wear the fanny pack around your waist, consider doing a French tuck with your top to maintain a balanced and visually appealing look.
Avoid pairing your fanny pack with low-waisted pants as it can create an unflattering silhouette and disrupt proportions.
When selecting a fanny pack, opt for timeless designs that will stand the test of time.
Avoid options with gimmicky patterns or quotes as they give off a cheesy or immature impression.
Stay away from pairing your fanny pack with dad cargo shorts as it can give off a dated and overly casual vibe.
Reserve fanny packs for casual or everyday wear as they complement a relaxed and laid-back style.
Avoid wearing fanny packs with formal attire as they can clash with the overall sophistication of a formal look.
Wearing a Fanny Pack According to Body Shape
It is important to realize that your body shape is a key factor in the choice of the fanny pack. Based on your body type, pick the right one!
Hourglass Figure

Opt for a waist-hugging fanny pack that accentuates your well-defined waistline. Choose a sleek and compact design that doesn't add bulk to your curves.
The waist-hugging style enhances your hourglass shape, drawing attention to your narrow waist, and maintains a balanced look.
Pear-Shaped Figure
Consider a crossbody fanny pack that sits comfortably across your upper body. Look for one with an adjustable strap so you can find the right fit.
The crossbody style balances out your proportions and draws attention away from your hips and accentuating your upper body.
Apple-Shaped Figure
Choose a fanny pack with a longer, adjustable strap that can be worn diagonally across your body. Avoid wearing it directly at your waistline.
The diagonal placement of the fanny pack creates a visually elongated appearance and diverts attention from the midsection.
Athletic or Rectangle Figure
Opt for a high-waisted fanny pack with a bold design or pattern to add curves and visual interest to your midsection.
The high-waisted style adds the illusion of a defined waist and complements your athletic physique.
Triangle Figure
Choose a mini or compact fanny pack that won't overwhelm your frame. Look for vibrant colors or embellishments to add a fun touch to your outfit.
A smaller fanny pack won't overpower your petite body and the lively details draw attention away from your height.
Suggested Reading: All Saints Day in Guatemala [All You Need to Know]
Check out this youtube video for a practical explanation on how to style a Fanny Pack:
Conclusion
With so many styles to wear a fanny pack, it is important to look for the right one according to your personal preferences as well as body type. Our extensive guide has covered all the aspects regarding wearing a fanny pack the right way. Share it with someone who frequently wears a fanny pack to help them out for the next time!
How to Wear a Fanny Pack? - FAQs
Can I wear a fanny pack with a dress or skirt?
Absolutely! Fanny packs can be a stylish addition to dresses and skirts. For a chic and trendy look, you can wear it around your waist with a dress, or try the crossbody style with a skirt.
Are fanny packs only suitable for casual wear?
While fanny packs are commonly associated with casual wear, they can be styled to suit various occasions. They work well with relaxed outfits for day-to-day activities, festivals, and outdoor events.
How do I clean and maintain my fanny pack?
The cleaning and maintenance of your fanny pack depend on the material it's made of. For fabric or nylon fanny packs, you can usually spot clean them with a damp cloth and mild soap.