Getting ready for ice skating? Well, it's like preparing for a winter wonderland adventure. Before gliding onto the ice, make sure to think ahead and get your outfit game on point. Ice skating can be chilly and tricky, so you have to dress in a way that keeps you snug, secure, and cozy.
If you're in search of outfit inspiration rather than just wardrobe advice, we've got you covered. Whether you're a guy or a girl, we've options for everyone. Just keep reading and choose what suits your style!
What to Wear Ice Skating?
When gearing up for ice skating, women can wear casual dresses, blend sporty attire, classy charm, or opt for a feminine and adorable look. On the other hand, men can experiment with romantic or poetic vibes, go for fun and funky styles, sport an athletic appearance, or keep it comfortable and cool.
Ice Skating Outfit Ideas For Women
Ice skating isn't just a sport; it's a fashion showcase. To dazzle with both style and skill, explore these outfit ideas curated for women.
Option 1: Casual Comfort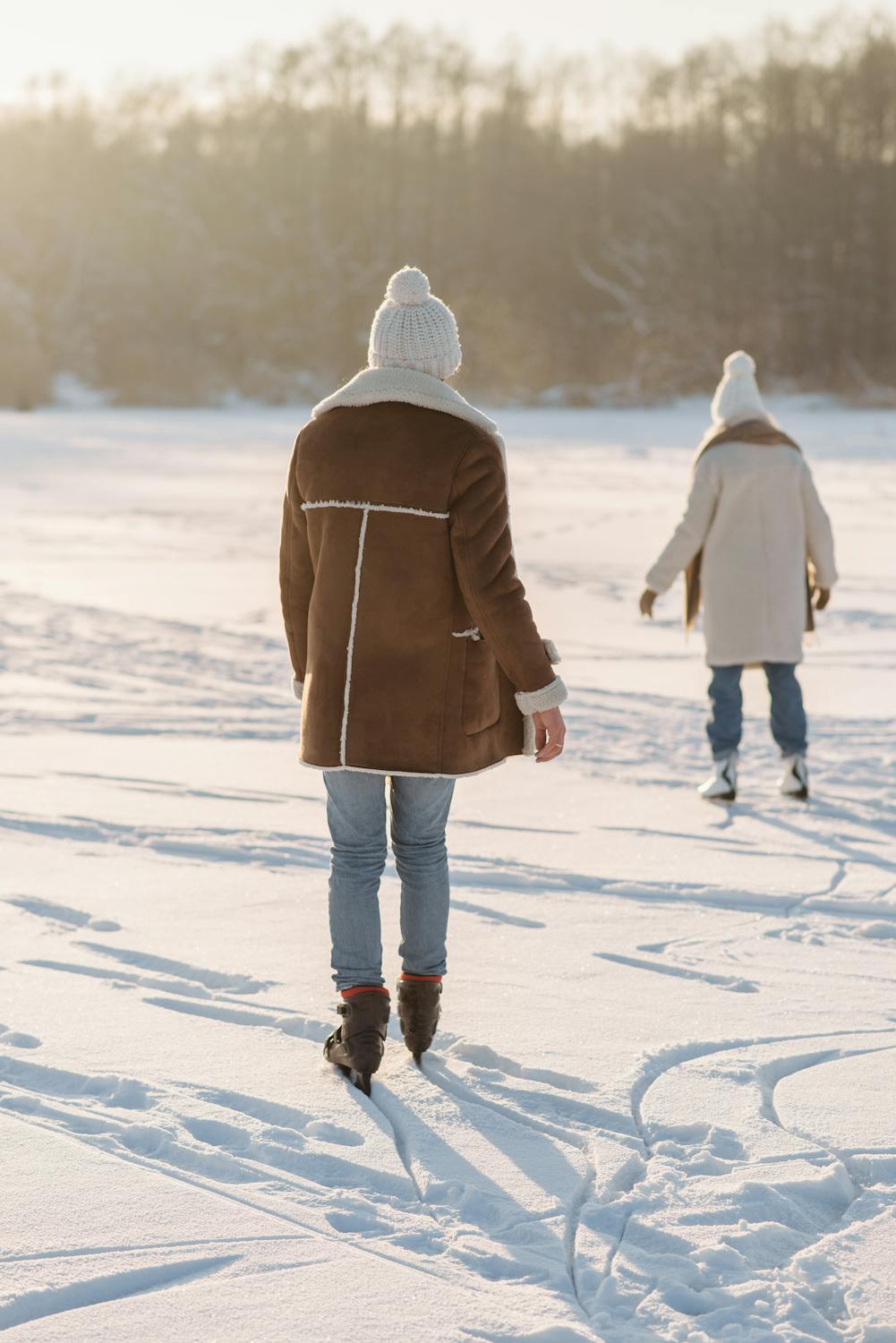 This look is suggested for laid-back ice skating sessions with your beloved group. It blends comfort, fashion, and facilitates easy movement. Moreover, exhibit your individual style by opting for diverse colors and patterns.
Top: Choose a chunky sweater or hoodie layered on a long-sleeved shirt or turtleneck. Whether in a solid hue or a festive pattern, like snowflakes or reindeer, make it your style. For extra wind protection and warmth, throw on a teddy coat or a puffer jacket over the sweater.
Bottom: Don a pair of sweatpants with just the right fit—neither too long nor overly snug. Prioritize flexibility and mobility on the ice. And to crank up the cool factor, slide into thermal underwear underneath.
Footwear: Pick ice skates that match your size and provide comfort. Also, make sure they are securely and properly fastened. Adding thick socks is also an option to keep your feet warm and avoid blisters.
Accessories: Keep your ears and head warm with a wool beanie or knit hat. Wrap a scarf around your neck, and let gloves cradle your hands in warmth. You can also shield your eyes from the dazzling brilliance of the ice by rocking a pair of stylish sunglasses.
Option 2: Athletic Elegance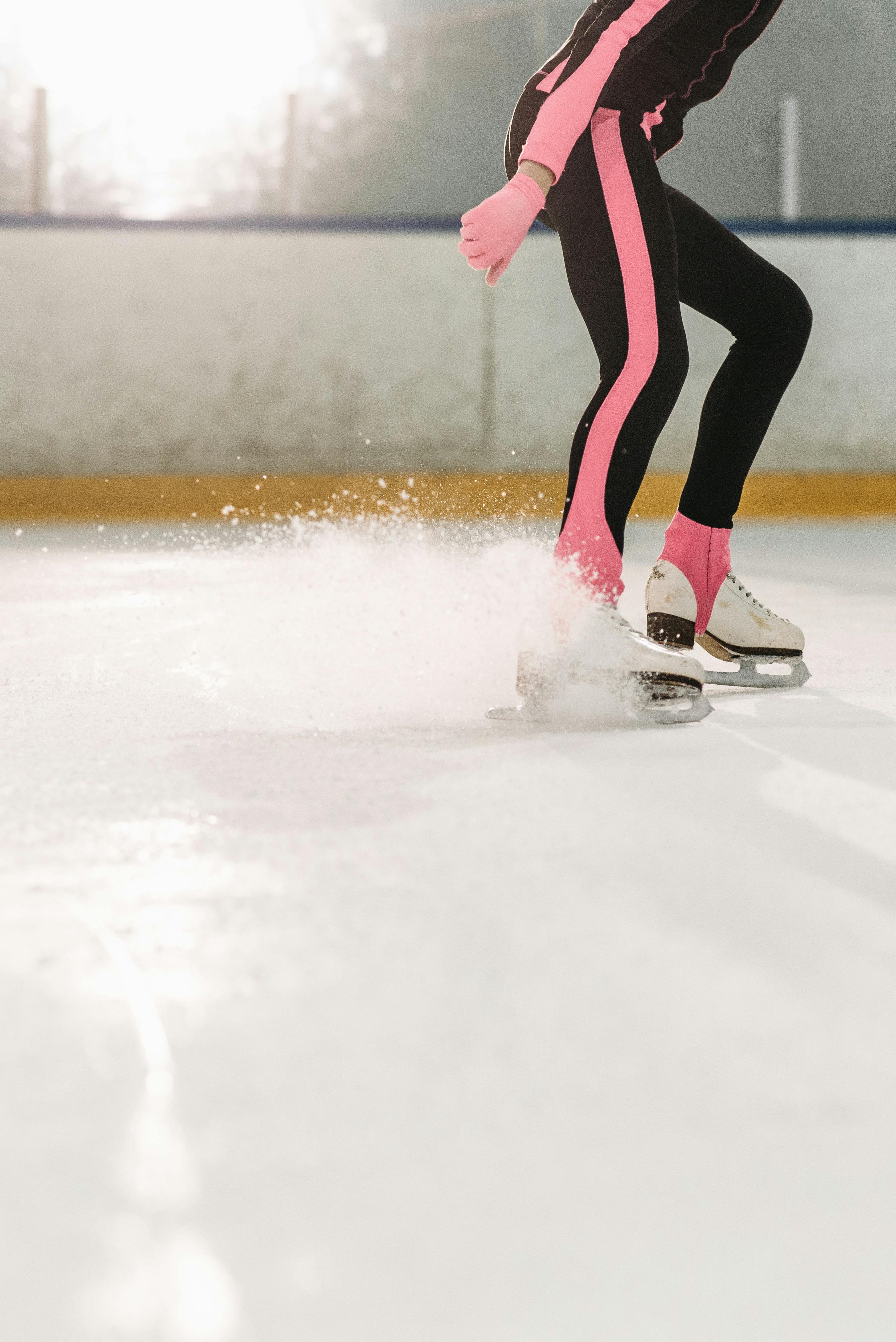 For those aiming for a sporty and chic ice-ready look, we suggest this look. It exudes sleek modernity with a touch of functionality. You can also infuse it with a playful touch and fashion flair by incorporating pops of color or metallic accents.
Top: Rock a sports bra or form-fitting tank top under the zippered jacket or windbreaker for a stylish base. You can pick a jacket that has some shiny details or logos for some extra style. And for those daring to dream beyond, a leather or bomber jacket is the stylish touch your look craves.
Bottom: Select jogger pants crafted from fabric that is breezy and pliable. If you desire added interest and contrast, go with mesh panels or striped joggers. Our style experts recommend pairing your dress with leggings for those looking to stand out with an extra edge in the crowd.
Footwear: If you're looking to make a statement on the ice, consider picking colorful ice skates or go for a classic white pair for a touch of elegance. And, feel free to jazz them up with pom-poms, ribbons, or stickers for an extra dose of fun and uniqueness.
Accessories: Sport up your dress by adding a baseball cap or visor. You can also listen to some music while you skate by wearing a pair of earphones or headphones. Need a hands-free solution? A backpack or fanny pack is your ticket to carry your essentials with ease.
Option 3: Classy Charm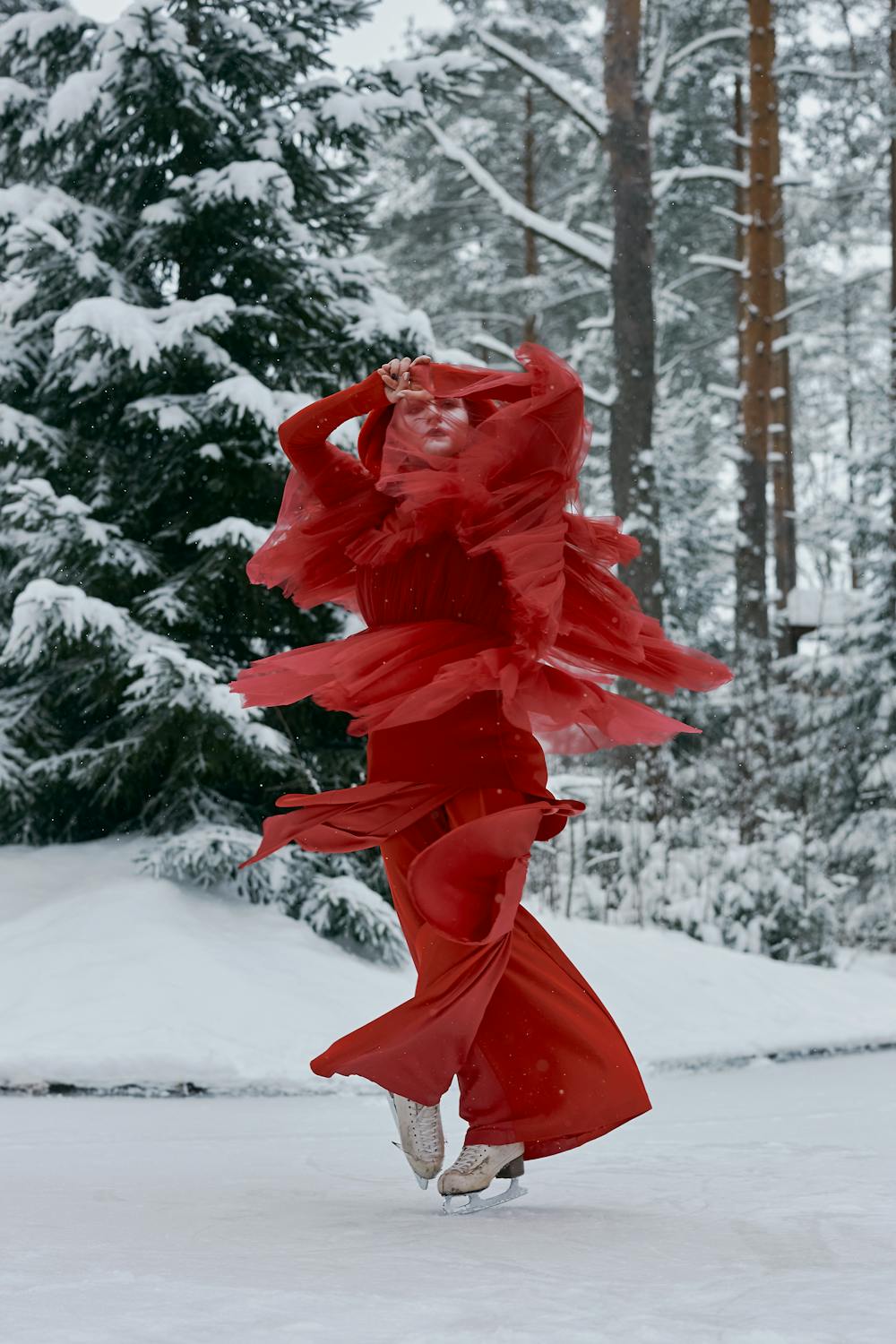 If you're aiming for a fancy and stylish look on the ice, this outfit has got you covered. The fantastic part is, you can personalize your look by enhancing the outfit's shine. For example, you can wear makeup with glitters or incorporate metallic elements into your dress to make it truly sparkle.
Top: For your top, go for a blouse or sweater with some pretty lace, ruffles, or embroidery – the more details, the merrier. Pick a light color like white, cream, or a soft pastel for that delicate touch. And when it comes to staying warm and feeling luxurious, put on a cozy faux fur or wool coat over your blouse.
Bottom: Look for a skirt or dress that swirls with the magic of flowy, flared, or pleated details. No need to ponder over colors; opt for a deep, elegant shade such as navy, black, or burgundy. And here's the cozy tip: our experts suggest wearing a pair of tights or stockings underneath.
Footwear: On the ice, get skates that shimmer with pearls, crystals, or sequins – they're like fancy jewelry for your feet. Further, match them with your dress or choose a contrasting pair for some fun drama. Before gliding, show off your style in ankle boots or heels to make your feet shine.
Accessories: Wear shiny jewelry like earrings, necklaces, bracelets, or rings to enhance your dress charm. Gold, silver, or rose gold: these are the three metal shades that you can choose from. And grab a cute clutch or purse to keep your things handy.
Suggested Reading: What to Wear to a Burlesque Show?
Option 4: Feminine and Adorable
We've crafted this dress style with the intention of making girls look girly and cute on the ice. If you're conscious about colors, you can personalize and contrast this style in your own unique way. Our personal recommendation is to definitely give this style a chance – it's a must-try!
Top: To rock this style, pair a top with cute details like patches, bows, or buttons – sweaters or cardigans are ideal choices. Bright and cheerful colors like pink, yellow, or green will make you stand out in this style. If you're up for more layers, wear a denim jacket or a plaid shirt over the cardigan.
Bottom: We recommend opting for shorts or a skirt. Regardless of your choice, ensure the fabric is velvet, corduroy, or denim. To dial up the cuteness, try fleece-lined leggings or over-the-knee socks.
Footwear: Before you put on your skates, snap some cool pics in stylish boots or sneakers for your Instagram. And when it's skating time, get a pair of ice skates with adorable patterns like dots, stripes, polka dots, or flowers.
Accessories: Safety first! Pop on a helmet while ice skating to keep things secure. But hey, if you're in the mood for accessories, go for it. Bind your hair with a cute clip and a headband. This style demands a crossbody bag for all your little things. And if the chill is real, top off your look with a beret or a pom-pom hat.
Editor's Pick: What to Wear to a Zipline – A Complete Guide For Adventurers
Outfit Ideas For Men
Showcasing your personality and flair is a breeze on the ice. For a standout presence, check out these specially crafted outfit ideas for men.
Option 1: Romantic or Poetic
Feel like showing off your love for poetry? Give this outfit a shot! Just pick fantastic colors to let your dress speak to your vibe. This dress is meant to be worn while ice skating with your sweetheart. Often, you might have seen this outfit on television programs, and ice skating events.
Top: Poetic getup requires a poet shirt with a pattern of your preference. Make sure it has loose sleeves, a notched neck, and stretchy cuffs. We highly recommend to select a solid color or go for a contrasting color to inject a more poetic essence.
Bottom: You can wear pleated pants in a matching or complementary color to your top. With pleats on both the front and back, you can achieve movement and volume on the ice. These pants will easily fit around your waist and hips and enable graceful gliding on the ice.
Footwear: Dress your feet in traction cleats – they're like magic add-ons for your regular shoes. Also, these clever additions provide an extra layer of grip on those slippery surfaces.
Accessories: Adorn yourself with accessories like earrings, necklaces, bracelets, or rings that shimmer and sparkle on the ice. You might use a scarf to evoke a romantic or whimsical atmosphere. Whatever accessories you decide on, ensure they are comfortable and secure to avoid any interference with your skating performance.
Option 2: Fun and Funky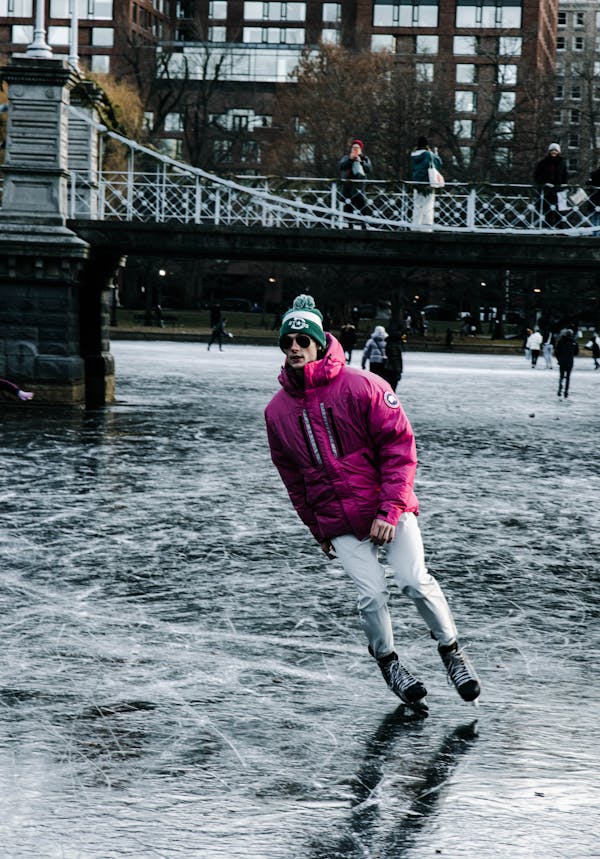 If you're eager to dance on the ice to your favorite tunes and have a blast, we recommend trying out a funky dress. It's a beloved choice by many and worth experiencing at least once in your life.
Top: Up your style game on top with a shirt flaunting a cool V-neck and a snazzy front zipper. It must have designs like lightning, vortex, X, or slashes – whatever catches your eye. You can also pump up your attitude by wearing a sleek leather jacket on shirt.
Bottom: You can wear ice skating trousers designed with belt loops, side pockets, and a zip fly. These cool pants come with handy pockets on the sides and back – perfect for stashing essentials or warming up your hands.
Footwear: Make your feet stand out with Rainbow Laces and Unicorn Pom-Poms on your skates. These colorful laces and fluffy pom-poms create a delightful twist to your skating style.
Accessories: Spice up your outfit with a trendy bandana, cool sunglasses, and funky earrings. And don't forget to combine your personal touch with your favorite accessories, like that sweet necklace your fiance gifted you.
Option 3: Sport and Sleek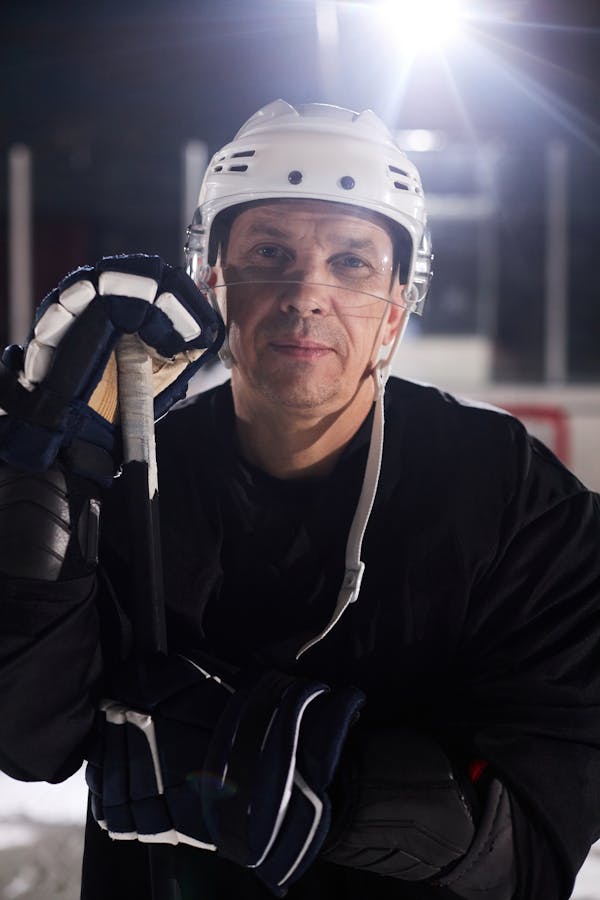 Sporty guys, we didn't forget about you! We've cooked up a cool outfit tailored to match your love for all things athletic. This style features a spandex shirt, slim skating pants, and a cozy fleece jacket – perfect for hitting the ice with style and comfort.
Top: Wear a spandex shirt or a short sleeve top in black. It's like a superhero suit, snug, stretchy, and keeps you dry. Show off those muscles while gliding on the ice. And when the chill sets in, layer up with a fleece jacket.
Bottom: Get into slim skating pants that match your top's vibe. But, here's the pro tip: avoid super bright or flashy colors. We want your moves to shine, not the pants stealing the show or clashing with the ice. Keep it cool, skip the neon and metallic hues!
Footwear: Grab ice skates with a sleek and modern vibe. Acquire skates, which feature buckles, straps, laces, or Velcro closures.
Accessories: Boost your sporty style with those cool sunglasses and wristbands. If you're craving that extra athletic flair, let your creativity run wild and customize your things. How about having Ronaldo's pic on your fanny pack? It's a winning move for a standout look!
Option 4: Comfort and Casual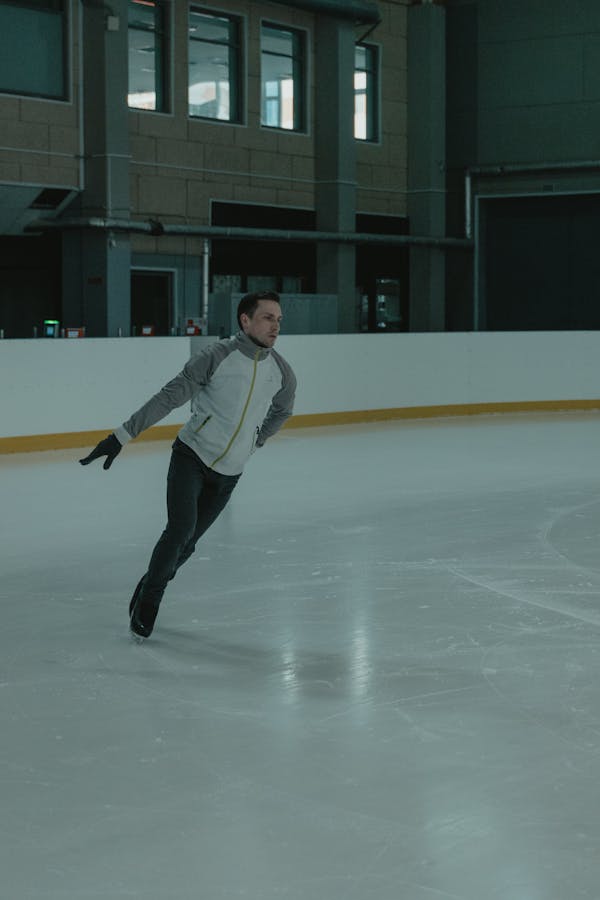 Are you in chill mode or aiming for a casual look? Perfect! This style is your go-to for a relaxed and comfy vibe while hitting the ice. Whether you're skating under the open sky or in the cool confines of an indoor rink, this option is your all-around winner.
Top: Everyone has hoodies and sweatshirts at home, right? Snatch yours for the top, and if you're after more warmth and style, slide into a puffer jacket. Just check that your outfit is warm yet light, especially when you're out there conquering those fancy moves on the ice.
Bottom: Wrap your lower half in matching joggers or sweatpants for a glowing and soothing experience on the ice. But they should be stretchy, breathable, and incredibly relaxing.
Footwear: Wear sneakers that fit like a charm and offer excellent traction. We recommend them because they're easy to put on and take off and guarantee the support and stability you need.
Accessories: You can add a hint of flair with a beanie, scarf, and gloves. Plus, feel free to throw in your own unique accessories because this outfit is all about embracing new and different styles.
Things to Consider When Selecting Ice Skating Outfit
For a graceful and easeful glide on ice, smart dressing is key. Various types of skating, diverse locations, and changing weather conditions call for different outfits. The following are some useful tips to guide you in choosing the ideal attire for your ice skating adventure:
Slim-fitting Clothes: When ice skating, it's best to avoid wearing anything too loose or bulky. We suggest opting for slim-fitting garments that won't limit your range of motion.
Right Material: When picking your ice skating fabric, go for materials that provide comfort and boost your performance. Look for fabrics that stretch, breathe, and wick away moisture, like the cool squad of polyester, fleece, spandex, or wool. They're your pass to keeping warm, dry, and completely toasty while you own the ice.
Appropriate Shoes: The crucial element of your ice skating attire is your footwear. So, make sure you wear ice skates that fit you and align with your skill level. If you're renting skates from the rink, be sure to try them on before hitting the ice and adjust the laces accordingly.
Type of Skating Event: Picking the ideal ice skating dress is like choosing the perfect outfit for a special occasion. If you're taking a figure skating test, think simple and go for a dress in one solid color or with minimal embellishments.
Conclusion
Women can glide onto the ice in chunky sweaters, metallic-accented jackets, and lace-adorned blouses for varied looks. On the other hand, men can express themselves romantically with poet shirts or opt for a funky vibe with cool-designed shirts and skating trousers. The key to ice skating attire lies in finding the right balance between personal style and practicality.
What to Wear Ice Skating? - FAQs
Do you wear a bra with a skating dress?
It depends on the level of support the dress provides and individual chest size. If the dress offers ample support or for those with a smaller chest, wearing a bra might not be necessary.
Do skater girls wear makeup?
Yes, skater girls wear makeup to enhance showmanship on the ice and make a statement during their performances.
Why do skaters dress baggy?
Skaters choose baggy clothing for reasons such as freedom of movement, and protection, which allow them to perform their routines with ease.