One of the most stunning and well-liked cities in all of Europe is Prague, the capital of the Czech Republic. This city is on many tourists' bucket lists for good reason because of its fairytale castles, stunning 18th-century architecture, enchanting streets, scenic city center, and romantic bridges. You won't run out of things to do or places to see in Prague, whether you plan to stay for a few days or weeks.
8 Best Day Trips from Prague
Embark on a journey of discovery and explore the breathtaking surroundings of Prague with our top picks for the best day trips! From medieval castles to picturesque villages, stunning natural landscapes, and fascinating historical sites, these day trips will take you on an unforgettable adventure. So pack your bags, grab your camera, and get ready to experience the beauty and charm of the Czech Republic beyond Prague's borders!
If you love nature, Bohemian Switzerland is the place you should head for. It is the region in the country's northwest and makes up for a fantastic day trip from Prague. Numerous sandstone formations, ravines, and dense pine forests make up the varied landscape here. The Bohemian Switzerland National Park was established in January 2000 and is located on the right bank of the Elbe River.
The reason why it is one of the best day trips from Prague is that there are multiple hiking opportunities and amazing rock formations in Bohemian Switzerland which are its main attractions. The Velke Tiske Steny trail, the trail up to Bastei Bridge, and the trails up to Ruzovsk Vrch are a few of the most well-known trails.
The admission fee to this national park is €2.50 ($2.65) to €3.50 ($3.65) making it one of the most reasonably priced places for families.
The Rocks of Tisa, a collection of 30-meter-tall rock pillars, are another well-liked tourist destination! Pravická brána, Kemnitz Gorge, and Auntejn Castle are a few other well-known attractions nearby. Driving is the quickest way to get from the city center to Bohemian Switzerland. The trip typically takes two hours if you go by car.
You should switch if you prefer to take public transportation. The fastest method is to take a train from Prague to Děčín, which takes about one hour and forty minutes. Once in Děčín, you must board a bus that will take you in between 30 and 40 minutes to Hensko.
One of the best day trips from Prague is to Kutná Hora. Due to its architecture, Kutná Hora's center was named a UNESCO World Heritage Site in 1995.
Sedlec Ossuary, also referred to as the "Church of Bones" or the "Bone Church," is one of the major attractions. It is one of the most unusual churches in the world because it is crafted with more than 40,000 human skeletons and features artwork that also incorporates human bones.
St. Barbara's Cathedral, which was built in 1338 and is a UNESCO World Heritage Site, is another well-liked attraction in Kutna Hora. The former Royal Palace and Royal Mint is now known as the Italian Court, and it is situated within Kutná Hora. The popular Czech Museum of Silver provides an interesting perspective on the city's vast mining history.
Kutná Hora can be reached by car or public transportation and is located about 80 kilometers from Prague. The trip will take about 1 hour and 30 minutes if you rent a car. Apart from this, every hour, direct buses depart from the city and take almost 1 hour and 40 minutes.
Signing up for a guided tour that takes you through the magnificent medieval center of Kutna Hora is a lovely way to see all the main attractions in the city.
Special Advise: Travel Explained
During World War II, Terezin was established as a concentration camp. One of the most terrifying reminders of the Nazi occupation is the Terezin concentration camp, which is about an hour's drive from Prague. Terezin was once a vacation spot for the nobility of the Czech Republic, but by 1940, Nazi Germany had transformed it into a Jewish concentration camp and ghetto.
Over 150,000 Jews in total, including 15,000 children, were transported to Terezin. Before being transferred to concentration camps, some people were detained there for years. Unfortunately, only 17,000 of the 150,000 people who were sent here survived.
It is highly recommended to take a guided tour if you want to learn more about the tragic and migrating history of Terezin Concentration Camp. Before visiting the Terezin Memorial to pay your respects, you'll learn about the lives of the prisoners and the tragic events that occurred here with the help of a knowledgeable guide.
The admission price of a ticket for adults costs 230 CZK ($10.31 while for children, it is 210 CZK ($9.1). In case you don't have transport, you can go via a tour operator such as Prague Tours Direct. They offer a complete package including transportation from Prague as well as guides. The charges are as follows
Adults (6+) – 1390 CZK ($62.31)
Children (Up to 6 Years) – 1290 CZK ($57.83)
Students (7 – 18 Years) – 1350 CZK ($60.52)
The ghetto is enclosed by the region's Large Fortress, while torture and interrogation took place in the Small Fortress across the Ohre River. The entire complex is open for exploration by visitors. It will take you about 5 hours including the transportation for this day trip.
Terezin can be visited on a guided tour from Prague, but taking public transportation will cost you the least amount of money. The trip takes about an hour by bus, but it goes by slightly more quickly by train. This is one of the best day trips from Prague for someone who is interested to learn more about the history of the Czech Republic.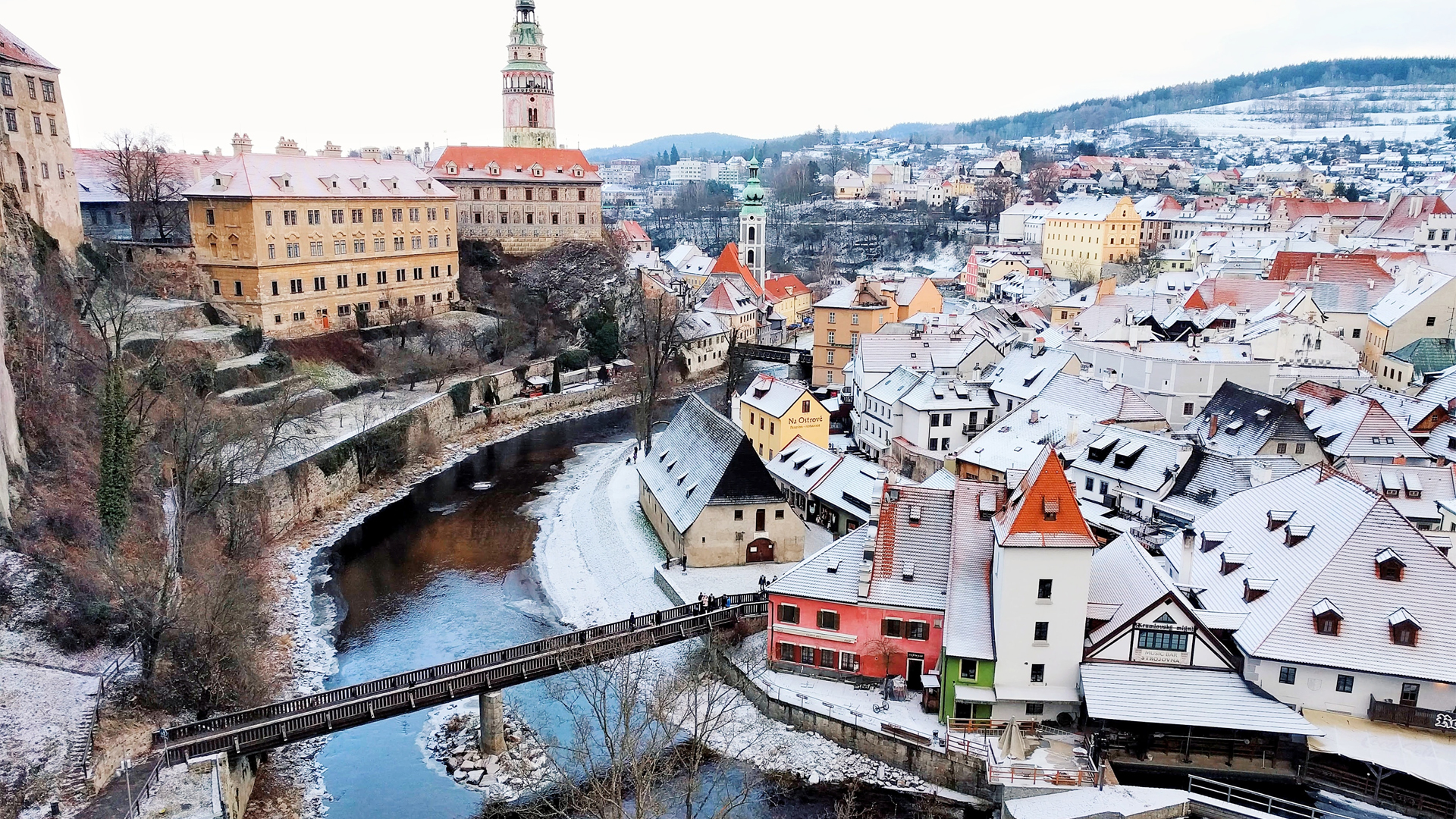 Cesky Krumlov, one of Eastern Europe's best-preserved walled towns, is second only to Prague in terms of attracting visitors to the Czech Republic. Because of the numerous magnificently preserved 14th-century structures that line its curving streets, the entire Old Town center has actually been designated a UNESCO World Heritage Site.
The town is also well-known for its Gothic and Renaissance architecture, as well as for Cesky Krumlov Castle, which is its main attraction. The medieval castle, which dates back to 1240, is home to a number of attractions, such as the Castle Tower, the Cloak Bridge, and the Castle Garden. This is why we recommend Cesky Krumlov as one of the best day trips from Prague.
On a Cesky Krumlov day trip from Prague, you can visit the castle and explore the old town with a guide to learn more about its lengthy history. This entertaining 10-hour tour begins with a beautiful air-conditioned coach ride through the Bohemian countryside, followed by a visit to the castle and old town, with time to wander around on your own, before heading back to Prague.
Renting a car is the most practical way to get to Cesky Krumlov. It takes about 2 hours and 30 minutes to drive there. Cesky Krumlov is also accessible by bus or train. One of the least expensive options is the bus, which travels directly and takes about 3 hours.
Editor's Pick: Exploring Downtown Miami: 7 Best Things to Do
More than a dozen effective hot springs, some of which shoot water jets 14 meters into the air, have long made Karlsbad, the more commonly used German name for Karlovy Vary, a popular health resort.
Karl IV, Holy Roman Emperor, is actually credited with discovering and popularizing these magnificent springs in 1358. But there are other activities besides just soaking in the area's famous mineral waters. Amazing Neoclassical and Art Nouveau spring houses, colonnades, and fountains constructed during the spa's heyday in the late 19th and early 20th centuries are everywhere in the city.
Be sure to stop by one of Karlovy Vary's many spas and wellness facilities. Body wraps, massages, hydrotherapy sessions, and baths are among the available treatments. Even some of the spas have outdoor pools with breathtaking views. The Karlovy Vary Museum, the Church of St. Lucas, and the Diana lookout tower are some additional attractions in the city.
Buses are the cheapest and fastest way to travel to Karlovy Vary, and they leave from Praha Florenc, the city's main bus station, every hour. The trip takes just over two hours, and once you get there, you can walk to all the town's major attractions.
You could make a brief detour and visit Krivoklat Castle on your way back to Prague if you decide to drive yourself to Karlovy Vary because it is a little quicker. Out of the city center, turn west and take Route 6, which will take you right to Karlovy Vary. Although there are tolls on this route, you should arrive in less than 2 hours.
Related: Top 10 Things To Do On Your Day Trips From San Francisco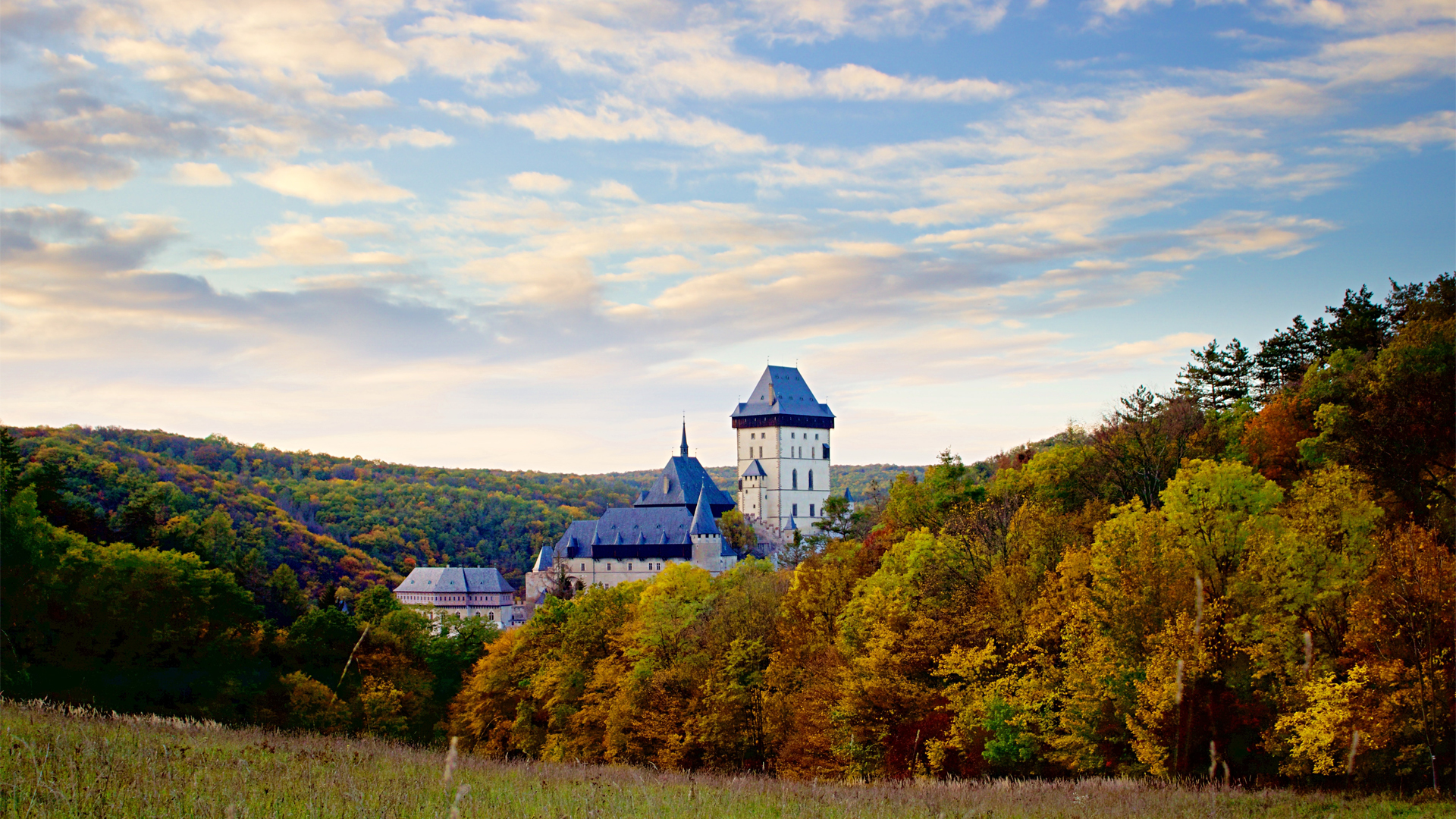 About 35 kilometers outside of Prague is the large gothic castle known as Karlštejn Castle. It is one of the most well-known castles in the nation, drawing up to 200,000 tourists a year. The Bohemian crown jewels, holy relics, and other valuables were kept in the castle, which was built in 1348, until the 17th century.
Prepare to be awed by the majestic Church Tower and the impressive Great Tower, both of which will leave you breathless with their intricate designs and historical significance The Chapel of the Holy Cross is a true treasure trove, containing 129 exquisite paintings by the renowned Master Theodoric.
Step back in time as you marvel at his incredible artwork, each piece providing a glimpse into the medieval world that once surrounded the castle. A large gallery of portraits of the Bohemian Kings and a replica of the Royal Crown of Bohemia are also present.
For history geeks, this is one of the best places to visit from Prague. Why? Because the town of Karlštejn is home to two museums: the Museum of Nativity Scenes, which displays old Czech nativity scenes made of wood, wax, and even sugar, and the Clock Museum, which houses a collection of more than 1,000 clocks from around the globe.
The admission fee is 240 CZK ($10.72) / person to this castle.
Also nearby the castle is the tiny Karlštejn Wax Museum. The region behind the castle is a well-liked hiking area with dense forests, melodious streams, cliffs, and the well-known Velka Amerika deserted rocks.
Due to its architecture, history, and accessibility, Karlstejn Castle is one of the best day trips from Prague. If you can't rent a car, your best option for traveling to the castle is to take the train. The trip from the city takes about 45 minutes, and trains run frequently all day. As a result, it ranks among the top quick day trips from Prague.
An enjoyable day trip from Prague is to the Skoda Auto Museum in Mladá Boleslav, which honors the accomplishments of one of only four automakers with a 100-year uninterrupted history worldwide.
A number of fascinating exhibits can be found in this entertaining museum, including a gallery showcasing engine development from the early 20th century to the present day and a look at the decades of vehicle production that have taken place here.
Other highlights include the opportunity to observe the car-building process at Skoda, as well as seeing a variety of vintage machines in operation and many classic cars on display.
The cost of admission is CZK 260 ($11.62).
While in Mladá Boleslav, you should also stop by the 17th-century Chateau Mnichovo Hradiště, which is notable for housing the chapel where the famous warrior Albrecht von Wallenstein (Valdstejn), who fought in the 30 Years' War, was laid to rest. It also has exhibits of Delft pottery and porcelain miniatures with Japanese and Chinese origins.
A private, round-trip tour departing from Prague will show you the top attractions at the Skoda Factory in just half a day. In the morning, meet your guide at your hotel in Prague, and then depart in your private vehicle. After traveling for about an hour, arrive in Mlada Boleslav and start exploring.
Formerly the capital of Moravia, Olomouc is now a large city in the Czech Republic that is usually ignored by tourists. The Holy Trinity Column, a UNESCO World Heritage Site, is located in Olomouc's historic district. The Church of St. Maurice, the Church of the Virgin Mary of Snow, and St. Michael's Church are just a few of the churches in Olomouc's historic center.
Due to its Neo-Gothic towers, St. Wenceslas Cathedral, the second-tallest church in the Czech Republic, is a well-liked tourist destination. During your trip, you should also pay the Olomouc Castle and Archdiocesan Museum a visit.
Pivovar Riegrovka and Moritz Taverne Brewery are two great quality breweries in the city if you enjoy beer. There are several guided tours offered for this place and you can book them directly via the website provided above.
A half-day tour to this place can cost you somewhere around 4,697 CZK ($210) including the guide and transportation. If you just consider the admission to Romanesque Palace, it will cost you 89 CZK ($4) only.
In Prague, Holesovice is regarded as one of the hippest neighborhoods. Holesovice has been nicknamed one of the coolest neighborhoods in Europe, and it's not surprising given that it's home to hip bars, art galleries, and trendy cafes.
The National Technical Museum, which is devoted to preserving data and artifacts relating to the development of the Czech Republic's transportation history, is one of the best places to visit in this Prague neighborhood. Letná Park, Prague Market, and Krizik Fountain are a few more well-liked tourist attractions. Holesovice is renowned for its vibrant arts and cultural scene.
The complete tour of this place will cost you around 1,185 CZK ($52) including a guide which will take about 4 hours.
Numerous well-known art galleries are located there, including the DOX Center for Contemporary Art, Trafo Gallery, and Veletri Palác, a branch of the National Gallery of Prague. Holesovice can be reached easily because it is a part of Prague. If you have the energy, you can choose to walk, which will take you 50 minutes. Alternatively, you can take a taxi, bus, train, public transportation, or the subway.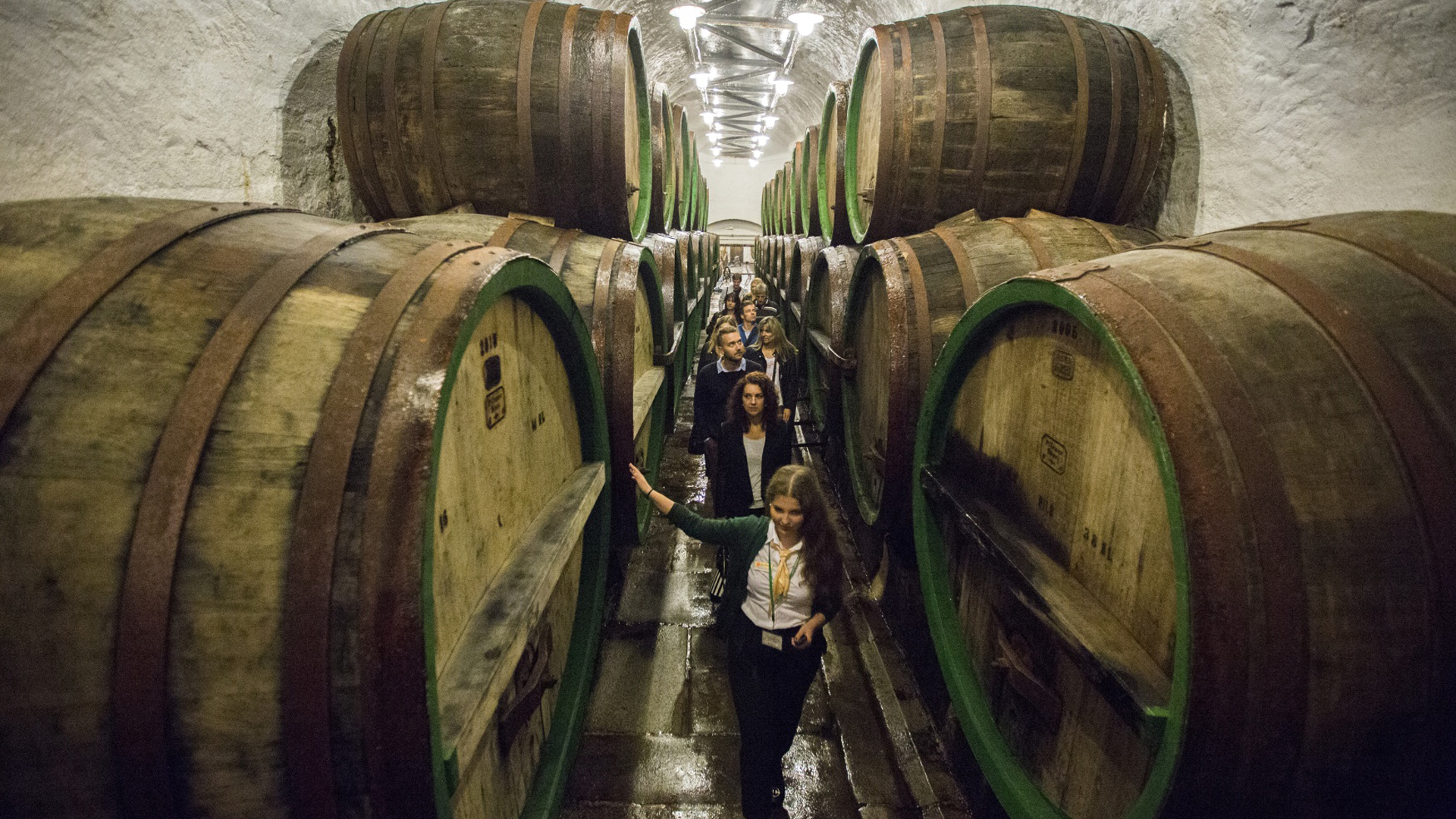 A visit to the Pilsner Urquell Brewery, the site of the invention of modern beer, is practically a pilgrimage for fans of the amber liquid. In a nation with some very fierce competition, Pilsner Urquell's house brew is regarded as the gold standard for beer. Plze's main draw is its 70-minute guided tours of the brewery, but the town's Brewery Museum is also interesting to visit.
Explore the city's extensive underground tunnels, which were used for both beer production and defense, before you give up on the beer theme. Everything can be reserved in advance online through the brewery website.
The city that encircles the brewery is the second-largest in the Bohemian province (after Prague), and it has some fantastic museums and dining options. To take advantage of the calmer atmosphere after day visitors have returned to Prague, it is definitely worth staying overnight.
Consider some delicious pub fare and local beer to go along with it, keeping with the beer theme. The brewery's grounds include Na Spilce, and tours conveniently end at its front door. A second well-liked bar, Na Parkánu, is located close to the Brewery Museum.
By car, bus, or train, it takes about 1 hour and 30 minutes to travel from Prague to the city. Along the D5 highway, the route is a direct southward direction. Transportation options from Prague to Pilsner Urquell Brewery include half-hourly bus services from the Zličín metro station on Line B (yellow) as well as train services departing from Prague's main station.
Suggested Reading: The 8 Best Breweries in Seattle for an Enchanting Experience!
Things to Consider When Going on Day Trips from Prague
Our team took the following things into consideration before choosing the best day trips from Prague.
Make Some Price Comparisons — Shopping, touring museums and other tourist attractions might be included in your excursion. If you call or make your purchase online, you can frequently find considerable discounts for tickets and groups. Fortunately, some of Europe's most picturesque locations are accessible for free or at a low parking cost. State and national parks like Bohemian and Saxon Switzerland National Parks provide scenic beauty, opportunities to see wildlife, and other outdoor pursuits. If you're a student, senior, or serviceman, you can receive discounts for attractions like theaters, museums, and amusement parks.
Prioritize Safety When You Travel — Although you already have one at home, you also require a first aid kit for your car. Even on a day trip, an emergency can happen, so you need to be ready. It's simple to put together a basic first aid kit or buy one already assembled. Make sure your car has undergone a safety check before you drive. Keep an emergency supply kit with a tire jack, jumper cables, flashlight, and other essentials. You'll be fortunate to have them in an emergency
Start your Trip Early — Luxuries for vacation days include sleeping in and taking extended naps. On a day trip, however, you don't want to spend the entire time sleeping. You'll have more time to explore and take in the journey if you start your trip earlier. Making all your preparations in advance will help you get off to a good start.
Consider Going on a Group Day Trip — You can plan day trips and staycations for traveling alone, with a partner, or with your family. Group day trips on passenger trains and chartered buses are one choice that is gaining popularity. Less money is spent on the larger the group of family and friends. It's always advantageous to have people who can help split the costs. Anybody who wants to reserve a seat is welcome on some of the advertised group day trips. You'll get to socialize with new people and travel to some of your favorite places.
How Do We Pick Our Recommendations?
After extensive exploration and evaluation of the facilities, leisure options, and other crucial factors, a number of the best options have been selected. We also considered the feelings of the other visitors. We've compiled a list of the top day trips from Prague based on our research by our travel team, who has been to several other countries in the world including The United Arab Emirates and The United Kingdom.
Conclusion
The beautiful city of Prague, the Czech Republic's capital, is an excellent starting point for an adventure. You'll find plenty of things to do outside the city, whether you're looking for historical castles and charming medieval streetscapes, cultural experiences at art galleries and museums, or a chance to just take in the scenery. A day trip is an ideal way to regain some privacy and revitalize after the crowds of central Prague.
Day Trips from Prague - FAQs
Which is the best day trip in Prague for relaxing?
Bohemian Switzerland is one place that nature lovers tend to enjoy because of the cool vibes, gorges, and hiking trails.
Which place near Prague is known for exceptional beer?
The Pilsner Urquell Brewery is one of the best places offering different types of beer with tastes that you wouldn't have had before.
Which is a UNESCO World Heritage Site close to Prague?
Kutná Hora is a UNESCO World Heritage Site close to Prague.