One of the most stunning and well-liked cities in all of Europe is Prague, the capital of the Czech Republic. This city is on many tourists' bucket lists for good reason because of its fairytale castles, stunning 18th-century architecture, enchanting streets, scenic city center, and romantic bridges.
You won't run out of things to do or places to see in Prague, whether you plan to stay for a few days or weeks.
10 Best Day Trips from Prague
From medieval castles to picturesque villages, stunning natural landscapes, and fascinating historical sites, these day trips will take you on an unforgettable adventure. So pack your bags, grab your camera, and get ready to experience the beauty and charm of the Czech Republic beyond Prague's borders!
If you love nature, Bohemian Switzerland is the place you should head for. Numerous sandstone formations, ravines, and dense pine forests make up the varied landscape here. The Bohemian Switzerland National Park was established in January 2000 and is located on the right bank of the Elbe River.
Natural Landscape: Featuring unique sandstone formations, deep ravines, and lush pine forests offering picturesque views.
Hiking Trails: Popular trails like Velke Tiske Steny provide breathtaking scenery and are suitable for various skill levels.
Key Attractions: The Rocks of Tisa and the iconic Pravická brána are must-visit landmarks for their natural beauty.
Accessibility and Cost: Easily reachable by car or public transport, the park is an affordable family destination.
Nearby Attractions: Explore additional sites like Kemnitz Gorge and the historical Auntejn Castle.
Admission fee: The admission fee to this national park is €2.50 ($2.65) to €3.50 ($3.65) making it one of the most reasonably priced places for families.
Historical Significance: Due to its stunning medieval architecture, Kutná Hora's center was named a UNESCO World Heritage Site in 1995.
Major Attractions: Sedlec Ossuary. a unique church decorated with over 40,000 human skeletons, showcasing an intriguing aspect of historical art. Visit St. Barbara's Cathedral for its gothic beauty and the Italian Court for royal history.
Czech Museum of Silver: Offers insights into the region's rich mining and silver production history.
Travel Options: Kutná Hora can be reached by car or public transportation and is located about 80 kilometers from Prague. The trip will take about 1 hour and 30 minutes if you rent a car.
Special Advise: Travel Explained
One of the most terrifying reminders of the Nazi occupation is the Terezin concentration camp, which is about an hour's drive from Prague. Over 150,000 Jews in total, including 15,000 children, were transported to Terezin. Before being transferred to concentration camps, some people were detained there for years.
Historical Background: A stark reminder of the atrocities of WWII, offering a deep understanding of Jewish history during the Nazi occupation.
Guided Tours: Provides comprehensive insights into the grim realities faced by prisoners, enhancing the historical context.
Tour Packages: In case you don't have transport, you can go via a tour operator such as Prague Tours Direct. They offer a complete package including transportation from Prague as well as guides. The charges are as follows
Adults (6+) – 1390 CZK ($62.31)
Children (Up to 6 Years) – 1290 CZK ($57.83)
Students (7 – 18 Years) – 1350 CZK ($60.52)
Memorial Visit: An opportunity to pay respects and reflect on the historical significance of the site.
Complex Exploration: The Large and Small Fortress areas are open for visitors, offering a detailed look into the camp's layout and function.
Admission price: The admission fee for adults costs 230 CZK ($10.31 while for children, it is 210 CZK ($9.1).
Cesky Krumlov, is one of Eastern Europe's best towns. Because of the numerous magnificently preserved 14th-century structures that line its curving streets, the entire Old Town Center has actually been designated a UNESCO World Heritage Site.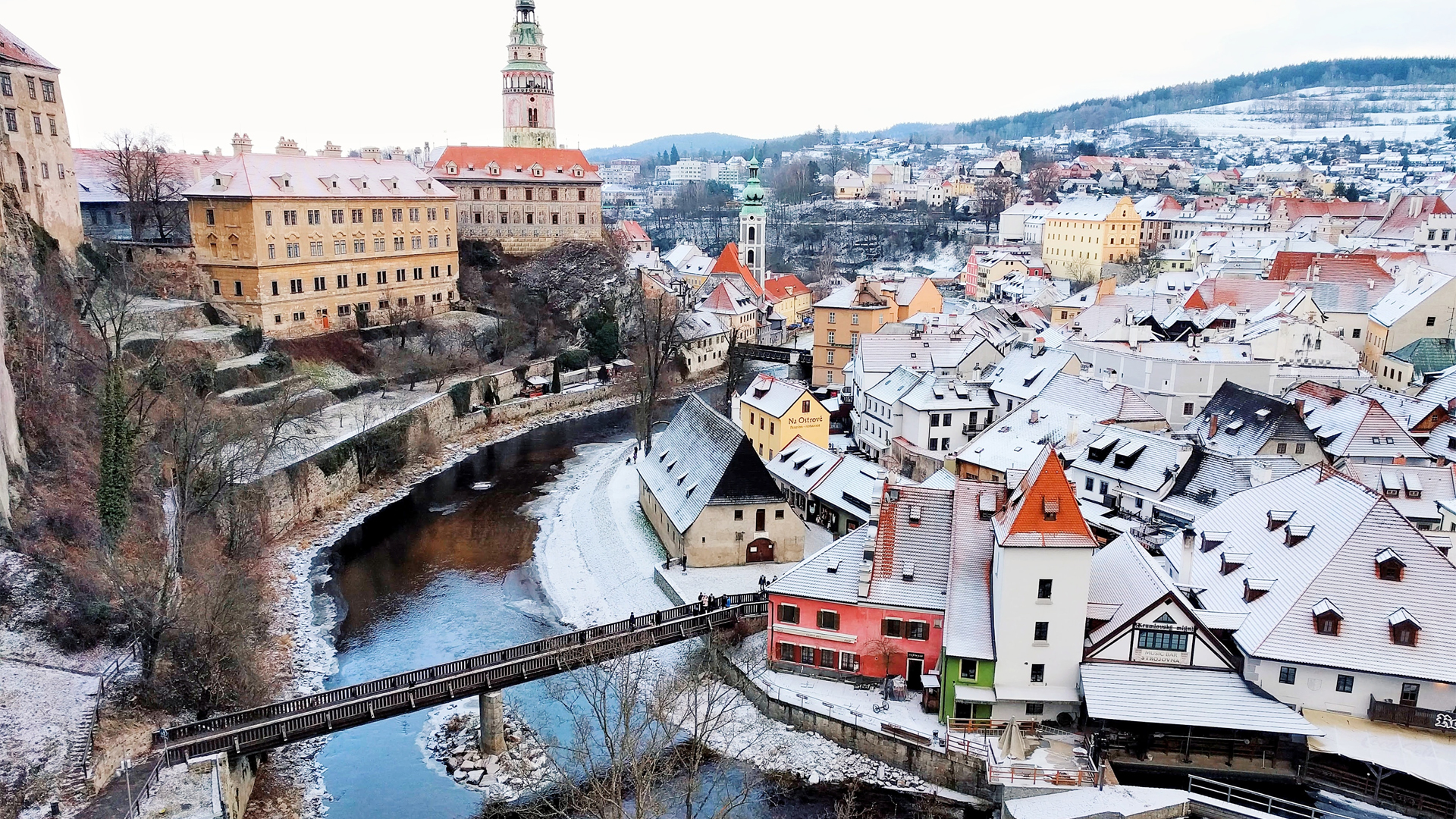 Preserved Medieval Town: The town's entire Old Town center is a beautifully preserved area, offering a journey back in time.
Castle Exploration: The castle is a repository of history, housing various significant artifacts and offering panoramic views.
Guided Tour Options: Guided tours provide historical insights and include visits to both the castle and the old town.
Travel to Cesky Krumlov: Accessible via a scenic coach ride through the Bohemian countryside, adding to the experience.
Tour Duration: A full-day excursion, typically around 10 hours, including travel and exploration time.
Editor's Pick: Exploring Downtown Miami: 7 Best Things to Do
Karlovy Vary, often known as Carlsbad, is renowned for its remarkable and unique features. The town's cultural richness, historical significance, and natural beauty collectively make it a truly enchanting and memorable place to visit.
Hot Springs: The town's springs are famous for their therapeutic properties, attracting visitors for health and relaxation.
Architectural Beauty: Admire the town's striking Neoclassical and Art Nouveau buildings, adding to its charm.
Wellness Treatments: A variety of spa treatments are available, offering a complete wellness experience.
Additional Attractions: Explore cultural sites like Karlovy Vary Museum, the Church of St. Lucas, and the iconic Diana lookout tower for panoramic views.
Transportation: Buses offer a convenient and economical way to reach Karlovy Vary from Prague, and they leave from Praha Florenc, the city's main bus station, every hour.
Related: Top 10 Things To Do On Your Day Trips From San Francisco
About 35 kilometers outside of Prague is the large Gothic castle known as Karlštejn Castle. It is one of the most well-known castles in the nation, drawing up to 200,000 tourists a year.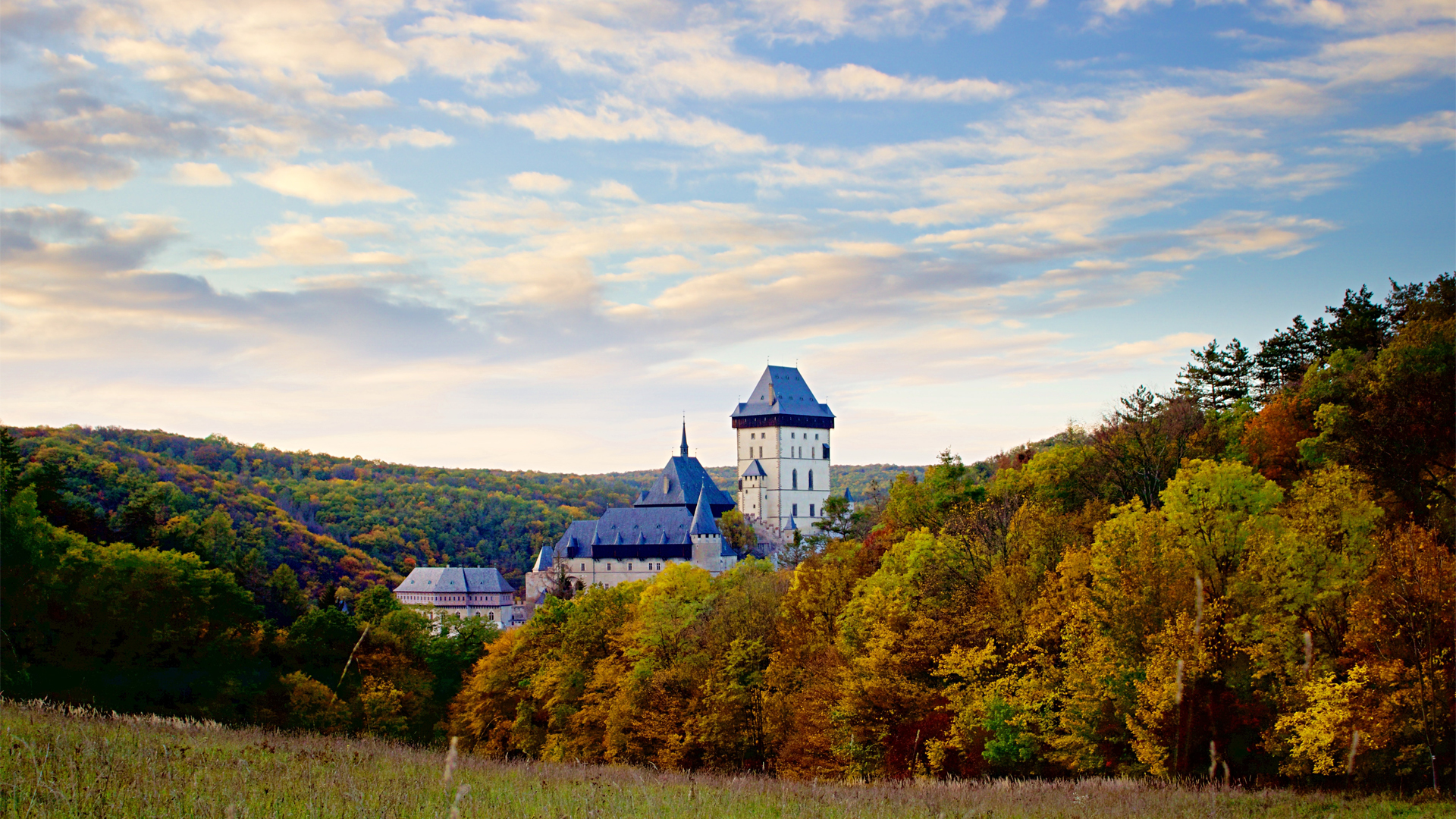 Historical Significance: The castle is a symbol of the nation's medieval history, formerly housing significant royal and religious relics.
Architectural Highlights: Features like the Church Tower and Chapel of the Holy Cross showcase impressive Gothic architecture and art.
Museum Visits: Nearby museums offer a glimpse into the region's history and cultural heritage.
Hiking Opportunities: Surrounding trails provide a natural escape with scenic forest views and tranquil streams.
Access from Prague: The castle is one of the most accessible historical sites in Prague, with frequent train services.
Admission fee: The admission fee is 240 CZK ($10.72) / person to this castle.
An enjoyable day trip from Prague is to the Skoda Auto Museum in Mladá Boleslav, which honors the accomplishments of one of only four automakers with a 100-year uninterrupted history worldwide.
Exhibit Highlights: Features an array of classic cars and showcases the technological advancements in engines.
Additional Attractions: The nearby Chateau Mnichovo Hradiště adds a historical dimension to the visit.
Tour Availability: Offers an in-depth experience with half-day tours available from Prague, ideal for car enthusiasts.
Entry Fee: Admission is CZK 260 ($11.62) making it an accessible attraction for visitors.
A historical gem, Olomouc is a culturally rich city in the Czech Republic. The Olomouc Castle adds to the city's historical allure. Beer lovers can also enjoy local brewery experiences, making Olomouc a diverse and intriguing day trip destination.
Historical Legacy: Once the capital of Moravia, now a significant yet often overlooked city in the Czech Republic.
Religious Monuments: Home to the UNESCO-listed Holy Trinity Column, St. Wenceslas Cathedral with striking Neo-Gothic towers, and other historic churches.
Cultural Sites: Olomouc Castle and the Archdiocesan Museum offer glimpses into the region's rich history.
Brewery Experience: Features notable breweries like Pivovar Riegrovka and Moritz Taverne Brewery for beer enthusiasts.
Tour Options: Guided half-day tours costing around 4,697 CZK ($210) including guide and transportation services.
Nestled in Prague, Holesovice stands out as one of Europe's coolest neighborhoods, appealing especially to art enthusiasts. Easily accessible within Prague, Holesovice offers a dynamic urban experience.
Urban Trendiness: Recognized as one of Europe's coolest neighborhoods, located in Prague.
Arts and Culture: Hosts a lively arts scene with hip bars, art galleries, and cafes.
Museums and Parks: Includes the National Technical Museum, Letná Park, and Krizik Fountain among its attractions.
Artistic Venues: Features prominent galleries like the DOX Center for Contemporary Art and Trafo Gallery.
Accessibility and Costs: Easily accessible within Prague; a 4-hour guided tour costs about 1,185 CZK ($52).
A visit to the Pilsner Urquell Brewery, the site of the invention of modern beer, is practically a pilgrimage for fans of the amber liquid. In a nation with some very fierce competition, Pilsner Urquell's house brew is regarded as the gold standard for beer.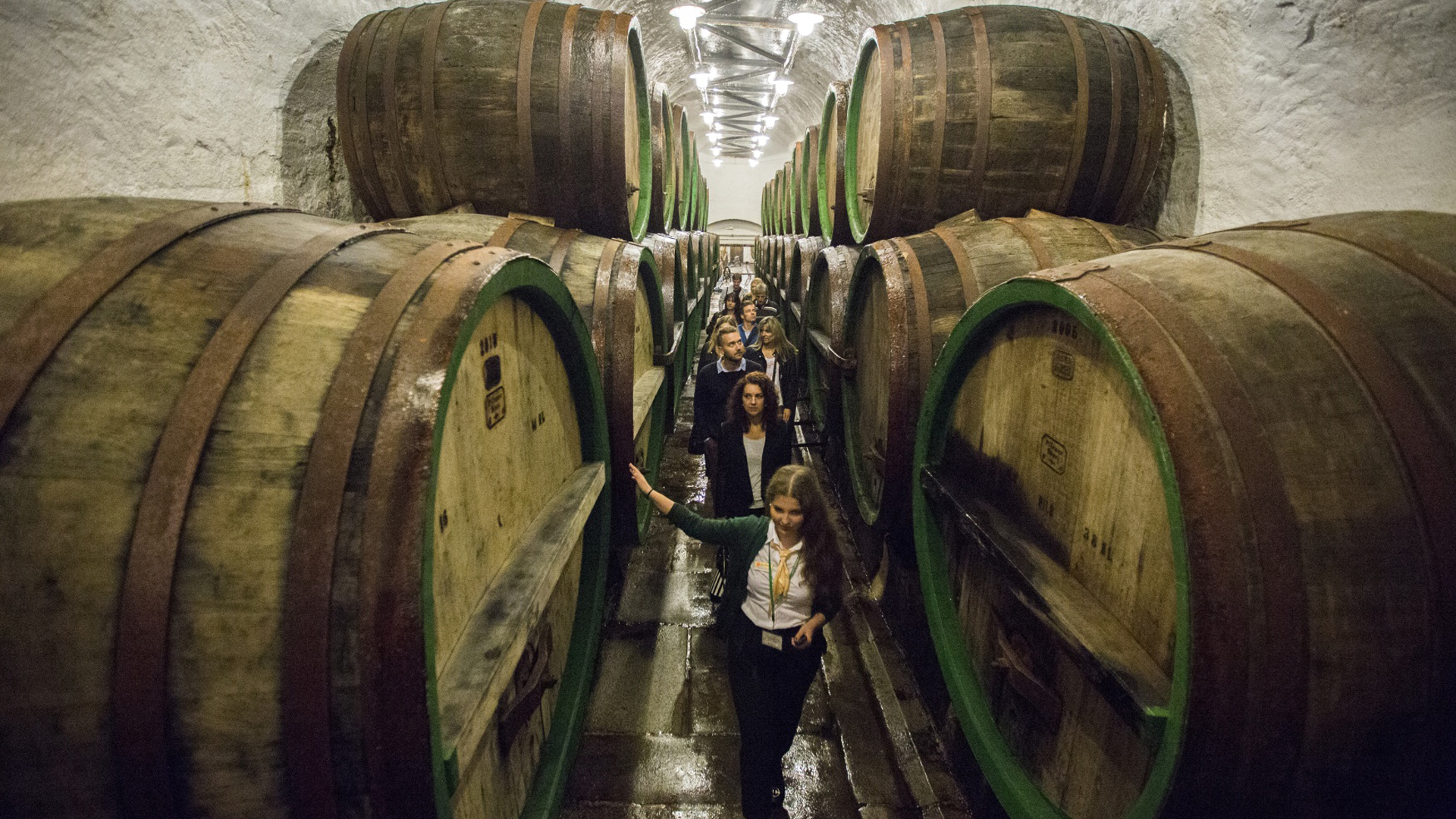 Brewery Pilgrimage Site: Known as the origin of modern beer, it offers a unique experience for beer lovers.
Guided Tours and Museum: Provides 70-minute tours of the brewery and an informative Brewery Museum.
Historical Exploration: Visitors can explore the city's historical underground tunnels used for beer production.
Local Dining and Bars: Includes Na Spilce bar within the brewery grounds and Na Parkánu near the Brewery Museum.
Travel and Stay: Approximately 1.5 hours from Prague by various means; overnight stay recommended for a complete experience.
Suggested Reading: The 8 Best Breweries in Seattle for an Enchanting Experience!
Things to Consider When Going on Day Trips from Prague
Our team considered the following things before choosing the best day trips from Prague.
Make Some Price Comparisons — Shopping, touring museums, and other tourist attractions might be included in your excursion. If you call or make your purchase online, you can frequently find considerable discounts for tickets and groups. Fortunately, some of Europe's most picturesque locations are accessible for free or at a low parking cost. State and national parks like Bohemian and Saxon Switzerland National Parks provide scenic beauty, opportunities to see wildlife, and other outdoor pursuits. If you're a student, senior, or serviceman, you can receive discounts for attractions like theaters, museums, and amusement parks.
Prioritize Safety When You Travel — Although you already have one at home, you also require a first aid kit for your car. Even on a day trip, an emergency can happen, so you need to be ready. It's simple to put together a basic first aid kit or buy one already assembled. Make sure your car has undergone a safety check before you drive. Keep an emergency supply kit with a tire jack, jumper cables, flashlight, and other essentials. You'll be fortunate to have them in an emergency
Start your Trip Early — Luxuries for vacation days include sleeping in and taking extended naps. On a day trip, however, you don't want to spend the entire time sleeping. You'll have more time to explore and take in the journey if you start your trip earlier. Making all your preparations in advance will help you get off to a good start.
Consider Going on a Group Day Trip — You can plan day trips and staycations for traveling alone, with a partner, or with your family. Group day trips on passenger trains and chartered buses are one choice that is gaining popularity. Less money is spent on the larger group of family and friends. It's always advantageous to have people who can help split the costs. Anybody who wants to reserve a seat is welcome on some of the advertised group day trips. You'll get to socialize with new people and travel to some of your favorite places.
How Do We Pick Our Recommendations?
After extensive exploration and evaluation of the facilities, leisure options, and other crucial factors, a number of the best options have been selected. We also considered the feelings of the other visitors. We've compiled a list of the top day trips from Prague based on our research by our travel team, who has been to several other countries in the world including The United Arab Emirates and The United Kingdom.
Conclusion
The beautiful city of Prague, the Czech Republic's capital, is an excellent starting point for an adventure. You'll find plenty of things to do outside the city, whether you're looking for historical castles and charming medieval streetscapes, cultural experiences at art galleries and museums, or a chance to just take in the scenery. A day trip is an ideal way to regain some privacy and revitalize after the crowds of central Prague.
Day Trips from Prague - FAQs
Which is the best day trip in Prague for relaxing?
Bohemian Switzerland is one place that nature lovers tend to enjoy because of the cool vibes, gorges, and hiking trails.
Which place near Prague is known for exceptional beer?
The Pilsner Urquell Brewery is one of the best places offering different types of beer with tastes that you wouldn't have had before.
Which is a UNESCO World Heritage Site close to Prague?
Kutná Hora is a UNESCO World Heritage Site close to Prague.