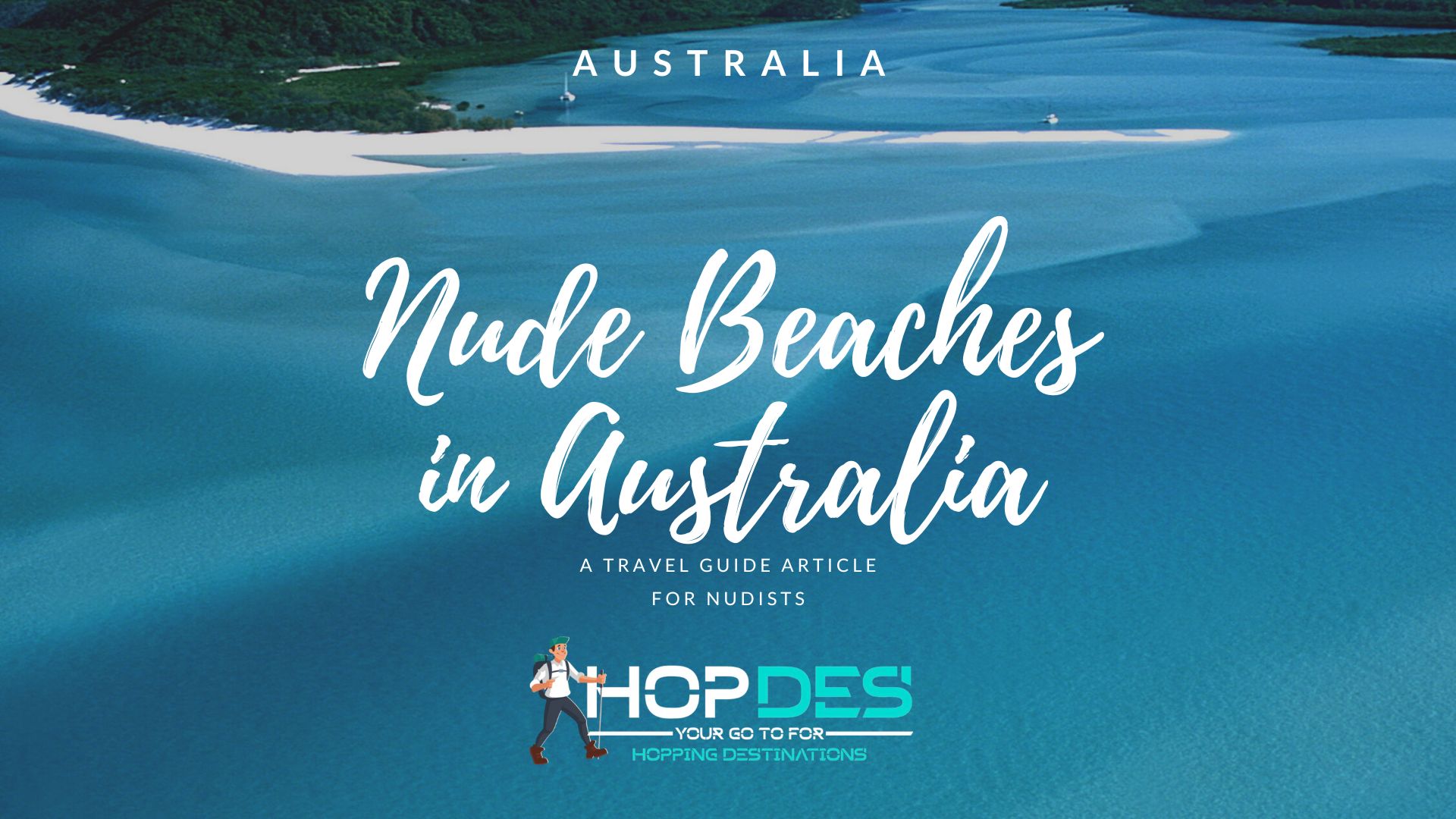 From the golden sands of Byron Bay to the remote stretches of Tasmania's coast, there are plenty of Nude Beaches in Australia that beckon travelers seeking a unique and natural escape.
There are beaches where you may be alone with the sun, sand, waves, and not a stitch of clothes between you and your environment. Sydney, with its small number of officially sanctioned nude beaches, is surprisingly one of the greatest locations in the world to go skinny dipping.
In reality, New South Wales alone sets the standard for all of Australia with its 20 designated "clothing optional" beaches.
Must Read Before Visiting Australia: Worst Time to Visit Australia – Months to Avoid
Best Nude Beaches in Australia
Here is a rundown of Australia's top nude beaches, where you can shed your clothing, your worries, and even that pesky back tan line in favor of a more revealing display of your tan.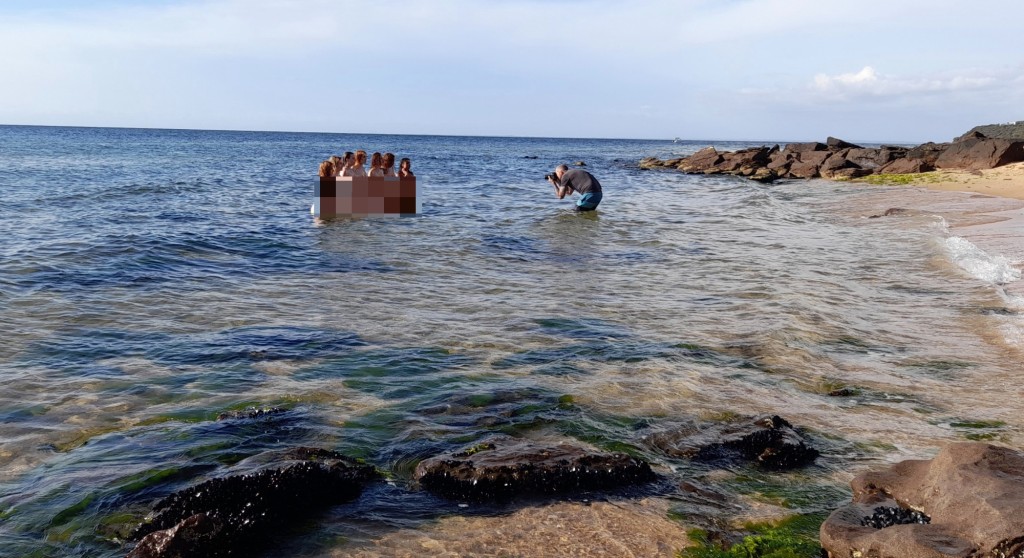 Nestled within the Mornington Peninsula, Sunnyside (North) Beach boasts a tranquil and picturesque setting. Surrounded by rolling dunes and lush coastal vegetation, this pristine beach provides a serene and unspoiled backdrop for sun-seekers and nature enthusiasts alike.
The diverse visitors at Sunnyside (North) Beach include families, couples, and singles who come to enjoy the beach in peace or to enjoy the anonymity of the nudist scene. Sunnyside North Beach is an approved optional dress (i.e. nude) beach, and can only be reached on foot by navigating the rocks.
The entire beach has a rocky coastline, although there is a vast and relatively short stretch of sandy land farther back from the ocean. The southernmost tip is once again a rocky headland and a slimy drain or drain trickles onto the stony shoreline. The turquoise ocean is calm and there is no one on the beach to see you undress.
The local council in Mount Eliza is evaluating the clothing-optional status of this beach, a move that was championed by residents of the area. The rigorous Covid-19 lockdowns in Melbourne meant that only residents could access the beach, allowing the nudist population to take advantage of the chance to swim without being seen.
Locals have sought to have the nude beach shut down before. The signs were reviewed in 2006 and decided to stay despite complaints from locals. Today, it stands as one of the best nude beaches in Australia.
Mosman, New South Wales, Australia is home to a nudist beach known as Obelisk Beach, which is located inside Obelisk Bay. Located in Sydney Harbour National Park, the beach is located on the harbor's southern shore, opposite Middle Head.
The beach was frequented for picnics and paintings by painters including Herbert Reginald Gallop in the early 20th century. There are a lot of gay males there, and some even say it is a gay-friendly beach. Obelisk, a little naked enclave right off Middle Head, is known for its peace. It is a bit of a trek down some steps to get to this small salty nudist refuge, but the distant vistas of Camp Cove, Parsley, Watsons Bay, and Vaucluse are well worth the effort.
If you are in the mood for some natural fun, head on down to Obelisk Beach, one of the few legal nude beaches in Sydney. This little beach is at the foot of a lengthy flight of stairs, so plan on parking up the hill and walking quite a ways to get here.
Obelisk Beach boasts an idyllic setting, with crystal-clear waters and soft golden sands stretching along its shoreline. Surrounded by lush greenery and stunning cliffs, the beach provides a visually stunning backdrop for sunbathers and swimmers to unwind and connect with nature.
This peaceful beach is nonetheless well-liked by the locals due to its peaceful atmosphere and the fact that it has not been found by crowds of visitors. The discreet positioning of the beach also contributes to a greater sense of privacy for those embracing the clothing-optional lifestyle. This aspect also makes it one of the top nude beaches in Australia.
Recommended Read: Does it Snow in Australia: A Myth or Reality?
Cable Beach in Broome is known all over the globe for its 22 kilometers of pristine white sand, Turquoise Ocean, and breathtaking sunsets over the Indian Ocean. Seeing all of the tropical beauty from the comfort of a camel train, however, is what elevates this activity to the top of the must-do list.
It is just an eight-minute drive or bus ride from Broome's settlement to Cable Beach, and there are direct flights from Perth, Melbourne, and Sydney all year round, in addition to connecting flights from all other Australian major cities. The beach was given its name when the telegraph line that connected Broome and Java in 1889 became an integral part of the city's history.
Cable Beach is one of Australia's most well-known nudist beaches. The clothing-optional zone begins 17 kilometers (11 miles) from the parking lot, at the northern end of the beach access road, and extends to the mouth of Willie Creek. Cable Beach has calm waters; however, the stingray season runs from December to April.
With an average annual temperature of around 30 degrees Celsius (86 degrees Fahrenheit), visitors can revel in the inviting warmth of the sun's rays on their bare skin.
Near the northern end of the beach, past the rocky area, camel rides are available before and after dawn and sunset. Near Cable Beach lies the Malcolm Douglas Crocodile Park, which is home to 30 crocodiles of all ages that were captured from the wild after posing a danger to people.
Cable Beach's natural beauty is unparalleled, offering a breathtaking backdrop for sunbathing in the buff. The unspoiled coastline, coupled with the dramatic Indian Ocean waves crashing in the distance, creates a captivating environment that enchants visitors from around the globe.
Suggested Reading: Top 9 Nude Beaches in Florida: Clothing Optional Hotspots
Maslin Beach, South Australia, is a beachside neighborhood of Adelaide. Onkaparinga is the city where it is located. The section of the beach to the south was designated as Australia's first nudist beach in 1975.
The designated area for nude swimming is spread out over the beach's almost 3 km (1.9 mi) length. Casual activities such as three-legged races and "best bum" awards are held during the annual Maslin Beach Nude Olympics. Activities like these make it the best nude beach in Australia for outdoor games.
The Pilwarren Maslin Beach Nude Games are the official name for this event. Maslin Beach is home to three different parks. Three of these may be found near one another: at the top of the steps, on Beachway Avenue, and Parkway Avenue near the town hall.
Maslin Beach is wonderful since it is just 45 kilometers south of Adelaide and can be reached by public transportation. You may get to Noarlunga Centre from the city by taking a train. Then board a bus bound towards Maslin Beach from the terminal. Drivers can access the cliff-top parking lot off Tuit Road and descend the steps.
Since this is a public beach, there is a snack bar and a 4WD that drives up and down the shoreline during the warmer months offering drinks and snacks. Make sure to pack sunscreen since there is almost no shade on Maslin. A lot of people pitch little tents or bring beach umbrellas so they can get some shade.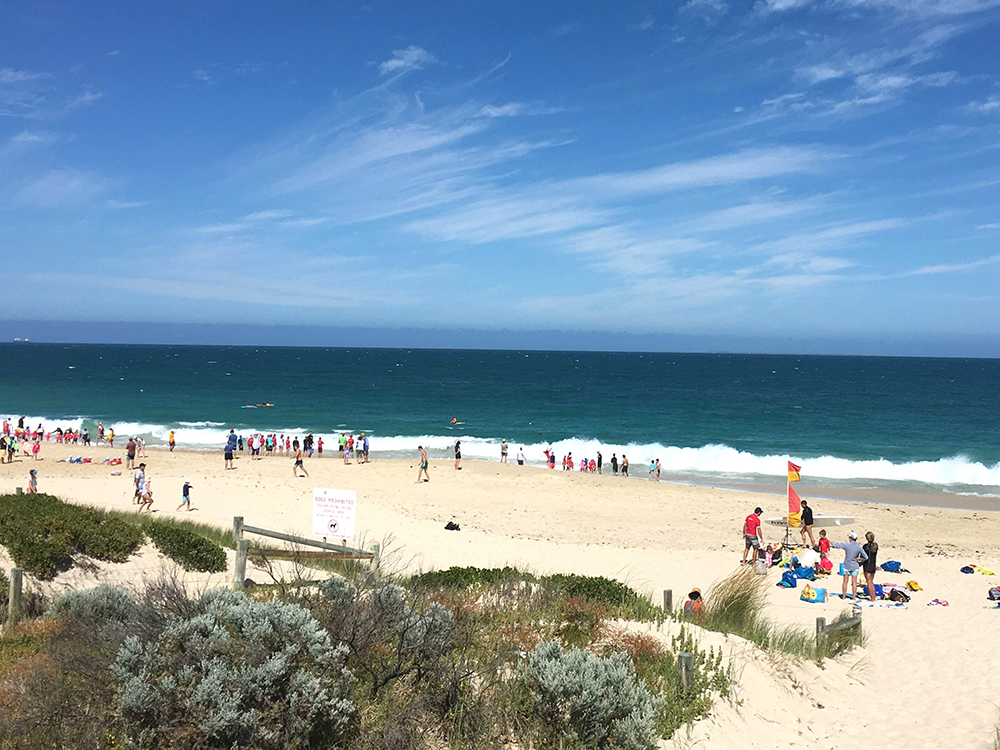 Even though Western Australia is home to several sand-free beaches, North Swanbourne is the most frequented since it is centrally located. North Swanbourne is one of those beaches where the nudity culture is so pervasive that it is often assumed to be a legal nude beach, even though the law surrounding this issue is murky at best.
Swanbourne Beach offers a stunning backdrop for those seeking a tranquil and scenic escape. Whatever the situation may be, nudity is widely accepted, and hundreds of nude bathers frequent North Swanbourne on busy days.
There are restrooms at the Naked Fig restaurant, which is next to the parking lot, and a surf club. Turn right (north) while facing the water and travel approximately 300 meters beyond the end of these structures to reach the beginning of the nudist area.
While the beginning of the naked zone is commonly agreed upon, its conclusion is less certain. Although you are most likely to run with nudists in the first few hundred meters of the beach, the whole two kilometers of military land to the north is fair game if you are looking for a more private experience.
You will likely become tired of walking long before you get to the part of the beach where clothes are once again required; nonetheless, you must stay away from the dunes no matter where you are on the beach. It is against the law to do that.
Keep in mind that Swanbourne Beach is suitable for swimming but unsuitable for surfing due to its mild waves. The Swanbourne-Nedlands Surf Life Saving Club provides beach patrols throughout the summer months.
Tucked away in Watsons Bay, this little beach is a short walk from nearby Camp Cove. This beach is located on the protected side of South Head, which faces the harbor. The dedicated nude swimming area is perfect for individuals who want a more private swim.
The previous Premier of New South Wales, Neville Wren, approved Lady Jane Beach as a nudist beach in 1976. Despite its reputation as a "boys club," this beach welcomes people of all orientations and is included in numerous gay interest websites and gay travel guides to Sydney. It is a place where everyone is welcome.
Stunning vistas of North Head and the South Pacific Ocean are seen from the South Head Heritage route, which you can reach by taking a stroll. The ancient Hornby Lighthouse is close by, and its unique markings make it a sight to see.
If you want to go bird watching or whale watching, do not forget to bring your binoculars. Lady Jane Beach is where many boating visitors stop to gawk at the locals as they make their way to South Head. Most visitors choose to go natural, even if clothing optional is allowed.
Whether you're a first-time nudist or a seasoned veteran, you'll find a non-judgmental atmosphere where body positivity and respect for personal boundaries prevail. This makes it one of the most recommended nude beaches in Australia.
Kings Beach, located close to renowned Byron Bay, is a remote spot that offers both nudists and surfers some respectable east coast waves. The coastal path at Kings Beach is an excellent location to see migratory Humpback and Southern Right whales throughout the winter and spring months.
Birdwatchers will enjoy seeing the White-Bellied Sea Eagle and other species glide beautifully over the water and cliffs in search of their meal. At this time of year, the wildflowers on the headlands also burst into color, making the Three Sisters Lookout an ideal site to pause and take in the breathtaking panoramas of undeveloped beaches and woodlands.
Kings Beach is frequented by swimmers and surfers due to its pristine waters. Be cautious if you decide to swim here since the beach is not monitored and the coastline is littered with pebbles, boulders, and severe rips. If you are not into water sports, you can bring a picnic, go fishing, or simply relax beneath a Pandanus Palm and read a good book.
Kings Beach offers a plethora of recreational activities. Its calm waters are perfect for swimming, snorkeling, and even surfing for those who enjoy riding the waves in their natural state. No matter what time of year you decide to come, you can count on having a good time in the warm rays of the sun at Kings Beach.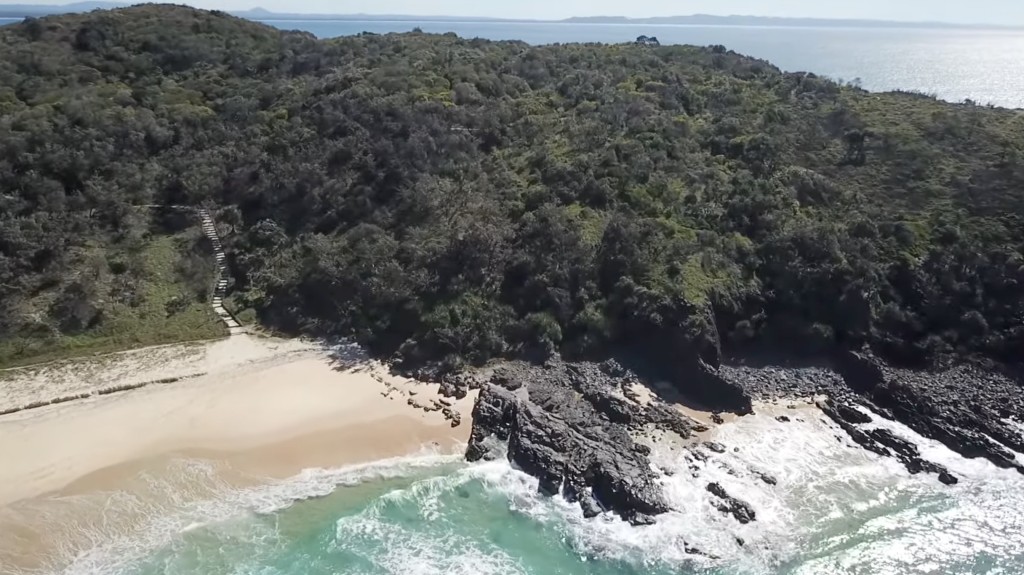 Alexandria Bay, on the other side of Noosa Head's iconic headland, is a more peaceful spot to relax and enjoy the sun. One may walk 3.5 kilometers from Noosa Heads via the Noosa National Park or 1.3 kilometers from McAnally Drive on Sunshine Beach in about 20 minutes. Noosa Main Beach is popular with tourists, but its secluded location also draws nudists who want to avoid the masses.
The eastern side of Alexandria Beach is quite open. There are no guards and no facilities, so come prepared with food and drink for the day. Take a brief plunge in the water near to shore, but be careful of the possible risks presented by the beach's strong currents.
A regular surf break awaits surfers at the northern end of the beach when southeasterly winds funnel around the headland, although getting there and back requires a little effort.
Alexandria Bay has cultivated a culture of acceptance and respect for naturists. Visitors are greeted by like-minded individuals who embrace body positivity and freedom of expression. The beachgoers here share a mutual understanding and courtesy, creating an inclusive environment that fosters a sense of community.
Washaway Beach is located on the east side of Grotto Point, near the Lookout, and is reached by a track off of Cutler Road. About halfway through the 5-minute stroll, you will come across some ancient Aboriginal rock carvings. It offers breathtaking views of Balmoral and the passing Manley Ferry. The path is a section of the 20-kilometer-long Manly to Spit Bridge Coastal Trail.
The high tide might force you to have a tanning session on the rocks. The lack of lifeguards and other facilities at this secluded beach is, of course, a major selling point. Although signs now prohibit bathing without clothes, this beach is nevertheless considered by some to be suitable for nudists.
Grotto Point Reserve includes the beach, which can only be reached by descending the 20-meter sandstone cliffs at the northern end of the beach.
Just 500 meters within Port Hacking Point's southern entrance is Jibbon Beach (NSW 339). The beach arcs to the east over 700 meters before turning northwestern. Indicative of its sheltered sun-drenched setting, this north-facing beach is the easternmost spot where the tropical beach sand creeper Ipomoea, a leafy vine with a vivid purple blossom, may be found.
The beach is bordered on one side by Jibbon Lagoon and on the other by a low, well-forested dune. It is accessible through Bundeena, with some little on-street parking available on the western end. In the summer and on weekends, many visitors arrive by boat, anchoring in the safer waters of the beach's eastern end.
In general, the eastern section of the beach is a calm, rip-free zone. On the other hand, the water is rather deep near the shore. When waves surge, it is dangerous for kids.
This is the nudist hotspot of Southern Sydney, and many an enthusiastic boater from the region has arrived only to be met by a parade of extremely nude individuals. But beware, it is not officially a nudist beach and it is not exactly secluded.
Laws Regulating Nude Beaches in Australia
The Local Government Amendment (Nude Bathing) Act 1996 includes provisions that allow for public nudity in designated "clothing optional" beaches as specified in the legislation.
Things to Consider Before Visiting Nude Beaches in Australia
You should know a few unsaid conventions before visiting Australia's nude beaches if you have ever been curious about nudism. To avoid making anybody feel uneasy, remember these courtesy guidelines:
Before taking off your clothes, be sure you are in a place that allows it. Do not roam nude in the parking lot, the bathrooms, the common spaces, or the trails and walks on the property. Only a few areas near the shore are marked as areas where nudity is acceptable.
Respect the privacy of other nudists and tourists. Going farther down the beach, you could run across some nudists. But try to avoid making fun of or gazing at strangers. No bigotry is tolerated on nude beaches.
Understand the rules and regulations of nudist beaches. The legality of nudism in Australia varies widely across jurisdictions. You may legally strip down in several locations around the country. However, nudism is not tolerated in Queensland. While there are no official nudist beaches, they do exist. Some beaches even allow visitors to swim without clothes.
Editor's Pick: Australia has over 10,000 beaches | These 5 are Must Visit
How Do We Pick Our Recommendations?
Our recommendations are carefully curated by a team of professionals who have a passion for exploring and experiencing the world. When selecting the best nude beaches in Australia, we conducted extensive research and engaged with local communities. Our team evaluated each beach based on factors such as legal considerations, accessibility, convenience, and the level of privacy offered. Drawing from our collective experience of visiting numerous nude beaches, including those in Hawaii and Texas, we are confident that the recommendations provided will contribute to an unforgettable and enjoyable day trip.
Final Word
Put your toes in the ocean and feel the sun on your skin at any of the aforementioned Australian nude beaches. With this information in hand, you can start making plans for your vacation to Australia. Just be careful of the local laws and customs. This way, you won't find yourself in any trouble!
Nude Beaches in Australia - FAQs
Name some of the best nude beaches in Australia.
Maslin Beach (South Australia), Lady Bay Beach (New South Wales), and Alexandria Bay are some of the best nude beaches in Australia.
Are nude beaches legal in Australia?
Yes, nude beaches are legal in Australia. However, it's important to note that regulations can vary between states and territories
What should I bring to a nude beach in Australia?
When visiting a nude beach, it's important to pack the essentials. Some recommended items include a towel or sarong to sit on, sunscreen to protect your skin, a hat to shield yourself from the sun, drinking water to stay hydrated, and a bag to carry your belongings.