Between Palm Beach in the north and Cronulla in the south, Sydney has hundreds of beaches excellent for swimming, sunbathing, and surfing. There are numerous peaceful and isolated beaches in Sydney to explore, even though some of these beaches are recognized globally and attract large crowds on beautiful summer days.
So, whether you're a sun-worshipper, a thrill-seeking surfer, or simply in need of a rejuvenating seaside escape, Sydney's beaches beckon with open arms.
Join us as we uncover the top spots where sun, sea, and sand converge to create memories that will linger in your heart long after the tide has receded. It's time to dive into the unparalleled beauty that awaits you on the shores of Sydney.
Also, check out our guide to the Top 10 nude beaches in Australia!
Best Beaches in Sydney
Following are some of the most popular and well-known beaches in Sydney, Australia. Each one of them is unique in their own nature. Let's get started!
Located in northern Sydney, Palm Beach is a popular destination for family vacations and a filming site for the hit Australian television series Home and Away. Palm Beach offers some of the highest water quality of all Sydney beaches while being somewhat far from urban development.
The south side is an excellent picnicking area. The shallow water is perfect for children to play in, swim in the 35-meter ocean pool, and construct sandcastles. The north side has good surfing waves, making it a perfect place to teach a child to surf. You can go fishing off Palm Beach Wharf if that is your thing.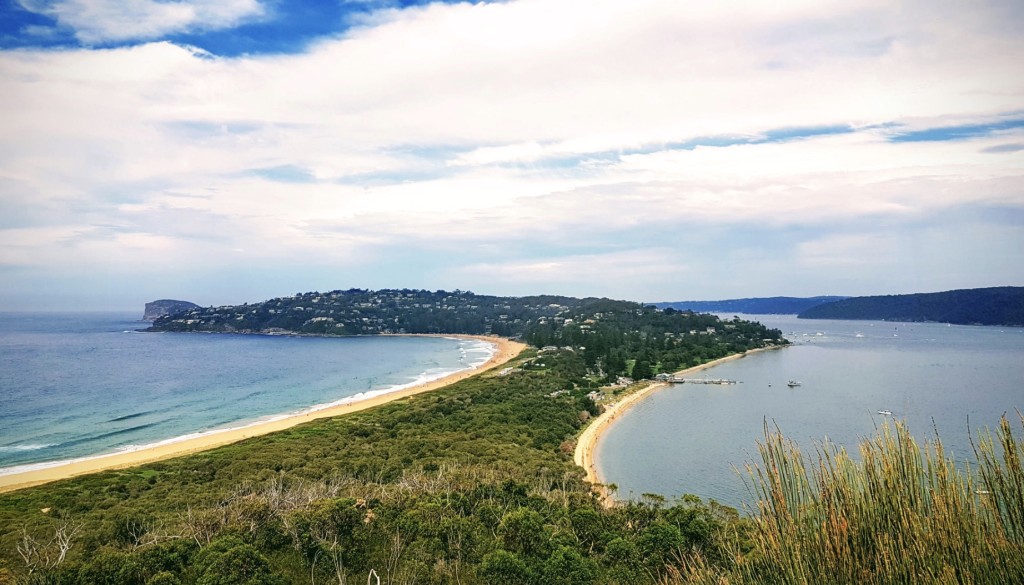 Hiking up to the top of Barrenjoey Head to the stunning lighthouse is another favorite pastime in the area. The trendy cafes and restaurants in Palm Beach are great places to watch and draw in a creative and celebrity crowd from neighboring Sydney.
If you're looking for adventure, Palm Beach has you covered. Dive into the crystal-clear waters and cool off with a refreshing swim. For thrill-seekers, catch a wave and ride the surf like a pro. The consistent swells make Palm Beach a surfer's paradise, with waves suitable for both beginners and experienced riders. Surfing lessons are also available for those eager to master this exhilarating sport.
For those seeking a tranquil escape, take a leisurely stroll along the golden sands or explore the neighboring walking trails that wind through the surrounding bushland. Stop at the Barrenjoey Lighthouse on the headland of the same name while you are at Palm Beach.
Suggested Reading: Surf, Sand and Sun: Your Guide to the Best Beaches Near New Orleans For Family Fun
Manly Beach is a popular destination for visitors to Sydney, and the journey here is half the enjoyment itself! In only 30 minutes, you can be surfing the waves and lounging on its golden dunes after hopping on a boat from Circular Quay and cruising past the Sydney Opera House and Sydney Harbour Bridge.
Manly is a terrific place to stay if you are looking for a beach that is close to a wide variety of entertainment options. You can go rollerblading or biking on the beach, then unwind at one of the numerous cafes or shops along the pedestrian-only The Corso. Facilities such as showers, toilets, and changing rooms are available for public use.
There are 2 major beaches in Manly, one with shallow, gentle water ideal for families near the Harbour, and the other with deeper water and stronger currents.
The waves are reliable, and there are surf shops and board rental stands along the shore for those who want to learn the ropes from the pros. It is no secret that Manly is a favorite with families, too.
Once you've worked up an appetite, head to the vibrant Corso, a pedestrian mall that leads from the beach to the ferry wharf. This bustling hub is lined with an array of cafes, restaurants, and bars, offering a diverse range of culinary delights. From freshly caught seafood to international cuisine, you'll find something to tantalize your taste buds. Enjoy a leisurely meal while soaking up the lively atmosphere and watching the world go by.
The Manly SEALIFE Sanctuary, a beachfront swimming pool with a protective net, gelato, and fish and chips are all kid-friendly activities. During February, Manly plays home to the annual Australian Open of Surfing.
All these aspects make it one of the best beaches in Sydney.
Related: Top 9 Key West Beaches That Feel Like Paradise
Balmoral Beach, situated on Sydney's beautiful north coast, is a favorite beach among families due to its shallow waters and protected swimming areas. This harbor beach is surrounded by calm water, and a shark net makes it safe for swimmers.
Picture yourself on the velvety sands of Balmoral Beach, as if caught in a dream. The sun-kissed shoreline invites you to kick off your shoes and let the grains of sand massage your feet. It's a beach that embraces you like a warm embrace, with its calm, azure waters beckoning you to take a leisurely dip or dive into a world of refreshing bliss.
For the adventurous souls, Balmoral Beach offers a playground of water activities to ignite your spirit. . Or embark on a kayaking expedition, paddling to hidden nooks and crannies where secrets of the sea await discovery. As you immerse yourself in the gentle rhythm of the water, you'll find a sense of liberation and connection with the natural world.
When small stomachs start to growl, you can take advantage of the park's wonderful picnic places or one of the many surrounding cafes. Yachts bobbing on the azure water's surface are visible, and the Sydney Heads can be seen in the distance.
Popular water activities in this area include stand-up paddle boarding (SUP), kayaking, scuba diving, and windsurfing, in addition to just plain old splashing about in the water. The majestic, heritage-listed Balmoral Bathers Pavilion is a whitewashed 1920s. It houses an expensive restaurant and café with breathtaking views of the ocean and serves as a local icon.
Related Reading: Worst Time to Visit Australia – Months to Avoid
Bondi Beach, one of Sydney's most famous beaches, is also conveniently near to the city center. It is a terrific place to escape the hustle and bustle of the city for the calming slop of the surf, and the name Bondi derives from an Aboriginal phrase that means "noise of water breaking over rocks."
With its consistent swells and powerful surf breaks, it is a playground for those seeking the exhilaration of riding the ocean's crests. Surfing enthusiasts can revel in the thrill of carving through the waves, while spectators are treated to a visual spectacle of skill and agility.
Bondi's beachside promenade is often lively with residents, visitors from all over the world, and groups of young, energetic backpackers looking to have a good time while doing some shopping at the weekly Sunday market.
Avoid the "Backpackers Rip," a severe riptide on the southern end of the beach that also serves as the inspiration for the drama of the Australian reality TV program Bondi Rescue. At Iceberg's Bondi Baths, swimmers can put on their caps and goggles for some serious laps.
For over a century, locals and tourists alike have flocked to this seaside pool, which has both an Olympic-sized 50-meter pool and a smaller pool suitable for children. One of Sydney's greatest coastal walks, the Bondi to Coogee Walk, takes you through sandstone cliffs past famous cafés and restaurants, and the beaches of Tamarama, Bronte, and Clovelly when you want to get some exercise away from the sea.
Allow at least an extra hour if you want to stop and admire the scenery along the route since the walk itself only takes approximately that long. Discover an eclectic mix of cafes, restaurants, and bars that line the vibrant promenade. Immerse yourself in a gastronomic journey, relishing in the fusion of flavors, and savoring the freshest seafood delicacies that epitomize coastal dining. Once you visit here, you'll realize why we call it one of the best beaches in Sydney.
Editor's Pick: Does it Snow in Australia: A Myth or Reality?
If you find the crowds and activity on Manly Beach to be too much, you can easily escape to the more tranquil and lovely Shelly Beach by taking the walkway south from the main beach in Manly. The whole bay, its coastlines, and its beaches from the southern end of Manly Beach to the northern end of Shelly Beach Headland are part of a protected aquatic reserve known as Cabbage Tree Bay, which spans an area of around 20 hectares.
In addition to being the only beach in Sydney that faces west, it also offers spectacular sunset views. If you are looking for a great site to snorkel or SCUBA dive just off the shore in Sydney, go no farther than Shelly Beach. This tranquil area is a no-take aquatic reserve, which helps to preserve a wide variety of marine species.
In the kelp and seagrass beds, a snorkeler or diver could see blue groper, wobbegong sharks, cuttlefish, and even sea dragons. The Boathouse Shelly Beach is an expensive café/restaurant with a bay view, perfect for satisfying your appetite while you are in the area. There are also restrooms, drinking fountains, and showers available along the beach.
Shark Beach, located within Nielsen Park in Sydney, is a pristine and captivating coastal haven that boasts a reputation for its natural beauty and tranquil waters. Situated in a secluded cove, this beach offers a serene and idyllic setting for visitors seeking respite from the bustling city life.
With its clear, azure waters and soft golden sand, Shark Beach is a favored destination for families and beachgoers alike. The beach is complemented by essential amenities, including picnic areas, showers, and toilets, ensuring a comfortable and enjoyable experience. Despite its name, Shark Beach is a safe and inviting haven for leisurely swimming and sunbathing, offering a serene escape amidst nature's splendor
Shark Beach and Nielsen Park in the affluent Vaucluse area, which is surrounded by Sydney Harbour National Park, are like a tiny piece of paradise only minutes from the city. This lovely harbor beach has shark nets to make it safe for swimming, and the calm waters are great for kids.
It is one of the best beaches in Sydney Harbor. You can go for a swim or take out a kayak and explore the area since the water is shallow and quiet.
There are beautiful views of the harbor, as well as three grassy picnic places covered by enormous fig trees. There are also magnificent walking routes in the nearby wilderness. You can use the locker facilities and showers, and then unwind with a snack and coffee at the little café while listening to the local kookaburras' cackle in the gum trees.
This hidden beach is a favorite among locals and visitors alike. Finding a parking place on a hot summer day might be difficult since the beach is both popular and tiny. Visit throughout the week or first thing in the morning to avoid the crowds. Although it might become crowded, Shark Beach in Vaucluse is a great place to take the kids since it has a protected swimming area.
Located on Sydney's Northern Beaches, Bilgola Beach is renowned for being both secluded and beautiful. A lengthy and winding road appropriately named The Serpentine leads to this golden strip of sand hung between high headlands. Bilgola Beach is between two headlands, so it is pleasant and peaceful. Bilgola Beach spans approximately 500 meters in length, offering ample space for beachgoers to enjoy the sun, sand, and surf.
There are rips at both ends of the beach; therefore swimmers should stay in the middle of the beach between the flags. The 50-meter saltwater rock pool is popular with families since it provides a secure environment for swimming, and the quaint café is perfect for refueling after a dip. It is possible to get decent waves here, but more experienced surfers should go to Newport Beach instead.
The Bilgola Surf Life Saving Club, established in 1953, stands as a prominent institution on the beach, dedicated to ensuring the safety of swimmers and providing education and training in water rescue techniques.
This popular beach is exposed to waves from all directions because of its eastern orientation. To have the beach all to yourself while watching the surfers at dawn, go there early in the morning. It is near enough to Palm Beach that you can see both in a single day.
Adjacent to the beach lies the captivating Bilgola Rockpool, a natural tidal pool spanning over 30 meters in length. This enchanting feature invites swimmers seeking a tranquil respite, away from the waves, to indulge in the soothing waters and experience a moment of blissful serenity.
With so much offered here, it is definitely one of the best beaches in Sydney.
Freshwater Beach, or "Freshie" as locals call it, is considered by many to be the site where surfing first began in Australia. Even though Hawaiian "Duke" Kahanamoku did not start surfing here until 1914, the waves here are still popular among surfers due to their reliability. Freshwater Beach, just north of Manly Beach, is a 350-meter stretch of sand that is quite popular with surfers.
The beach is protected from strong winds by the headlands that surround it, and children and their parents alike enjoy playing in the rock pool. It is constantly being refreshed by the waves near the northern end of the beach. The 50-meter saltwater swimming pool is also available for your use. Several cafes and restaurants can be found within a short walk of Freshie, which is located near the popular Manly Beach.
Both South Curl Curl and North Curl Curl, to the north of Freshwater, are also highly regarded as among the best surfing beaches in all of Sydney. Dee Why Beach, farther north, has its toddler area, 50-meter ocean swimming pools, and a reasonably safe beachfront, which is why it is so popular with families. When the waves are right, surfers like this spot because of the point break.
At the adjacent nature preserve, you can use the playground, picnic tables, and grills. During the summer, the Surf Life Saving Club's "nippers" beach safety program draws the largest crowds on Sunday mornings. This means that it is one of the best beaches in Sydney all year round.
Things to Consider Before Visiting Sydney Beaches
Following safety warnings can assist beachgoers keep safe while enjoying swimming, surfing, walking, and sunbathing on Sydney's gorgeous beaches. Make sure you remember everything before you go to Sydney:
Swim Safely: Keep to the red and yellow flags for safe swimming. To help swimmers avoid dangers like rip currents and boats, surf lifesavers place these markers. It is illegal for surfers to use the waves there.
Leave No Trace: Sydney is a welcoming city, so please do not leave any traces behind. The only request made is that tourists respect local people, their property, and the environment. The "leave no trace" principle requires that you take whatever you brought with you when sightseeing in Sydney back with you. Apple cores, banana peels, and paper towels are just a few examples of what may be recycled.
Respect the Local Culture: Sydney is home to a warm and inviting culture and people are known for their friendliness. You should refrain from making any offensive gestures or words that the locals could misinterpret.
Take Pictures: Bring a camera or free up some space on your phone so you can capture your unforgettable beach holiday on film. We can promise you that no matter how you get to Sydney's shores, you will be awestruck by the beauty and novelty of the place.
Amenities: The presence of amenities such as changing rooms, picnic spots, handy parking, and sunshades is a must-consider factor. If you are going to be vacationing with kids, it is best to choose a beach that offers these facilities.
How Do We Pick Our Recommendations?
Our team constantly travels to different parts of the world, and we log in all the details as we experience it in real time. Besides, we also perform comprehensive research and assess the facilities, leisure activities, and other pertinent aspects so that our suggestions are quite accurate for the visitors. We also took opinions from other visitors at these beaches. Our research led us to compile this list of the best beaches in Sydney.
Final Word
After learning about some of Sydney's most well-known and often visited beaches, you should plan a trip there immediately. Some of them have a serene environment, while others are good for surfing and wild enjoyment. With diverse options available in our list, you will be able to find the right one for your next trip.
Best Beaches in Sydney - FAQs
Are there any dog-friendly beaches in Sydney?
Yes, there are a few dog-friendly beaches in Sydney. One of the popular choices is Greenhills Beach in Cronulla, which has designated off-leash areas for dogs. It's a great spot for both you and your furry friend to enjoy the sand, surf, and sunshine together.
Are there any secluded and peaceful beaches in Sydney?
Yes, Sydney is home to several secluded and peaceful beaches. One such example is Bilgola Beach. This hidden gem offers stunning views of the Sydney skyline and provides a serene and secluded environment for those seeking tranquility.
Which Sydney beach is suitable for surfing?
Bondi Beach is renowned for its excellent surf conditions, attracting surfers of all levels. With consistent swells and a variety of breaks, it offers opportunities for both beginners and experienced surfers to catch some waves and enjoy the thrill of the ocean.