West Bend is a hotspot for tourists who love art and architecture, history and nature, and other activities like skiing, snowmobiling or tubing, etc. The gardens, parks, gorgeous hiking trails, wildlife, farmers market, museums, and impressive resorts and restaurants with enchanting views of the rivers and lakes are just some of the attractions that bring this place to the center of attention of travelers. Below is a list of all the splendid restaurants in West Bend to treat the foodie in you!
Enjoy Our Recommended Incredible Restaurants in West Bend
The city is a tourist destination for many travelers and has a ton of restaurants of all sorts to accommodate them. From the casual intimate vibes to the classy, chic, and formal vibes, the restaurants here have got you covered. Pick what suits your taste the most from the list below.
Riverside Brewery & Restaurant is a great option for you if you want to enjoy a hearty meal with your loved ones among the beautiful views and stunning interiors. The place gives off rather posh and luxurious vibes with the wooden interiors and rusty color scheming; it seems like a place that would have been a perfect hangout spot for posh people in the 90s. Apart from their very well-put-together menu, they also offer a variety of house-brewed beers, which just take the whole experience to another level.
They have indoor seating as well as seating on the patio. The indoor seating area is perfect for low-key affairs. It has a very casual seating design, just like any other food bar in America. However, the outdoor seating area is more of an experience with the seating facing the ever-so-beautiful views of the rivers; it just is a whole different vibe here. If the beautiful natural sceneries are a source of revitalization for you, then you might also be interested in visiting these 9 Louisiana Beaches With Breathtaking Views. We would recommend the outdoor seating as eating good food makes you feel good but eating good food with beautiful scenery makes you feel surreal.
Their food is as good as the rest of it, which is a chef's kiss. They serve American cuisine and have vegetarian, vegan, and gluten-free options available on their menu. The menu has everything from burgers to sandwiches, bruschetta, quesadillas, or soups, there is something for everyone. Not to forget, they also have seafood and steaks on their menu, apart from their amazing collection of beers that go so well with food. The things that you have to try include their portabella Panini and prime rib.
Their service quality is five stars. The food is served right when it's off the pan. And the staff will make sure to provide you with everything you need. The place can get filled pretty quickly, so if you want to enjoy the best views with the food, it's best to get your reservation beforehand. Also, if you are confused about what to order, order today's special and you will be sorted for the night!
The Norbert is another one of the hidden gems in the West Bend area. It is a gorgeous restaurant with a very opulent and special feel to it. Their atmosphere feels as if it is customized to cater to your mood, which is a hard craft to specialize but they have somehow aced it. Outside of the restaurant is very funky and colorful, however, as soon as you enter, the feels inside are completely different. The black ceilings and chandeliers hanging and the overall deep and dark tones of this place give it a very edgy look.
There is indoor and outdoor dining as well as a bar on the first floor. The outdoor dining is very cool, with classy furniture and views of the people going out and about. However, the insides are very chic and classy, with over-the-top dining and chivalrous energy. The bar on the top floor is very intimate and feels like a perfect place to have a drink with your friends.
Their food is very nice. They specialize in American cuisine and also have vegan and vegetarian options available, making it perfect for people with dietary restrictions. This place has a lot of options for you, from duck confit to chicken wings, smash burgers, fish tacos, and citrus salad, they have it all. The things that you must not miss out on though include their lobster mac, coconut shrimp, and bread pudding; it was too good. They also have a great drink menu which you have to try.
Their service quality is amazing. The staff is friendly too and also very accommodating. From the moment you enter this restaurant, you will be greeted with a smile and a nice cocktail. You will for sure love your time here. They also offer catering for parties, so must use their services as their chefs leave no crumbs behind when it comes to making delicious food.
Similar Attractions: 7 Must-Visit Restaurants in Dana Point For A Phenomenal Dining Experience.
Timmer's Resort is a gorgeous resort that was established by the Trimmer siblings back in the 1800s. It was quite luxurious and is now owned by their grandchildren. They have maintained the same luxurious and classy vibe of the place and have also added modern touches to it. There is a lake right in front of the resort, making the atmosphere even more tranquil. The interior of this place is very much inspired by the old school restaurants, with the wooden walls and floors and white glass windows, the place looks like a part of nature around it.
They have indoor and outdoor dining areas. The indoors are very classy and old school, with white tablecloths and chandeliers. However, the outdoors are rather intimate, with greenery and flowers around and also the lake view making it even more magical. If you like fine dining places then, you would love these 5 Finest Hotels in Fort Lauderdale for Couples and Families. You can also enjoy the outside views from indoors with the help of the huge windows that make you feel like you are also a part of the scenery. You can also rent this place for celebrating any of your special occasions.
Their food is yummy. They serve American cuisine but also have gluten-free options available on their menu. You can enjoy burgers or fish or soups and salads from their menu, but the things from their menu that you have to give a shot to are their Sautéed Canadian Walleye, Buttermilk Fried Chicken Sandwich, and Baked Cod with Creamy Dill Sauce. If you are gluten-free, you should try their gluten-free crostini; you will love it!
Their service quality is satisfactory. The staff goes over and above to make you feel at home. You can enjoy their catering services as well. They also have a special menu, if you are not able to make a decision, order anything from their specials, it will be amazing. They also have a separate kid's friendly menu making it a perfect place to enjoy a meal with your family.
Similar Attractions: Amazing Restaurants In St. Michaels For A Fascinating Dining With Your Loved Ones.
Pearl of Canton is a local's favorite restaurant for sushi and other Chinese and Vietnamese delicacies. The place is known for its delicious taste and rather casual vibes. This restaurant can easily become your go-to as it has the same warmth and ease as your home and also the buzz of eating at a restaurant. Apart from the calm of this place, their delicious and heartwarming food is what is going to get you hooked to this place.
This place pretty much looks like any regular Chinese restaurant with an extra added funk to it, with the bright blue lights and all giving it the right amount of oomph. The seating is also very intimate. There are some beautiful sculptures placed in the corners adding Zen to the environment. Another great thing about this place is its pricing; everything is up to the mark, from the taste of food to the ambiance that too, at such reasonable pricing is commendable.
You must have enjoyed Chinese food before, but their food will be good enough to make it to your list of top Chinese restaurants for sure. They have a great variety of food, from Chinese pork sandwiches to Vietnamese beef ball pho, they have everything to get you all warmed up. Another great thing about this place is that it not only has traditional dishes but also serves them with a slightly modern interpretation. The food that you must not miss out on is their pot stickers, egg rolls noodles, vegetable pho, and salmon roll.
Their service quality is pretty good, and the staff is also very friendly and helpful. They also have a vegan option on their menu. This restaurant also serves some outclass sushi, has a great wine collection and serves boba tea too, so you must check that out. If you happen to be a sushi lover, you will regret missing these 10 Scrumptious Sushi Restaurants in Dubai. Looking for a cozy place to enjoy a tasteful meal that does not cost you a hand and a mouth, this place is the one for you!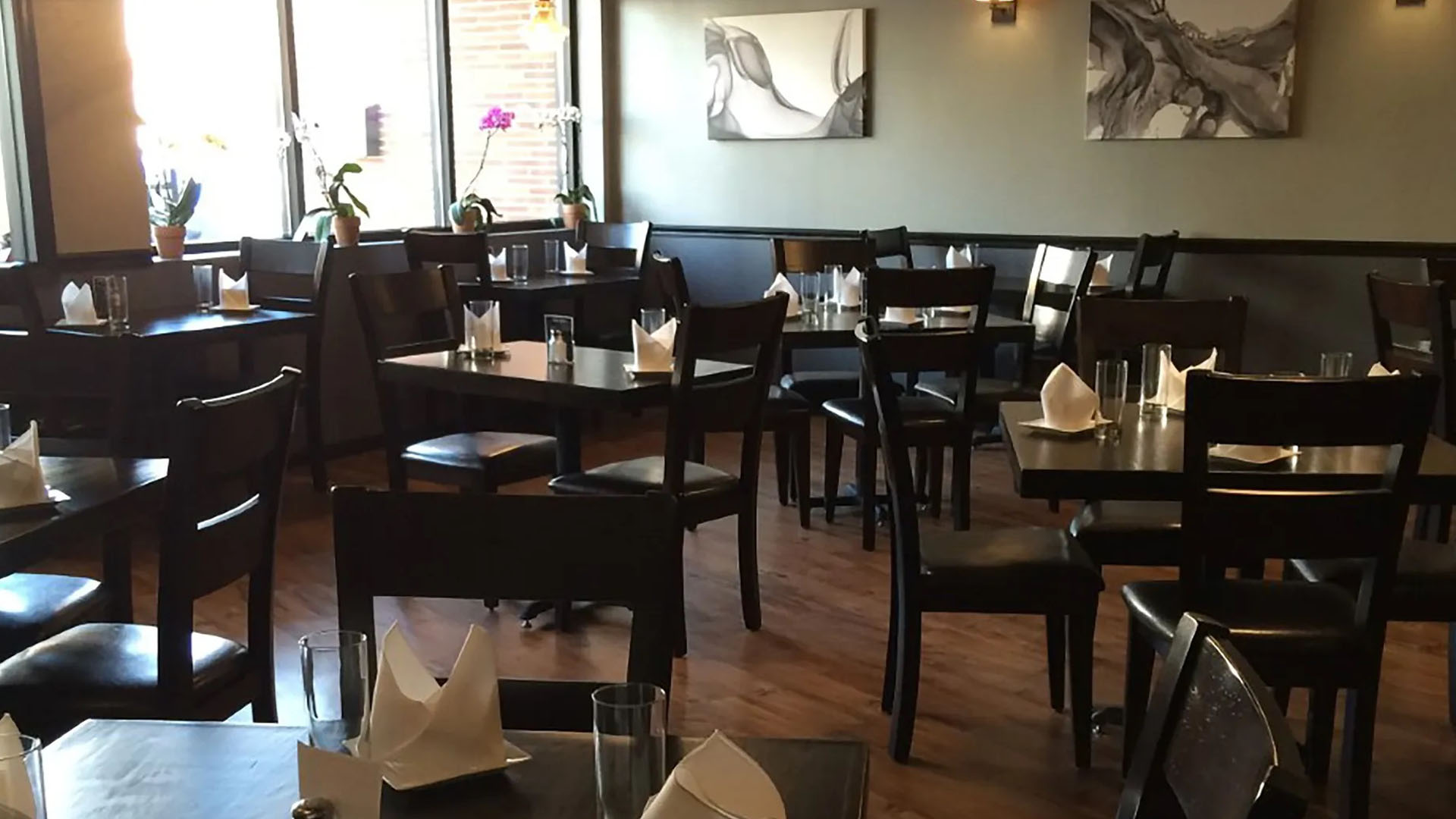 Krimmer's restaurant is a perfect place to enjoy food or celebrate your special occasions in West Bend's downtown area. This place is ideal for semi-formal dining as it is a fine dining place with a very laid-back vibe. It has a very sophisticated mood going on which does not feel pretentious at all. The interior of the place complements the feel of the restaurant as well. Their indoors are very classy and decorated with beautiful art pieces and flower pots, and the color scheme is also muted, which gives this place a very aesthetic look.
They have both indoor and outdoor seating areas. The indoors are very boujee and fancy, however, the outdoors are more casual. The outdoors are kept very minimalistic when it comes to the décor. Instead of the regular table and chairs, there are wooden benches and tables with fairy lighting, adding so much character to this area. If the weather is nice, sit outdoors as they are very dreamy, especially during the evenings and nighttime with the yellow lightning, it looks so incredible.
Their food is great. They specialize in American cuisine, are a steakhouse, and also happen to have seafood options on their menu. Their menu is quite extensive. They also have a bar which is just the right place to sit and enjoy some drinks with your friends and family. If you want to enjoy our dinner more privately, they also have private dining available. Everything from their menu is tasty, but you have to try their crab cake, grilled asparagus, and au poivre, they were too good to miss out on. Also, for people with a sweet tooth, their strawberry crème brulee is just perfect.
Their service quality was exceptional. The environment is very welcoming, and so is their staff who will be so helpful and attentive throughout your experience here. They also have a great wine collection as well as a reserved wine list that contains some of the best local wines rarely found in any other local restaurant, so you must give that a try. This place also has a kid's menu, so feel free to enjoy a hearty meal with your whole family in this gem of a place!
Things To Consider Before Going To A Restaurant
Ambiance — The ambiance of a place can make or break your whole dinner affair, so make sure that the atmosphere and vibe of the place match your idea of a perfect place for dinner.
Food — The place should have the food that you like, or if you have any dietary restrictions, they should have the means to accommodate you. It is better to know about such things beforehand to avoid any issues.
Location — It is important to know the location of the place accurately, and one should try to pick a place that is not far away from your residency unless you want to try a particular restaurant.
Reservation — Restaurants can get equipped pretty quickly, especially if you are interested in that particular spot that provides you with the best view, so make sure to get your reservations beforehand.
Tidiness — The cleanliness of a place is important as you will be having a meal there, and nobody wants to end up sick after enjoying a hearty meal.
How Do We Pick Our Recommendations
West Bend is a great place for travelers as it has so much to offer them. Out of the many things this place has to offer, the thing that captivated our interest the most was its rich art and history, and we had to pack our bags to visit this city as soon as possible. While at it, we enjoyed eating at all the diners mentioned above and had an absolute blast. We made this list for you guys to have a great time too, whenever you have the chance to land in West Bend. The recommendations are based solely on the service quality, ambiance, and food of the places. We have also taken into consideration their online ratings as well as the thoughts of fellow travelers before finalizing this list.
Splendid Restaurants in West Bend To Treat The Foodie in You! - FAQs
Does Riverside Brewery & Restaurant have outdoor seating?
Yes, Riverside Brewery & Restaurant has outdoor seating.
Does The Norbert have a kid's menu?
No, The Norbert does not have a kid's menu.
How is Timmer's Restaurant rated?
Timmer's Restaurant is a 4.0-rated eatery.
What are the most popular restaurants in West Bend?
The most popular restaurants in West Bend include; The Norbert and Riverside Brewery & Restaurant.