We have always heard that breakfast is the day's most important meal. What is better than getting a good, full-nutrition plate of breakfast to kick-start your day? Let us save you time and energy in finding the right place to grab a quick breakfast in Hampton VA or throw your friends and colleagues a breakfast party before you all head to work.
Best Breakfast in Hampton VA
This time around we not only have sample images of the delicious food that these restaurants are offering but we have also jotted down their addresses and the recommended items on their menus to make your decision quicker and easier than ever before. Our breakfast guide will help you get a quick look at the best breakfast places in Hampton if you are in the area.
Tommy's Restaurant
Making it to the top of our list is Tommy's Restaurant which you will find booked out every single morning. Yes, even at 8.00 AM !!
Regardless of the waiting in line, people prefer to go there because their staff is lovely and super quick in clearing tables for the next customer. Whether it is the locals or tourists, everyone is out to grab a bite from this place. They serve food items other than breakfast meals if you want to visit any other time of the day.
Their menu includes a section of a conventional breakfast as well as a more peculiar section of breakfast items that include shrimp etc.
However, if you wish to try out this place, don't forget to take cash along as they do not accept card payments. Some people find this a major dealbreaker, while others consider it worth the hassle.
Address: 3406 W Mercury Blvd Hampton, VA 23666
Specialties: Homemade Salmon Cakes, Fried Catfish, French Toast, and Cinnamon Toast.
Mango Mangeaux: A Simply Panache Bistro
This restaurant is a cute little chic place with vibrant colors in yellows and oranges. The overall look of the place is such that it will definitely lift your mood up. When it comes to food, they have the quickest service as I'm sure none of us would like to wait long for the first meal of the day.
However, if you go without a reservation, you will find yourself waiting for hours because sometimes their brunch is booked for over a month.
The staff at Mango Mangeaux: A Simply Panache Bistro is sweet enough to thoroughly guide you through the entire menu and help you decide on your order. Moreover, their meat is seasoned perfectly and chicken has a very balanced amalgam of sweet and tangy in case you want to dine in instead of breakfast. And if you're looking for a complete vacation experience, consider staying at the captivating beach-front Hampton Hotels, renowned for their prime location and excellent service.
Address: 33 E Mellen St Hampton, VA 23663.
Specialties: Hampton Crab Cakes, Mango Mangeaux, Chesapeake Benedict, and Neo-Soul Egg Rolls.
Jason's Deli
This place is my personal favorite for a number of reasons. First of all, if you're the type of person to enjoy salads then Jason's Deli is a dream come true. They have a huge variety of selections to choose from called a salad bar and they're always fresh, day and night.
Another reason to try out this place is their sandwiches. Whether you are a meat lover, be it any meat or prefer veggies, they have something in each category, and it satisfies everyone's tastebuds. However, if you are a fan of soups, do try their vegetable french onion soup. They use vegetable broth to make it, and it tastes heavenly. So, do yourself a favor and visit this place to munch on the best breakfast in Hampton VA.
Address: 39 Coliseum Crossing Hampton, VA 23666.
Specialties: Baked Potato, Chicken & Egg Sandwich, and Fruit Salad
Cracker Barrel Old Country Store
If you are looking to be entertained while you wait to be seated then you can give this place a shot. Cracker Barrel Old Country Store has a little gift shop where you hang around to pass the time instead of getting bored staring into space.
The interior is primarily wooden with yellow lighting, so it has a catchy vibe overall. The restaurant has a huge parking lot, and you won't have a hard time finding a space for your car. What's interesting is that you will find the same exact taste at every other location of this eatery. This means great consistency in preparing food.
Try out their sweet tea if it matches your preference, it will give you a good kick start to the day. And after you've had your fill, consider exploring the breathtaking Northern Lights with our ultimate guide to this natural wonder.
Address: 106 Market Place Dr Hampton, VA 23666.
Specialties: Hash Browm Casserole, Momma's Pancake Breakfast, and Sunrise.
First Watch
Ever been to a place that nails every type of order? Whether it's dine-in or to-go First Watch is a place that offers nothing short of excellence. Especially when it comes to breakfast, people are pretty specific and fussy as it is just the beginning, and you have your entire day ahead of you. You can blindly trust this restaurant to give you a perfect start to the day.
On our recommendation try out their Hacienda Hash. It is jam-packed with flavors. The potatoes are crisp on the outside and soft on the inside. Along with that, you will get two scrambled eggs, deliciously whipped avocado, and a serving of sour cream. Name a better breakfast place in Hampton VA while I drool, please?
Address: 2011 Von Schilling Dr Hampton, VA 23666.
Specialties: Floridian French Toast, Million Dollar Toast, Avocado Toast, Lemon Ricotta, Smoked Salmon Frittata, and Elevated Egg Sandwich.
Waffle House
Behold! because this isn't your average Waffle House. This casual waffle place will treat you no less than a fine dining restaurant so no jumping to conclusions or judging a book by its cover, please. They will not only wipe your table before seating you but also dry it out. Yes, you heard me right!
On our recommendation, try out their All-Star Special breakfast and be blown away. There is no experimenting with it, and it has all the regular breakfast items combined.
Address: 1811 W Mercury Blvd Hampton, VA 23666.
Specialties: Scrambled Eggs, All-Star Special, and Grilled Chicken Sandwich.
Krispy Kreme
If you happen to be running late for work or for an appointment or generally anything and need a quick bite to start your day then Krispy Kreme is the best choice. It will save you from starving until lunch break because doughnuts fill up your stomach, and it will also give your taste buds a nice dance of flavors.
Their fresh and warm doughnuts are full of rich flavors, soft and moist on the inside and creamy on the outside. They have a never-ending variety of flavors to choose from, and you can also make a combo box which will save you some money. If you happen to be in Anaheim and craving some donuts, check out the best donuts you can get in anaheim!
They have the options of sofa seating as well as chair and table seating, so you can pick whatever you are comfortable sitting with.
Address: 3400 W Mercury Blvd Hampton, VA 23666.
Specialties: Soaring Firework, Patriotic Cookies & Kreme, Stars & Stripes, and Star Spangled Sprinkle Doughnut.
Brandon's Kitchen
What matters as much as the taste of the food is whether it comes out hot and fresh or cold and stale! Especially when it is your first meal of the day such as breakfast. No compromise on that. Brandon's Kitchen is a new place where you can confidently experiment with your food, it won't disappoint.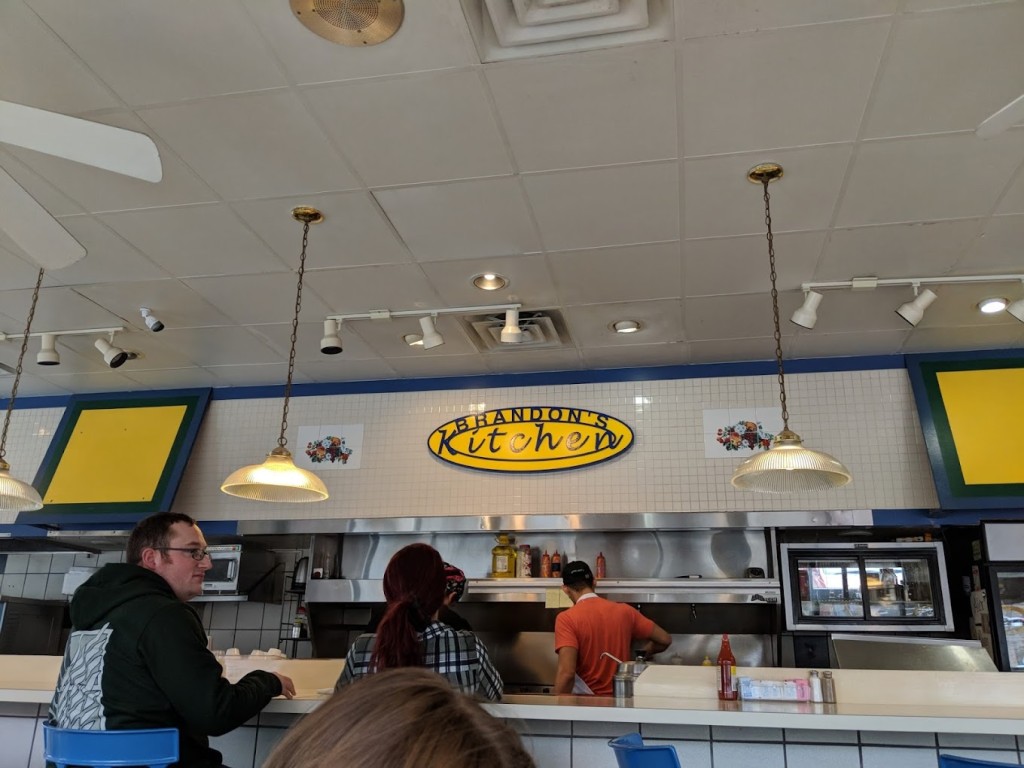 They offer multiple breakfast options and various combinations of breakfast platters. You can mix and match as per your cravings!
Address: 12 Semple Farm Rd Hampton, VA 23666.
Specialties: Hash Brown Casserole, Freedom Toast, Scrambled Eggs, Blueberry Pancake Special, and Breakfast Special.
Sonic Drive-in
This place is best known for its limeades and happy hours. Although usually, what's associated with happy hours is a long wait but you're mistaken here. The servers keep the coffee coming in while you wait for your order. So it is not all that bad!
Other than that you can also try iced coffees at Sonic Drive-in to beat the heat if you are visiting in Summer
Address: 2001 West Mercury Blvd Hampton, VA 23666.
Specialties: Super Sonic Breakfast Burrito, Breakfast Toaster, Cinnabon-Cinnasnacks-with Cream Cheese Frosting.
Recommended Read: Exploring the Local Cuisine at Saugatuck Restaurants
Fertitta's Diner
Fertitta's Diner is the ultimate choice if you're looking to find a regular spot for the best breakfast in Hampton VA! They are open to any modifications you want to make to the menu while ordering so you don't have to follow a strict menu of whatever they're offering.
Top secret, they use fresh blueberries in blueberry pancakes and that's a winner for us at least. Their staff is super friendly and welcoming; they make you feel at home anytime you visit. They are the type of people you just instantly have a connection with and it continues to grow stronger with time. To top that off, they even serve coffee in those mugs you find in your kitchen at home. How cute is that!
Address: 57 W Mercury Blvd Hampton, VA 23669.
Specialties: French Toast, Country Fried Steak, Pizza Burger, Chicken Philly, and Chunky Monkey.
Los Cabos Mexican Grill
For all the Mexican taste buds out there, this is your place! Don't miss out. Regardless of their amazing lunch and dinner food items, Los Cabos Mexican Grill has a delicious Mexican breakfast to offer as well. Whether you're a group of 20 or all alone, don't worry because this restaurant will serve you all the same and without a glitch.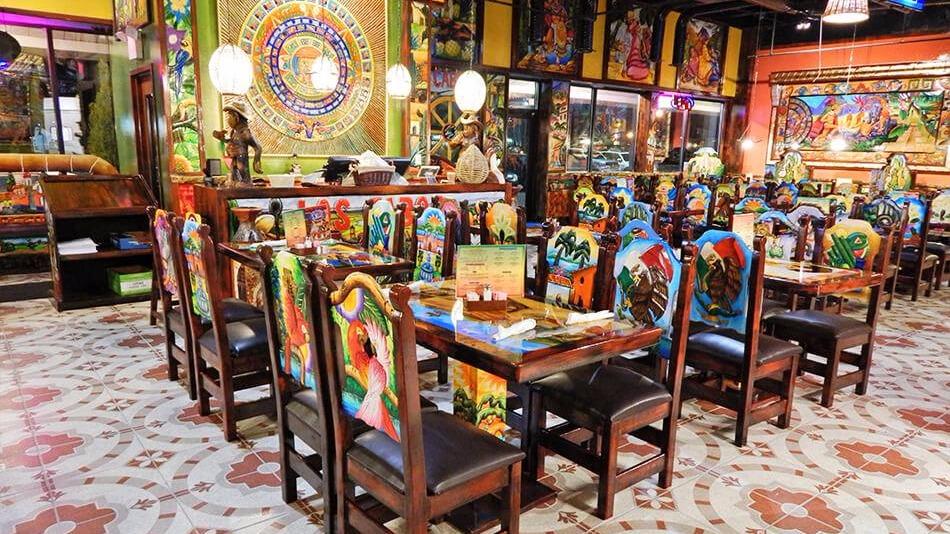 To make it better, they have a patio with a lovely view where you can enjoy your breakfast. And sometimes if you're lucky there is live music on the patio as well.
Address: 18201 Bass Pro Dr Independence, MO 64055.
Specialties: Fried Avocado Tacos, Sopapillas, Rolled Chicken Quesadillas, Ceviche, and Chimichanga.
Laura's Rise & Shine
A place where you got to keep an eye on your weight because it gets addictive and in no time all that delicious food will start showing where it is going!
Their food is so tasty, that it never misses hitting the bull's eye. Whatever you are ordering, don't forget to order grits along with it. The chef at Laura's Rise & Shine is so good at making the perfect grits you have ever tasted in your entire life. It will have you coming back each time you are craving breakfast.
If you are in the mood for steaks, then do get an extra side of gravy for a punch of flavor.
Address: 1981 E Pembroke Ave Hampton, VA 23663.
Specialties: Breakfast Burrito, Breakfast Quesadillas, Skillet Breakfast, Western Omelette, and Philly Steak.
Editor's Pick: 8 Delicious Spots For Brunch In Brooklyn
Firehouse Coffee
A cute little coffee place that has a vast variety of coffee combinations and toppings. You can choose to have the conventional dark, milk, or white chocolate blend in your coffee. Or you can choose something unconventional like an oat milk latte with a punch of vanilla and lavender. And trust us, their coffee will taste divine, whichever blend of flavor you pick.
Overall Firehouse Coffee makes the perfect friends' hangout place or to spend some me-time while you plan to go for a walk on Fort Monroe after grabbing breakfast in Hampton VA at this eatery!
Address: 1 Ruckman Rd Hampton, VA 23651.
Specialties: Tuna Melt, Garden Salad, and Scones.
Southern Comfort Restaurant
Just another lively, well-lit, and joyful restaurant to start your day at. Southern Comfort Restaurant is a place where they pay attention to the tiniest detail. For example they have hooks installed at the bar to hang your purse/bags/coats/shawls etc.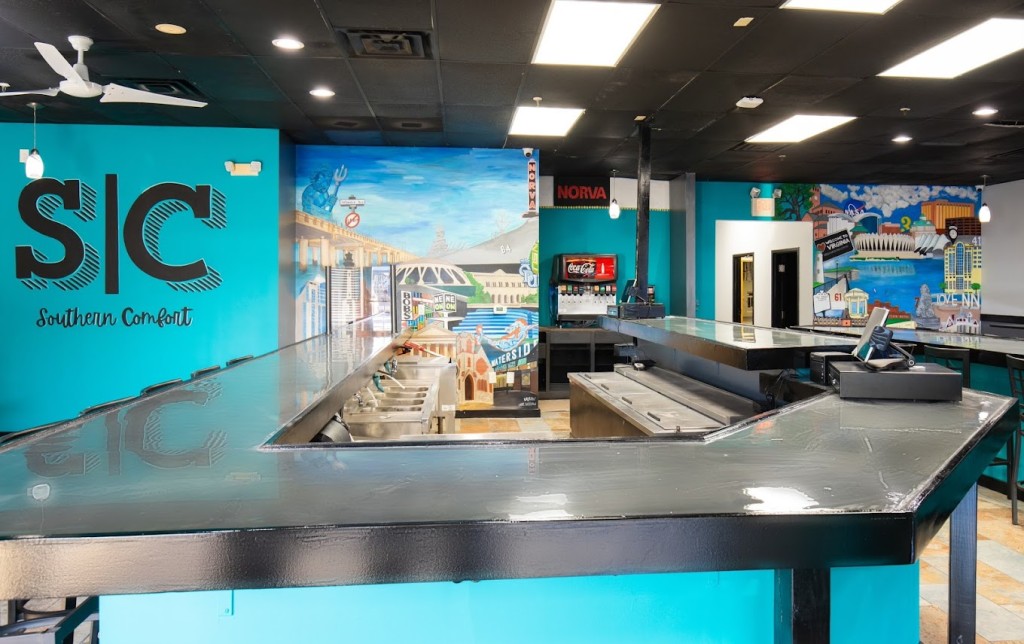 They have televisions installed around the area which seems like a big attraction for sports fans on a match day. Another cute feature is that they serve drinks in mason jars.
They also have a lounge where you can chill around with your friends to a Hookah but mind you, they charge separately for that!
Address: 2163 Cunningham Dr Hampton, VA 23666.
Specialties: Soulful Turkey Wings, Fried Fish, Turkey Chops, Fried Chicken Sandwich, and Smothered Pork Chops.
Pour Girls
This is a casual little hang-out place owned by all females. Although they don't have a big area even then they managed to keep a safe distance in seating customers during the pandemic, unlike some other eateries!
Their drinks and mimosas taste amazing and they are for $3 during brunch hours. If you happen to order a Shrimp wrap, get it with buffalo sauce instead of the usual boom boom sauce. Pour Girls has a lovely outdoor sitting area which we recommend you have your breakfast on when the weather allows!
Address: 17 E Queens Way Hampton, VA 23669.
Specialties: Bullet Hole Breakfast, Stuffed French Toast, Crab Cake Sandwich, and Biscuits and Gravy Special.
Roux Raw Bar & Grill
People from Louisiana, this is your place to judge. Another restaurant that is natural at serving amazing breakfast in Hampton VA. Roux Raw Bar & Grill is a place that will have you repeatedly coming especially if you are a fried chicken lover. Other than that, their Gouda Mac n Cheese is not your average dish. Every single ingredient speaks volumes on the plate, and you can taste every flavor distinctly.
If you are a fan of Hennessy Chicken, then it is a must for you to try! The chicken is a bomb of flavors inside.
Address: 2280 Executive Dr Hampton, VA 23666.
Specialties: Cajun Honey Fried Chicken, Fried Oyster Po Boys, Chipotle Honey Chicken, and Gouda Mac.
The Grey Goose
Their food is super light on the gut; you don't feel like you can eat anymore. This means there's always room for dessert after you finish. Their cupcakes tend to be a little on the dry side but the icing on top tastes heavenly. They have multiple options for desserts though.
The nuggets with fries from their kids' menu are so delicious you can even order them for yourself if you are big on nuggets and fries. The fries are large in size and the nuggets are crispy with generous portion sizes.
They have an outdoor sitting area that you can enjoy on a rainy day because they have it covered. It's a plus for pet owners as well because now their pets won't have to stay out in the rain. So, on a rainy day, sitting on a veranda, sipping the perfect blend of tea, what are you waiting for?
The Grey Goose was recently renovated, and they also updated their menu a bit, so you might want to check them out. And to keep you entertained, they have a drag show going on there sometimes that you will, of course, need to buy tickets for because it's worth it.
Address: 118 Old Hampton Ln Hampton, VA 23669.
Specialties: Blue Crab Soup, French Toast, Mother Clucker, Brunswick Stew, Kentucky Derby, and Avocado Toast.
Taco Bell
This location of Taco Bell is a hit among locals. They usually complain of mess and hygiene issues at other locations, but this stands out because even the parking lot here is kept very tidy and clean.
The wait line moves quickly as they have a very professional and trained staff that is amazing at their job! They are nice enough to substitute the beef in your tacos for anything else you like. And you will get tons of sauces with your order too!!
Address: 1039 W Mercury Blvd Hampton, VA 23666.
Specialties: Breakfast Crunchwrap, Chalupa Supreme, and Chicken Chipotle Melt.
Conclusion
We hope you enjoyed reading this guide about breakfast in Hampton VA as much as we enjoyed writing it for you. The restaurants mentioned serving delicious meals other than breakfast as well, in case you want to visit. To make it more convenient, you can also look at the best breakfast in Virginia Beach, Boston, or Chicago if you are around that area instead of the Hamptons. We hope you have a lovely start to your day!