Donuts are undoubtedly an irresistible sweet item that is appropriate for any event. Whether a birthday party or a wedding, you can put donuts on the food menu, and everyone will love it. In addition, the tempting toppings with flavorful and creamy fillings make donuts an even better delight. Thus, we will list down all the incredible donuts in Anaheim, California, that you can stop by for a fabulous variety. If you are in Virginia and craving donuts, check out The Best Donuts in Virginia, You Must Try.
The donut places we introduce in our guide will serve fresh and gooey donuts. You do not have to worry about getting the leftovers from the past day since they make new batches every morning. Therefore, these donuts will make your day special and serve as a delicious morning snack if you are not in the mood for a full-fledged breakfast in Anaheim.
Vandy Donuts
View Website
Get Directions
1007 N Euclid St, Anaheim, CA 92801, United States
PERFECT FOR: Delicious Breakfast Sandwiches
They have the freshest donuts in town that are so rich and soft in texture to melt in your mouth. It will produce a burst of flavors as soon as you munch on the first bite.
Moreover, it is a lovely little donut shop with various donut flavors on the shelf for display. Hence, you can choose your favorite ones easily.
Specialties: Chocolate Donut and Glazed Donut.
This donut spot has been delicious donuts since 1983. As a result, it is pretty popular among the locals, and tourists often visit the shop to try the famous donuts. The best part is that it is open 24/7 for the customers.
Furthermore, it is home to the popular croissant and donut hybrid Double Decker O-Nut, which is available in many flavors. You will also find a great collection of sandwiches for breakfast.
Specialties: Double Decker O-Nut.
Glee Donuts
View Website
Get Directions
3024 W Ball Rd ste a, Anaheim, CA 92804, United States
PERFECT FOR: Cheesy Breakfast Burritos
Glee has a unique menu consisting of burgers, breakfast burritos, and donuts. So, if you are super hungry, you can have the burger first and then grab some donuts to fulfill your sweet cravings. Besides, the Donut Holes are also an exciting choice.
Specialties: Soft Shell Crab Breakfast Sandwich and Maple Donuts.
M and M Donuts will never disappoint you with its quality and taste. No matter which flavor you go with, you will find it fluffy and soft to melt at the first bite.
Besides, the menu includes Glazed Blueberry, Oreo, and Red Velvet Donuts, among other options. And not to mention, do not miss out on the blueberry donuts.
Specialties: Blueberry Donuts and Red Velvet.
Also Check Out These Places For Donuts in Anaheim
We will add more donut shops to this list to give you plenty of choices to pick from. Rest assured, all the places we are going to talk about next are superb in terms of all aspects.
Recommended Read: 15 BEST Ice Cream In Anaheim
Granny's Donuts
View Website
Get Directions
100 S Brookhurst St, Anaheim, CA 92804, United States
PERFECT FOR: Cheap and Tasty Breakfast Sandwiches
Let us now familiarize you with a decent shop where they make fabulous donuts. On top of that, you will meet a hospitable staff who will tell you about the flavors.
Also, the donuts are cheap and hint at grandma's authentic recipes. You will not find the taste anywhere else in the city, whether in the donuts or the breakfast sandwiches.
Specialties: Brown Sugar Crumble Raised Donut.
Georgie's Donuts
View Website
Get Directions
216 S State College Blvd, Anaheim, CA 92806, United States
PERFECT FOR: Cheap and Flavorful Donuts
Georgie's has a large selection of fresh donuts and pastries at affordable costs. You can get some in the morning to have a fantastic start to your day ahead.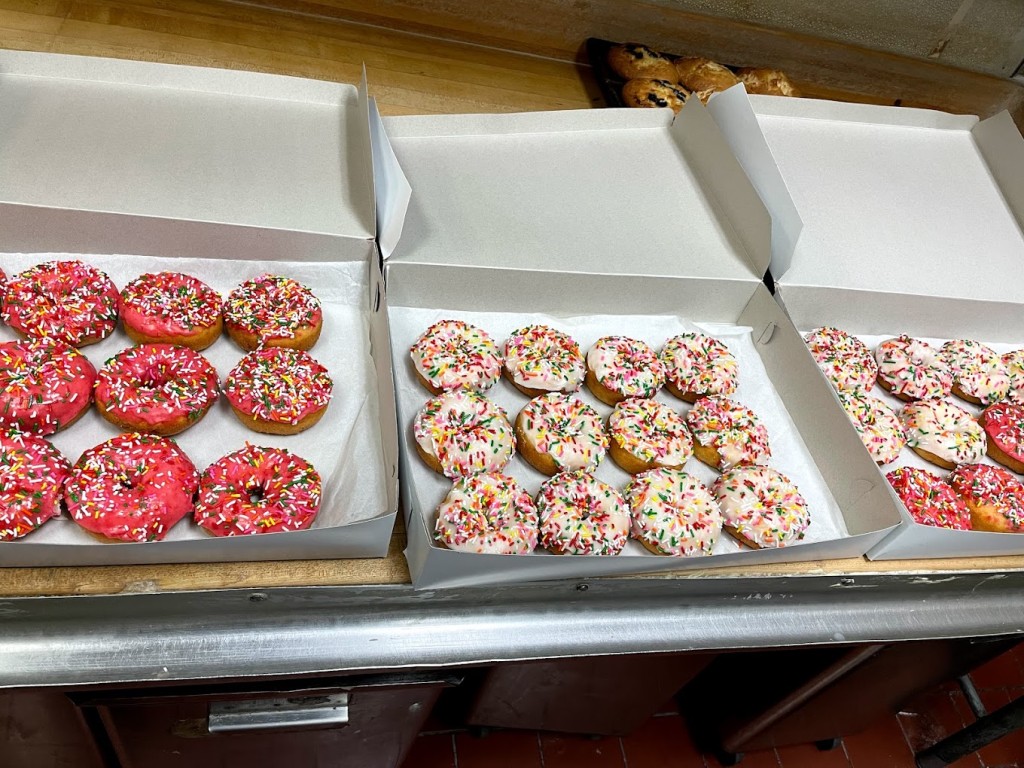 Furthermore, this place will make you fall in love with donuts even if you are not a fan of one. That's how good they are with the food.
Specialties: Bavarian Cream and Croissants.
You can get two free donuts here if you buy a dozen in the evening. The staff is generous with their customer service and strives to put a smile on your face. Whenever you are hungry for croissants, get the ham and cheese croissants from this spot.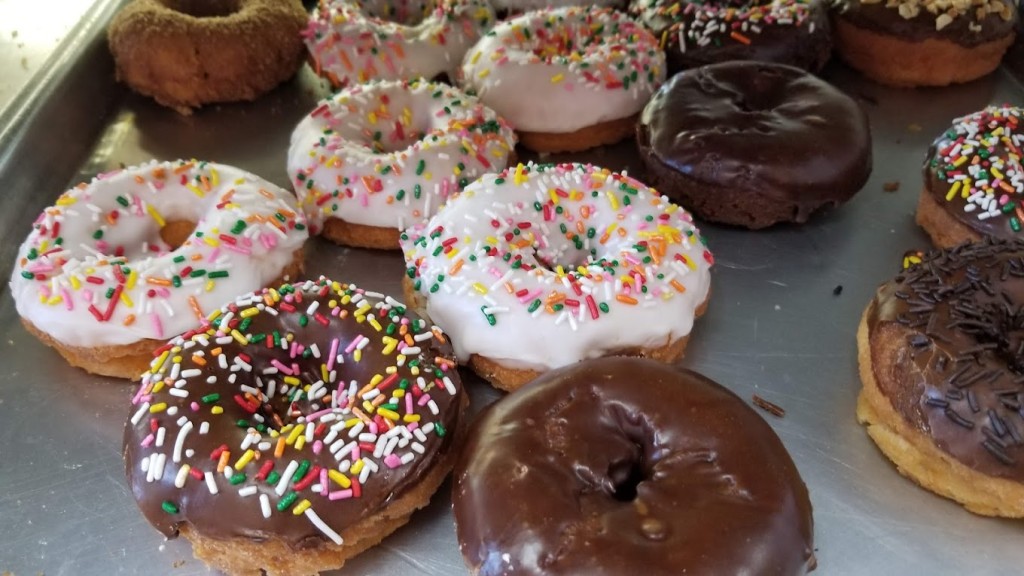 Specialties: Jelly Donuts.
Winchell's Donut House
View Website
Get Directions
901 S Euclid St, Anaheim, CA 92802, United States
PERFECT FOR: Impressive Bagel Sandwiches
You will come across endless donut flavors at Winchell's, some of which you would never have heard of before. Therefore, you can order those for a new variety of tasty donuts.
Additionally, they are good with their bagel sandwiches. They sure look super classy and hint towards the talent of their makers. And if you buy a box of dozen donuts, they always add 14 donuts in the box.
Specialties: Creme Horn, Strawberry Cream Cheese Strudel, and Macaroon Cookie.
It is a decent donut place, offering many flavors with yummy toppings and icings. You can also get the filled ones if you are a fan of them.
Besides the delicious donuts, Jax has great beverages, like coffee, hot chocolate, iced coffee, sodas, and more. You can order these along with a pleasant donut.
Specialties: Classic Donuts.
Okayama Kobo
View Website
Get Directions
155 W Center Street Promenade, Anaheim, CA 92805, United States
PERFECT FOR: Delicious Curry Pans
The baked donuts at Okayama Kobo are amazing. They are soft and fluffy and will give your palate a burst of flavors.
Each donut is rich in texture to make you love the sweet dish. Furthermore, try their famous curry pans that will impress your palate.
Specialties: Baked Donuts.
Editor's Pick: Nightclubs you must visit when in Anaheim
K.D.'s Donuts
View Website
Get Directions
731 S Weir Canyon Rd #143, Anaheim, CA 92808, United States
PERFECT FOR: Light and Fluffy Donuts
K.D.'s is a luxurious donut eatery where you will find lots of unique donuts topped with different toppings and icing flavors. And for those looking for a night out, check out our list of the Top 16 BEST Bars In Anaheim for a great time with friends or a night on the town.
Also, try the Cronut. It is crispy on the outside and chewy on the inside with the perfect blend of sweetness and rich flavors. And there is a sidewalk dining area.
Specialties: Cronut and French Crullers.
You will not be able to resist this heavenly donut place in the city. Furthermore, you will encounter a pleasant smell of freshly baked donuts that will tempt you from the beginning.
Additionally, they open at 5 am every day. Consequently, you can grab a few donuts on your way home from the morning jog.
Specialties: Ham and Cheese Croissant, Coffee, and Classic Donuts.
Donuts Express
View Website
Get Directions
1300 S Magnolia Ave, Anaheim, CA 92804, United States
PERFECT FOR: Ham and Cheese Croissants
The team at Donuts Express is super friendly and will welcome you with open arms whenever you visit. In addition, they take great care of their regular customers.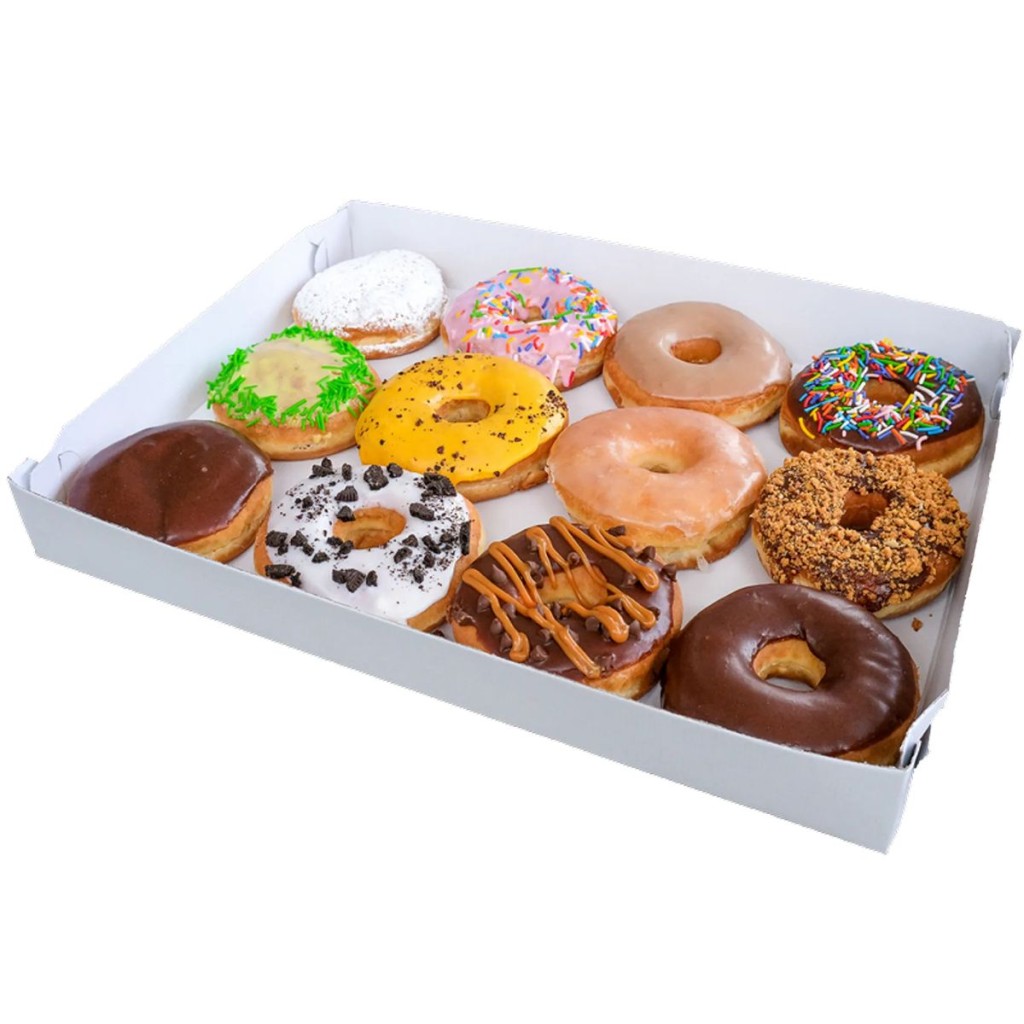 On the other hand, there are a few seats and a T.V. inside the shop, so you can feel at home while you bite on the delicious donuts and other items. Plus, they have scrumptious boba drinks and ham and cheese croissants.
Specialties: Boba Drinks and Chocolate Donut.
What Makes a Donut Shop Special?
There are many reasons why a specific donut place can make it to the top category. First, it should have a wide variety of donuts because people crave different flavors. Thus, whether you are craving blueberry, strawberry, maple, or tasty chocolate, a good donut place will readily offer all the options.
Next, the donuts should be super soft and airy to melt in your mouth with every bite. It is one of the qualities of a brilliant donut. Also, the frostings should be generous, and if you are picking filled donuts, the filling must ooze out of it.
Lastly, a good donut place will also offer other breakfast essentials, like sandwiches, drinks, bagels, croissants, and more. Therefore, you can have a complete breakfast at one shop. You can also read our guide on the best bakeries in Anaheim if you are craving delicious baked goods.
Takeaways
We want to end our guide to the freshest donuts in Anaheim by letting you know that there are endless shops in the city where you can head to. Pick one that appeals to your tastebuds the most, and you can visit every weekend for a beautiful breakfast.