Houston is the biggest multicultural city in the US. The city is known for its history, culture, business, and arts and is a hot spot for thousands of visitors throughout the year. Houston's Downtown is a hub for the aesthetes, with lavish hotels in close proximity to most of the attractions. It is a perfect place for a mini-break or a family vacation. Let's get started with the hotels in Houston's Downtown to have the time of your lives.
Each hotel has its forte. Some come with balconies, others with sundecks, pools, better service quality, better food, and many more. You can pick what appeals to you the most based on your wants and requirements.
Similar Read: Captivating Beach-front Hampton Hotels Known for Location and Service
Best Hotels In Houston's downtown
There are various hotels in Houston's Downtown that feels like a home away from home. Following is a list of hotels in Houston's Downtown to savor;
This place is right in the heart of Houston's downtown with various venues and centers at a walkable distance. Apart from the perfect location, the hotel is perfection in itself. They offer you a very luxurious stay. From heated outdoor pools with sundeck to meeting facilities, fitness centers, and salon facilities, you will be in for a treat.
The first thing that makes it to the list of commendable things this hotel offers is its Pinterest-worthy rooms. Their rooms come with all the necessities and more. In VIP suites you get to have a whole kitchen to yourself and an office corner with a complete desk set-up. The room décor is elegant, and the bedding is super comfortable. There are also window seats in the rooms where you can sit and have a cup of coffee with the stunning views of Houston's downtown.
Their food is incredible too. The in-house restaurant is a steakhouse that also offers a couple of seafood options. They also serve breakfast and dinner. The food tastes divine; their steaks are cooked to perfection, and the bagels are lovely. Their service quality is good too. The bar which is on the ground floor provides you with a majestic view of this luxurious hotel. Overall the vibe of the bar is intimate and cozy. The staff makes sure to help you with your needs so you may have a comfortable stay.
You can also book this hotel for your wedding and meetings. This hotel is the one for you if you have pets or toddlers. They are pet friendly and have also got babysitting facilities. All in all, the entire hotel comes with all amenities for a pleasant and luxurious stay.
If you want to stay in a lively historic boutique hotel in the central part of sparkling Houston's downtown, this is the place for you. This hotel comes with a bunch of facilities like parking, security, free breakfasts, a gym, and airport transportation but the best thing about this one is its decoration. The hotel is adorned with art pieces by renowned local artists. This hotel has been providing its service for decades now and has mastered the art of modern hospitality while keeping the old traditional ways alive. If you want to have a walk around, the hotel is also closer to the park, music center, and stations.
As long as the rooms are concerned, there are various options. They have bridal suites, family rooms, and rooms with a view available for you. The bedspreads are super comfy. You can book the room as per your desires. Their room's interiors are elegant and give an upscale home vibe. The view of the city from the windows is out of this world, especially at night, the city lights make the whole vibe magical.
Their food is delightful. They have special menus for people with dietary restrictions which is also a plus one. The free gourmet continental breakfast buffet is the perfect way to start your day. There is also a bar and a minibar to enjoy your favorite drinks for free. You can also watch the movies of your choice on the T.V. Apart from the services, their staff is nice too. They go above and beyond to make you feel at home.
If you want to entertain a larger audience they also have banquet halls for that purpose. They have also got meeting facilities with free high-speed internet. Considering everything, this hotel is known to be the best in Houston and I have to say I can't disagree!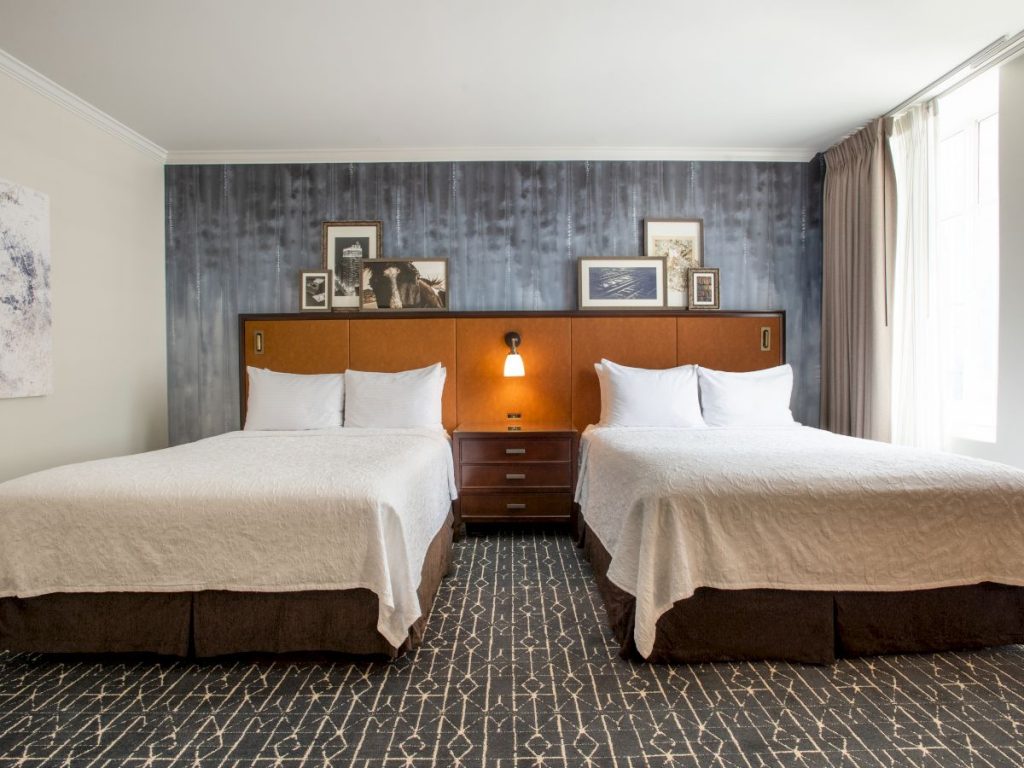 This hotel is located at a perfect location that is closer to the Downtown Aquarium, Houston Zoo, Golf course, Toyota Center, and parks. There are also various biking and hiking trails nearby. Apart from the stunning location, the hotel also offers various facilities like pools, spas, a terrace, and many more. The gorgeous city views from the terrace will be worth every one of your penny.
Their rooms are spacious, really clean, and come with all the modern flairs. The beddings and spreads are nice and comfy. There is also a gym within the hotel which is accessible for people on wheelchairs. Parking and transportation are also available in the hotel. The best part about this hotel is its library which is so exquisite and heaven for bibliophiles.
Their food tastes delicious. A bar and a minibar are also available; however, their coffee has to be some of the best I have had in Houston. The rooftop pool and Jacuzzis will quickly become your favorite spots in the hotel. They are considered to be one the best new hotels in the world so there is no question that their service quality was the best of the best. They go out of their way to provide you with the utmost comfort.
They also have banquets and big halls for meeting arrangements available for bookings along with a free Wi-Fi facility. The overall architecture and the ambiance of this whole place are really good. This will become your go-to place in no time!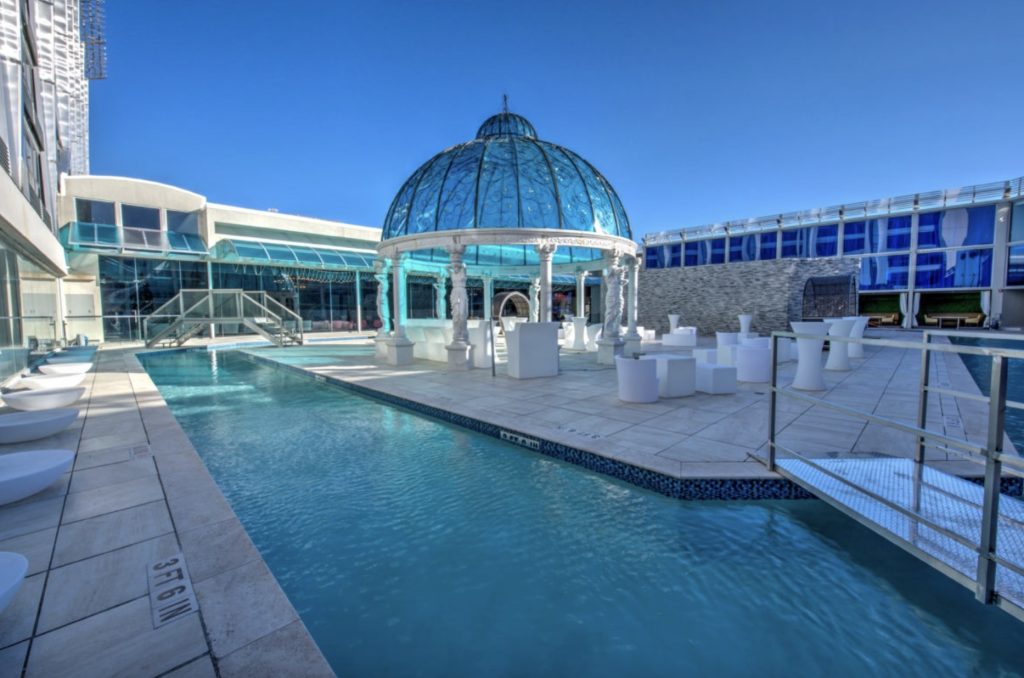 This hotel is located near the downtown and is closer to shopping districts and Sam Houston Race Park. It's one of its kind sort of hotel with pool cabanas, outdoor pools, and sun loungers. The highlight of this hotel has to be the lazy river outside and the feeling of floating down the stream is so alluring. Amenities of the place include parking, transportation, workspaces, and picnic areas. It's a perfect place for a quick getaway from the daily grind of life.
From the standard rooms to the suites, the luxurious set-up is everywhere to be seen. The designer luxurious VIP suites are perfect and provide you with an exclusive environment of sophistication and opulence. With plushy beds and super comfy spreads; you will be able to sleep in no time. From the terrace, you see the stunning view of the lazy river and city around which is a treat for the eyes. There are designer stores and golf courses nearby as well.
You also have various options for dining. You can dine at private dining or a couples dining or can enjoy an outdoor picnic in the picnic area with your friends and family. There is also a bar and a snack bar available for you to enjoy with the movies of your choice. There is also a cafe where you can enjoy your coffee with exquisite interiors.
The customer service is five stars as well. Their staff is nice and also helps you, as a tourist, to visit the finest destinations nearby. One thing you should know before going here is; the place is not pet friendly so only service pets are allowed inside. However, if you are looking for Pet-Friendly hotels, check out our list of The Best 15 Pet-Friendly Hotels to Choose in Norfolk VA. On the whole, the place is breathtakingly beautiful and you will take great pleasure in it.
This hotel is at the prime location of Houston's Downtown with Christ Church Cathedral and House of Blues nearby. The central station and airport are also really close to this hotel. This hotel offers conference rooms, workstations, transportation, a rooftop terrace, and many other things to provide you with a fancy stay.
The rooms are delightful and consist of premium bedding, blackout drapes, a TV with premium channels, and an air conditioning and heating system. The majority of the décor of the hotel, be it the lobbies or the rooms, takes its inspiration from the European style architecture and interiors however the hospitality and warmth are Southern.
The hotel has a restaurant and 2 bars; one is located inside, and the other is on the rooftop. The rooftop terrace has a great vibe going on with the bar in the corner. The view of the city from the rooftop provides you with just the right amount of tranquillity you need for the vacation. Their food is pleasing too, but, the rooftop bar has to be the highlight of this hotel.
The customer service is beyond amazing. The staff treats you like family and is informative about the area which is a great help. They also have an in-house gym which is very well-equipped. All-embracing the hotel is beautiful from the outside and even more stunning from the inside. Your stay here will be exceptional!
This hotel is in the downtown area of Houston which is near many of the famous tourist attractions like the Space Center and The Kemah Boardwalk. The facilities provided by the hotel include a spa, parking, free Wi-Fi, meeting rooms, a lounge, a bar, a gym, and many more. Their rooms also provide a splendid view of the beautiful city. The best part of staying in this hotel is its premium wine selection which is the best this city has to offer!
Several types of rooms are available for bookings including; non-smoking rooms, city-view rooms, and suites. No matter which one of the rooms you get, comfort is assured. The beds are soft and moderately sized. Their rooms are designed by keeping in view the utmost ease of visitors with ergonomic chairs available for the desk set-up in rooms and premium ultra-soft beddings and there are free crib beds available too. Other facilities include a grocery store and a snack bar. There is an in-house restaurant. The food is really good. If there is one thing you must try is their Salmon Alfredo, it's a chef's kiss. There is also a bar where you can enjoy drinks. Downtown Aquarium, Toyota Center, and Minute Maid Park are also within a walking distance of this place.
The service quality is admirable. Their staff is so intent to make your stay comfortable and; remain successful in doing so. From the ambiance and vibe to the interiors, everything is on point. Overall your stay here will surely be a ten out of ten.
This hotel is in a class by itself with its perfect location and meaningful amenities. The facilities include parking, a bar, a restaurant, a pool, and transportation. There are also meeting rooms available with free Wi-Fi. There is a café inside which offers one of the best coffees in Houston. The hotel is also really close to the airport.
It offers two types of rooms; non-smoking rooms and suites. The rooms are spacious with premium bedding and sofa beds. The halls are spacious with high ceilings and are illuminated by the lights coming through the huge windows. You can arrange a meet or greet or a conference meeting in one of the halls. There is also an onsite gift shop available and the hotel also offers seasonal and holiday packages.
There are many restaurants nearby but, you have to give it to the in-house restaurant of this hotel, their food is out of this world. Especially the pretzels; they were amazing. The hotel is pet friendly. There are computer stations and conference space available inside as well. The hotel is also closer to hiking and biking trails.
This hotel is tidy and the service quality is exceptional. Especially the staff at the bar, who is friendly and kind. All-inclusive the hotel is perfect for you if you are into fancy and extravagant stays with high-end hospitality.
The Laura Hotel is in the ideal location of Houston's Downtown with restaurants, music venues, airports, and state parks nearby. Among the many facilities this hotel offers, there is a rooftop pool and a patio which will catch your eye. The rooftop pool set-up is beautiful and so relaxing at the same time. There is parking, free Wi-Fi, and a gym available; however, the locally crafted beers of this hotel are elite and If you are a fan of locally crafted beer, you may want to check out our guide to Denver's top artisanal breweries.
The available rooms are the city view rooms, non-smoking rooms, and suites. Their beds are comfortable and the bedding is hypo-allergenic which is a plus for people with allergies. The rooms are tidy and the bathroom along with other luxuries also features walk-in rainfall showers which are soothing and so calming.
The food at this place is quintessential. The ambiance of the in-house restaurant is delightful. There is also an art deco lobby bar which is another one of the best parts of this hotel that calls for your attention and the staff is just the cherry on top. The bartenders are professional and provide you with good service.
Their service quality has to be one of the best in the town, especially for multilingual people. If you don't speak the native language, they have a multilingual staff which will be of great help. The place is accessible for people on wheelchairs and special packages are available for couples. Inclusively this place will be worth every one of your penny.
Residence Inn Houston Downtown/Convention Center is located right in the middle of Houston with a metro station and trains nearby. Their services include the pool, parking, transportation, meeting areas, and an in-house restaurant. The distinguishing feature of other hotel room spaces is that this hotel is perfect for a family vacation as it has extensive options for kids and mature people alike and also they provide you with a complete kitchen setup with a dishwasher, full-size refrigerator, stovetop, etc.
The rooms are very elegantly decorated. Their bedclothes are soft and nice and the rooms are soundproofed. You will be provided with free Wi-Fi as well. There are living spaces where you can mingle with other guests in the lounge and dining area. All outdoor swimming pools are accessible for all age groups and the place is friendly for wheelchair bounded individuals.
There is also a restaurant and a snack bar. The food tastes heavenly. You can tell them about your personal preferences and get your meal customized. This hotel also offers a separate buffet for kids. The hotel also offers Happy Hour where you can unwind with your significant others. Other amenities include an ATM service, a free grocery shopping service, and a convenience store.
A 24-hour business center is also available in the hotel. This hotel is in the business district so if work is on your agenda this is the place for you. The hotel is pet-friendly as well which makes it a perfect place for a family-staying vacation, and if you're looking for more family-friendly hotels in the state, check out our list of Top 10 Family-Friendly Hotels in Atlanta
Things to consider before going to a hotel
Location — Before making reservations make sure you know the place well and that it is nearby the attractions you want to see and visit. Make sure you have public stores and stations at hand.
Amenities — Be aware of the services provided by the hotels like housekeeping, room service, Wi-Fi service, parking, pool, etc. For you to have quality time, the service needs to be top-notch.
Reading reviews — Before booking the place read the reviews. Reading customer reviews can tell you a lot about the hotels and their service, which will eventually help you in picking the best options for you.
Safety — Whether it's a solo trip or a family one, safety is really important. You should not have a single doubt about the security of the hotel you will be staying at.
Food and Hygiene — An untidy hotel room is a big red flag. The place has to be clean and tidy. About the food, make sure you know what options you have on your menu if you have any dietary restrictions and children with you.
How Do We Pick Our Recommendations
Houston, Texas is the most ethnically diverse metropolitan area in the US. This diversity has allowed people to see the colors of the whole world in a small place which is why visiting Houston has been on our list. We have lived in various hotels during our visit to make up this list of best hotels to stay in Houston's Downtown and while being at it, we had an absolute blast. Our recommendations are based on the comfort and facilities provided by the hotels and their customer service. This listicle is not just based on our experience but also on the ratings of other guests.
Next Read: 8 Best Hotels with Exotic Pools in NYC.
Best Hotels in Houston - FAQs
What is the best part of Houston to stay in?
The best part of Houston to stay in is Downtown Houston.
What are some top Downtown Houston hotels with balconies?
Courtyard by Marriott Houston Downtown/Convention Center, Club Quarters Hotel in Houston and Magnolia Hotel Houston, A Tribute Portfolio Hotel are some top Downtown Houston hotels with balconies.
What is the most popular hotel to stay in Downtown Houston?
The Lancaster Hotel is the most popular hotel to stay in Downtown Houston.
Where is the safest area to stay in Houston?
Downtown Houston is the safest area to stay in Houston.