We understand how difficult it is to leave your best friend, i.e., your pet, behind when traveling. It is hard to trust anyone with your pet, especially if you cannot spend a day without cuddling in your arms. Besides, not everyone will look after the pet when you are out of the city. In such cases, you have to book hotels that are happy to accommodate your adorable pets. Hence, we have a list of the best pet-friendly hotels in Norfolk, VA. And for those looking for budget-friendly options, check out our list of 22 Best Cheap Hotels in Norfolk, VA, for comfortable and affordable accommodation.
Pet-Friendly Hotels in Norfolk
These hotels will be more than glad when you bring your pet along on the trip. Moreover, there are particular areas for pets where you can leave them without any worries when you want to leave the hotel.
Best Western Plus Holiday Sands Inn
You will get lost in the beautiful ocean view that this hotel provides. You can stay in front of the ocean for hours without even realizing how much time has passed.
Furthermore, the staff is welcoming toward the playful little creatures. It has a private beach area and a pool. Additionally, the hotels provide complimentary breakfast to make your trip memorable.
Address: 1330 E Ocean View Ave, Norfolk, VA 23503, United States.
La Quinta Inn by Wyndham
It has casual lodging where you can hang out and interact with other guests to pass your free time. In addition, the rooms come with all the basic amenities, such as a high-speed WiFi connection, television, lamps, and more. As a result, you and your pet will have a nice time while you are at the hotel.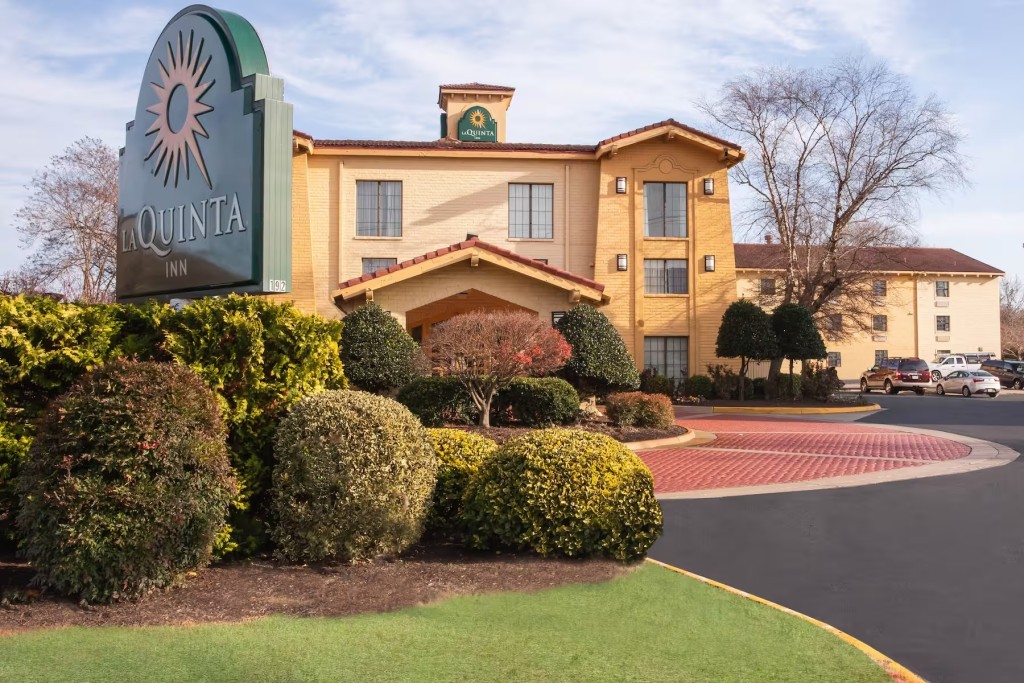 Address: 192 Newtown Rd, Virginia Beach, VA 23462, United States.
Residence Inn by Marriot
Here, you will have quality time without any worries about your pet. The hotel accommodates the pets carefully to ensure no harm comes to them.
Thanks to their trained staff, you can leave your pets here while you explore the best of Norfolk. Moreover, it is among the top hotels in the city, with several facilities and a gorgeous view. Also, check out the best beaches in Norfolk!
Address: 227 W Brambleton Ave, Norfolk, VA.
Motel 6
This hotel has an outdoor pool, laundry for your dirty clothes, free parking, and a cup of freshly brewed morning coffee. The prices are reasonable as well. And the best part is that it is a cheap pet friendly hotel in Norfolk that will not go heavy on your pocket.
Furthermore, the rooms are spacious enough for you to rest comfortably.
Address: 853 N Military Hwy, Norfolk, VA 23502, United States.
Tru by Hilton Norfolk Airport
This is another hotel near the airport that allows pets. It has a modern outlook with many spots where you can click vacation pictures with your pet.
However, one downside is that you must request the staff to clean your room. 
Address: 1571 Premium Outlets Blvd, Norfolk, VA.
Recommended Read: The Top 15 BEST Pubs In Norfolk, VA
DoubleTree by Hilton Norfolk Airport
They have plenty of green grass available in the open area. This is perfect for your pets to play around with as you have some relaxing time to yourself. Plus, the staff knows how to deal with pets. It is located in a beautiful location. Also, the rooms come with several features to ease your stay.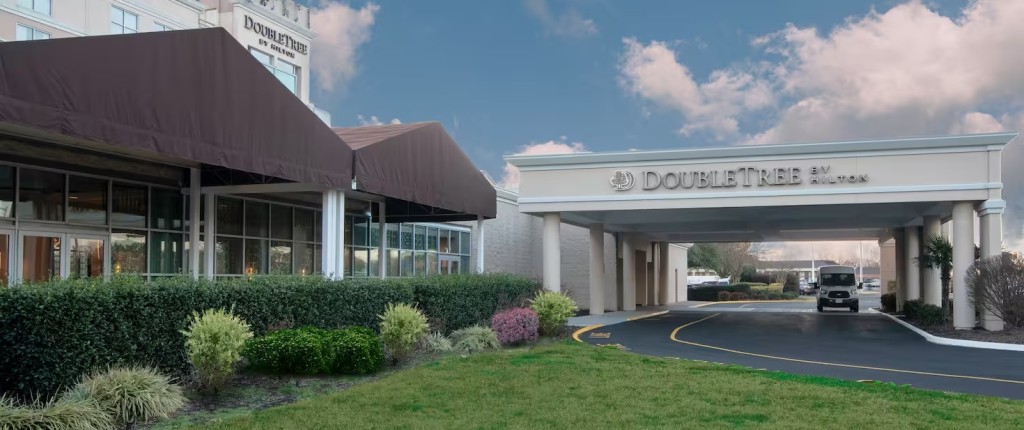 Address: 1500 North Military Highway, Norfolk, VA.
Rodeway Inn 
If you are looking for a hotel where you can cool your mind off without any fussy surroundings, check out Rodeway Inn. It is welcoming for pets.
Besides, it can easily fit within your budget and offers many facilities. Here, you can spend time in the swimming pool after a delicious breakfast.
Address:1850 E Little Creek Rd, Norfolk, VA 23518, United States.
Home2 Suites by Hilton Norfolk
Next on the list of pet-friendly hotels in Norfolk, we have this superb suite where you can take your pets without hassle. Furthermore, they even allow you to keep your pets in your room, so they do not feel alone. Also, they provide various amenities, such as a fitness center, pool, free parking, WiFi, etc. You can even work remotely here since the environment is pretty calm and peaceful. And for those looking for a night out, be sure to check out our list of 11 Best Clubs in Norfolk, VA, for a fun and entertaining evening with friends or family.
Address: 5620 E Princess Anne Rd, Norfolk, VA. 
Red Roof Inn
They have branches in several states of the United States. Thus, they are trusted by many when it comes to booking hotels for trips. Additionally, they welcome your pets with friendly smiles since their staff also love pets.
Further, you will have a peaceful time at this hotel.
Address: 724 Woodlake Dr, Chesapeake, VA 23320, United States.
Courtyard Norfolk Downtown
This hotel is perfect for you if you want to beat the heat. The rooms have air conditioners installed to keep them cool during the intense summers.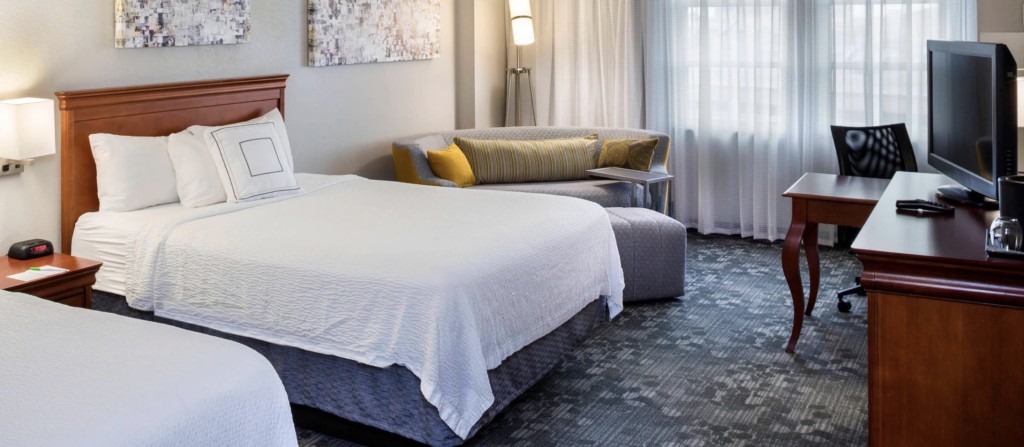 However, you are not allowed to smoke inside the rooms since they are strictly smoke-free zones.
Address: 520 Plume Street, Norfolk, VA 23510.
Candlewood Suites
This one is a casual Airport hotel with a kitchen, free WiFi, and more. As a result, you can continue your work without any hindrance.
Also, if your flight is delayed or there is a break between flights, you can stop here with your pet to relax your body and mind. On the other hand, it is not very fancy, but decent enough for a peaceful stay. And for those looking for a quick bite, check out our list of 19 Best Burgers in Norfolk, VA, for a delicious and satisfying meal.

Address: 5600 Lowery Rd, Norfolk, VA 23502, United States.
The Founders Inn and Spa
It is made of gorgeous red bricks that serve as a nice background for your pictures. Moroever, you can easily take a stroll with your pets around the hotel. Just be considerate of other guests. It is a luxurious pet friendly hotel Norfolk VA possesses that you can get for your stay.
Address: 5641 Indian River Rd, Virginia Beach, VA 23464.
Sheraton Norfolk
If you want to go somewhere cozy, Sheraton will make a good pick. They have professional staff who will treat you with the best care. Also, they are friendly to pets.
Plus, it offers a lovely view of the city.
Address: 777 Waterside Drive, Norfolk, VA 23510-2102.
Quality Suites Lake Wright
They have a full breakfast option for the early risers. You can have a yummy breakfast before stepping out for the day's adventures. Besides, your pet can stay here conveniently till you are out. On the other hand, it may not be a luxurious hotel if you are looking for one.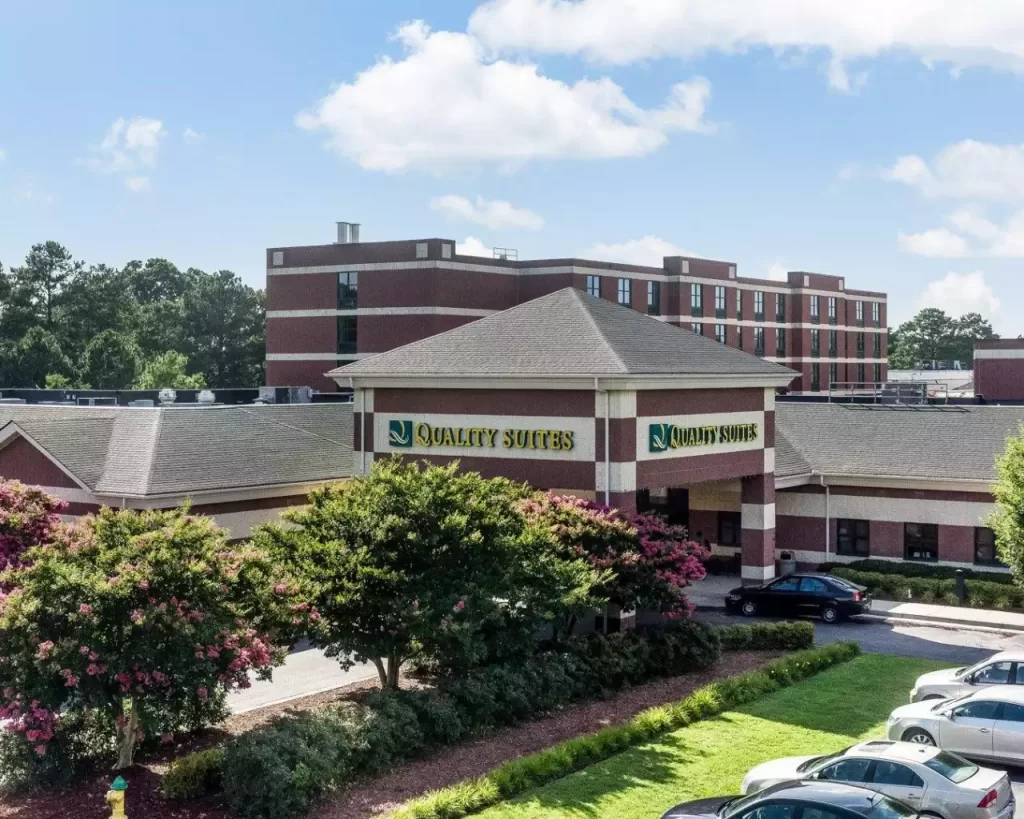 Though, everything else is provided to make your stay comfortable. The rooms have basic amenities and essentials. Also, you can go for walks with your pet around the hotel.
Address: 1521 Premium Outlets Blvd, Building A, Norfolk, VA 23502-5526.
Editor's Pick: 30 BEST Places To Live In Norfolk, VA
Staybridge Suites
The rooms at Staybridge are spacious and well-made. Even though the hotel is open to pets, they maintain cleanliness like no other. Every corner is super clean to offer a nice experience.
Furthermore, there is a bar where you can have a drink or two after an exhausting day of hanging outdoors. You can also immerse yourself in the warm swimming pool or the hot tub. As a result, you can get rid of the tiredness within no time for the next day.
Address: 709 Woodlake Dr, Chesapeake, VA 23320, United States.
We hope this article about the top pet-friendly hotels in Norfolk, VA, has served its purpose. If you have selected any of these hotels for your next stay, we are sure that you will have a brilliant stay. They are clean and have a professional staff who can handle your pets well.