Atlanta, Georgia is famous for a lot of reasons, one being its family-friendly hotels. Be it museums or the rich culture of the city, people from different parts of the world flock to Atlanta for vacations. Considering the
the hype of the city among tourists, we decided to provide them with the list of best hotels in Atlanta.
Follow us to the end of this write-up as our traveling team shares the top 10 family-friendly hotels. f you're planning a trip to Santa Fe as well, check out our list of the Best Hotels in Santa Fe for even more great options for your family.
10 Best Hotels in Atlanta for Families
We have filtered out the 10 best hotels in Atlanta that are suitable for families. While doing our research, we made sure to live up to the audience's expectations and pull out the only hotels that are perfect for families from every aspect.
So, without further ado, let's jump on the list of Atlanta's 10 best family-friendly hotels.
Hyatt Regency Atlanta
View Website
Get Directions
PERFECT FOR: Families who don't want to travel to tourist attractions as they are near the hotel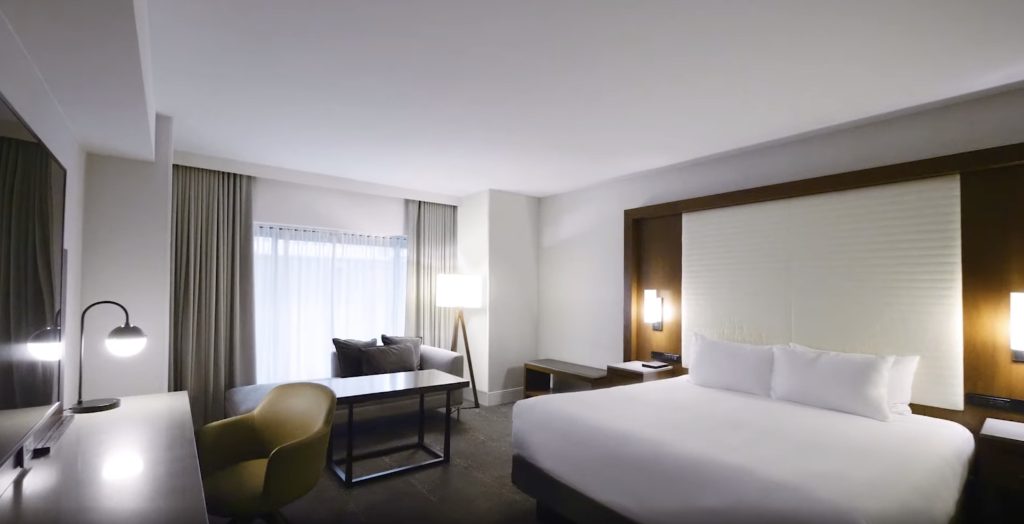 If you want to take in those city lights and explore it all from the top, this hotel has got a special place for you. Book a room with a 52-square-foot balcony at Hyatt Regency Atlanta and enjoy the skyline view with your family.
Another perk of booking a residence in this hotel is its prime location. Many family-friendly tourist attractions are near this downtown hotel. Along that, you can enjoy a seasonal outdoor pool for summer fun.
It is the perfect place for a vacation with family. One can choose the hotel rooms according to their needs. You can get amenities like king bed suites and sleeper sofas as well.
Hyatt Regency is located on historic Peachtree Street. It is very close to the famous tourist attractions that include Georgia Aquarium, World of Coca-Cola, and the College Football Hall of Fame.
Dine-in is available with a lobby market for to-go meals or snacks. The seasonal outdoor pool and free WIFI make Hyatt Regency one of the best hotels in Atlanta, especially for families.
We all love to hear the word "Free." But sadly, we barely get to hear it. If you want to hear it on your tour to Atlanta, book your rooms at Staybridge Suites Hotel. Yes! They provide free breakfast, parking, a washer, a dryer, and WIFI as well.
Don't worry! Your family is going to enjoy it a lot in this one. Many tourists have recommended Staybridge for families. It provides all the perks you will get in a family-friendly hotel. You can choose from one-bedroom or two-bedroom, two-bath suites.
Each suit at Staybridge includes a kitchen, which is equipped with the latest utensils. Your family can easily prepare a meal over there. How about a large format dining? The hotel provides all the facilities to have one. Moreover, there is a dishwasher too.
Every morning you will be served with hot breakfast buffet for free. The hotel has also provided onsite laundry machines for tourists for free. It means you will get the chance to cut down on luggage and packing.
No pool, no party! Staybridge knows that. It checks the box with an indoor pool. Wait right there; we have not forgotten your pet. You can take them along to this hotel as well.
Artmore Hotel Midtown
View Website
Get Directions
PERFECT FOR: People looking to enjoy Spanish and American culture at the same time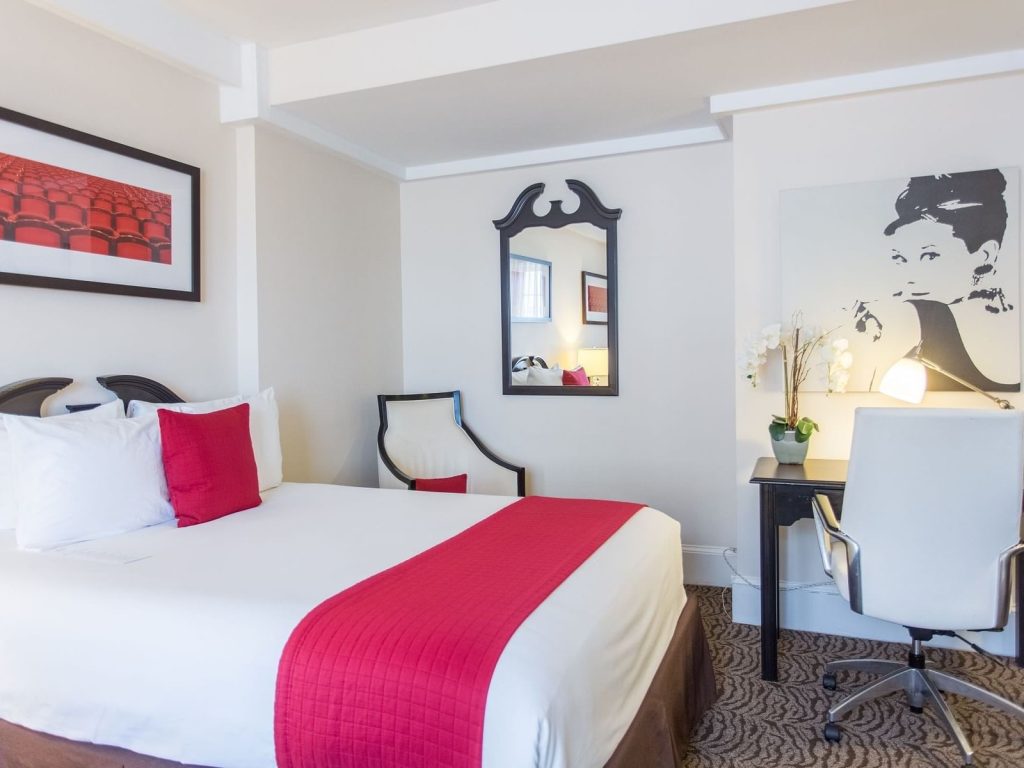 How about tasting some cultures and sharing new things with the family? Artmore is a Spanish Mediterranean-designed hotel in Midtown Atlanta. The vibe is different here. It welcomes families along with their pets and makes sure to provide tourists with top-notch facilities.
You are free to snuggle up under the stars and enjoy nature or relax while watching your favorite movie in any of the multi-room suites. Whatever suits your mood, as there is free WIFI in all suites, rooms, and social areas.
This different ambiance of Spanish culture in the hotel makes it stand out among competitors. You will never regret booking a standard room or suite at Artmore Hotel. It includes one and two-bedroom suites with full kitchens as well.
It is the best family-friendly hotel with added perks for pets. Your pup will get to enjoy the Barkmore package. On the other hand, your family will chill in the beautiful courtyard under the shining stars. You guys can also enjoy a bonfire on cold winter nights.
Loews Atlanta Hotel
View Website
Get Directions
PERFECT FOR: People who love to enjoy midtown life and want special treatment for pets
This one is also located in Midtown, bringing all the city vibes. Loews Atlanta Hotel can make your children and their pets dance with joy as they have something special for them.
The hotel is located within walking distance of family-friendly local attractions that include the pet-friendly Piedmont Park. It allows your children to run and play. Meanwhile, your dog will enjoy the three acres of off-leash dog parks. For you, there is free WIFI and a room to make memories.
We have put this hotel on our list of best hotels in Atlanta because it is close to the Beltline, Fox Theatre, Atlanta Botanical Garden, and The High Museum. These are some must-watch places in the city.
Tourists living in this hotel also get exclusive perks at Georgia Aquarium, which is also nearby. You can book a double-bed guest room or a suite with a king bed and pull-out sofa for your family to relax and talk about the trip.
There are freshly made pastries and snacks available at the onsite boutique market. Your family can munch on them and enjoy every moment at this hotel. Moreover, connecting rooms are also available to stay in touch.
Here is something for fitness freaks. If you don't want to miss out on your workout on vacations, the Atlanta Marriot Marquis hotel is the place you should stay at. You will get indoor and outdoor pools in this hotel, along with a room with fitness bikes.
You can book it and exercise collectively. Kids can stay in the room while you train your muscles. It makes this hotel family-friendly. Moreover, it is within walking distance of some family-friendly attractions. You can take a stroll down there as well.
Onsite dining options are also available at Atlanta Marriot Marquis.
Similar Read: Exploring The Top 9 Hotels Of Amarillo, Texas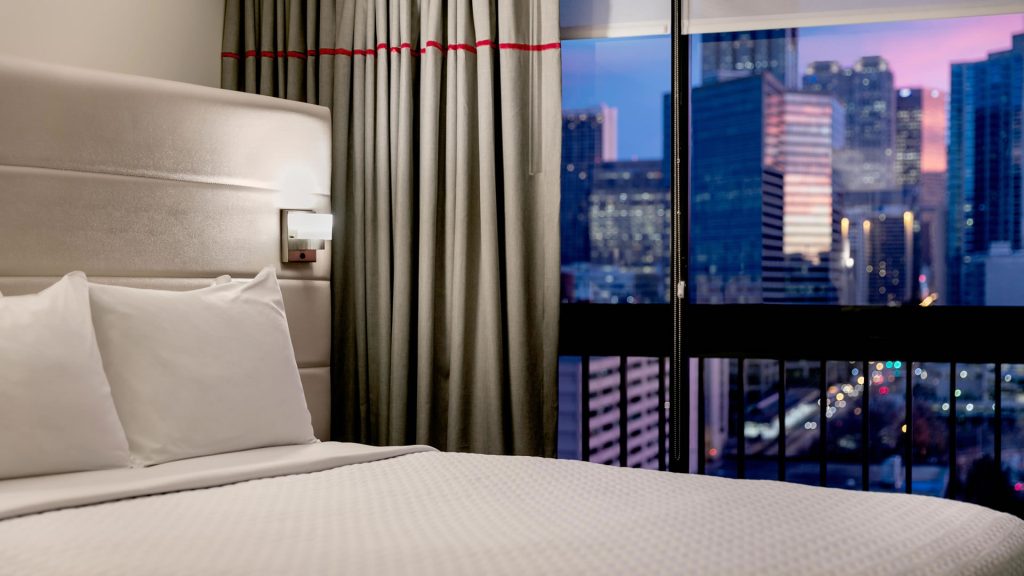 Imagine yourself in a rooftop pool, watching the glimmering lights of Atlanta from the top. Yes! Crowne Plaza offers these mesmerizing sights along with luxurious comfort. Book your balcony room from this hotel and experience the Midtown sights from your place.
Tourists who come to Atlanta with families prefer this hotel for various reasons. It allows them to spread out in a suit room. On the other hand, the rooftop and patio complete the picture.
Moreover, the hotel provides families with a range of hotels to choose from. It can be a standard room or a king bed suite with a sofa bed, depending on your pocket and family size. Another perk is that you get a breakfast restaurant and a grab-and-go market within the hotel.
Have you got pets? Take them along, as Crowne Plaza is pet-friendly. We know your children cannot live without that puppy; bring him along. In addition, there are also many great pet-friendly hotels to choose from in Norfolk VA, all of which offer comfortable accommodations for both pets and their owners, as well as easy access to all the top attractions in the area.
The cherry on top is the great Georgia Aquarium, and other public parks are nearby. You will also find Six Flags Over Georgia at a close driving distance. Oh yes! The WIFI is free as well.
People with big families often find it tough to get a hotel that suits their needs. But you don't have to worry! When we say Atlanta has got everything for everyone, we mean it. The Georgian Terrace Hotel can accommodate your large family that too in Midtown.
Like other hotels, this one also provides multiple options. According to the needs of your family, you can pick the suite for booking. Multiple options are available with a different number of rooms. All of them are equipped with amenities you might need, including a full kitchen, washer, and dryer.
Mostly, families prefer extended-stay rooms or luxury rooms because of their needs. These large suites at Georgian Terrace can accommodate up to 6 guests. That's why we call it the best hotel for big families.
Are you worried about your pets? Don't be, because it's Yes! You can take them along. Moreover, this hotel also offers the mesmerizing sights of Atlanta from the rooftop pool and free WIFI.
Holiday Inn Atlanta – Northlake
View Website
Get Directions
PERFECT FOR: People looking for a peaceful time out with their families
Have you planned your vacation to Atlanta to escape the hustle and bustle of daily life? We know a place where you can spend a peaceful time in the Big Peach (Atlanta). Holiday Inn will take you away from the noisy downtown.
Where there are pets, there is family. We know you are not spending your vacations without your pet and family. Therefore, we are suggesting this hotel, as it is pet-friendly. There is a popular Stone Mountain Park in Atlanta, and this hotel is situated near that park.
You do not get free WIFI only at Holiday Inn, but the kids stay and eat free program along with parking is also completely free. We think this place is best for families because the nearby park allows you to have outdoor recreational activities.
The hotel is not very far from the downtown Atlanta attractions. It is only a short drive away. Moreover, the IHG Pets + Points Package can also earn you bonus points during your stay. You can book double-bed rooms or single-bedroom suites in this hotel.
No, we are not forgetting, the kitchen and high-speed internet are also available. Furthermore, there is an outdoor pool. Thus, children can enjoy free food, and you can swim whenever you want.
Omni Hotel at CNN
View Website
Get Directions
PERFECT FOR: People who love to visit internationally recognized corporates while traveling
There are two big reasons why people prefer this hotel. The first one is that it is located within the CNN Global Headquarters. The second one is it is connected to the State Farm Arena and the Georgia World Congress Center. People who have at attend events at these locations are always staying here.
It can be a good choice for tourists visiting Atlanta with families as well. It is located across the street from Centennial Park. Some tourist attractions in the downtown area are within walking distance from Omni Hotel.
It offers more spacious rooms for families for added space. Your children are also going to enjoy the Omni Kids Crew program, which offers a backpack with gifts. They will receive it upon check-in. Moreover, milk and cookies will be sent to them on the first night.
These small gestures make this place best for families. Moreover, you get an outdoor heated pool and a special kid's menu at the restaurant. Oh yes! The restaurant is pet-friendly as well.
Hampton Inn & Suites Atlanta Midtown
View Website
Get Directions
PERFECT FOR: People who are into arts and love to explore the work of different artists
If you are an art lover and your family is into painting and things, this hotel would be ideal for you. It has the High Museum of Art and the Atlanta Botanical Garden nearby. Art lovers living in this hotel will rush to these places every evening.
The prices of this hotel are the icing on the cake. People who are on a budget can easily book rooms for their families at Hampton Inn. Moreover, there are no charges for facilities like breakfast and WIFI.
You can enjoy a free hot breakfast with connected rooms, saying hello to your extended family from the windows. It is rare to find budget-friendly options like this one in Atlanta.
Things to Consider
Fickle Weather — Atlanta is famous for its changing weather. It is mostly warm but you might see the cloudless sky blacking out with rolling clouds and there will be thunderstorms in the late afternoon. So, be prepared to experience fickle weather conditions.
COVID-19 — Although we have managed to escape quarantines and countrywide lockdowns, there is still some corona fair out there in Atlanta. You will often see shops with "masks, please" signs. Thus, it is better to be prepared accordingly.
High Rent Prices — It was a decade ago that Atlanta was considered cheap. These days, home and rent prices are increasing in the city. A 3% raise has been recorded in the rents from 2018 to 2019. Thus, you might find hotels expensive as well. Keep some extra money before leaving your hometown. For those on a budget, we also have a list of the 22 best budget-friendly hotels in Norfolk, VA.
Taxi Scams — cams are everywhere but in Atlanta, the risk is slightly higher. It is famous about this city that scammers target travelers with fake taxi cabs. They will try to help you with directions and end up robbing you. MARTA is the official bus and rail line system in Atlanta. Book your cab from there and travel safely.
Pickpockets — Theft is everywhere. However, in Atlanta, the pickpocket risk is neither that high nor that low. Tourists are advised to keep only necessary things in their wallets and not to wear valuable items like diamond earrings or gold on their tour.
How Do We Pick Recommendations
Being an adventure lover, our team never leaves any chance of escaping to different countries and exploring new cultures. We have been to Atlanta a lot. Every year, one of our team visits this city and pens down the changing vibes. As Hopdes considers travelers as family, we have filtered out these best hotels in Atlanta for you and your family. Our team has stayed in different hotels, and we found these 10 to be the best fit for people traveling to Atlanta with their families. Stay in Midtown if you want to explore the city's culture and vibe.
Next Read: 9 Hotels In Houston's Downtown To Have The Time Of Your Lives
The Top 10 Family-Friendly Hotels in Atlanta - FAQs
Is Atlanta Georgia Family Friendly?
Yes! Atlanta has a lot of places you can visit with your family. Moreover, there are family-friendly hotels as well.
What hotel is it that is connected to a mall in Atlanta?
AC Hotel Atlanta Buckhead at Phipps Plaza is connected to a mall in Atlanta.
Is Atlanta a good place to live for families?
Yes! The city has everything to offer, from restaurants, shopping districts, nature trails, and historic sites.