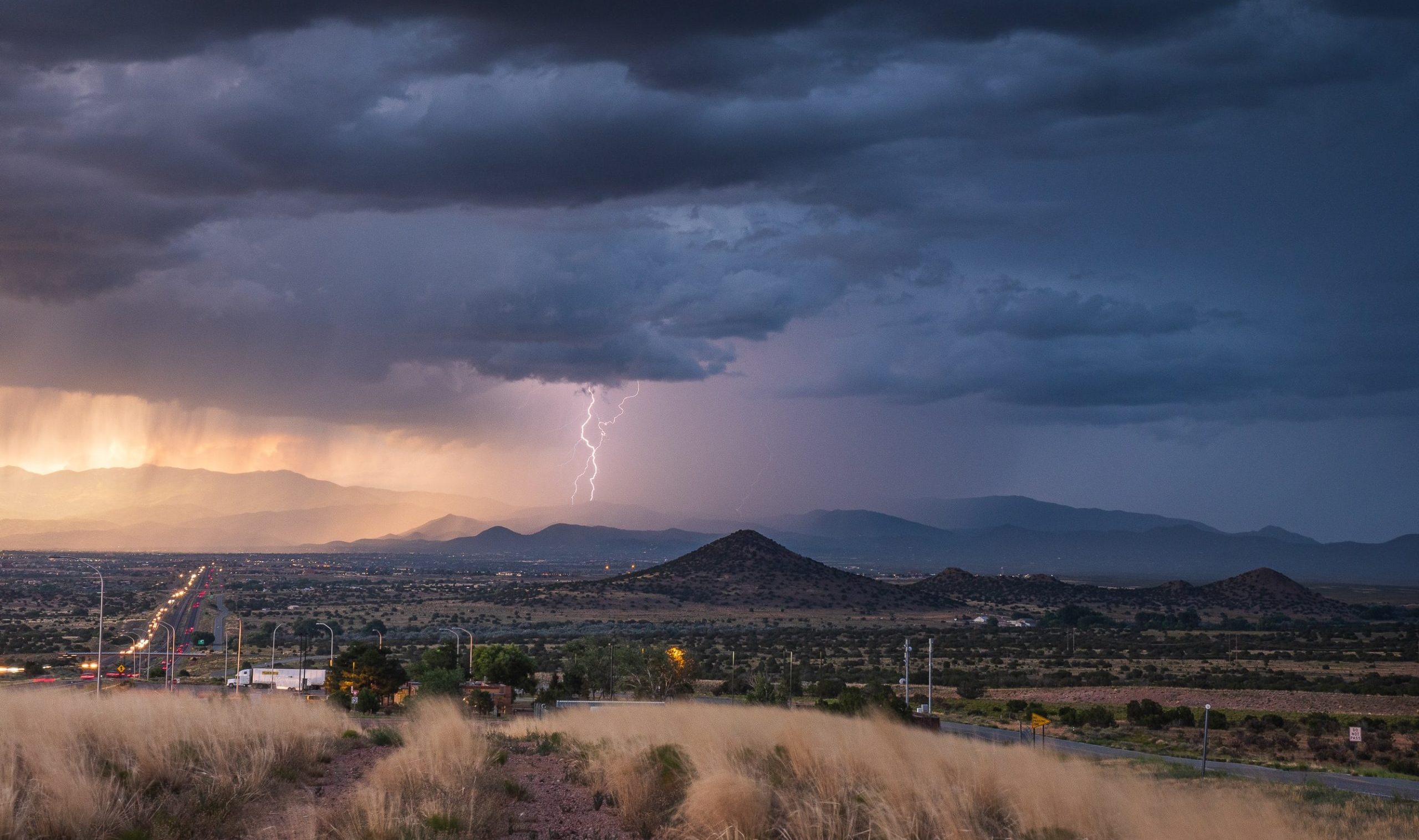 Santa Fe, the city of Northern New Mexico, is a hidden gem. With its colorful history and stunning landscapes, it's no wonder why visitors come from near and far to stay in this majestic city. The hotels in Santa Fe provide some of the most luxurious accommodations in the Southwest for weary travelers. From plush beds and spas to fine dining and five-star service, there's something for everyone when it comes to choosing the best hotel in Santa Fe. Whether you're looking for a romantic getaway or a family adventure, Santa Fe has an array of hotels that are sure to accommodate you and while you're in New Mexico, also check out the best Mexican food you can try.
Which Hotels In Santa Fe Should You Choose?
Your choice may vary, but to facilitate you, we have listed the 11 best hotels in Santa Fe that will definitely give your tour a memorable look.
Similar Places: The 8 Best Hotels With Exotic Pools In NYC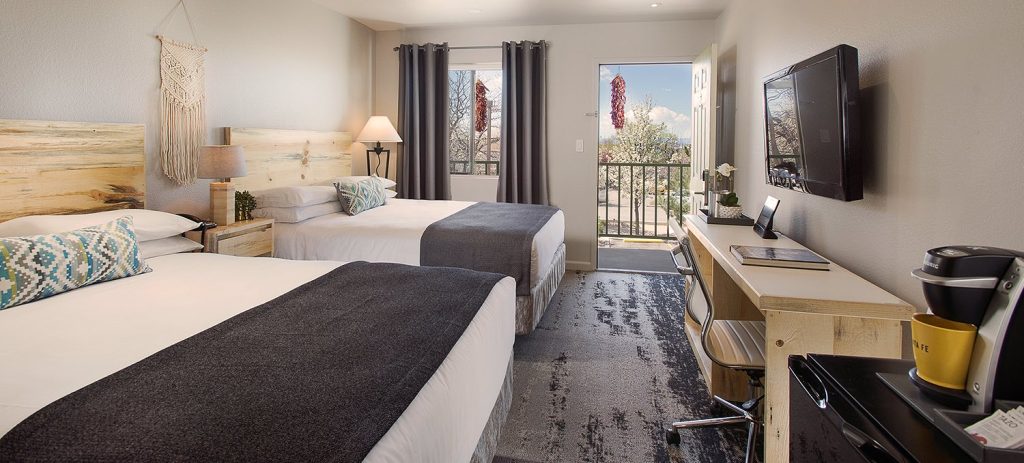 The Sage Hotel offers a variety of luxurious rooms and suites that will meet any traveler's needs. Each room includes a plush king or queen-sized bed, flat-screen television, complimentary WiFi, mini refrigerator, and coffee maker. Guests can also upgrade their stay to have access to the hotel's rooftop terrace or private balcony with views of downtown Santa Fe.
The Sage Hotel also has several onsite amenities, including a heated outdoor pool with cabanas and lounge chairs, an indoor spa with massage services, a 24-hour fitness center with state-of-the-art equipment, and free bike rentals for exploring the city. For those looking for more upscale offerings, The Sage Restaurant serves gourmet cuisine featuring local flavors made from fresh ingredients sourced from nearby farms. There is also an outdoor patio where guests can unwind after a long day of sightseeing or shopping.
The Drury Plaza Hotel is in the heart of downtown Santa Fe, making it easy to access all your favorite attractions and activities. The hotel is within walking distance of various top restaurants and tourist destinations, including the Georgia O'Keeffe Museum and Canyon Road Arts District. You can enjoy the stunning sights of the Sangre de Cristo Mountains from some of the hotel's rooms!
In addition to its convenient location, Drury Plaza Hotel offers plenty of modern amenities to make your stay truly enjoyable. The hotel boasts a heated pool on the rooftop, a state-of-the-art fitness center, complimentary breakfast, free WiFi access throughout the property, and much more—whether you're traveling alone or with family or friends. It provides guests with comfortable accommodations and convenient access to many of the city's attractions, like top-notch restaurants, world-class shopping, outdoor activities, and vibrant nightlife. Thus, Drury Plaza Hotel has Everything you need for a relaxing stay.
Drury Plaza Hotel offers a variety of spacious room options that suit every traveler's needs. All rooms feature pillow-top mattresses with luxurious bedding and linens, mini-fridges, and microwaves so you can store snacks and drinks during your stay. Some rooms also have balconies or patios after a long day of sightseeing. No matter your room option, you'll be sure to get maximum comfort during your stay at Drury Plaza Hotel!
Pueblo Bonito B&B Inn
View Website
Get Directions
PERFECT FOR: Families, couples, and adventurers seeking a unique lodging experience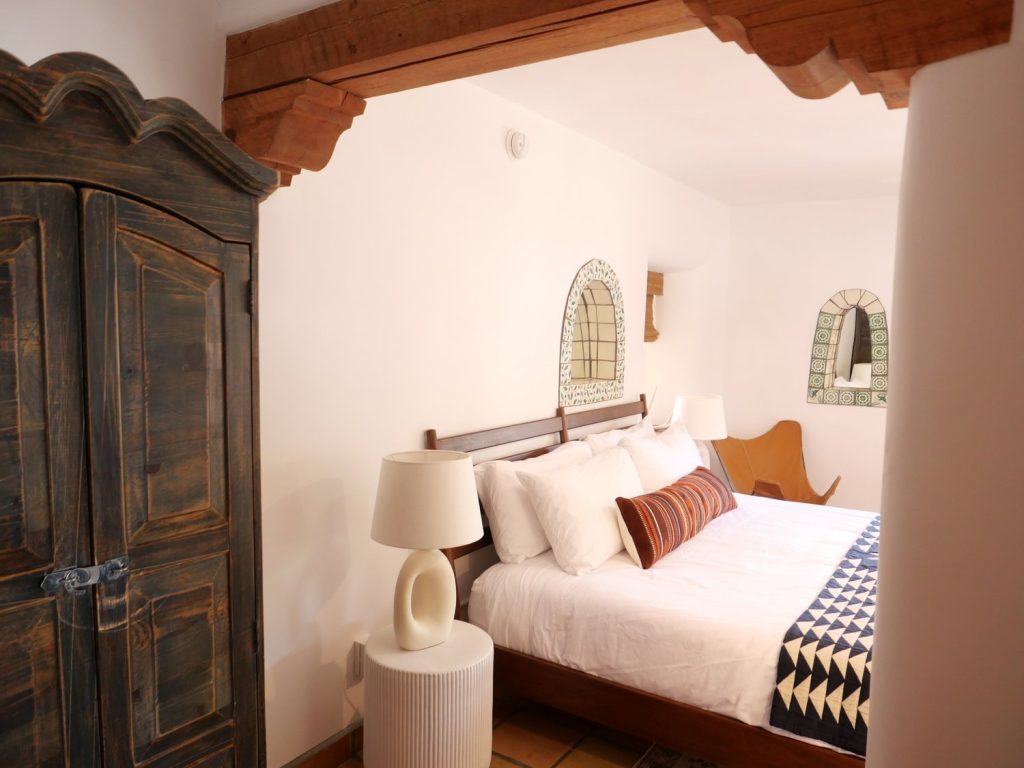 Situated just five minutes from downtown Santa Fe, the Pueblo Bonito B&B Inn is ideal for visitors with the aim to be close to all the action but still have some peace and quiet. The inn is located on an acre of land amongst tall Ponderosa pines, giving it an air of seclusion and tranquility that can be hard to find in such a bustling city. Moreover, you can access all of Santa Fe's best attractions without going very far.
Each room at the Pueblo Bonito B&B Inn has been carefully designed with comfort, style, and luxury. The rooms are equipped with king-size beds, WiFi access, flat-screen TVs with cable programming, plush bathrobes and slippers, air conditioning, and even a private balcony or patio to enjoy the tranquil surroundings. Two spacious suites are available for those who want something extra special, including fireplaces and separate sitting areas with sofa beds if needed.
As if all of this wasn't enough already, the Pueblo Bonito B&B Inn also offers some incredible amenities that make it an even more desirable place to stay. Guests can have a complimentary breakfast each morning featuring local ingredients sourced from nearby farms or convenient grab-and-go options if needed. A heated outdoor pool is also perfect for taking a dip after long days exploring Santa Fe's many sights and attractions. And lastly, there is a large hot tub on site, which is great for relaxing under the stars at night after a busy day exploring everything this fantastic city has to offer.
Refined, Mission Revival-style hotel offers a cozy restaurant with a terrace and a cocktail bar. Hotel St. Francis is a historic property that has been meticulously renovated to capture the charm of old Santa Fe while offering modern amenities and comfort. Situated in the heart of downtown Santa Fe, this hotel is just steps away from all the best shops, restaurants, and attractions; from its rustic-chic décor to its modern amenities and attentive service, this historic hotel is the perfect place for visitors to enjoy all that Santa Fe has to offer without breaking the bank.
The history of Hotel St. Francis dates back over 100 years when it first opened its doors in 1912 as a luxury resort catering to wealthy travelers from around the globe. Today, the hotel retains much of the same charm and character it had in those early days while also offering modern amenities such as complimentary WiFi, a cocktail bar, and an onsite restaurant serving up delicious local cuisine. The decor throughout the hotel is a mix of vintage Southwest style combined with contemporary touches that make it feel like home.
Hotel St. Francis offers various amenities to ensure a comfortable stay during your visit to Santa Fe. Guests can relax after a long day exploring the city in their spacious guest rooms or suites equipped with plush beds and sumptuous linens for maximum comfort. The hotel also offers a 24-hour fitness center for those who want to stay active during their stay, as well as an outdoor heated pool where you can cool off in the water or just lounge in the sun on hot summer days. For those seeking a little extra luxury during their stay, several spa packages are available for guests who want to pamper themselves with massages, facials, and other relaxing treatments.
Hotel Chimayo de Santa Fe
View Website
Get Directions
PERFECT FOR: People who want a unique, luxurious, and culturally-rich experience
Hotel Chimayo de Santa Fe is a one-of-a-kind and authentic boutique hotel in downtown Santa Fe, just a few steps from the historic Santa Fe Plaza. The hotel takes its inspiration from the more than 400 years of artistic tradition in the nearby Village of Chimayo and welcomes guests with 56 spacious and inviting guest rooms and suites. The Hotel Chimayo also has Santa Fe's largest suites, many with wood-burning fireplaces and private balconies overlooking the courtyard.
This hotel is the perfect blend of Santa Fe style and modern luxury. Located in the historic district, it's within walking distance of many of the city's best restaurants and shops. The rooms are spacious and well-appointed, and a complimentary continental breakfast is served each morning.
Guests can also dine in Low 'n Slow, a Hawt Pizza restaurant, or Estevan Restaurante, which serves locally sourced cuisine inspired by the flavors and traditions of northern New Mexico. The Hotel Chimayo de Santa Fe is the ideal location for experiencing the best of Santa Fe!
The Eldorado Hotel & Spa
View Website
Get Directions
PERFECT FOR: Those who want world-class amenities and fine dining & spa options
The Eldorado Hotel & Spa is another excellent option for luxury accommodations in Santa Fe. The hotel features an onsite spa with various treatments and a rooftop pool with stunning city views. Moreover, the hotels give the guests an exciting privilege to enjoy world-class taste in 3 of their restaurants along with 24/7 room services. Hence, it entirely depends on you – whether you want to enjoy it at a hotel or in a room. The Eldorado is just a few steps away from the Santa Fe Plaza, making it an excellent choice for travelers who want to be in the heart of downtown.
The Eldorado Hotel & Spa boasts 210 spacious guest rooms, each with unique character and style. Guests can choose from various room types, from traditional standard rooms to deluxe suites. All rooms come equipped with high-speed WiFi, comfortable beds with plush bedding, flat-screen TVs, and private balconies with spectacular views.
The Eldorado Hotel & Spa also offers plenty of activities for guests to enjoy. Whether it's lounging by the pool or spa facilities or exploring some of Santa Fe's many attractions, such as museums and galleries nearby—there's something here for everyone. Guests can even take advantage of packages that include special discounts on local events and activities!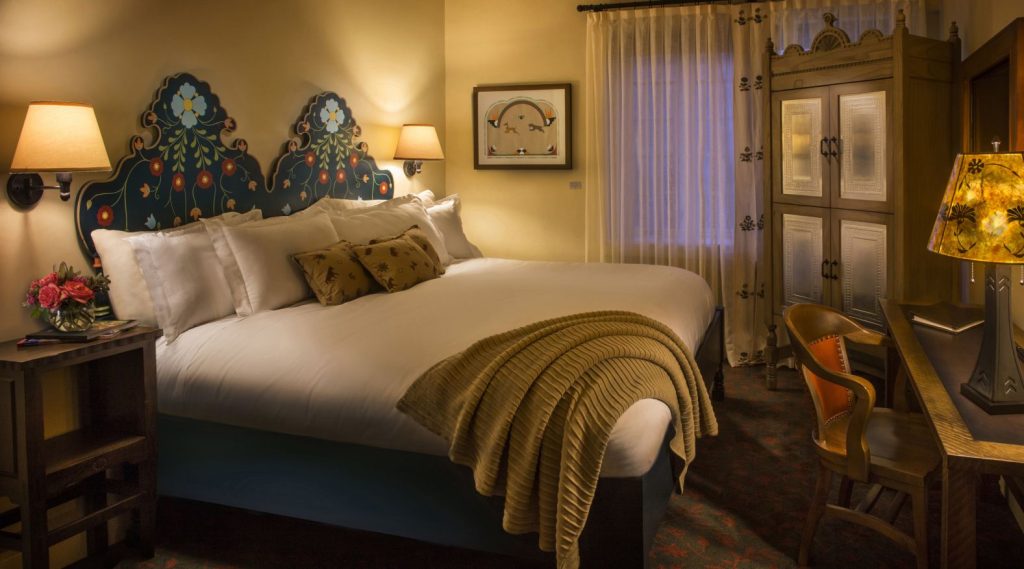 You will find La Fonda on the Plaza in the heart of Santa Fe, New Mexico. The hotel opened its doors in 1922 and has been a popular destination for travelers ever since. It offers gorgeous views of the cityscape and easy access to all of the best attractions Santa Fe has to offer. La Fonda on the Plaza is known for its beautiful Spanish Colonial architecture and countless amenities and activities. Guests can enjoy a meal at one of the hotel's five restaurants, dip in the heated outdoor pool, or relax in the spa. The rooms are large and elegantly appointed, and a fitness plus business center is onsite. La Fonda on the Plaza truly has something for everyone.
The historic La Fonda on the Plaza is an authentic example of one of New Mexico's 4-Diamond hotels, with three classic dining experiences, including a seasonal outdoor cocktail bar. As you browse our breathtaking event venues that showcase views across St. Francis Cathedral Basilica and enjoy stately meeting rooms for your business meetings or corporate travel needs – all while staying in proximity to original artwork favorites like PecanFest.
A stay at this beautifully restored hotel also allows guests easy access to unforgettable attractions such as museums dedicated entirely to Hispanic culture; historical sites showcasing regional Native American heritage. It will be difficult to find what suits every taste!
The Inn and Spa at Loretto
View Website
Get Directions
PERFECT FOR: Those who want classic architecture, spacious rooms, spa treatments, and patios
The Inn and Spa at Loretto offer guests various accommodation options, from cozy guest rooms to spacious suites. Most rooms include balconies or patios with breathtaking views of the surrounding mountains. Each room has modern amenities such as flat-screen TVs and complimentary WiFi access. Guests can also enjoy luxurious bath products, plush linens, and a minibar stocked with local treats.
The Inn and Spa at Loretto feature two excellent onsite restaurants – Luminaria Restaurant & Patio and La Cocina de Luz – both offer unique takes on traditional Southwestern cuisine crafted from locally sourced ingredients. Guests can also enjoy drinks from the Lobby Bar or take advantage of the room service option for private dining experiences in the comfort of their room.
The Inn and Spa at Loretto offer an array of spa services designed to relax, rejuvenate, and restore guests' mind, bodies, and souls. The Revive Spa provides guests with an extensive menu of massages, facials, body wraps, and more tailored to meet their needs. Guests can further unwind in one of several saunas or hot tubs before exploring all Santa Fe offers.
More Recommendations From Our Travel Specialists: Best Western Hotels in Laguna Beach
Things to consider before choosing a hotel in Santa Fe
To make sure you choose the perfect hotel during your stay in Santa Fe, there are a few important factors to consider before booking. Let's look at what you should keep an eye out for when choosing the best hotel for your trip.
Location — The first factor to consider when choosing a hotel in Santa Fe is location. If you want to be close to all of the attractions that the city has to offer, make sure that you find a hotel that is centrally located and close to major sites such as museums or shopping districts. If you plan on exploring New Mexico's many natural wonders such as the 8 most epic National Parks, then look for a hotel that is near major parks or nature reserves so you can easily access them during your stay.
Amenities & Facilities — Another thing to consider when choosing a hotel in Santa Fe is the amenities and facilities they provide. Many hotels offer luxurious services such as spas, swimming pools, restaurants, and gyms. Make sure you check out what each hotel offers to decide which one has everything you need during your stay. Some hotels also provide special discounts or offers if booked through certain websites or apps – so be sure to check those out too!
Price — Finally, price should also be taken into consideration when it comes time to book your hotel in Santa Fe. Prices can vary greatly depending on where the hotel is located and what amenities they offer – so make sure you do some comparison shopping before making a final decision on which one to book. Additionally, try booking early if possible, as some hotels may offer discounts or specials if booked far enough in advance!
How Do We Pick Our Recommendations
To curate a list of the most exceptional hotels in Santa Fe, we evaluated multiple factors, including cost and location. Our team visits each and every hotel and gets a real-time experience. The team also recently visited hotels in Atlanta, Norfolk VA, and more. Moreover, we seek out guest reviews to accurately understand their experiences within each accommodation! With exclusive access to top-tier amenities and convenience, all at various price points, our selection is sure to have something perfect for your upcoming business trip or vacation.
Conclusion
There are plenty of luxurious hotels to choose from in Santa Fe, depending on what you're looking for in your stay. Whether you want to be close to downtown or nestled into nature outside of town, there's something for everyone. And if you're looking for unique amenities like onsite spas or restaurants serving up locally-sourced cuisine, plenty of options are also available. So start planning your trip today and check into one of these fantastic hotels!
8 Best Hotels in Santa Fe - FAQs
What is the best month to go to Santa Fe?
For an unforgettable experience, plan a getaway to Santa Fe between September and November.
How many days do you need in Sante Fe?
You should schedule at least four or five days to enjoy everything it offers.
Is Santa Fe a walkable city?
Santa Fe boasts a variety of walkable destinations, from the bustling downtown and historic districts to the Don Gaspar and Westside-Guadalupe neighborhoods.
Why is Santa Fe so famous?
Santa Fe, is a city celebrated for its distinctive architecture and cultural heritage.