The great outdoors and stunning weather of New Mexico are well-known. The incredible natural landscape of New Mexico can be explored alongside its history and culture at more than a dozen national parks, monuments, and 35 state parks. Visitors can stay in Albuquerque while traveling to state and national parks all over the state, making it the ideal hub from which to launch their adventures.
Best National Parks in New Mexico
New Mexico undoubtedly lives up to its nickname, the "Land of Enchantment" with so many areas and breathtaking scenery on show. Below is a list of the best national parks that are a must-visit for you and your family: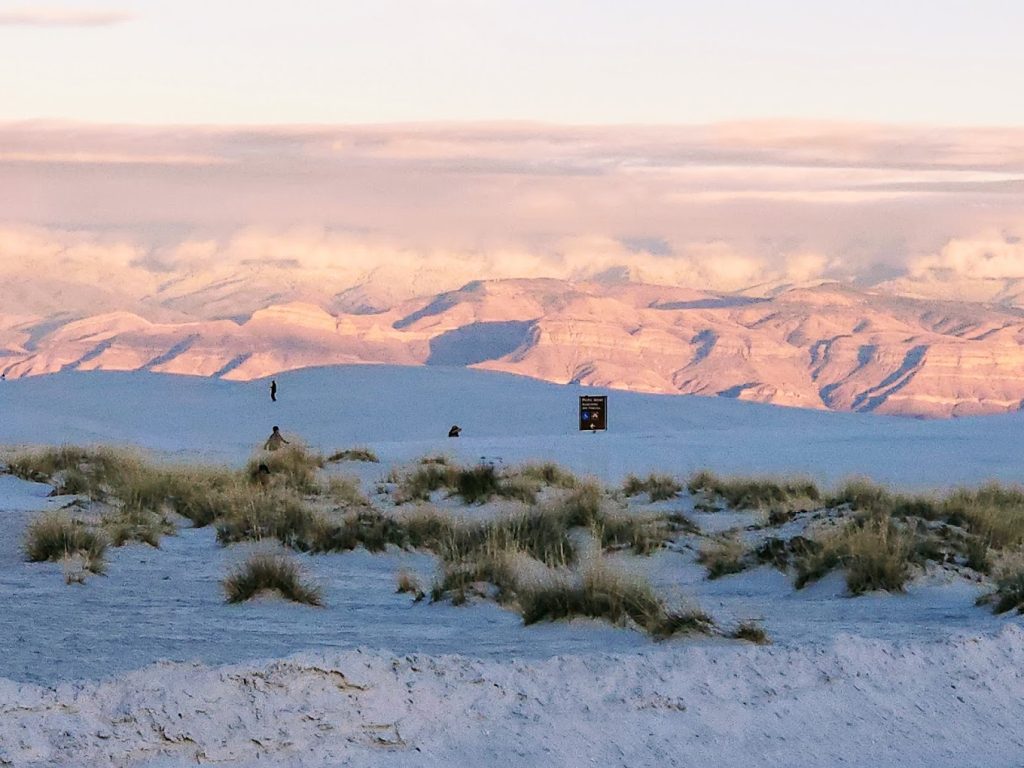 One of New Mexico's most amazing and exciting landscapes to explore is the state's shimmery sands, which are located in the state's southern center. About 85 miles north of El Paso, Texas, in southern New Mexico is where you'll find White Sands National Park. The breathtaking "sandscapes" and spectacular dunes of White Sands National Park extend to a far by distance.
There is also a basin over here named the Tularosa Basin. It is home to the planet's largest gypsum dune field. The vibrant dunes that spread over the horizon, the largest of which is about 18 meters high, are surrounded by fine crystals and grains that shimmer in the sunlight.
The sand in the national park is ideal for all kinds of outdoor activities, with hiking and camping being particularly well-liked alongside tanning and dune-sledding. Previously known as White Sands National Monument, this legendary New Mexico location was only recently given national park status.
This national park allows dogs as long as they are kept on a leash, which is uncommon for national parks. Purchase a sand sled from the park's gift shop to ride down the dunes while you're here. After that, stay longer by tent camping in the park's backcountry.
When you're there, keep an eye out for one-of-a-kind uniquely-shaped white insects and small animals, so check out the visitor center to see what creatures you'll find here. The park's entrance fee is $25 for each car, $15 for each person, and $20 for each motorcycle.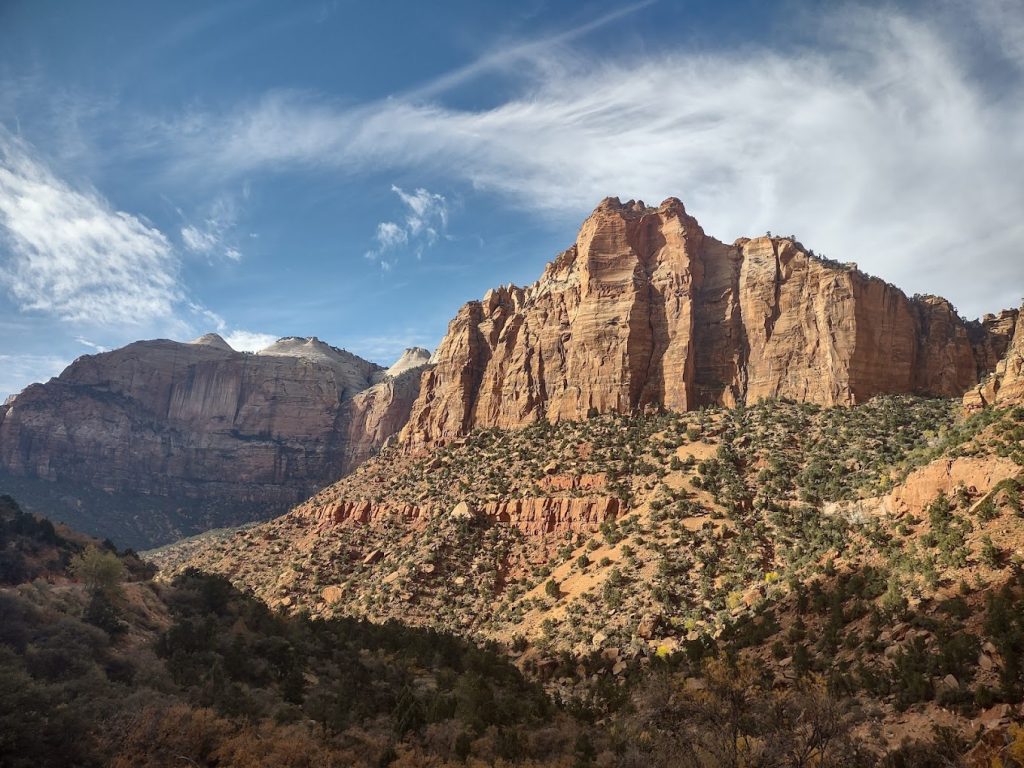 Northwest New Mexico is home to the fascinating Chaco Culture National Historical Park, one of the most notable and magnificent pre-Columbian cultural sites in the entire United States. Its expansive site, located within the Navajo Nation, safeguards a large number of historically significant pueblos.
Fascinating towns and structures that were constructed and inhabited between 850 and 1250 AD are tucked away in the wrecked confines of Chaco Canyon. They are a wonderful sight to visit and show some of the most beautiful masonry and architecture, with Pueblo Bonito being the biggest and most charming of the group.
The bumpy and lengthy dirt road that leads here is an adventure by itself. Take your time exploring the Puebloan structures, some of which are actually accessible. There is a museum nearby as well. Be sure to visit it to discover everything there is to know about the arid region's earliest Pueblo inhabitants. It is one of the best places to view the night sky and has been named an International Dark Sky Park due to its location. Camping in a tent or camper under 35 feet in length overnight in the park is the best way to see this national park. Entrance fee for this park is $8 per vehicle or $4 per person.
Pro-Tip — Bring plenty of water and your own water bottle with you. There are no plastic water bottles for sale in the park.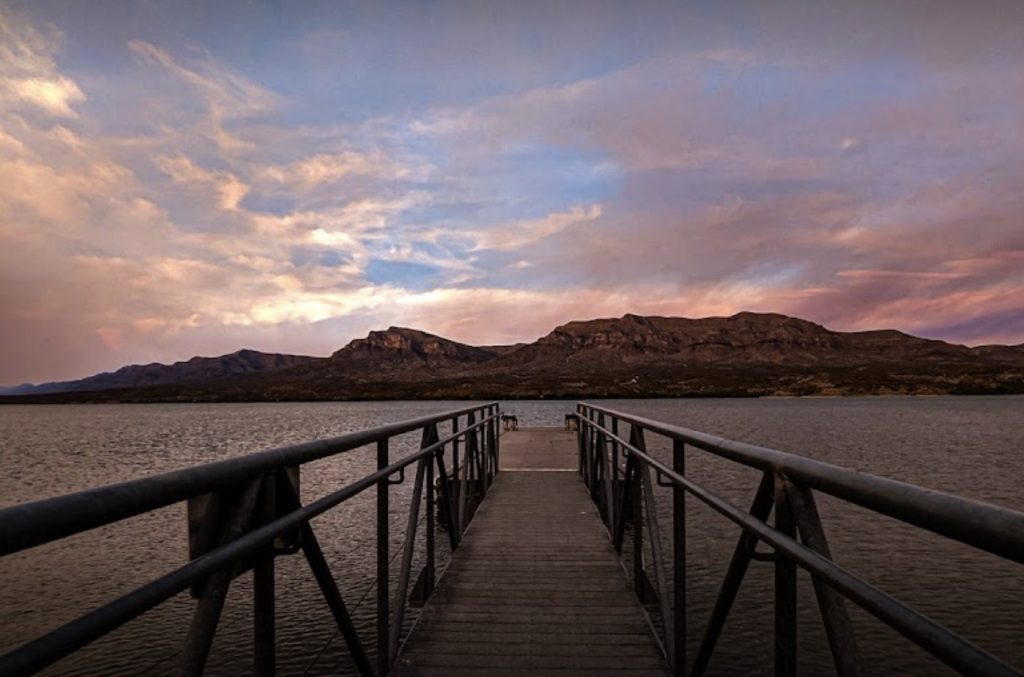 One of the lovely national state parks in New Mexico is Caballo Lake State Park. There are many hiking trails there as well as a mesmerizing lake. Cabins and camping areas are also available to visitors at Caballo Lake State Park.
The Sangre de Cristo Mountains, close to the New Mexico town of Taos, are home to Caballo Lake State Park. The town center is about a 10-minute drive from the park. Caballo Lake has a lot of recreational opportunities and is surrounded by pine trees.
The park provides activities like picnicking, camping at sites with water and electricity hookups, hiking on trails through the pine forest, and boating and fishing on Caballo Lake. Caballo Lake State Park is set against the majestic Caballo Mountains. The park also offers a wide range of other water activities, winter waterfowl viewing, and blooming cactus gardens.
Anglers can catch a variety of fish, including catfish, largemouth bass, walleye, white bass, crappie, bluegill, northern pike, and sunfish, in lakes and rivers. There are 170 campsites at Caballo Lake State Park, many of which have RV utility hookups, making it a great place to camp. Beach camping and boat-in camping are two types of primitive camping that occur here.
The area also offers opportunities for birding, horseback riding, and water recreation at the three boat docks and two boat ramps. Entry to this park will cost you $5.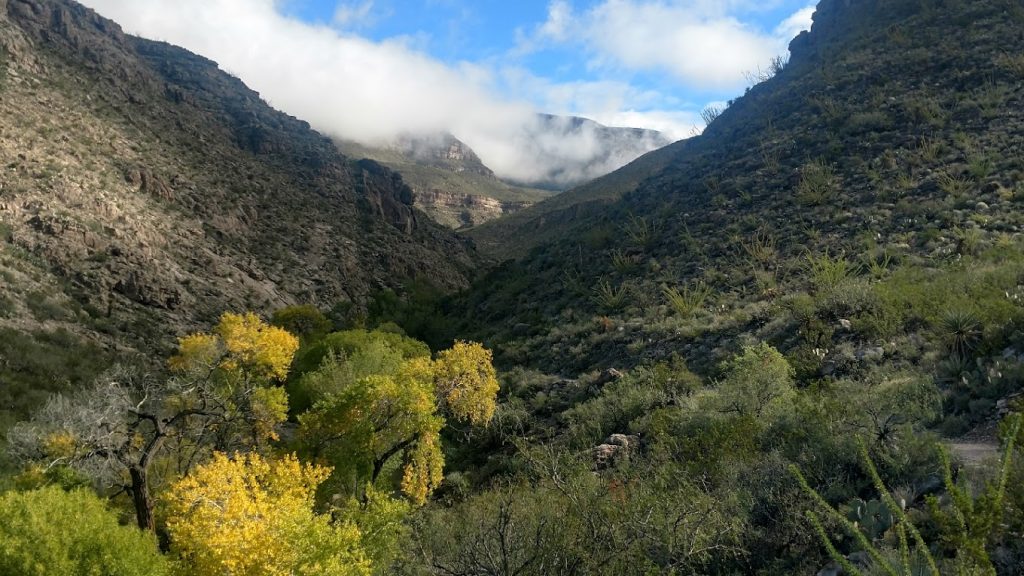 This New Mexico state park is located in the Sacramento Mountains and the Chihuahuan Desert. There are some fantastic views from this state park in New Mexico. Oliver Lee Memorial is a good option if you're looking for a park to visit over the weekend or a place to stay while you visit White Sands National Park. Its oasis of pools, cottonwood trees, and historic ranch house make it special. Hiking paths can be found here, including the complicated Dog Canyon Trail and the simple Riparian Nature Trail.
This park, which is about eight miles south of Alamogordo, provides picnicking, wildlife viewing, and educational activities. It is typically open every day of the year. There are developed sites with nearby water for camping, as well as an RV dump station, and sites with water and electricity.
Some sites are available with online reservations, while others are first-come, first-served. There are vault toilets and showers in the restrooms. Opportunities to view the distinctive region's flora and fauna are provided by the diversity of Lincoln National Forest, which is located in the untamed Sacramento Mountains. Apart from all of this, you are also allowed to bring your dog or pets here as long as they are leashed. You will have to pay $8 as an entry fee for this Park.
Southeast New Mexico, close to the town of Carlsbad, is home to one of the most magnificent caves in the entire world. More than 119 caves, as well as deep canyons, extinct sea ledges, desert plants, and wildlife, can be found in Carlsbad Caverns National Park.
A large portion of the cavern, including the Big Room, can be explored on your own. The Big Room at Carlsbad Caverns is the largest cave area in North America in terms of volume. The best way to see more of the caves and learn more about them is to enroll in a ranger-led tour. Dogs are not permitted in the caves, but there is a convenient kennel at the visitor center where you can keep them while you are on a tour.
Depending on the time of year you visit this national park, a park ranger might invite you to join them for a bat flight program or a night sky program. The Bat Flight Program allows guests to witness the sight of thousands of bats flying out of the cavern and into the night sky. Whereas the night sky program is a program that allows participants to use a powerful telescope to view the night sky. Visitors can hike through the park's desert areas and secluded landscape, which is home to some beautiful wildlife and scenery.
Carlsbad Caverns National Park is definitely worth a visit, despite being a little off the beaten path. Even better, combine it with the nearby White Sands National Monument to create a fantastic national park road trip! The Park will charge you $15 to enter.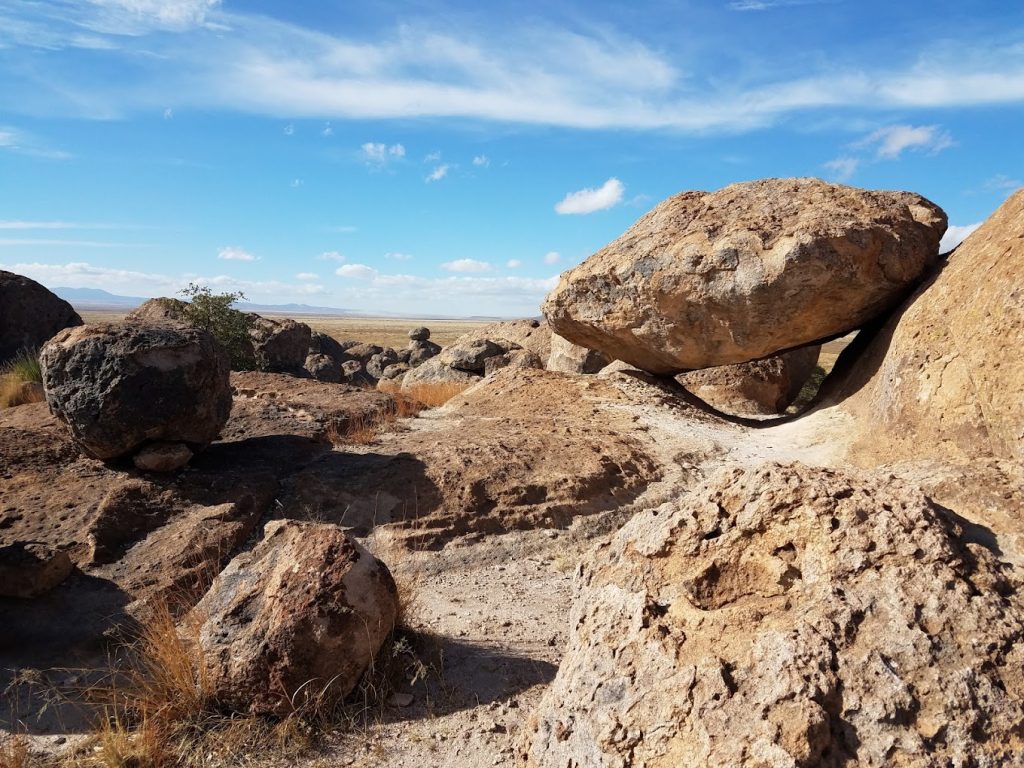 There are many interesting rock formations in New Mexico, and this group of boulders near Silver City in the southwest of the state certainly lives up to its unique name. Like buildings placed on city blocks, the house-sized rocks are arranged in a grid. Around 35 million years ago, a volcanic eruption produced the City of Rocks.
A haven for hikers and climbers has been created as a result of the weathering of the rocks over time. Indian Wells, holes carved into the rock to grind corn and collect rainwater, can be seen in some of the rocks. These Indian Wells are evidence of the long history of human habitation in the Chihuahuan desert.
The best times to visit City of Rocks are in the late autumn, early winter, or early spring when the weather is mild and rattlesnakes are more likely to be dormant. A cactus-rich botanical garden, 52 campsites with full RV hookups, hiking and mountain biking trails, and more can be found in the park. Some campsites accept reservations online, while others are available on a first-come, first-served basis.
Pro-Tip — A great tip is to visit City of Rocks after dark when there is less light pollution. The park has a retractable roof observatory with a 14-inch telescope that is solar-powered and available to guests for star parties several nights a week. The park will charge you $5 per car or vehicle to enter.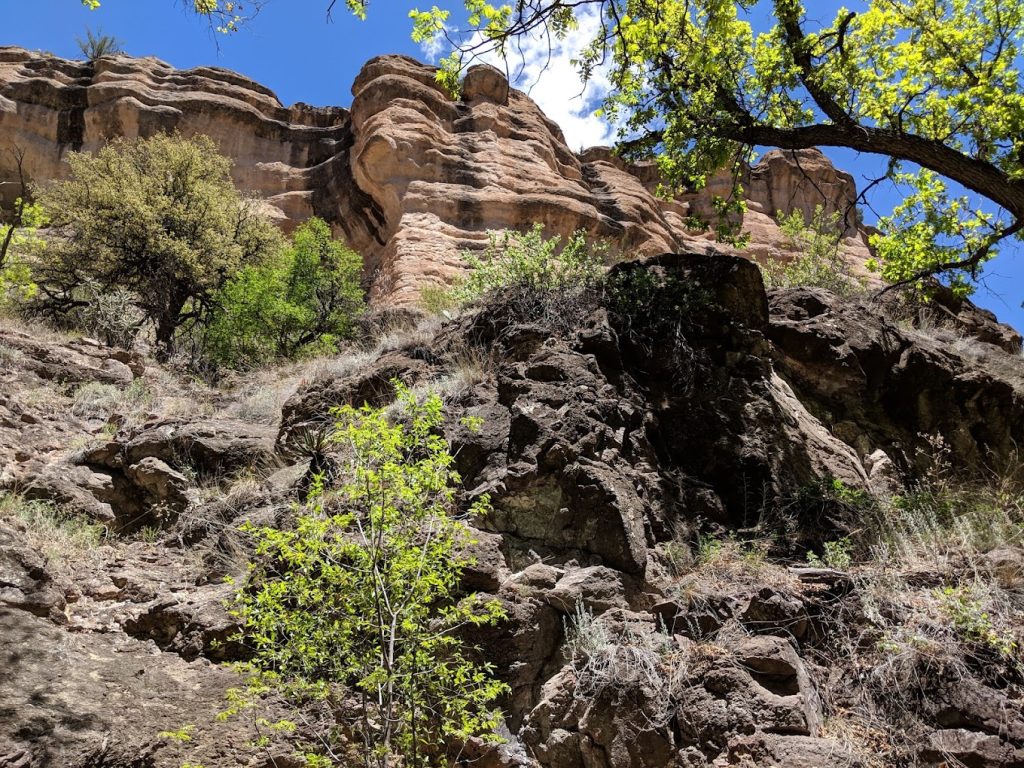 About 43 miles north of Silver City, in the southwest of New Mexico, is the Gila Cliff Dwelling Historic Site. Despite some accessibility issues during the winter, the park is open all year. Hiking trails and tours of historic Native American structures are available in the park. The entrance to this park is however free of any cost.
The Gila National Forest and the wilderness provide excellent protection for this monument. This 553-acre hidden gem is incredibly big. 5 cliff dwellings' ruins are interconnected in this area. People of the Mogollon culture constructed these. There is a visitor center at Gila Cliff Dwellings National Monument that will transport you back in time as well as the structures themselves, which date from the 12th to the 13th century.
Aside from visiting the small but stunning site, the surrounding area has some great hot springs and pictographs to see, as well as plenty of excellent hiking, camping, and viewpoints. In the summer, you can go on a tour of the homes with a guide and explore the nearby hot springs, such as Jordan Hot Spring and Lightfeather Hot Spring, which are both accessible by foot and are each 20 minutes away from the visitor center.
Despite being only 43 miles from Silver City, getting to this monument by car requires several hours due to the mountainous roads. Spend more time here by exploring the nearby Gila Wilderness.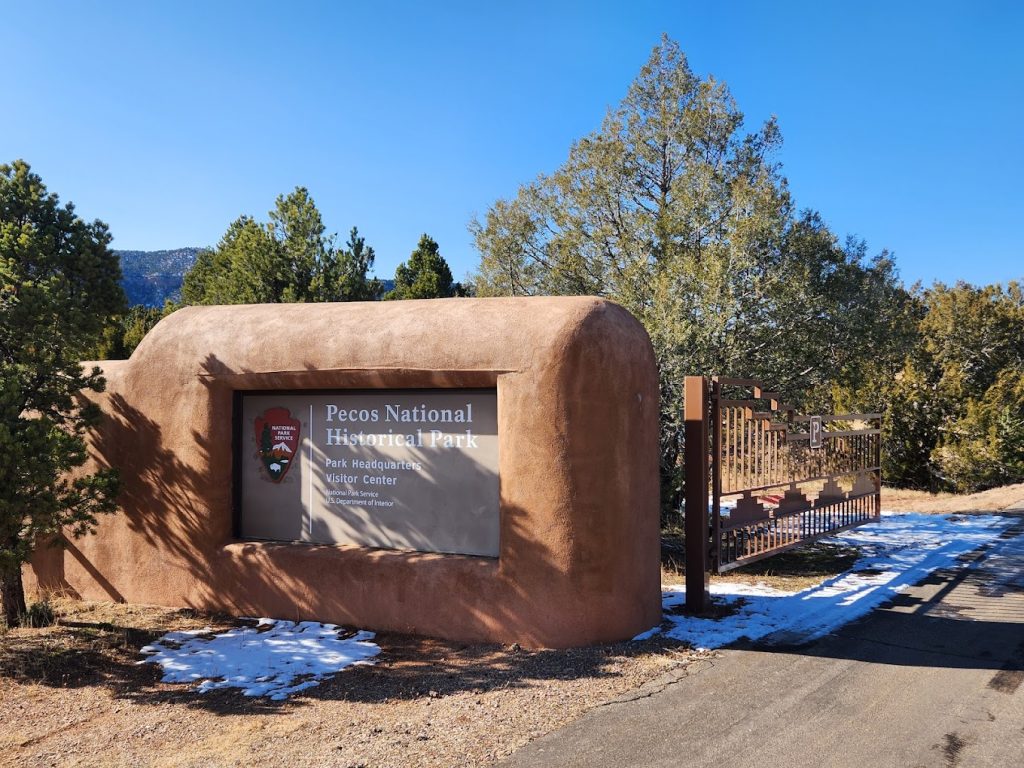 Near Sante Fe, New Mexico's Pecos National Historical Park spans pre-Columbian Native American history, the Spanish War, a Civil War battle from 1862, and 20th-century ranching and tourism.
The ideal place to begin your visit to the park is at the Pecos National Historical Park visitor center. A great bookstore and a nice-sized museum detailing the history of the park are present here. Even a seating area is available where you can unwind with your children while reading a book about the park. A 1.25-mile self-guided trail also takes you to the Pecos pueblo and mission church locations.
Small rocks were used to create the path. Therefore, you should wear closed-toe shoes to avoid spending the majority of the walk trying to get rocks out of your shoes. Another thing to keep in mind is to make sure you don't climb the walls or allow your children to do so. This is not how you want to get a close-up look at the park's wildlife because snakes can hide and blend in with the rocks.
In addition to allowing pets on leashes on the trails, this park takes part in the BARK Ranger program which is a program that promises safe pet handling at national parks across the country. Pecos National Historical Park has no entrance fees.
Pro-Tip — Make sure you have water with you and use the restroom at the visitor center. There aren't any amenities along the trail.
Things to Consider Before Visiting a National Park in New Mexico
The following things are highly important to consider when visiting a national park in New Mexico.
Choice of Park — Choosing which National Park you want to visit is obviously the first step. This choice should take into account a number of things. Are there any kids traveling with you? How far do you intend to go? What types of activities are you looking forward to doing? What kind of scenery are you looking for? You should consider your transportation options as well. The best option if you want to camp in a National Park is probably to travel by road. Logistically, traveling to a National Park with a car is much simpler. Your National Parks experience will also be more enjoyable if you take a road trip!
New Mexico's Culture — New Mexico's culture is something you must consider when visiting a national park here. Refrain from any racial remarks or pointing out to people as it is considered highly unethical and could trigger the locals as well. Try to be nice and give good gestures to the community.
Pack Appropriate Items — Make sure you pack the necessary items for your trip. Consider your mode of transportation, the activities you want to engage in, the length of your stay, whether you'll be camping or staying in a hotel, and the weather conditions. Always remember to pack plenty of water, sunglasses, a park map, comfortable walking shoes, sunscreen, and a backpack to store everything in.
Keep an Eye on Your Surroundings — It's crucial to be aware of your surroundings, whether that means keeping an eye out for other guests or wildlife. For the sake of both the animals' well-being and your own safety, it is crucial to be aware of the wildlife around you. Additionally, many National Parks in New Mexico are located in mountainous regions, which are known for having unpredictable weather. In that case, watch out for approaching clouds.
How do we Pick our Recommendations?
To ensure that we provide you with reliable information, we have carefully handpicked a list of the best national parks of New Mexico considering them as the top recommendations for you. Like everyone else, I am a huge admirer of nature, and I have personally been to some of New Mexico's most fascinating national parks. In order to make sure that these are the places you should give serious consideration to visiting, we create a number of criteria and checklists. These include transportation options, accommodations, whether or not the location is suitable for families with children or pets, and, of course, the breathtaking scenery.
Conclusion
Adventurers can find hidden gems and natural wonders in the state of New Mexico. To fully experience the state's diverse landscapes and impressive formations, there are a ton of open spaces to discover. Many of these locations are state parks with camping, hiking, and other outdoor recreation options. Be sure to visit them whenever you plan your trip to New Mexico.
National Parks in New Mexico - FAQs
What are some of the best National Parks in New Mexico?
Some of the best National Parks in New Mexico include White Sands National Park, Caballo Lake Park, and Oliver Lee Memorial State Park.
Which National Park in Mexico has caves?
Carlsbad Caverns National Park in Mexico has different types of caves that interest the visitors.
Where can I go hiking in Mexico?
Oliver Lee Memorial State Park is a great option for hiking in Mexico as well as other physical activities.
Which park in New Mexico is known for its natural beauty?
Gila Cliff Dwellings National Monument is known for hot springs, beautiful landscape, and a heart-capturing natural beauty.